Husqvarna 350BT Backpack Leaf Blower Review 2023 – Pros, Cons, & Verdict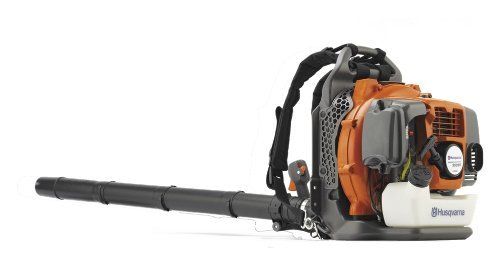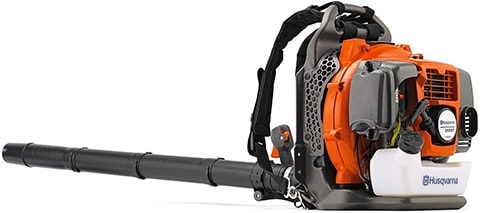 We give the Husqvarna 350BT Backpack Leaf Blower a rating of 4.6 out of 5 stars. 
Build Quality: 4.8/5
Power: 4.8/5
Features: 4.5/5
Price: 4.3/5
Review Summary
If you're looking for a powerful backpack leaf blower that won't leave you deaf after clearing your yard, then the Husqvarna 350BT is an excellent choice. At just 22.5 pounds, it's a pretty lightweight machine as it is. But since it's a backpack blower, you hardly even feel the weight. The harness is comfortable and well-balanced, making this blower very easy to use.
With a full tank of fuel, you can work for hours without interruption. Luckily, this machine isn't prone to overheating, so you can work until the fuel runs out. To ensure your hand doesn't cramp, this machine is equipped with cruise control.
There are certainly cheaper backpack leaf blowers on the market, but they don't offer the same performance and reliability you'll get with the 350BT. Not only does this machine come with a 2-year warranty, but you can easily double that warranty with two simple steps.
In our estimation, this is one of the best backpack leaf blowers on the market. But you'll have to read through our in-depth review and form your own opinions.

Husqvarna 350BT – A Quick Look
Pros
Quieter than other leaf blowers
Reduced fuel consumption and emissions
Protected by a 2-year warranty
Comfortable integrated harness reduces fatigue
Large fuel tank keeps it running for hours
Variable throttle speed with cruise control
Cons
It's one of the more expensive leaf blowers
Doesn't double as a vacuum
Specifications
Specifications
Brand Name: Husqvarna
Model: 350BT
Weight: 22.5 pounds
Airflow In Pipe: 494.41 CFM
Engine Displacement: 50.2cc
Engine Power: 2.1 HP
Fuel Tank: 42.27 fluid ounces
Speed at Max Power: 7,500 RPM
Operating Volume: 94 decibels
Warranty: 2-year limited, can be increased up to 4 years
Air Speed: 180 mph
Plenty of Power
One of the most important aspects of any leaf blower is its power. If it can't move enough air fast enough to displace leaves, then it's not going to be much good. With a wind speed of 180 miles per hour (MPH) and about 500 cubic feet per minute (CFM) of air displacement, the 350BT has plenty of power to do away with leaves; whole backyards full of them.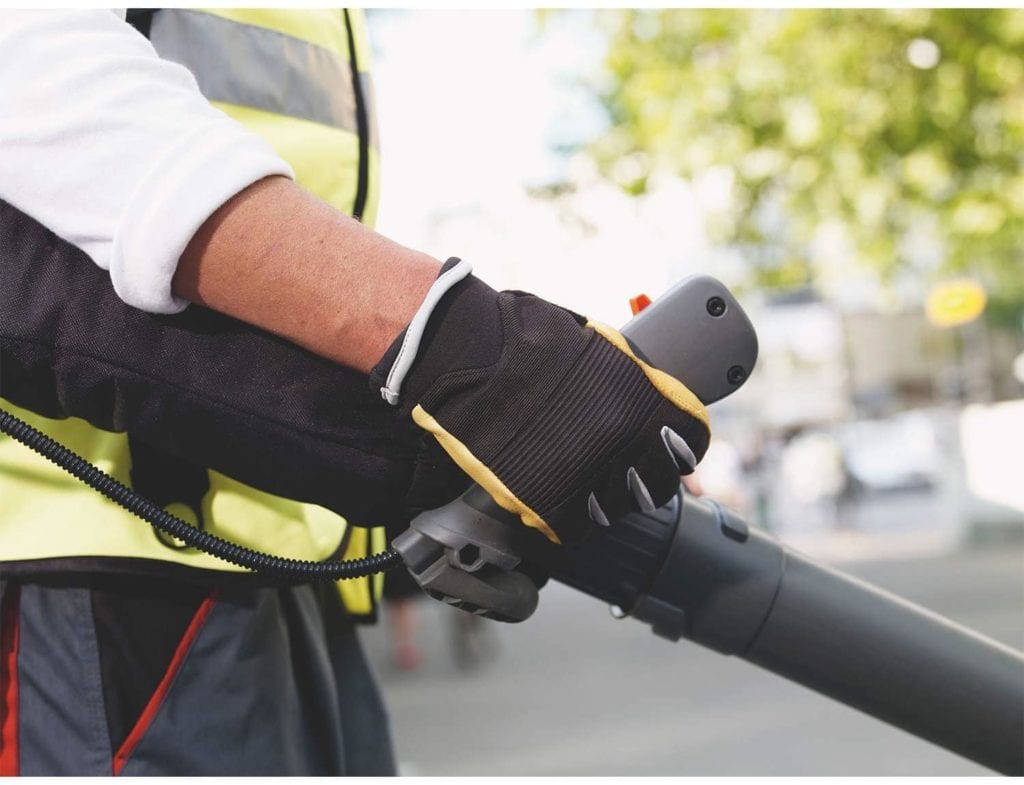 Comfortable Use
Leaf blowers can start to get heavy after an hour or so, maybe even sooner. But the 350BT is a backpack unit. It's well-balanced and features a comfortable harness that evenly distributes the weight across your shoulders. This makes it very comfortable to use, even when leaf blowing for hours on end.
Adjustable Length Tubes
When using a leaf blower, the tubes transport the air from the machine to the ground that you're blowing, allowing you to direct the forced air to go where you need it. Luckily, the tubes on the 350BT are adjustable. You can make them shorter or longer as needed so you won't have to bend over to reach the ground. We're all different sizes, and thankfully, Husqvarna took that into account when designing this leaf blower.
X-TORQ Equipped
Many Husqvarna machines are X-TORQ equipped, including this leaf blower, and it's a feature we've come to love and appreciate. So, what is X-TORQ? It's Husqvarna's special engine technology that provides better fuel economy with reduced emissions. Who doesn't want that?
X-TORQ results in 20% less fuel consumption, allowing you to work much longer on each tank of fuel. Furthermore, an X-TORQ engine releases 60% fewer emissions than a standard 2-stroke motor. Not only is X-TORQ good for your wallet, it's good for the environment as well.
Quieter Operation Than Other Leaf Blowers
Leaf blowers are notoriously loud machines. Operating them at the wrong hours is a great way to upset your neighbors and start a feud. While you still won't want to operate the 350BT during morning or evening hours, it's far from the obnoxious leaf blowers you're used to.
This machine operates at 94 decibels (dB). That might sound loud, and it is when compared to other types of machines. But compared to other leaf blowers, this one is pretty quiet. Other leaf blowers often reach volumes of up to 112 dB, making the 350BT seem charming in comparison.
Jump Through Hoops for a Warranty
This leaf blower comes stock with a 2-year warranty. However, you can upgrade the warranty to 3 or 4 years. To upgrade it to a 3-year warranty or double it to a 4-year warranty takes just two steps. The problem isn't that these steps are difficult. The problem is that you have to perform them correctly and understand the process prior to purchasing your leaf blower.
All you have to do is purchase Husqvarna brand oil on the same receipt as your 350BT leaf blower. Then, you must register the machine online. But you have to get the right amount of oil and they must be on the same receipt, purchased at the same time from the same place. This isn't difficult, but if you don't get it right at the beginning, you'll lose out on that extended warranty period.

FAQ
What's the difference between the 150BT and the 350BT?
These two models are almost identical. The difference is in airflow and speed. The 150BT has a higher wind speed of 245 MPH thanks to using thinner tubes, though it moves a smaller volume of air. On the other hand, the 350BT has a much lower speed but much higher airflow. In the real world, this means that the 350BT will have an easier time moving large piles of leaves while the 150BT will do better at blowing out tight spaces.
Can you use the 350BT in California?
Yes. The Husqvarna 350BT is compliant with all California emissions regulations.
Can the 350BT be switched from right-handed operation to left-handed?
No. There's no way to switch the operation of this blower.
What the Users Say
We've put in some hours with this machine to ensure that we're bringing you the most accurate information possible when reviewing it. While we're confident in our opinions, everyone who uses this machine could have a potentially different experience. We understand that our opinions aren't the only ones that matter, so we've scoured the internet to find the opinions of other real-world users to share with you. Hopefully, this will provide you with a full picture of the 350BT and its advantages and limitations.
Many users were pleased with the level of power this blower provides, citing how easy it was to clear yards that were covered several inches deep with leaves and debris. Some users even said that they were able to lift substantial amounts of hard-packed snow with this machine.
Another common comment was how easy it is to get this machine started. Many expected it to be difficult but were pleasantly surprised that it starts well, even when it's cold.
Most users expected it to be outrageously loud. It is a leaf blower after all. But these users were excited to find that it was much quieter than they expected; a sentiment that we saw expressed repeatedly. Some people even reported that they didn't need earplugs with this machine as they did with other leaf blowers.
But there were lots of people who were displeased with the extended warranty process. Not the process so much as the confusing way it's presented that prevents some users from being able to take advantage of it.
Related Reads:

Conclusion
The Husqvarna 350BT is packed with features and functionality that make it a top pick in our book. With a top wind speed of 180 MPH and nearly 500 CFM of air displacement, it can make short work of a yard full of leaves. It's only 22.5 pounds, to begin with, but the comfortable harness makes this machine feel much lighter and very comfortable to use.
You can also see our comparison of the most popular backpack leaf blowers here.