10 Best Concrete Sealers of 2023 – Reviews & Top Picks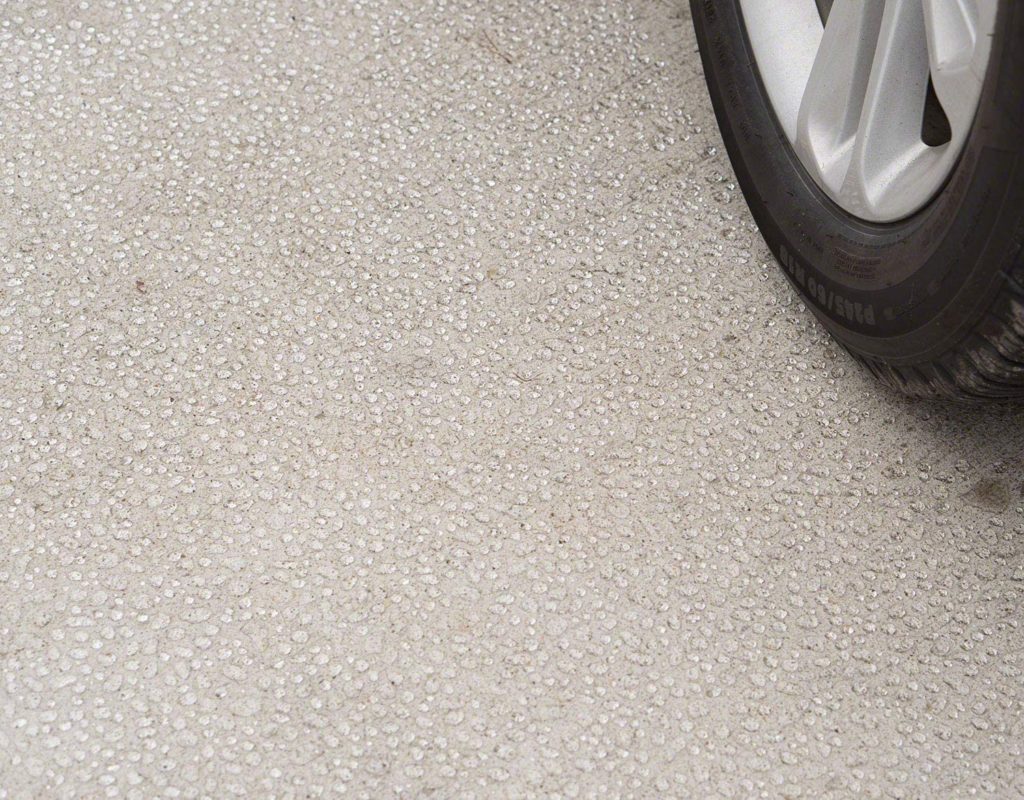 Concrete doesn't necessarily need sealing, but using a concrete sealer will protect the surface from stains, dirt, and it can protect against abrasive and physical damage. It is a low-cost method of improving the look of existing surfaces and protecting new surfaces. It's also a relatively easy project to complete and can be completed in a single day.
Choose between wet-look and dry-look, clear and colored, and glossy and non-glossy. Ensure that you buy enough to give full coverage of the area you're working on and be prepared with the right tools for your chosen application method. Concrete sealers are only as effective and efficient as the method you use to apply them. Epoxy sealers can last as long as ten years before you need to reapply, so you will want to get the right finish to avoid having to grind down the sealer or having a concrete style that you don't like.
Use our reviews of the ten best sealers to find the product that matches your concreting project requirements.
---
A Quick Comparison of Our Favorites in 2023
Rating
Image
Product
Details

Best Overall

Ghostshield Siloxa-Tek Penetrating Concrete Sealer

Protects against water damage
Prevents abrasive damage to concrete
Protects against ice
cold
frost
and snow
CHECK PRICE

Best Value

Foundation Armor Solvent Concrete Sealer

Improve tired and old looking concrete
Lasts up to seven years
Large tin means plenty of coverage
CHECK PRICE

Premium Choice

ToughCrete Concrete Sealer

Covers a lot of ground
Protects for up to ten years
Protects against moisture
cold
and salt
CHECK PRICE

EnduraSeal Semi-Gloss Concrete Sealer

Cheap
Wet look finish improves the look of old concrete
Works on several materials
CHECK PRICE

DryWay Water-Repellent Concrete Sealer

Cheap
Prevent organic growth
Protect against moisture
freezing
and salt
CHECK PRICE
The 10 Best Concrete Sealers
1.

Ghostshield Siloxa-Tek Penetrating Concrete Sealer – Best Overall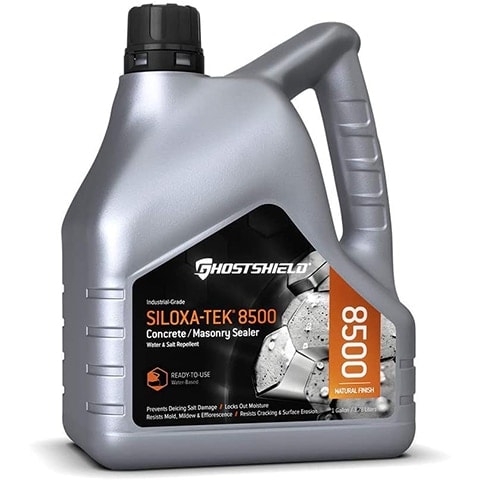 Ghostshield Siloxa-Tek Penetrating Concrete Sealer is a water-based siloxane sealer. Sold as an industrial-grade sealer, Ghostshield Siloxa-Tek will cover 250 sq ft per gallon and it can be used on driveways, garages, basements, and other concrete surfaces.
The sealant, which is ready to use straight out of the bottle and does not require any mixing, has a natural finish so will not alter the look of the treated area. It takes two coats, but the second can be applied before the first has fully dried, so the whole job can still be completed in an afternoon.
It can be applied using a roller, a spray wand, or by brush. Once applied, the sealer forms a barrier against water absorption. It uses nanotechnology to get deeper penetration of the concrete which, in turn, provides greater protection. The sealer does not form a film, which means that the surface underneath can still breathe, allowing moisture to escape. The treatment protects against abrasive damage, which can lead to alkaline penetration and damage and is especially effective at preventing the damage caused by de-icer salt, frost, snow, and other wintry conditions.
It is a little on the expensive side, you will likely need more than Ghostshield suggests for decent coverage, and the liquid is runny so you will be better spraying the solution on uneven and sloped surfaces. Overall, we think this is the best concrete sealer available this year.
Pros
Protects against water damage
Protects against ice, cold, frost, and snow
Prevents abrasive damage to concrete
No mixing needed
Cons
A little thin
Need more than it says on the tin
---
2.

Foundation Armor Solvent Concrete Sealer – Best Value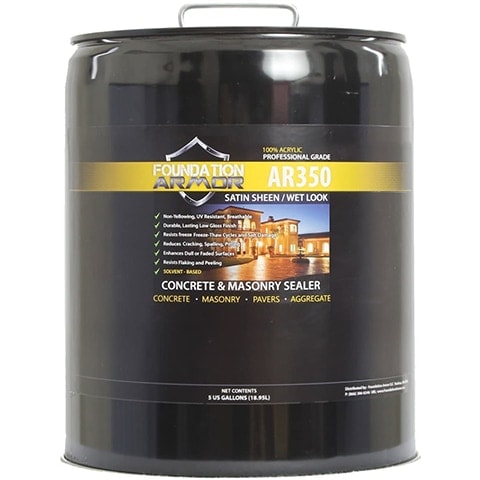 Foundation Armor Solvent Concrete Sealer is a solvent-based sealer. The low-gloss sealer offers a wet look finish, which helps bring out the color of the concrete and is especially beneficial on weathered and tired looking concrete, giving it a new lease of life.
The self-priming solution can be applied to untreated and unsealed concrete, will require two coats to ensure full coverage and will last up to three years on exterior surfaces and as long as seven years on interior surfaces. The manufacturer states that one gallon will cover approximately 175 sq ft, and this tin contains five gallons. Its low price and large tin mean that this is one of the best concrete sealers for the money.
The A350 sealer is designed to reduce damage caused by water absorption, by sealing the porous holes of the concrete and preventing moisture from getting in the material. It can also minimize staining and, thanks to its protection against abrasive damage, the Foundation Armor Solvent Sealer also prevents alkaline surface growth.
Pros
Improve tired and old looking concrete
Lasts up to seven years
Large tin means plenty of coverage
Protect against moisture damage
---
3.

ToughCrete Concrete Sealer – Premium Choice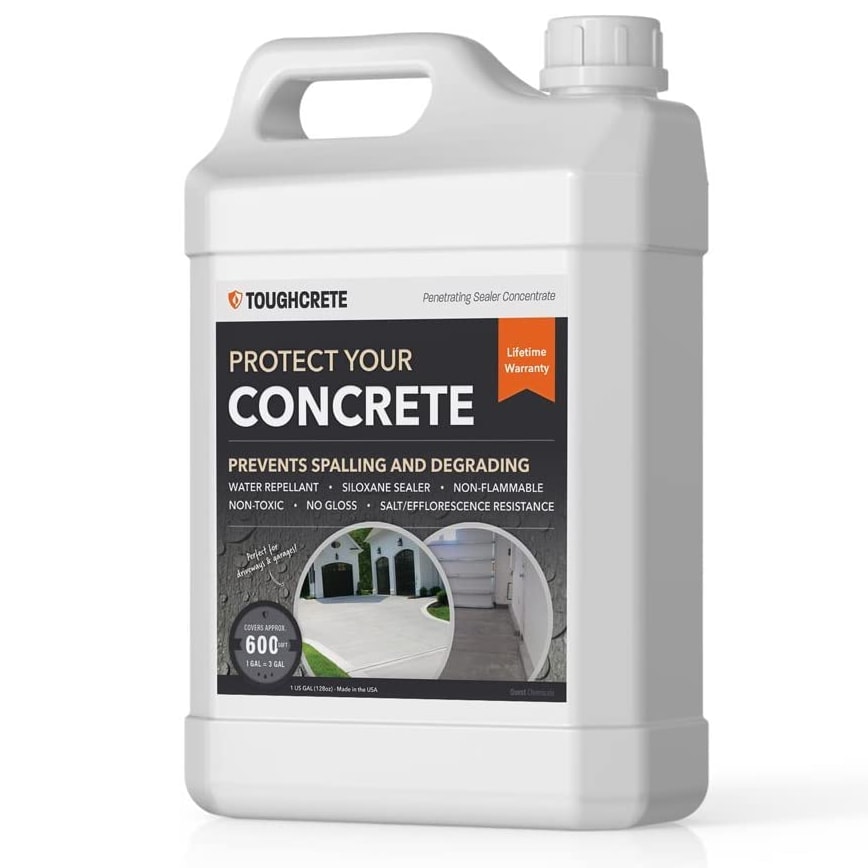 ToughCrete Concrete Sealer is an expensive siloxane-based sealer that can be used to seal paths, driveways, garage floors, and other concrete surfaces. It is designed to penetrate deep into the concrete and can provide protection for as long as ten years before you have to consider reapplying any more of the liquid.
It can protect against salt damage, so is suitable for coastal regions and will also protect against salt-based de-icer. It will protect against water and moisture, and it can also protect against abrasive and physical damage that is prevalent on driveways and other high traffic surfaces.
Although the sealer is expensive, its ten-year life means that you won't need to reapply as often as with other products, while using a spray on a relatively flat and clear surface means that the liquid goes a lot further even than ToughCrete themselves claim. ToughCrete Concrete Sealer is primarily meant for use on concrete surfaces but it can also be used on brick, cinder block, chimney, and outdoor fireplaces, to help seal them and protect against cold and wet.
The only real complaint about this product is how expensive it is and should thoroughly prepare the concrete before application to get the best results.
Pros
Covers a lot of ground
Protects for up to ten years
Protects against moisture, cold, and salt
Cons
Expensive
Concrete needs to be thoroughly prepared
---
4.

EnduraSeal Semi-Gloss Concrete Sealer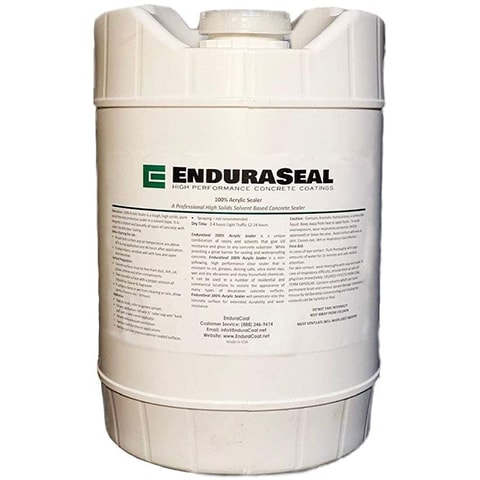 EnduraSeal Semi-Gloss Concrete Sealer is an acrylic sealer. As such, it forms a physical barrier over the surface of the concrete and leaves a wet look behind. Wet look sealers are especially beneficial when used on damaged and tired looking concrete because it gives the surface a new lease of life and can enhance the color and finish of the surface.
In this case, while EnduraSeal is described as a concrete sealer, it will actually work with other surfaces including terrazzo, stone, and colored concrete. The company recommends applying two coats and states that a gallon of the liquid sealer will cover between 150 and 300 sq ft, depending on how porous the surface is. Older concrete, which tends to be more porous and may have physical damage that further increases the porosity of the material, will take more than new concrete that is naturally less porous and has fewer areas of damage.
This EnduraSeal has quite a strong odor so is best used on outdoor surfaces, or in the garage away from living areas. Also, it is not advised to use this particular sealer in damp areas because it can be left with a white haze.
Pros
Cheap
Works on several materials
Wet look finish improves the look of old concrete
Cons
Strong smell
Can't be used in damp areas
---
5.

DryWay Water-Repellent Concrete Sealer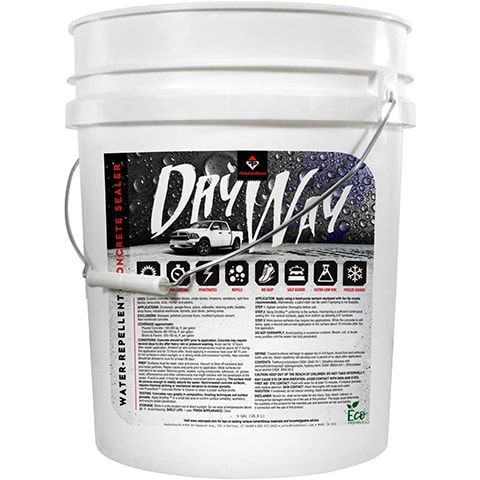 The water-based silane and siloxane sealer, DryWay Water-Repellent Concrete Sealer can be used on concrete, brick, pavers, cinder block, and masonry. It offers up to seven years of protection, although if you are applying on a porous concrete surface outdoors, you will have to reapply sooner than this.
The silane sealer has excellent water repellent properties, which means that it protects against rain and other bad weather. It will also protect against salts and de-icing chemicals and the liquid can be used on driveways, paths, garage floors, and other surfaces.
DryWay prevents lichen and moss growth, which can cause further damage to concrete by breaking up the material, and they can cause slippery surfaces as well as making your driveway look ugly. DryWay does not encourage beading and a lot of surfaces will shed water rather than bead it. The sealer is still working to protect against moisture, but a lot of users expect water beads to form.
Pros
Cheap
Prevent organic growth
Protect against moisture, freezing, and salt
Cons
Doesn't bead
Not a good choice for basements
---
6.

Ghostshield Lithi-Tek Penetrating Concrete Sealer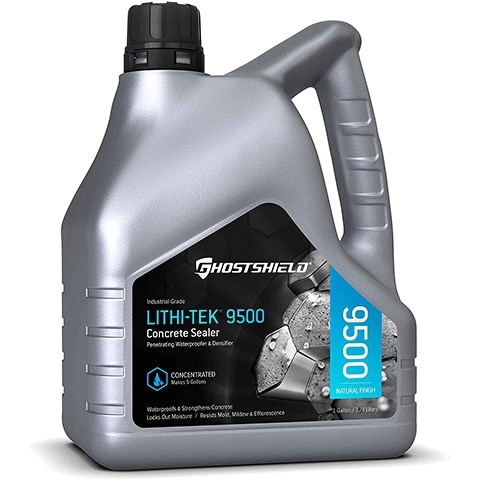 Lithi-Tek 9500 Ultra Concentrate Penetrating Concrete Sealer is a concentrated sealer solution. It needs to be mixed with one part sealer to four parts water, but this means that the 1 gallon bottle of concentrate is equivalent to buying a five-gallon bottle of solution. In this way, the sealant represents good value for money, proving cheaper than all but the cheapest alternatives and meaning that a single bottle will treat up to 1,000 sq ft.
The industrial-grade sealer strengthens and waterproofs concrete. It protects against abrasion while minimizing the moisture that gets into the concrete. The sealer has a natural finish so once it's dry, you won't be able to tell that the Ghostshield is there, except for the level of protection that it offers. It does require two coats but the second coat can be applied before the first has fully dried, so there's no need to wait for a second good-weather window. The liquid can be applied by spraying, rolling, or brushing it onto the surface.
Be aware that Ghostshield says that this sealer is best used on driveways that are not subjected to freezing winter conditions or deicing salts. If you live in a freezing climate, you should consider a different product.
Pros
Concentrated
Decent value for money
Protects against moisture
Cons
Not suitable for protection against cold or deicing salt
---
7.

MasonryDefender Penetrating Concrete Seal
MasonryDefender Penetrating Concrete Seal is a masonry waterproofing solution that protects for up to five years. It is a water-based silane and siloxane rain guard that penetrates down into the concrete and protects from water and moisture. It also protects against salts, chloride, damage caused by the freeze and thaw cycle, and stains. The solution does not alter the look or finish of the concrete as it is non-gloss and does not have a wet-look finish.
The bottle is cheap and includes 1 gallon of the liquid, but while some other sealers will cover up to 250ft per gallon, MasonryDefender will only cover 90 to 150 sq ft, so you will need more of this solution. You will also need to thoroughly prepare the surface to get the best results, and this includes cleaning the surface before allowing it to dry thoroughly for a minimum of six hours.
Despite claims that the liquid does not discolor or alter the surface appearance of concrete, it does darken newer concrete, which is especially problematic if you've had any repairs made to existing concrete surfaces.
Pros
Cheap per gallon
Protects against moisture, ice, and salts
Cons
Takes a lot to cover an area
Stains newer concrete
---
8.

EcoProCote Concrete Sealer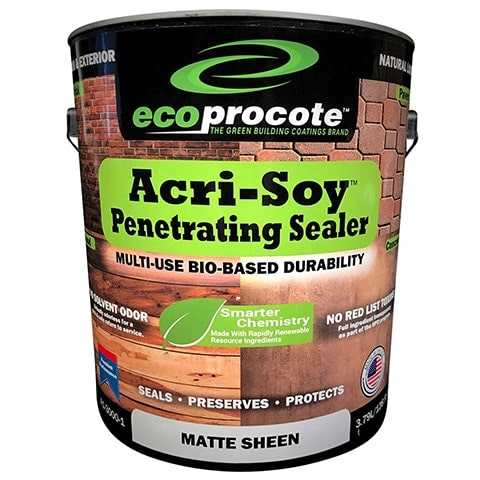 EcoProCote's Acri-Soy Concrete Sealer is a concrete sealer and protective wood sealer. The manufacturer claims that the protective coat can last for a lifetime and that it is resistant to flaking and peeling. It is made from soy oil emulsions and will also work on other surfaces, such as wood, brick, and tile grout. It does not contain toxins and doesn't leave a film so it is suitable for use on countertops and food preparation areas.
Although the quart jar works out quite expensive compared to most other solutions, the EcoProCote sealer will protect around 500 sq ft per gallon, so a little does go a long way and it works out to be inexpensive by area.
However, you may need several coats to gain the level of protection you require, especially on older concrete that is more porous and has bigger holes.
Pros
Organic solution
A little amount covers a large area
Cons
Expensive
Requires several coats
---
9.

ToughGloss Concrete Sealer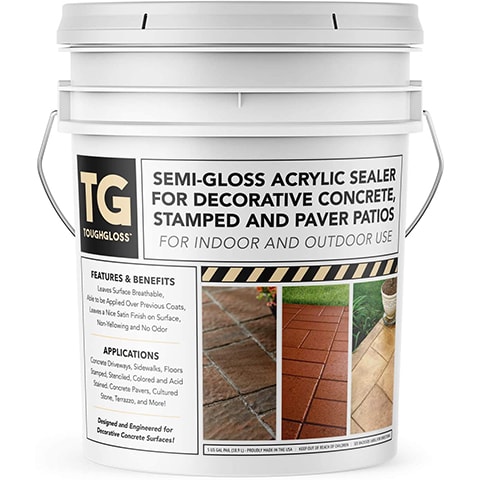 ToughGloss Concrete Sealer is reasonably priced and utilizes MicroEmulsion technology. It has a wet look finish that can enhance and improve the look of an existing concrete surface. It can be used indoors or outdoors, and as well as working on concrete, it will work on masonry, Terrazzo, and stained concrete.
The sealer is easy to apply and allows you to use a sprayer, brush, or roller to get it down. The manufacture advises the use of two coats of this liquid, and you will need to let the first coat dry before applying the second, which means that you may need to wait until you can guarantee a dry spell of several days.
In practice, it can take three coats or more to get the appropriate level of coverage, especially if your concrete is older and more porous, or damaged. The semi-gloss finish is a little cloudy and damp looking, too.
Pros
Claims a long lifetime
Works on concrete and stone
Cons
Takes several coats
Semi-gloss finish isn't the best looking
---
10.

SEAL-ONCE Concrete & Masonry Penetrating Sealer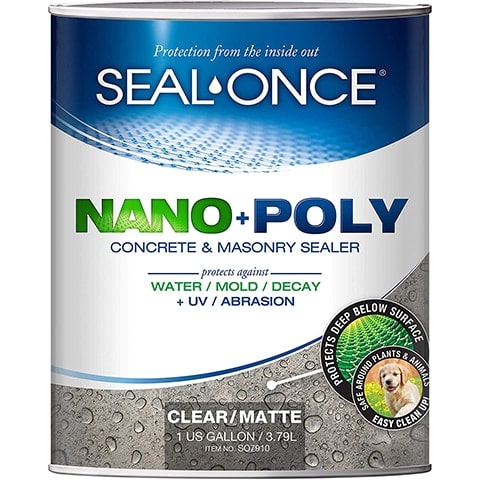 Seal-Once Concrete & Masonry Penetrating Sealer is an expensive sealer that promises a non-yellowing finish that protects the appearance and the structure of concrete.
It protects against salt deposits, physical damage, lime bloom, thawing, and other forms of moisture and cold damage. It produces a breathable barrier that protects and that creates a long-lasting water barrier. It can be easily applied with a standard garden sprayer, saving your back and making the application as easy as possible.
However, the sealer is not cheap, it can be difficult to get it to stay on a stone finish, and it is difficult to apply using a sprayer and benefits from being rollered on, but this requires the use of more of the liquid, further adding to the cost and inconvenience.
Pros
Protects against cold and moisture
Cons
Struggles with stone
Expensive
Requirements multiple coats
Difficult to apply using a sprayer
---
Buyer's Guide – Purchasing the Best Concrete Sealer
Should I Seal My Concrete?
Good quality concrete should last for years without any treatment or sealer. However, applying a sealer can prolong the life of a driveway, pathway, or other concrete surface, while maintaining its look, ensuring its structural integrity, and even ensuring that it is safe to walk on.
Sealing concrete isn't necessary, but it is beneficial.
Types Of Sealer
Different types of sealer offer protection from different elements and threats, are better suited to certain types of surface and condition, and offer differing levels and quality of protection. The most common sealers include:
Siloxane/Silane – Also referred to as penetrating sealers, these seal the pores of the concrete below the surface. They are typically used on driveways and decks and they protect against bad weather, chemicals, and the damage caused by the freezing and thawing cycle of winter. The sealer can also prevent slipping during wet and winter months.
Acrylic – Acrylic is a low-cost sealer that is easy to apply and can be used on internal as well as external surfaces. It comes in a variety of finishes, is resistant to the sun's UV rays, and dries quickly. Once dry, it protects against water and chloride.
Epoxy – Epoxy sealers are usually used indoors. They protect work surfaces and countertops, and epoxy can be used to protect stained concrete, which not all sealers can effectively protect.
Polyurethane – This type of sealer creates a clear film around the outside of the surface. It tends to create a very thick surface, shouldn't yellow or stain the concrete, and it does provide a very durable and hardwearing surface.
Type Of Protection
Liquid, moisture, and freezing conditions are the most common causes of damage to concrete surfaces. Concrete is porous and liquid can get inside the pores and chip away at the surface. Running water is especially damaging, but so too is water that is allowed to freeze and then thaw.
Water expands as it freezes, so moisture inside the pores will push the concrete outwards and potentially cause cracking, holes, and pocks. Once the water thaws and contracts, the concrete attempts to return to its original position and may break away. Salt, usually caused by rainwater in coastal areas or applied as a means of deicing, causes damage inside the concrete and it can discolor and crack your driveway.
Consider the most likely and most frequent causes of damage to your driveway or other concrete surface and then look for the sealer that offers the greatest protection against this specific threat.
Coverage
When looking at sealer, you will need to know the area that you intend to cover. Sealer containers and bottles will usually inform you of the area that one gallon of liquid will cover. This accounts for a single coat, and if the bottle suggests applying a second coat, you will need extra liquid. Most sealers cover between 100 and 300 square feet per gallon, but some claim to cover as much as 500 sq ft or more.
How Many Coats Of Sealer Can You Put On Concrete?
Most manufacturers advise that you use at least two coats of sealer. The first coat will be absorbed into the concrete, with some patchy remains left to work on the exterior. The second coat evens this coverage out and ensures that the whole surface is covered. Poor quality sealers or old and very porous concrete may require a third or additional coat.
How Long Does Concrete Sealer Last?
Again, this depends on the sealer in question, and specifically the type of sealer. Epoxy sealers usually have the longest life and do not need to be reapplied for five to ten years. Acrylic sealers may need reapplying every year to three years, depending on whether it is used indoors or outdoors.
Application Methods
When applying a sealer, you want to ensure that you get good even coverage, especially if your chosen sealer has a gloss or wet-look finish which would look patchy on completion. In most cases, you can use a brush, roller, or sprayer to apply the liquid. A sprayer may not be suitable with thick liquids, but this application method usually offers greater coverage, less effort, and it requires the use of less sealer. But the best method of application does depend on the type of sealer.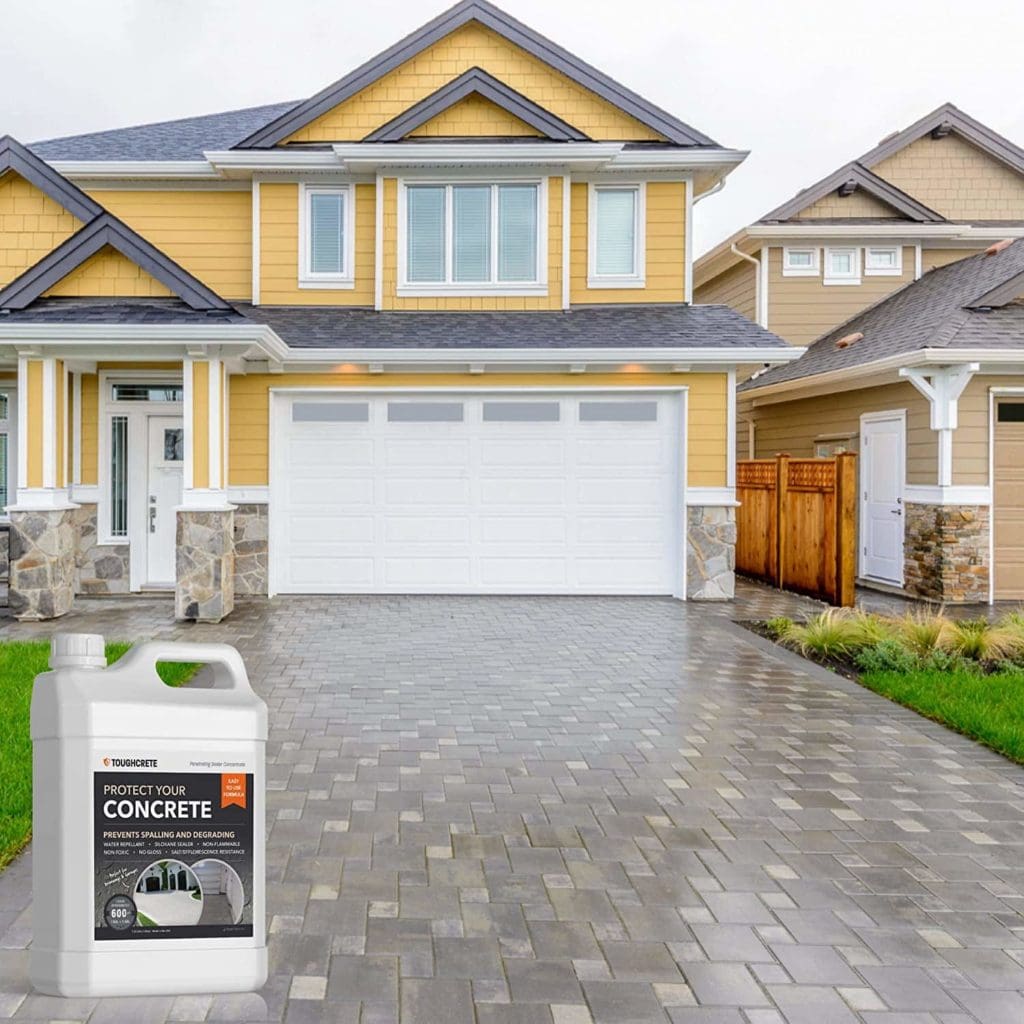 Is It Better To Spray Or Roll Concrete Sealer?
Follow the guidelines given by the manufacturer, who should advise whether you can spray or roll the solvent. If you are given the option, the sprayer is usually the simpler and more effective, and cost-effective solution.
Can You Apply Concrete Sealer Over Old Sealer?
In some cases, you may need to ensure that old sealer has been fully removed before applying a new layer. Some sealers, such as acrylic sealers, can be applied on top of an old layer of the same type of sealer. Check the instructions of your new sealer to determine whether you have to remove all remnants of the old solution.
Surface Types
The primary purpose of concrete sealer is to seal concrete surfaces. This can include driveways and pathways and other outdoor surfaces. It can also include garages and workshop floors that are made from concrete, and it might even include decorative and functional indoor surfaces like worktops and work surfaces. While some sealers state that they are for use on concrete, specifically, others work on stone, brick, and even wood, although results may be mixed.
Can Old Concrete Be Sealed?
Old concrete can be sealed. It will need cleaning first, and you should ensure that any mildew, mold, and other dirt and debris is thoroughly removed before application. Old concrete tends to be a lot more porous than new concrete, too. This means that you will likely need to apply more sealer to get a good and even coverage, and you may need to apply multiple extra coats for the best results.
Aesthetic Finish
There are various finishes available from concrete sealers. You get a natural look finish, which should not change the appearance of your concrete. You can also get a wet-look finish, which doesn't necessarily have a gloss finish but will leave your concrete looking as though it has been rained on. A gloss finish is a decorative finish that can be suitable in some circumstances.
Does Concrete Sealer Darken Concrete?
It really does depend on the type and even the make of sealer used. Acrylic sealers do tend to darken concrete and leave a wet-look finish, but other alternative solutions do not necessarily alter the look of the concrete at all. If you want your concrete darkened, look for a wet look finish. Otherwise, look for a natural finish.

Conclusion
A concrete sealer can protect and even improve the look of your concrete driveway, pathway, garage floor, or other concrete surface. Some are designed for indoor use, others for outdoors. And, while some sealers claim to protect against everything from cold weather to moisture and dampness, there are some makes and styles that are less effective in protecting damp floors or protecting against the freezing and thawing cycle of winter. Others might struggle with the chemicals or salt that come from de-icer and other applications. You must do your homework and get the right sealer for your concrete application.
It can cost hundreds of dollars to protect a driveway. If you get the wrong sealer, at best you'll need to replace it with something more effective. At worst, it could discolor and damage your concrete and leave you having to pay for much more than another bottle of concrete sealer.
We hope our reviews have helped you find the sealer that is best suited to your application and your requirements. The GhostShield Siloxa-Tek protects against cold, damp, wet, and abrasive damage, and it doesn't need mixing, although it is a little thin compared to some other solutions. The Foundation Armor Solvent Concrete Sealer represents even better value for money, protecting against moisture damage for up to seven years.