10 Best Electric Brad Nailers of 2023 – Reviews & Buying Guide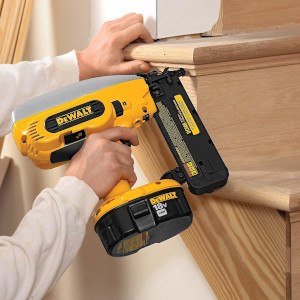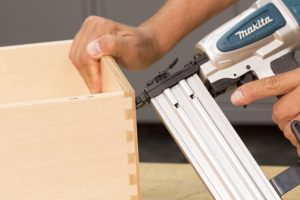 For professionals and DIYers, brad nailers can be an essential tool. They're required for many different projects, and an electric version can make your life far easier. However, choosing an electric brad nailer is not that simple. They come with many different features, which you need to sort through to choose the best model.
To help you with this mission, we put together this complete guide to choosing the best electric brad nailer for your project and situation. Below, you'll find our reviews on the top brad nailers on the market, and a short buyer's guide packed full of the information you need to know to choose the perfect tool.

A Quick Comparison of Our Favorites in 2023
Rating
Image
Product
Details

Best Overall

BOSTITCH BTFP12233 Brad Nailer

Tool-free jam release mechanism
Rear air exhaust
Smart point nose
CHECK PRICE

Best Value

WEN 61721 Brad Nailer

Depth adjustment wheel
Quick-release magazine
Comes with 500 nails
CHECK PRICE

Premium Choice

Makita AF505N Brad Nailer

Narrow nose design
Tool-less quick release
Depth adjuster
CHECK PRICE

NEU MASTER NTC0040 Electric Brad Nailer

Adjustable power function
Also a staple gun
Comes with free staples and brad nails
CHECK PRICE

SENCO 1U0021N Brad Nailer

Does not jam often
Rear exhaust
Adjustable depth option
CHECK PRICE
The 10 Best Electric Brad Nailers
1.

BOSTITCH BTFP12233 Brad Nailer – Best Overall
We reviewed many different tools on our mission to find the best electric brad nailer. Out of all those we reviewed, the BOSTITCH BTFP12233 Brad Nailer stood out on top as the best option for most buyers. This tool is ergonomic and comfortable. You can easily use it for extended periods without fatiguing, which is excellent for those large, multi-day projects. It also has a carrying case that makes transporting and storing it far easier.
We liked the tool-free jam release mechanism since even the best brad nailer is going to jam at some point. This feature makes it easy to keep working proficiently, even when you have to fix a few jams along the way. This tool is also built for convenience. For example, it has a built-in pencil sharpener and a rear air exhaust. These small features make this tool to the next level.
The nose of this brad nailer is its best feature. It has a "smart point," which makes it more accurate and prevents the work surface from being damaged. It is one of the main features that propelled it into our top spot as the best electric brad nailer.
Pros
Carrying case
Ergonomic
Tool-free jam release mechanism
Rear air exhaust
Smart point nose
---
2.

WEN 61721 Brad Nailer – Best Value
Not everyone has $100 to spend on a brad nailer. Sometimes, you just need something cheap that can get the job done. In this case, the WEN 61721 Brad Nailer is the best electric brad nailer for the money. If you're on a budget, it is the one you should get. It features a depth adjustment wheel, rotatable exhaust, and quick release magazine. All of these features work together to make this brad nailer incredibly easy to use. Despite its low price, this tool has everything you need to comfortably finish your cabinets or whatever project you have in mind.
For clearing jammed nails, it has a nose latch. While it isn't the easiest to clear jammed nails from, it isn't challenging either. Most people shouldn't have a hard time clearing most jams from this tool. The magazine holds 106 nails, which is decently large. It also comes with 500 nails when you purchase it, which should be enough for some projects.
This tool is designed for small projects, so professionals will probably need something a bit more substantial. For your average homeowner, though, it should be plenty.
Pros
Inexpensive
Depth adjustment wheel
Quick-release magazine
Comes with 500 nails
Nose latch
Cons
Not as durable as other options
---
3.

Makita AF505N Brad Nailer – Premium Choice
If you plan on using a brad nailer a lot, you may be interested in the Makita AF505N Brad Nailer. It is a premium brad nailer — and has a price tag to match. However, if you're a professional or use brad nailers a lot, the extra features may make the price more than worth it. It has a narrow nose design, allowing you to work in tight places. It also has a tool-less quick-release feature to help you clear jammed nails quickly so you can get back to work. The depth adjuster can also be changed without the use of tools.
The rubber nose is designed to protect the wood surface while you work. The handle is ergonomic and non-slip, allowing you to securely and comfortably use this tool for extended periods. All the pieces are cast and machined for ultimate precision, putting the nail exactly where you want it every time.
The only main downside of this tool is the price. It is quite a bit more expensive than other options on the market.
Pros
Narrow nose design
Tool-less quick release
Depth adjuster
Rubber nose
Ergonomic handle
---
4.

NEU MASTER NTC0040 Electric Brad Nailer
The NEU MASTER NTC0040 Electric Brad Nailer has an adjustable power function, making it usable for very light-duty projects. It is a staple gun as well, which is one reason it landed so high on our list. It performs two functions in one, which makes it extremely suitable for homeowners. If you don't have much room for tools (or much money to spend on tools), this is a brad nailer to consider getting. It also comes with 400 staples and 100 brad nails for free, which is always an excellent addition.
The rubber nose prevents it from injuring your workpiece to provide an even finish. We also liked the ergonomic finish and power adjustment dial. The trigger is oversized to prevent fatigue, and it has a quick-release mechanism.
This brad nailer is not as powerful as others. You need quite a bit of pressure to make the brad nails go into softwood, so that will contribute to fatigue.
Pros
Adjustable power function
Also a staple gun
Comes with free staples and brad nails
Rubber nose
Cons
Not as powerful as other options
Requires a bit of pressure
---
5.

SENCO 1U0021N Brad Nailer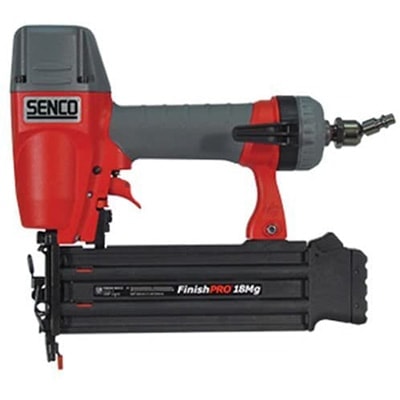 The SENCO 1U0021N Brad Nailer is reliable, however, it isn't the best. That being said, it may work for some projects. It is oil-free, though that can be said for most brad nailers these days. It has an adjustable depth option and a rear exhaust. As far as we could tell, the operation was smooth and stable. You do have to keep looking at the red indicator to see if you're out of nails. This machine will dry-fire and damage the wood if you do not. This is a bit annoying, but workable.
The carrying case is excellent, as it has space for a small number of nails. The swivel air connect is also a feature we appreciated, as it is suitable for tight areas. However, you do have to rotate it round to get the gun to fit back in the case. The tool belt hook is a bit big, which makes it practically worthless in some situations. All these negative features were minor. However, they slowly added up and are some of the reasons why this brad nailer is only in the middle of the list.
Pros
Does not jam often
Rear exhaust
Adjustable depth option
Red light indicator when empty
Cons
Will dry-fire
Toolbelt hook is a bit big
---
6.

Metabo NT50AE2 HPT Brad Nailer
The Metabo NT50AE2 HPT Brad Nailer has an adjustable drive depth, no-mar tip, and adjustable exhaust port. We appreciate these features, as they all contributed to making the tool more efficient and easier to use. This tool also has a 5-year warranty, which is way longer than most brad nailers on the market. This company's customer service is also pretty decent, so you should have an easy time taking advantage of that warranty if necessary.
We loved that this tool weighed just over 2 pounds, making it plenty lightweight for long-term use. Your arm should not get tired very quickly when using this machine, so you can continue using it for longer.
With all that said, this brad nailer is not as high-quality as the other options we reviewed. It tends to break after only a bit of use, despite the 5-year warranty. It is also a bit loud, so you may want to wear hearing protection while using it. We also found that it jammed quite often, which is a significant issue because this machine is brutal to unjam. The nailer itself seems to be made out of a great deal of plastic, causing it to break more often.
Pros
Adjustable drive depth
5 -year warranty
Lightweight
Cons
Jams often
Loud
Made of plastic
---
7.

VonHaus Corded Electric Brad Nailer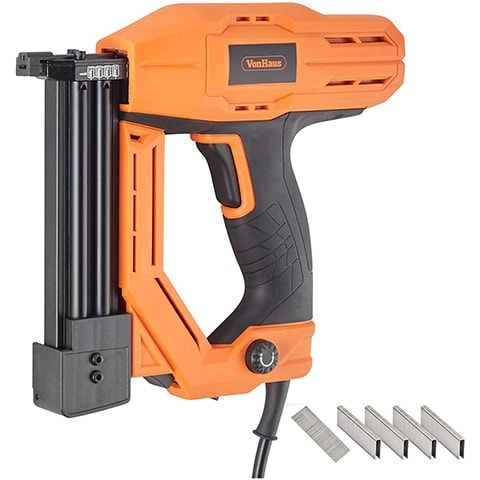 If you need a brad nailer and a stapler, the VonHaus Corded Electric Brad Nailer might seem like a good option. It can work as a brad nailer and a stapler, but there were quite a few features that let us down. It isn't as powerful as the other options on this list, so it cannot drive nails as deep as other options. It is alright for basic molding jobs, but it might be lacking in other circumstances. The cord is also short, and it is not advised that you use an extension cord. Because of this, the tool can get a bit cumbersome. Of course, it depends on your project and where your outlets are.  We also found that finding the correct angle for nail insertion was difficult – more so than it was for other guns.
On the upside, this machine does fire pretty fast. You can shoot a nail about every 3 seconds. The power is also adjustable, so you can change it to suit whatever type of material you're working on. We found the handle comfortable enough, and the tool wasn't heavy.
Pros
Fires quickly
Adjustable power
Comfortable
Cons
Not as powerful as other options
Short power cord
Hard to use
---
8.

DEWALT 5-in-1 Multi-tacker and Brad Nailer
Dewalt is well-known for making high-quality tools. However, this brad nailer was not one of them. There were quite a few things about it we didn't like. It is cheaper than most other options (which is a bit strange for a Dewalt). However, many of its sub-par features just didn't make the lower cost worth it. If you need to save money, we recommend choosing our best value pick instead.
To start with, this machine really doesn't shoot brad nails. It is more of a stapler that they quickly turned into a brad nailer. It shoots staples great without any problems. However, it has troubleshooting brad nails through anything thicker than cardboard. It is not suitable for most tasks, even small, light projects. If you need a nailer, don't get this one. However, it may be the right choice if you need a stapler.
It just isn't powerful enough for most purposes and doesn't have many features either. For these reasons, it is rated very low on our list.
Cons
Very low-powered
Cannot shoot nails very well
---
9.

NEU MASTER Staple Gun N6033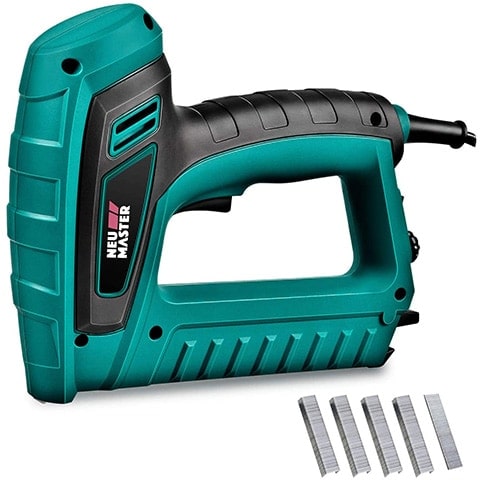 While the NEU MASTER Staple Gun N6033 is technically a "staple gun," it is also advertised to shoot nails. However, it doesn't do this very well. It can shoot staples just fine, which we imagine was its original purpose. However, it appears the company decided to give it the ability to shoot nails as well, without figuring out if the machine could handle it. It just isn't powerful enough to drive nails, which is a problem for most projects.
It is not very durable either. There are many reports of it breaking after only a few uses. Based on how cheap this nailer feels, we could believe that it could wear down quickly. A single drop could render this machine little more than a paperweight. This is something to keep in mind before purchasing it, especially since it does not have a warranty and is not incredibly cheap.
Furthermore, it is only designed to drive very short nails, though it doesn't even do that very well. Because of these features, we rated it very low on our list of reviews. Buy something else.
Cons
Not very powerful
Not durable
Only works with small nails
---
10.

3PLUS HF50SP Brad Nailer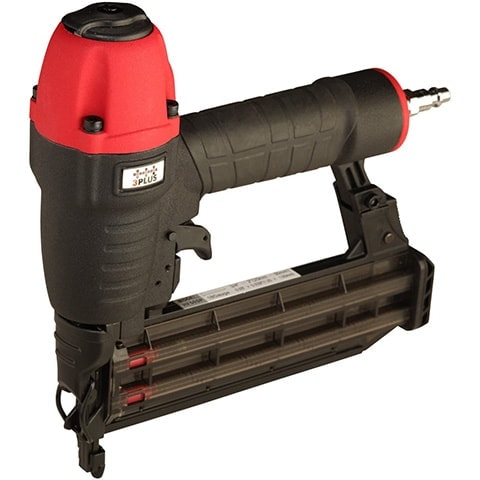 The 3PLUS HF50SP Brad Nailer is made of plastic. This does make it weigh less, but also makes it less durable. It is incredibly cheap, though you're getting what you pay for. It does allow you to adjust the depth and has a narrow nose design – two features we could get behind. However, that is really where the positives of this machine stop.
It does not come with a case, which is relatively rare. Most brad nailers we reviewed came with at least a bag – even if it wasn't a perfect one. The trigger seems to jam quite a bit. This isn't a huge problem, but it does get rather annoying over time. It is not designed for extensive use. Professionals should skip on this nailer because of that. However, even homeowners with moderately sized projects might want to look elsewhere. This nailer may be appropriate if you just need to build a birdhouse.
Cons
Made of plastic
No carrying case
Not built for extensive projects

Buyer's Guide – Choosing the Best Electric Brad Nailer
Below, you'll find a quick discussion of some of the more essential features to look for when choosing a brad nailer. Surprisingly, these nailers can differ in many different ways. Choosing the right brad nailer for your projects relies on shifting through these features and deciding which ones best fit your needs.
Power Sources
Brad nailers are powered by either air compressors or electricity. Some brad nailers run on batteries      and some that are plugged into an outlet directly. All of these power options have their pros and cons. Neither is significantly better than the other, though they are suitable for specific situations.
Pneumatic: These brad nailers run off of compressed air. If you already have an air compressor that is suitable for these machines, this may be your best option. However, if you don't have one, it can be a pain to purchase an air compressor just for your brad nailer. They can be quite expensive, and it often isn't practical to purchase one just for a single project.
Electric: These brad nailers use batteries or cords. They do not require an air compressor, which is excellent news if you don't own one. Battery-powered options are much more mobile because they don't require an outlet or an air compressor (which usually requires an outlet). You can use them pretty much everywhere. Corded models are still a good option for those who don't own an air compressor, however.
Depth Control
Different projects are going to require different nail penetration depth. Preferably, you'll be able to control this depth with an adjustment dial. Most brad nailers come with this feature, though some low-quality ones do not. It is essential enough to double-check it before making your purchase, however.
Durability
When you purchase any tool, you expect it to work for quite a while. A brad nailer should be no different. Those made out of more durable materials (like aluminum) tend to last longer than those made out of things like plastic. How well the internal pieces are made is also essential. Preferably, you do not want a machine that is made with easy-to-break components.
Usually, durable machines cost a bit more. However, you will typically save money in the long run since they will last longer. This prevents you from having to purchase a whole new machine, which is only going to cost you more money.
Power
Electric nailers are usually weaker than their pneumatic cousins. However, most are still powerful enough to get the job done — "most" being the keyword in this sentence, however. Not ALL nailers are suitable for actually driving nails. Some machines we reviewed were so weak that they could hardly drive a nail through cardboard.
More Brad Nail Gun Articles:
Which is our all-time favorite brad nailer?
16 Gauge vs 18 Gauge Nailer: Which is Best For Your Needs?
Reviews of cordless brad nailers (pneumatic included)

Conclusion
For most professionals and homeowners, the BOSTITCH BTFP12233 Brad Nailer is going to be your best choice. It has a carrying case, is comfortable to use, and has enough power for most materials and nails.  It isn't expensive either and comes with all the features you need to get most jobs done.
The WEN 61721 Brad Nailer is a better option for those who are on a budget, though. It is less expensive than other options, though it can still do most light projects. It might not be suitable for professionals or those who plan on using a brad nailer often, however.
We hope our reviews and buyer guide helped you choose the best nailer for you. They can be difficult to sort through, but with a little bit of knowledge, you'll be choosing tools like a pro in no time.
See Also: