10 Best Automatic Pool Cleaners of 2023 – Top Picks & Reviews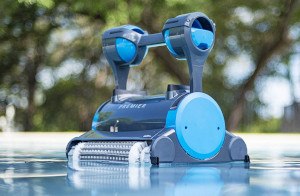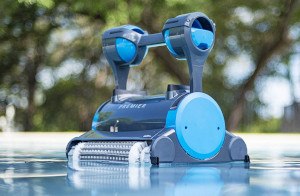 Pool maintenance takes time that we would all rather save for something more rewarding. If you want to spend less time cleaning your pool and more time swimming in it, an automatic pool cleaner can be a perfect option for you.
When it comes to choosing which automatic pool cleaner is best, it can get quite overwhelming. There are hundreds of models, different pool pump requirements, and conflicting reviews. We put together our list of ten potential automatic pool cleaners. We tried to pick an option that will work for every budget; luckily, not all automatic pool cleaners are incredibly expensive. Take a look at these options, and if you have questions about the right model for you, we included a buyer's guide for some direction.

A Comparison of Our Favorite Products in 2023
Rating
Image
Product
Details

Best Overall

Dolphin Nautilus CC Plus

Energy-efficient
Easy programming
Top-load filter cartridges
CHECK PRICE

Premium Choice

Dolphin Premier

Great cleaning
Very efficient motor
Filter cartridges or bag
CHECK PRICE

Best Value

Polaris Vac-Sweep 360

Easy installation
No booster pump required
Works well with larger debris
CHECK PRICE

Hayward AquaNaut 400

Variable-speed pumps
Roller skirt for increased suction
Programmable steering sequences
CHECK PRICE

Polaris F9550

Robotic
Great vacuum
Aqua-Trax tires
CHECK PRICE
The 10 Best Automatic Pool Cleaners
1.

Dolphin Nautilus CC Plus Automatic Pool Cleaner – Best Overall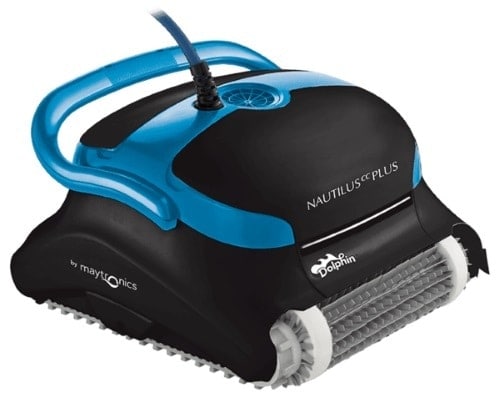 The Dolphin Nautilus CC Plus Robotic is our choice for the best automatic pool cleaner on the market. The robotic nature of this unit will save you some money on your next electric bill. Traditional suction-side or pressure-side cleaners are not quite as smart as the Dolphin Nautilus. The Dolphin Nautilus has built-in smart scanning technology to help it identify the areas that need the most help.
When it comes to taking care of your Dolphin Nautilus CC, you simply remove the easy to clean filter cartridges and put them back in. It's a job that will take you just a few minutes.
When choosing an automatic pool, cleaner programming is imperative. Luckily you can program this unit to run every day, every other day, or every third day. With its quality cleaning capabilities, you likely won't need it to run every day unless you had a storm or a large group of people swimming.
Like any automatic pool cleaner, the Dolphin Nautilus CC Plus struggles with steps. Who hasn't struggled with a step or two at some point in their life?
If you are looking for a quality unit that will keep your pool looking clean without you having to babysit it or do it yourself, you will be pleased with this automatic pool cleaner.
Pros
Robotic
Top-load filter cartridges
Easy programming
Energy-efficient
Cons
Sometimes struggles with steps
---
2.

Dolphin Premier In-Ground Pool Cleaner – Premium Choice
If you're looking for something and the budget does not matter, the Dolphin Premier Robotic In-Ground Pool Cleaner may be the model for you. Every company has its high performing top model, and this is it for Dolphin.  This unit is compatible with multiple filter cartridges or a large leaf bag.
When dealing with pool maintenance and upkeep, energy conservation should be a concern. If your pool is sparkling, but your electric bill is painful to look at, there is a happy medium.  The Dolphin Premier Robotic comes with a very efficient DC motor, making it one of the best models for energy conservation.
As far as cleaning capability, you will not find a pool cleaner that can do a better job than this premier model. Dolphin stands behind its products with a three-year warranty.
As we mentioned, this pool cleaner is almost double the cost of the Dolphin Nautilus CC. If money does not matter, this is a natural choice; but if it does, you will have to carefully weigh the benefits of this model over the Dolphin Nautilus CC.
Pros
Filter cartridges or bag
Very efficient motor
Three-year warranty
Great cleaning
---
3.

Polaris Vac-Sweep 360 Automatic Pool Cleaner – Best Value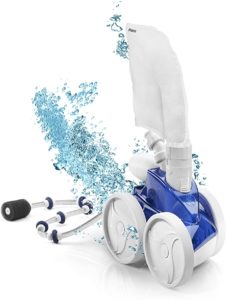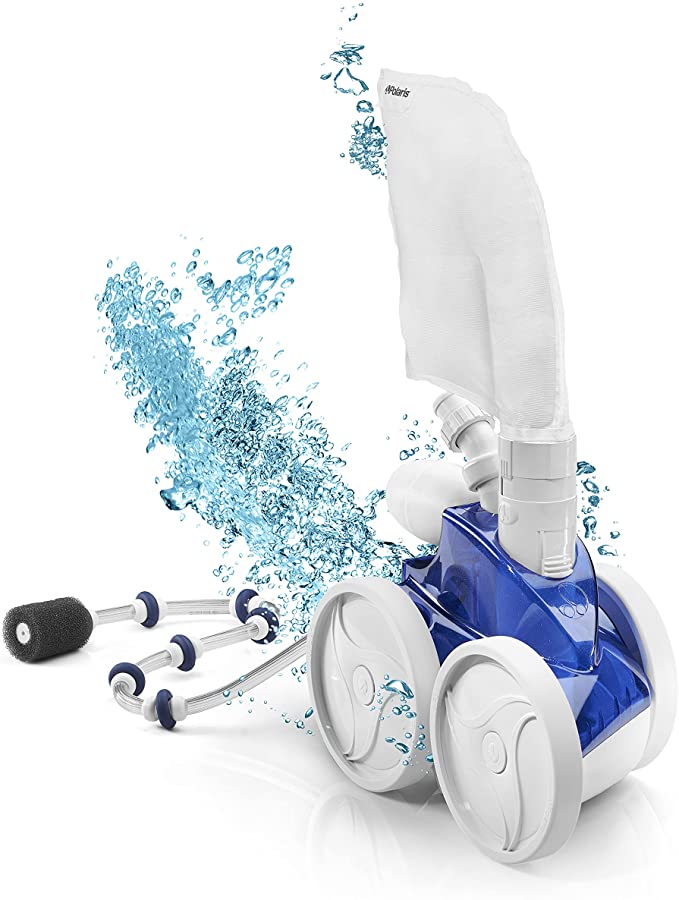 The Polaris Vac-Sweep 360 is the best of the pressure-side pool vacuums. It cleans well, even if you don't have a booster pump. You can run this cleaner off your primary pump, which ultimately saves you lots of money relative to models requiring a booster pump. This cleaner is also straightforward to install, and most people can get it done in 20 minutes.
The Polaris does best with large leaves and debris in your pool. If your pool is located under a tree and you find yourself continually skimming the pool, hoping that the leaves don't fall, Polaris will have your back.  When it comes to small particles, this machine does not compare to our top two choices.
The Polaris will skip over smaller particles, sometimes making a secondary vacuum necessary.
The positive of the Polaris is the price point. It is a very affordable option for an automatic pool cleaner. If you are simply tired of being in charge of vacuuming the pool every weekend and need a helper, this is the perfect machine for you.
Pros
No booster pump required
Easy installation
Works well with larger debris
Great price
Cons
Underwhelming instructions
---
4.

Hayward AquaNaut 400 In-Ground Pool Cleaner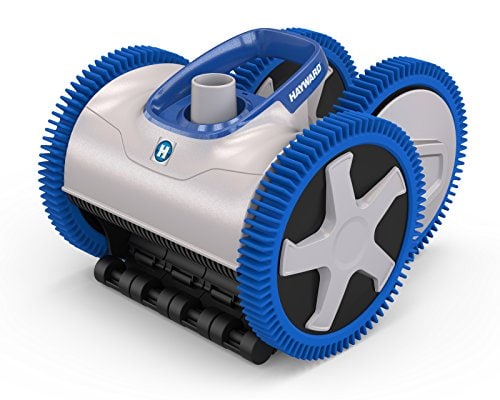 If you have had the best luck with a suction-side pool cleaner, the Hayward AquaNaut 400 is a great choice.  This model has some power behind it, and even though it is a suction-sided unit, it is faster than many other automatic pool cleaners on the market.
The Hayward AquaNaut 400 has a roller skirt that helps it maintain suction and stay up on the walls of the pool when needed.  One of the most important things about this type of pool cleaner is that the suction power needs to be strong enough to keep the unit climbing. If you lose suction power, then this cleaner will stay on the bottom of the pool and move slowly.  Make sure you check to make sure that this model is compatible with your current pool equipment.
You can program different steering sequences into this unit to match the shape of your pool.  This is a very nice feature considering we all have that one corner of the pool that always gets missed.  If suction-side pool cleaners are what you need, this is a great choice.
Pros
Four-wheel drive
Roller skirt for increased suction
Works with variable-speed pumps
Programmable steering sequences
---
5.

Polaris F9550 In-Ground Pool Vacuum

The Polaris F9550 Sport Robotic In-Ground Pool Cleaner includes some robotic features that most people will find handy. It has an excellent sensor technology, which allows it to clean your pool evenly, and a seven-day programmable timer with a handheld remote. Its Aqua-Trax tires have a superior grip relative to many of the models on our list.
This Polaris is a solid overall choice that will do well at picking up both dirt and larger objects.
As long as the dirt is on the bottom of the pool, you will be pleased with the Polaris F9550. Unfortunately, if you are looking for a model that will also climb the walls of the pool, the Polaris tends to struggle with that.
If you are concerned about cost, this model is quite expensive. The higher price combined with the fact that you could end up having a unit that only focuses on the bottom of the pool makes this a decent choice for an automatic pool vacuum, but you may want to consider other options.
Pros
Robotic
Aqua-Trax tires
Great vacuum
Cons
Struggles with walls
Expensive
---
6.

Hayward 'The Pool Cleaner' (Suction-Side)

The best thing about the Hayward Poolvergnuegen 'The Pool Cleaner' Suction Pool Vacuum is its self-adjusting turbine vanes. These turbine vanes allow large debris to pass through without damaging the unit and also help it maintain uniform suction while it's in motion. If your kids have left a pool toy or two that has damaged other automatic pool cleaners, this could be an excellent option for you.
This Hayward model also has multiple pre-programmed steering sequences letting you dial in exactly how it cleans your pool. With having no trouble moving over uneven pool surfaces, this cleaner continually works to get the job done without many hold-ups.
However, this model suffers from the classic pool cleaner problem. It doesn't always do well with walls. In this case, it has a lot to do with the floats this model uses. The manual recommends using more floats to help it turn over if it gets flipped, but using fewer floats gives it the grip it needs to grab the walls and climb.
If you are finding that your pool develops a lot of algae and you are brushing your pool frequently, this would not be the best pool cleaner for you. Choose something that does well at climbing the walls of the pool to discourage that algae from growing.
If, however, you want a reliable option for bottom cleaning, this model will deliver.
Pros
Self-adjusting turbine vanes
Roller skirt
Pre-programmed steering sequences
Cons
Wall-climbing issues
Struggles with algae
---
7.

Zodiac Baracuda G3 Suction Side Pool Vac

The Zodiac Baracuda G3 is another high-quality suction-side pool cleaner. You may like it a lot if you have a low-speed pump, as it works well with low-speed pumps. If you don't have a booster or don't want to buy one, this cleaner is a good investment. It features a large wheel deflector, which helps it get out of tight corners in your pool and get back to work.
The actual size of this unit with its large cleaning disc makes it more efficient on every pass it makes through the pool. This Zodiac Baracuda is unfortunately not as easy to assemble as some other models.
Our last few reviews struggled with cleaning the sides of the pool, but the Zodiac does fine with the sides. The place you may find that it struggles is the stairs of the pool, but this can be common for automatic pool cleaners. Sometimes, you can manually place the cleaner on the stairs before putting it away, and it will get the job done.
Overall, this is a functional unit that will get the job done pretty quickly, after the initial setup.
Pros
Works with low-speed pumps
Good performance in tight corners
Great contact with pool
Cons
Tricky assembly
Struggles with stairs
---
8.

Pentair Kreepy Krauly Automatic Pool Cleaner

The Pentair LL505G Kreepy Krauly is an excellent model to consider if you have a darker pool. It's colored in a way that helps it stand out better in darker pools. This will save you a lot of time since you won't have to search for your pool cleaner every time you use it. It also features a large intake throat that makes it suitable with larger debris, so it's a good buy for wooded properties.
One of the positive design features is the four wheels, which leave it better-balanced than most three-wheel designs.
If you don't have a darker pool, this may not be the model for you. It's quite expensive. It does clean thoroughly, but you can get equally good cleaning power for less money. The manufacturer also recommends a booster pump, even if it doesn't strictly require one. If you want to get the best performance out of this model, you'll end up shelling out a lot more, which makes this a costly purchase. Ultimately, most people will like how well this unit works, but its high price means it doesn't deliver incredible value.
Pros
Balanced wheel design
Good with large debris
Coloration good for darker pools
Cons
Expensive
Works best with a booster pump
---
9.

Zodiac Baracuda MX6 Automatic Pool Vacuum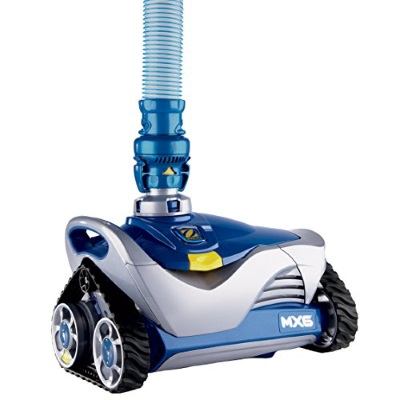 The other Zodiac model that we chose also does amazing with walls. If you have an algae problem on your walls and need something to help, seriously consider these Zodiac pool cleaners. The Zodiac Baracuda MX6 can sometimes get stuck above the waterline and bring in some air to the pump. This is not good for your system if it is continually occurring.
The MX6 will work well with low-flow systems, and you should not need a booster pump to operate the automatic pool cleaner.  The other problem with this unit is the hoses. It requires proprietary hoses, which are both expensive and prone to tangling. Even worse, the hoses have truly poor durability and often break down before the two-year mark, making the cost of operating this model very high. If you're looking for a relatively inexpensive cleaner that will last a long time, this model isn't the one for you. While it isn't expensive, it's likely to leave some users unhappy.
Pros
Low-flow design
Great wall climber
Cons
Frequently gets stuck
Proprietary hose type
Poor durability
---
10.

XtremepowerUS In-Ground Pool Cleaner (Automatic)

If you were waiting for the pure budget model, you have found it with the XtremepowerUS 75037 Pool Cleaner Vacuum . The best thing about it is that it comes with effortless assembly and installation. You won't waste a lot of time getting this machine set up and can have it cleaning your pool fast. This unit is priced so low that you can replace it a few times for the cost of some other models if that is the type of machine you are looking for.
However, this cleaner doesn't work with large debris at all. If leaves or acorns fall into your pool, they can clog this machine and cause it to stop working. That's a big problem, as this cleaner already has jamming issues that causes it to malfunction. Some problems are not unexpected at this price point, but it can be challenging to deal with. The weights on the hose, which must remain precisely positioned for efficient cleaning, also slide around. Ultimately, you'll only really like this machine if you need a very low-priced pool cleaner and don't mind investing a lot of time to keep it working.
Cons
Doesn't work with large debris
Flapper jams
Loose weights

Buyers Guide – How To Pick the Best Automatic Pool Vacuum for Your Needs
Robotic vs Pressure vs Suction Pool Cleaners: How Do You Choose?
There are three primary kinds of pool cleaners. It's important to understand how they work in order to get the model that will work best in your pool and provide you great value for the money. The team at Pool Cleaner Planet and Housegrail is here to help.
Robotic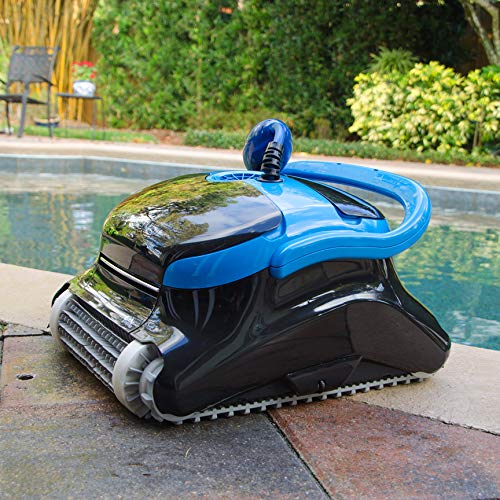 Robotic pool cleaners are the only kind that doesn't tie into your pool's pump system in order to operate. That means they're typically the model that is easiest to set up. They only require an electric outlet to operate, and there are no hoses to deal with.
Because they don't put any extra pressure on your pumps, they won't have to work harder, and your energy bills will drop as a result. In fact, it sometimes makes sense to turn your pumps off while you run your robotic pool cleaner. This allows any dirt floating in the water to settle to the bottom, where the robot can pick it up.
These cleaners often come with more advanced navigation systems than other types. They can also come with sensors that detect dirt and algae, which allows them to go back over problem areas so that the entire pool is uniformly clean.
The downside is that they can cost hundreds, sometimes thousands, of dollars. They have a lower cost of operation, but they do incur a huge upfront cost. However, most robotic models justify their high prices with excellent performance.
Our favorite robotic model is the Dolphin Nautilus CC Plus.
Pressure-side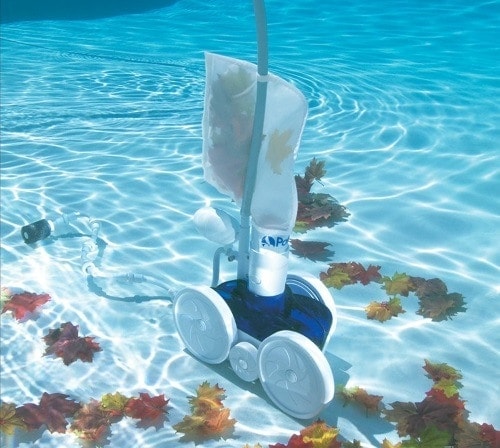 Pressure-side pool cleaners connect directly to your pool's pump system. They use the pressure provided by the water returning to your pool after it has passed through the pump, hence the name "pressure-side."
The pressurized water is used to push the cleaner forward, which turns the wheels. The motion of the wheels is used to create suction, which picks up debris, algae, and dirt. Since these cleaners collect material in their own filter bags, they don't put any extra wear on your pump and filters, though they will need cleaning out after every cleaning cycle.
They aren't as easy to install as robotic cleaners, but they tend to be simpler to set up and operate than suction-side cleaners. However, they have a higher operating cost. They put more pressure on your pump, which causes it to work harder and consume more electricity.
In some situations, they'll also require an additional booster pump to get the pressure high enough. While most people with pumps of at least 1.5 horsepower won't have an issue, people with older or smaller pumps may need a booster pump to run a pressure-side cleaner.
Unlike robotic models, they aren't guided by a computer chip, but they do use a number of mechanical tricks to cover a pool.
Our favorite pressure side model is the Polaris Vac-Sweep 360.
Suction-side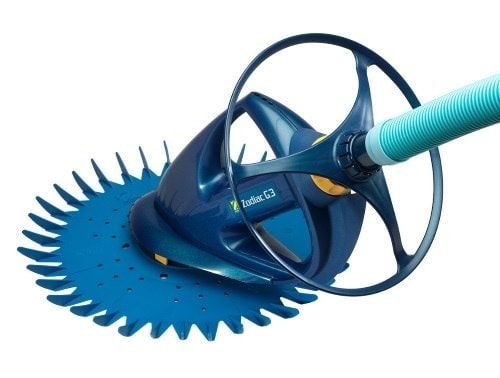 Suction-side pool cleaners are the inverse of pressure-side models. They attach to the suction side of your pump, so they use the suction provided by that pump to pick up debris and move around your pool. The debris passes through the suction-side pool cleaner, to the hose that connects it to the suction port. The water is then passed through to the pump, where it's caught in the filter basket. That means you should empty your pump's filter basket after each cleaning cycle.
Like pressure-side models, suction-side models put more stress on your pump and cause it to use more electricity. That means their cost of operation can be very high.
However, these tend to be the lowest-priced models. If you need a high-quality cleaning device, but don't want to break the bank, this is the category to examine first.
Depending on what kind of pool you have, setting up this model can potentially be tricky. Many pools have a dedicated suction cleaner line, which makes installation fast. Others don't, so you may have to spend some time working with the pipes around your filter basket to get these cleaners to work.
However, suction-side models are less sensitive to water pressure and can run on lower pressures than pressure-side models, and they never require booster pumps.
The team at PoolCleanerPlanet's favorite suction side model is the Zodiac Baracuda G3.
–> You can read more about the different types of pool cleaners here.
Filters
Many people underestimate the effect their filters have on their cleaner's performance. If you're using a suction-side model, the quality of your filter basket has a big effect on how well your pool is cleaned. The quality of the filters you use with your robotic and pressure-side pool cleaners greatly affects how clean they can get your pool.
Some models come with exchangeable filters that allow you to set the cleaner to work with fine dust and algae or to clean up larger debris like sticks and leaves. Some filters try to be a one-size-fits-all solution, but struggle with either large or small debris, which can lead to clogging.
The best way to get the right filter is to survey the debris in your pool and choose a model with filters that excel with the debris you most commonly find.
Which Type is the Best Pool Cleaner For My Needs?
Many people primarily look at price when they purchase a pool cleaner, which is understandable, but it also frequently ends up with them investing in a model they don't like.
A better strategy starts with assessing your pool's needs. Notice what debris is likely to be present, and what obstacles, like ladders, stairs, or light fixtures, could get in the way. Then determine what types of pool cleaners best overcome those obstacles.
Limit your search to models that meet those needs. Then rank your remaining models by price and buy the least expensive model. It'll have the features you need for a very clean pool, but at the lowest overall price, making it the best value.

Conclusion
The Dolphin Nautilus CC Plus is our favorite model due to its easy programming, energy-efficient operation, and top-load filter cartridges. The team at PoolCleanerPlanet chose the next-best model to be the Dolphin Premier Robotic. It has the option to use filter cartridges or a leaf bag, an extremely efficient motor, and a three-year warranty. The Polaris Vac-Sweep 360 takes third place with its easy installation and great performance with larger debris. Its low price makes it the best overall value for the money.
The Hayward AquaNaut 400 earns the fourth place with its four-wheel drive and great roller skirt, though it struggles with walls. The Polaris F9550 Sport Robotic In-Ground Pool Cleaner comes with the robotic operation and Aqua-Trax tires, but its high price and issues with walls hurt its value. In the sixth, the Hayward Poolvergnuegen 'The Pool Cleaner' has self-adjusting turbine vanes and pre-programmed steering sequences, but it has problems with walls and algae.
The Zodiac Baracuda G3 works with low-speed pumps and has good performance in corners, but issues with assembly and stairs drop it to seventh place. In eighth, the Pentair LL505G Kreepy Krauly is great for darker pools and features a stable wheel design. However, it has a high price and requires a booster pump.
The Zodiac Baracuda MX6 works well with low-flow pumps and is good at climbing walls, but its poor durability and propensity for getting stuck really hurt its value. The last place is taken by the XtremepowerUS 75037. It has an easy assembly and a low price, but buyers should be cautious about its frequent jamming and overall low quality.
Hopefully, the pool sweeper reviews and buyer's guide from the team at Pool Cleaner Planet have helped you learn about the different types of automatic pool cleaners. Armed with that information, you should be able to find the model that works best for your pool, at a great price.
Just a quick note. If you came here looking for above-ground pool cleaners – then check out our guide here. Also, feel free to check out our popular Dolphin & Polaris buying guides.