10 Best Cordless Lawn Edgers of 2023 – Reviews & Top Picks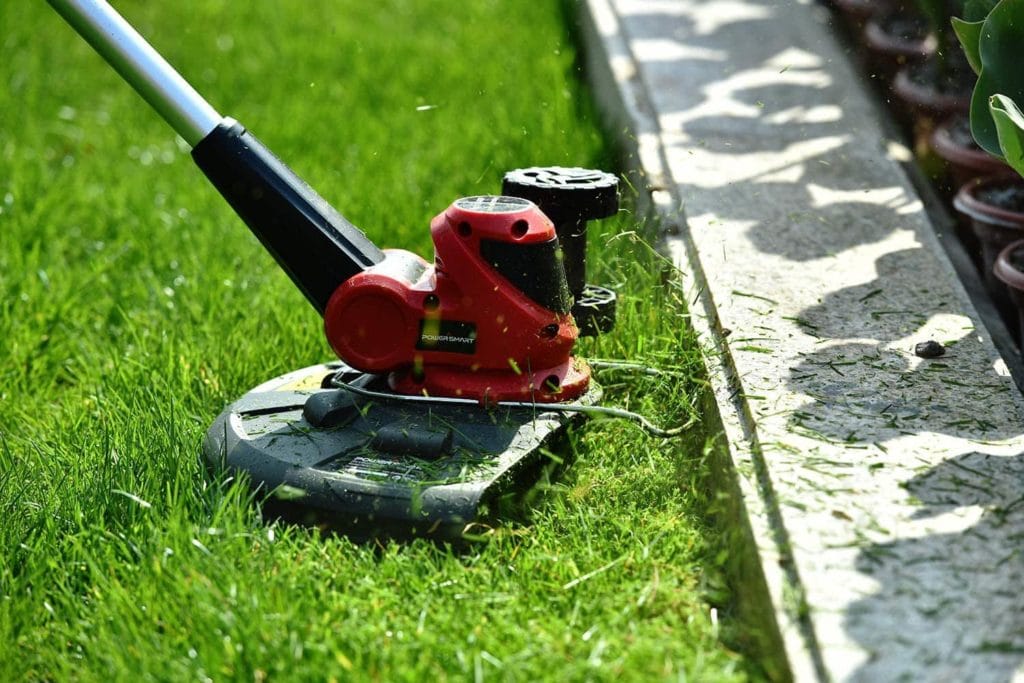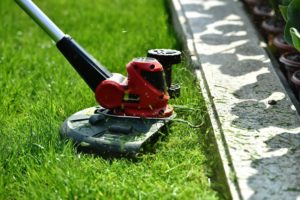 Lawn envy is a real thing. Have you ever looked over at your neighbor's lawn and wondered what kind of witchcraft they've summoned to make it so crisp and tidy? You may take a peek at your own scraggly lawn, unmoved by all your efforts, and be tempted to despair. But fear not! Your neighbor has not made a deal with the devil — he has simply invested in the right equipment.
Lawn edgers are the unsung hero of a truly special lawn. They create sharp lines and definitions that morph it from standard to impressive. In fact, they are just as essential as your lawnmower for proper maintenance. And with a cordless edger, you don't have to calculate how far of a radius you have to be from the outlet.
But with all the options out there, which do you choose? We created a list of reviews that are designed to help you maneuver through the buying process. Each one will highlight the major details to see what works best for you, and maybe make your neighbor green with envy.
A Quick Comparison of Our Favorites in 2023
Rating
Image
Product
Details

Best Overall

BLACK+DECKER 3-in-1

3 modes: edger
trimmer
and mower
Small footprint
Decent battery life
CHECK PRICE

Best Value

PowerSmart

Best value
Lightweight
Adjustable handle
CHECK PRICE

Premium Choice

WORX

2 batteries for longer use
Space guard to protect your plants
Tilting head for out-of-reach places
CHECK PRICE

Makita

Lightweight
18V battery
7
800 RPM
CHECK PRICE

Ryobi

Lightweight
Sleek design
Easy to convert
CHECK PRICE
The 10 Best Cordless Lawn Edgers
1.

BLACK+DECKER MTC220 3-in-1 Edger – Best Overall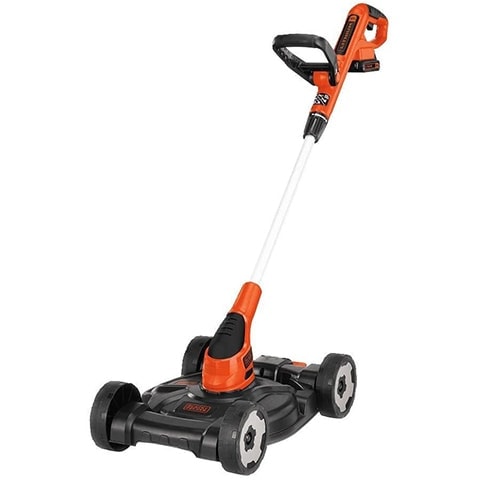 What makes the Black+Decker MTC220 stand out is its versatility. In addition to being an edger, it's also a mower and trimmer with a simple step converter to shift from one mode to the next. The adjustability of the handle makes it comfortable to use for a wider range of people.
A fully charged battery will last you for a decent amount of time, depending on your task. It's also compact and light, making it both easy to use and store.
This edger is great for someone who has a small lawn or needs to do a lot of navigating in certain areas. As a mower, it can get into those tight spaces that a larger mower couldn't. But it's not a loss for people with big lawns. This can be used as a supplement to your full-size mower for inclines or maze-like areas. And the most important part is that the edger and trimmer modes do their jobs really well.
Pros
3 modes: edger, trimmer, and mower
Small footprint
Decent battery life
Adjustable handle
Cons
Shouldn't be the only mower for a large lawn
---
2.

PowerSmart Lithium-Ion Cordless Edger – Best Value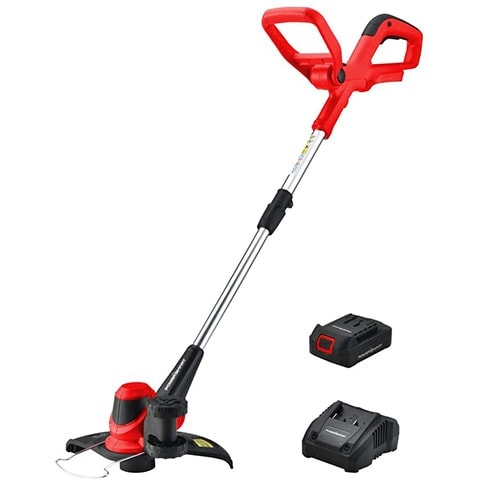 If you're looking for more bang for your buck, the PowerSmart PS76110A is the best cordless lawn edger for the money. This tool can function as both an edger and a trimmer. It's lightweight at 7.5 pounds, making it easy to maneuver around the lawn. If you're using the trimmer mode, the automatic feed spool feeds the line without having to stop and change it out.
The handle is adjustable, which means no bending over for our tall lawn edgers (no promises to Shaq). To come to a full charge, the PowerSmart needs just an hour to recharge and will output 1.5 amps of current for an hour at full charge. This isn't an earth-shattering battery life for the output, but it should be just enough time to get the job done. If you want something with the features to make your life easier while still not being a huge investment, this is a great edger to turn to.
Pros
Best value
Lightweight
Adjustable handle
Cons
Battery life good, not great
---
3.

WORX WG163 Cordless String Trimmer & Edger –  Premium Choice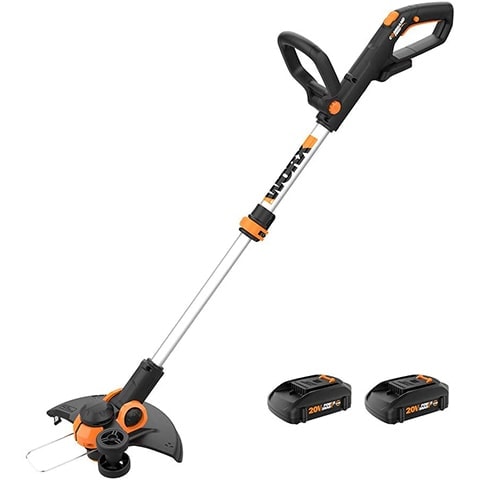 What makes this our premium pick is the unique features you get for a bit of extra cash. Like most of the options we are reviewing, the Worx WG163 GT can function as both a trimmer and an edger. It's tilting head can pivot at 90°, allowing you to be more mobile in areas with quick turns or hills.
It comes with two 20V batteries, and depending on your use it can last in the range of 30-45 minutes each at a full charge. This gives you 1+ hours at 2.0 ampere hours (Ah). If you have other compatible Worx products, the batteries are interchangeable.
One of the scariest parts of working on your lawn is the potential to run over something you weren't intending to, like that zinnia bush you've been working so hard on. We like that this has an adjustable space guard to protect the things you weren't planning to trim. These more advanced features can take your lawn maintenance up an octave.
Pros
2 batteries for longer use
Space guard to protect your plants
Tilting head for out-of-reach places
20V batteries interchangeable with compatible tools
Cons
Slightly more expensive option
Not as powerful as an electric edger
---
4.

Makita XRU02Z Lithium-Ion Cordless String Trimmer
Cordless edgers are a major draw for someone looking for convenience. The Makita XRU02Z adds on to the convenience factor with a light body – under 6.5 pounds when you include the battery. It also has a noticeably compact design, making it easier for stowing away. You can switch from edger to trimmer by simply rotating the head. The loop handle is adjustable for more comfortable use while you're working.
The battery life can last up to 45 minutes, depending on which type you have, but you won't get it with the device. You will have to purchase the battery separately. But if you are running low on battery life, they have a warning system to alert you and protect from overloading or overheating the battery by automatically shutting the edger down. This is a nice edger, but you'll have to pay a bit more (not including the battery).
Pros
Lightweight
18V battery
7,800 RPM
Rotating head for easy mode conversion
Cons
Battery sold separately
Premium price for mostly standard features
---
5.

Ryobi 18V One Plus Line Trimmer/Edger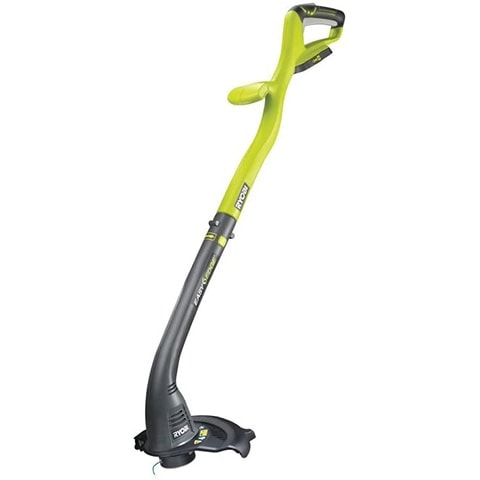 The Ryobi is one of the most attractive edgers on our list. It has a sleek shape and bold colors. Maybe aesthetics mean little to you, but why not use something that works well and looks nice? Don't let that distract you, though. This edger is not just another pretty face. The 18V battery takes just an hour to charge and is interchangeable with the other Ryobi One+ tools, although you'll have to buy it separately if you don't already have one.
Changing from edger to trimmer is fairly simple with the press-and-turn converter. It's small and incredibly light, at just shy of 5 pounds. The auto line feed makes things easier when you are using the trimming feature. There is no adjustable handle here, so if you are a tall person, you might be hunching over to complete your lawn. Compared with some of the other selections here, this is an affordable edger for the features you're getting.
Pros
Lightweight
Sleek design
Easy to convert
Auto line feed
Affordable
Cons
No adjustable handle
Battery sold separately
---
6.

Ukoke Cordless Electric Power Grass Trimmer
The Ukote U02TE is another versatile tool that can easily switch from edger to trimmer with a pivoting head. You can even make adjustments to the head to help you reach more difficult angles and spaces. The edge wheels help guide your cuts as you move, making your outcome more precise. Combined with the automatic feed spool as a trimmer, this is a nice option for someone new to lawn care as it's easy to use.
It comes loaded with a 20V, 2.0Ah battery. However, it won't last you long at all. Depending on the size of your lawn and the job it's performing, you may want something that has a longer output. The average length of time this can handle is about 20 minutes. The trade-off, though, is that it's incredibly lightweight at just 5 pounds and comes in at a nice price.
Pros
Easy to use
Edge wheels for precision
Lightweight
Affordable
---
7.

CRAFTSMAN String Trimmer / Edger

A unique feature with the Craftsman CMCST910M1 is its speed settings. Instead of being stuck with a powerful output and, consequently, short battery life, you can make the decision to reduce the power based on what your lawn needs. The trimming line feed has a button to help you easily control it, but the performance of this is glitchy.
It comes with a 2.0 Ah battery and the life from a single charge is decent. It weighs just over 6 pounds and has an adjustable pole length for easy use. But the real draw of the Craftsman is its power output. If you choose to operate it at the highest setting, you will have an incredible response for some of your more intense maintenance needs.
This will come at a price, though. It's one of the only tools on this list for over $100, and some of the cheaper products have more features. It comes down to how much you value the ability to operate your edger at that high power level.
Pros
Powerful
Speed settings
Decent battery life
Cons
More expensive, without many premium features
Glitchy feed line button
---
8.

DEKO Cordless String Trimmer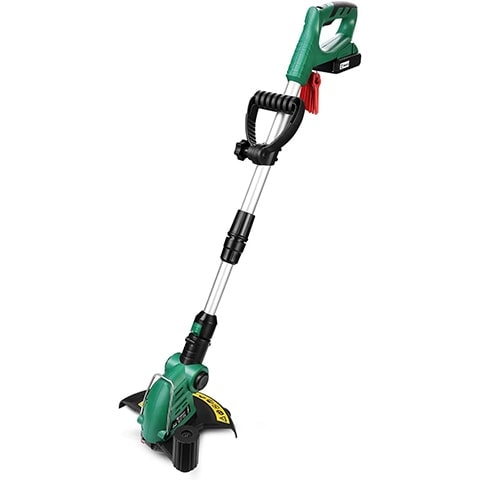 If you've been taking notes, we like a sleeker edger – not just for aesthetics but also for ease of use. The DEKO Cordless String Trimmer is somewhat clunkier in appearance and feel. That being said, it is adjustable and surprisingly lightweight at 6.2  pounds. It comes with a battery that will last you about an hour, which should be able to take care of a small lawn in one use.
The downfall of this tool is its plastic blades. They are not very durable and can't handle running into anything stronger than a few blades of grass without needing repair. It comes with extra supplies of blades, but this can be a hassle when it's a regular issue. While the price may be more economical, if you need something that will be a bit heartier, you might want to look elsewhere.
Pros
Lightweight
Decent battery life
Adjustable head and arm
Cons
Weak plastic blades
Clunky design
Not good for big lawns
---
9.

DEWALT DCST920B String Trimmer
The DeWALT DCST920B gives you some more control when you're putting it to work. Powerful doesn't always mean better. For some areas of your lawn, you may need a more delicate touch. It has variable speed settings and Hi/Lo speed control switch for when you want to take it easier. This can help the battery life, too.
This is a heavier device but has a lot of power to it. It weighs just over 12 pounds, making it the heaviest on the list. The cutting swatch is 13 inches, just slightly more than some of the alternatives. The battery life performs well, also.
But some of the features that could justify its premium price are lacking. The trimmer guard does not work well and there is no adjustable line feed, although the handle will adjust. And for over $100, the battery is not included. Ultimately, you could find more features for less with a different product.
Pros
Variable speed settings for more control
Powerful
Good battery life
Cons
Heavy
Poor trimmer guard
No adjustable line feed
No battery included
Not a good value for the premium price
---
10.

EGO Power+ EA0800 8-Inch Edger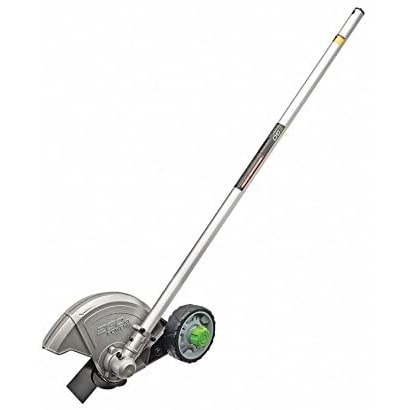 This is the only product on our review list that does not double as a trimmer. You might think that this would lead to a lower cost, and you would be wrong. Of course, that is forgivable if the device does what it's supposed to immaculately. This edger comes with a guide wheel and adjustable handle. You can also use the Power Head for other EGO attachments, like their trimmer, to take up less space.
This is a powerful tool with a 56V battery. The quality and durability are all there, and it does well as a precision instrument. However, it is very heavy, so it can be difficult to use it for extended periods of time. And with most attachments going for over $100, the expenses can easily pile up.
Pros
Powerful and precise
Good battery life
Great quality
Cons
Can be prohibitively expensive
Heavy
Does not double as a trimmer
Not a great value
---
Buyer's Guide – Choosing the Best Cordless Lawn Edgers
We have gone over some solid selections in the world of cordless edgers. And while we tried to rank them by weighing their features and performance against price, this is a largely subjective process. What works well for you may not for the next person.
This buyer's guide is going to break things down even further, to help you look at the big picture and see what matters. We will be exploring some of the most common features mentioned above, lifestyle determinants, and how any of it plays a role when you're trying to cross things off of the list.
Common Features, And Why They Matter
The difference between a good edger and a great one is all in the details. If you look at the standard listing for an edger, you will see a lot of specs being thrown at you. It can be difficult to parse out which are important or what they even mean, especially if you are buying a cordless edger for the first time. So, let's take a look at some of the common ones and investigate what they mean and why you should care (or not).
Depending on your lawn, the power of your edger is important to consider. If your yard is small, flat, and generally low maintenance, you might not need something with a high amount of torque and speed.
But if you find yourself dealing with tougher areas, a high-powered edger is essential. If your edger has over 4.75 torques, you are probably in good condition. The cordless edger is also definitely more convenient and portable, but if you require more power, you might have to move to a gas-powered or corded edger.
The battery is a very important aspect of your purchase. You found the perfect one. It does everything you need to, has all the power you desire, and it looks nice in your shed. Perfect – except it can only handle 20 minutes on a single charge and you require way more than that.
Charging multiple times for one task will get old fast, no matter how quick the charge time is. Look at the current flow (amps) and ampere-hour (Ah) to give you a complete picture. The higher the ampere-hour number, the longer the device will last, as long as the current flow stays the same. Once this increases, the battery life starts to decrease.
The battery life is also determined by what you use it for. The harder your edger has to work, the more battery it will consume with less time. This is why checking the reviews and seeing what other people experience can be so valuable.
In a typical situation, you are controlling the way your edger moves and how straight the line you're making is. With guide wheels, you can take some guesswork out of this. The guide wheels are designed to help you be more precise and get improved definition out of your lawn. This is a great feature to have for someone who cares about accuracy.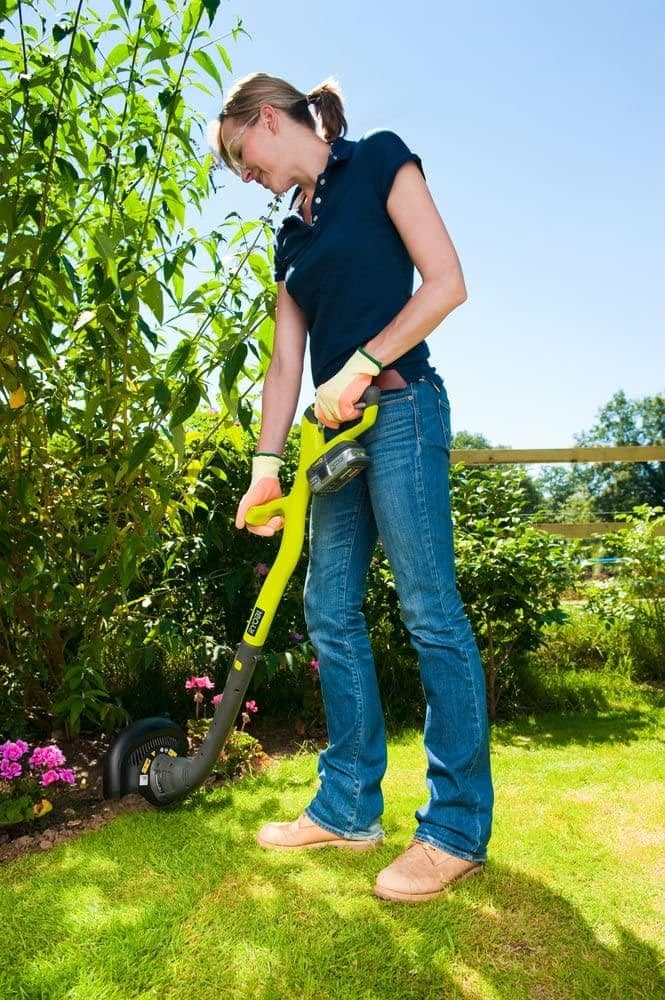 There are several different blades that an edge can come with. The more intricate options can offer you versatility, but will also cost you.
Flat rectangular blades
These are the blades most edgers will come standard with. They are best for flat, level lawns surrounded by a sidewalk or driveway.
Flat rectangular blades with scoop-cut edges
The angled edges of this blade are what help you to maneuver around tricky areas, like flowerbeds or gardens. Especially if you want to avoid mixing too much grass in the area, this blade will keep everything clean and tidy.
Star-shaped blades
If you need to cut your grass near a solid construct, like a wall or gate, the star-shaped blades are your friend. They help you get into these tight areas without causing any damage.
Most people are handling their edgers for at least 20 minutes, and probably more. That might not seem long, but imagine dragging around a heavy edger that whole time. Twelve pounds might not seem like a lot to start with, but your biceps will be screaming very soon. Alternatively, it's a good workout; just remember to get the other arm, too.
A lighter edger can sometimes come at the expense of power, though. Determine what's more important to you when factoring this in.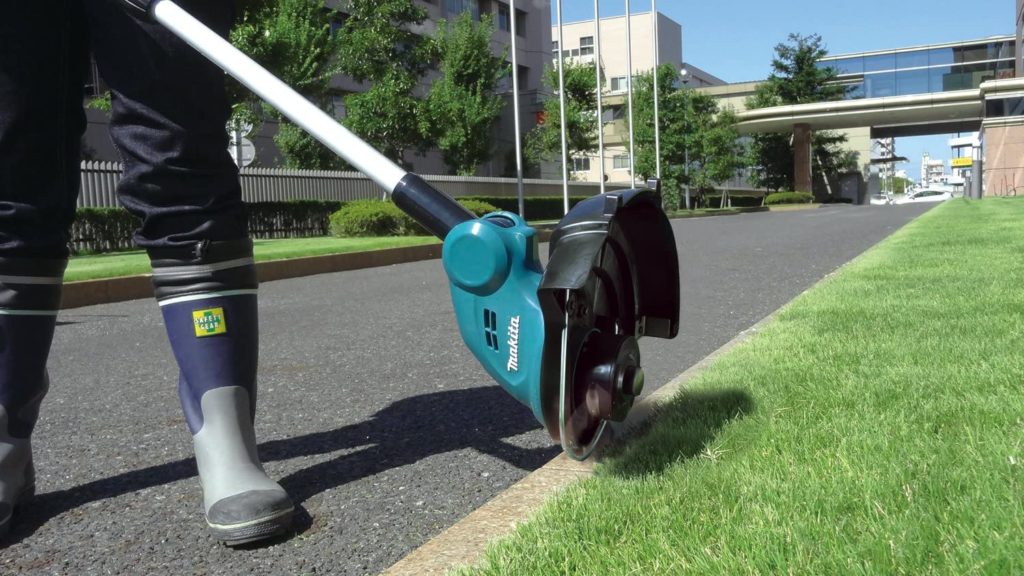 You want a lawn edger that can move around with ease, not one that's difficult to control and makes your arm shake like you've been electrocuted. This will make your life easier and provide more precise results. See if that high-powered edger can actually control its own output or will end up making zig-zags across your yard.
As you probably noticed before, most cordless edgers are not just edgers. They are also combination trimmers, and in some cases, they triple as a mower. While the rule of thumb is that a single-use device usually does its job better than a 2-in-1, edgers may be the exception. Because the two modes are so similar, there isn't much of a performance lag here. It really depends on your needs and how much you want to spend. 
Edgers are operated by humans and we come in all different sizes. Unless you are the perfect height for your edger, you probably want one that will have an adjustable handle or shaft. Especially if you have a task that lasts longer than 15 minutes, you don't want to have to hunch over to complete the job.
An adjustable pivoting head is also a great feature that gives you more mobility. You can get into difficult spaces or avoid certain areas more easily when the head can adjust on the go.

How To Assess Your Needs
Buying a new edger is a unique experience for everyone, mainly because everyone has a different living situation and budget, along with their own personal needs. Here are some key factors to consider when deciding what features you require.
Location, Location, Location
What is your land like? Is it a sprawling multi-acre farm? (Lucky you!) Maybe you have a petite lawn with a sweet, white picket fence. Or your front lawn dips into a slight hill. Depending on the lawn you're working with, certain features will be more important for you.
For instance, a farm owner with lots of space might want their edger to have more battery life. A smaller yard owner may not be as concerned about that but want more precision. And a garden owner may need blades that can handle lots of twists and turns. These are all things to keep front of mind when shopping around.
If you want your edger to come equipped with more features, you often have to pay for it. But, as we've hopefully shown above, this isn't always the case. Some edgers come packed with features and a durable frame for a great price. The determinant will ultimately be what your needs are, as there is always a trade-off.
One edger might have lots of bells and whistles but an output better suited for a small yard. Another might be a simpler option, but the power and durability are unmatched. Decide your ceiling price and what is valuable to you, and then start your selection process from there.
Some people love yard work. They could spend all day in the sun keeping their yards in order with a cold glass of lemonade for sustenance. They may not mind an edger that has a lower output and takes longer to handle. The convenience of a cordless device would be more important to them.
But if you are someone whose time is precious and you like to do the yard work as quickly as possible, you might instead opt for a more powerful edger. You may even prefer a gas-powered or corded option, as these can have a stronger output than cordless. Thinking about what you're willing to do will help you filter some options out.

Conclusion
We went over a decent amount of edgers with our reviews today and found some impressive options. Our best overall model was the Black+Decker MTC220 3-in-1 Edger for a lot of reasons. What impressed us the most was its versatility. It was the only option that packed three modes into one, and it did so without sacrificing quality. The 4-hour battery life was also memorable.
When it comes to budget options, the PowerSmart PS76110A Lithium-Ion Cordless Edger offered the best value. It was hard to find anything wrong with it and for the price, it packed a lot of features that even some of the more expensive models didn't have, including adjustability and automatic line feed.
There were many stand-outs on the list. We hope you have some extra tools in your arsenal now to assess what is out there and bring home an edger that will treat your lawn well, along with your wallet.