6 Best Gas Lawn Edgers of 2023 – Reviews & Top Picks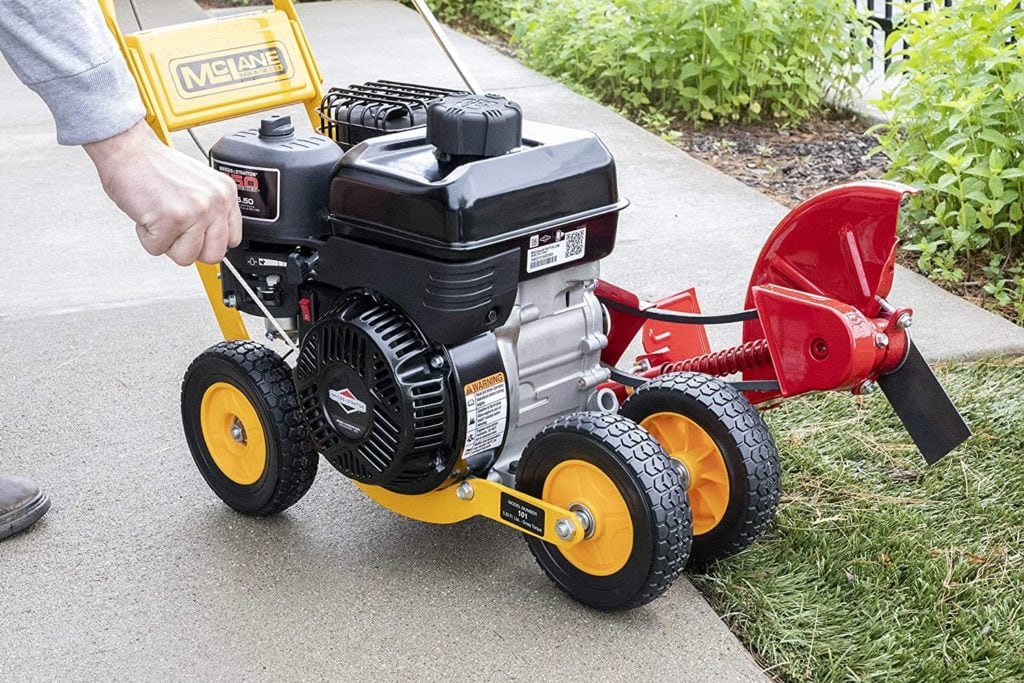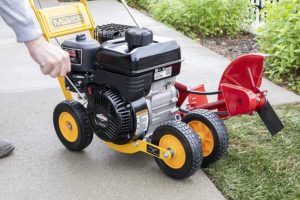 Properties with high curb appeal not only sell faster but also at a better price. A well-curated lawn is a hallmark of high curb appeal. Even if you are not planning to sell, the sight of a beautiful lawn can be incredibly satisfying. One of the most difficult aspects of lawn maintenance is maintaining clean and crisp lines along the edge of the lawn. Often, it is due to a lack of proper equipment.
Lawn edgers are mechanical tools that have been designed specifically for that purpose; to create cleaner boundaries between the grass and sideways or driveways. This results in a streamlined look that enhances the overall aesthetics of your lawn tremendously.
There are different types of lawn edgers, but gas-powered lawn edgers are the most powerful. However, gas edgers come in many brands and models, and choosing between them can be a real hassle. If you are in that predicament, we have got you covered.
Here are reviews of the six best gas lawn edgers on the market today. If you are planning to buy a gas edger, this is a must-read.
---
A Quick Comparison of Our Favorites in 2023
Rating
Image
Product
Details

Best Overall

Craftsman E405 4-Cycle Gas Powered Grass Lawn Edger

Sturdy build
Excellent performance
Ergonomic design for comfort
CHECK PRICE

Best Value

Troy-Bilt TB516 EC 4-Cycle Wheeled Edger with JumpStart Technolog

Dual-tip steel blade with 2.5" depth
Lightweight but powerful
Durable
CHECK PRICE

Premium Choice

McLane 101-5.5GT-7 Gas Powered Lawn Edger

Professional grade
Doubles as a trimmer
Powerful
CHECK PRICE

Earthquake Walk-Behind Lawn Edger

Powerful
Precise
Edging depth of 3.5"
CHECK PRICE

Troy-Bilt 25B-55MA766 9 in. Gas Edger

Powerful
Can take on large yards
6-position edging depth up to 2.25"
CHECK PRICE
The 6 Best Gas Lawn Edgers
1.

Craftsman Gas Powered Grass Lawn Edger – Best Overall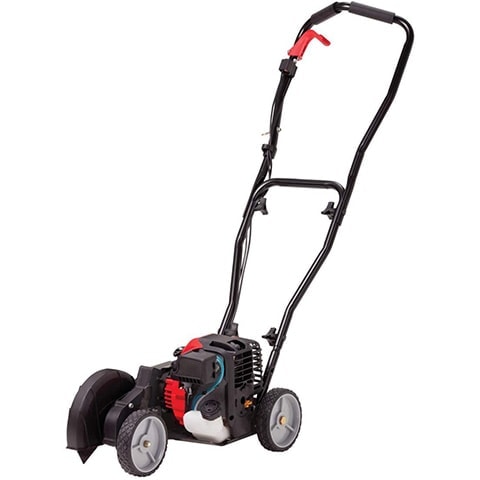 The Craftsman's E405 is arguably the best gas-powered lawn edger there is today. It is easy to use, can handle almost every grass type, and is incredibly durable. For starters, it comes with an adjustable 9-inch double-edged steel blade. This blade not only allows you to adjust its depth but also to cut from six different positions. This allows you to edge over all sorts of grasses and terrains.
The 29cc 4-cycle engine is powerful and incredibly silent during operation. Additionally, it does not require you to mix oil and gas for it to operate. It features a pull-start system, meaning a quick tug is all it needs to start. If pulling is not your thing, it also comes with a push-start button for your convenience. Nonetheless, the push-start option requires a 1,000-rpm drill to activate it.
For maneuverability, this edger has three wheels featuring treaded tires – two at the back and one in the front. The circular blade is the fourth "wheel." The wheels are optimized for enhanced stability to ensure that you stay on course once you establish your path. The treaded tires, on the other hand, make sure that the edger retains its grip in any situation.
To maximize your comfort during operation, this unit comes with a cushioned, ergonomic handle. You can even raise or lower the handle's height to suit your stature.
This edger, however, seems to be better suited for smaller lawns. If you have such a lawn, the blend of power and convenience that this unit offers you is hard to beat, which is why the Craftsman E405 4-Cycle Gas Powered Grass Lawn Edger is our top pick as the best gas lawn edger available this year.
Pros
Sturdy build
Excellent performance
Ergonomic design for comfort
Minimal noise during operation
Adjustable blade
Durable
Cons
Not suitable for larger lawns
---
2.

Troy-Bilt TB516 Edger with JumpStart Technology – Best Value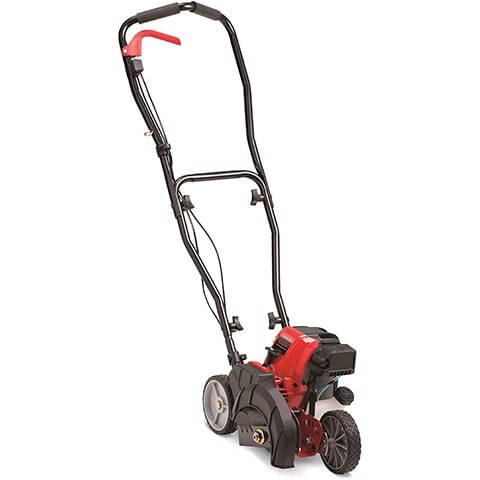 Troy-Bilt products are fan-favorites in the lawn equipment industry. This is because the manufacturer does not compromise on quality, yet remains pocket-friendly.
The Troy-Bilt TB516 gas edger comes with a 4-cycle 29cc engine, which is incredibly powerful for a 22-pound machine. As a result, it does not require you to mix gas with oil for it to operate. However, the fuel tank's capacity is quite small at 0.4 quarts.
The TB516 comes with a 9-inch dual-tip steel blade that allows you to adjust its height to up to six different positions for more flexibility. Additionally, it has a cutting depth of up to 2.5 inches, thereby allowing you to reach the grass's roots effectively.  A poly shield covers the blade to keep debris away.
While this edger does come with a pull-start cord, the manufacturer has incorporated JumpStart technology to allow you a hassle-free start. However, you will have to purchase the starter separately.
The hardiness of the Troy-Bilt TB516 is the stuff of legend. In addition to being able to operate on almost any type of terrain, it can work in low temperatures as well. However, you should warm the engine first before you use the edger in cold weather.
For maneuverability and comfort, this unit has three sturdy wheels and an ergonomic handle. The handle's design allows you to fold it, thus allowing you to store in small spaces. However, you will require some practice using this edger before you can get it to deliver the results that you want. Additionally, it might be undersized for larger gardens or lawns.
Nonetheless, its price is a true bargain and backed with a 2-year warranty, which is why it is arguably the best gas lawn edger for the money.
Pros
Dual-tip steel blade with 2.5" depth
Lightweight but powerful
Durable
JumpStart technology
Adjustable height
Great pricing
Cons
Low fuel tank capacity
Not suitable for larger areas
---
3.

McLane Gas Powered Lawn Edger – Premium Choice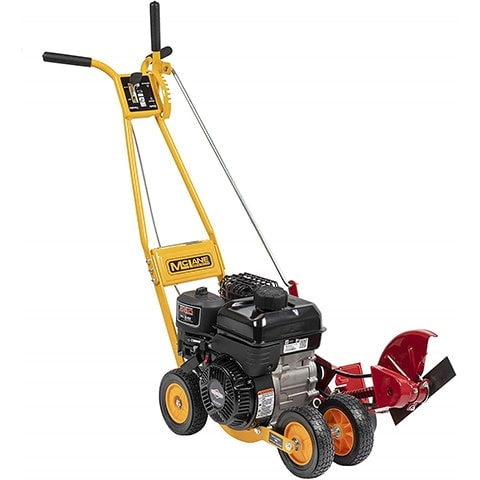 McLane is another big name in the lawn equipment industry and is renowned for their high products. The 101-5.5GT-7 is a top-of-the-line gas lawn edger that functions as an edger and a trimmer. This ensures that it leaves nothing to chance when it comes to making your edges clean and precise.
The first unique feature on this McLane gas edger is its blade that can be adjusted to just about any angle. In fact, it edges and trims both horizontally and vertically. What's more, the cutter features precision-guiding technology. This unlimited flexibility allows you unparalleled levels of control over your edging and trimming projects.
The chassis and handle are made of heavy-duty steel and coated with polyester paint to prevent corrosion. To allow for movement and maneuverability, this edger comes with 7-inch wheels that allow you to use the edger across all types of terrains.
The 5.50 gross torque/3.5 HP Briggs & Stratton engine makes it one of the most powerful lawn edgers on the market, allowing it to handle tough grasses and large patches of land with relative ease.
However, even though the manufacturer has made this edger as comfortable to use as possible, it weighs in at a hefty 66 pounds. This means that you will have to exert yourself a bit when using it.
Additionally, this unit is quite costly. But this is to be expected considering its features.
The McLane 101-5.5GT-7 is a premium gas-powered professional-grade edger that can meet any kind of edging needs. If you are looking for an edger for a small lawn, this unit might be too much.
Pros
Professional grade
Doubles as a trimmer
Powerful
Durable
---
4.

Earthquake 23275 Walk-Behind Lawn Edger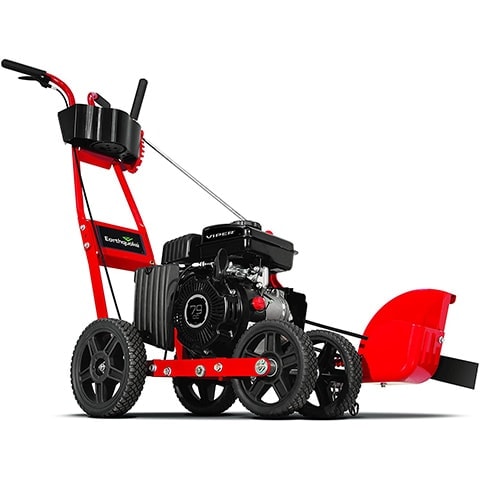 With its 79cc 4-cycle engine, the Earthquake 23275 is an incredibly powerful gas lawn edger and ideal for edging larger yards. However, it brings more than just power to the table.
To start things off, it is equipped with a 9-inch spring steel blade that revolves at 3,400 revolutions per minute (RPM). When you combine that kind of speed and power, you get a machine that can handle just about any kind of job that you can throw at it.
Despite its brute force, however, it is an incredibly precise edger. This is thanks to its multi-position pivoting head that allows you to cut at five different angles, ranging from 70 to 11 degrees. Adjusting the head is quite easy, as all you have to do is slide the lever into the relevant notch.
Another feature that allows you to create precise lines is depth control. This edger allows you to adjust the blade's depth from 0.5 to 3.5 inches.
However, assembling this unit can be challenging.
Pros
Powerful
Precise
Edging depth of 3.5"
Durable
---
5.

Troy-Bilt 9 in. Gas Edger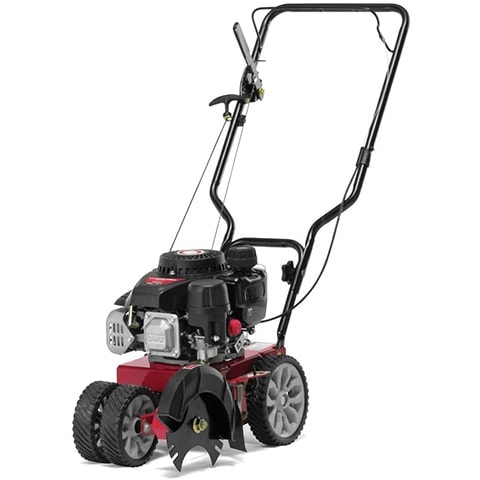 This is yet another gas-powered offering from Troy-Bilt, designed to handle any type of edging task, thanks to its 132cc OHV Troy-Bilt engine.
Its self-sharpening 9-inch triple-edged blade allows for edging, trimming, and even beveling of the lawn. This is because it comes with a bevel that you can adjust to up to three different positions. You can also adjust the blade's edging depth to up to six different positions, with the maximum being 2.25 inches.
For easier maneuverability, this edger features "curb hop" wheels to allow you to make precise edges along your curb or sidewalk. They also ensure that the edger can work even in uneven terrains. However, it might take you a while to learn how to maneuver this edger, especially on the curb.
Pros
Powerful
Can take on large yards
6-position edging depth up to 2.25"
3-position adjustable bevel
Self-sharpening blade
Cons
Takes time to learn how to use
Pricey
---
6.

Echo 8 In. 21.2 Cc Gas Stick Edger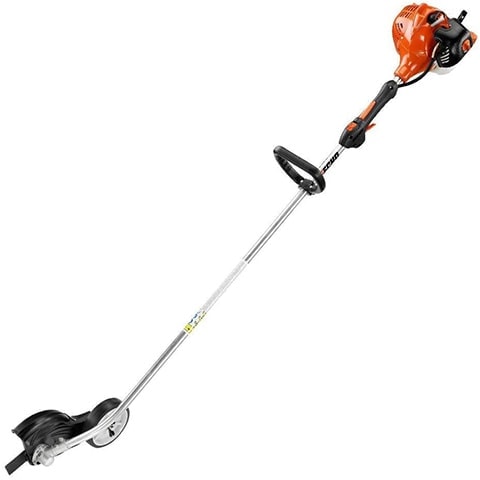 The Echo 8 In. 21.2cc is a lightweight gas stick edger that finds its best use in edge maintenance purposes. It comes with an 8-inch adjustable blade that is powered by a 21.2cc engine.
It is also easy to start and use. It is also compact for easy storage. However, this is not the edger to use when looking to embark on an actual edging project, as it is a little bit underpowered.
However, if you already have your edges done and are just looking to enhance your lines, it is the right tool for the job.
Pros
Lightweight
Easy to use
Compact design
Great for edge maintenance
Cons
Might be underpowered for actual edging jobs

Buyer's Guide – Choosing the Best Gas Lawn Edger
If you want to buy the best gas edger, you must have the right information. This will ensure that you get the ideal tool for your needs without gambling with your money. And it isn't as easy as identifying a reliable brand. Consider the following tips when looking for your ideal gas edger.
Type of Gas Edger
Gas lawn edgers are of two primary types: pole single-wheel edgers and walk-behind edgers.
Pole Single-Wheel Gas Edgers
These edgers resemble weed trimmers and can even do the job of a trimmer with the necessary attachments. They have small engines, meaning that they do not have a lot of power. Nonetheless, that also means that they are lightweight, thus being easier to control. Most pole gas lawn edgers have one or two wheels for balance and maneuverability.
Walk-Behind Gas Edgers
Walk-behind edgers feature larger chassis, as they have bigger engines. This allows them to generate a lot of power. They come with three or four large wheels to support their weight, as well as for maneuverability. They also feature a large handle for control. Walk-behind edgers are ideal for larger lawns.
Type and Size of Engine
Gas-powered lawn edgers have either two-cycle or four-cycle engines.
Two-cycle engines are typically less powerful and are, therefore, best suited for light-duty jobs. They also tend to be more affordable. However, they require you to mix gas and oil to operate, which makes them quite unfriendly to the environment.
Four-cycle engines, on the other hand, are suited for heavy-duty jobs, as they usually have engines that are more powerful. Additionally, they do not require you to mix gas with oil for them to run, meaning they do not have a big negative impact on the environment. However, their heavy nature makes them more difficult to maneuver. They are also costlier than two-cycle engines.
Lawn Size
The area that you have to cover plays a great role in determining the ideal edger for your lawn. If you have a small lawn or garden, a lightweight edger, such as the pole single-wheel edger, is likely what you need.
However, if you have a medium to large lawn, you will require a larger edger, as it can endure prolonged periods of work. Additionally, you will not tire as much since you will be pushing it, as opposed to pole single-wheels that require you to support their weight with your arm.
Blade Features
A good gas lawn edger usually comes with an adjustable blade to allow you maximum control over your cuts. This means that it should allow you to change the cut depth as per the situation. Look for an edger whose blade you can adjust between 0.77 to 2.5 inches.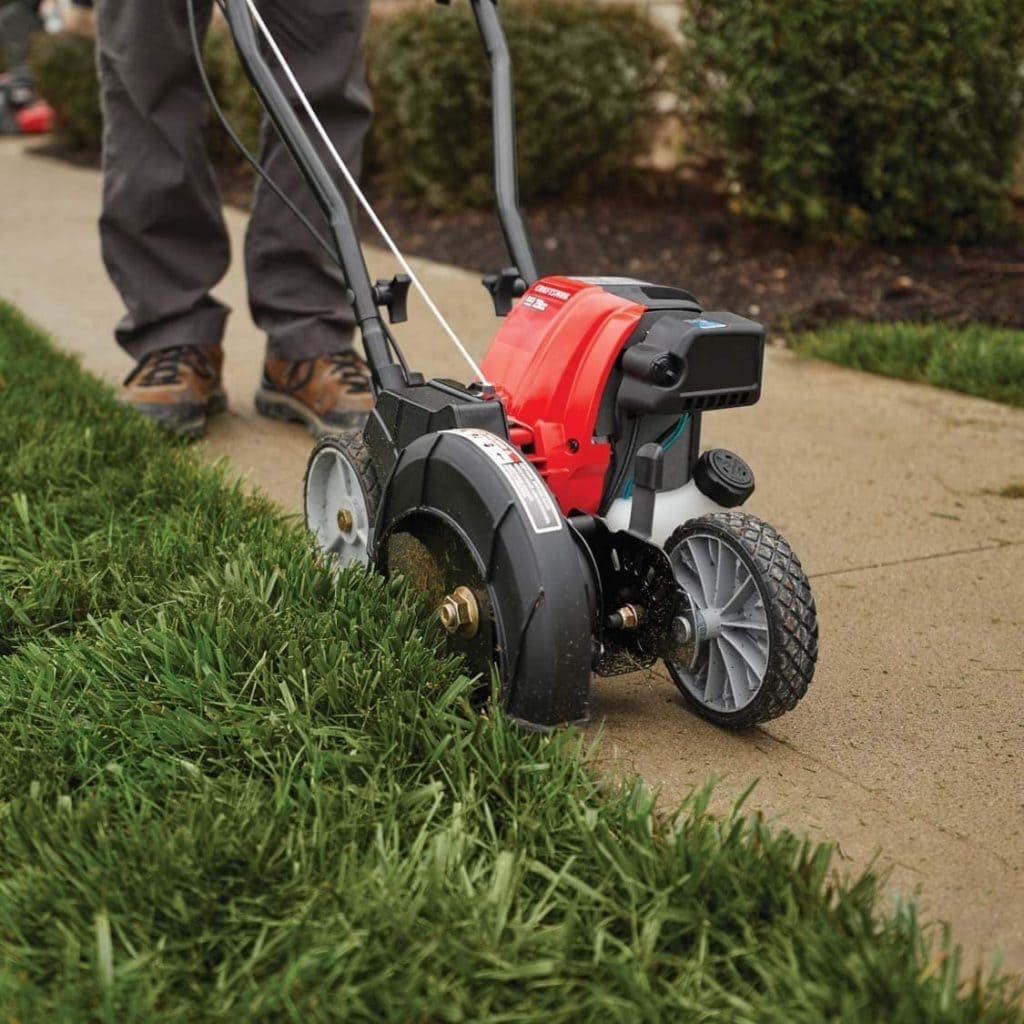 Ease of Use
The most sophisticated edger in the world might never leave the garage if it is cumbersome to use. As such, you want a gas edger that does not make edging a dreadful task.
Some of the things to look out for include:
Ease of starting
Adjustability
Maneuverability
Additionally, consider your stature before purchasing a particular edge. For example, if you have mobility issues or health problems that compromise your strength, a heavy-duty gas edger might not be ideal.
Attachments
The best edgers typically serve more than one function. For example, they tend to double as trimmers or trenchers. As such, to save on the costs of buying two separate tools, you would be better off looking for an edger that allows for attachments.
Price
Price should be one of the last factors that you consider when evaluating edgers. If you choose an edger for its pocket-friendliness, you might end up with a low-quality product.
Only use price as a factor when trying to select one edger out of the few that you have identified as potential choices.
Warranty
Some gas lawn edgers can set you back several hundred dollars. Therefore, it is only wise to check the warranty terms to ensure that you are covered in case of anything. Just as with price, you should only consider warranty during the final stages of your decision-making process.

Conclusion
Gas lawn edgers have a power advantage over electric and battery-powered edgers. This makes them the ideal tool for large lawns or for commercial-edging purposes.
Out of the various gas lawn edgers on the market today, we strongly recommend the Craftsman E405 4-Cycle Gas Powered Grass Lawn Edger. This unit is powerful enough to handle the needs of most home lawns, in addition to allowing you great levels of control over your cuts. Its ergonomic design enhances its comfort to ensure that you have an easy time using it.
The Troy-Bilt TB516 EC 29cc 4-Cycle Wheeled Edger is our best value option for its power, versatility, and precision. Few gas lawn edgers can match the Troy-Bilt on its own, and none at this price.
There you have it; we hope that our best gas lawn edgers reviews have brought you a step closer to your ideal lawn edger.
Related Reads: