8 Best Cordless Miter Saws – Reviews & Top Picks 2023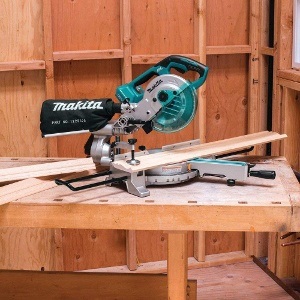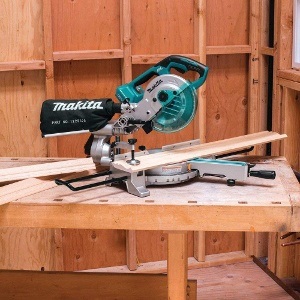 Cordless technology has come a long way, and it's becoming possible to power larger tools with batteries. Only a few years ago, most of us wouldn't have believed a cordless miter saw was possible, but now several brands are available, and choosing the right one for your shop can be challenging.
We have chosen eight state-of-the-art cordless miter saws to review for you so you can learn more about the pros and cons of each brand. We'll also tell you what we like and don't like about them and fill you in on any features they might include. We've also included a buyer's guide where we take an in-depth look at the cordless miter saw to see how they work and what's important to look for while shopping.
Please keep reading while we take an in-depth look at cordless miter saws and discuss RPM, engine voltage, power, and crosscut size to help you make an educated purchase.
A Quick Comparison (updated in 2023):
Rating
Image
Product
Details

Best Overall

Makita XSL02Z Miter Saw

5700 RPM
18-volt battery
Four steel rail sliding system
CHECK PRICE

Milwaukee M18 Miter Saw

400 cuts per charge
Cam locking miter system
Shadow cut line indicator
CHECK PRICE

Best Value

DeWalt DCS361B Miter Saw

Lightweight
8-inch cut capacity
Adjustable miter detent plate
CHECK PRICE

Premium Choice

DeWalt DHS790AB Miter Saw

3800 RPM
120-volt brushless motor
289 crosscuts per charge
CHECK PRICE

Makita XSL05Z Miter Saws

Electric brake
Aluminum base
270 cuts per charge
CHECK PRICE
The 8 Best Cordless Miter Saws:
1.

Makita XSL02Z Cordless Miter Saw – Best Overall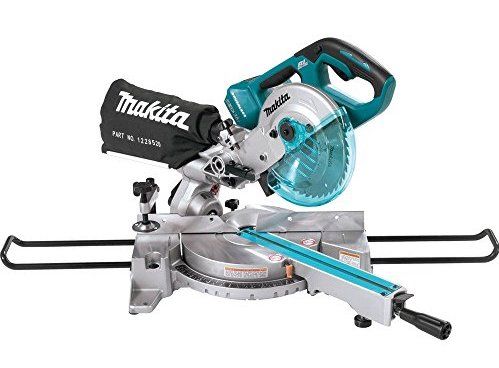 The Makita XSL02Z features a powerful 18-volt rechargeable motor that can deliver 5,700 RPM of cutting power. At just under 30 pounds, it's incredibly lightweight for a miter saw, which allows you to transport it in ways not usually possible with a standard miter saw. It has a large diameter cutting capacity and can cut boards up to 2 x 12 inches. A four-steel rail sliding system increases rigidity so you can produce superior cuts.
The only problem we experienced while using the Makita XSL02Z Cordless Miter Saw was that the upper sliding rail bearings feel rough, especially when moving it slowly. To conclude, we think the Makita is the best overall cordless miter saw of the year.
Pros
5,700 RPM
Lightweight
Large diameter cutting capacity
Four steel rail sliding system
18-volt battery
Cons
Expensive
Slider bearings feel rough
---
2.

Milwaukee M18 Cordless Miter Saw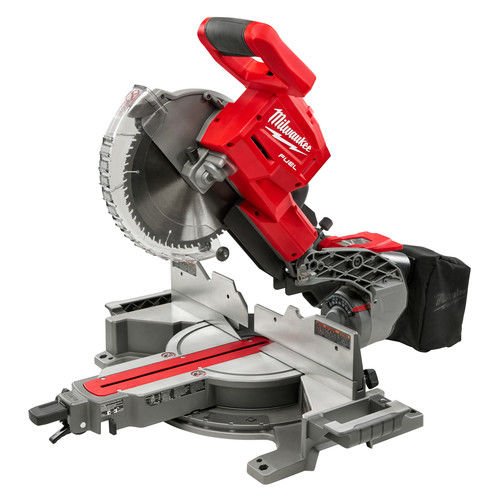 The best thing about the Milwaukee 2734-20 might be the M18 battery. That's not a criticism, either. When you have to take your saw to a job site, a reliable, high-quality battery is absolutely necessary. This model stores plenty of power and can make up to 400 cuts before requiring a recharge.
The built-in cam locking miter system is adjustable with 11 detent locations. A dual bevel has nine detents with an easy-access bevel lever. A shadow cut line indicator helps you make straighter cuts with more confidence. The only reason it's not number one is that the engine isn't quite as powerful and doesn't produce as much RPM. It's also a little heavier and less portable than the top model.
Pros
400 cuts per charge
Cam locking miter system
Shadow cut line indicator
---
3.

DeWalt DCS361B Miter Saw – Best Value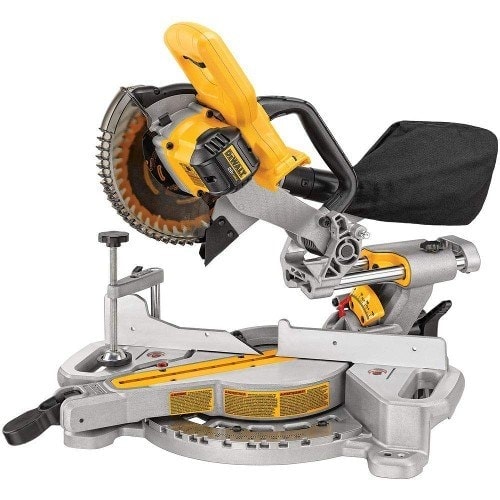 The DeWalt DCS361B model features an integrated cut-line crosscut positioning system with an adjustment-free line indication. An adjustable stainless-steel miter detent plate has 11 stops to help you increase productivity and improve cutting accuracy. It's large enough to cut a 2 x 8-inch board and weighs less than 30 pounds, so it's easy to take with you.
The biggest downside to the DeWalt DCS361B is that the battery and charger must be purchased separately if you do not already own other tools made by DeWalt. This extra purchase reduces its attractiveness as a low-cost solution. However, the Dewalt DCS361B is still the best cordless miter saw for the money this year.
Pros
Integrated cut line crosscut positioning system
Adjustable stainless-steel miter detent plate
Lightweight
8″ cut capacity
---
4.

DeWalt DHS790AB Miter Saw – Premium Choice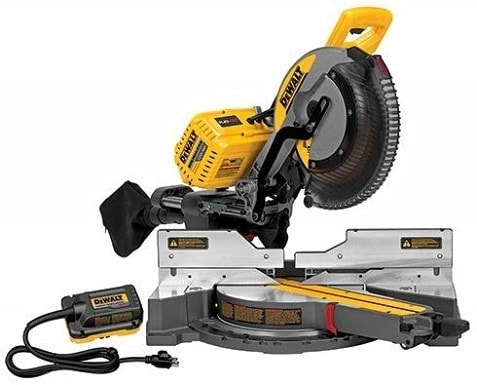 This DeWalt FLEXVOLT miter saw offers complete cordless performance with the option to be plugged in should the need arise. This excellent feature can save you when your batteries are dead at a critical moment. The DHS790AB features a powerful 120-volt brushless motor capable of creating 3,800 RPM. This brushless motor also runs longer on a charge than the older style brushed moors. You can use the plug-in adapter, or you can use the 18-volt rechargeable battery. The unique CUTLINE blade positioning system helps you make more accurate cuts and faster adjustments.
The downside to this saw is its weight, especially when compared to other brands on this list. Also, while reviewing it, we noticed the plug-in adapter would often trip a fuse when cutting harder wood.
Pros
289 crosscuts per charge
120-volt brushless motor
Cutline blade positioning system
3,800 RPM
Cons
Heavy
Expensive
Adapter may blow fuses
---
5.

Makita XSL05Z Cordless Miter Saws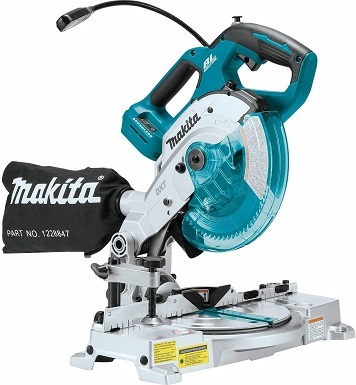 The Makita XSL05Z Cordless Miter Saw is a lightweight saw that weighs less than 15 pounds. It's easily carried and uses a rechargeable 18-volt lithium-ion battery. The engine is brushless, so you get more cuts per charge, and it delivers 270 cuts before you need to plug it in. Automatic speed change technology ensures you conserve energy while still having the power you need. An aluminum base helps make the saw more stable, while an electric brake helps make it safer.
The downside to the Makita XSL05Z Cordless Miter Saw is that it can bog down considerably when cutting harder wood, and it can only cut about 2 inches at a time, so it is better for smaller jobs. Also, you need to purchase the battery and charger separately, which can be expensive.
Pros
Lightweight
Automatic speed change technology
270 cuts per charge
Brushless
Aluminum base
Electric brake
Cons
Can't cut anything over 4" wide
Blade is very small
Battery and charger not included
---
6.

Ryobi P551 Cordless Mitre Saw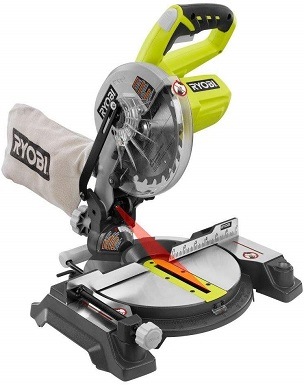 As one of the lower-priced cordless miter saws, it's easy to see why the Ryobi 18-volt ONE+ is attractive to most DIY consumers. At 17 pounds, it's very light and portable. It's not the most powerful saw, and you will feel it slowing down when cutting through a 2×4. However, it does make it through, and the cut is fine. The maximum cut length is 4.5 inches, so don't expect to cut anything larger than a 2×4. It also features a laser alignment system that helps you make straighter, more accurate cuts.
We like the Ryobi P551 Cordless Mitre Saw and wish it made larger cuts. As it is, this saw is only suitable for small boards like molding. We also find it frustrating that the battery and charger don't come with your purchase.
Pros
Lightweight
18-volts
Laser alignment system
Cons
4½" max cut length
Bogs down cutting 2" thick wood
---
7.

CRAFTSMAN V20 Sliding Cordless Mitre Saw Kit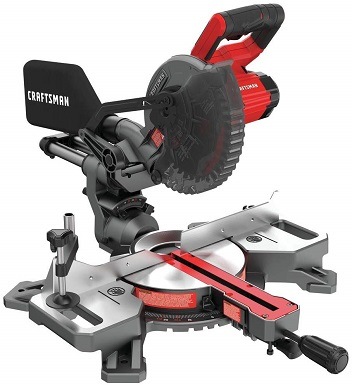 The CRAFTSMAN V20 7¼-Inch Sliding Miter Saw Kit features a powerful 20-volt motor that can produce up to 3,800 RPM of wood-cutting power. It is lightweight and weighs less than 20 pounds. It's also capable of 8-inch crosscuts, and it's one of the few brands on this list to include the battery and charger with your purchase.
The downside to the CRAFTSMAN V20 saw kit is that we felt it was a little underpowered and would bog down when cutting harder wood. We also thought the power drained quickly and could only make a few cuts before we needed to charge it again. One last problem was that it created a lot of dust as it cut, even when the vacuum was running.
Pros
Sliding miter allows 8" cut
Cons
Doesn't make proper 45-degree bevel
Power is underwhelming
Creates a lot of dust
---
8.

Bosch GCM18V Miter Saw
The standout feature of the Bosch GCM18V-08N is the impressive 10⅝-inch crosscut. This saw features a rechargeable 18-volt battery, and the brushless motor lasts much longer than a brushed motor. It also features a laser guidance system to help you make straighter cuts. The bad thing about the Bosch 18V Cordless Miter Saw is that it's a little heavier than many of the other brands on this list, so it's not quite as portable.
You must also purchase the battery and charger separately, which are expensive. The saw is entirely usable, but we don't think it's enough to warrant jumping into the Bosch cordless system when considering the cost.
Pros
10⅝" crosscut
Brushless motor
Cons
Expensive
Worthwhile if you're already invested in a Bosch cordless
---
Buyer's Guide – How to Choose the Best Cordless Miter Saw
Let's discuss some of the essential elements to look for when finding the best cordless miter saw for your needs:
Battery Power
Most cordless miter saws use one of two voltages, 18 or 20 volts. A few other voltages are available, but you are unlikely to see them used with a high-powered tool like a cordless miter saw. There are quite a few advantages to using a battery-powered saw. For one thing, transporting your miter saw to the job location has never been so easy, and you can operate the saw far from any electrical outlets. They are environmentally friendly, and a single battery can last many years, even after you recharge it hundreds of times.
The downside to battery-powered tools is that they often require you to purchase the battery and charger separately. These components can be very expensive; in most cases, you should buy more than one battery. Even though the technology is improving, you can still expect battery-powered tools to be slightly underpowered compared to corded models.
Battery-powered Pros
Portable
Environmentally friendly
No fuel
Battery-powered Cons
Battery and charger often not included
Expensive
Underpowered
Weight
Since we are talking about cordless power tools, it's a good idea to consider how much the device weighs and whether or not you can transport it. We have models that range from under 15 pounds to over 60 pounds on our list of reviews. Naturally, heavier tools will deliver more cutting power, but lighter tools are more portable. We recommend purchasing the heaviest cordless miter saw you can manage that fits your budget.
Accuracy
Your saw's ability to make straight cuts and produce accurate angles is essential. Without this function, you cannot create projects that fit together. Portable tools inherently use cheaper materials to keep them lightweight. These cheaper materials may not produce straight and accurate cuts like the larger machines.
We recommend looking for cordless miter saws with a line guide to help you make more accurate cuts. Laser line guides are even better and work well when a lot of sawdust is in the air.
Crosscut
You might want to look at the crosscut size before you purchase your next cordless miter saw. The crosscut lets you know how wide of a cut you can make. For instance, a miter saw with a crosscut of 4 inches can slice a 2×4 in half.
Larger saws will usually have a larger crosscut than light and portable ones. Some saws can have a crosscut of only a few inches, and they are best used to cut molding and for hobby projects.
Safety
Portable miter saws are dangerous, and in some ways, they are even more dangerous than stationary tools. You are much more likely to encounter humidity and improper weather conditions using a portable saw than you would in your shop. You might not get electrocuted, but moisture can make things slippery.
Besides weather hazards, it's essential to ensure your miter saw has the necessary blade and safety guards in place. Look for models with electronic brakes, and overheat protection. The saw doesn't bear all responsibility for your safety, however. We recommend you always wear the proper safety equipment while operating the saw. The safety equipment you should wear includes these items.
Safety glasses with side protection
Earplugs or earmuffs
Heavy-duty gloves
Breathing mask
Conclusion:
The Makita XSL02Z Cordless Miter Saw produces high RPMs that will make short work of most woods. It can also cut boards up to 12 inches wide and is easily one of the most powerful tools on our list. However, we appreciate the value of a great battery, and the Milwaukee 2734-20 succeeds with the M18 battery. We didn't appreciate its weight, which was heavier than some stationary saws of comparable quality. We found the DeWalt DCS361B a great budget model for occasional use. It's portable but powerful. We hope you find these reviews helpful in sorting out the best cordless miter saw for your needs and wish you the best of luck in your home projects.