10 Interesting Facts About Sports Cars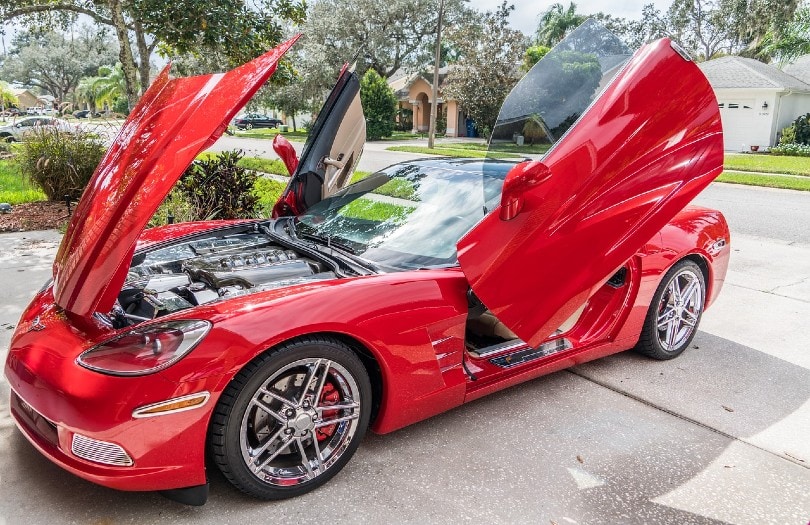 Note: This article's statistics come from third-party sources and do not represent the opinions of this website.
Sports cars are generally described as being two-seater cars that are low to the ground and are built to be fast and fun to drive. Rarely do they have room for luggage or rear passengers, but they are usually rear-wheel drive and have a front-mounted engine. There are exceptions to these design rules, however. Porsche, for example, has been described as being stubborn for keeping the engine of its 911 sports car at the rear of the car. But that's nothing compared to the Covini C6W, which is likely the only six-wheeled sports car currently in production.
Sports can do not have to be expensive, with some models available new for a little over $20,000, but they are meant to be fun. They don't even need to be that fast: their low-slung ride puts the driver and passenger close to the road, which not only makes it feel like the car is traveling faster but also allows for greater traction and grip on the road so that the driver can take corners more quickly.
Below are 10 facts about sports cars, including some information about Sports Car Design, General Sports Car Facts, Notable Sports Cars, and Supercars.

The 10 Most Interesting Sports Car Facts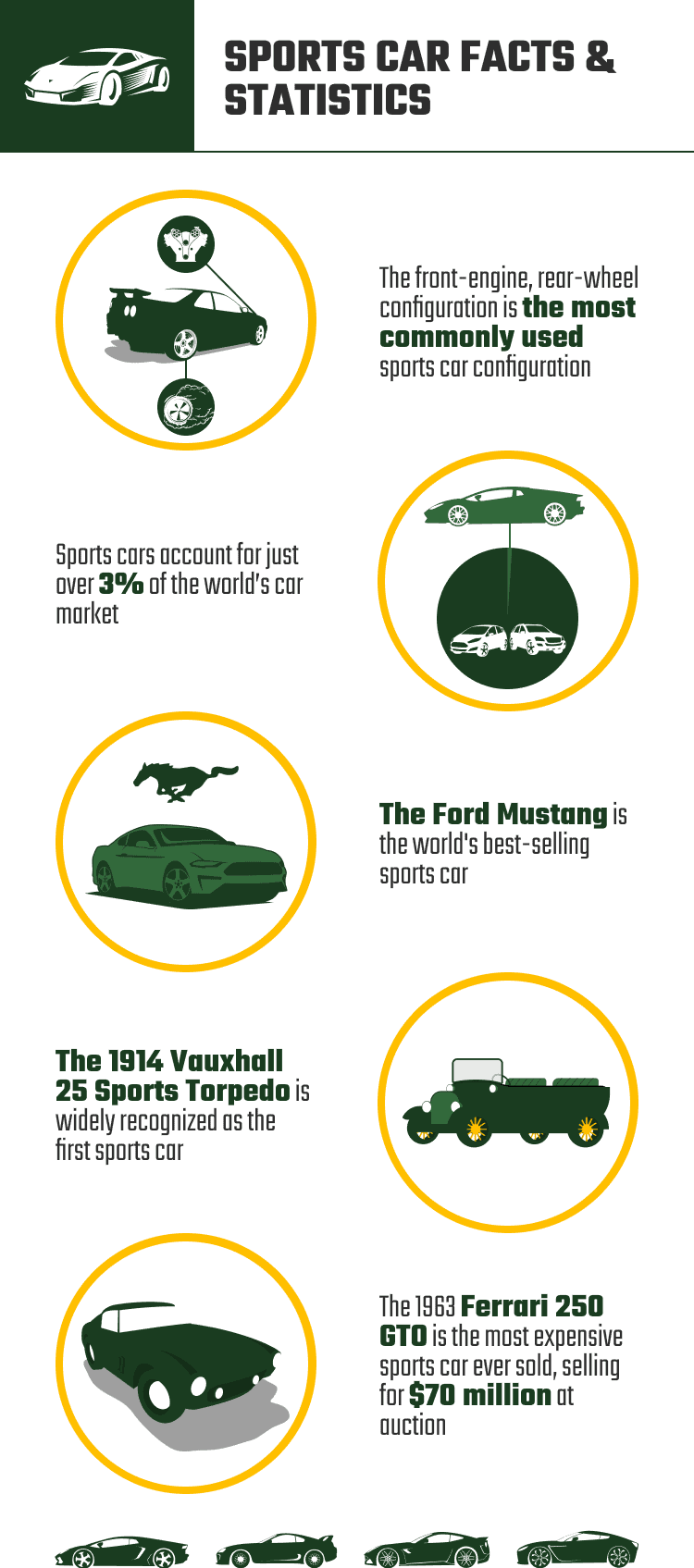 ---
Sports Car Design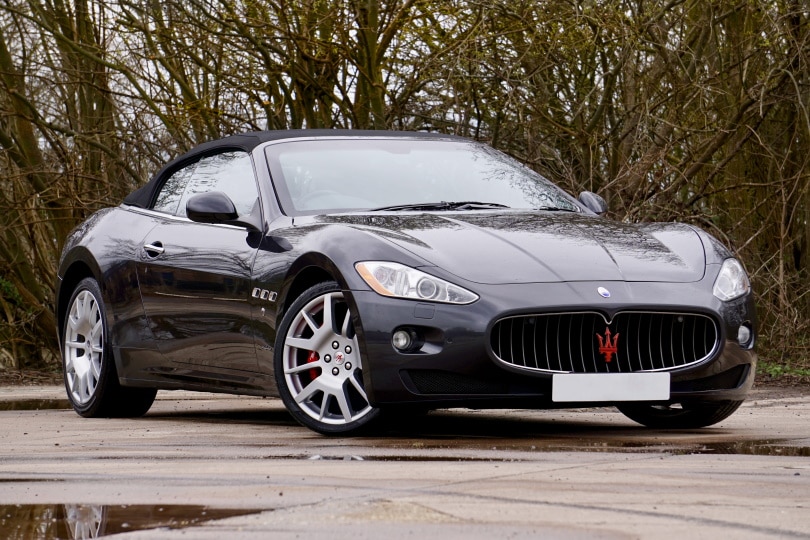 1.

The front-engine, rear-wheel configuration is the most commonly used sports car configuration
(ANRV Life)
There isn't a strict definition of exactly what qualifies as a sports car, but the most common configuration is that of a car with rear-wheel drive and an engine mounted in the front of the vehicle.
Having the engine at the front of the vehicle means better weight distribution and improved handling, while delivering power to the rear wheels ensures that weight is evenly spread right across the vehicle. This configuration also allows for wheel spinning, although this should only be reserved for driving on a track and when you have the money to buy a whole new set of tyres. There are exceptions to this configuration. Some sports cars place the engine right in the middle, spreading the weight even more evenly but potentially taking up more cab space, while the Porsche 911 is notorious for having its engine in the back.
---
2.

Sports cars typically have 2 seats and are low to the ground
(ANRV Life)
Again, while there is no rule that says sports cars must only have two seats, this is the most common layout. By limiting the number of seats in the car, it means that the vehicle can be lighter and this, in turn, allows for improved acceleration and more enjoyable handling.
As engines have become more powerful, however, it has become increasingly common to see four-seater sports cars. There are four-seater versions of the Porsche 911 while the Toyota GT86 is one of the most affordable four-seat options. Mercedees AMG, Lexus, amd even Kia, also produce these four-seater anomalies.
---
3.

The Covini C6W is a six-wheeled supercar
(ANRV Life)
One design rule that isn't generally broken is that the sports car has four wheels but, once again, some car manufacturers like to try and do things differently. The Slingshot is sometimes referred to as a sports bike, but it has a laid back seating position that suggests it is very much a car. It only has three wheels, with two at the front and one at the rear.
Perhaps even more unusual than this, though, is the Covini C6W. It has an 8-cylinder engine and a top speed of just under 190 mph, so nothing particularly unusual there. However, it also has six wheels. The Italian company claims that the extra set of wheels at the front of the car ensure that it has more grip and traction on the road, which means faster cornering, which is the very essence of a sports car.

General Sports Car Facts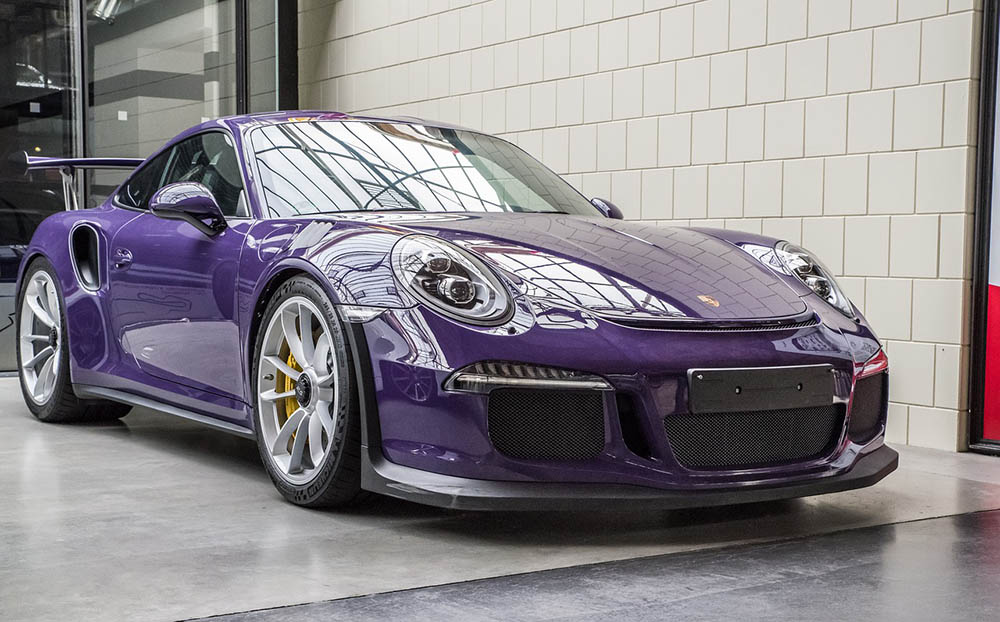 4.

Sports cars account for just over 3% of the world's car market
(Statista)
While many people dream of owning a sports car, surprisingly few people actually own one. Whether this is because they are more expensive to insure or because their lack of rear seats means that they are impractical for families or drivers with luggage, is unclear. But sports cars only account for 3% of car sales in the world.
---
5.

The Ford Mustang is the bestselling sports car
(Statista)
Sports cars differ from luxury cars because they target performance over luxury and comfort. As such, the category of sports cars includes models like the Porsche 911 as well as the Tesla Model S, but neither of these are the best-selling sports car. That accolade goes to the quintessential American muscle car, the Ford Mustang.
The first Mustang was introduced in 1964 and has undergone various iterations since then. The latest model is the 6th generation and the American car manufacturer has now made more than 10 million of these iconic cars.

Notable Sports Cars
6.

The 1914 Vauxhall 25 Sports Torpedo is widely recognized as the first sports car
(CNN)
The first sports car was developed and sold more than 100 years ago. The Vauxhall 24hp Sports Torpedo was first sold in 1914. It had a top speed of 80mph and, as the name suggests, generated 25 bhp. The car became known as the Prince Henry and was first available in a less powerful 20 hp version.
---
7.

One of the 7 remaining Sports Torpedos sold for over $650k in 2016
(CNN)
In 2016, it was reported that seven examples of the Sports Torpedo still existed and one had been kept in such good working order that it was still used quite regularly. That example of what is widely regarded as the world's first sports car, sold at auction for more than $650,000.
---
8.

The 1963 Ferrari 250 GTO is the most expensive sports car ever sold
(Dupont Registry)
While $650,000 sounds a lot for a used car, it has nothing on the 1963 Ferrari 250 GTO. Chicago based businessman David MacNeil paid a staggering $70 million, at auction, to buy one of these iconic Italian sports cars and it is widely believed to have been the most expensive car ever sold, although a private sale may have topped that.
The car had the chassis number 4153GT and joins MacNeil's extensive collection of high-end luxury cars that also includes a 1960 Ferrari 250 GT and a host of other Ferraris.

Supercars
9.

The Bugatti Veyron has 12 radiators
(Dupont Registry)
A typical road car has two radiators, which is used to cool the engine and its components by passing coolant around the engine. However, such is the power produced in a Bugatti Veyron that it has 12 individual radiators. If Bugatti had used a single radiator, it would have to be bigger than the car itself, and by using individual radiators they can cool small groups of components with each one.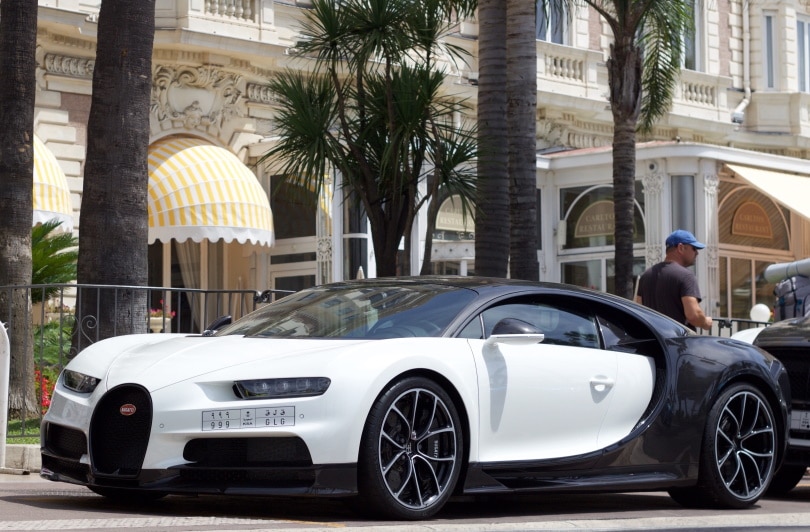 ---
10.

The 1,400 titanium bolts used in the Pagani Huayra cost $80 each
(Dupont Registry)
The Pagani Huayra is one of the world's rarest cars. The 6-liter, twin-turbocharged V12 engine produces 764 horsepower and can reach a speed of nearly 240 mph. This speed comes at a cost, though, with a price tag of $2.6 million. However, that's hardly surprising when you consider the cost of some of the components. The car has 1,400 bolts, that are made from specially machined titanium, and each one costs $80 to make. That means that the bolts alone cost $112,000.

Frequently Asked Questions About Sports Cars
Are There Any Four-Seat Sports Cars?
Sports cars are generally recognized as being two-seat roadsters with their engines at the front and rear-wheel drive. However, there are many different configurations to suit just about any buyer. Engines can be found in the middle or rear of the car and there are front-wheel and even four-wheel drive sports cars. Four-seat sports cars have also become slightly more common in recent years. The likes of Porsche have introduced four-seat variants of their 911, for example, while the Ford Mustang, which is the most commonly sold sports car ever, has four seats.
What Makes A Sports Car Fast?
There are several factors that make sports cars fast. They do benefit from streamlined design, although when being driven on roads daily, streamlining doesn't make too much difference. Their low center of gravity means that they can take corners faster than other, taller cars, while the low weight and even weight distribution means that sports cars can deliver more speed than an equally powered car of greater weight. This is also why affordable sports cars don't tend to have the huge engines that buyers are expecting.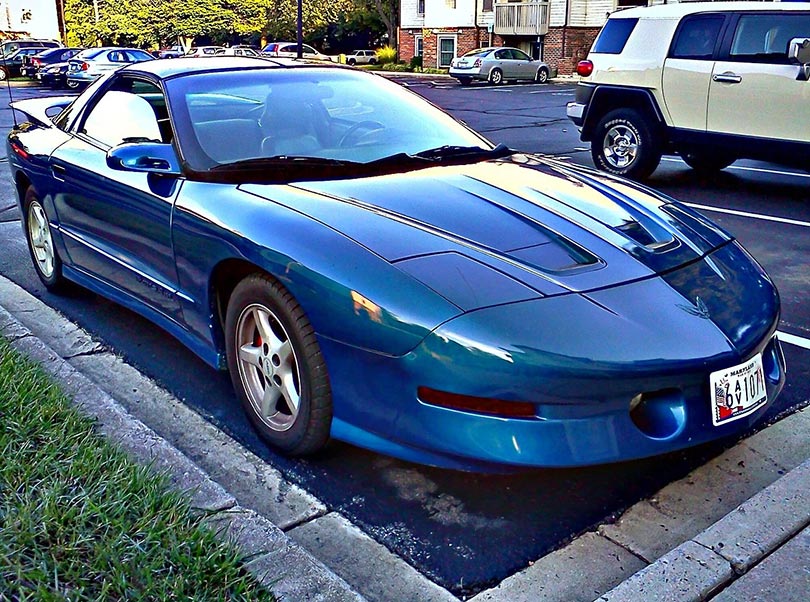 Who Invented Sports Cars?
Vauxhall might reasonably lay claim to having developed the first sports car, but some experts claim that it is Wilhelm Maybach and Paul Daimler that were the first. They developed the Mercedes 35 hp in 1901. It was never designed as a road car but was purpose built for racing, which arguably makes it a sports car, regardless of configuration or even performance.
Related Read: 25 Interesting Car Facts

Conclusion
Whatever the configuration, power, or even the number of wheels a sports car has, it is designed to be fun and to deliver power and performance rather than comfort, convenience, or luxury. Prices vary considerably with some of the most expensive costing millions of dollars but the cheapest being available for little more than $20,000. Sports cars do, however, tend to be small, appealing, and the car of somebody's dreams.
Sources
---
Featured Image Credit: Michelle_Raponi, Pixabay