Best Budget Miter Saws under $200 – Reviews & Guide 2023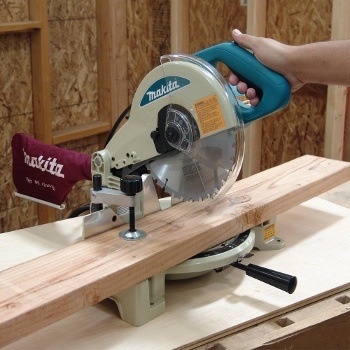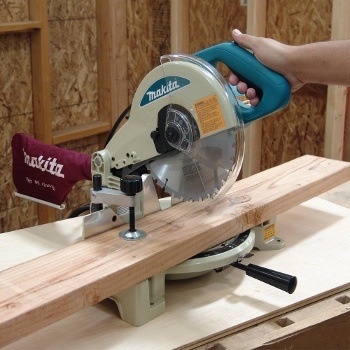 The key to angled woodworking starts with the quality of miter or bevel cuts. If you're a professional who earns income using a miter saw, it's probably a good idea to put serious dollars into finding one that can deliver consistent, no-hassle perfection. If you're a DIY-er and just building something simple and won't require something that can deliver precision for day-after-day use, a budget model is probably good enough for you.
Believe it or not, finding a miter saw priced less than $200 is possible. Potentially more important than that, you can get a high-quality saw for this price. We went ahead and did some reviews on five miter saws priced under $200. In addition to the reviews on these top six saws, we also included a guide to help you choose which saw may work best for you.
---
A Quick Glance at our Favorite Picks in 2023:
Rating
Image
Product
Details

Best Overall

Metabo HPT 12-inch Compound Miter Saw

Comes with dust bag and clamp attachments
15 amp of power for tough cuts
Laser line
CHECK PRICE

Makita LS1040 Miter Saw

Powerful motor
Quality cuts
Clean bevel cuts
CHECK PRICE

Best Value

Metabo HPT 10-inch Compound Miter Saw

Lightweight and very portable
Affordable
Perfect for simple, rough cutting
CHECK PRICE

TACKLIFE 10-inch Sliding Compound Miter Saw

High power
Quick start
Comes with two blades
CHECK PRICE

WEN 70712 Budget Miter Saw

Affordable
CHECK PRICE
The 5 Best Budget Miter Saws:
1.

Metabo HPT 12-inch Compound Miter Saw – Best Overall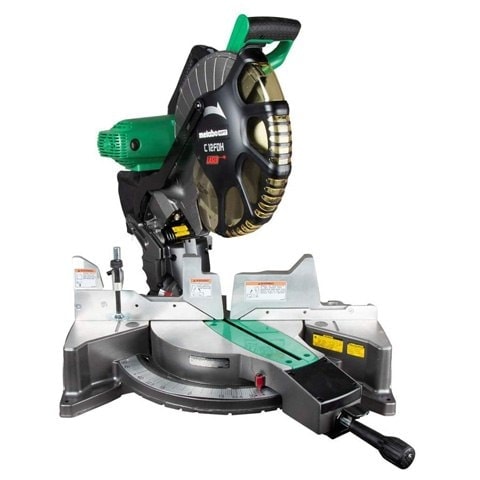 Coming in at the top of our list of the best budget miter saws under $200 is the Metabo HPT 12-inch Compound Miter Saw. If you see this saw referred to as the Hitachi, just know that Hitachi is now called Metabo. This saw earned our top spot for several different reasons; it has some great features and is well-liked by many homeowners and professionals.
The C12FDHS has a 15-amp motor designed for cutting heavy materials. You will not be slowed down at all, using this saw with thick or difficult to cut material. There is a vice clamping system in place on this saw, so you won't need to rig up your own.
The saw is almost 25 pounds, so it is quite sturdy as well. If you are looking to complete your project with minimal dust, you will love the dust collector attachment that comes standard with this model. You also get the laser precision with this saw. You can tell just by the looks of it that you get a lot of quality and stability for less than two hundred dollars with this saw.
This saw has a 0 to 52-degree miter angle range and a 0 to 45-degree bevel range. You can accomplish any project you need with this reasonably priced high-quality saw.
In short, we think that this is the best budget miter saw of the year.
Pros
Fair pricing
Comes with dust bag and clamp attachments
15 amp of power for tough cuts
Laser line
---
2.

Makita LS1040 Miter Saw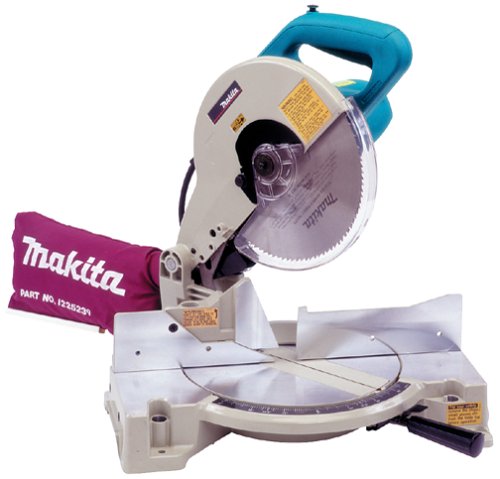 The competition for the position as the top pick was a tough one, and frankly, you wouldn't go wrong in choosing our runner-up choice for the best budget miter saw, the Makita LS1040. We liked this saw for most of the reasons we liked the Metabo 12-inch: powerful motor and an appropriately sized blade, cuts that are as clean at the edges of its range as they are at the center, and portability.
What we didn't like was that when we tightened the turntable down, it still moved. The slight jiggle left us less confident as we pulled down the saw. Fortunately, for us, it didn't reduce the accuracy of the cut, but the fact that it didn't fully lock into place is enough cause for concern to knock it out of top position. We were going to knock it even further down in the ratings, except for Makita earned from us its well-deserved reputation for making right by its customers. For those reasons, give the Makita LS1040 the runner-up prize.
Pros
Powerful motor
Quality cuts
Clean bevel cuts
Great customer service
Cons
Turntable refused to lock down
---
3.

Metabo HPT 10-inch Compound Miter Saw – Best Value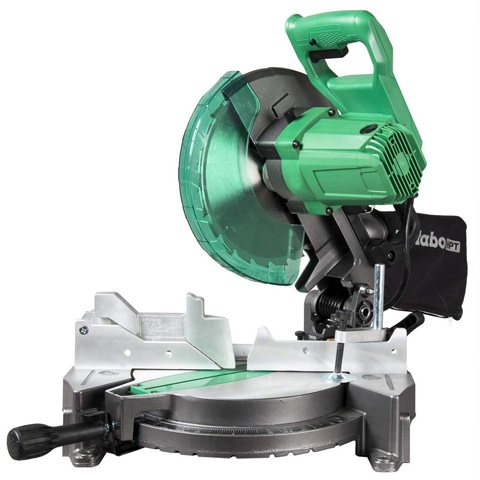 Next on our list is the Metabo 10-inch compound miter. This is a very similar model to the Metabo 12-inch that earned our number one spot, but it is priced quite a bit less. The look and setup of the saw will be quite similar, but the pricing on this Metabo makes this the best miter saw for the money. Although it is about two inches smaller, this unit is still capable of making some significant cuts.
Perhaps the thing we find most impressive with this saw is that it is still a 15-amp model for this lower price. The table is plenty large enough to support materials with the vice clamping system. Although it is not as sturdy as the larger Metabo, it holds up well on thicker cuts. We did notice a bit more vibration with this saw, but that is to be expected at this price point.
The Metabo 10 inch has a carbon brush access to allow users to replace the brush as needed to prolong the life of the saw.
Pros
Lightweight and very portable
Affordable
Perfect for simple, rough cutting
Cons
Underpowered compared to other models
Limited angles
Not good at delivering precision cuts
The dust bag is no good
---
4.

TACKLIFE 10-inch Sliding Compound Miter Saw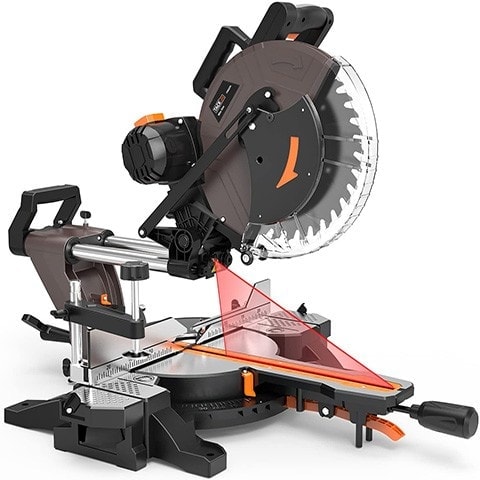 Coming in fourth place is the Tacklife 15 Amp 10-Inch Sliding Compound Miter Saw. This is a 15-amp model again, so we like the power this saw provides. Another reason we like the Tacklife is that it gets to work quickly. In fact, their soft book design permits this saw to reach maximum speed in about two seconds. Maximum speed will get you a better cut and much less vibration.
The Tacklife tools have a great two-year warranty, and their customer service is pretty good should any issues come up. This saw also comes with two different cutting speeds for you to choose from. If you are zipping through some easy to cut wood, you can set it on high and forget it. If you need to make some precision cuts in some metal, it is nice to have the option to turn the speed back down a bit.
The Tacklife does have a laser guide, which is a feature we know brings up the cost on some of these cheap miter saws. That is probably why this particular model falls just within our budget range for this review. You will get two blades with this particular unit and the dust bag to keep everything neat and clean. Overall it is an excellent package set that has you ready to start cutting the day you get it.
With all the positives, you may be wondering why this saw ended up a few spots down on our list. The main issues we had with it were the sounds it made and the vibration. For a more expensive model (as far as this list is concerned), we expected it to be a bit more stable. We also had some trouble with the bevel cuts and calibration. The cuts just did not come out as they should. Overall it is mostly a good saw, but we had better luck with our number one choice for the same price.
Pros
High power
Quick start
Comes with two blades
Cons
Saw sounds like it struggles
Vibrates a bit
Problems with the bevel cut
---
5.

WEN 70712 Budget Miter Saw
When someone says that a tool performed well for the price, it's usually a compliment. In this case, it's not. Just about the only thing, we can say the WEN compound miter saw has going for it, was the price.
The first thing we had to do was fasten down all the components, which for some reason, were loose on delivery. Maybe the quality control supervisor at the factory was having a bad day when ours came through; maybe not.
If not for the other drawbacks, it's something we could have overlooked. But, it was just the start. The 15-amp motor that serves the 10-inch saws so well is overextended with this model. Unless the user never cuts those two extra inches, we doubt that this saw will last as long as its competitors.
We also weren't impressed with the sawdust collector bag, and just as the parts needed to be better fastened upon arrival, we found that swinging the blade back and forth to make 45-degree cuts required attention and near-constant adjustment. We thought about calling customer service, but there was so much wrong with this saw that the prospect just left us feeling sad.
Cons
15-amp motor underpowered for 12-inch blade
Poor sawdust management
Performance degraded as angle of cut approached 45 degrees
Unstable
---
Buyer's Guide – Finding the Best Budget Miter Saws under $200
Now that you have an idea of some models that are worth the money, and others that may not be the most excellent option. How will you know which one is best for you? Luckily, there are a few distinguishing factors that set miter saws apart. We will give you a basic rundown of what you should think about/be aware of before purchasing a cheap miter saw.
Cutting Power
The power of most miters saws is going to be measured in amps. The better saws that we reviewed were up around 15 amps, which is pretty good for a compact miter saw. Of course, if a saw is underpowered, you are going to notice it struggle with thicker materials and with things like metal as well. If you are cutting thin wood and doing it occasionally, you don't need to be as concerned about the power.
Blade Size
Most compact miter saws come in an 8, 10, or 12-inch blade. Most are going to be around 10 inches. Larger diameter blades are capable of making longer cuts.
Dust Bags
Dust bags are attached directly to the saw, and they are intended to collect as much dust as possible as you cut. Most professionals will tell you that unless you purchase a high-quality saw, the dust bags are not always that effective. They tend just to blow dust around, and not much ends up in the bag. Other options you may see for dust collection include dust shoots and blowers. Any kind of dust collection system should be better than none. Some of the value-priced models will likely only come with a small fan that will be pretty ineffective.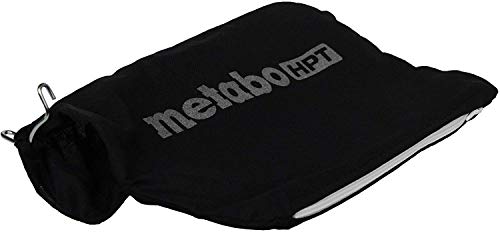 Laser
The more expensive compact miter saws come with laser guides. The laser guides project a beam on the work you are cutting. This helps you to guide your cut accurately. Laser beams work hand-in-hand with the dust collection system. If your project is too covered with dust, you will have a hard time guiding anything over a laser. The laser can make things easier, but this is not an absolute must if you want to try and save a few dollars when purchasing a cheap miter saw.
Difference Between Sliding and Compound
A compound miter saw has a blade that can pivot either left or right to cut at an angle. You will mostly see compound miter saws used for moldings and picture frames. When a saw offers the sliding feature, it allows you to move the blade forward and backward. When you have this option, you can make a much longer cut. The slide is a great feature to have if you need it. If not, don't pay for it!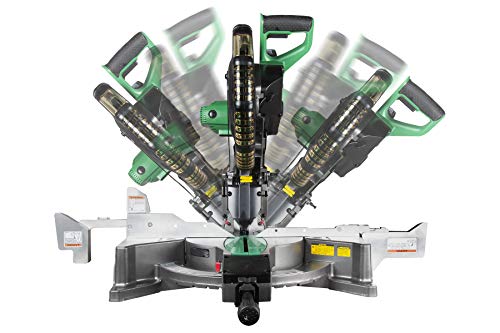 Stops
Some saws come with specific stops in place; these will typically be angles like 45, 30, 60, etc. These stops allow the user to set the saw quickly and get to work. Without the stops, there are some manual details that the user will have to implement to make sure the angle is exact. If you are a novice with a miter, saw the stops would be something that we recommend. For professionals that are accustomed to using a miter saw, they will probably want the flexibility to change the angle of the cut manually.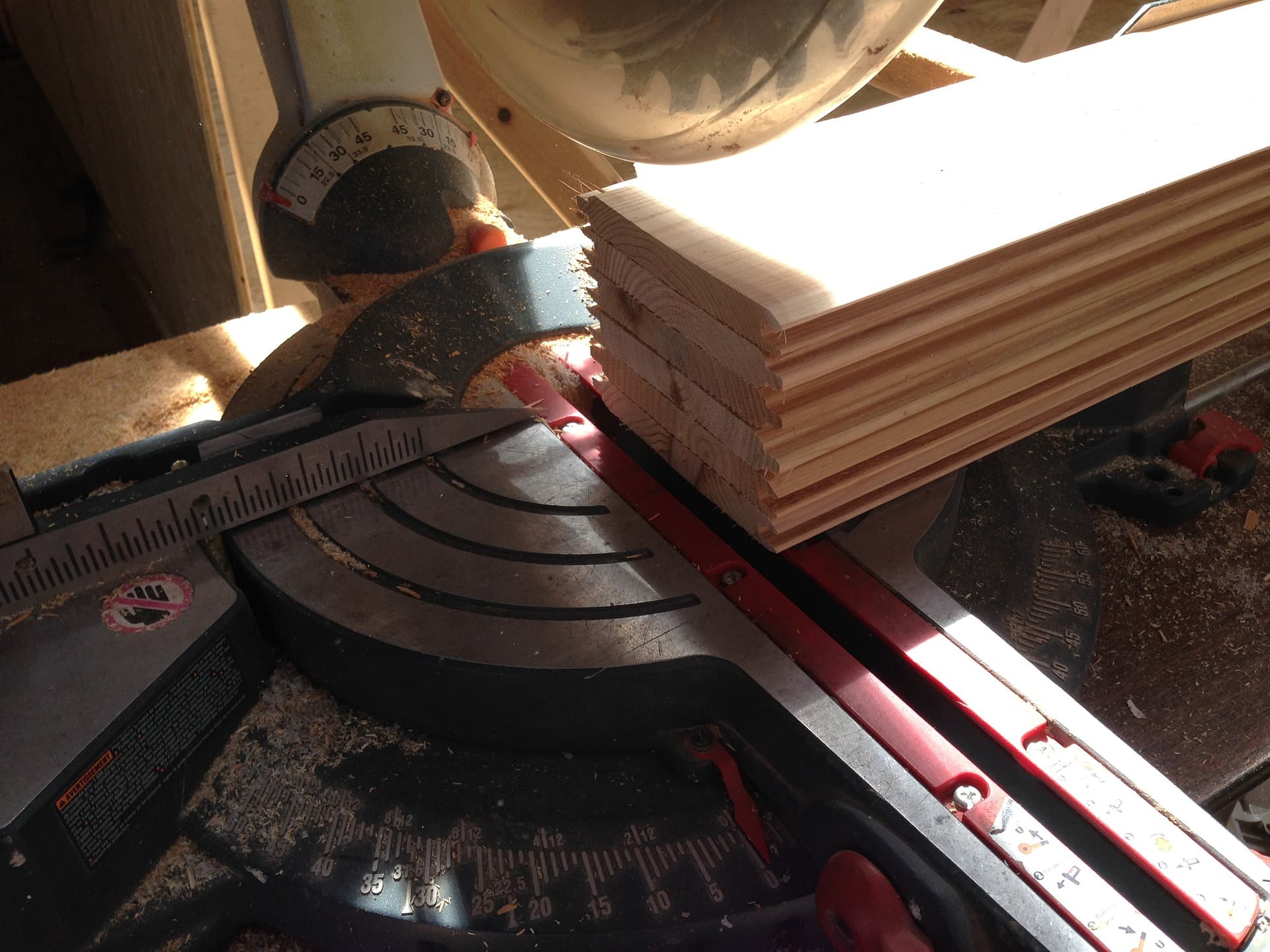 Depth
In addition to the angle stops, there should also be depth stops available as well. The depth stops will allow you to control the height of your cut. This is very important if you do not want to cut entirely through a piece of material.
Safety
There are various safety features installed on these types of miter saws. One thing you will notice is that on the high-power models, the blade starts up very fast. This may seem counter-intuitive, but if you start up the blade quickly, there is less chance of the material bouncing around and causing an injury to a user.
Another safety feature you will notice is that the blade is almost always covered when the saw is lifted. As you pull the saw down to cut, the blade will expose itself but not any more than it needs just to get the job done. Miter saws, especially cheap miter saws, can be very dangerous if they are not used carefully and with the proper personal protective equipment.
Look for safety features on a machine as they are ultimately an essential part of any miter saw.
---
Conclusion:
Choosing a miter saw under $200 can sometimes be tricky. It's hard to tell if you are getting a great deal on a quality machine or if you are just getting a low-priced saw. Luckily our options can help to make sure you are getting some high quality. The Metabo HPT 12-inch Compact Miter saw is our pick for the best budget miter saw under $200 because of the quality and stability of the cut. This model will run closer to the top of this price range, but it will absolutely give you the results that you need in a compact miter saw. If, however, you want to spend a little less, the Makita LS1040 is also a great value. It is smaller and does not seem quite as powerful, but it still is a perfect miter saw for the money.
We truly hope that this guide helps you find the best budget miter saw for your workshop. Good luck!
Related Reads: