10 Best Cordless Rotary Tools of 2023 – Top Picks & Reviews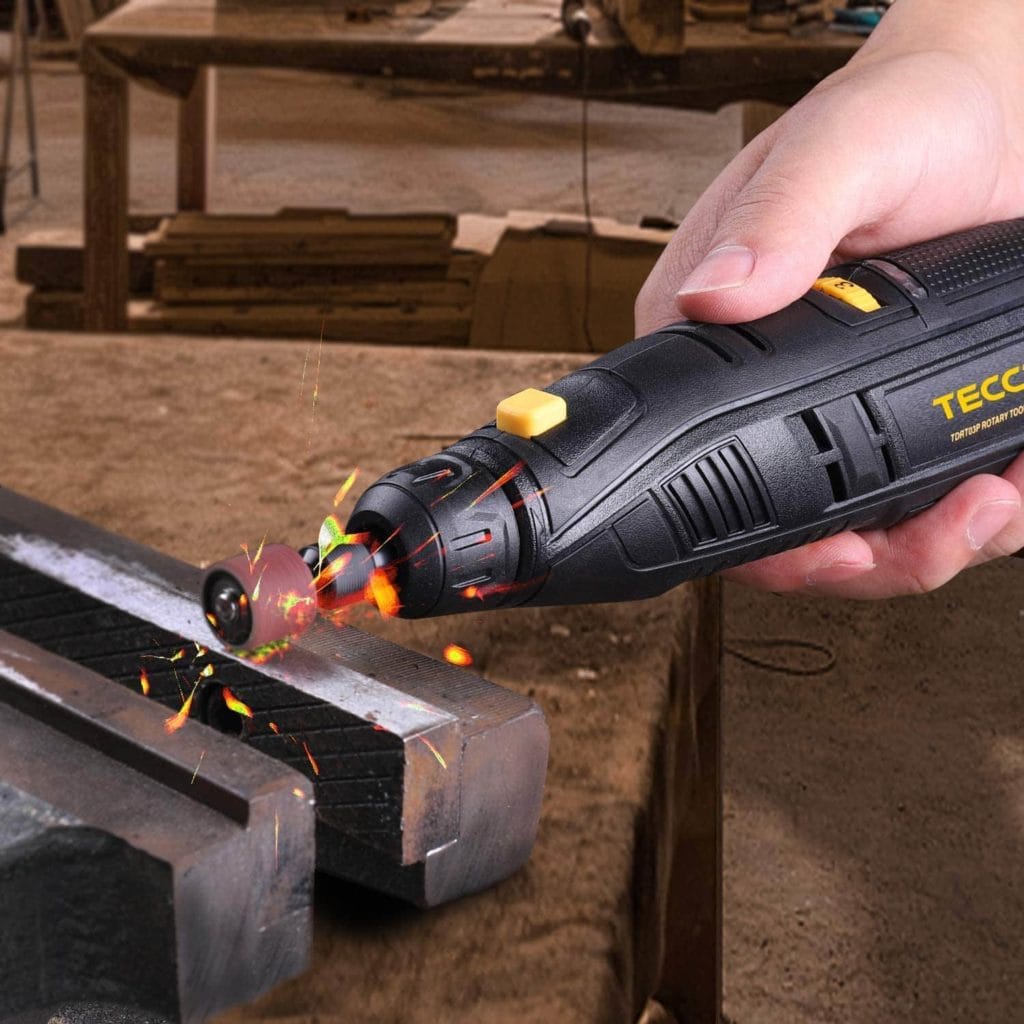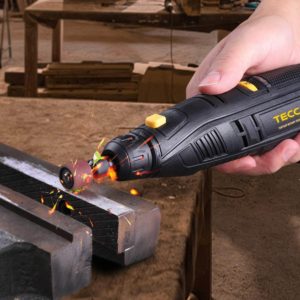 Cordless rotary tools are some of the most versatile tools you can own. However, not all rotary tools are created equal! Some are awesome additions to your toolkit, while others are a complete waste of time. And with so many rotary tools out there, it can be tough to tell which ones are worth the purchase.
That's where we come in. With our handy reviews, you can get an excellent overview of different cordless rotary tools, including unique benefits and drawbacks. Ultimately, you'll discover which tool is best for you and your own unique projects and needs.
Keep reading as we dive into these reviews!
Quick Comparison of Our Favorites in 2023
Rating
Image
Product
Details

Best Overall

Dremel 8220-1/28 Cordless Rotary Tool

Convenient quick collet lock
Plenty of bits and accessories
Compact design
CHECK PRICE

Best Value

Avid Power Cordless Rotary Tool

Great price
Many accessories
Handy LED lights
CHECK PRICE

Premium Choice

Bosch Gro10.8v-li Professional Cordless Rotary Tool

Powerful motor
Long-lasting battery
LED lighting
CHECK PRICE

Milwaukee 2460-20 Cordless Rotary Tool

Powerful motor
Convenient batteries
Lightweight design
CHECK PRICE

KeShi WL-45 Cordless Rotary Tool

Vent design keeps motor cool
42 attachments and accessories
Power button prevents accidental shut-off
CHECK PRICE
The 10 Best Cordless Rotary Tools
1.

Dremel 8220-1/28 Cordless Rotary Tool – Best Overall
Want to cut to the chase and buy the best possible rotary tool out there? For our money, the best overall rotary tool is the Dremel 8220-1/28 Cordless Rotary Tool. We were pleasantly surprised by how compact this model is. It lets you reach more places without sacrificing power, and it produces 5,000–30,000 RPM.
It's also very versatile. Thanks to the quick-change collet lock, you can swap one bit out for another as needed. Also, the Dremel comes with dozens of bits (part of the 28 accessories it comes with), giving you plenty of options while you work.
The ergonomic design and 360-degree grip make this tool easy to hold at all times. Our only real gripe is that the batteries do not hold a charge as well as we'd like. You can replace them with better batteries, but it's still annoying.
Pros
Convenient quick collet lock
Plenty of bits and accessories
Compact design
---
2.

Avid Power Cordless Rotary Tool – Best Value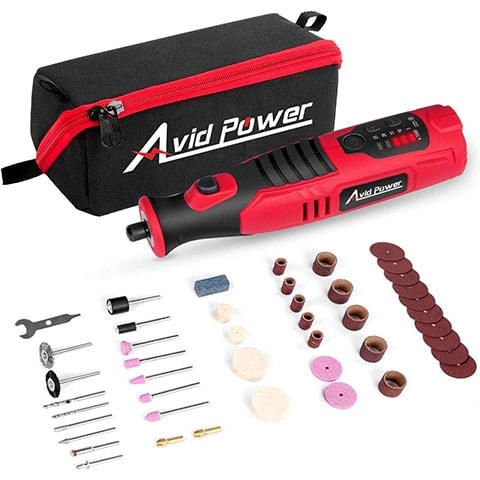 Not everybody has a giant budget for their tool collection. And if you're on a tight budget, you're probably looking for the best cordless rotary tools for the money. In that case, you should go with the Avid Power Cordless Rotary Tool. Despite its low price, you get an 8-volt battery that can produce speeds ranging from 5,000 to 25,000 RPM. And it is very versatile, with a whopping 60 pieces of accessories to help you get started.
You even get a nice "luxury" touch with 4 front LED lights to help you work in dark places. So, what keeps this from being our number-one pick? The battery performance is a little spotty, and it can't produce the power and speed of high-end models.
Pros
Great price
Many accessories
Handy LED lights
Cons
Spotty battery performance
Lower RPM than the best models
---
3.

Bosch Professional Cordless Rotary Tool – Premium Choice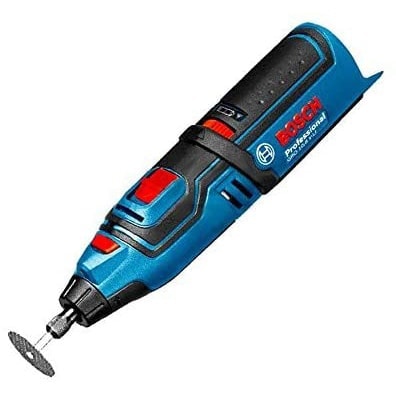 In the world of power tools, the old saying is often true: "You get what you pay for." Those who want premium tools must be willing to pay premium prices. And the Bosch Gro10.8v-li Professional Cordless Rotary Tool is an excellent example. It comes with the features you might expect, including a powerful motor that can handle up to 35,000 RPM, and it has a convenient ergonomic design that makes it very easy to hold and use.
But there are also some nice features you may not be expecting. This includes integrated LED lighting that helps you work in very dark places, and the special electronic cell protection helps keep your battery safe from overheating, overloading, and discharging.
At just under 2 pounds, this rotary tool is relatively lightweight. But as we said, it is one of the most expensive tools on our list of reviews!
Pros
Powerful motor
Long-lasting battery
LED lighting
---
4.

Milwaukee 2460-20 Cordless Rotary Tool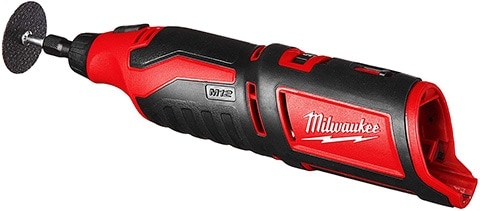 Not every rotary tool is a premium choice or a budget choice. Some are basically in the middle of the road regarding price vs. power, which describes the Milwaukee 2460-20 Cordless Rotary Tool. It doesn't come with as many accessories as other models, but it makes up for that with speeds up to 32,000 RPM. And while everybody's toolkit is a bit different, there is a chance you may already have some of the Milwaukee 12-volt batteries.
Despite the lack of initial accessories, the ⅛-inch collet can use accessories from practically any brand. It's very lightweight (about 1.3 pounds), which means you can use it for a long time without getting fatigued. Honestly, our main gripe is that lack of accessories. This tool is less ready to go "out of the box" than its competitors.
Pros
Powerful motor
Convenient batteries
Lightweight design
---
5.

KeShi WL-45 Cordless Rotary Tool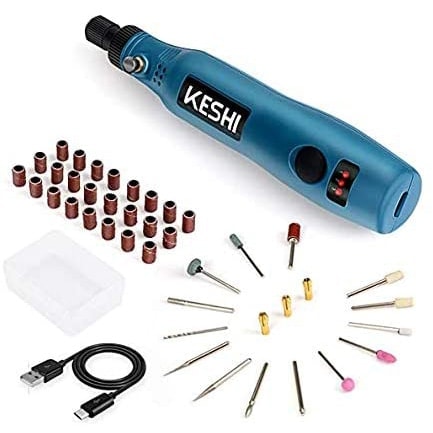 With three speed settings, the KeShi WL-35 ranges from 5,000 to 15,000 RPM, which is far below average for this type of tool. It has variable vent holes that keep the motor cool, and its unique power button design prevents accidental shut-off, which is especially important for engraving work. It's more of a DIY/homeowner tool than a professional model, but you could, theoretically, use it for anything from sharpening to grinding.
We like the 42 attachments and accessories that include collets, mandrel, drill head, polishing drum, and the storage case to carry them. The tool is suitable for materials such as plastic, glass, stone, and metal.
However, this is a light-duty rotary tool that's good for arts and crafts and minor repairs. Professional users will want to avoid this model and go for something more robust like the Dremel 8220-1/28. You get 90 minutes of battery power after 2 hours of charge, but the WL-45 seems to lose a lot of power at the 30-minute mark.
Pros
Vent design keeps motor cool
Power button prevents accidental shut-off
42 attachments and accessories
Cons
Weak motor
Not for heavy-duty use
Poor battery performance
---
6.

EnerTwist Max Cordless Rotary Tool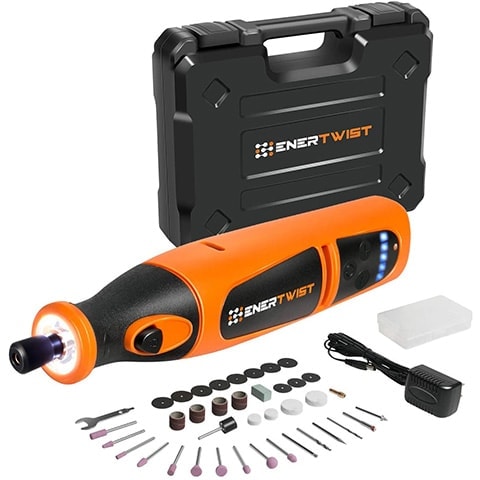 Do you need a cordless rotary tool and don't want to spend much money? While it's not the best budget choice, the EnerTwist ET-RT-8 Max Cordless Rotary Tool is a solid option. You get a decent motor that can handle speeds up to 25,000 RPM, and the 8-volt lithium-ion battery lasts surprisingly long for such a budget rotary tool.
The ergonomic design makes the EnerTwist comfy on the hands, and the built-in LED lighting makes it easy to use in the dark. We enjoyed the all-in-one nature of this kit, which includes a charger, case, and a 40-piece accessory set. What keeps this from being our best budget choice? The design isn't very sturdy, and the switches are easily damaged. Also, some users reported that this tool would unexpectedly power down when they were using it.
Pros
Great price
All-in-one kit
Good battery life
Cons
Design isn't very sturdy
Shuts off at odd times during use
---
7.

Kapoo Cordless Rotary Tool

Our reviews have explored a few budget options already, but what if you're strapped for cash and need one of the cheapest rotary tools around? That's where the Kapoo Cordless Rotary Tool comes in. You can't beat the price, and we were pleasantly surprised by features like the speedy battery charging (2 hours to charge) and the convenient bundle of 23 rotary accessories. However, there are some downsides, including that the motor will only reach speeds of 15,000 RPM.
Additionally, while the tool is comfy to hold, it is prone to damage. The 2-hour charging is convenient, but some users have experienced problems with the battery right out of the box.
Pros
Highly affordable
Good accessory assortment
Cons
Low power
Potential battery issues
---
8.

TECCPO Cordless Rotary Tool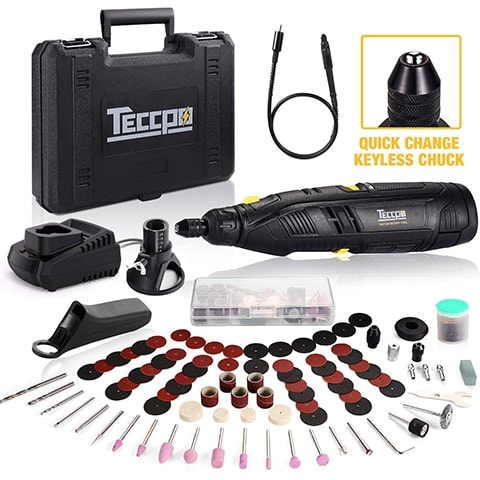 Cordless rotary tools are great because they can help with several projects, and the TECCPO TDRT03P Cordless Rotary Tool is designed to meet a versatile array of needs thanks to the 80 accessories that are included.
We liked that the 12-volt battery charged in only an hour and that the motor could bring the tool to speeds of up to 28,000 RPM. Unfortunately, there are a few issues that keep this rotary tool near the bottom of our list. For example, the overload protection kept turning it off at inconvenient times. And despite its design for versatility, it doesn't have 100% compatibility with Dremel parts. Finally, despite being able to handle most day-to-day projects, this tool isn't designed to handle any truly ambitious projects.
Pros
Many different accessories
Fast battery charge
Powerful motor
Cons
Accessory compatibility
Annoying overload protection
Engine snags at times
Not suited for major projects
---
9.

TACKLIFE RTD02DC Cordless Rotary Tool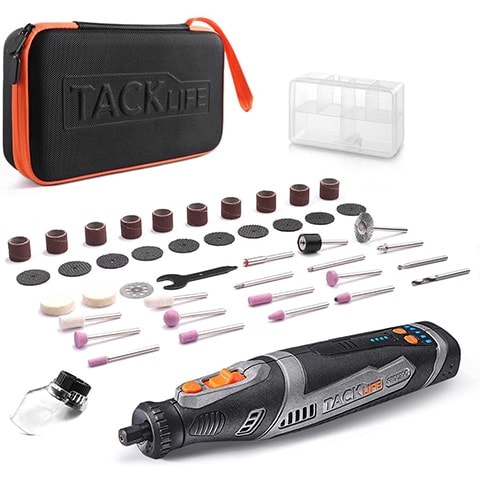 On paper, the TACKLIFE RTD02DC Cordless Rotary Tool is a nice, all-in-one kit for amateur and veteran handymen . Unfortunately, there are more drawbacks than benefits. We enjoyed the powerful motor that allows this tool to hit 30,000 RPM, and the 43 accessories are a nice touch, as are the convenient LED indicators.
However, the TACKLIFFE shuts off at even the slightest amount of pressure. The vibration can be distracting, especially during big projects. Finally, it's a bit bigger and heavier than you might expect, which negatively impacts its portability and overall usability.
Pros
Solid motor
Nice LED indicators
Cons
Shuts off too easily
Vibration issues
Unwieldy to hold and use
---
10.

GALAX PRO Mini Cordless Rotary Tool
The GALAX PRO USAGP-DC-3R Mini Cordless Rotary Tool comes in at the end of our reviews, and it's another very cheap option. Unfortunately, this is a rotary tool that proves "you get what you pay for" in a negative sense. With that being said, there are a few things we liked. The 31 included accessories are nice, and the two-hour USB charging time is good. And at only 0.27 pounds, this tool is easy to lift and use for as long as your project lasts.
However, the relatively weak motor only goes to 15,000 RPM. While it charges quickly enough, the batteries are too weak for plastic and other hard materials. Finally, while the bits are convenient, they don't all lock into place very easily, making the entire experience frustrating and inconvenient.
Pros
Low cost
Very lightweight
Cons
Weak battery
Weak motor
Issues with bits not locking into place
---
Buyer's Guide – Choosing the Best Cordless Rotary Tool
Hopefully, our thorough reviews helped you understand more about the best cordless rotary tools on the market. If you're still on the fence, you may need a little more information, and that's where our buyer's guide comes in. To make the best possible cordless rotary tool choice, you must understand more about these tools and their components. From batteries to bits, our buyer's guide will help you find the perfect tool for your needs.
Battery
The secret to any good cordless rotary tool is the battery. Once you don't have to keep the tool plugged in, you can take it wherever you go. However, some batteries are more effective than others. For example, lithium-ion batteries are the best choice for your power tools. Lithium-ion batteries are lighter than traditional batteries, and that is particularly important for any cordless tool because you don't want anything too heavy.
On top of that, lithium-ion batteries typically pack more power than other batteries of the same size, and they charge faster than other batteries. The only thing you need to watch out for is that the batteries can overheat faster than traditional batteries.
If you plan to use your rotary tool extensively, you may want a model that allows you to swap out different batteries. And if you're really lucky, you might already have some lithium-ion batteries around the house that will work with your cordless rotary tool.
Accessories
Many of the items we reviewed today are part of cordless rotary tool kits. In addition to the primary tool, the kits often include cases, chargers, and bits. When it comes to the number of bits and accessories, more isn't always better. While it's nice to get plenty of extra "bonus" accessories, don't let this convince you to buy a lower-quality tool. For that matter, be sure to examine which bits come with the kit. It's better to get the 20 bits that you need versus the 80 bits that you'll never use!
For first-time buyers, you can basically "work backward" to figure out which accessories you need. Just take stock of the accessories you already have, which projects you plan to complete, and what you still need to make those projects happen. From there, you can select a kit that has everything you need to get started!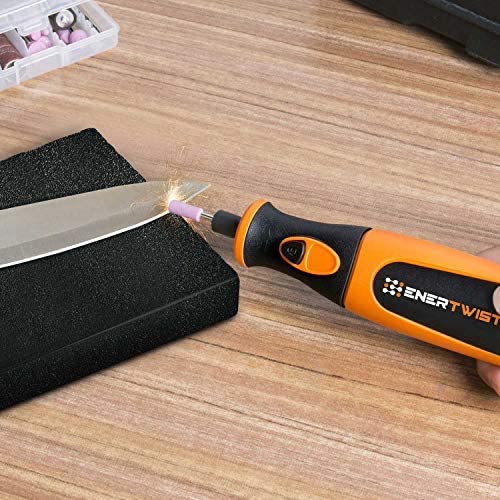 Weight vs Sturdiness
Sometimes, a strength in one area causes a weakness in another. Generally speaking, you want your cordless tools to be lightweight and ergonomic. When they are easy to hold and lift, it makes them easy to work for a long time. However, some cordless tools are light because they are made of weaker, low-quality materials. And if your new tool breaks too quickly, you'll wish you went for the sturdier option.
Motor Speed
You may have noticed that the motor speed of cordless rotary tools varies quite a bit. The tools we reviewed mostly had 5,000 RPM as the minimum speed. Maximum speeds ranged from 15,000 RPM to 32,000 RPM. It's easy to think "bigger is better." At the same time, not every rotary project requires a high-speed motor.
If you won't be using the rotary tool very often, or if all your projects are minor, nothing is wrong with sticking to 15,000 RPM. But if you want a motor that can handle more demanding jobs, you need a tool that produces higher RPMs.

Conclusion
Now that you've read our reviews and buyer's guide, only one question remains. Which cordless rotary tools are the best in the business? If you don't mind spending a bit more money, the Dremel 8220-1/28 Cordless Rotary Tool is the best choice. It offers power and versatility, and its compatibility with other Dremel products is great. For those on a budget, the Avid Power Cordless Rotary Tool is our best value choice. It offers many uncompromising features at a surprisingly reasonable price, and it's clearly the best budget option around.
With any luck, we've helped you select the cordless rotary tool that suits your needs. Now, there's only one thing left for you to do; pick up the tools and get to work!