10 Best Corner Clamps of 2022 – Reviews & Buying Guide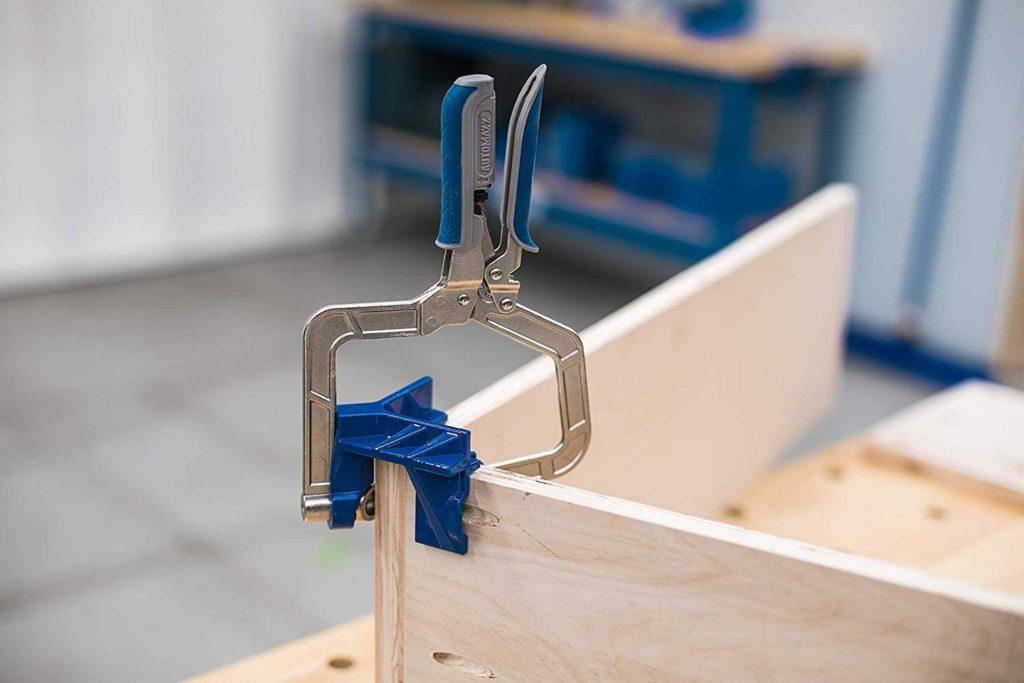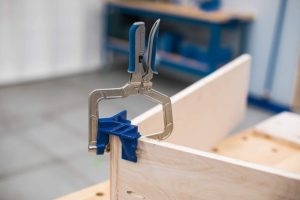 Whether you are a hobbyist, woodworking professional, or somewhere in between, if you love to build things with your hands, then you know how important having a quality corner clamp can be. Pushing together bits of wood at 90° angles any other way is not only frustrating, but very time consuming, and the finished product never looks quite right.
It would all have been done quickly and easily with the simple application of the perfect corner clamp for your need. And this doesn't just apply to wood. Some corner clamps can be used to set angles for steel, holding the bits in place while you weld them together.
If this has enticed you to get your very own corner clamp, or multiple clamps, we have put together a top ten list of the best corner clamps on the market, with reviews, to help with selecting your next corner clamp.
---
A Quick Comparison of Our Favorites in 2022
Rating
Image
Product
Details

Best Overall

Housolution Right Angle Clamp

Lightweight
Easy to use
Can be adjusted for different thicknesses of wood
CHECK PRICE

Best Value

SEDY 90 Degree Corner Clamp

High-quality construction
Rubberized handle
Design makes it easy to mount to a workbench
CHECK PRICE

WETOLS Angle Clamp

Top-quality construction
Maximum clamping range out to 2 ¾ inches
Easy to use with ergonomic handle
CHECK PRICE

TACKLIFE HAC3B Corner Clamp

Incredibly durable
Wide jaw opening
Ergonomic rubber handle
CHECK PRICE

Kreg KHCCC 90 Degree Corner Clamp

Single-handed operation makes it very easy to use
Pocket-hole allows nailing or screwing without removing items in clamp
CHECK PRICE
The 10 Best Corner Clamps
1.

Housolution Right Angle Clamp – Best Overall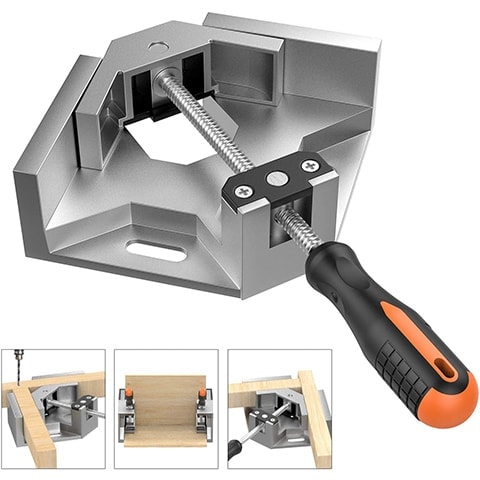 If you are looking for a light-weight corner clamp that is not only versatile but quite easy to operate, then the Housolution Right Angle Clamp is the one for you. It was designed with woodworking in mind. Just a simple twist of the screwdriver-like mechanism and the vice bolt retracts along a fixed threaded shaft. Then place the wood, cinch it up, and you are ready to glue, nail, or screw it in place.
It is made of aluminum alloy, so it is exceptionally light, which makes it the perfect corner clamp if you must travel for your woodworking business or hobby. It has a photo frame vise holder with an adjustable swing jaw, which can accommodate two wood blocks of different thicknesses to be joined seamlessly. And the rubber-coated handle on the clamp mechanism allows the user to give it an added twist without the handle slipping while torquing the blocks in place.
Pros
Lightweight
Easy to use
Can be adjusted for different thicknesses of wood
Cons
Not good for welding purposes
Not good for brazing
---
2.

Sedy 90 Degree Corner Clamp – Best Value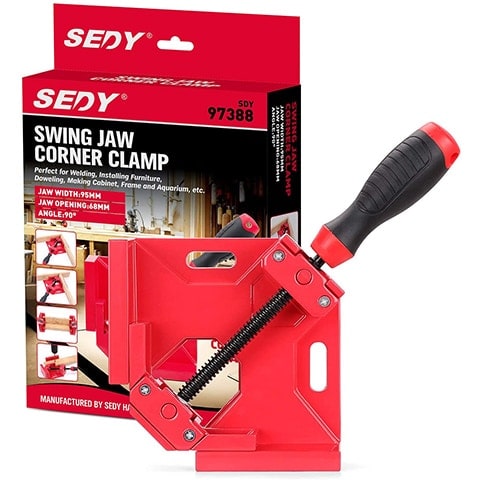 While the phrase "you get what you pay for" applies a lot in the tool world, every so often, what you pay for is pretty fantastic — even if the ticket price is not very high. The Sedy 90 Degree Corner Clamp is a testament to this deviation from that old saying. They are similar in price to some lower quality models, which makes this one of the best corner clamps for the money.
Its design is simple, but the overall operation is flawless and perfectly geared toward woodworking. It is composed of aluminum alloy, has an adjustable swing jaw, and a rubberized handle for improved gripping while cinching up wood ends. The overall construction is tremendously durable, which is great for carpenters who need to use it with a high level of frequency.
Pros
High-quality construction
Design makes it easy to mount to a workbench
Rubberized handle
Cons
Could be difficult to use with long boards
Unit is slightly small
---
3.

WETOLS Angle Clamp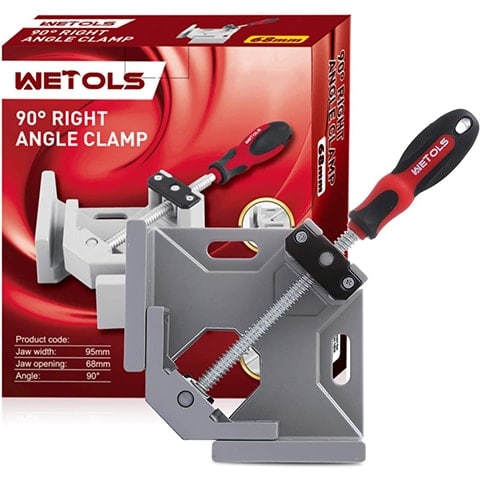 If you have had trouble in the past finishing a cabinet or furniture piece because your angle clamp was being, for lack of a better word, uncooperative, then you are going to love this. The WETOLS Angle Clamp may look like most of the clamps available on the market, but even though its design shares some common traits, it is a whole different animal.
The aluminum alloy is dense, durable, and can handle being used regularly for any woodworking task you need it for. The jaws can open to almost 3 inches, making it great for synching up 2x4s. The ergonomic, anodized rubber handle on the clamping mechanism won't slip out of your hand, even if your hand is wet. And the two-way, swing jaw design only adds to its level of versatility.
Pros
Top-quality construction
Easy to use with ergonomic handle
Maximum clamping range out to 2 ¾ inches
Lightweight design
Cons
Not advisable for welding
---
4.

TACKLIFE HAC3B Corner Clamp
For fans of companies that care, TACKLIFE has your back. If you have any problems with the TACKLIFE HAC3B corner clamp, or any TACKLIFE product, not only will the company take care of it, they will do so within 24 hours. But we don't think you will have too many issues with this corner clamp.
Just like most of this style, this clamp — sold in pairs — is made of a dense, durable aluminum alloy. The high-quality aluminum mixture used makes this model exceedingly long-lasting, and its structural rib design only adds to its overall strength. It is designed for consistent use, which is why the rubber handle on the steel clamp spindle is designed for comfort and to prevent hand fatigue from lots of use.
It has a clamping range of up to 2¾ inches, capable of holding just about anything you need to clamp and glue, nail or screw together, and with the swing jaw design, attaching items of different thicknesses is not a problem.
Our only gripe with this product is that, depending on the materials, sometimes the joint can slip, causing frustration.
Pros
Incredibly durable
Wide jaw opening
Ergonomic rubber handle
Heat-treated steel threaded rod
Cons
Joint has a tendency to slip
---
5.

Kreg KHCCC 90 Degree Corner Clamp
While most other corner clamps most resemble the vice concept, the Kreg KHCC 90 Degree Corner Clamp is a true clamp design. It is easy to see why many woodworkers, carpenters, and hobbyists prefer it, based solely on its one-handed clamp mechanism. And the rubber pads cut down on calluses.
This is noticeably light, sold in pairs, and made of high-grade aluminum alloy. It can work on both 90° corners as well as "T" joints, and it has cutouts on the clamp pads that allow a nail or screw to be applied without having to open the clamp jaw — terrific for carpenters. And it incorporates the Automaxx auto-adjust system, which allows the clamp to adjust to match the thickness of the materials within the clamp automatically.
This is not a perfect product, however. We found the Automaxx system often fails and the design only allows the jaws to open to 1 inch, which limits the options of items to be joined. Lastly, it cannot be used for metalwork due to the weakness of the clamp jaws overall.
Pros
Single-handed operation makes it very easy to use
Pocket-hole allows nailing or screwing without removing items in clamp
Cons
Automaxx system often fails
Jaws only open 1 inch wide
Can't be used for metalwork due to the weakness of the clamp
---
6.

ODELENWA Right Angle Clamp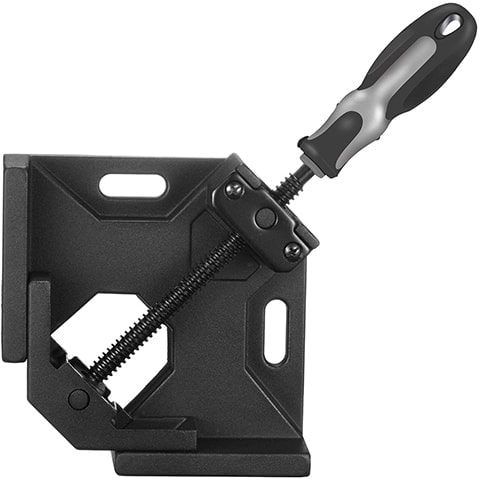 If you want a quick and dirty answer to getting your woodworking tasks done now, then we have your answer. This clamp might look like all the others, but it has one very special difference that carpenters looking for tool aesthetics will love, and that is the black anodized powder coating that gives this corner clamp a unique texture.
It is still made of aluminum alloy, but the aluminum is reinforced, making it stronger and more durable. Of all the models, this one sets up the fastest, securing to your clamped items quickly. It has a floating head at the end of an electroplated screw, guided by the anti-slip rubberized handle. And it has the swing jaw, that allows you to connect pieces of different sizes, up to 2.7 inches thick.
Still, we had some issues with this clamp. Firstly, the mobility of the screw unit seems to separate pieces to be joined instead of pushing them together. It also is a bit cumbersome if not mounted, especially if the wood is longer than 3 feet. And unfortunately, it is not advisable for welding due to its lightweight materials.
Pros
Textured black coating allows for better traction of clamped items
Made of durable aluminum alloy
Adjustable swing jaw
Unlikely to ever rust
Cons
Mobility of the screw unit is unreliable
Difficult to use  with  wood that is longer than 3 feet
Bad for welding
---
7.

IRWIN Tools 226200 Quick Grip Corner Clamp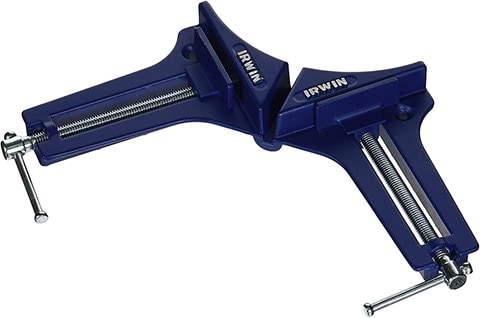 Made of composite material, the IRWIN corner clamp is designed for light-duty work, more in the wheelhouse of picture frames, molding, and other smaller projects. It consists of twin steel screws that push the clamps from 90°      angles, instead of the single press, adjustable jaw mechanism.
The vise-like design can hold firmly up to 200  pounds of pressure with only small occasional adjustments needed, but it is fitted with nylon rounds that keep you from damaging the pieces being joined. It weighs in at just over 9 ounces and has a satisfaction guarantee warranty.
Sadly, we didn't find it to be nearly sturdy enough, so you're limited in your scope with this particular corner clamp. There were also a lot of reports of defective models being sent to customers. And if it didn't come defective, it quickly became useless as parts seem to break off easily.
Pros
Great warranty
Easily adjustable vise mechanism
Nylon rounds keep items inside clamp safe
Cons
Not strong or sturdy
Reports of product arriving defective
Easily breaks
---
8.

Wolfcraft 3415405 Quick-Jaw Right Angle Corner Clamp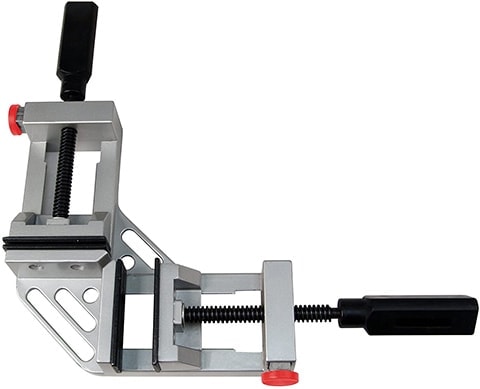 The Wolfcraft Corner Clamp would fall under the heading of light to medium duty and is great for making cabinets and boxes, along with items with rounded edges. It's two independent jaws can spread to 2 ½ inches wide and can handle many projects within this opening range. And it has two ergonomic handles with quick-release mechanisms.
The durable aluminum body makes this a particularly useful and versatile item for woodworkers. It has padded jaws to reduce slipping and damage to the wood within and is coated in textured paint, which adds friction for extra grip of clamped items. It weighs in at just over 2 ½ pounds, has a 5-year manufacturer's warranty, and a limited lifetime warranty.
We found some significant issues with this clamp, chief among them was the fact that the precision of the angles was off. It's also quite heavy, and users had gripes about the quality being quite low. In general, it's only useful for small to medium duty work. So, if you are looking for a product that can be used for any size project, check out one of the products higher on our list.
Pros
More durable than most aluminum alloy models
Great making boxes, cabinets, and joining round-edged items together
Cons
Angles are not precise
Heavier than most
Low quality
Only useful for small to medium duty work
---
9.

HORUSDY 90-Degree Right Angle Clamps/Corner Clamp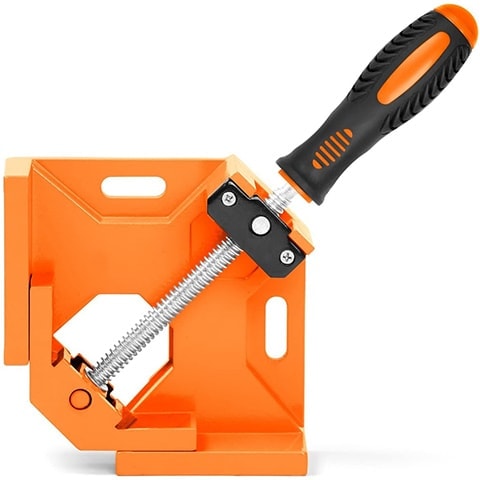 Designed for absolute precision, the HORUSDY corner clamp has taken the design of other single-handed clamping mechanisms, and made some small adjustments, to give their clamp some individuality. They used a stronger aluminum alloy that is very sturdy, but the thing that they differ in is the speed of their clamp mechanism.
The electroplated rotating spindle attached to a floating head on one end, a rubber-coated, ergonomic handle on the other, is supposed to make clamping with speed and precision a breeze, setting up the clamp in an instant. And it has oblong mounting holes built into the base from mounting to a workbench.
Unfortunately, for woodworkers looking for an all-around corner clamp that can handle any job, this is not the winning ticket. The jaws only open wide enough to work with thinner items such as glass and dowels. It is not the most precise clamp and the quality is very low, even being a product under the Sedy name. Overall, we would suggest giving this one a miss.
Pros
Heavier gauge of aluminum alloy
Single-handed clamping design
Quick cinch-up properties
Cons
Small jaw opening
Swing Jaw mechanism is often loose
Difficult to tighten jaw with conventional tools
Does not offer the precision it advertises
Low quality
---
10.

Milescraft 4005 Corner Clamp
Take a standard clamp, add a vice grip mechanism, and the product is the Milescraft 4005. The combination of the vice grip handle style with the addition of a rubberized grip for speed and comfort makes a lot of sense and The overall construction is solid, and the design is good for "T" joints, as well as corners.
It has a swivel head that makes it easy to use, and has the same quick-release as most vise grips, so adjustments are quick and simple.
It has the one fatal flaw of all vice grip-style tools: holding the tool, the item in the clamp, and making adjustments —  you almost need three hands to juggle it all. This makes this not a very user-friendly clamp, and thus, it fell out of favor with us pretty quickly. Plus, the small jaw opening limits its overall versatility.
Pros
Unique swivel head
Works for "T" joints as well as corners
Sturdy materials
Cons
Cumbersome to make adjustments with
Need a helper to adjust effectively
Small jaws
Best to use more than one clamp to be effective
---
Buyer's Guide – Finding the Best Corner Clamp
Knowing a few of the myriad possibilities in your next corner clamp is only half the battle. Beyond the simple stats, the specs, and the little unique nuances that set them apart, there is still that one pressing question: what are you going to use it for?
The answer makes a world of difference. While overkill might be overrated, it is also true that you can buy a product that is just too big for the desired application. Think of it like buying a 3-pound sledgehammer for picture nails. You know what you are planning to do. Now is the time to pick the right tool for the job. Check out our buyer's guide on how to choose the corner clamp that is just right for your intended project,
Size and Dimension
Knowing the application of the tool is important. Now other factors come into play, like:
Size of the project, and how big the clamp must be to accommodate
Width of the items, and the jaw span of the clamp
Length of the item, and can the clamp be mounted
Type of material, and can the clamp be used for the purpose needed, such as welding
Quality
And that funnels into the next option, and that is the overall quality of the clamp. Does it need to be heavy duty? Does it need to be easy to use when you are working alone? Do you need multiple clamps, working independently, and can you handle them all properly? Style will play a huge factor in that last one, so your candor with that answer is paramount.
You have probably already thought about each of the points we have brought up, but only in fantasy, non-linear terms. Fleshing out a better idea of your plan will give it scope, and let you see it in all the dimensions necessary for realistic conceptualizing.
Cost      
Another fun factor in getting new tools is cost versus quality. We have already used that classic adage "you get what you pay for." It still applies. But the upside of corner clamps is in the limited design scope, which keeps the overall market price within a pretty finite window.
The range of how much one clamp costs over another that looks identical is largely determined by quality, but also by where it is made. Overall, users seem to be a lot more satisfied with American-made products, which tend to have overall higher standards of quality than many competitors.
Choosing the Best Corner Clamp for Your Needs
What are you going to build today? A cabinet? A terrarium? It matters in regards to what clamp to buy, and what style. Here is a simple breakdown, based on possible building ideas.
1. Cabinets: You will want a clamp that isn't fixed to a surface, and you are going to want a few of them.
2. Speaker Boxes: Usually, these are particle boards and are glued together. A fixed clamp will work fine, but if you want to connect multiple sides simultaneously, having additional hand clamps will be good to have.
3. Aquarium or Terrarium: If building with glass or plexiglass, a clamp that only has a small jaw opening will work best to ensure the most torque for holding your corners together. This is also recommended by a few fishkeeping pros.
4. Molding Points: A clamp that is fixed to a surface is best, due to the length of most molding, if it is to be affixed to a wall.
5. 2x4s: When combining any corner of thicker wood, a vise-style is more advisable over a clamp-style.
Any other build items will stem from these basic five options. We didn't say anything about items to be welded, because many aluminum alloy clamps advise against it. However, that depends largely on the type of welding being done. Mig or Tig will have a different slag spray than arc welding. If you don't want to ruin your aluminum alloy clamps, only use solid steel clamps when welding.

Conclusion
After comprehensive testing, trials, and going over each model in painstaking detail, we have decided that based on our own assessment and reviews from other uses, the top corner clamp is the HOUSOLUTION Right Angle Clamp. And if you're on a budget, you can't go wrong with the Sedy 90-Degree Corner Clamp. With either of these, your project is as good as done.
We hope this comprehensive review was helpful. There are a lot of options out there. Clamp with confidence knowing you made the right choice for your corner clamp needs.