9 Best Pool Thermometers in 2023 – Reviews & Top Picks
Are you afraid to dip your toe in before knowing the exact temperature of the pool? Don't worry; you are not alone.
Some people even have a temperature set in their head and will refuse to swim until the pool reaches this temperature.
Knowing the temperature of your pool is a nice feature, and luckily there are some very easy to use and affordable options on the market for taking the temperature of your pool.
We put together these pool thermometer reviews on nine of the best pool thermometers out there; surely, there is one on the list that will work for your particular pool.

A Quick Comparison of Our Favorites in 2023
Rating
Image
Product
Details

Best Overall

GAME Digital Pool Thermometer

Easy to read LCD display
Five-inch probe
Can leave in the water
CHECK PRICE

Best Value

Milliard Polar Bear Pool Thermometer

Traditional pool thermometer
Polar bear décor
Very low cost
CHECK PRICE

Premium Choice

Ambient Weather Digital Pool Thermometer

Waterproof
Internal display
Leak-free design
CHECK PRICE

Pentair Pool Thermometer

Very low price
Simple to use
Has a three-foot cord
CHECK PRICE

eLander Pool Thermometer

Reads both Fahrenheit and Celsius
Very low price
Well built
CHECK PRICE
The 9 Best Pool Thermometers
1.

GAME 14900-6PDQ-E-01 Digital Pool Thermometer — Best Overall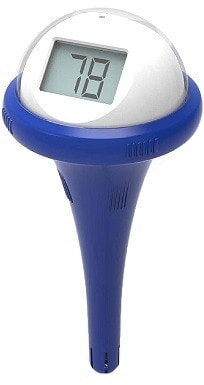 At the top of our list is the GAME Digital Pool Thermometer. This is the best overall option for several reasons, including price, accuracy, and durability
Choosing a digital pool thermometer that you can leave in the pool and monitor the temperature from morning until night is a nice benefit. The GAME is perfectly capable of floating in the pool all day and night without having to take it out. The unit does require two triple-A batteries to keep it running.
You can set the GAME Digital Pool Thermometer to read in either Fahrenheit or Celsius. It has a five-inch long probe that will give you a much more accurate reading. If you measure the first few inches of your pool water, the temperature can be off because that water tends to heat up faster than the deeper water. The five-inch depth on this thermometer is sufficient for producing more accurate readings.
The GAME 14900 will work just fine with a hot tub or jacuzzi as well. The LCD screen is straightforward to read, and with its size, you may not need to take the unit out of the pool to read what it says.
Pros
Easy to read LCD display
Five-inch probe
Can leave in the water
Fahrenheit or Celsius
Great price
---
2.

Milliard Floating Pool Thermometer — Best Value
If you are looking for a traditional pool thermometer but do not want to spend much money, the Milliard Floating Pool Thermometer is worth considering. This thermometer is the best pool thermometer for the money. It is offered at a very low price, and durable enough hold up for quite some time.
This is a traditional model with no LCD display. There is a bear-shaped top to this thermometer that young children will love to see. The thermometer itself is made from durable ABS plastic, and it should hold up for several seasons. If you don't want this pool thermometer to travel around the entire pool, you can simply use the included rope tether to keep it attached to a ladder.
The Milliard is a seven-inch tall thermometer, but you must consider the floating bear on the top. The probe is probably about as long as it is for our number one choice, the GAME.
The Milliard will measure in both Fahrenheit and Celsius. Although it did not make our top choice because it lacks the LCD display, you will never have to replace batteries in this unit!
Pros
Traditional pool thermometer
Polar bear décor
Very low cost
Fahrenheit and Celsius
Cons
No LCD display
A bit hard to read
---
3.

Ambient Weather WS-14 Wireless Pool Thermometer — Premium Choice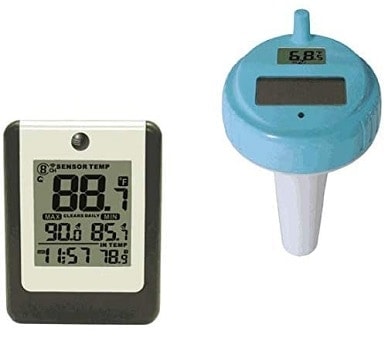 This is where things get fancy. Not only will you not have to stick your toe in the pool to test the temperature, but now you don't even have to go outside. The Ambient Weather WS-14 Wireless Pool Thermometer comes with a display console that you can put in your house to give you the reading of the pool temperature.
This wireless pool and spa thermometer is waterproof, and it floats on the surface of the water. This is a solar-powered unit with a battery backup. The indoor display piece is a battery-operated device.
The console that displays inside the home will also give an air temperature. You can get accurate pool temperatures with this unit every sixty seconds when the signal wirelessly transmits. With an eight-channel selectable switch, you can monitor temperatures from up to eight different locations, all from the same console. You would need additional probes for this to function correctly.
There is a lid kept on the probe unit to make sure that it is a leak-free and water-resistant design. Although this thermometer will cost a bit more than other options, you are paying a premium for convenience.
Pros
Waterproof and leak-free design
Internal display
Also gives room temperature
Cons
More expensive
Probe is not all that deep in the water
---
4.

Pentair R141036 127 Tube Thermometer
If you don't want to spend as much money as the Ambient option, the Pentair R141036 Tube Thermometer could be a good choice. This unit will work in both a pool and spa, and it will give a quality reading for a very low price.
There is nothing fancy about the Pentair Tube Thermometer, but it does come with a three-foot cord. The cord can be tied around a ladder or a diving board post to keep the thermometer for floating to the middle of the pool.
If you have a pool heater and want to make sure it is functioning correctly, this is a cheap option that you can throw in the pool. The one thing that does make this thermometer better than some other choices is the fact that it is about nine inches long. The length will help to get a more accurate temperature than something that sits on the surface.
Pros
Very low price
Simple to use
Has a three-foot cord to tie to the ladder
Cons
Harder to read
No digital display
Not wireless
---
5.

eLander A15-EL Floating Pool Thermometer
Another affordable easy to use option is the eLander A15-EL Floating Pool Thermometer. This is again a traditional floating pool thermometer, offered at a very low price. This unit can read both Fahrenheit and Celsius temperatures.
The eLander is well built and can provide accurate readings for both pool and spa water temperatures.
There are two reasons that this thermometer did not make it closer to the top of our list. The first is that it is a bit hard to read. The numbers are quite small, and we had trouble determining the exact temperature of the pool.
The second issue we have is that although this is a more extended unit, it sometimes seems to just float on the top of the water. Most pool owners are going to want to get a reading of the water a few inches below the surface and not just on the surface.
Pros
Reads both Fahrenheit and Celsius
Very low price
Cons
Not high quality
Hard to read
---
6.

Davespa Floating Pool Thermometer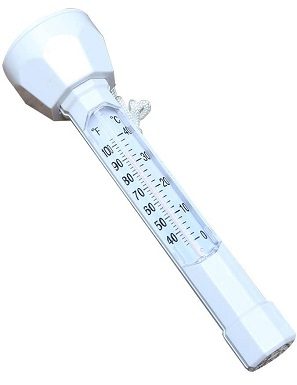 The Davespa Floating Pool Thermometer is next on our list. Again, a traditional option with no LCD display. The Davespa is capable of reading in both Fahrenheit and Celsius.
The Davespa does come with a string to help you tie it in place for easy access. The thermometer inside the Davespa is shatter resistant, and the outside housing is quite durable as well.
With the price of this unit and the other positives, there were just a few things that kept it a bit further down on our list. The first is the maximum temperature readings.
The Davespa will measure temperatures up to 100 degrees Fahrenheit. This option can be used in a spa, but it is best for pool use. It seems to float well in the pool and give accurate pool temperatures, but as it gets towards the top, it is harder to see, and there are times your spa temperature may go higher than 100 degrees.
The Davespa is a little harder to read than some other options we have reviewed, but any of the non-LCD display options are going to take you a second to read.
Pros
Shatter-resistant
Durable
Floats well
Cons
Temperature does not go as high
Hard to read display
---
7.

Aquatix Pro Pool Thermometer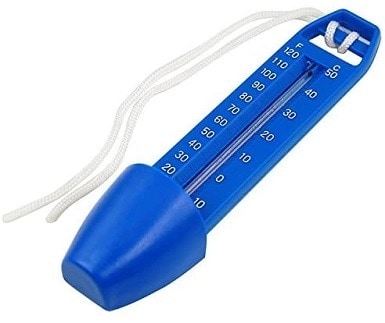 This unique design may actually allow you to check the water temperature without removing the thermometer from the pool. Most floating pool thermometers have a round top piece that floats above the water and a thermometer that is several inches below the water level. The Aquatix works a bit backward. The thermometer part sticks out above the water.
The positives on the Aquatix Pro Pool Thermometer is that it works in both pools and spas and reads up to 120 Fahrenheit. The out of the pool reading and the durable material and shatter-resistant thermometer make this a good option, especially for the price.
The only thing that kept the Aquatix this far from the top of our list is the accuracy. It seems as though with part of the thermometer above the water, the temperature is not always accurate. Although it is nice to see a larger display, accuracy is probably more important.
Some users had trouble with the string on this Aquatix and said that it fell apart within a few months of being in the pool. Although the rope is relatively easy to replace, it should last more than a few months before falling apart.
Pros
Larger numbers easier to read
Comes with a one-year warranty
Cons
Not as accurate
String can fall apart easily
---
8.

U.S. Pool Supply TM-690 Scoop Pool Thermometer

Next on our list is the U.S. Pool Supply Scoop Pool Thermometer. This is the same design as the Aquatix. It will stick above the water, and it has a large easy to read and oversized display.
The U.S. Pool Supply Scoop Pool thermometer is capable of giving both Fahrenheit and Celsius readings, and it even comes with a full one-year warranty. Now you may be wondering why it is next to last on our list.
Although the U.S. Pool Supply is a great price and comes with the warranty getting an accurate unit is still quite important to most pool owners. You will likely be disappointed with the accuracy of this model. Some pool owners said that it never gave them the right temperature even though the display was easy to read. We think it has to do with the thermometer begin above the water at some points depending on how the U.S. Pool Supply unit is floating. With the other options, we suggested there are likely better ways to spend your money.
Pros
Easy to read
Very low price
Cons
Not accurate
Doesn't float correctly
Does not last long
---
 9. Puri Tech Thermometer
Last on our list is the Puri Tech Thermometer. This is a traditional thermometer without an LCD display; it also does not float. The main reason we put the Puri Tech at the bottom of the list is that it will not float.
If you didn't want to put your toe into the pool because you were afraid it was too cold, forget about having to dive to the bottom because the Puri Tech became undone and is now stuck on the bottom of the pool. If this falls to the bottom in the offseason, it will be a nuisance to get it out, and it can get in the way of any type of automatic pool vacuum.
This thermometer is durable and should last for quite some time as long as the included string holds up.
Cons
Does not float
Not high quality to hold up for a long time
No LCD displays
A bit difficult to read
---
Buyer's Guide – How to Purchase the Best Pool Thermometer
Now that you have more information than you ever thought you could have about pool thermometers, it is time to make a choice. Which one will work for your pool or spa? There are a few key factors that will make some units capable of getting the job done for you and others that you will likely have to cross off the list right from the start. Here are the most important things to keep in mind.
Display
Most pool thermometers will have a traditional display where you will need to line up the number to the reading on the thermometer. Some new options offer a digital display. There are some downsides to digital displays because they require batteries that will need replacement, but for the reading of the temperature, there is nothing better than digital.
Price
Luckily a traditional pool thermometer is not an expensive purchase. As you start to look into the digital pool thermometers, the costs will increase. This piece of pool equipment will likely be one of your least expensive purchases.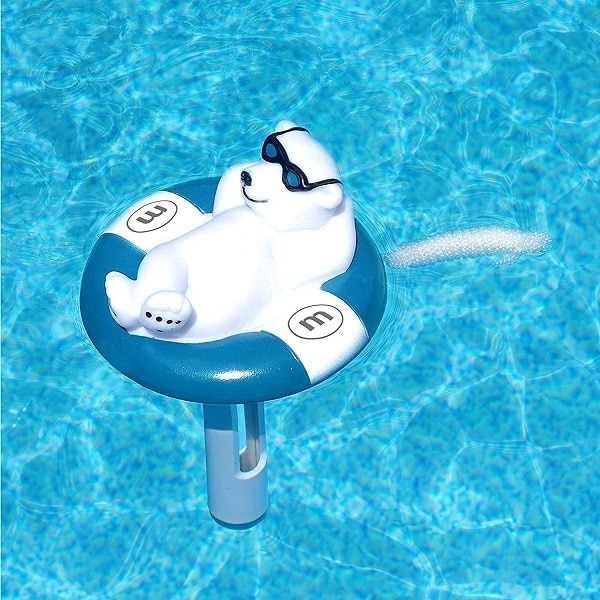 String
Most pool thermometers will come with a rope to allow you to tie it to the ladder or the stairs of your pool. This is a nice feature to have. When the thermometer is floating out in the middle of your pool, you will likely have a hard time getting the information you need without actually entering the pool. Since the pricing of these pool thermometers is usually quite low, the strings are not always all that high quality. If a line needs to be replaced in time, it won't be an expensive fix.
Probe Depth
Choosing a thermometer that will float a few inches under the water is the smartest choice. Anything that just floats directly on the top of the water will give an inaccurate reading. The top layer of the pool is always a bit warmer from the sun.

Conclusion
We don't blame you for wanting to know the temperature of the pool before doing that running cannonball. Choosing a pool thermometer does not need to be a difficult decision. In fact, we made this decision much easier for you by telling you that the GAME Digital Pool Thermometer is the best option out there. It is moderately priced, has a digital display, and gives accurate results. If you still feel like you want more value than that, the Milliard Floating Pool Thermometer does the job at a very low cost. The Milliard is also capable of holding up for a few years without needing to be replaced. Some of the lower-cost options will need to be replaced every season, but the Milliard is higher quality even for the low price.