8 Best Dado Blade Sets of 2023 – Top Picks & Reviews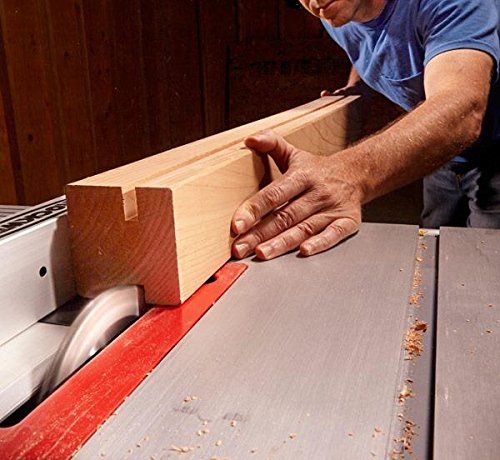 Having the right tools for woodwork is essential. Choosing the cheapest option might be kind to your pocket but could yield unfavorable results. So, how do you know which dado blades to choose? We've scoured the market and chosen eight products with great features and prices.
Our reviews below highlight the features of the product, their strong points, and where they could impede you from achieving the results you desire. Not having to spend hours or days searching for viable products will save you a lot of time, but we went a step further. This article includes a buyer's guide that explains which characteristics to look for in a dado blade.
A Quick Glance at Our Favorites (updated in 2023)
| Rating | Image | Product | Details | |
| --- | --- | --- | --- | --- |
| Best Overall | | Oshlun SDS-0842 Stack Dado Set | High teeth count ,Works on soft and hardwood ,Minimal vibration | CHECK PRICE |
| Best Value | | The Mibro Group Carbide Stacking Dado Blade Set | Durable,Versatile set,Precise | CHECK PRICE |
| Premium Choice | | DEWALT DW7670 Stacked Dado Set | Works well on all wood ,Clean cuts ,Good storage case | CHECK PRICE |
| | | Freud SD208 8-Inch Professional Dado | Durable ,Works on most wood | CHECK PRICE |
| | | Concord Blades DADO600HP Dado Set | Nice wooden storage box,Affordable | CHECK PRICE |
The 8 Best Dado Blade Sets
1.

Oshlun SDS-0842 Stack Dado Set – Best Overall
The Oshlun 42-tooth dado set allows you to produce smooth bottom cuts ranging from 1/4-inch to 29/32-inch. The 8-inch blade lets you cut relatively deep. The C-4 tungsten carbide tips stay sharp longer than regular blades and cut through various types of wood, such as plywood, hardwood, and softwood.
The Oshlun dado set is easy to set up because of the full-body chippers, which cause less vibration than blades with wing-style chippers. The shim set feature is great because it will allow you to adjust the width, and the dado blades come with a carrying case. Remember that Oshlun designed this set to cut undersized plywood. These blades produce score marks on the outer edges to prevent splintering. After comparing the Oshlun blades to the rest on the list, we found them to be the best overall.
The only issue with this product is the unsuitable packaging.
Pros
High teeth count
Works on soft and hardwood
Minimal vibration
---
2.

The Mibro Group Stacking Dado Blade Set – Best Value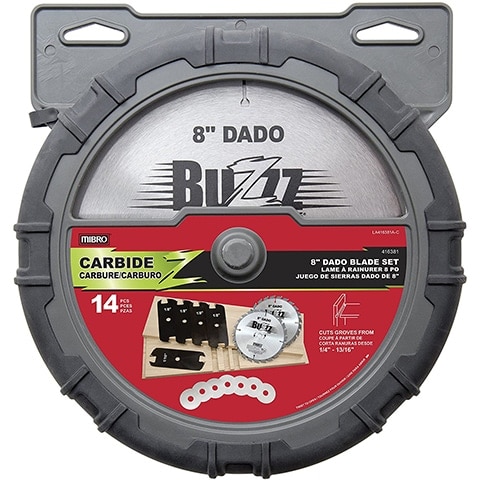 The blades of this 14-piece set from Mibro Group have 24 carbide teeth, which will last a long time. The set includes two 8-inch blades, five 2-wing chippers, as well as seven metal shims so that you can make fine adjustments to the setup of the blades.
The 5-blade beveled cutting teeth pattern is followed by one straight raker tooth, and they also have an anti-kickback tooth to prevent the blade from rapid material feeding. In the kit, you'll also get four 1/8-inch and one 1/16-inch chipper blades with two extra-large carbide teeth on each blade. Mibro Group electronically welded each tooth, which helps you to get precision of placement and the correct amount of brazing material.
The metal shims range from 1/14-inch to 13/16-inch width, and you can use the blades to cut grooves with clean edges, flat bottoms, and square shoulders. The set comes with a case to protect and prevent them from rusting. Just make sure that your blades lock in properly before use. Overall, we think these are the best dado blades for the money.
Pros
Durable
Versatile set
Precise
Cons
Need to ensure blade is locked in properly
---
3.

DEWALT Stacked Dado Set – Premium Choice
If you're a professional woodworker, the Dewalt DW7670 might be what you're looking for. These blades are 8 inches and have 24 teeth that provide good accuracy. The micro-grain carbide teeth reduce splinters and produce a clean cut, and the 4-tooth chippers will help you to get flat-bottom cuts.
The steel shims have width adjustments, and the heavy-duty case is great for protecting the blades from damage and chipped teeth. Although this set doesn't have 40 teeth like the Oshlun, it can still provide clean cuts on hardwoods, plywood, melamine, and softwoods.
This is a professional set with premium features, and it will cost you more than other blades. It's significantly more expensive than most of the sets on the list. But in terms of performance, it's hard to top DeWalt tools for reliability and ease of use.
Pros
Works well on all wood
Clean cuts
Good storage case
---
4.

Freud SD208 8-Inch Professional Dado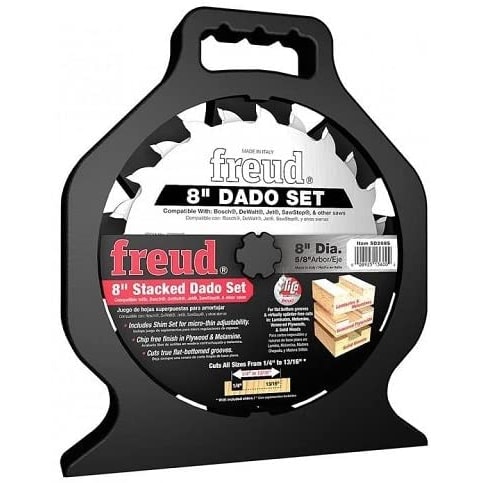 Although the name says "professional," the Freud SD208 is also geared toward the DIY crowd. The 8-inch blades with carbide titanium tips have a reputation for durability. In this set, you'll get two outer blades, three 1/8-inch chippers, and three 1/16-inch spacers. With the slot widths, you can produce grooves from ¼-inch to 13/16-inch.
The other great feature of this kit is that it comes with a shim set, which is perfect for making micro-adjustments. The Freud set only has 12-teeth blades with 5/8-inch arbors, so it's not as precise and powerful as the other blades on the list with more teeth. It works well with underpowered saws because it requires less power to feed. You can use the dado blades on plywood, laminate, hardwood, and softwood.
These blades have an anti-kickback design, allowing a margin of safety while working. The problem is that they sometimes don't provide an even groove.
Pros
Durable
Works on most wood
Cons
Occasional grooves aren't smooth
---
5.

Concord Blades DADO600HP Dado Set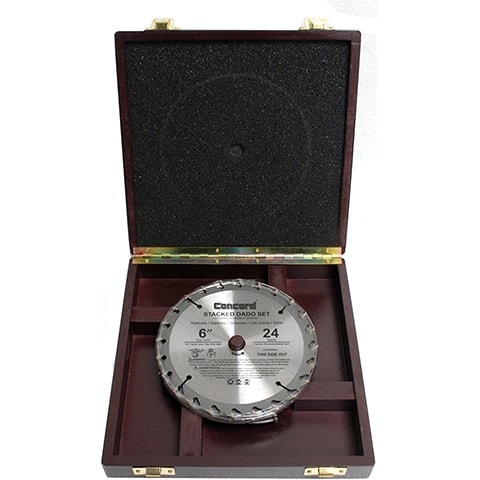 The Concord DADO600HP set has 6-inch blades with 24 teeth and a 5/8-inch arbor. They've also included four 1/8-inch chipper blades and one 1/16-inch chipper blade. The dado set will cut smooth grooves from 3/16 inches to 13/16 inches. With these blades, you can cut splines, rabbets, lap joints, and dados.
The seven shims are adjustable, and the wooden storage box protects the teeth from damage and rusting. The Concord is affordable, but you always get what you pay for. Watch out for the quality of the blades, especially the outside ones, since they are prone to warp.
Pros
Nice wooden storage box
Affordable
---
6.

Porter-Cable Oldham Adjustable Dado Blade
If you're after an affordable option,  the Porter-Cable could be ideal. The Oldham's 7-inch adjustable blade has 16 carbide teeth and a 5/8-inch arbor. Porter-Cable has stated that the dado blade is capable of cutting grooves in widths of 1/4-inch, 3/8-inch, 1/2-inch, 5/8-inch, 3/4-inch, and 13/16-inch. Keep in mind that is difficult to attach the blade to the saw.
Also, because there are no adjustment marks on the blade, you must measure the dados manually. That takes a bit of time and opens the door for error, resulting in uneven grooves. However, you can use these blades on hardwood, wood composites, and plywood. You'll get this set for a good price, but don't expect the quality to be the same as the slightly more expensive counterparts listed.
Cons
Uneven grooves
Difficult to attach to table saw
---
7.

IRWIN 1811865 Dado Blade Set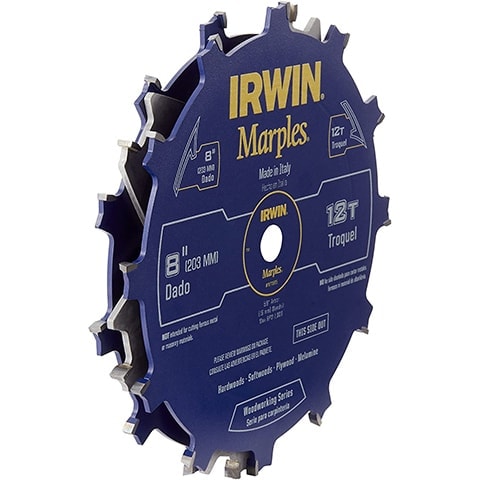 The Irwin dado blade set is excellent for groove and tongue cuts but might not have the versatility for other cuts. These 8-inch blades can cut grooves from 1/4 inches to 7/8 inches with oversized, high-quality carbide teeth, which are easy to re-sharpen. The precision-tensioned blades prove themselves on the accurate and smooth cuts.
The other aspect that makes these blades so durable is that they are heat-resistant and have a non-stick coating that contains an aluminum matrix. You get two outer blades, three spacers, and seven shims. The major drawback of this set is its poor performance on plywood. If your project involves plywood or melamine, you're better off with another set.
Pros
Durable
Affordable
Smooth cuts
Cons
Plywood cutting is challenging
---
8.

Skil 98584 Dado Set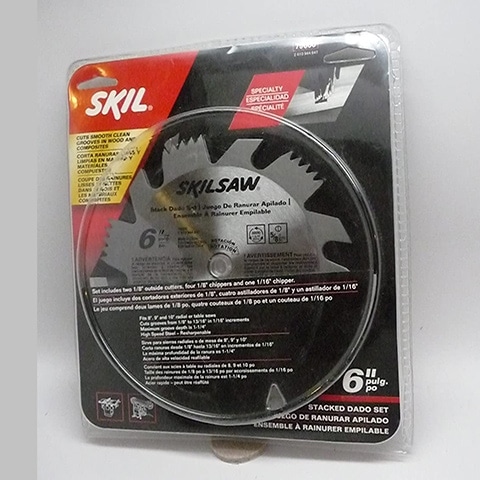 Skil's dado blade is only 6 inches, but it is made from steel and is quite sturdy. It works on all types of wood and can cut splines, lap joints, rabbets, and dados. It can also cut widths from 1/8 inch to 13/16 inches. But you must use it with 8, 9, or 10-inch radial arm saws.
If you're fussy about keeping your blades in a storage case to avoid rust and damaging the teeth, you won't be thrilled with the plastic packaging that comes with this set. It's a relatively simple set that doesn't have as many accessories as the others.
However, it contains two 1/8-inch outside cutters, four 1/8-inch chippers, and one 1/16-inch chipper. It is reasonably priced, so it might be a good option if you're on a tight budget.
Cons
Poor packaging
Limited accessories

Buyer's Guide – Choosing the Best Dado Blade Set
When looking for a dado set, it's best to focus on the features that are essential to your work. That's why we've included a buyer's guide. It will show you the right direction so that you can choose an ideal dado blade set.
Types of Dado Blades
Stacked dado set
This set consists of inside and outside blades, as well as chippers. Stacked dado sets also come with shims, which you can use for fine-tuning the cutting width. The problem with a stacked dado is that you have to set it up, and if you make a mistake with the width of the groove, you have to reconfigure the chippers after removing the dado set from the table saw. A stacked dado set is better than a wobble blade if you want more accuracy.
Wobble blade
Instead of spinning true like a dado set, a wobble blade wobbles. While spinning, the blade goes back and forth at high speed to cut the material you've passed through. You will see a slight cove with a wobble blade after you do the cut. A stacked dado cutter takes some time to set up, whereas a wobble blade has fewer parts and takes less time to set up.
Important Features
Teeth
The teeth on a dado blade are positioned on the outside of the blade and are responsible for making the groove and clean edges. Also, blades with more teeth are more accurate. A blade with 40 teeth is considered a premium product, but some manufacturers make as few as 18 teeth.
Chippers
These are inner dado blades that fill the space between the outer blades. Generally, chipper blades have between 2 and 4 teeth. That results in chipper blades cutting more coarsely than outer blades. Their purpose is to remove material in the center of the groove. It's not uncommon for chipper blades to be produced in non-circular shapes because of their low tooth count.
Compatibility
Choosing a dado blade set will depend on its compatibility with your table or radial blade saw. In most cases, the blades sold are compatible with most saws. The important metric you need to consider is the teeth per inch (TPI). Deciding on the appropriate blade will depend on what your saw can handle. Every blade is most effective at a certain speed, so you'll have to have a saw that can produce enough power.
You also need to consider the length of the arbor. Your table needs to be long enough to support the dado set. Generally, most arbors are 5/8-inch long. Do not try to adjust the table to fit the arbor, as that could be dangerous and result in injuries.
Size
You should consider the size of the blade, but it's not a make-or-break in most instances. It can be a factor, but most manufacturers produce 8-inch blades. You can create grooves on almost any type of wood with these blades. You can also choose a 6-inch blade, which is especially useful if your saw lacks power. If you're using an 8-inch blade, your saw must be more powerful.
Throat plate
The throat plate is the part on the table where the saw's blade sticks out. It's important to ensure that your throat plate is compatible with the table saw. You shouldn't operate the table saw if you haven't fitted a throat plate. If you cannot find a perfect throat plate for your table saw, it's possible to have them custom-made.
More buying guides like this:

Conclusion
Our reviews have discussed eight remarkable products, but we have our favorites. After comparing the dado blades, we found that the Oshlun SDS-0842 Stack Dado Set was the best product overall. It had the best features, which justified its price. But we also wanted to find a product that had great features and an affordable price, and we found it with the Mibro Group 416381 Carbide Stacking Dado Blade Set. If you don't mind splurging a bit to get a professional product, a high-end set to consider is the DEWALT DW7670 Stacked Dado Set.