Dolphin Premier Pool Cleaner Review 2023 – Pros, Cons & Verdict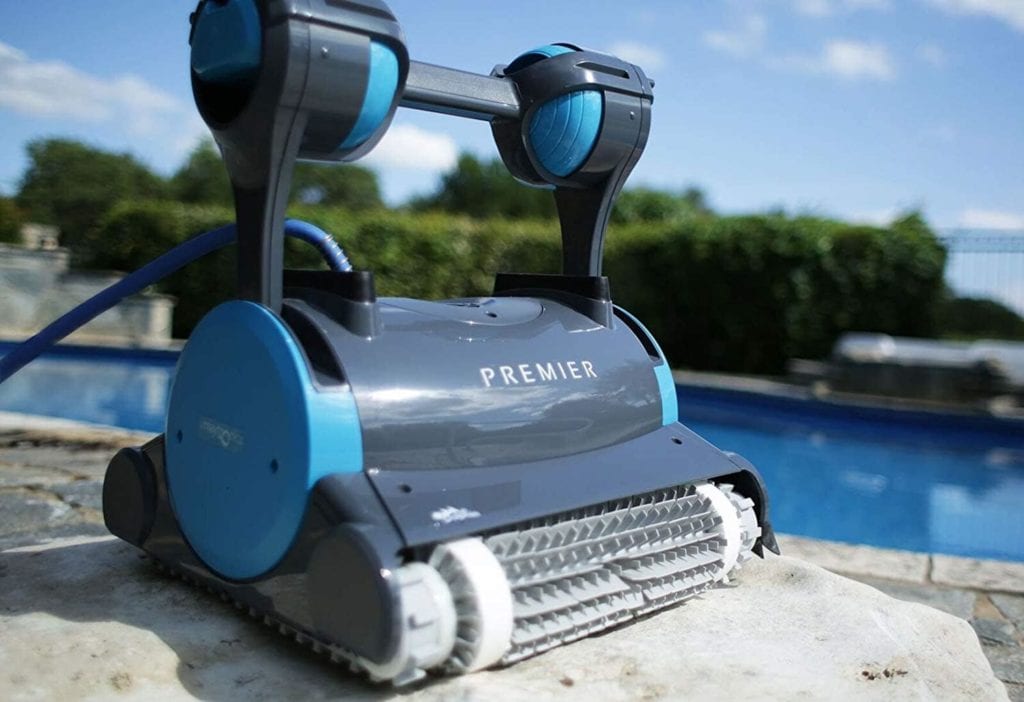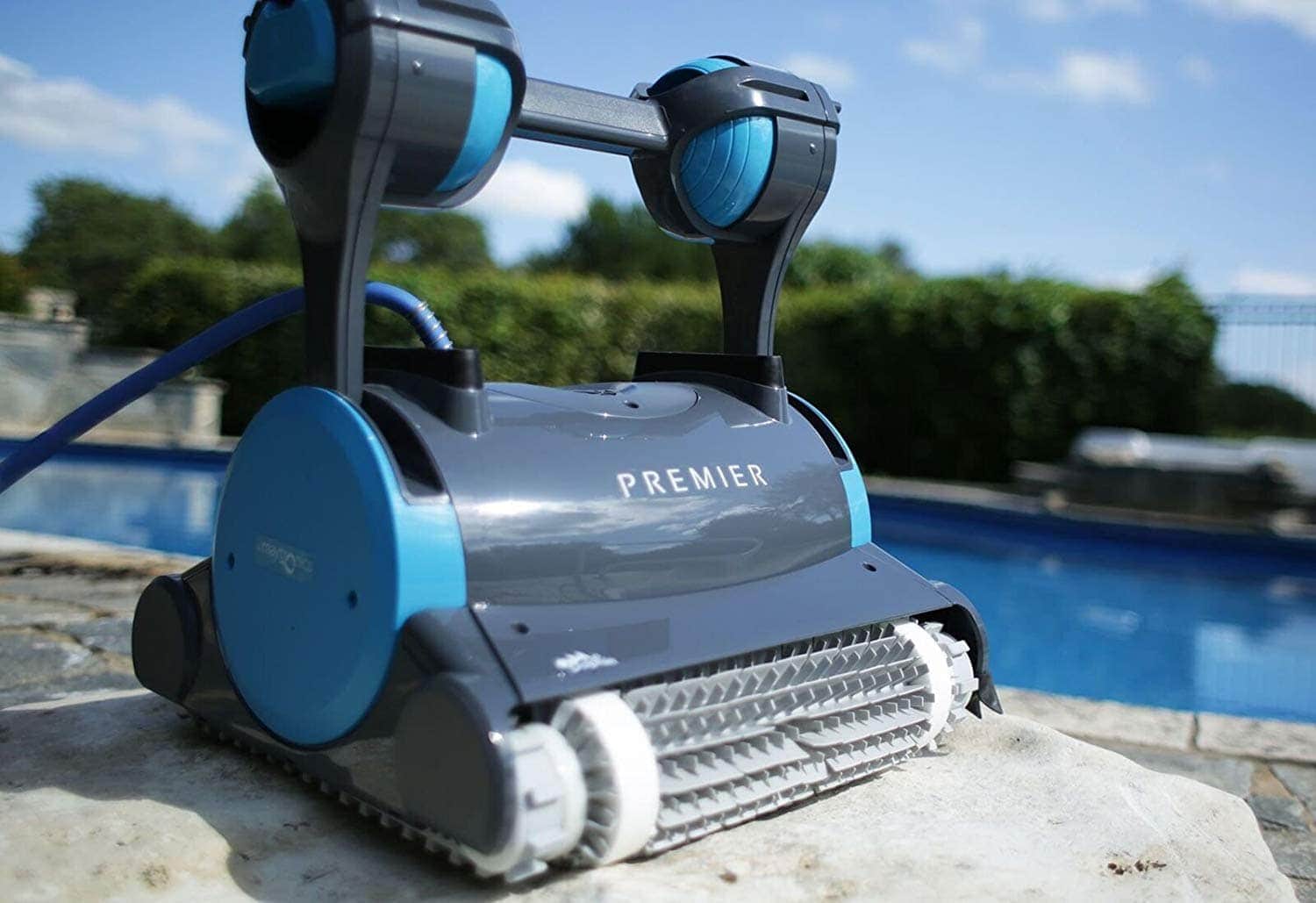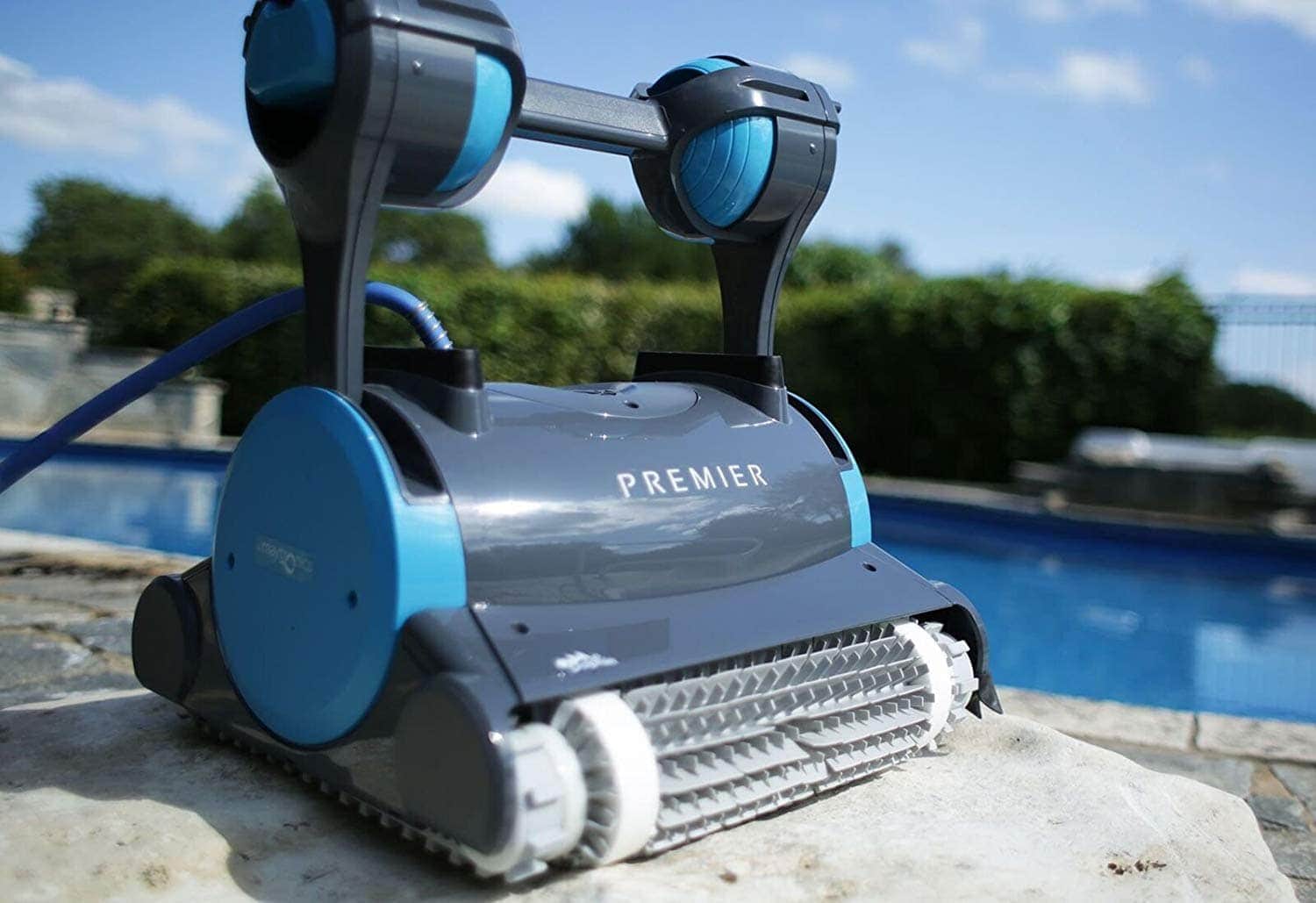 We give the Dolphin Premier Pool Cleaner a rating of 4.3 out of 5 stars. 
Build Quality: 4.5/5
Power: 4.8/5
Features: 4.3/5
Price: 3.5/5
Review Summary
In terms of raw cleaning potential, there are few pool cleaners — even robotic pool cleaners — that can match the performance of the Dolphin Premier. Its multi-media cleaning options make this perfect for sweeping up the grit of a summer windstorm and autumn's falling leaves with a quick swap-out of a filter. Clever Clean advanced controls allow it to chart its own cleaning course to work quickly and efficiently.
Predictably, the Premier it will cost you a pretty penny. This one is expensive, even by top-dollar Inground pool standards. Its manual operation mode is also less than desirable. Then again, you're not shelling out this kind of money for a pool cleaner that requires that you do a whole lot of work.

Dolphin Premier – A Quick Look
Pros
Efficient
Superior cleaning
Cleans up everything, from leaves to dust and algae
Cons
Pricey
Manual mode is hot garbage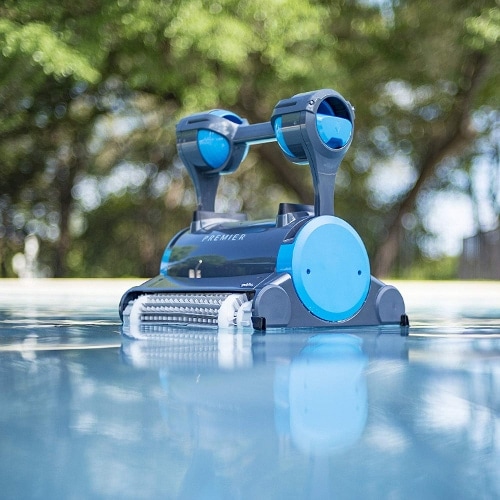 Specifications
Brand name: Dolphin
Model: Premier
Type: Robotic
Pool type: Inground
Dimensions: 23.5 x 20 x 14 inches
Weight: 36.2 lbs.
With SmartNav scanning, the Dolphin Premier can map out the optimal cleaning course, making sure that there aren't any wasted passes and getting the job done in as timely and as efficiently as it can. This is a significant improvement over pool cleaners that wander the pool's floor aimlessly, hoping to get the job done by making as many passes as possible.
Multimedia NOW
Take the guesswork out of what you'll need to clean from your pool next week or in six weeks with the Premier's Multimedia NOW feature. No matter what's in your pool, there's an option to clean it up with the need to buy a different cleaner or additional filters. They're all included.
Anti-tangle swivel
One drawback to any pool cleaner is all the hoses and cords connected to it. These can get clogged, but even worse, there's the chance that the cleaner itself will get snarled in them. Robotic pool cleaners have no extra hoses connected to the pool's filtration system, eliminating worries about the hoses. With the Premier's anti-tangle swivel, it also eliminates tangles in its power cord.
Energy efficient
The Premier's 180-watt motors operate at an average per-hour cost of five cents. That's much more efficient than pool cleaners with traditional AC booster pumps. A more efficient operation is combined with the already efficient operation of the SmartNav pool surface scanning. More efficient internal operations combined with more efficient cleaning means maximizing the dollars you spend keeping your pool clean.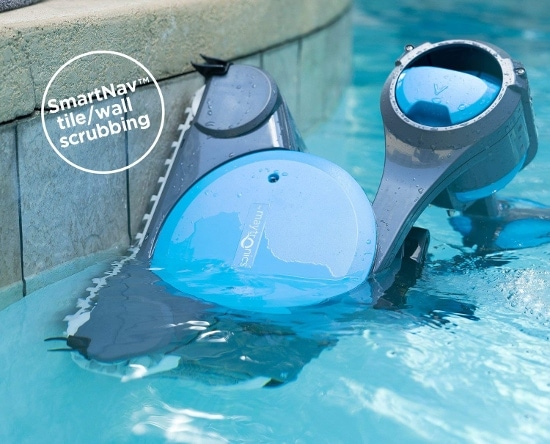 FAQ
How does this do cleaning steps?
The wheels need to be submerged to act as a ballast. Once out of water, the water drains from the wheels and the machine sinks back in. It does a poor job cleaning anything with more than 24 inches of clearance.
What kind of warranty comes with the Dolphin Premier?
A three-year, no-nonsense, rapid repair warranty.
How does this do on algae?
It's powerful scrubbing brushes do a good job of removing algae from walls. You will still need to use chlorine to kill it, however.
What the Users Say
Reviews of the Dolphin Premier were generally positive. People who bought it especially liked its ability to clean a pool thoroughly and pretty quickly. The price is high, but this was generally found justifiable by the amount of time it saves on cleaning and maintenance.
Pool owners nervous about investing a lot of money in a cleaner that doesn't live up to expectations might take some heart in knowing that it has a reputation for thoroughness and doggedness. Once it gets going, most people found that it just doesn't quit until the job is done.
Other users were not so pleased with its performance. This is a pretty common experience with pool cleaners in general, where the tendency is to overpromise and underdeliver; however, this one costs enough that users might have good reason to expect something different.
One area of particular concern was customer service. Lots of users reported trying to get satisfaction for poor performance only to find Dolphin's customer service a frustrating experience.
Still, the overall experience of most users was a very satisfactory one. It costs a lot of money, but for most people delivered a lot. Considering what kind of investment a pool is for most homeowners, that's probably good news.
Our review of the Dolphin Triton
An in-depth review of the Zodiac Baracuda G3

Final Verdict
Dolphin's Premier is one of the best, most efficient robotic pool cleaners on the market. It combines powerful brushing action with a wide range of filter media options to remove any size debris from your pool with a simple swap-out of filters. It has features to maximize the efficiency of its operation, reducing its operational costs, too.
It does cost a lot of money, even for a robotic pool cleaner. It is also not recommended that you try to spend much time operating it by a remote, because it is not terribly responsive to manual operation. Once you start getting around those drawbacks, however, it does a lot to answer longstanding issues familiar to anyone who's dealt with the many hassles of using a pool cleaner to keep your investment free of grit and debris.