5 Best Juicers Under $100 – Reviews, Guide & Top Picks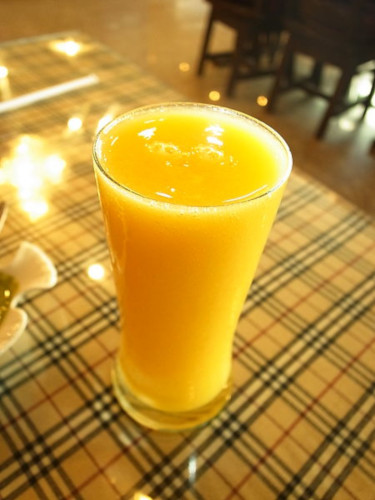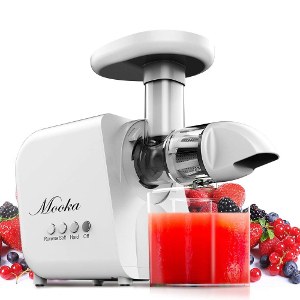 Shopping for juicers can be an experiment in buzzwords. "Nutrition," "Oxidation," and "Masticating," are just some of the words you can see when you're in the market for a juicer. We know it's not always easy to figure out what's important and what's just marketing fluff, especially when shopping online.
So, we decided to make it easy for you. We've compiled a list of the top 5 juicers of this year. These reviews should help you see what really matters when you're buying a juicer. If that's not enough, we've also created a buyer's guide that is designed to teach you about the wonderful world of juicers so that you can be enjoying a delicious drink as soon as possible.
If you want to find the juicer that is right for you, you've come to the right place.
Our Favorites for 2023
Rating
Image
Product
Details

Best Overall

Breville BJE200XL

Extra-large feed tube
Powerful motor
Compact design
CHECK PRICE

Mooka B5100

Good pulp-to-juice ratio
Two speeds
Quiet
CHECK PRICE

Best Value

Hamilton Beach 67601A

Extra-large pulp bin
Wide feed chute
Powerful
CHECK PRICE

Hamilton Beach 67850

Two speeds
Attractive
CHECK PRICE

AICOK 1000W Extractor

Power
Dual speed
CHECK PRICE
The 5 Best Juicers Under $100
1.

Breville BJE200XL Juicer – Best Overall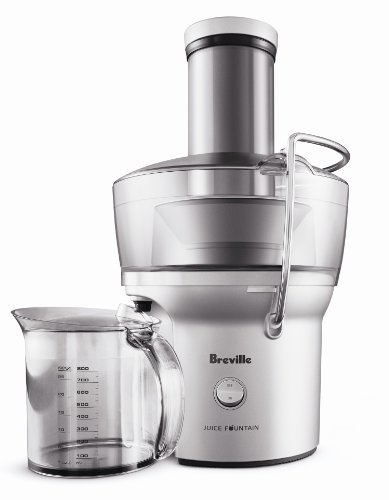 The Breville BJE200XL is a monster juicer, capable of handling whole fruits without breaking a sweat. It features an extra-large feed tube which allows you to drop a lot of healthy fruits and vegetables in at once, which saves you time. It also has a powerful 700-watt motor that is capable of powering through those large loads. Even if you're just making enough juice for single serving, all that power means that you'll be done incredibly quickly compared to other juicers.
And, relative to other juicers, it has a very compact design, made possible by storing the pulp inside the unit until you're done. It's also easy to clean, and dishwasher-safe, meaning that you don't have to immediately clean it by hand as you do with other units. The one downside is that there's a small gap along the edges of the blade that greens like to slip through, but some creative handling of the food can easily solve this problem. This would be our best juicer for under $100. Overall, you can't pass on a juicer with this much power and capacity if you're going to be juicing a lot.
Pros
Extra-large feed tube
Powerful motor
Compact design
---
2.

Mooka B5100 Masticating Juicer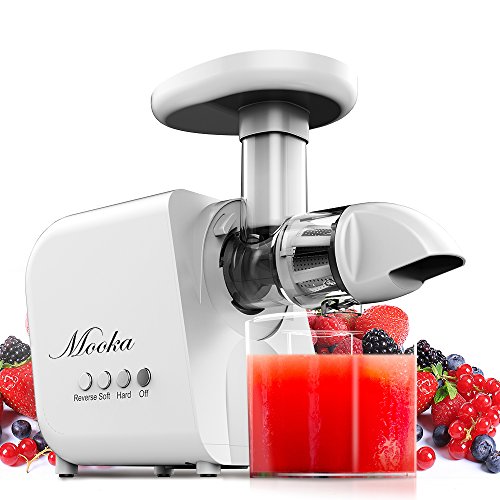 The Mooka B51000 Masticating Juicer does a great job of efficiently creating juice, while also keeping it cool and away from oxygen, which can lower the nutritional value of your juice.  Because it is a masticating juicer, it has a better pulp-to-juice ratio, though it seems to do well in this category even among masticating juicers.
It also features two speeds, which means that you can run it faster for vegetable or other harder foods, and then slow it down when you need a high-quality juicing of something soft, like leafy greens. This is a very quiet model, which can be extra useful if you don't want to make a lot of noise in the morning. What keeps it out of first is that it sometimes clogs with heavy vegetable loads, and while it has a reverse gear to resolve this problem, it frequently lacks the power to do so.
Overall, this is an excellent masticating juicer, especially if you're going to be working with softer vegetables and fruits.
Pros
Good pulp-to-juice ratio
Low heat
Two speeds
Quiet
---
3.

Hamilton Beach 67601A Juicer – Best Value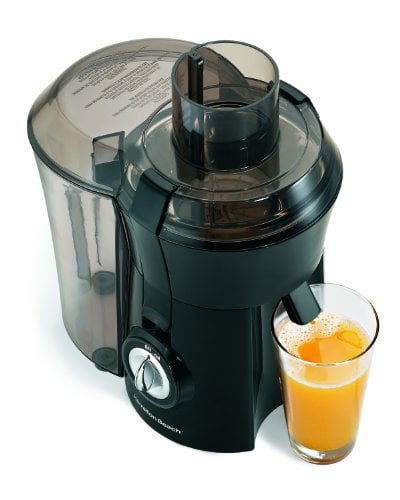 The Hamilton Beach 67601A is our choice for best juicer for the money. It's a powerful juicer, capable of handling whole fruits and vegetables. Its extra-large chute means that you can put large amounts of food in at once, which saves time. It also comes with an extra-large pulp bin which means you can make a ton of juice at once without having to stop and empty out the bin. This is a great feature if you're regularly going to be making juice for a lot of people at once.
This model is also easy to clean, coming with dishwasher-safe parts, though you can clean them by hand with the included cleaning tool if you so desire. Relative to the price, these are a lot of great features that you'd expect on more expensive units, but not necessarily at this price point. One noticeable shortcoming is that this model produces "wetter" pulp than other models, but you can always run the pulp through a second time to maximize efficiency.
Pros
Powerful
Wide feed chute
Extra-large pulp bin
Dishwasher-safe parts
---
4.

Hamilton Beach Juicer 67850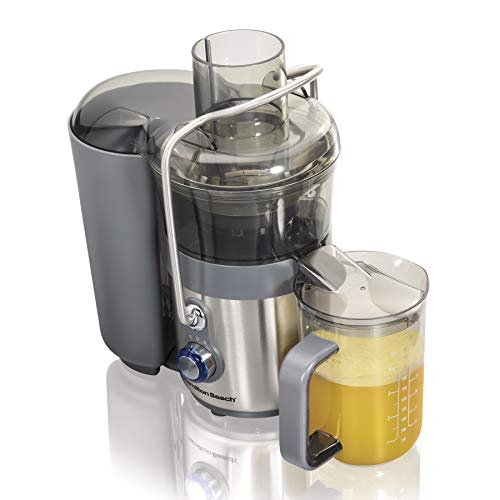 The Hamilton Beach 67850 is a product that struggles just justify its price point. What it has going for it over other juicers is that it comes with two speeds, which allows you to adjust eh machine to the task at hand. It also features a very attractive frame, which means you can leave it out on the counter as a display piece. However, you're paying a lot of money for these features, and this model comes with some significant downsides.
The first is that it has a very bad pulp-to-juice ratio. If you're looking for a juicer that can get the job done in a single pass, then you'll need to look elsewhere. Expect to have to run the pulp through a second time to get a reasonable amount of juice out of your produce. This unit also has a problem with leaking, which can make a big mess and waste a lot of your time. Overall, this is not a frustration-free machine, but if you're not going to use it often and want a display juicer, you might check this model out.
Cons
Poor pulp-to-juice ratio
Leaky
---
5.

AICOK 1000W Juicer Extractor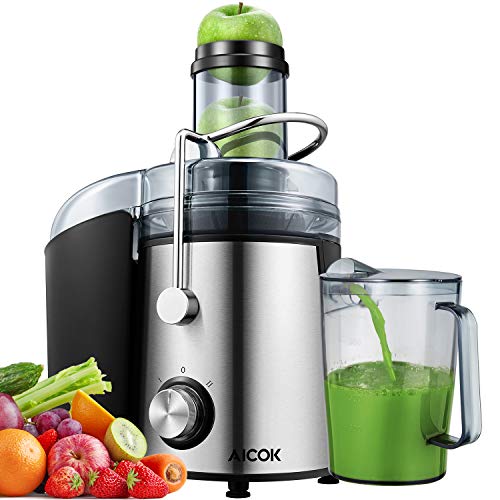 The AICOK Juice Extractor 76MM 1000W isn't the most expensive model on the market, but even then, it struggles to justify its price. It does have excellent power, and the option to choose between low-speed and high-speed settings. This means that you have the power to deal with vegetables but can also work with leafy greens just fine.
However, this model is extremely noisy, even for a juicer, which suggests that it may have too much power or may be wasting a lot of it. It also often gives off a burning smell on first use and whenever you juice harder produce, like apples or carrots. That's not something that you want to happen while you're juicing and suggests a serious design or manufacturing flaw. The manufacturer also recommends that you don't use it for more than a minute at a time without a break, which means that doing a lot of juicing at once isn't possible. Overall, it's probably best to avoid this model.
Cons
Noisy
Burning smell
Not designed for long uses
---
Buyer's Guide – Purchasing The Best Juicer Under $100
So, you've read through those juicer reviews. And maybe you're still not sure which model is right for you.
That's okay!
This buyer's guide is designed to teach you everything you need to know about juicers. There are a lot of different options on the market today, but after reading this, you should be able to navigate them with ease.
Masticating vs. Centrifugal
The most important thing you need to know is that there are two major kinds of juicers on the market: masticating and centrifugal. They work differently and have different upsides and downsides, so figuring out which one would work best for you is the first thing you should do when shopping for a juicer.
Centrifugal
Centrifugal juicers are the more common of the two types. They're reminiscent of food processors or blenders, so if you've used those before, then you already know basically what you're going to do. You drop produce down a tube in the top of the juicer called the "feed chute." The feed chute tends to be a couple of inches long and sometimes comes with a lid or an included tool used to push the food down onto the blade. The best models have wide chutes, allowing you to drop whole fruits and vegetables into the machine.
Centrifugal juicers rely on a fast-spinning blade to cut up the produce and extract the juice. The spinning blade cuts up the produce, which is then forced towards the edges of the container, where a series of smaller holes in a membrane called the filter basket allows smaller pulps and the juice to pass through. The parts of the pulp that are too large to pass through are forced upward and are rerouted into a separate container called the pulp container.
The best centrifugal juicers do a good job of getting the juice out of the pulp before moving it to the pulp container. Lower-tier models do a poor job, though you can somewhat compensate for this by running the pulp through the machine again to extract the pulp, which is an unnecessary pain.
Masticating
Masticating juicers are sometimes referred to as "slow juicers." This is because their moving parts are much slower than those of a centrifugal juicer. This tends to mean that they build up far less heat and also that they are much quieter. While centrifugal juicers cut up produce, masticating juicers crush and grind produce. This means that they're generally better at dealing with leafy green produce and can also handle wheat seed, which centrifugal juicers typically cannot.
While they are slower than centrifugal juicers, they tend to get a higher percentage of the juice out in just a single pass through the machine. They're also far easier to clean since they do a better job of moving the pulp out of the machine. While they do tend to be more expensive than centrifugal models, they do a better job.
The one downside to this type of juicer is that it is very slow. That's part of the reason that it does such a good job, but it could be the wrong type for you if you're trying to make a lot of juice for a lot of people quickly. They also take a bit more force on average to operate—you typically have to use a food pusher to make sure that the produce is properly entering the machine, something that is not necessarily required on centrifugal models. Furthermore, you tend to have to cut your produce into smaller pieces before putting into the juicer, since its opening is much narrower than on a centrifugal model.
There's no clear winner in these categories, and you should consider the speed, cost, and quality of juice when deciding between centrifugal and masticating juicers.
Ease of Cleaning
Something that you should consider when shopping for a juicer is how easy it is to clean. You're crushing or cutting fruits and vegetables, after all, and that's not a clean process, even if you were to do it by hand with a knife.
So, you must consider how much time you want to spend dealing with the cleanup.
Centrifugal models tend to be the hardest to clean, given that their function depends to some degree to sending bits of produce flying around the interior of the unit. Most of these models come with a cleaning brush that makes the job easier, and some even come with brushes shaped like their filters that make it possible to clean the entire inside in as little as one stroke.
Other models have parts that are safe to put in the dishwasher, which can save you a lot of time.
Masticating models tend to be much easier to clean than centrifugal models because they're not splattering pulp and juice while they work.
Juice Extraction Efficiency
Of course, you want to purchase a model that produces as much juice as possible out of the produce that you buy. If it's inefficient, then you're going to end up with a lot of soggy pulp. The only way to get the same amount of juice as you would have gotten with a more efficient unit is to buy more produce, and that's not something that anyone wants to use. The purchases with the best value are those that save you money in the long run, not ones that cause you to spend more.
So, the juicer with the best value is the one that will most get the most juice out of your produce. Common flaws that affect efficiency are poor design and leakiness. Juicers with a poor design leave juice in the pulp and fail ever to extract it. Others extract the juice, but due to manufacturer error or a flaw in design, leak before getting it to your cup. Both scenarios cost you time and money.
Masticating models tend to be more efficient than centrifugal models, though they are much slower.
Which juicer should you get?
There's a lot to consider when buying a juicer. There are two things you should consider strongly when making the purchase. First is how much time you have. Some models are fast to operate, but slow to clean up, while others are slow to work, but are cleaned up incredibly quickly. If you're not going to have time for cleanup, consider a model with dishwasher-safe parts.
Second, consider how much juice you need to make at once. Centrifugal juicers tend to have a much higher speed and higher capacity than masticating models. If you need to make a lot of juice at once, it may be better to go with one of those.
Overall, just make sure that you get a model that suits your needs. It always stinks to overpay for features you don't need or underpay and get a model that doesn't do what you need it to do.
---
Conclusion
The Breville BJE200XL was our pick for top juicer due to its powerful motor and compact design. The Mooka B51000 Masticating Juicer was the runner-up, producing a lot of juice but also suffering from clogs. The Hamilton Beach 67601A provides the value as it comes with a powerful motor and extra-large pulp bin for extended juicing sessions.  The Hamilton Beach 67850 has two speeds and looks good but provides poor value for the price. The AICOK Juice Extractor 76MM 1000W has serious design flaws that knock it to the bottom of the list.
We know it's not easy to shop online, which is why we've created this buyer's guide. Hopefully, these reviews have helped you figure out which model is right for you.
Learn more about juicing here: