10 Best Die Grinders 2023 – Top Picks & Reviews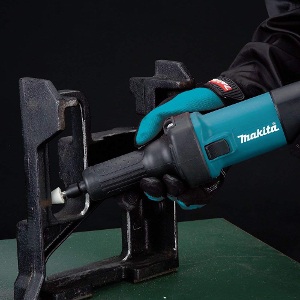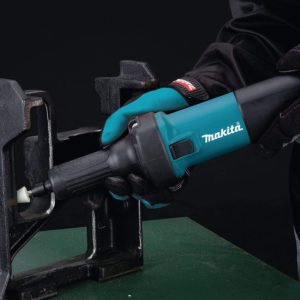 Die grinders are handy, precision tools that have a million uses around the workshop. Whether you are interested in automotive work, woodworking, steel fabrications, and many others, there is a good chance you will wear yours out in no time.
We've chosen 10 different models to review for you so you can see the difference between them. Most of these tools are air-powered, but we put a few other types on as well. We'll cover each one's pros and cons, and we've also included a short buyer's guide where we take a close look at the die grinder to see what it does and how it works.
Join us while we discuss weight, RPM, noise level, construction material, and more to help you make an educated purchase.
---
 A Quick Comparison of Our Favorites in 2023
Rating
Image
Product
Details

Best Overall

Makita GD0601 Die Grinder

75 dB sound level
5-amp motor
Solid aluminum housing
CHECK PRICE

Best Value

Neiko 30062A Air Die Grinder

24000 RPM
Controlled airflow
Weighs less than a pound
CHECK PRICE

Premium Choice

Milwaukee M12 Fuel Right Angle Die Grinder

Battery-powered
Compact design
2 lbs
CHECK PRICE

Ingersoll Rand 301B Air Angle Die Grinder

Aluminum housing
Self-locking throttle
Front exhaust
CHECK PRICE

DEWALT DWMT70783 Die Grinder

Lightweight aluminum
Touch controlled trigger
Safety throttle lever
CHECK PRICE
The 10 Best Die Grinders
1.

Makita GD0601 Die Grinder – Best Overall
The Makita GD0601 Die Grinder is our pick for the best overall die grinder. It features a slim design and has a lightweight (3.7 lbs) but durable and solid aluminum housing. The engine spins at 25,000 revolutions per minute (RPM), which allows for precision cutting and grinding. The vent slots keep exhaust out of your face, and the conveniently located on-off button is easy to reach without looking. At 75 decibels (dB), It's also noticeably quieter than many other models, and you can power with an AC or DC electric source.
We enjoyed reviewing the Makita GD0601 and could use this tool all day. The only downside is that it doesn't include a carrying case, and it's not a tool we like to leave without one.
Pros
25,000 RPM
7 lbs
Vent slots
The conveniently located on-off button
75 dB sound level
5-amp motor
Solid aluminum housing
---
2.

Neiko 30062A Air Die Grinder – Best Value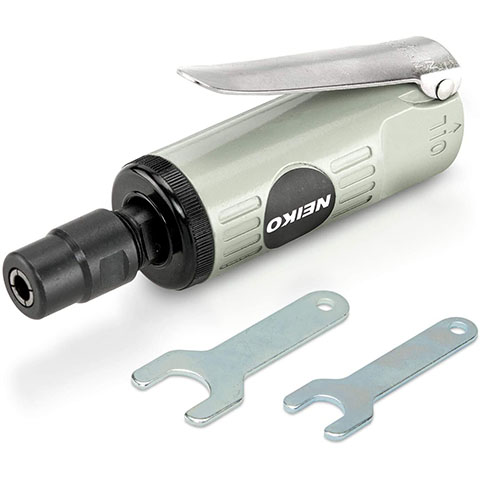 The Neiko 30062A Air Die Grinder Is our pick as the best die grinder for the money. This model weighs less than one pound and can reach up to 24,000 RPM continuous power with an air compressor. Strategically placed vents help control the airflow to keep exhaust away from your face, and its compact, ergonomic design is comfortable to hold for long work sessions.
The Neiko 30062A is a great tool, but it will require an air compressor that you will need to purchase separately, and there are no instructions included with your purchase, so you may need to review a few YouTube videos before using it.
Pros
24,000 RPM
Controlled airflow
Weighs less than a pound
Compact design
Cons
Requires an air compressor
No instructions
---
3.

Milwaukee M12 Fuel Right Angle Die Grinder – Premium Choice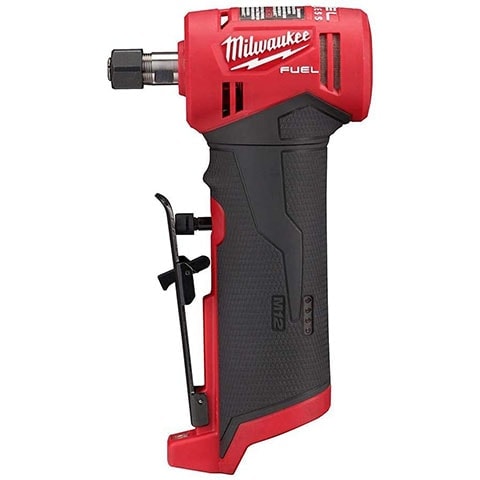 The Milwaukee M12 Fuel Right Angle Die Grinder is our premium choice dye grinder, and it has several high-end features. Its powerful 0.3 horsepower (HP) engine rarely bogs down no matter how hard you press, and it can reach up to 25,000 RPM at 4 selectable speeds. It uses battery power for the ultimate in portability, and each charge can run continuously for up to 10 minutes.
Our only problem with the MilwaukeeM12 is that the trigger safety switch is a pain to use continuously, and we wish they had thought of a different way.
Pros
0.3-HP motor
Battery-powered
Compact design
2 lbs
Easy to change heads
Variable speed
25,000 RPM
---
4.

Ingersoll Rand 301B Air Angle Die Grinder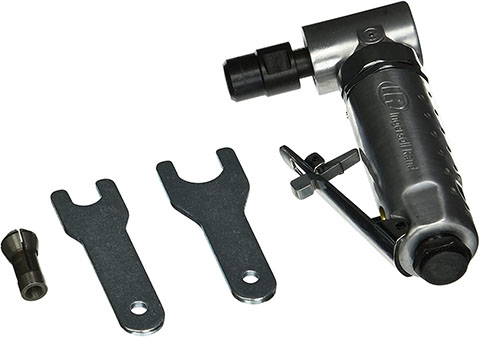 The Ingersoll Rand 301B Air Angle Die Grinder Features an all-aluminum housing that's both durable and lightweight. Ball bearings in the chamber help reduce friction and keep heat to a minimum leading to a longer lifespan for the tool. It has a self-locking throttle that acts as a child safety mechanism to prevent injury, and the forward-facing exhaust keeps your work area clean while keeping air out of your face. Its 2.5-HP motor delivers plenty of power and can reach up to 21,000 RPM while remaining lightweight at just a fraction over 1 pound.
The downside to the Ingersoll Rand 301B is that it is a pneumatic die grinder so you will need an air compressor to run it. With our model, the head nut kept working loose, which would make the head loose as well.
Pros
Aluminum housing
Self-locking throttle
Front exhaust
02 lbs
0.25-HP motor
21,000 RPM
Cons
Requires an air compressor
Head nut works loose
---
5.

DEWALT DWMT70783 Die Grinder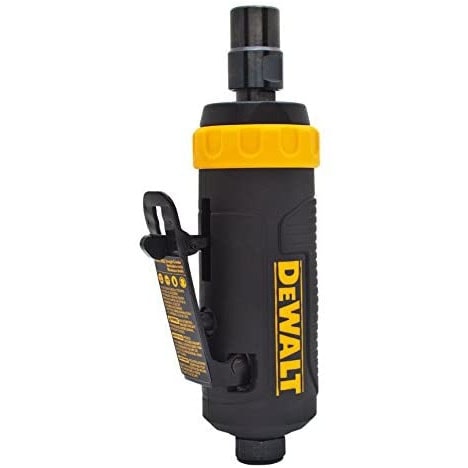 The DEWALT DWMT70783 Die Grinder Is another pneumatic die grinder that uses a lightweight aluminum housing and doing so allows this one to weigh only 8 ounces. It's powerful enough to reach 25,000 RPM and features a touch control trigger with a child safety lock lever.
While we were using the DEWALT DWMT70783, we found that it gave us strong vibrations that sometimes limited our accuracy with the tool. It also requires an air compressor that you'll need to purchase separately.
Pros
Lightweight aluminum
Touch controlled trigger
Safety throttle lever
Only 8 ounces
25,000 RPM
Cons
Requires a compressor
Strong vibrations
---
6.

AIRCAT 6255 Composite Angle Die Grinder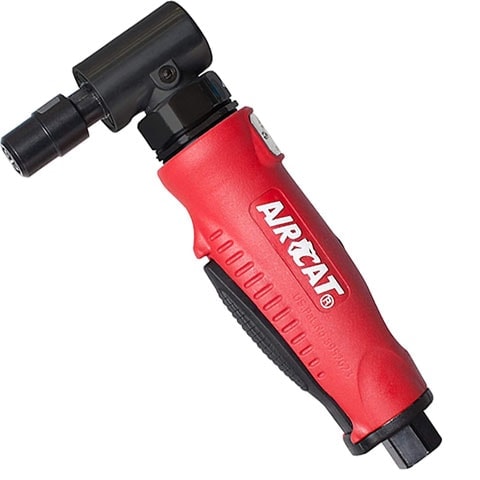 The AIRCAT 6255 Composite Angle Die Grinder Features an ergonomic design that's small and comfortable to hold. The angled gear mechanism is easy to point where you need it, and the 0.5-HP motor delivers more than enough torque to prevent slowdowns while you work. The feather trigger is easier to use than the traditional style, and its patented Quiet Technology reduces the noise level down to 85 dB.
The biggest downside of the AIRCAT 6255 is that the RPM is a little low at 20,000, and some jobs will take quite a bit longer without the higher RPM. The bearings inside the machine wore out on our model after about a year of moderate use.
Pros
Fit in tight spots
Angle gear mechanism
Patented Quiet Technology
0.5-HP motor
Feather trigger
Ergonomic design
Cons
20,000 RPM
Bearings wear out
---
7.

PROSHI Angle Air Die Grinder

The PROSHI Angle Air Die Grinder is another model with a convenient 90° angled head for getting in those hard-to-reach areas. The variable speed throttle allows you to get the perfect RPM for your project, and sealed ball bearings protect them from collecting dust and other particles that can wear them down. It's also extremely lightweight at only 1.37 pounds.
The downside to the PROSHI is that, like the last model, it only goes up to 20,000 RPM, which is a little slow for some projects. It will require an air compressor, and despite its 0.6-HP motor, we found it had very little torque and bogged down frequently.
Pros
90° head
Variable speed throttle
Lightweight aluminum body
Sealed ball bearings
0.6-HP motor
37 lbs
Cons
20,000 RPM
Requires a compressor
Very little torque
---
8.

Astro Pneumatic Tool 219 Die Grinder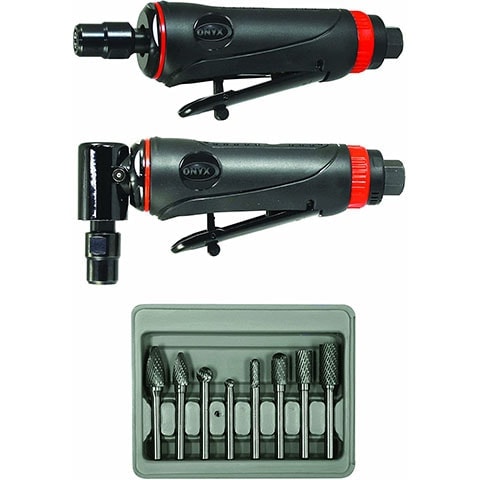 The Astro Pneumatic Tool 219 Die Grinder Features a composite handle that provides a better grip and helps reduce vibrations transmitted to the body. Its compact design is easy to fit into hard-to-reach places, and the lever throttle allows you to get exactly the speed you need for your project. It can reach up to 25,000 RPM and is lightweight at only 3.2 pounds. It includes a right-angled head and a set of 8 burrs, so you could get started using your tool immediately.
The downside to the Astro Pneumatic Tool is that it still puts out strong vibrations and can become difficult to hold after a short time despite its composite handle. The vibration seemed to clamp down the nuts tighter and made it more difficult to change burrs. We only got a few uses out of the right-angled head before it would no longer work, and the included burrs also wore out quickly.
Pros
Composite handle
Lever throttle
Compact design
Includes a set of 8 burrs
2 lbs
25,000 RPM
Cons
Strong vibrations
Hard to change burrs
Included bits wear out quickly
Right-angle head not durable
---
9.

Chicago Pneumatic CP860 Air Die Grinder
The Chicago Pneumatic CP860 Air Die Grinder Features a 0.5-HP motor that delivers plenty of torque and can reach as high as 24,000 RPM. We found it rare that this machine bogged down during a job, and there's a built-in regulator that works to adjust the machine's speed depending on workload.
We didn't like the rear exhaust in the Chicago Pneumatic CP860 because it tends to blow in your face, which can be distracting and possibly dangerous. It's also quite loud, even for an air machine. We couldn't find a dB rating, but we know it's louder than most others on this list. It also tends to get quite hot and hard to use if you don't have a thick pair of work gloves.
Pros
0.5-HP motor
Built-in regulator
Variable speed
24,000 RPM
Cons
Rear exhaust
Loud
Gets hot
---
10.

Shop4Omni Electric Die Grinder
The Shop4Omni Electric Die Grinder Is lightweight at only 2.88 pounds and delivers 25,000 RPM to help shape, sand, and cut your project. It also includes a pair of motor brushes so you will have replacements ready if yours wear down.
One major downside to the Shop4Omni is that it's not variable speed, so you're stuck at the one rate of 25,000 RPM, which admittedly is pretty good, but not flexible. There is no guard in place, so you can injure yourself while using this tool, and the housing feels cheap and flimsy compared to many of the other models. One last problem we encountered while we were using the Shop4Omni is that it only works with 6-millimeter shanks, and they are considerably less common than the ¼-inch shanks used by most of the other models on this list.
Pros
25,000 RPM
Includes extra brushes
88 lbs
Cons
Not variable speed
No guard
Only uses 6-millimeter shank
Feels cheap
---
Buyer's Guide – How to Purchase the Best Die Grinders
Here are some of the things to consider before choosing a die grinder.
Electric versus Pneumatic
The first thing you will need to decide when choosing who die grinder is whether to use electric or pneumatic power.
Electric Power
The electric die grinders on our list use battery power, but you can find corded models as well. Electric models can be just as effective as pneumatic grinders. The battery-powered models are much more portable and often allow you to reach into areas you couldn't while attached to a cable, and they are often quieter in comparison.
The downside of battery power is that you need to keep them charged continuously, or they won't be ready when you are, and you will have to wait. Batteries also lose charge quickly, so we recommend getting more than one battery, and they are quite expensive and rarely accompany the tool. Battery-powered die grinders are also more expensive than pneumatic brands.
Pros
Portable
Easy to manage
Quiet
Cons
Batteries often sold separately
Expensive
Continuous charging
Quickly loses charge
Pneumatic Power
Pneumatic grinders have very strong continuous power because they are attached to an air compressor. The air compressor usually provides more torque and higher RPM than is possible in an electric model, and they can maintain it indefinitely as long as your air compressor is large enough. It's also lightweight, with many models weighing less than a pound, and pneumatic grinders are less expensive than electric models.
Most experts recommend a compressor with a 5 CFM rating at 90 PSI, which means the compressor can move five cubic feet of air through the hose per minute at a pressure of 90 pounds per square inch. Anything lower than this may not be strong enough for your needs.
There are also downsides to the pneumatic die grinder. You need to own an air compressor, and it's very noisy, like other air-powered tools, and you can only go as far as the hose will allow. The hose may also prevent you from achieving the proper angle, especially if you're nearing the edge of the cord's length.
Pros
Inexpensive
Higher RPM
More torque
Lightweight
Motor Size
The next thing you want to look at is the motor size and how much power that produces. You can determine how powerful a motor is by looking at the horsepower specification printed on most boxes. More horsepower is always better and will usually provide more power so your grinder doesn't bog down while you're working. Higher horsepower motors typically produce less heat because they are not under as much strain.
It won't need much, but we recommend looking for an engine that produces at least 0.25 horsepower.
RPM
Another important thing to look at when choosing your die grinder is the RPM it can produce. Higher RPM will allow you to accomplish tasks faster, and it also helps you tackle different materials. Some models allow you to switch between different speed settings, while others allow you to change the speed using a throttle lever mechanism. We highly recommend a die grinder with variable speed because it increases its versatility. If you have difficulty maintaining a consistent grip to keep the speed steady, you may prefer this switch type.
Weight
Like any handheld tool, its weight is going to have a major impact on its usability. Heavier die grinders will require you to take frequent breaks, extending your work session. It may also be more difficult to position and angle when they weigh too much. Unfortunately, everyone has a different physical make-up that tells them what's too heavy, but we would recommend staying under 5 pounds. We chose all the models on our list because they are lightweight, but we saw many that surpassed our 5-pound limit.
The Exhaust Vents
Because most of these tools use air to operate, there will be plenty of air exiting the tool as you're using it. Most tools use air vents to direct air to the front or back of the tool, and some allow for manual direction. Venting is another personal choice, but we recommend models that point the air towards the front where it will remove debris created by the tool as you're working. Models that vent air towards the back of the tool can blow into your face, distracting you or making it hard to see where you are working.
Temperature Dissipation
Many models, particularly those without enough horsepower, will tend to get hot quickly. If the unit gets too hot, you will need to stop and allow it time to cool, extending your work session. Some brands cool faster than others, but more horsepower is often the best solution.
We tried to point out any models that got hot during our reviews.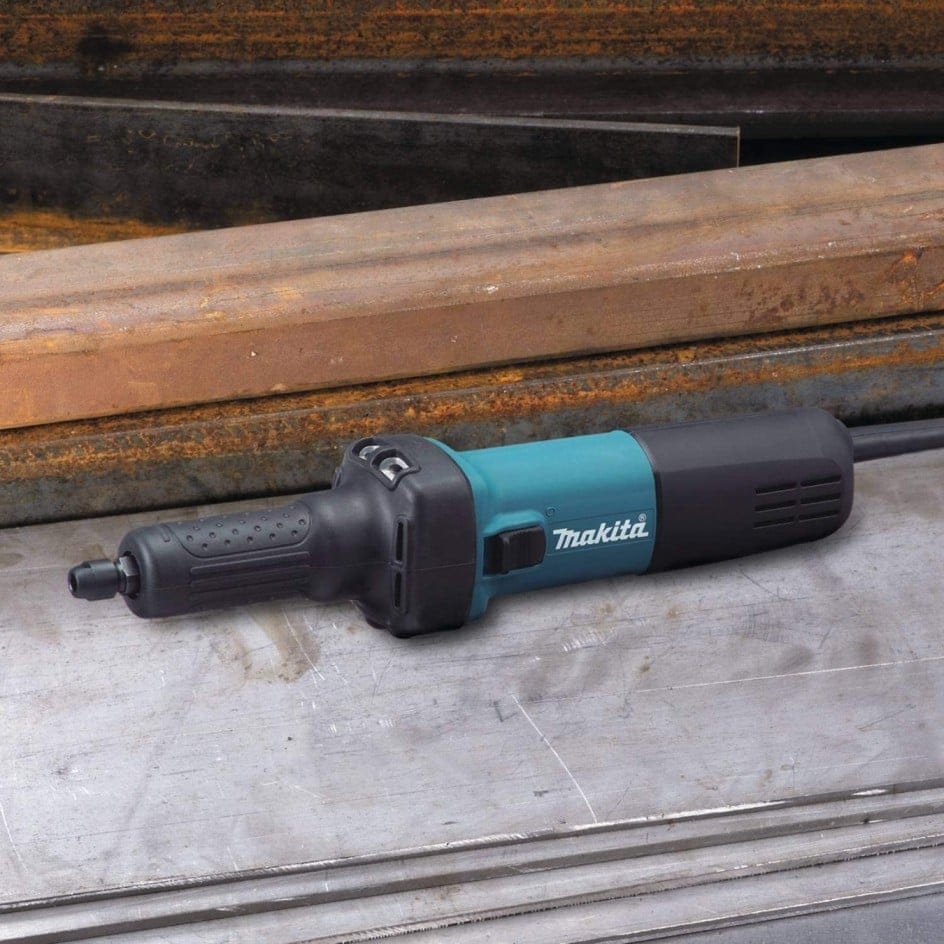 The Vibration Reduction
Die grinders are a precision tool, but it's hard to be precise when your tool is vibrating out of control. Because of the nature of pneumatic machines, you should expect some vibration. However, an ergonomic design with rubber-coated handles can help reduce the vibrations transmitted to your body, allowing you better control over the tool. Some models also use internal mechanisms to help reduce vibrations, and we tried to point out any in our reviews.
Safety Lock
Many die grinders have a special latch attached to the trigger mechanism that acts as a child safety lock to prevent the tool from accidentally starting up. While these locks can be a pain to operate, they are absolutely essential if you frequently leave your tool unattended or have children near the workshop.
Safety Equipment
When using this equipment, it's extremely important to wear safety gear to protect yourself from injury. Here's a list of equipment you should have on at all times when operating a die grinder.
Work Gloves
A pair of heavy-duty work gloves is essential because many of these models get hot after using them for a few minutes. While not necessary, heat resistant gloves can provide more comfort when using these tools for a long work session. Work gloves can also help protect your hands in the event of an accidental slip with the grinder.
Safety Glasses
While you're working, the grinder may release particles into the air that may lodge in your eye. The best way to reduce the risk of eye damage is to wear safety glasses or goggles with side protection.
Dust Mask
Another important piece of safety gear is the dust mask. Grinding can create tiny particles that can enter the lungs and increase the risk of health problems later in life if you don't take the proper precautions. We highly recommend using a dust mask at all times when using your die grinder, and for several minutes after grinding has stopped to allow time for the dust and particles to settle.
Hearing Protection
One more piece of gear that you will need when using a die grinder is hearing protection. There's little risk of flying particles damaging the ear, so you can most likely get away with earplugs instead of the bulkier earmuffs, but you should wear them at all times due to the extremely loud nature of pneumatic tools.

Conclusion
When choosing a die grinder for your workshop, there are a lot of great models on this list, but we stand by our decision to place the Makita GD0601 Die Grinder at the top of the list. It's lightweight and capable of producing 25,000 RPM while keeping the noise down to 75 dB, making it the quietest tool on this list. For those that require extreme portability, we highly recommend our premium choice. The Milwaukee M12 Fuel Right Angle Die Grinder features a battery-powered 0.3-HP engine with variable speed up to 25,000 RPM. It's extremely lightweight at only 1.2 pounds, and it's easy to change grinding bits quickly.
We hope you have enjoyed our in-depth look at die grinders and have found your next tool among our reviews. If you have learned something new and think it can be helpful to others, please share these ten best die grinders on Facebook and Twitter.