WEN 4208 vs 4210 vs 4212 vs 4214: Which One's Best?
WEN makes a lot of bench presses. Many of these are very similar, so it can be difficult to tell the difference between them. Some are different sizes; others have different features. Choosing between them can be extremely difficult, as many of them appear to be practically the same.
All of these bench presses are relatively inexpensive, as WEN is well-known for making cheaper tools. Of course, some are more expensive than others. But, overall, this tends to be an excellent company for those on a budget.
Furthermore, all of these tools are decently high-quality. However, there is likely one tool that is better for you than the others. They are designed for different purposes, so it will depend on your specific situation as to which bench press works best for your situation.

At a Glance
| | | | | |
| --- | --- | --- | --- | --- |
| Feature/Specification | WEN 4208 | WEN 4210 | WEN 4212 | WEN 4214 |
| Motor VAC, A, HP | 120VAC, 2.3A, 1/3 | 120VAC, 3.2A, 1/3 | 120VAC, 4.5A, 2/3 | 120VAC, 5A, 2/3 |
| Speeds, RPM, Drive | 5 (620, 1,100, 1,720, 2,340, 3,100), belt | 5 (570, 900, 1,390, 2,050, 3,050), belt | Continuous variable 530-3,100, belt | Continuous variable 530-3,100, belt |
| Chuck capacity | 1/2″ | 1/2″ | 1/2″ | 5/8″ |
| Swing | 8″ | 10″ | 10″ | 12″ |
| Drilling capacity | 2″ | 2-1/4″ | 2-5/16″ | 3-1/8″ |
| Table size, material | 6-1/2″ x 6-1/2″, cast iron | 7-5/8″ x 7-5/8″, cast iron | 7-5/8″ x 7-1/2″, cast iron | 9-1/2″ x 9-1/2″, cast iron, fence |
| Table bevel | Yes, 45o L/R | Yes, 45o L/R | Yes, 45o L/R | Yes, 45o L/R |
| Table vertical adjustment | Sliding | Rack & Pinion | Rack & Pinion | Rack & Pinion |
| Laser-targeting | No | Yes | Yes | Yes |
| Height | 23" | 27" | 36" | 37" |
| Weight | 35 pounds | 58 pounds | 70 pounds | 95 pounds |
Overview of WEN 4208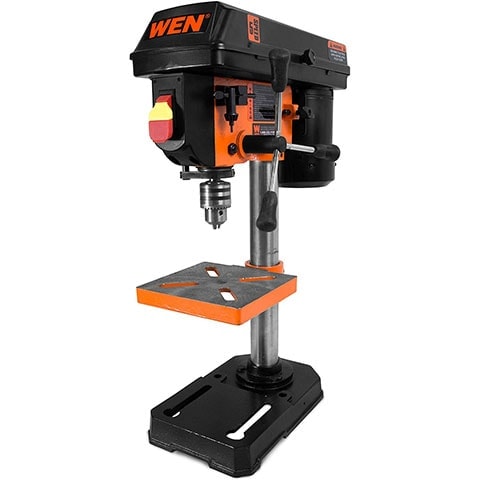 The WEN 4208 has 5 different speeds and includes a ½-inch keyed chuck. It has onboard key storage as well. The spindle travels up to 2 inches and is very easy to read. It has locking linear depth stops so that you can drill the exact correct depth every time. It is effortless to perform repeated drilling operations because of the locking system. The cord length is 6 feet.
It has a durable ⅓ HP motor that provides plenty of torque and power, especially when you consider this motor's smaller size. It has a decently small work table at only 6½ inches by 6½ inches. It bevels up to 45 degrees right and left.
Pros
Smaller
Inexpensive
Easy to store and move
Cons
Small work table
Smaller capacity

Overview of WEN 4210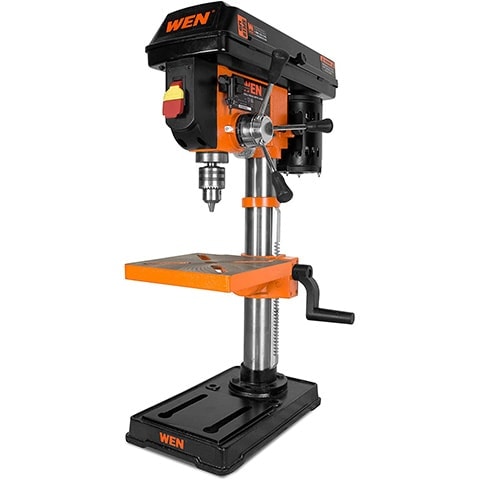 The WEN 4210 is slightly larger than the Wen 4208 that we just reviewed. It isn't the most significant drill press, though. It is a suitable option for those that need something just a little bit bigger. It is adjustable between 5 different speeds, and the spindle travels 2½ inches, which is plenty suitable for most uses. It has a durable 3.2 AMP motor, which is decently powerful as well.
Overall, this is about a mid-level drill press. It is large enough to be suitable for most DIY uses but isn't appropriate for heavy-duty operations. If you are starting, it may be a suitable option. Otherwise, you may want to pick something a little bit bigger.
Pros
5 different speeds
2½ spindle range
2 AMP motor
Cons
Not suitable for heavy-duty application

Overview of WEN 4212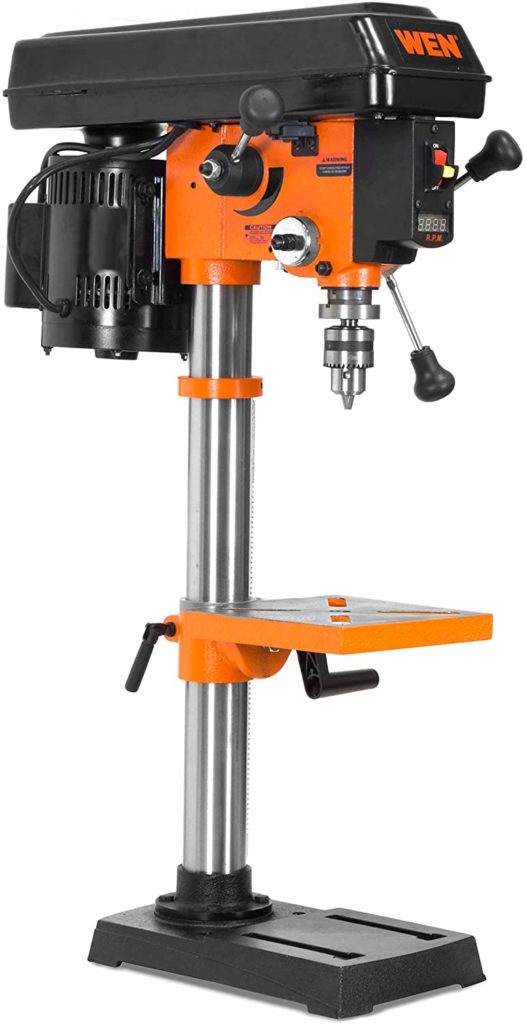 The WEN 4212 is a slightly upgraded version of the WEN 4210. The spindle moves a little bit more at 2-2/5-inches. The depth is effortless to read, and the depth stop allows you to drill accurate and repeatable drilling operations. The cast-iron work table is a bit larger than the others we've mentioned thus far. It is 8"x  7-2/3". It has an adjustable pinion and a cast iron worktable.
The laser target allows you to operate it a bit more accurately. This is very helpful to newcomers and experts alike. It comes with everything you need to assemble it and start using it right away.
Pros
Variable speed drive
Larger worktable
Spindle moves 2-2/5 inches
Cons
Not for CNC-level work
Larger

Overview of WEN 4214
The WEN 4214 is the biggest and best option on this list. It is also the biggest and most expensive, though. If you are a professional or need a professional-level drilling press, this is the one for you. The spindle travels 3⅛ inches, which is likely one of the largest moving spindles you will be able to find on the market. It is suitable for repeatable and accurate operations.
It has a ⅔ HP motor, which is extremely powerful when compared to other machines. It has a huge worktable that is 9½ inches on all sides. It also bevels in both directions up to 45 degrees. It includes a massive variety of different tools and attachments as well.
Pros
Large work table
Huge drilling capacity
Large spindle range
Cons
Very large
Not extremely precise
---
What Are the Differences Between Them?
Power
Edge: WEN 4214
If you're looking at sheer power, the WEN 4214 is the most powerful option on the market. It has a 5-amp motor, which is by far the most powerful option on this list. It can tackle hardwoods, steel, and aluminum. It is best for advanced users who are going to work with many different materials for this reason. It is even suitable for small amounts of professional-level work.
Capacity
Edge: WEN 4214
Again, the WEN 4214 is the largest one on this list. Because of this, it also has the largest capacity. It has the largest swing, drilling depth, and chuck size. It is enormous, of course, so you do also need to have somewhere to put it.
Storability
Edge: WEN 4208
If you have a smaller storage space, you likely need an easy machine to put away when you aren't using it. In this case, the WEN 4208 is the best option – just because it is the smallest. It will take up less room in your workspace as well, so it may be suitable for those with smaller workshops, even if you don't need to store it away.
This smaller model is more suitable for transport as well.
User Friendly
Edge: WEN 4208
If you are a user with little experience, then the 4208 is the best option for you. It is a fundamental tool, so it isn't quite as hard to use as other options. It isn't as suitable for professionals, though. It just doesn't have as many capabilities.
---
What the Users Say
Overall, users seem to think that you can't go wrong with a WEN drill press. All these drill presses seem to have very positive reviews. There are very few negative reviews. They find these tools have a lot of value compared to other drill presses on the market. They are also of higher quality. While some defects do happen, the customer service is exceptionally high-quality.

Conclusion
None of the WEN drill presses are bad. Instead, they are all built for different situations and different people. It is in your best interest to research each drill press and consider what you plan on using it for. This will make it easier to choose which one is best for you.
Your budget will also play a role. Some are more expensive than others. The bigger the machine gets, the more expensive it becomes. Therefore, the WEN 4208 is probably the best option for those on a budget. However, if you're a professional, you probably should invest in the WEN 4212.
Related Reads: