Greenworks vs. Ryobi Lawn Mower: Pros, Cons, & Verdict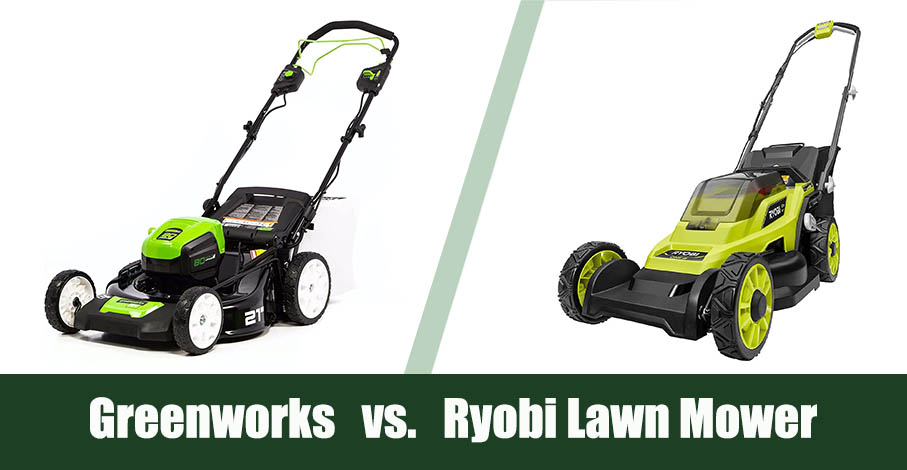 A million questions sprout up when you're looking to acquire a high-quality mower. Should I go for battery-powered or petrol mowers? Which one is the best, a push or a self-propelled mower?
With the market full of great options, narrowing it down to a specific mower is very complicated. Unfortunately, most gardeners often fall for coercive marketing techniques and end up with bad products. Luckily, this article has handpicked the top two versatile mowers and compared them against each other to help you make the right choice. Here is a detailed review of Greenworks and Ryobi lawn mowers and which one is right for you.

A Quick Comparison
| | | |
| --- | --- | --- |
| Brand name |  Greenworks | Ryobi |
| Established |  2009 |  1943 |
| Headquarters |  Changzhou, China | Fuchu, Hiroshima, Japan |
| Product lines | Power tools, blowers, mowers, chainsaws, pressure washers, and power tools accessories | Trimmers, chainsaws, combo kits, pressure washers, accessories, sprayers, chemical sprayers, accessories, and cleaning tools. |
| Parent company/ major Subsidiaries | Globe Group owns Greenworks | Techtronic Industries |

History of Greenworks Mowers
Though Greenworks officially started in 2009 as a marketing arm for Global Tools, its rich history dates back to 2004. 18 years ago, Global Tools acquired a factory with crystal clear intentions of manufacturing cordless power tools. Barely 3 years later, Yin Chen, Greenworks' father, realized his dreams when the factory produced the first lithium-ion string trimmer for North America in 2007. In 2009, Greenworks was founded under a marketing program to colonize the USA. 2 years later, Global Tools dropped an electric washer and mower.
In 2016, Global Tools introduced a lineup of 60V devices, with Greenworks contributing 80% to all production output. Currently, Greenworks is one of the leading eco-friendly tool manufacturers in the USA, taking advantage of advanced lithium-ion batteries.

History of Ryobi Mowers
Ryobi prides itself on 70+ years of experience in producing durable components for electronics and the lucrative Japanese car industries. Before that, Yutaka Urakami had founded it as Ryobi Seisakusho Co., Ltd in 1943 to produce die-casts.
After a marvelous resurrection from the rubble of the second world war, Ryobi produced the first power tool in 1968. 17 years later, Ryobi opened a production site in Shelbyville, Indiana. Currently, Ryobi produces accessories in 12 countries and sells its finished products worldwide.
Along the 7-decade journey, Ryobi changed its name to Ryobi Ltd in 1973 after listing on the Tokyo Stock Exchange in 1968.

Greenworks Manufacturing
Greenworks has a 240,000+ square meter production facility in Changzhou, near Shanghai, China. It is one of the region's busiest facilities, employing over 4,000 determined workers and several robotic production lines.
The ultramodern facility supports metallic and plastic production departments and assembling lines that bring electricals and motors to form complete products. At the very end, packaging takes place for shipping to the USA. The company also has business offices in Germany and Toronto.
In Sweden, one of the two Greenworks' offices is located in Jönköping. This is a new research center with the sole aim of staging better production processes, efficient machines, and long-lasting batteries.
---
Ryobi Manufacturing
Ryobi began its die-cast production in Japan, but it has since expanded to more than 10 countries. Most of its production takes place in Hong Kong under Techtronic Industries. As it turns out, Techtronic also owns Milwaukee Tool, which started producing a few decades before Ryobi.
Yes, you may find a few accessories from Michigan, but outside China, the company produces accessories for assembling in Hong Kong.
Strategically located, Hong Kong offers Ryobi with universal solutions from robotics to ready labor while providing access to open ports for easy transportation.

Greenworks Product Line
Greenworks is a global leader in high-quality and durable power tools, including mowers. Under its belt, customers can also buy:
Cultivators
Hedge trimmers
Mowers
Chainsaws
Snow blowers
Accessories
---
Ryobi Product Line
Similar to Greenworks, Ryobi has an extensive inventory of power tools. However, it provides solutions to virtually any lifestyle.
Power tools
Outdoor tools
Hedge trimmers
Lifestyle and lighting tools
Energy and power
Jigsaw

Greenworks vs. Ryobi: Price
Utilizing manufacturing facilities in China and extensively employing robotics, Greenworks and Ryobi enjoy low production costs, therefore, retailing their products at an affordable price. You should, however, note a few differences.
Greenworks Price
Greenworks sells most of its power tools at a standardized price. As a result, you won't spot any major price differences between their products and what other e-commerce websites provide.
This spills over to their 54-inch zero-turn mower, which is one of their premium products. It sells for a few thousand dollars cheaper than the same John Deere mower.
Still, the good news about buying this mower or any other expensive Greenworks product is that you will pay comfortably through monthly installments using Affirm. Affirm links are available under every product on Greenworks' website.
---
Ryobi Price
Ryobi products are slightly more expensive than those of Greenworks. Perhaps one reason tied to this is the company sells through other e-commerce websites compared to Greenworks.
Similar to Greenworks, you will spend a lot on a Ryobi 54-inch ride-on mower. It is a premium product fit for a king's lawn!
Greenworks vs. Ryobi: Warranty
A warranty guarantees customers that a product is worth their money and will satisfy their needs. The longer the warranty, the higher the quality of a product.
Greenworks Warranty
Greenworks has a 4-year tool and battery limited warranty. This means that the warranty covers a few aspects specified by the manufacturer.
Ryobi Warranty
Ryobi's warranty varies from life like that on garage door opener belts to 1 year on pool products. Limited warranties for batteries are also available.
Greenworks vs. Ryobi: Customer Services
Customer services are essential for cultivating loyalty and extracting maximum value from buyers.
Greenworks Customer Service
Greenworks has excellent customer care services, and buyers frequently leave behind positive reviews. In case of any problems, you can easily engage the company through emails or chatbots.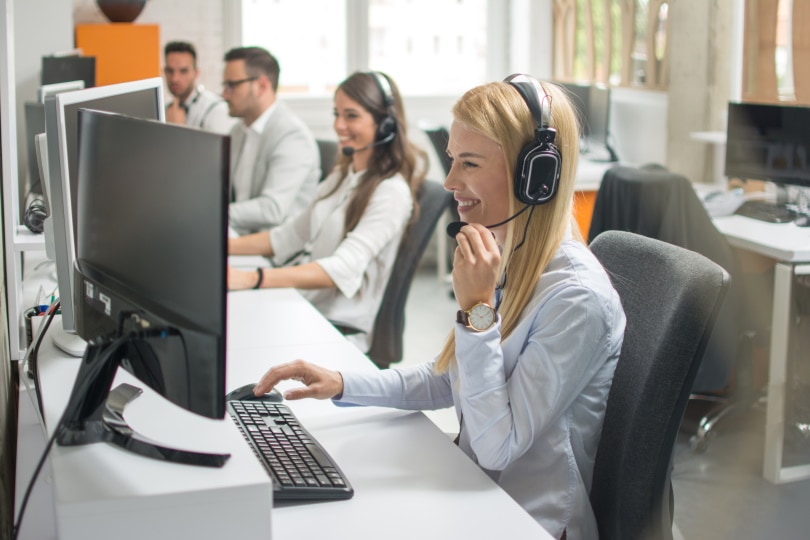 Ryobi Customer Service
With years of experience on the market, Ryobi has perfected the art of offering maximum value to customers. As a result, across most e-commerce platforms, the average customer satisfaction rate is 4.4 stars. And on the review section, you will find buyers praising good customer service.
Head-to-Head: Greenworks vs. Ryobi Zero-Turn Mowers
As the world progressively adopts a leisurely lifestyle, zero-turn mowers are becoming more and more popular. Greenworks has 60-, 52-, 48- and 42-inch zero-turn mowers available bolstered with top-notch features and technology.
Taking the Pro 60V Crossoverz 42-inch as an example, the machine weighs more than 450 lbs. The front and rear wheels are 15 and 20 inches wide, respectively. It has a pack of six, 60V, 8Ah batteries to power a brushless motor. Using brushless motors gives Greenworks a competitive edge because;
It has a higher power-to-weight ratio
You can instantly control the speed of the motor in RPM
The motor has high torque
You will spend less on maintaining brushless motors
Doubled with TRUBRUSHLESS technology, the Crossoverz delivers powerful results. According to Greenworks, the intelligent technology allows the motor to run longer, quieter, deliver 2x more torque, and serve you for years.
In contrast, Ryobi has an 80V zero-turn riding mower. At 54 inches, the heavy-duty steel deck is 12 inches wider than that of Greenworks' zero-turn mower, giving it an upper hand in terms of mowing speed.
A rider sits on a small bucket-like premium seat flanked by a pair of armrests and cup holders for a luxurious experience. On the right, an intuitive joystick maneuvers the machine around objects. On the left, an innovative LCD screen displays battery life, speed, and runtimes when operating the machine.
Below the screen, you can turn on/off LEDs and even crank up music by Bluetooth connection with a simple press of a button. If your phone's battery plunges to an unacceptable level, don't worry! Connect to any of the two USB ports for fast charging.
Head-to-Head: Greenworks vs. Ryobi Self-Propelled Mowers
Greenworks has versatile self-propelled mowers designed to deliver stunning results to lawn owners.
To start with, Greenworks' 21-inch self-propelled mower has a 40V, 5.0 Ah battery. With two battery ports, you don't need to worry about limited mowing time. When one battery depletes, the other comes to your aid.
In comparison, Ryobi self-drive mowers have a higher battery capacity than Greenworks'. Their 40V, HP 20-inch mower uses a Lithium-Ion battery with a capacity of 6.0 Ah. This battery is suitable for extended work hours, including lighting LEDs at night. The only downside is that most Ryobi mowers only come with a single battery.
A lever for height adjustment, similar to that of a Ryobi, raises or lower Greenworks decks up to seven times. A 4-in-1 discharge system ensures you can mulch, pick leaves, side-discharge, or bag mowed grass. But there is also a 3-in-1 system in Ryobi mowers, with the exception of leaf picking.
While Ryobi has long-lasting batteries, Greenworks quickly catches up with a 4-in-1 system. But because most people care less about leaf picking capabilities, Ryobi takes the upper hand.
Head-to-Head: Greenworks vs. Ryobi Push-Back Mowers
When it comes to push-back mowers, power is everything. You need a mower to handle thick, tough grass without being bogged down.
Greenworks' 21-inch push-back mower is exactly that, with a 40V, 4.0 Ah battery that can run for up to 45 minutes. However, this runtime shortens considerably when working on thick grass or when the mower engages turbo mode.
In contrast, Ryobi's 40V HP push-back 21-inch lawn mower has a dual active battery port that can work with two 6Ah batteries. Cumulatively the batteries have a running time of 70 minutes.
A single height adjustment lever on the handle allows you to raise and lower Greenworks mowers to five positions and Ryobi to seven.
In addition to levers, both companies produce versatile machines. Greenworks' 2-in-1 design only mulches and bags grass and, despite standing one step behind Ryobi's 3-in-1, whose decks side discharge, it is lightweight.
Besides, both machines can squeeze through tight spaces thanks to compact design and foldable handles. Soft padded handles and cushioned wheels further support smooth rides.
Other common features are silent operation modes, fast chargers, lightweight construction, and durable decks. In this department, Ryobi mowers have the edge over Greenworks. The 3-in-1 mowing system and dual active battery ports put the former on the podium.

Overall Reputation
In spite of Greenworks and Ryobi tying in many aspects, a closer look at performance, price, warranties, and design splits the two.
Design
Edge: Ryobi
Both companies fiercely compete in design using foldable handles, replacing traditional steering wheels with joysticks, and artfully combining colors. But Ryobi has taken this art one step ahead by combining black and bright yellow with glamorous doses of Ryobi or ONE+ logos.
Ryobi rugged tires are well threaded and wider to coup up with tough terrain. On the flip side, though equipped with heavy-duty tires, Greenworks mowers often slide on dew.
Lastly, Ryobi zero-turn mower has USB ports and pair of cup holders flanking the seat. Greenworks is yet to advance its machines with these features.
---
Performance:
Edge: Ryobi
There is no doubt that Greenworks and Ryobi mowers both perform well on lawns. Both companies table smart technologies, including load sensors and multiple ways of disposing of grass. You will also find advanced charging systems the companies use to fast-charge batteries. But, some of Ryobi's chargers are advanced and can show the state of the battery.
Other cutting-edge features Ryobi excels in are the CROSSCUT multiblade system and AWD provisions in self-propelled mowers. CROSSCUT utilizes several pairs of blades rotated by different motors to cover a wide area.
---
Price
Edge: Greenworks
Greenworks' softer approach to price includes selling products on the company's website and using Affirm installment financing. That is why most of its products are cheaper and easily accessible to low-income earners.
Ryobi uses retailers to take care of online sales. This extends the supply chain and inflates the price as each party wants a commission.
---
Durability:
Edge: Draw
Both companies use stamped steel decks and aluminum parts which are sturdy and durable. Aluminum is rustproof, while steel decks effortlessly stop projectiles from destroying the engine.
You will love how long brushless motors and Li-ion batteries last when well taken care of. So, it is a draw for durability.
---
Warranty:
Edge: Ryobi
Greenworks has a maximum of 4-year limited warranty on power tools and batteries. Ryobi, in contrast, has a 3–5-year warranty on batteries and 18V and 40V products and a lifetime warranty on tapes, hammers, and shovels. Thus, the Japanese company trusts its manufacturing process and guarantees tools will serve for a long time.
---
Technology:
Edge: Greenworks
Greenworks GPS enabled Smart G app that works with 4G network is a newcomer to the standard mower industry. Realizing how secure this technology is in protecting mowers against theft, Ryobi is almost catching up with the Riding Mower App.

Greenworks vs. Ryobi: Pros and Cons
Greenworks Pros
Excellent designs and a great combination of colors.
High-quality steel frames protect fragile components.
Brushless motors are durable and deliver more power to the blades.
Li-ion batteries charge faster and run longer.
You are assured continuous running time thanks to two batteries that you can interchange.
It is easy to start and stop the machines
Load sensors conveniently increase the power supply to the mower depending on the thickness of the grass cover.
Folding down the mower takes less storage space.
Easy it is to assemble
Threaded wheels and powerful drivetrains improve traction and control on steep wheels.
Some self-propelled and push-backs mowers are light, weighing less than 100 lbs.
Electric mowers require less servicing.
Multiple grass discharge options.
Greenworks Cons
Sometimes sensors trigger the power supply late.
Pulling back a Pro self-driving mower is difficult as a rubber matt skirt gets stuck between the wheels and the ground.
Some parts, like the height adjustment lever, feel cheap.
---
Pros of Ryobi Mowers
Ryobi lawn mowers are quiet, smokeless, and reliable.
Handles make it easier to carry mowers around.
Storing the mower is easy with foldable handles.
Smart apps help you monitor the mower's status remotely.
Multistage height adjustment levers are essential for uniform cuts.
The company manufactures both gas and electric mowers.
Easy to change from mulching to bagging or side discharging.
Power delivered to AWD self-propelled mowers is good and prevents bogging down.
Cons of Ryobi Mowers
The battery drains very fast.
Some parts are not durable.
The auto speed adjustment feature is clumsy.

Final Verdict
When looking for high-performing machines, there is no better place to find one than from Greenworks and Ryobi. The two companies table futuristic designs, elegance, and powerful performance mechanisms.
However, Greenworks mowers are less sophisticated overall than Ryobi. They lag behind in design and performance. Ryobi's well-equipped mowers have everything you are looking for, from cup holders to LCDs. That said, Greenworks mowers have similar features and are still a great option for most homeowners.
---
Featured Image Credit: Left: Greenworks mower: Amazon | Right: Ryobi Mower: Amazon