5 Best Drum Sanders of 2023 – Reviews & Top Picks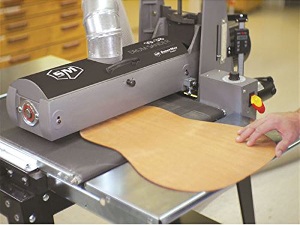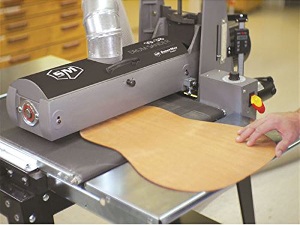 Legend has it that the drum sander was invented by a man named Alex Clarke who was tired of leaning on rough and scratchy bars.  Soon after becoming popular for bar tops, the sander next found itself resurfacing desks for schoolchildren, making it one of the few examples of anything evolving from bar to school instead of the other way around.  The inventor might be surprised to learn that today his sander is popular not only with woodworkers but also with luthiers – craftsmen who make instruments like guitars and violins.
Whether you're a professional or a tinkerer, and whether you're planning to make tables or veneers or cutting boards or cabinet doors, be sure to read our reviews and buyer's guide to help you find the right drum sander.  And the next time you lean on a bar, be sure your elbows send a silent thank you to Mr. Clarke.
Our Favorite Picks of 2023 Compared:
Rating
Image
Product
Details

Best Overall

Powermatic PM2244

Easy set-up
Digital readouts
Handles large and thick pieces of wood
CHECK PRICE

The Runner-Up

JET 649003K

Lower price than our Top Pick
Smaller and lighter
Still handles large or thin wood
CHECK PRICE

Best Value

JET 628900 Mini

Affordable
Portable – only 100 lbs.
Can handle thin sheets down to 1/32"
CHECK PRICE

SuperMax 19-38

Reasonably priced
Digital depth indicator
Intellisand Technology
CHECK PRICE

Grizzly G0716

Affordable
Variable speed conveyor
Wheels and handles for mobility
CHECK PRICE
The 5 Best Drum Sanders:
1.

Powermatic PM2244 Drum Sander – Best Overall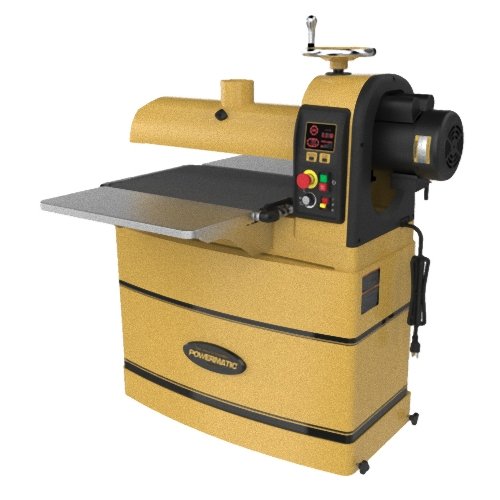 The Powermatic PM2244 will have you looking around for wood to run through it simply because it's such a great machine.  With a 1.75HP motor and a 22" drum, you can put pieces up to 44" through here and they can be up to 4" thick to start, although it also works all the way down to 1/32".  It comes with a digital depth display that allows you to measure out to the thousandths of an inch, for maximum precision, and gives you a digital readout on feed rate as well.  This machine is a monster, at 400 lbs. and roughly 4'x2', but arrives assembled, with wheels, and set up is so easy you'll be sanding in less than 15 minutes.  This is a serious drum sander that will make you look like a master woodworker (even if you're really not) and can even stand in as a lightweight planer.  If large-scale woodworking is your livelihood, this is an investment – with a price tag to match – you won't regret. Overall, we think this is the best drum sander we have reviewed this year.
Pros
Digital readouts
Handles large and thick pieces of wood
Handles small and thin wood, too
Can help out as a planer
Easy set-up
---
2.

JET 649003K Drum Sander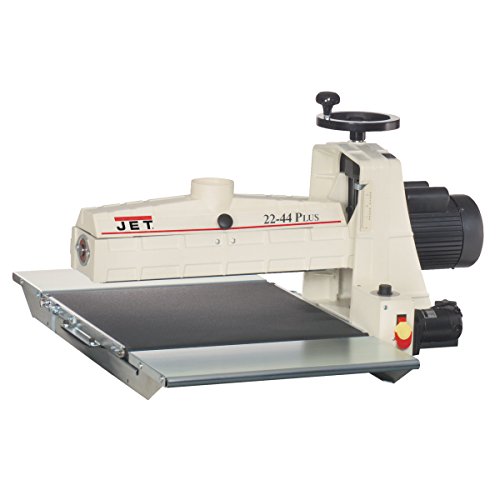 The JET 649003K comes with a lot of the same bells and whistles as our Top Pick.  Its 1.75HP motor can also handle wood up to 44" wide and from 4" down to 1/32" thick, plus it offers auto control of the variable feed rate to keep your drum from over-working.  This is a benchtop sander, so it's much smaller (about 3'x1') and lighter ("only" 250 lbs.) and you'll want a stand of some sort for it, although that's accounted for in a noticeably lower price tag.  This JET sander stumbles on two relatively minor fronts, though.  It lacks the digital readouts of the Powermatic, and the in and outfeed tables, although optional, are a challenge to take off and put on.  If you don't care about those two issues, this might be the perfect sander for you whether you're a pro or a hobbyist.
Pros
Lower price than our Top Pick
Smaller and lighter
Still handles large or thin wood
Cons
No digital displays
In/outfeed tables are difficult to add and remove
---
3.

JET 628900 Mini Drum Sander – Best Value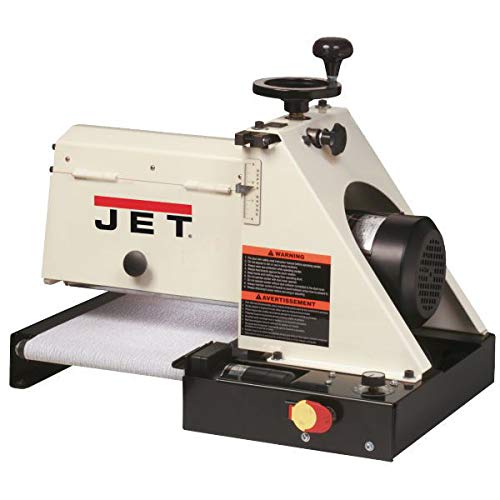 The JET 628900 Mini is mini in many senses of the word.  This benchtop model is significantly smaller, lighter, and cheaper than our leading drum sanders, but still delivers for the hobby woodworker.  It can handle wood up to 20" wide and 3" thick but can work down to as thin as 1/32".  Not designed to handle significant sanding jobs, it holds up well under moderate use by a skilled operator but is not idiot-proof like its more expensive cousins: the sandpaper can be difficult to change, the conveyor belt is a little quirky, and it shuts off if you ask too much of it.  But for anyone undertaking smaller projects in their garage or basement, this is a handy little drum sander and a bargain to boot. All in all, this is the best drum sander for the money this year.
Pros
Affordable
Smaller, lighter, more portable – only 100 lbs.
Can handle thin sheets down to 1/32"
Cons
Sandpaper changing is a challenge
Conveyor belt might demand extra TLC
Prone to auto shut-off
Doesn't accommodate user error
---
4.

SuperMax 19-38 Drum Sander Tool
The SuperMax 19-38 is another monster of a drum sander, coming in a nearly 4'x5' and over 300 lbs.  Every one of those 300 lbs. will be noticeable during set up, which will take a long time and require a buddy to help and continue to be noticeable until you add your own wheels since it doesn't come with any.  Once you get it up and running, you'll be happy with the digital depth indicator, but you're likely to find the wood feed rate automatically slowing to a crawl.  Despite the slowing of the feed, though, you're still liable to be frustrated by burn marks showing on your wood.  This SuperMax is too finicky for the hobbyist but doesn't deliver the performance a pro should expect, leading us to wonder who this machine is working for.
Pros
Reasonably priced
Digital depth indicator
Cons
Difficult set up requires a second set of hands
Bulky, heavy, and unwieldy but no wheels
Prone to auto-slowing too often
Watch out for burn marks
---
5.

Grizzly G0716 Drum Sander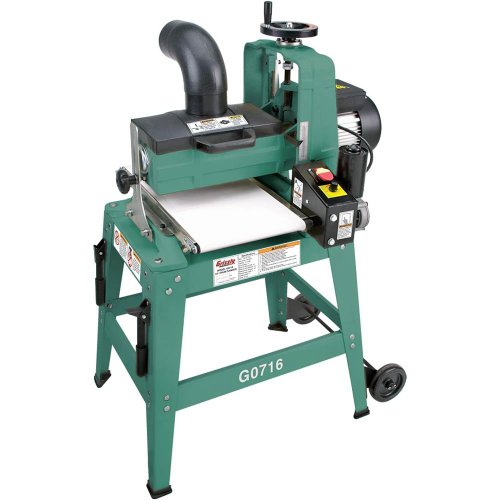 The Grizzly G0716 is priced to compete with our Best for the Money choice but isn't in the same league.  It's 1.5 HP motor can handle boards up to 9.5" wide and 3" thick, but can only work down to ¼", making it unsuitable for veneer or instrument projects.  It's fairly heavy – 200 lbs. – for something that's only about 2×2.5' and only offers manual control of its variable speed conveyor belt.  It does come with a stand, which is an unexpected plus at this price point, but users are nearly universal in complaining that it is way too short, requiring jury-rigging to avoid turning into a hunchback.  When not bemoaning its height, or lack thereof, everyone is frustrated by the sandpaper changing.  Even though a basement woodworker may not need a top-of-the-line machine, there's no reason for them to settle for this sander.
Cons
Minimum thickness of ¼"
Stand is laughably too short
Sandpaper tough to change
---
Buyer's Guide: How to Select the Best Drum Sander
A drum sander, not to be confused with a drum floor sander, is a large shop tool similar in design to a planer. Used to quickly and efficiently sand items like cutting boards, tabletops, and cabinet doors, they are also popular for making stringed instruments like guitars. A drum sander will save you hours if not days of hand sanding but, given their steep price tags, are meant for the professional or serious hobby woodworker.
But you're tired of spending hours hunched over your orbital sander and are ready to invest in a drum sander. What should you be on the lookout for?
Dust
Every drum sander will generate enormous quantities of dust. They are all designed to be connected by a hose to an electric dust collector. If you don't already have one, you will definitely need to get one.
Maximum and minimum wood sizes
Width
Are you planning to make dining tables that seat 20 people or cutting boards? End tables or violins? You don't necessarily need the sander that lets you feed in the largest slabs of wood if all you're using it for is cabinet doors. The widest board you can send through will be, at most, double the width of the roller: with a 22" drum roller, you can sand a 44" piece of wood. Read the specs carefully if you plan to work with wider pieces since you don't want to wind up with a board that's perfectly flat and smooth everywhere but an inch strip down the middle because the drum couldn't reach it from either side.
Thickness
At the opposite end of the spectrum, you may also want to keep an eye on the thickness of the wood the sander can accommodate. If you want to work on or with veneers or if you are learning how to make guitars, a sander that can only sand down to ¼" may not work for you. The fancier sanders can go down to 1/32" making them a much better choice for the super-thin projects. Of course, if you'll also need to think again if you were planning to send 8" square posts through your drum sander – those will be much too big.
How to adjust it
Maybe in another ten years, this point will be outdated, but right now we've got machines in two distinct flavors: high-tech and old school. The old school machines have manual knobs and levers to make most of the measurements and adjustments. The high-tech ones have features like little onboard computers that offer self-regulating feed tables and digital measuring to the thousandths of an inch. The modern ones offer greater precision (and price tags), but the old-fashioned ones still get the job done with a user who knows their stuff. The choice here comes down to personal preference – does the idea of a digital machine make you frown or smile?
Installing new sandpaper
The basic premise behind the sandpaper installation for all the drum sanders is pretty much the same: you'll wrap a ribbon of sandpaper that's a few inches wide around the rotating drum and secure it at both ends. With some sanders, this will take you 30-60 seconds. With others, though, this will take you 30-60 minutes and require an extra tool or two and Herculean levels of patience. There's no good reason for this process to be a hassle, so be sure to look for a sander that is user-friendly in this regard.
Motor strength/shutoffs
Some drum sanders – especially at the higher price tags – might be able to do some of the work better suited for a planer. But most of these are not able to shave off thick layers in one pass, and when you ask them to, they may just shut down. Some models can self-regulate the feed rate and slow it down when the drum motor struggles to eat through the board, making shut-offs uncommon. But the more old school styles expect you, the user, not to overload them, and when you do, they turn off to prevent damage to the machine.
If you want your sander to step up and be a planer sometimes, or if you know you don't have the patience to make small but frequent passes, you'll want to pony up for a model that automatically controls the feed rate and protects your investment for you.
Bench or stand
As you compare drum sanders, read the product description thoroughly. Some are bench models and don't come with a stand. Since you probably don't want to operate your new sander while it's sitting on the floor, you want to make sure to buy a stand if it doesn't come with one. (But you could also rig up a temporary stand and then use the new sander to build a custom stand for yourself!)
Snipe
Even though this is a drum sander, not a planer, you still need to keep an eye out for snipe, those divots at the leading or trailing end of your board where the machine grabs and releases. On a drum sander, you might even see evidence of snipe in the middle of the board. But if you don't ask your sander to bite off more than it can chew, snipe will be uncommon.
Feed rate
Your feed rate can and will fluctuate depending on how deep of a cut you ask it to make, with a faster feed rate corresponding to a shallower cut depth and a need for more passes. On some of the more old-fashioned models, you control the feed rate manually, so you need to pay attention to make sure you're not overtaxing the drum roller. More modern machines will control the feed rate for you and speed up or slow down depending on how hard the drum roller is working.
Portability/weight/size
You will not be tossing your drum sander in the back of your truck every morning to take to a job site. Most of them weigh a few hundred pounds and unless they are on casters, you shouldn't think of them as portable. Some models come with wheels already attached, some allow you to put your own on, and some don't do either.
Give some thought to where you'll store the sander in your shop or garage. These machines can be space hogs, so take a look at the product dimensions and then find or create a space for it. If it's on wheels, you can drive it to an open part of the floor for when you're using it, but you'll still want to designate a parking spot for it when you're doing other stuff.
Customer service
With any purchase at these prices, even the less expensive machines, you have the right to expect some decent customer support to back up your purchase. Some brands, like Powermatic, are known to have excellent customer service. But there will be others whose reputation is a little spottier so be sure to do some background check on the manufacturer you are considering.
Price
The prices for drum sanders are all over the place. Our Top Pick costs several times what our bottom-of-the-list choice does. The less expensive models will be more old-fashioned and lack the modern digital readout kinds of whistles. On the other hand, you may not need (or want to afford) the Ferrari of drum sanders, and you can probably be perfectly happy with a more modest sander if you can devote a few extra minutes to understanding it and making it work for you.
Conclusion
The Powermatic PM2244 is our Top Pick, providing the most up-to-date technology to assure fast, precise, and super-smooth sanding right out of the box. Expensive but will pay you back in performance and time-savings many times over.
Our Best for the Money drum sander is the JET 649003K. Despite its lack of bells and whistles, this straightforward drum sander will get the job done at a mere fraction of the price of our Top Pick.
A drum sander may wind up being one of the largest and most expensive tools you ever purchase. Take the time to read our reviews before you pull the trigger. We hope the selection process goes as smoothly as anything sanded with 220 grit sandpaper!