Ceiling Fan Installation Costs (Average Cost In 2023)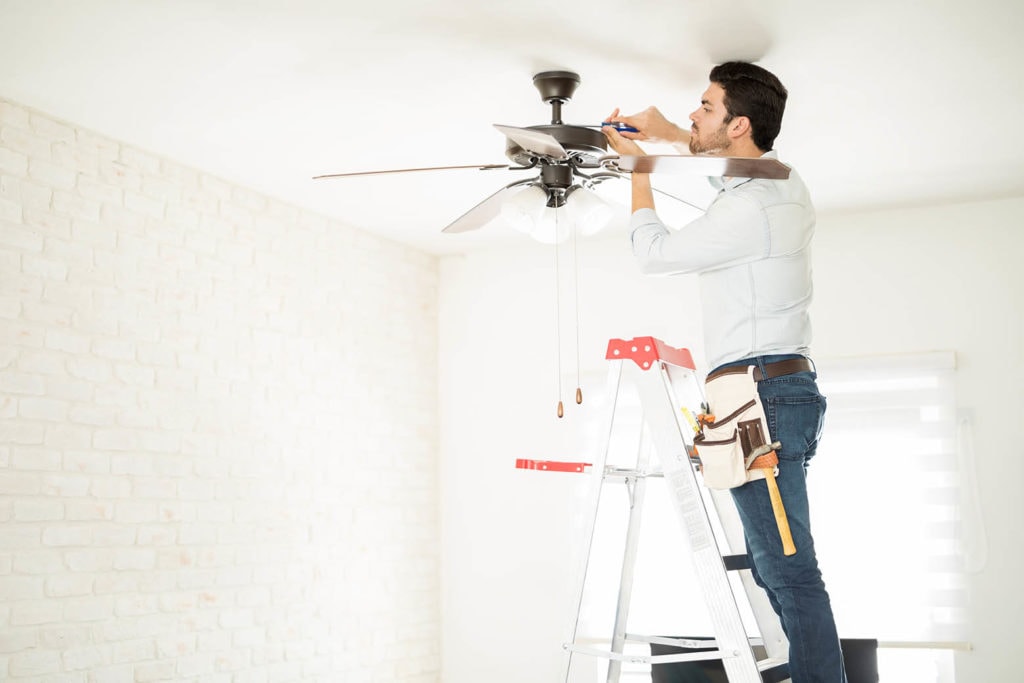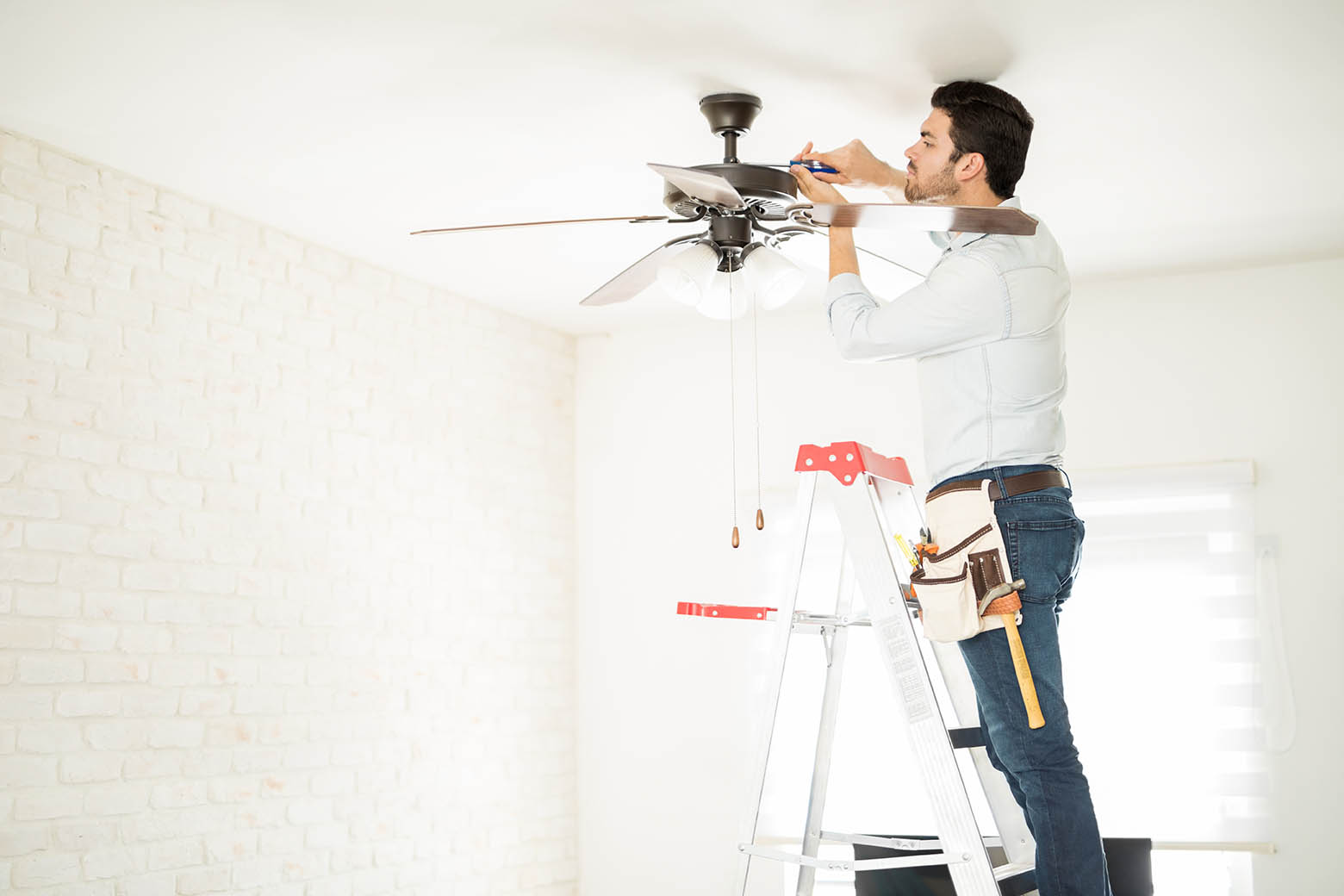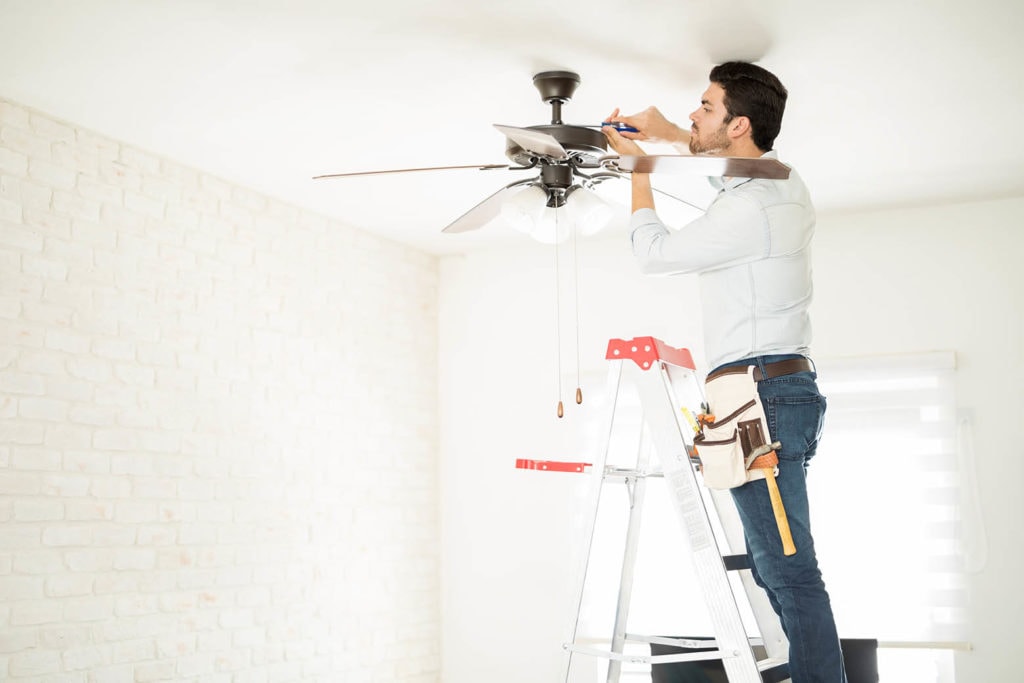 A ceiling fan is a relatively inexpensive and simple way to cool a room. It moves stale air and introduces a gentle breeze, and in winter, one can reverse the direction that the blades turn, which will encourage heat to dissipate around the room and to increase the ambient temperature. Several factors will determine the price that you pay for ceiling fan installation.
Assuming that you have a fan already, the job will usually take between one and two hours with a total cost running anywhere between $50 and $250. The ceiling fan and additional accessories can total several hundred dollars, and, and if you need to have your room rewired this can add yet another $200 or more to the price. Although you could pay as little as $50 to have an existing fan fitted, you could have to pay $1,000 for a new fan, rewiring, and the fitting.

Ceiling Fan Cost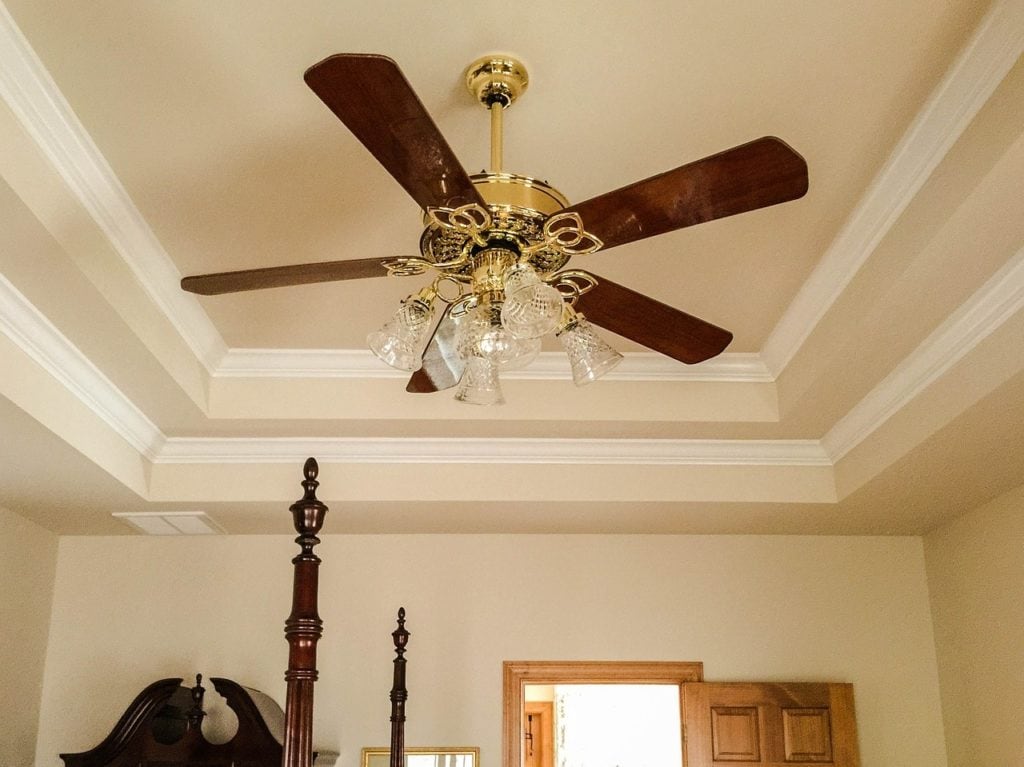 If you don't already have a ceiling fan, you will need certainly one!
A standard fan is the most common type. It has five blades and includes a built-in light fitting. This type of fan will cost anywhere from $50 to $250.
Low profile models cost around the same ($50 to $250) as a standard fan. These are used in homes where the ceiling is less than 8 feet from the ground.
Downrod fans are attached to the ceiling via a downrod. They are used in rooms where the ceiling is 9 feet off the ground and the rod brings the fan closer to the room, ensuring it can effectively dissipate air around the room. These cost between $150 and $500.
Directional fans can be aimed wherever you want. This requires additional parts and mechanics, which increases the price of the ceiling fan to between $200 and $750.
Rotational ceiling fans add a little more still, costing $250 up to $1,000. These can be rotated and offer multiple settings. They have the most advanced controls and are ideal for year-round use.
As well as the type of fan, you will also need to choose the most appropriate size. For a room that is roughly 50 square feet, you should choose a 32" fan while a 100 sq-ft room will require a larger, 40" fan. For a 175 sq-ft space, opt for a 50" fan, and buy a 65" model for rooms of 300 square feet.
Additional costs also include items like the downrod. The cost of this depends on the size required. The blades of a fan usually sit 7 feet off the ground, and the downrod will lower a ceiling fan to this level. If you have a 9ft ceiling, you will need a roughly 1.5ft rod because taking the size of the fitting into account, this will leave the blades at the optimum height. The smallest downrods are 6 inches and cost $10. The largest, 5-foot poles, cost $50 or more.
Cost of Installation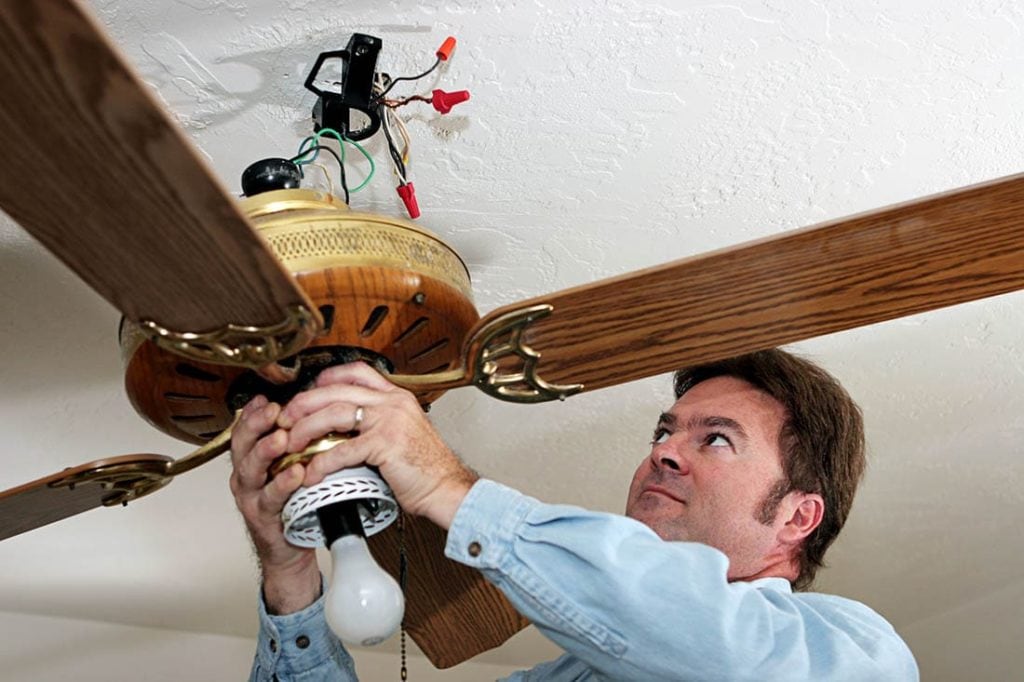 It will usually take around two hours to complete the installation of a fan, regardless of whether it is a replacement of a new fan installation. However, while a handyman can install a replacement fan, you will need an electrician out to add a new fan.
A handyman will charge between $50 to $80 and it will take between one and two hours.
An electrician will charge between $75 and $120 per hour and it will take between one and two hours, although it can take longer if the room or property needs rewiring.

Outdoor Ceiling Fan Installation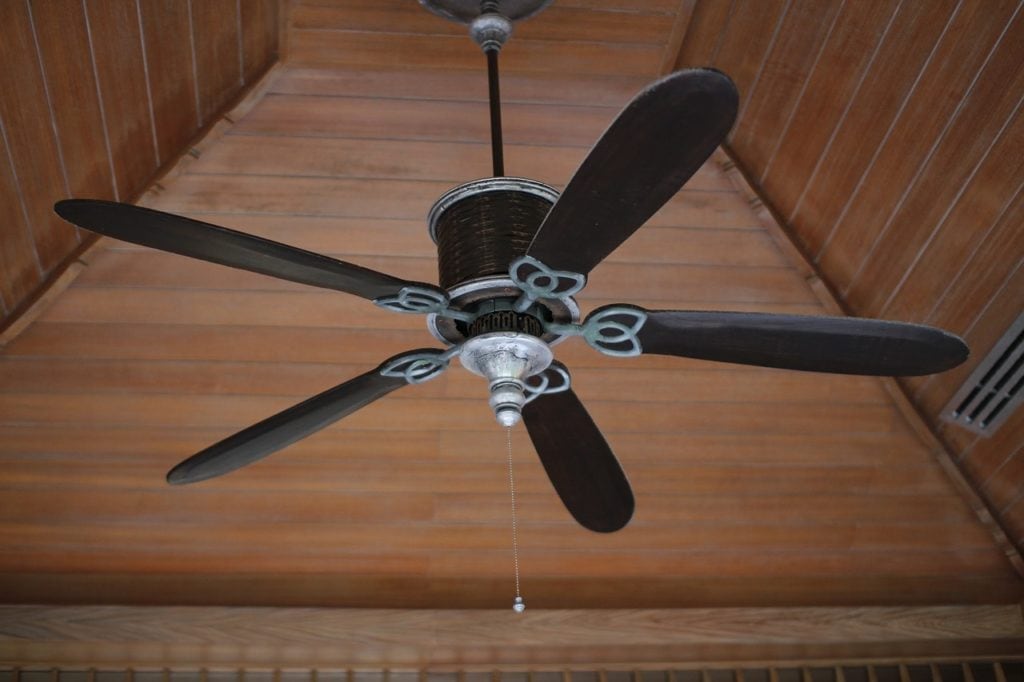 There are some instances where homeowners want ceiling fans fitted outdoors. For example, if you have a covered patio and you like to sit or entertain here, a ceiling fan can be used to get the perfect ambient temperature. In these cases, you will need an appropriately rated ceiling fan.
Dry rated fans are the same as indoor ceiling fans. They will not get wet and will not even attract moisture. These are not typically used in outdoor situations. The cost varies, according to the figures above, but expect to pay $50 to $500 for a basic dry rated fan.
Damp-rated fans will be installed in a ceiling, which means that they will not be subjected to direct exposure to water. However, they can be installed in outdoor ceilings or in rooms like the kitchen or bathroom where they will get damp from condensation and other moisture. Expect to pay a minimum of $75 to $700 for these models.
Wet-rated fans will also be used outdoors but they are expected to come into contact with water. This can include areas like gazebos and verandas. They will be able to withstand rain, ice, and snow. Wet rated ceiling fans cost between $100 and $1,000.
Additional Features
In addition to the costs above, some additional features attract additional costs. These are not necessary features, but they can make your experience more enjoyable or more beneficial.
A physical remote costs around $100, although some models can cost as much as $1,000. Rather than the pull cord that is typically used to control this ceiling-mounted device, a remote is handheld and can be used while sat in your seat.
A remote app offers more functionality and is more convenient because it can be installed on your phone, tablet, or other mobile device. Some of these apps can be combined with a smart home system so that you can control the ceiling fan using your smart home app, too. If you want a smart home enabled ceiling fan, ensure that you buy a model of fan that is capable of this.

Ceiling Fan Installation Costs
There are a lot of factors that determine the final price for ceiling fan installation: not least, whether you need to buy a fan or not, and whether you are replacing an existing unit or having a brand new one installed. Ignoring the cost of the fan itself, because the price can differ dramatically, you should expect to pay between $50 and $250 for a relatively standard installation with minimal, if any, unforeseen problems.
---
Featured Image Credit: antoniodiaz, Shutterstock