10 Best Easy to Clean Blenders of 2023 – Reviews & Top Picks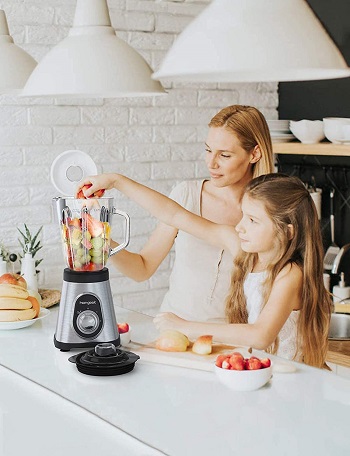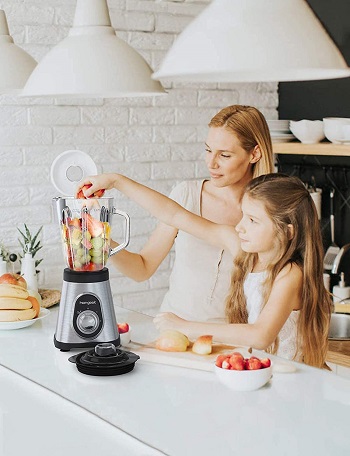 If you can't go a day without your favorite smoothie, you have to clean your blender at least once a day. This spells the need for an easy to clean blender, and the market is not short of such models.
However, too many options can be overwhelming.
Moreover, there are other essential factors to consider besides ease of cleaning.
Fortunately, our reviews of the 10 best easy to clean blenders narrows down the options for you. As a bonus, we also include a comprehensive buyer's guide to lead you through the whole process.
Shopping for a blender does not have to feel like groping in the dark anymore. Let's dive right in.

A Glance at Our Favorites in 2023
Rating
Image
Product
Details

Best Overall

Ninja Professional BL660 Countertop Blender

1100 watts
72-ounce capacity
Dishwasher-safe
CHECK PRICE

Best Value

Hamilton Beach 58148A Power Elite Blender

12 blending options
Patented wave-action feature
Dishwasher-safe
CHECK PRICE

Premium Choice

Vitamix 5200 Blender

Powerful motor
Multi-functional
Self-cleaning option
CHECK PRICE

KitchenAid KSB1575MC Diamond Blender

Sturdy metal base
Self-cleaning
Intelli-speed motor control
CHECK PRICE

Homgeek Countertop Blender

750 watts
Easy to use
All parts come apart easily
CHECK PRICE
The 10 Best Easy to Clean Blenders
1.

Ninja Professional BL660 Countertop Blender – Best Overall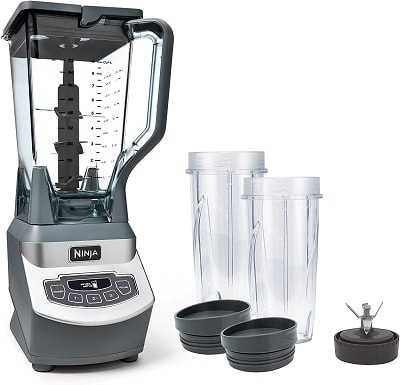 The Ninja Professional BL660 will handle anything you throw at it. It boasts an 1100-watt motor that is powerful enough to crush ice. Combine that with the sturdy 6-blade assembly, and you can break down whole fruits and vegetables without breaking a sweat.
With the 72-ounce plastic jar, you can make enough drinks for several people. The two 16-ounce cups will come in handy if you love making smoothies on the go. Also, the jar includes a well-designed spout that makes it easy to pour.
All parts of the Ninja Professional are dishwasher-safe. The blades are removable and very sharp. Therefore, take extra care when disassembling them to avoid cutting yourself. The only drawback with this model is the noise it makes, as noted by many buyers. But which blender doesn't?
To conclude, we think this is the overall best easy to clean blender available.
Pros
1100 watts
72-ounce capacity
Will crush ice
Removable blades
Dishwasher-safe
---
2.

Hamilton Beach 58148A Power Elite Blender – Best Value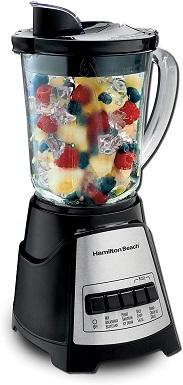 The Hamilton Beach 58148A has 12 programmed blending options and is easily the best easy to clean blender for the money. One of its most notable things is its patented wave-action feature that helps to pull the ingredients down to the blade for smooth results. And thanks to the 700-watt motor, it produces enough power to crush these ingredients without a problem.
The control panel is easy to read, and it only has 5 buttons. With a few clicks, you can get your blender to self-wash in just a few minutes. The ingredients tend to get stuck at the bottom. But you can disassemble the blades should they get in your way. It also helps that the jar, lid, and blades are dishwasher-safe.
You don't need to worry about spilling when pouring because the spout is well designed. So, not a drop of your 40-ounce juice or milkshake will go to waste. Our main quarrel with this model is the lid. Despite being difficult to remove, it has nooks and crannies that make cleaning a challenge. Additionally, some people may find the jar too heavy.
Pros
Crushes ice
Easy to read control panel
Patented wave-action feature
12 blending options
Dishwasher-safe
Cons
The lid is difficult to remove
---
3.

Vitamix 5200 Blender – Premium Choice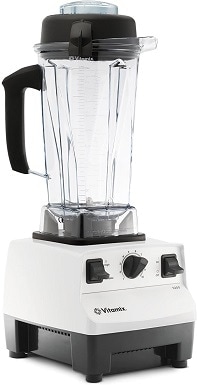 If you can afford it, the Vitamix 5200 Blender will handle the toughest of tasks. It is powerful enough to grind the hardest nuts and will turn grain into flour in no time. Whether you are making smoothies or grinding nuts, this blender is as versatile as it gets. With that much power, the blades can move fast enough to heat your soup in under 10 minutes.
Thanks to the variable speed control, you can vary the speed to achieve various textures and consistencies. With thick concoctions, you can use the tamper to push the ingredients down to the blades for effective blending.
The plastic jar can hold a capacity of 64 ounces, which is enough servings for a small family. With the self-cleaning option, you can clean it within 30 to 60 seconds. However, the jar does not lock into the unit as it should. You need to hold it down when blending. As expected, the blender is also too loud, especially with the higher settings.
Pros
7-year warranty
Powerful motor
Multi-functional
Variable speed settings
Self-cleaning option
Will heat soup
Cons
Expensive
Too loud
The jar does not lock into the unit
---
4.

KitchenAid KSB1575MC Diamond Blender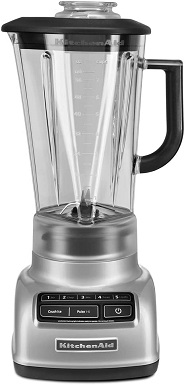 The motor on this KitchenAid KSB1575MC blender may not be as powerful as the Vitamix, but it gets things done. Whether you want to stir, mix, chop, puree, or liquefy, it has 5 speed settings to achieve various textures. Its BPA-free plastic jar is stain and scratch-resistant. And it can hold up to 60 ounces.
This model comes with a self-cleaning option, and the jar is dishwasher-safe. However, the 4 blades are not removable as they are angled differently for better blending.
Thanks to the Intelli-speed motor control, your blender can sense the content and adjust the speed accordingly. Additionally, the soft-start feature enables the blending to start slow to pull the ingredients into the blades first. However, the KitchenAid is quite loud, according to users.
Pros
Sturdy metal base
5-year limited warranty
Self-cleaning
Soft-start feature
Intelli-speed motor control
Cons
Blades not removable
Complaints of  loudness
---
5.

Homgeek Countertop Blender
Do you want a simple and easy to use blender? The Homgeek Countertop might tickle your fancy. This model has no programmed settings and works with 2 speeds and pulse action. But that's not all; its 750-watt motor produces enough power to cut through ice allowing you to make all kinds of delicious treats such as nut butter, frozen dessert, and fruit juice.
The BPA-free glass jar is wear-resistant and will serve you for a long time. At 51 ounces, it can hold enough for a family of three. The best thing is that cleaning this blender is a breeze. The 6 stainless steel blades come apart easily, and it is dishwasher-safe. You will have to contend with its loud noise and bits of ice if you insist on ice cubes, though.
Pros
750 watts
Easy to use
Easy to clean
All parts come apart easily
Cons
Leaves small chunks of ice after blending
Users say it's noisy
---
6.

BLACK+DECKER PowerCrush Blender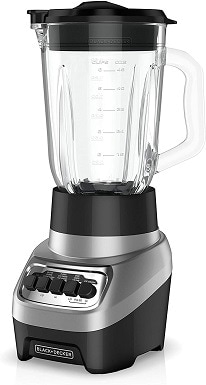 If you are looking for an affordable multi-functional blender, you will love this BLACK+DECKER model. With a fraction of the price of the Ninja Professional, you get a 700-watt motor. The manufacturer also throws in 4 speed settings and a 6-cup glass jar.
Thanks to the hinged ingredient slot, you can add liquids and solids with the lid on. The 4-Tip QuadPro Blade Technology creates a powerful vortex and constant flow for smooth results. If you are worried about making a mess when pouring, the well-designed spout should put your mind at ease.
Don't worry about cleaning because you can disassemble all parts, including the blades. And the jar, blades, and lid are dishwasher-safe.
Although the glass jar is thick and sturdy, the base is made with lightweight plastic. Therefore, it may not be sturdy enough to hold the glass. Additionally, the blender struggles with ice and frozen fruit. But overall, it is a favorable option considering the low price point.
Pros
Affordable
Thick and sturdy glass jar
6-cup capacity
4-Tip QuadPro Blade Technology
Cons
Struggles with ice and frozen fruit
Base not sturdy enough
---
7.

Brentwood JB-220G Blender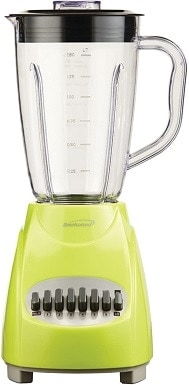 The Brentwood JB-220G will enable you to blend without breaking the bank. With the 12 speed options, you can switch between different functions with the touch of a button.
The 350-watt motor is powerful enough to crush, mix, chop, grate, liquefy and blend. But it won't chop ice easily unless you keep adding water. Its 50-ounce BPA-free plastic jar and lid are dishwasher-safe. And you can remove the blades for easy cleaning.
When done, wrap the power cord at the bottom of the jar for convenient storage. Apart from its power limitations, the blender also ranks lower on our list since its parts are made of plastic. Therefore, it is unlikely to serve you for very long.
Pros
Affordable
12-speed options
Jar and lid are dishwasher-safe
Removable blades
Cons
Cannot handle heavy-duty tasks
Plastic parts
---
8.

Cuisinart SPB-7CH SmartPower Bar Blender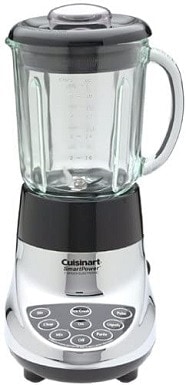 The Cuisinart SPB-7CH gives you 7 programmed options and a touchpad that is easy to read. With just a simple push of a button, you can pulse, mix, stir, liquefy, puree, crush ice, or chop. If you have a small family, the 40-ounce glass jar will be adequate.
For easy cleaning, the glass jar is dishwasher-safe, and you can take it apart easily. However, you have to soak the blades in warm water and hand wash them. With a 500-watt motor, you can handle many tasks, but you will have trouble cutting through frozen fruits.
But the supporting base isn't sturdy enough, and the parts are made from plastic. This means that they can fall apart with continued use. They can also get heated up when blending producing an awful burning smell.
Pros
7 programmed options
Jar is dishwasher-safe
Easy to read touchpad
3-year limited warranty
Cons
Base not sturdy enough
Plastic parts can get heated up from use
Has trouble cutting frozen fruits
---
9.

OSTER 6640 NP1 Blender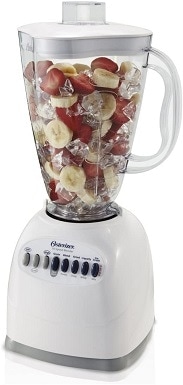 The OSTER 6640 NP1 Blender won't crush ice or blend frozen fruits with the consistency of a high-end option. But it will tackle lighter tasks and works well for the price. Its plastic jar has a capacity of 48 ounces, which is adequate for a small family. And it is dishwasher-safe, so cleaning should not be an issue.
For one of the lowest prices on the market, you get a 450-watt motor and 10-speed settings. That means you can perform many of the basic functions without any hitches. However, the blender can smell like burning plastic when you use it for a prolonged period. Additionally, the construction may not be sturdy enough to take many years of abuse.
Pros
Affordable
Jar is dishwasher-safe
Cons
Not sturdy enough
It won't crush ice or blend frozen fruits
It can smell like burning plastic when used for long
---
10.

  Amaste MR-01 Blender
Whether it is grains or frozen fruits, the Amaste MR-01 Blender is up to the task. It features a 1200-watt motor that has enough power to slice up nuts into butter. And the 8 hardened stainless steel blades will turn ice into snow within minutes. If you are blending dense ingredients, you can push them down to the blades with the tamper.
With such a blender in your arsenal, you can perform a variety of functions. Just choose your preferred function from the nine pre-programed settings and turn the blender on. You can cook hot soup, make baby food or whip up a smoothie. Thanks to the timer, you can also set the blending time depending on the recipes.
However, cleaning this blender is a hassle since you can't remove the blade assembly. Therefore, you might have a hard time cleaning the bottom of the 64-ounce glass jar. The blender is also not dishwasher-safe. Moreover, the heating portion is permanently attached. So, avoid getting the bottom wet during cleaning.
Pros
Safe power-off function
Includes a timer
1200-watt motor
Multi-functional
Cons
Non-removable blades
Not dishwasher-safe
The heating portion is permanently attached
Expensive

Buyer's Guide: Choosing the Best Easy to Clean Blenders
So what makes a great blender? Perhaps our buyer's guide can point you in the right direction.  The following are some factors you must consider when buying this appliance.
Functionality
All blenders are not built for the same purpose.  Although many blenders will handle most of your blending needs, some will perform some tasks better than others. Here are the different types of blenders and their uses.
Conventional Blenders
A conventional blender is your average kitchen blender. It will handle basic functions such as making healthy smoothies, milkshakes, and fruit juices. But it will struggle with high intensity blending tasks like whole-fruit mixing. You may not be able to make hot soup with it either.
Multifunction Blenders
A multi-functional blender will handle the standard functions of a conventional blender and then some. Whether you want to whip out a smoothie, make baby food, crush ice, or cook soup, this blender will be right there with you. It could even replace some of your kitchen appliances. Most multi-functional blenders are usually on the expensive end of the price spectrum. However, their commercial-grade construction justifies their high price tag.
Immersion or Hand Blenders
An immersion blender is a stick with blender blades at its end. It is perfect for blending sauces, soup, and other liquids. But you can also use it to process all types of foods, including meat and vegetables. Simply insert the hand-held blender into the container holding the liquid and turn it on. It will blend everything into a smooth consistency.
A hand blender will come in handy when the liquid you intend to blend cannot fit into one blender. Otherwise, you would need to have multiple containers to separate what you blend from the rest. Additionally, these blenders are inexpensive, and some include chopping accessories for added functionality.
Personal Blenders
Are you fond of taking your juice or smoothie on the go? You might want to consider buying a personal blender. The jar doubles as a travel jar and allows you to carry your juice or smoothie wherever you go. It is a perfect choice if you are looking for an inexpensive option for handing light blending tasks.
High-Performance Blenders
A high-performance blender is a conventional blender on steroids. It features a more powerful motor and has a larger capacity jar. With such power sitting on your kitchen counter, you can process both hard and soft ingredients in a breeze. Some can heat soups, make nut butter, and grind wheat without breaking a sweat.
Price
There is a blender for every budget. But you get what you pay for. So, don't just go for the cheapest option available because you may not get quality. But then, expensive does not always mean better. Sometimes the extra power or added functionality is not worth the price tag. There is always the possibility of finding a high-quality blender at a steal.

The Material of the Jar
Most blender jars are made from either glass or plastic. Each material has its pros and cons, but high-end blenders prefer glass to plastic. Unlike plastic, glass does not scratch or retain the odor of whatever you blended last. It is also less prone to staining. Plastic is a favorable option if you prefer lighter blenders.
The Spout
The design of the spout also matters. If your blender has a flat spout, you will find it hard to pour without spilling. Some models don't have a spout at all, and spilling is almost a guarantee. Therefore, always go for a curved spout when shopping for a blender.
Size
In blenders, size has to do with capacity and not dimensions. What size you choose should depend on the number of servings you need. A personal blender will hold 8-20 ounces of liquid and is not ideal for families.
Unless you live alone, you will need a model with at least a 48 to 75-ounce capacity. Most standard blenders fall within that range. If you want a capacity of up to 145 ounces, consider getting a high-performance blender instead.
Blades
The blades are what do the actual blending. Therefore, they need to be efficient and durable. Stainless steel is often the material of choice for most models. It offers superior performance and is corrosion resistant.
The blade's design will vary depending on the blender. Some have two blades while others four. While some blades are blunt, others are sharp. Moreover, the angle of the blades also varies.
The design of the blades affects the blender's functionality. For instance, when the blades are at different angles, they can chop and cut the ingredients from all directions. As a result, your smoothie or juice will have a smooth consistency.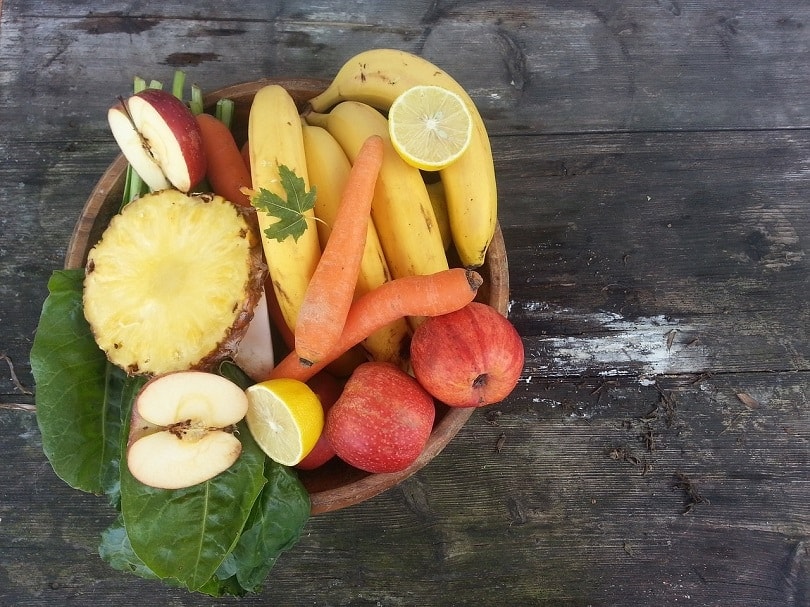 Power
The more power you have, the better the results. But since power means higher prices, you can spare yourself the extra cost if you need less. A good blender should be powerful enough to handle whatever you throw at it.
A 300-watt motor might be enough to handle light tasks, but you will have trouble grinding through the hard ingredients. With 700 watts, you can work with dry ingredients. But if you want to crush grains and tough nuts, consider blenders with more power.
Noise
The noise from a blender is unavoidable. What varies is the level. The more powerful the blender, the more noise it is likely to produce. For instance, you don't expect a blender with a 1200-     watt motor to whisper in your ear. But some manufacturers care enough to incorporate sound absorption features.
Is it Easy to Clean?
You have to clean your blender before using it again. An easier to clean model can take all the hassle out of the way. Generally, wide jars are easier to clean than their narrow counterparts. But it is the ingredients that get stuck below the blade that give most users headaches. Most manufacturers solve this problem by including removable blades.
Some jars are dishwasher-safe, and sometimes the blades and other accessories are too. Just make sure to read the manual first before damaging any of the parts. Sometimes the jar is too large to fit in the dishwasher. Hand washing is inevitable in such instances. If you have to wash the blender by hand, watch out for the sharp blades.
The blenders on our list can clean themselves. All you need to do is add some soap and water into the jar, then turn on the blender. To rinse, repeat the process without the soap. Also, don't forget to clean the interior. Since you can't immerse the motor and base in water, wipe them with a damp cloth instead.
Speed
Most users are content with 3-5 speed settings. Choosing a blender with less won't give you enough control, and more may not be necessary. Some blenders come with programmed functions already installed. The feature takes the guesswork out of the picture. It allows you to switch from one function to another with the push of a button. Examples of such functions include milkshake, smoothie, grind, puree, and ice crush.

Conclusion
Making a glass of juice or smoothie is fun, even therapeutic for some people. However, cleaning up is not anyone's cup of tea. Luckily, some blenders can clean themselves up at the press of a button. At the very least, a good blender should have removable parts for easy cleaning.
Although we can vouch for all the blenders on our list, the Ninja Professional BL660 is a cut above the rest. It deserves the number one spot. But if you're looking for the best blender for the money, the Hamilton Beach 58148A Power Elite Blender will let you handle most tasks without breaking the bank.