10 Best Personal Blenders in 2023 – Top Picks & Reviews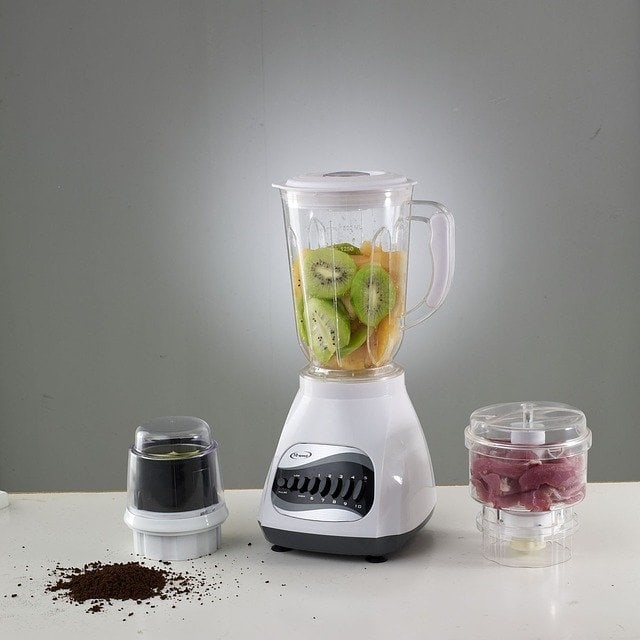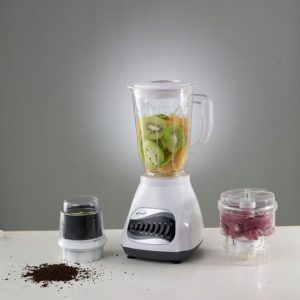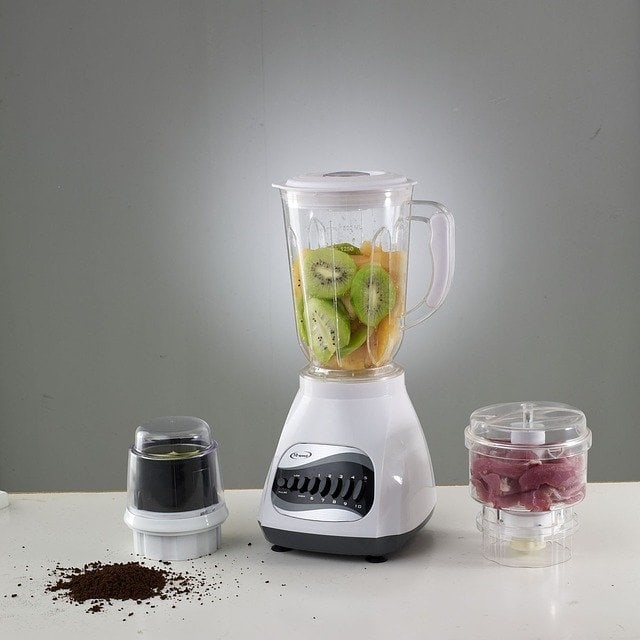 The blender has been a staple appliance in kitchens across the planet for many years. Over time, the personal blender came onto the scene as a matter of convenience for users dedicated to a healthy lifestyle.
A personal blender is a quick way to blend up a smoothie or protein shake at any time of the day for those with an on-the-go lifestyle. There are many options available, so choosing one can be confusing.
We're here to help by guiding you through our top 10 choices with detailed reviews, along with a buyer's guide.
Our Favorite Picks of 2023 Compared
Rating
Image
Product
Details

Best Overall

Ninja QB3001SS

Affordable
Two cups with lids
Moderate noise level
CHECK PRICE

Best Value

Oster BLSTPB-WPK

Inexpensive
Sports bottle convenience
Three-year satisfaction guarantee
CHECK PRICE

Premium Choice

NutriBullet NB9-1301

900-watt motor
Large cups
Extra rings and cups
CHECK PRICE

Tribest PB-150

Ultra-compact
Two blending cups
CHECK PRICE

Hamilton Beach 51101AV

Economical price
One-touch blending
Portability
CHECK PRICE
The 10 Best Personal Blenders
1.

Ninja QB3001SS Personal Blender – Best Overall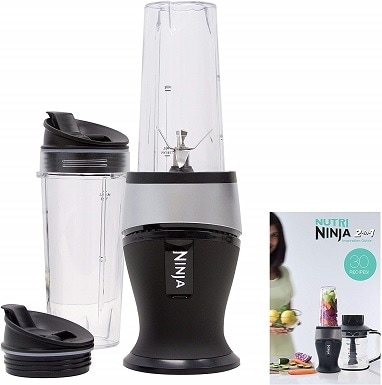 The Ninja QB3001SS Personal Blender has a 700-watt motor base with pulse technology to pulverize ice and frozen fruits and vegetables. The set includes the base, two 16-ounce cups, two sipping lids, and a recipe guide. All removable parts are BPA-free plastic and dishwasher-safe. The noise level ranks between "not quiet" but "not loud." This model can also chop seeds and nuts to add extra protein to your smoothie and is capable of grinding coffee beans and spices. The cups are seven inches tall and fit in most car cup holders, and the entire unit is light and easily portable.
Like most personal blenders, this unit is not designed to handle hot liquids, so please use caution. Larger sized cups are not available as attachments.
With the ability to crush ice and frozen fruit, combined with the price, this is one of the best small blenders.
Pros
Affordable
700-watt motor
Two cups with lids
Moderate noise level
Grinding ability
---
2.

Oster BLSTPB-WPK Personal Blender — Best Value
The Oster BLSTPB-WPK Blender is more than affordable. It has a 400-watt motor with 250 blending watts and one-touch blending. The cup attachment is a 20-ounce sports bottle with a carry hook lid. It's made with BPA-free plastic and is also dishwasher safe. This model is available in four fun colors.
This model works well with ice and frozen fruits and vegetables, but not so much for green smoothies using fresh produce. It's best to plug in the unit after attaching the bottle base because it will engage quickly and could damage the plastic on the blade assembly. Extra bottles and blade assemblies are available separately. Fortunately, this brand offers a three-year satisfaction guarantee and a one-year limited warranty. However, the low wattage keeps this one out of our number-one spot.
If you're looking for an economically priced model to make basic smoothies, this choice may be what you need. For the price and convenience, we believe that this is the best personal blender for the money.
Cons
Not for leafy greens
Low wattage motor
---
3.

NutriBullet NB9-1301 Personal Blender – Premium Choice
The NutriBullet NB9-1301 High-Speed Blender is a 13-piece blender system. The motor base has 900 power watts that can handle anything your smoothie requires, such as nuts, seeds, hard produce, leafy greens, and ice. The system includes the base, one emulsifying extractor blade, two 32-ounce cups with lids, two lip rings, two lip rings with handles, and a recipe book. The extractor blades are constructed of stainless steel to break down dense ingredients. The cups, lids, and rings are BPA-free plastic and dishwasher-safe. It's also available in 11 colors if you want to coordinate with your kitchen or show off a little personality. This purchase also comes with a recipe site membership featuring over 700 smoothie recipes. Extra cups and blades are available for separate purchase.
This model tends to be louder than others, so if an occasional blast of noise is an issue in your household, you may want to look elsewhere. Pay attention when preparing to make a smoothie because if you pack the cup too full or don't tighten the ring enough, it will leak all over your countertop.
As the most expensive on the list and the most powerful, this is our premium choice.
Pros
900-watt motor
Large cups
Extra rings and cups
---
4.

Tribest Pb-150 Personal-Blender
The Tribest Pb-150 Personal Blender is an ultra-compact model with a sleek and modern appeal. The compact design provides portability. It comes with two 16-ounce BPA-free blending cups with storage lids. While these are dishwasher safe, unfortunately, the tops aren't sipping style, so you'll have to remove the cover to drink from the cup.
This blender is compatible with mason jars. Accessories for this capability, like plastic lids and O-rings, are available for separate purchase to make the blender more versatile. The base motor has 200 watts of power, making this blender weaker than others, and it may struggle with ice cubes or large chunks of frozen fruit. As an advanced safety feature, operation is prevented when the blending blades are not completely enclosed. This choice is a lightweight model of four pounds and comes with a one-year warranty.
If you tend to make smoothies daily, this may not be your best choice. However, for light use, it may be a good fit for you.
Pros
Ultra-compact
Two blending cups
Cons
Slightly pricey
200-watt motor
---
5.

Hamilton Beach 51101AV Personal Blender
The Hamilton Beach 51101AV Personal Blender is unlike other personal blenders that operate by pushing the container down on the base — this model has one-touch blending with an on/pulse button when you're ready to roll. Due to the 175-watt motor, this pick is ideal for protein shakes. It comes with a 12-ounce travel mug and lid that goes from base to cup holder in a quick amount of time. With BPA-free plastic construction, it's also dishwasher-safe, but don't forget it in your car. Hand washing can be a bit troublesome as you try to clean the blades in place to scrub them.
Oddly, the blade base isn't detachable, making this an awkward travel cup. With the weak motor, it doesn't work well with frozen items, including ice, and these will overwork it. The blades tend to move chunks around instead of crushing them. There is a one-year limited warranty.
If you're on an extremely tight budget and enjoy shakes without frozen items, this may be a consideration for you. If you're a smoothie fanatic, keep looking.
Cons
175-watt motor
No frozen items
Small container
Non-detachable blade
---
6.

Sboly Small Smoothie Blender
The Sboly SYBL-002 Smoothie Blender is another one-touch blending model that comes with a 20-ounce blender cup, a silicone ice cube tray, and a bottle brush. As a bonus, it has two additional silicone O-rings in case you need them. This model has a slim style and a compact footprint, making storage easy. In terms of safety, operation will not begin until the blender cup is locked in place and has an automatic shutoff to prevent overheating. With this little machine, you should be able to blend a smoothie in 10 seconds, which is good because you can't blend continuously for more than one minute, and recovery takes about 20 minutes.
With a motor power of 300 watts, it will successfully blend ice and cut frozen items into small pieces. If you enjoy bulletproof coffee, be cautious with this blender, as the manufacturer doesn't recommend using boiling liquids over 190 degrees Fahrenheit. There are frequent complaints about the lid becoming too tight after blending and being challenging to remove.
Cons
No boiling liquid
Lids stick
---
7.

COSORI C011-PB Personal Blender
The COSORI C011-PB Personal Blender has a sturdy base motor with 800 watts and a blade base with three different edge blades to ensure the right consistency. Unlike other personal models, this unit has three buttons for start/stop, auto, and pulse. The auto preset blends for 40 seconds, which includes three-second intervals with one-second breaks for 10 rounds. You can take control of the pulse button if that's more suitable to your needs. It comes with two 24-ounce containers, one 12-ounce container, one storage lid, one travel lid, a cleaning brush, and a recipe book. All removable parts are BPA-free plastic and dishwasher-safe.
This model should not be used for hot liquids, and contents should not exceed the max fill line. Overfilling the blending container can overwork the motor and cause breakdown; however, there is an overheating protection function.
A common complaint with this blender is the difficulty of screwing the blade attachment to the containers. With questionable durability and a slightly high price, the choice is further down on our list.
Pros
800-watt motor
Three-button control
Two container sizes
Cons
Slightly pricey
Easily overloaded
Low durability
---
8.

Deik TB23YM Small Blender
The Deik Tb23YM Personal Blender is an affordable option with a simple design. It has decent strength in the 500-watt motor to blend up your favorite smoothie. It comes with the base, two-blade sets, two 20-ounce cups, two travel lids, two anti-slip sleeves, one grind cup, and a user's manual. You can also purchase extra cups if needed. This option is not a twist and push, like many others. Once you add your ingredients, screw on the lid and lock it in the base, push the button, and the blender does the rest. Don't let go for more than 60 seconds, and be sure the liquid-to-solid ratio is three to one.
Circulation with a fair amount of frozen fruit is difficult with this blender. If you like your smoothies thick, this may not be your best option. Careless use will cause leakage and overheat the motor, so don't overfill or press the button for more than a minute. Additionally, the cups are limited to 20 ounces, and larger cups aren't available. Also, the cups are tall and narrow, which works well with cup holders, but you may have to shake the contents during blending to bring everything together. The connection piece is plastic and may break easily if you're not paying attention.
Overall, it's a decent model for the low price, but you'll need to be gentle with it for the desired result.
Pros
Affordable
Coffee grinding cup
Compact
Cons
Requires sufficient liquid
Plastic connection
Narrow cups
---
9.

Cincred Personal-Blenders
The Cincred Personal Countertop Blender is a mini-model with a 15-ounce cup, making it ideal for traveling. The cup maxes out at 12 ounces, but it's the perfect size for a quick smoothie treat. Once you fill the container with your ingredients, attach the lid, and align it to lock in the base. This blender is not a start-button model, so you have to push the cup down on the base to start the blending. It also comes with a sipping lid when you're on the go.
While this tiny model handles ice and frozen fruit well, it doesn't work well with leafy greens. If you enjoy a green smoothie, this isn't your blender. The plastic construction is flimsy; however, this brand offers a three-year warranty and notably has excellent customer service. This model works well for a single user or two users patient enough to share. If you need to prepare smoothies for multiple people, though, this isn't your best bet.
Cons
Small capacity
Additional cups not available
Flimsy plastic
---
10.

BILACA BL200A Personal Blenders
The BILACA BL200A Personal Blender is ridiculously affordable and boasts the lowest price on our list. This model is on the flat side of power with a 300-watt motor, but it does have four stainless-steel blades. This system includes the base and two 18-ounce travel bottles with sip lids. Additional containers are available for purchase. Unlike many models, the housing is stainless steel instead of plastic, providing more durability. For safety, the blending won't begin until the container is locked in the base.
With the low power, it's easy to burn this motor out quickly, so be cautious and don't overload the unit. Leafy greens are a no-go, and a substantial amount of frozen fruit will prove to be frustrating. This model works well for protein shakes or a beverage without frozen fruit and ice. If you want an everyday machine for thick smoothies, this isn't your best choice.
Pros
Inexpensive
Two travel bottles
Cons
Low power
No leafy greens
Struggles with frozen items
Easy to overload motor
Loud
---
Buyer's Guide: Choosing the Best Personal Blenders
Personal blenders are intended to be small, compact, quick, and easy to use. They're typically designed for one to two users and geared toward protein shakes and smoothies for health-minded consumers. When searching for a personal blender to fit your needs, there are a few things to keep in mind, such as power, cleaning, size, capability, accessories, and cost.
Power
The lower the wattage on a blender, the less likely it can crush ice and most frozen items. If you enjoy thick smoothies, you'll want a machine with a stronger power base. However, if you're more of a protein shake guru, a low-powered model would work well. Although personal blenders range in price to fit any budget, a higher wattage will beget a higher price.
Cleaning
Personal blenders today are made with BPA-free plastic and are easily cleaned in the dishwasher. Some blending containers are tall and narrow or have a tighter bottom than top. Narrow containers are not easy to wash by hand, though a bottle brush will work well on goo that's stuck to the bottom. Filling the container with a small amount of water and giving it a quick blend will also help. If cleaning is a priority for you, pay attention to the size of the container, as well as the shape.
Size
In general, personal blenders are small and don't take up much space. However, the size of the base could be awkward, depending on where it needs to be stored. If you're looking for an easily portable model, determine if packing it in a suitcase would be feasible.
The blending containers vary from model to model. Some are a sports bottle type and others are cups. If you need a large capacity, look for a model that has that size available. Also, certain models only come with one container and may or may not have additional cups available for purchase.
Capability
Most folks who purchase personal blenders have smoothies in mind. You'll want a blender that can crush ice and frozen fruit. Certain blenders don't have the power to pulverize ice effectively. This issue can leave you regularly removing and shaking the blending container to move around stuck chunks.
Many personal blenders are twist and hold for blending to engage while others are press button and hands-free. Consider which you prefer and what's more convenient for your needs.
Accessories
Certain blender models offer additional attachments for purchase. For your household, you may want other containers, cups, or bottles. You also probably want to know if replacement parts are available. Even though a personal blender isn't necessarily a considerable expense, you still want to make that value last as long as possible.
Cost
Some blenders are insanely cheap; however, the blending abilities correspond to the price. Be mindful of your needs compared to your budget, and you'll be able to find your way to the perfect match.
As with any small kitchen appliance, longevity is typically an issue. Weigh your options and don't have high expectations. Keep in mind that personal blenders aren't intended for cooking purposes but can usually handle more than smoothies. Personal blenders are also made with plastic, meaning that many containers will crack or break over time and with heavy use. If you tend to favor green smoothies using fresh leafy greens, be diligent with your research, as many smaller personal blenders don't handle leafy produce well. The goal is to drink a smoothie and not need a fork.
Here's a note about O-rings. These silicone rings found in lids or blade assembly bases will break down over time. You'll want to be able to replace those if possible. You'll also want to check them periodically for cleanliness. Food particles can work their way underneath and create mildew over time. Be diligent.
Conclusion:
Personal blenders vary from sleek and stylish to plain and simple and choosing one can be fun. We hope our reviews have helped you identify a few that you like. As a reminder, we think that the best small blender overall is the Ninja QB3001SS Personal Blender, with 700 watts of power and an affordable price. The Oster BLSTPB-WPK Blender is our best value choice. It has a low price and a sports bottle container. Our premium choice is the NutriBullet NB9-1301 High-Speed Blender, with a whopping 900 watts of power and the largest container capacity of 32 ounces. We wish you well on your health journey!
---
Featured image credit: Pixabay