16 vs 18 Gauge Nailer: Which is Right For Your Needs?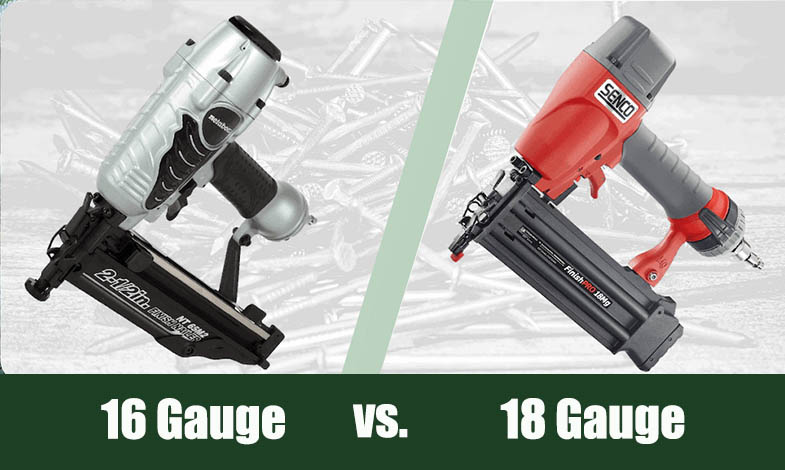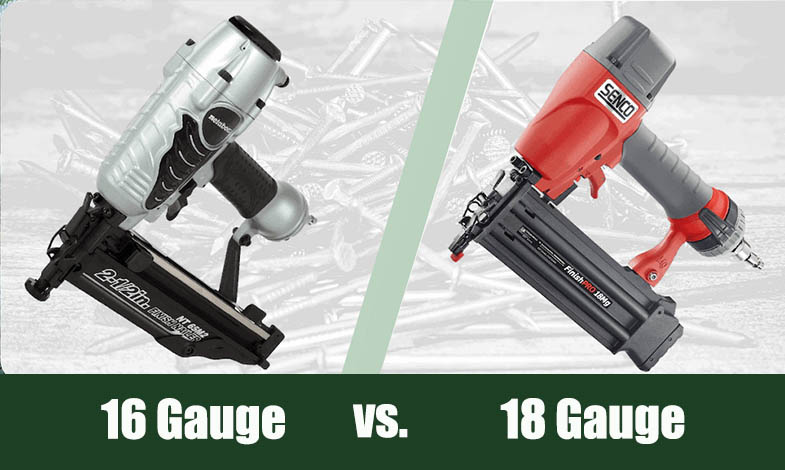 Nail guns are everywhere these days. And why not? They eliminate unsightly hammer dents while allowing you to set nails effortlessly. They are affordable, and there is this strange satisfaction to quickly driving nails with the pull of a trigger. So, you are not alone if you are shopping for one.
But you will run into a critical choice; should I buy a 16- or 18-gauge nail gun? Your selection will determine what you can and cannot do in your shop. But no need to worry. An understanding of the two options simplifies your choice. The information below will provide you with all the essential information you need.

What Does "Gauge" Refer To?
The gauge simply communicates the fastener thickness as a whole number, but it gets confusing when looking at the actual ratings. That is because 16 is greater than 18. No, that is not a typo. The gauge roughly refers to the number of nails in one inch when lined up side by side. So, nails that fit 18 into one inch are thinner than ones that only have 16 per inch. This means the rule is as follows: a lower gauge number = a thicker nail.
16-Gauge vs. 18-Gauge
We all know the right fastener is critical for a successful project. And in woodworking, selecting the proper nail thickness is key to achieving quality results. So, let's take a brief tour of both gauges and narrow down when or where you may want to use each.
16-Gauge Finish Nailers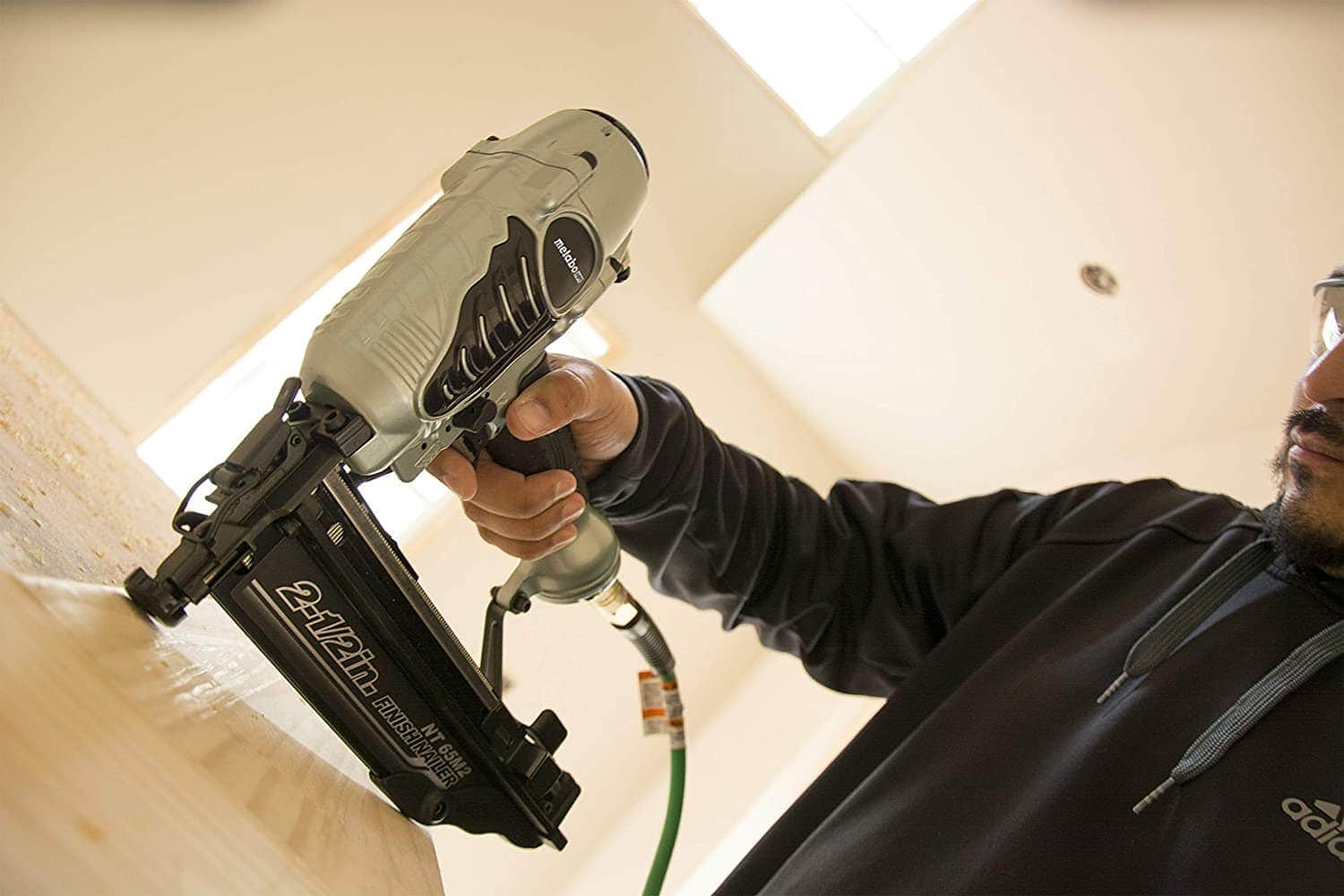 The 16-gauge finish nail has a 0.0625-inch-thick shank and is typically supplied in 1 to 3½-inch lengths. Because it is thicker, it holds better than 18-gauge brads. Also, it can be used to fasten thicker, denser pieces of wood.
Some common uses for 16-gauge nails include the construction or installation of:
Crown and base moldings
Flooring
Cabinets
Casings
Staircases
Exterior trim
Chair rails
As you can see from the list, the 16-gauge finish nail is versatile, but it has drawbacks. A finish nail that provides the aggressive bite you want on larger projects becomes a liability on more delicate work. There are a few reasons for this. First, the nail is thick enough to split things like small moldings. Secondly, significant force is required to get through thicker, denser wood or medium-density fiberboard (MDF). This power adds to the tendency to split thinner wood.
Lastly, as the head is larger than an 18-gauge brad, it usually leaves a bigger hole that needs to be filled and sanded.
Pros
Good holding power
Penetrates thicker wood and MDF
1-3½-inch lengths commonly available
Cons
Can split thinner wood
Creates a need to fill and sand nail heads
---
18-Gauge Brad Nailers
The 18-gauge brad nail is 0.0475 inches thick and typically comes in ½ to 2½-inch lengths. Brads, or "pins," excel with softer, more fragile pieces like:
Decorative molding
Trim work
Casing
Baseboard
Paneling and veneer
So, the 18-gauge brad nail gun is handy to have around if you do more intricate finish work. Another advantage of the brad nail is that it has a smaller head and leaves a less noticeable nail hole compared to a 16-gauge finish nail. The filling and sanding required is far less and sometimes not even needed when using an 18-gauge pin.
This nailer does have limitations. For starters, it uses less power to avoid splitting or harming the work. However, that keeps it from penetrating thick pieces of wood or MDF. Also, the thinner shank does not have as much holding power as a 16-gauge nail.
Pros
Gentler on finer, more delicate work
Less filling and sanding of the nail hole required
½-2½-inch lengths commonly available
Cons
Less strength compared to a 16-gauge
Does not penetrate MDF well

Power Source: Battery or Air?
Both size nail guns come in pneumatic and battery-powered versions. So, you will need to know the strengths and weaknesses of both power sources to make an informed choice.
Battery Power
For shops without compressed air or people who hate dealing with a hose, battery power is a great choice. Without the hose tying the gun to a compressor, you can take the nailer wherever you need it. Even to those remote, out-of-the-way places.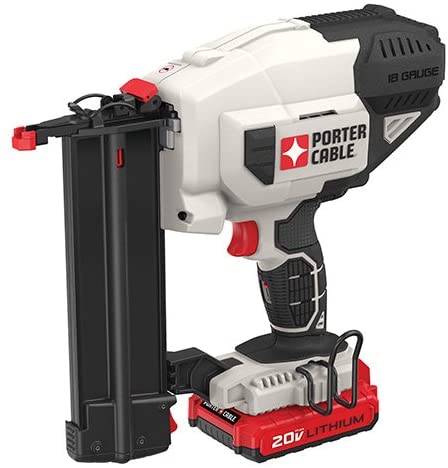 Batteries also eliminate the noise and expense of an air compressor. If keeping the racquet down is a must for you, battery power is the way to go. But this also requires you have a charged battery to work. When it is drained, you will have to swap in a fresh, charged battery. That means you need to have extra batteries charging while you work. You will likely need at least one spare, maybe more. Factor in this added cost when evaluating a battery-powered nailer.
If you use lithium batteries, be aware these are more sensitive to thermal and physical shock, so they can "break." And batteries do wear out. You should plan on buying several batteries if you use a nail gun often.
Pneumatic Power
Many shops already have compressed air, so just using what you have makes sense. It is an endless stream of power for a nailer and keeps you working non-stop—apart from reloading the nails every now and then.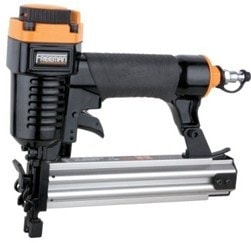 However, it requires dealing with the hose, which can make it hard to get to some places. Also, it can scratch surfaces while being dragged around, and it is just a nuisance in general. Another drawback is that compressors are loud. If you cannot tolerate the noise, you may want to consider battery-powered nailers.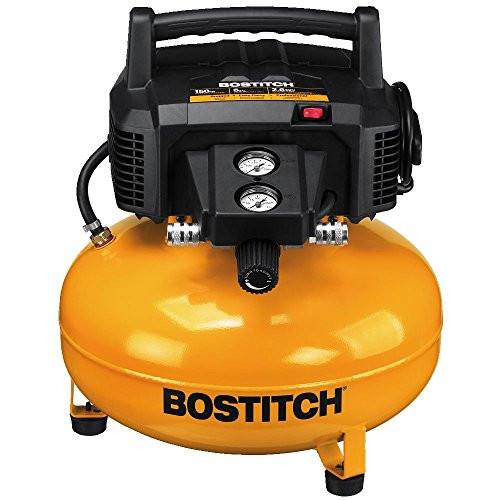 Of course, if you do not have a compressor but want one, you will have to buy it. Plus, you will need all the hoses, connectors, fittings, etc., that are needed to bring air into the gun.
Which Nail Gun is Right for You?
The answer to this question depends on the type of work you are doing. If you often install things like crown molding or staircases, the thicker wood and need for a durable install require a 16-gauge nailer. If you are working with thinner pieces like decorative molding or paneling, an 18-gauge nailer is a great choice for fast, easy installation without splitting the wood. And if your budget allows it, add both to your tool chest. Many shops have one of each, so they can fasten various moldings and wood with the proper nail or brad.