10 Best Wood Sealers of 2023 – Reviews & Top Picks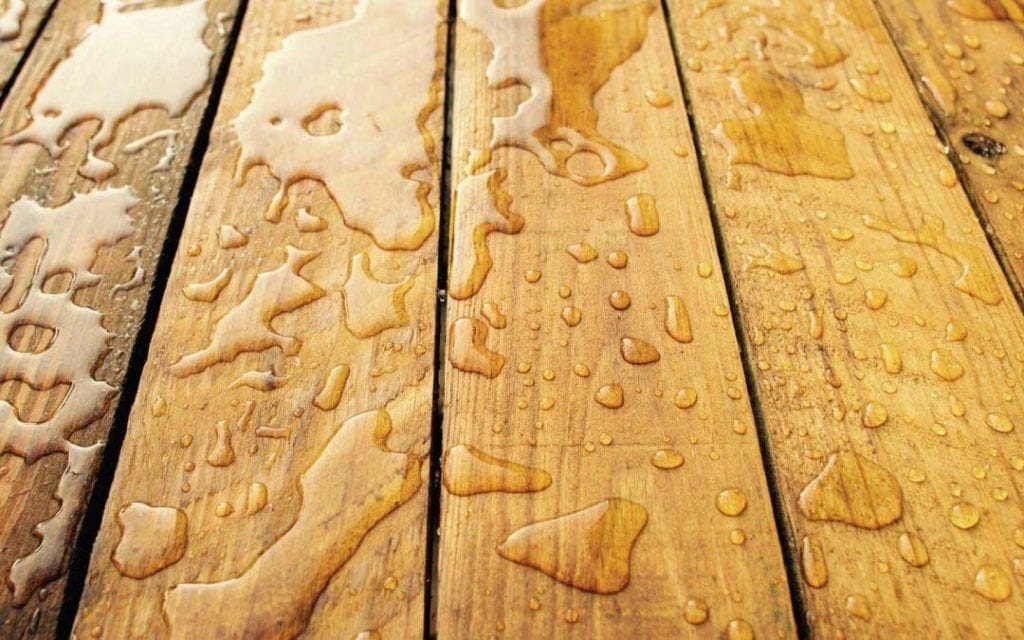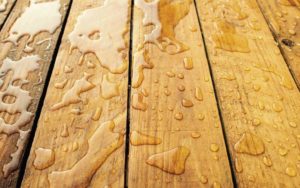 If you have a deck, it isn't a matter of if you seal it. It's a must-do, i.e., you don't want to replace it in a couple of years. No matter where you live, the sun and elements are going to take a toll. Wood will deteriorate over time, which can make your outdoor space dangerous if it weakens to a point where boards are splitting or cracking.
The same advice applies whether your deck is made from cedar, redwood, or treated lumber. The label may say that it's rot-resistant. However, that's not the same as saying it's water-resistant. Applying a wood sealer puts a barrier that keeps moisture out so that you can at least enjoy your deck for a while. It's also an aesthetic choice. Richly colored wood looks a lot better than gray, aging deck boards.
Our guide will tell you everything you need to know about buying the right product for you. There are several kinds of wood sealers available. Some are best used for specific situations. The fact remains that decking has also changed in recent years, which can affect your choice. We've included reviews of many popular products to help you learn what features you should look for to get the best ROI.
---
A Quick Comparison of Our Favorites in 2023
Rating
Image
Product
Details

Best Overall

SEAL-ONCE MARINE Penetrating Wood Sealer

Eco-friendly
Breathable
Easy to use
CHECK PRICE

Best Value

Ready Seal 512 Wood Sealer

Beautiful color selection
Seamless blending
Quick dry time
CHECK PRICE

Premium Choice

Rain Guard Water SP-8002 Wood Sealer

Concentrate
5-year satisfaction guarantee
Freeze/thaw protection
CHECK PRICE

ANCHORSEAL 2 Green Wood Sealer

Water-based
Split prevention
Water-resistant protection
CHECK PRICE

FDC Chem Pure Tung Oil Finish Wood Sealer

Stunning finish
Excellent for decking with a lot of texture
CHECK PRICE
The 10 Best Wood Sealers 
1.

SEAL-ONCE MARINE Penetrating Wood Sealer – Best Overall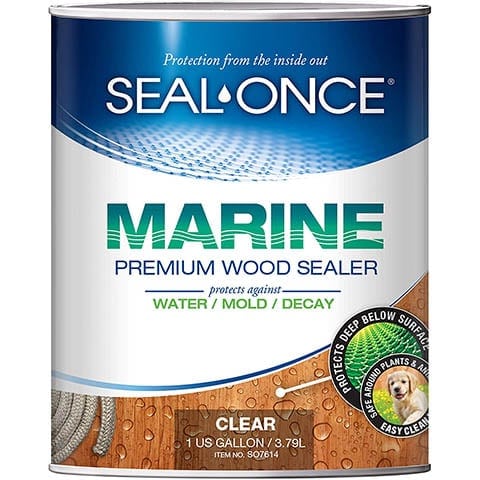 The SEAL-ONCE MARINE Penetrating Wood Sealer got high marks as the best overall product on our list. The key is in its name –– it works well if moisture is an issue. Moisture is the thing that can kill a deck quicker than most anything. So, SEAL-ONCE is a unique,  long-term solution, with a 10-year warranty to back up your purchase.
It's a commitment that can justify the higher price tag. And even more good news is that it's environmentally friendly since it's water-based. That means no worries about VOCs or ventilation. Your deck will drink up this sealer with gusto. It's a waterproof finish, too, which can extend the life of your decking. We suggest balancing the cost with the investment if you plan to stay put for a while. Overall, we think this is the best wood sealer on the market this year.
Pros
Eco-friendly
Breathable
Easy to use
Durable protection
Cons
Spendy
Precise application instructions
---
2.

Ready Seal 512 Wood Sealer – Best Value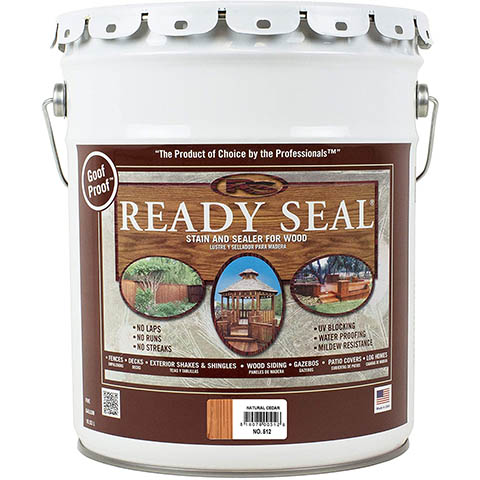 The Ready Seal 512 Wood Sealer is one of the best wood sealers for the money. The choice of tints is enough to consider this product. Every single one is gorgeous. The application is fantastic, too. It'll blend together well, even if you are a bit rusty at painting. This one has you covered. You'll have to apply two coats, which isn't a big deal with the short dry time.
The shades do an excellent job of enhancing the beauty of the wood grain. That fact alone makes this product worth a look. It does a decent job of protecting the decking for the long-term against the elements and rot. The application is easy, with no clumping. We can say the same about clean up since it's water-based.
Pros
Beautiful color selection
Seamless blending
Quick dry time
---
3.

Rain Guard Water SP-8002 Wood Sealer – Premium Choice
The Rain Guard Water SP-8002 Wood Sealer covers a lot of bases to keep your deck and lawn furniture looking their best for years. The product is a concentrate, which makes it a little messier to use. However, it will protect your stuff against freezing, UV radiation, and mildew damage. It even comes with a 5-year satisfaction guarantee, which we appreciated.
On the downside, it is just clear. That means it's not a product to fix aging decking. Instead, it's the type of thing you'll use with a new deck to preserve the texture of the wood grain. It's worth noting that you don't have to do any maintenance once you've sealed everything. That makes it a bit easier to use in the long run.
Pros
Concentrate
5-year satisfaction guarantee
Freeze/thaw protection
Made in the USA
---
4.

ANCHORSEAL 2 Green Wood Sealer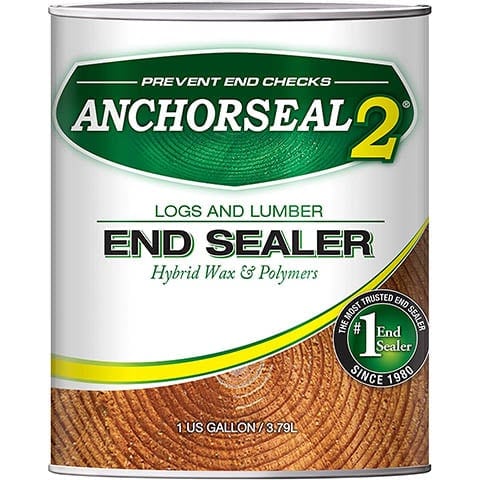 The ANCHORSEAL 2 Green Wood Sealer is another product meant for new decking or furniture to give it a decent start with protection against the elements. It homes in on one of the significant problems of aging wood with splits that can destroy deck boards over time. We liked the fact that it's water-based for easy application and clean-up afterward.
The sealer is a hybrid formula that includes wax for a water-resistant barrier against moisture and mildew. Bear in mind that this product is for the ends of the deck boards and not the visible surface. It provides that extra bit of protection for new installations. Unfortunately, it is expensive, so you have to weigh that with the cost of your outdoor space.
Pros
Water-based
Split prevention
Water-resistant protection
---
5.

FDC Chem Pure Tung Oil Finish Wood Sealer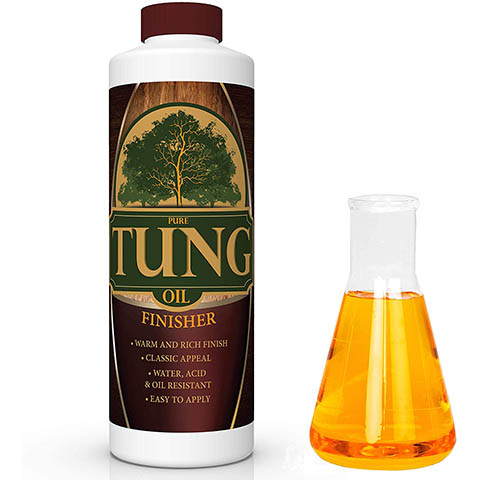 The FDC Chem Pure Tung Oil Finish Wood Sealer uses a naturally occurring seed oil to condition and treat wood. There's no denying how beautiful the finished surface becomes. It's an excellent way to bring out the texture and grain of the wood and add some pop to your deck. Using this product is quite an undertaking, though.
First, you have to apply multiple coats that can take a day or more to dry. It's messy to use, but it doesn't have an odor. That comes from whatever solvent you use to cut it. Tung oil isn't viscous, which helps it penetrate the grain better. You also must be careful about discarded rags. It is inflammable. Once it cures, you have a polymerized finish that looks fantastic.
Pros
Stunning finish
Excellent for decking with a lot of texture
Cons
Moisture-resistant only
Less user-friendly
---
6.

TriCoPolymer Lumber-Seal Clear Satin Wood Sealer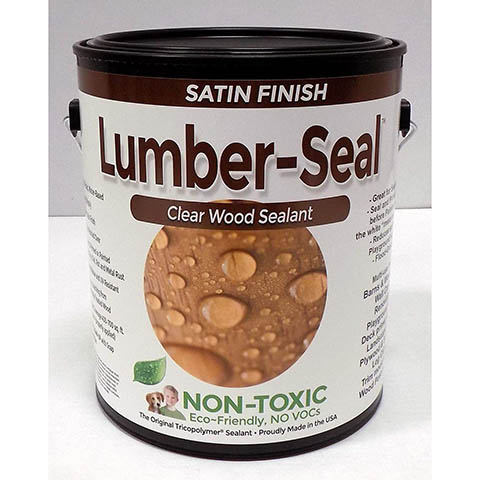 The TriCoPolymer Lumber-Seal Clear Satin Wood Sealer has a lot going for it, considering it's flood-grade. That tells you everything you need to know about the protection it offers. It is VOC-free, making it safe to use for most applications, even those near water sources. It goes on opaque before it cures to a clear finish. Unfortunately, that can take a while, especially in humid conditions.
The product does a decent job of reviving aged decking. While it doesn't have a chemical smell, it does have an odd odor that you'll notice when using it. The sealer works well on revitalizing wood surfaces. We just wish that the finish lasted longer for the effort and price of the product.
Pros
Flood-grade
Environmentally friendly formula
---
7.

Waterlox TB 5284 Original Sealer

The Waterlox TB 5284 Original Sealer stands out as one of the oldest products of its type on the market. That says a lot about its value and performance. This one also contains tung oil to give you an idea about what to expect from using it. It shares some of the good and bad traits of similar sealers. There's no doubt that your deck will look fantastic. It'll just take a while to get there.
The cured finish is durable and repels water well. On the downside, it's a chore to apply. It does contain VOCs, which poses shipping regulations in many areas. Even though your initial investment is a lot, the sealer pays for itself in the long run with the results of your hard work. The texture of your decking will shine.
Pros
Beautiful finish
Durable
Excellent water-repelling abilities
Cons
Expensive
Shipping restrictions
---
8.

Bona CECOMINOD097934 ClassicSeal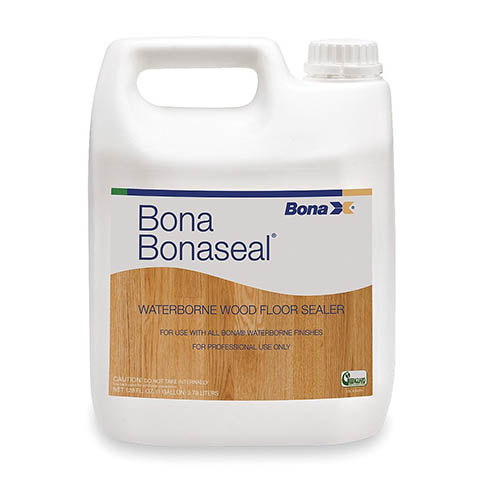 The Bona CECOMINOD097934 ClassicSeal is part of the line of quality products from this manufacturer that deliver consistent results. It's all in the application. You can use it on unfinished wood, but you must be careful when brushing the sealer. Like paint, it will show the streaks and brushstrokes of a poor application.
If your deck gets a lot of use, you must follow up with another product to finish the job. This one only starts the process. However, if done correctly, the results are beautiful. The coverage is decent with one gallon. The instructions provided by the manufacturer are very helpful. Make sure to follow them to the letter. While drying time is relatively quick, it stays tacky for a few hours.
Pros
Excellent results
Decent coverage
Cons
Careful application necessary
Incomplete protection
---
9.

THOMPSONS WATERSEAL VOC Wood Protector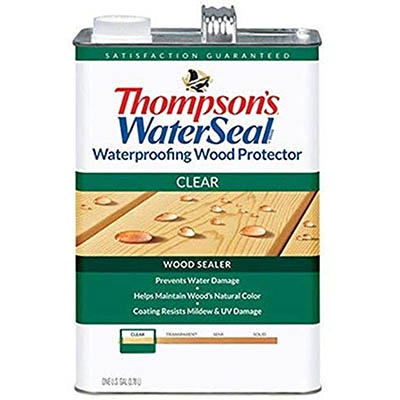 The THOMPSONS WATERSEAL VOC Wood Protector does more than preserve surfaces. It also enhances their color, bringing welcome warmth and depth to untreated wood. Unfortunately, the effects don't last long. You'll likely find that sealing your deck is an annual project with this sealer. It's water-resistant and not waterproof. It doesn't offer a lot of protection against mold and mildew, either.
Including VOC in the product's name had us scratching our heads since it's water-based. However, it had a slimy feel that we found disagreeable. On the positive side, it's easy to apply, offering up to 400 square feet of coverage. Unfortunately, the manufacturer sets a high bar with opening the can, which we found quite difficult.
Cons
Short-term lifespan
Hard to open
---
10.

EcoProCote Eco-Poly Polyurethane Sealer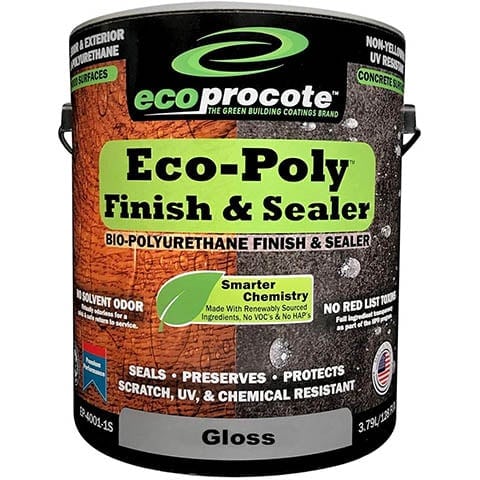 The EcoProCote Eco-Poly Polyurethane Sealer promotes itself as an environmentally friendly product with the cred to match. While many products we reviewed claimed they didn't contain VOCs, this one is the only Green Building compliant sealer. You can use it on a variety of surfaces other than wood, too. Two coats are ideal, with drying time up to an hour.
As the name indicates, the sealer contains polyurethane. Unfortunately, it separates easily, necessitating stirring but not shaking. Doing the latter will add bubbles that will pop and leave patches of unfinished surfaces. It will affect the longevity of the application if applied incorrectly. We also didn't like that it darkened the wood noticeably.
Cons
Separates easily
Darkens surfaces
Not longlasting
---
Buyer's Guide – How to Purchase the Best Wood Sealer
You may find yourself overwhelmed when scanning the product descriptions for wood sealers with all the choices you have. However, it's easy to tell them apart by learning about the main points that separate the different products. Looking at each one's tech sheet is an excellent place to start. The features to look for include:
Type of sealer
Transparency
Ease of use
Resistance
Finish
Eco-friendly
Warranty
Let's consider each one in detail, with some tips thrown in along the way.
Type of Sealer
This one is probably the most important feature of the bunch. It's where you can start narrowing down your search for the right product. Each one has its advantages and disadvantages that you should consider. The types you're likely to find include:
Oil-based sealers
Water-based sealers
Waterproofers
Wood toners
Oil-based sealers are a popular choice for DIYers because of the attractive, durable finish they provide. The high gloss surface of a newly sealed deck just looks fantastic. It's an excellent product if your deck gets constant UV exposure and there is a lot of foot traffic. On the downside, they are messy to apply, to say nothing of the clean up afterward. You can't use this sealer if there is any moisture in the decking.
Water-based sealers don't have the degree of volatile organic compounds (VOCs) that oil-based products have. Ventilation isn't as critical as a result. You can clean your brushes and rollers with warm soapy water. These sealers don't last as long, so you'll be at it again in a few years, depending on the exposure. They also don't have the penetrating power of oil-based wood sealers.
Waterproofers are the best choice if your deck or outdoor furniture is unfinished. These products cut to the chase and provide complete protection against the elements. You'll find sealers that are either water- or oil-based. Remember that water-resistant is not synonymous with waterproof. The latter means your deck will have a finish that is impenetrable.
You can think of wood toners as a way to spruce up a deck or set of outdoor furniture that has seen better days. It's an excellent choice if the decking is still sound but needs a more even finish. You'll see them in varying degrees of transparency, with both oil- and water-based products. As with sealers, the latter doesn't last as long.
Transparency
Transparency describes how much of the wood's grain is visible after you apply the product. A transparent finish will highlight the lovely wood grain and allow it to shine. Semi-transparent has some color but not enough to hide the fine lines of the boards. Semi-solid stains hide some of the blemishes and faults of older wood. Finally, solid ones will cover the flaws completely.
The choice of one over another is an aesthetic consideration. The type of wood and age may influence which one is most appropriate. The other thing to think about is UV damage. Solid stains offer a distinct advantage over clear ones, especially if your deck gets a lot of direct sunlight. While you may give up the look of the wood's texture, you can also get several more years out of your outdoor space.
Ease of Use
We've touched on one aspect of this factor, namely, the clean up afterward. Other things to consider include the state of the existing boards, prep, and drying time. Many products recommend applying sealers only on dry, clean wood on a sunny day. That's probably an excellent practice no matter which one you get. Drying time is likely more of a dealbreaker, especially if you use your deck a lot.
The other point to think about is the application's duration. Sealing a deck isn't the most arduous task, but it's still not a day in the park. Most manufacturers will provide ranges in years. It's worth noting if you plan on being in the same house for a while. Also, pay attention to the number of coats you should apply and the drying time between applications.
Many products we considered had varying drying times. Temperature and humidity often affect them. However, debris can stick to tacky surfaces and mar the final results. It also can postpone the time when you can use your deck or furniture. We suggest reading the manufacturer's recommendations for the product's usage to pick the best time to start this project.
We suggest checking what follow-up maintenance you need to do to keep your deck and outdoor furniture looking their best. Remember that the work you do between sealing jobs will make the prep that next time you have to break out the brushes and rollers that much easier. Besides, don't you want to show off your handiwork?
Resistance
We use the term resistance to describe several features that a wood sealer may offer. Look for words such as mildew-resistant, bug-resistant, and UV-resistant. They can provide valuable clues about how long the seal will last. Think about your situation and its challenges. For example, if your deck is near open water, a water-based product can offer better protection that is safe to use.
Likewise, the addition of UV stabilizers in a sealer can extend the life of your deck and help it retain the finish's color longer. These sealers are an excellent choice for sites in direct sunlight. Note the use of the word resistant. Most products have a limited lifespan.
Finish
The finish is a critical factor if you have pets or small children. It also makes a difference if you like to walk barefooted on your deck. Ideally, the sealer will dry to a smooth finish without having to buff the deck boards afterward. It often depends on the density of the wood, existing stain, and penetration of the sealer.
It's worth mentioning the color of the final product. Some sealers we reviewed made noticeable changes to the wood. Another thing to consider is the leveling. Some will even out the tone between lighter and darker areas, making them look more consistent.
Eco-Friendly
The question of environmentally friendly rests primarily with the VOCs that separate water- and oil-based products. We recommend going with the former, especially if your yard is near any waterway or wetlands. The other driving factor is ventilation. It is imperative if you use an oil-based sealer. The other thing worth noting is the age of your deck.
Before December 2003, treated lumber often contained the preservative chromated copper arsenate (CCA). Sealing arsenic-treated wood is one way to prevent it from leaching into the surrounding environment and groundwater if that describes your situation. It also means that even just sealing your older deck is an eco-friendly thing to do.
Warranty
Many manufacturers offer warranties on their sealers to varying degrees. It often depends on how long they expect a coat to last. We've even seen a few with a limited lifetime warranty. The key is in the terms. Pay attention to the maintenance you must do to avoid voiding it. Time-stamped photographs are a godsend for documenting the sealer's condition. Be sure to read the fine print.

Conclusion
After digging deep into our reviews, the SEAL-ONCE MARINE Penetrating Wood Sealer came out on top as the best overall wood sealer. It may not be the easiest to use, but it hits it out of the park with its eco-friendly formula and superior durability. It's an excellent way to protect your investment for years to come.
The Ready Seal 512 Wood Sealer is a budget-friendly product that makes upgrading your deck easy-peasy with a gorgeous selection of colors. The application is simple, with seamless blending that hides any imperfections. The fact that it is quick-drying is the icing on the cake. Even if it doesn't last as long, sealing it again is a straightforward process.
Sealing your deck and outdoor furniture is the best way to get the most out of your purchase. It's not just about aesthetics, either. It's also about the durability of the items themselves. You may even find that you're spending more time outside. That alone makes these products priceless.