9 Best Folding Saws – Reviews & Buying Guide 2023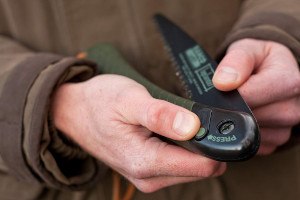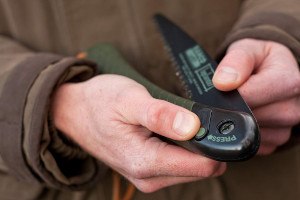 Answer without thinking: when you hear the phrase "a saw you can hang from your belt loop," what comes to mind? Was it some tiny blade on a Swiss army knife or a Leatherman, barely capable of sawing through a bit of kindling to get a fire started?
That's what we used to think, too. But the astounding range of folding saws on the market right now opened our eyes. With any of these eight saws, you can cut a swath through the smaller branches and vines in the brush you need to clear.
We've organized these reviews with our top choice at #1 and the more mixed bags at the bottom. Use the reviews as a starting point to find your new favorite folding saw. If you swear by one we didn't mention, let us know in the comments!
---
A Quick Glance at our Favorites of 2023:
Rating
Image
Product
Details

Best Overall

Bahco Laplander Folding Saw

Light and well-balanced
Strong blade that cuts easily
Comfortable handle
CHECK PRICE

Corona RazorTOOTH Foldable Saw

10-inch blade
Long lifespan
Three-sided teeth
CHECK PRICE

Best Value

EverSaw Hand Folding Saw

Sharp and cuts fast
Long
durable blade
Lifetime warranty
CHECK PRICE

Silky Pocketboy Folding Saw

Fits easily in your pocket
Cuts quickly
Sharp and balanced
CHECK PRICE

Best for Hunting

Primos Hunting Folding-Saw

Highly portable
Affordable
Has a carrying case
CHECK PRICE
The 9 Best Folding Saws:
1.

Bahco Laplander Folding Saw – Best Overall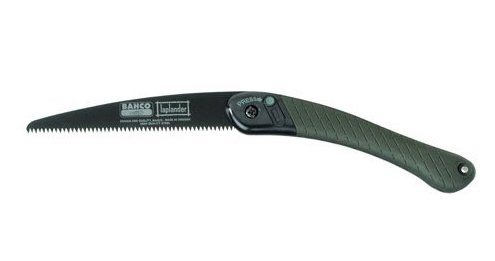 For campers, hunters, caretakers, and anybody else who loves the outdoors, the Bahco 396-LAP Laplander is the superior choice. It boasts a fabric-free handle, with a 7.5-inch blade and 7 teeth per inch.
A rust-inhibitor coating not only helps the blade last longer but also makes the teeth slide more cleanly over wood. We're also big fans of the handle — this saw just feels great to hold, almost like a well-balanced knife.
We went up and down looking for a flaw in the Laplander, and in the end, the locking mechanism was the only thing we found to complain about. It locks the blade open or closed, but gives way a little too easily under pressure.
All in all, we think that this is the best folding saw of the year.
Pros
Light and well-balanced
Strong blade that cuts easily
Works for a long time without rusting
Comfortable handle
Reasonable price
Cons
Locking mechanism is weak
---
2.

Corona RazorTOOTH Foldable Saw

The Corona RazorTOOTH Folding Pruning Saw is one of the longest saws on the list, with a 10-inch blade that can handle both small branches and medium-sized limbs. The three-sided teeth help make cutting much easier. It's also better-priced than the Laplander at #1.
It loses ground to the Laplander in other areas: the RazorTOOTH has only 6 TPI, and a somewhat flimsier blade that's a lot easier to bend. However, there's still plenty to recommend this folding saw.
One other thing we love is the handle, which encourages a comfortable grip. Despite the thinner blade, it's also got a long lifespan — we'd peg it around 18 months before you need to get a new folding saw.
Pros
10-inch blade
Long lifespan
Three-sided teeth
Very long blade
Comfortable ergonomic grip
Cons
Lower TPI than some competitors
Blade bends too easily
---
3.

EverSaw Hand Folding Saw – Best Value
Our pick for the best folding saw for the money is this 8-inch model from EverSaw. Featuring a high-carbon steel blade with triple-sided teeth, and including a ribbed handle for an easy grip, EverSaw proves price isn't everything.
Their attention to customer service boosts EverSaw even more. We've found them to be the best brand for responding promptly to complaints. This saw even comes with a lifetime warranty.
The main thing keeping this folding saw out of the top spots is that the locking mechanism is even worse than the Laplander's. The blade will frequently swing open in your pocket. It also doesn't like to stay attached to the handle, and often starts to rattle.
Pros
Great saw for the money
Sharp and cuts fast
Long, durable blade
Responsive customer service
Lifetime warranty
Cons
Dangerously shaky lock
Blade sometimes comes loose
---
4.

Silky Pocketboy Folding Saw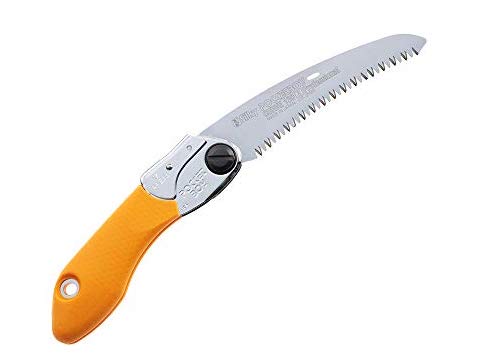 All right, so the name is terrible, but we're going to try not to judge the Silky Pocketboy by its cover. After actually using the PocketBoy, we found it to be a sharp pocket saw with excellent balance and a fast cutting speed.
The rust resistance on the blade impressed us, as did the comfortable handle. To us, though, the best thing about the Silky PocketBoy is that it's actually able to fit in your pocket. If you're looking for a folding saw with a shorter blade, this one is for you.
If you need to cut bigger limbs, however, you're better off looking higher up the list. Also, it's a pull-cut blade. Not only does this make it feel a bit unnatural if you're use to push-cutting, but it also means the blade is more prone to snapping under pressure.
Pros
Fits easily in your pocket
Cuts quickly
Sharp and balanced
Cons
Short blade
Pull-cut
Doesn't handle pressure well
---
5.

Primos Hunting Folding-Saw – Best for Hunting
The Primos Hunting 6018 Folding Saw is compact, long-toothed, and made for hunters. Its offset teeth cut cleanly through wood and bone while being easy to store in your pocket for long hikes. It's also easy to afford on a budget.
We could spend a lot of time complaining about this saw – about how, for example, the one-button latch only locks the blade open, not closed, or how the handle is cheap plastic underneath the molded rubber.
All of those are real drawbacks, but they don't change the fact that this is a cheap, convenient saw that fulfills your every need as a hunter.
Pros
Highly portable
Offset teeth cut wood and bone quickly
Affordable
Carrying case
Cons
Weak blade
Cheap construction
Inconvenient locking mechanism
---
6.

SOG F10N-CP Folding Saw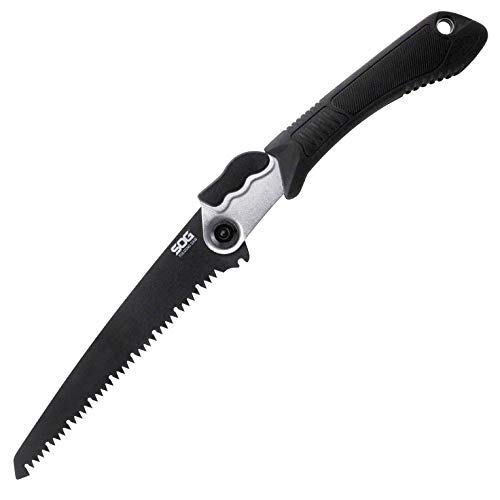 The SOG F10N-CP is an 8¼-inch camping saw with differential teeth set in an unusual and mostly effective shape. It's fantastically durable, with one of the longer lifespans on this list, and is light enough for any hunting, camping, or survival situation.
That's the good news. The bad news is that this saw does not cut very fast. The blade is thin, and bends easily, leading jobs to take longer. Also, while we've complained about the locks on several products, this has to be the worst one we tested. It's incredibly common to bump it with your finger and have it fly open mid-cut.
All that said, it's still a decent budget workhorse. We just recommend wearing gloves.
Pros
Low price
Very light
Lasts a long time
Cons
Weak blade that cuts slowly
Dangerously loose lock
Heavy
---
7.

Silky F-180 Foldable Saw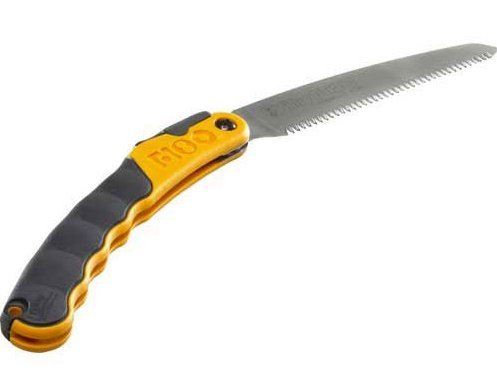 The Silky F-180 Folding Saw has impulse-hardened teeth, which keeps them sharp three times longer than the teeth on some other saws. The hardening gives them the strength to cut but leaves the rest of the blade rigid. The blade is thin and flexes a lot when you're cutting something. You have to cut slowly, and it takes a good amount of effort on your part. It does lock into two different positions, though, so it's easier to get the right angle for your cut.
This saw has a fiberglass polypropylene handle with a rubber insert to give you a firm grip, but the saw itself is very heavy. Weight usually means that something is durable, but this saw isn't made for heavy-duty use. It's excellent for around the home, but too heavy to carry any distance to cut for long periods.
Pros
Impulse-hardened teeth
Blade locks at two different angles
Fiberglass polypropylene handle with rubber insert
Cons
Blade has lots of flex
Heavy
Not for heavy-duty use
---
8.

Kershaw Taskmaster 2555X Folding Saw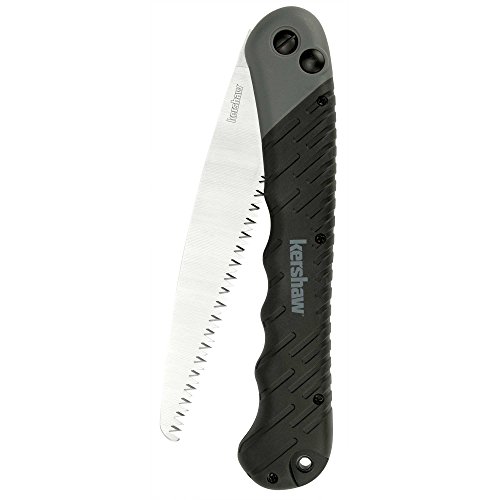 The Kershaw Taskmaster 2555X Folding Saw has a seven-inch carbon steel blade that releases to open with one hand. The handle is coated in rubber to give you a sure grip and has a lock mechanism built in, though we found that it's made of low-grade plastic.
The biggest problem with this saw is the blade. It's thin, so it has a lot of flex in it. You have to cut slowly, and it takes a lot of effort and determination to get all the way through your cut. There is also no coating on this blade, so it binds up easily.
Pros
7″ carbon steel blade
One-handed release
Rubber grip
Locking mechanism
Cons
Locking mechanism made of low-grade plastic
Thin blade
Takes lots of effort
No coating on blade
---
9.

Coghlan's Folding Saw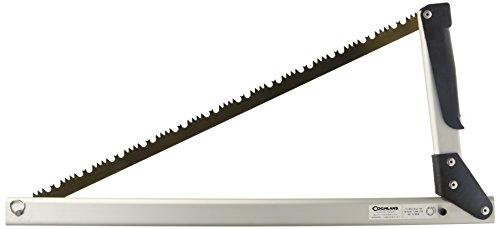 The last saw on our list is a bit of an anomaly. Where the others have single-hinged blades, this Coghlan's saw folds out into a triangle with a 21-inch serrated blade. When folded up, it's too long to fit in a pocket, but can fit in a backpack without any trouble. The triangle mechanism locks firmly in place, and deployment is relatively simple.
However, it's hard to ignore that this design is never going to be nearly as convenient as any other single-hinged saw. While you can practice and open a Coghlan's folding saw in 20 seconds, all the others saws on our list can be opened in 1 second the first time you use them. The grip and sawing mechanism also don't feel nearly as natural.
Pros
21″ carbon steel blade
Great construction
Cons
Not comfortable to use
Much less portable than other folding saws
Expensive
---
Buyer's Guide – Choosing the Best Folding Saw
There are many folding saws available that may look really nice to you. The question is, "Will they meet your needs?" Not all saws will. We have included some things that you'll want to think about while shopping to make sure you find the one that will work best for you.
Benefits of a folding saw
Versatile – The best folding saws have adjustable blades to accommodate the material you will be cutting.
Lightweight – Folding saws are meant to be portable, so they're lightweight and comfortable for long periods
Affordable – Folding saws are affordable and more convenient to take on the go than multi-function saws

Things to consider:
Intended use
Not all folding saws are made the same. Some are better for use around your home and garden, while others are more rugged, making them better for things like camping or hiking.
Saw size
No matter what you'll be using your folding saw for, you'll want it to have a medium-sized blade. If you get one that is too large, it will be too big and cumbersome to carry with you. If you get one that is too small, it may not be big enough to handle the job that you need it to do.
Saw weight
A saw's weight is directly affected by its size. Get one that is heavy enough to handle your needs, yet light enough for you to carry for extended periods of time.
Blade adjustability
The most versatile folding saws have screws that you can tighten or loosen to alter your blade. You can make it longer or shorter, or you can swap it out entirely for one that's stronger.
Grip and comfort
You need a saw with a handle that's the right size and shape for your hand. If you can't get a good hold on it, you won't be able to use it. Some grips can be changed if necessary.
Fast cutting
The best folding saws to make quick cuts are the ones that are made for camping. They require stronger, more durable blades.
Safety features
Safety is vital for anything sharp. Every folding knife should have a lock in the handle that will hold the blade in when it's folded, and hold it firmly out when it's open.
Number of teeth
The number of teeth a saw has is referred to as TPI, or teeth per inch. Larger TPI counts will give you smoother cuts.

Size of teeth
Larger teeth will cut faster than smaller ones and are better for softwoods. Medium teeth are best for cutting hardwoods. Small teeth, when used slowly, will make fine cuts in hardwoods.

Material and quality
Make sure the blade is made of a material that's durable enough to withstand the duties it will perform, and still last for more than a year or two.
Can folding saws be sharpened?
Sometimes. Some brands of saws will recommend replacing the blades rather than sharpening them. This is because it's impossible to get the sharpness back to its original condition, so sharpening only extends the blade's life for a short time.
Do folding saws only cut on the pull stroke?
No. The cutting stroke is determined by the angle of the teeth.
Pull Stroke
Teeth are angled away from the handle
More pressure potential pressure
Best for cutting through hard materials
Push Stroke
Teeth angled toward the handle
More precise and delicate cuts
Thinner blades
How do I clean a blade that's covered in resin?
If you use your saw to cut trees, you'll inevitably get sap on it. The best way to clean blades is with soap and water. Most solvents will eat away at the blade, so stay away from them.
You can use a mild cleaner, like an oven cleaner. If you do, spray it on, let it sit for 10 minutes, and then use a brush to scrub off the resin. If you're not sure how mild your cleaner is, it's best to stick with soap and water.
While cleaning your saw blade, wear safety gloves to help avoid any cuts. When you're finished cleaning the blade, you should always spray it with WD-40.
Conclusion:
We tested a smorgasbord of folding saws for these reviews. Of the eight that made the cut (we're truly sorry about that pun), the Bahco 396-LAP Laplander Folding Saw came out on top. We can't praise this folding saw highly enough: it feels like a pocket knife yet cuts like a handsaw twice its size. Just beware of the unreliable blade lock.
For the money, you can't beat the EverSaw Folding Hand Saw. Their 8-inch saw is sharper than a serpent's tooth and slices easily through 5-inch branches. The only thing keeping us from an even stronger recommendation is that the blade isn't tightly attached on all models.
Hopefully, our reviews have helped orient you toward the best folding saw for your need. We hope you get plenty of use out of it on your next trip to the backcountry!