10 Best Pruning Saws – Top Picks & Reviews 2023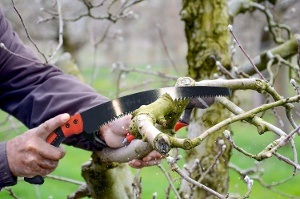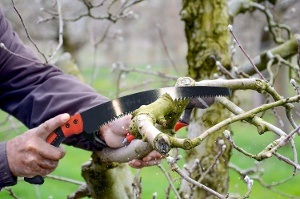 Pruning saws occupy a versatile middle ground for trimming and yard work: Far more effective than pruning shears and not nearly as cumbersome as a chainsaw, they're often the fastest and most convenient way to deal with small limbs and branches.
Available in a tremendous variety of shapes, sizes, and designs, there's a pruning saw out there for every project and any size of budget. Whether you're cutting branches for firewood, trimming an overgrown hedge, or removing dead limbs from trees near your house, a pruning saw is a valuable tool to have at your command.
As you may know, it can be a real pain to sort through page after page of results for pruning saws, just trying to find the right fit for yourself. That's why we've tested, examined, and compared dozens of saws to bring you this comprehensive list of reviews for the 10 best pruning saws around.
A Quick Comparison of Our Favorites in 2023
Rating
Image
Product
Details

Best Overall

Silky Zubat Arborist Pruning Saw

Lightweight design and safe-storage
Curved, non-slip handle
Made from high-grade Japanese steel
CHECK PRICE

Fiskars 14′ Extendable Pruning-Saw

Lightweight fiberglass construction
Lifetime warranty
Dual-action pruner blade
CHECK PRICE

Best Value

Corona RazorTOOTH Pruning Saw

Six 3-sided razor teeth per inch
Lightweight and easy to transport
Latching blade prevents injury
CHECK PRICE

Premium Choice

Samurai Kiwami Pruning Saw

Blade is sharp and durable
Two locking positions
Comes with a carrying case
CHECK PRICE

Corona RazorTOOTH RS 7510D Pruning Saw

Extra-long blade
Most durable blade
Non-slip handle
CHECK PRICE
The 10 Best Pruning Saws
1.

Silky Zubat Arborist Pruning Saw – Best Overall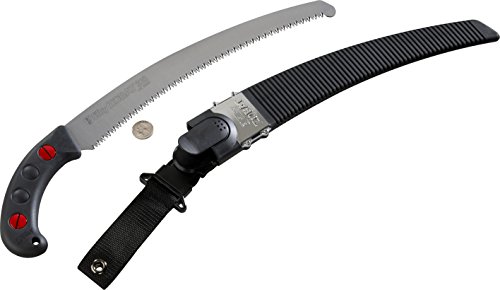 Take just one look at the Zubat Arborist from Silky, and the first thing you're likely to notice is the extremely long teeth! Sporting a 13-inch blade made from Japanese steel, the full-tang construction of the Zubat means that you can give it your all with every cut and never worry about damaging the blade. A fine combination of comfort-enhancing and strain-reducing features, we're happy to call the Silky Zubat our best overall pruning saw.
Designed with professional arborists in mind, this lightweight .65 pound saw comes with a full-length scabbard, making it convenient and easy to transport. Everything about this Japanese-made saw screams quality, from the one-piece blade and handle design, to all metal screws and washers, to an ergonomically designed non-slip handle.
In short, the Zubat might be the best pruning saw that we've ever used. It's a bit on the pricy side – but what you're paying for is the highest quality Japanese blade around.
Pros
Extra-long blade
Lightweight design and safe-storage
Curved, non-slip handle is safe and comfortable to use
Full-tang blade made from high-grade Japanese steel
Replacement blades are readily available
---
2.

Fiskars 14′ Extendable Pruning-Saw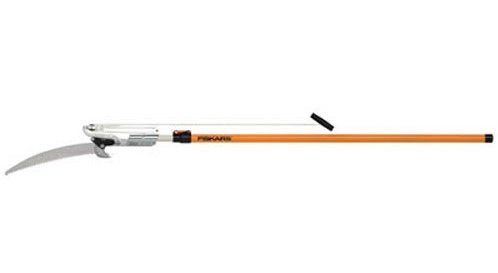 Whereas our pick for the best pruning saw is easily the most versatile, hard-working pruning saw out there, the Fiskars 14' Extendable Tree Pruner occupies a different niche: It's the best tool for the job if you'll be trimming branches in tall trees. Perfectly suited for trimming branches without risking a climb up a ladder, this pruning saw from Fiskars should be your first pick for those hard-to-reach jobs around the yard.
Featuring both a retractable pruner blade and a beefy 15-inch saw blade, this tree pruner from Fiskars can handle branches of all shapes and sizes. Its fiberglass pole is durable and lightweight and does an excellent job of saving your shoulders from stress and strain. The fully hardened blade adds a friction-resistant coating for easier cutting, only adding to the durability and utility of this excellent tool.
Basically, our top pick is best used for trimming branches anywhere within arm's reach, while this pruning saw from Fiskars is the right choice for taller trees.
Pros
Extendable pole for hard-to-reach places
Lightweight fiberglass construction
Ultra-durable hardened blade
Dual-action pruner blade
Lifetime warranty
Cons
Not suitable for close-up work
---
3.

Corona RazorTOOTH Pruning Saw – Best Value
Where the Silky saw, our top pick, excelled in top-of-the-line features for maximum cutting power, the Corona RazorTOOTH offers a very different pruning experience: It's small, lightweight, and foldable, making it as useful for backpacking as it is for anytime at-home use. Add in that fact that it's priced at a fraction of the cost of our top two picks, and it's easy to see why the Corona is the best pruning saw for the money.
The Corona's 10-inch blade features 3-sided razor teeth, the most efficient configuration for high-speed cutting with minimal effort. For added durability, the blade has been impulse-hardened – which is a good thing, because there are no options available for replacing the blade if it dulls. Features for the RazorTOOTH are rounded out by an intuitive, easy-latch blade for additional safety.
Pros
Six 3-sided razor teeth per inch
Foldable design is lightweight and easy to transport
Long-lasting impulse-hardened blade
Latching blade prevents injury when not in use
---
4.

Samurai Kiwami Hand Pruning Saw – Premium Choice
Samurai's Kiwami folding saw is a significant step up in quality, design, and price from our value pick listed above. While most folding saws are not held to particularly high standards – being used until they dull, then recycled or thrown away – the Kiwami is made to last a lifetime. It's backstroke cut can provide a steep learning curve, but once you get the hang of its operation it is smooth and efficient.
Weighing less than a pound, this pruning saw from Samurai is one of the most lightweight and portable saws of any we tested. Its non-slip handle fit comfortable in our hands, making even hard sawing jobs feel easier. Perhaps best of all, the company offers reasonably priced replacement blades should your saw ever become too dull for regular use.
In short, the Kiwami is an excellent choice for anyone who wants the versatility and portability of a folding saw – with the durability and integrity of a larger saw.
Pros
Taper ground blade is sharp and durable
Non-slip, ergonomic handle design
Two locking positions customize its cutting ability
Comes with a carrying case for safe storage
Cons
Quite expensive for a folding saw
---
5.

Corona RazorTOOTH RS 7510D Pruning Saw

One of the most heavy-duty options that we tested for up close and personal trimming, the Corona RS 7510D does away with the folding versatility of its cousin featured in our third spot, and maximizes its hardness, sharpness, and cutting power. If you're looking for a no-nonsense saw to keep around the house specifically for dealing with branches and limbs (and nothing else), the RS7510D may just be the saw for you.
The Corona's massive 18-inch blade dwarfs almost every other saw we tested, allowing it to easily cut through limbs that other saws struggle with. Extreme durability is achieved through a combination of impulse-hardened teeth, Japanese steel construction, and a final heat treatment for long-lasting sharpness.
Add in a non-slip handle and triple ground teeth for fine tuning, and the Corona RS7510D seems like an excellent option for a pruning saw. That said, we found the combination of extra-long blade and extra-short handle to be somewhat cumbersome in practice, and much less convenient to store and carry than other saws we tested.
Pros
Extra-long blade
Most durable blade of any we tested
Keeps its edge for an exceptionally long time
Non-slip handle for added safety and comfort
Cons
Long blade and short handle combine to make it awkward to manipulate
Hard to make accurate cuts with
---
6.

EverSaw 8″ Folding Hand Pruning Saw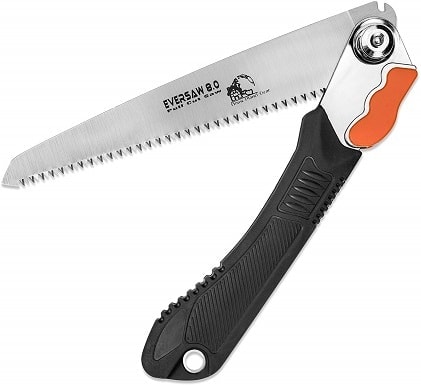 The only saw in our review to feature an ultra-safe gear-style locking mechanism, the EverSaw folding pruning saw is also one of the most compact and easy to carry. Inexpensive yet well-made, it's a fine option for anyone whose trimming duties rarely proceed beyond branches around 2 inches in diameter.
Truly, the EverSaw does have a lot going for it: Triple-cut teeth make for fast and easy sawing, while a textured handle makes it non-slip (but not particularly comfortable). If it were a larger saw that was capable of handling more jobs around the house, we would definitely rate it higher in our reviews.
It's also worth noting that EverSaw is backed by incredibly proactive customer service. Offering a full lifetime warranty, they're one of the most responsive companies around and will seemingly go to any length to make sure you're happy with your purchase.
Pros
Gear-based locking mechanism
Triple-cut teeth
Non-slip grip
Best customer service of any company we tested
Cons
8-inch blade will struggle with medium jobs
Can't handle larger branches
---
7.

FLORA GUARD Folding Saw for Pruning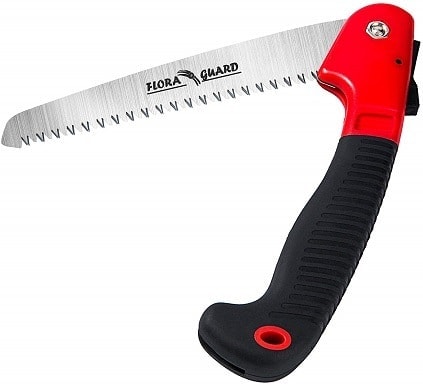 The Flora Guard is an interesting saw: It's incredibly inexpensive but has a blade that's as small as its price tag. Costing only a fraction of the price of any other saw on our list, it's a quick fix for people on tight budgets – but not a long-lasting option for anyone looking to invest in a tool for years to come.
While the Flora Guard's 7.7-inch blade's length may not measure up well in comparison to most other folding saws, it's surprisingly durable; fully-hardened stainless steel and triple-cut teeth make it efficient at the small jobs that it can handle. An ergonomically designed non-slip handle and decent locking mechanism round out this folding hand saw's features.
Pros
Most inexpensive saw on our list
Durable, fully hardened stainless-steel blade
Triple-cut teeth make for fast and easy cuts
Non-slip handle and blade lock increase safety
Cons
Blade is too thin
Poor longevity
Smallest saw of any we reviewed
Limited in its application to even basic yardwork
---
8.

TARVOL 14″ Hand Pruning Saw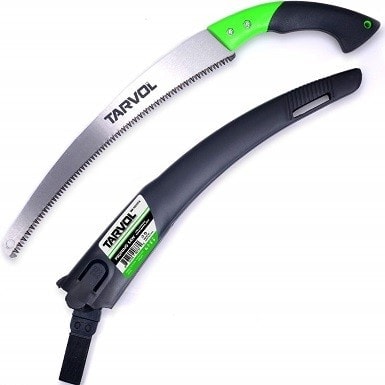 With a 7-TPI blade that's 14 inches long, this curved pruning saw is appropriate for branches up to 8 inches thick. The rubber-coated, pistol-style handle is pretty comfortable and worked well for us in testing. The longer blade is nice, though this one has more flex than we would like to see.
Unlike many similarly priced saws, this one includes a blade sheath. Unfortunately, the tip of the saw ended up going right through the end of the sheath, lodging the saw inside. In the process of removing it, the sheathe broke completely. This was a shame because we loved that it came with a sheathe in the first place. No injuries occurred, but in the struggle to remove the saw from the sheathe, they certainly could have. Although it's a good saw, this major drawback is a safety hazard that keeps it from rising up the ranks of this list.
Pros
Longer 14" blade
Rubber-coated pistol-style handle
Cons
Too much blade flex
Blade went through sheath
Difficult to remove from sheath
Could be dangerous
---
9.

DocaPole 6-24 Foot Pole Pruning-Saw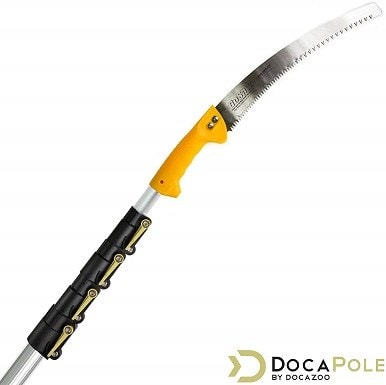 If you need to prune some branches that are way out of reach, a pruning saw with an extension pole may be the answer. This one from DocaPole is adjustable between 6 and 24 feet. With such reach, you may expect it to be very heavy, but with handle and saw together it only comes to about 5.5 pounds. It doesn't feature the nice lever-action pruning attachment of the Fiskars in the second position of this list, although it's considerably more expensive.
The saw can be detached to use by itself. It works just fine as any normal pruning saw would. When we attached it to the pole, we decided to see how high we could really cut. At lower heights around 10 feet, this saw had no problem. A little higher and we started noticing a lot of flex in the pole. Despite being advertised as a 24-foot pole, ours broke trying to saw while extended to 20 feet. It just snapped. Apparently, this problem isn't all that uncommon. While it is usable for some of the lower branches, we can't recommend it when better options exist.
Pros
Can saw branches 15'+ high
Cons
High price
Lots of flex around 15'
Broke trying to saw 20'
---
10.

TABOR TOOLS T6 Pruning Saw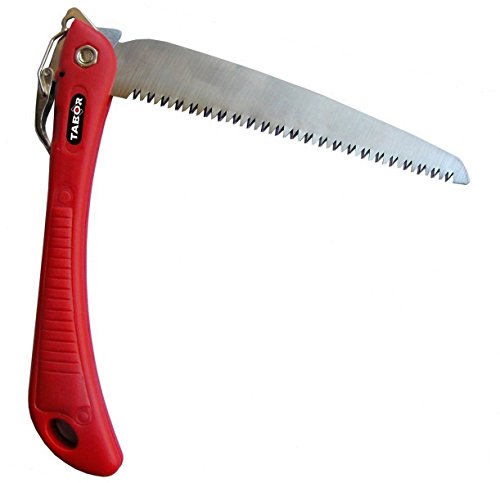 The TABOR TOOLS T6 is a great bargain tool. The best thing about it is certainly its price. It's easily the cheapest entry on our list, and it holds up pretty well even though you might suspect that it won't. Like with any saws, the best pruning saws are those that cut well, and the TABOR TOOLS T6 does just that. It also comes with an ergonomic handle, which makes it a pleasure to use.
In theory, the locking mechanism that keeps the tool in cutting position while you cut should keep the saw folded away when you're not using it. However, the locking mechanism on this model isn't designed to do that, and that means that there's a good chance of the saw slipping out of the handle while it's not in use, which is a safety concern. The handle, while it feels good to use, also feels cheap and plastic, so there are durability concerns. However, if you need a cheap pruning saw just to use once or twice, this is a great model for you.
Cons
Durability
Doesn't lock closed
---
Buyer's Guide – Choosing the Best Pruning Saw
Whether you already have some outdoor maintenance experience or are a complete beginner, acquainting yourself with the features of the major types of pruning saws will help you decide which saw is right for you. Let's look at each of these topics in more depth before also covering the right way to trim a tree limb.
Types of Pruning Saws
There are four main varieties of pruning saws to choose from, and each has its own strengths and weaknesses.
Hand Saws

Straight or one-piece hand saws are hand-held saws that do not fold. They're mechanically simple and rely on leverage and muscular effort for making cuts. Least expensive variety of pruning saws, but also the most labor-intensive to use.
Folding Saws

Folding saws incorporate a rotating mechanism and safety lock at the intersection of the blade and handle. They operate in essentially the same manner as one-piece pruning saws but are much more convenient to store and carry as well as slightly more expensive.
Bow Saws

Bow saws, also known as hack saws, use an ultra-thin blade held under tension between two posts. They're faster and more efficient than straight or folding saws, but bulkier and more prone to blades breaking.
What to Look for In A Pruning Saw
Once you've narrowed down which type of pruning saw appeals to you most, you should also consider the following features:
The blade material used will determine how long your saw is likely to last, and whether it's a good investment for the cost. Pruning saws are notoriously difficult to sharpen, and replacement blades are hard to come by. Look for blades made from high carbon steel, as well as those that are impulse hardened for added durability.
Blade shape, either curved or straight, determines what level the saw will cut most naturally at. For cuts close to your body, a straight blade is preferable – while overhead cuts benefit from the mechanical advantage of a curved blade.
Tooth Style determines whether your saw will cut on the push, pull, or in both directions. Look especially for saws with a triple ground tooth, as this style requires less effort for each cut.
Robust safety mechanisms can make the difference between a pleasant sawing experience and an arduous one. Non-slip grips are a must, as are locking mechanisms on folding saws.
How to Use a Pruning Saw
Did you know that, as concerns the health of your trees, there is a right way and a wrong way to trim tree branches? Watch as Greg the Gardener explains the difference:
---
Conclusion:
The SILKY Zubat 270-33 is our pick for the best pruning saw, due to its thin and lightweight but strong frame and excellent sheath. The Fiskars Extendable Tree Pruner 93016059J combines a lopper and a pruner and works well enough to secure second place on our list. The Corona RazorTOOTH Folding RS 7265D provides the best value, coming with a great handle and foldable blade, at a price that won't break the bank.
Hopefully, our reviews have helped you understand the world of pruning saws. While there are a lot of models to choose from, you should now be able to find the best pruning saw for your needs.