8 Best Camping Saws – Top Picks, Reviews & Buyer's Guide 2023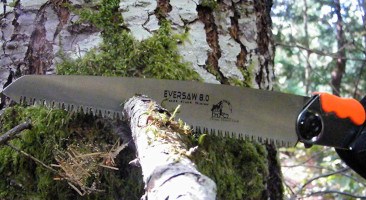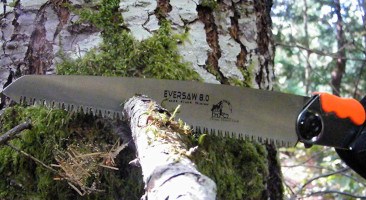 Camping saws can be used to clear undergrowth, prepare firewood, and build your outdoor refuge. They are also a handy tool to have around the house because they can fold away or store easily ready for their next use. The better the saw, the bigger your stock of firewood and the quicker you can clear trees and bushes so that you can concentrate on actual camping.
Camping saws usually come in the shape of bow saws, folding saws, portable hand saws, and even pocket chainsaws. Each has its benefits and drawbacks. The bow saw, for example, is an effective saw that will make short work of thick logs, but it is the bulkier option in this list. The folding saw is the most convenient, but it is likely to struggle with thick cuts.
There are many different options when it comes to camping saws, which is why we've tested and reviewed some of the best camping saws on the market. Read our reviews, determine the best camping saw for you, and, most importantly, get out there and benefit from your new camping saw on your next wilderness trip.
---
A Quick Comparison of Our Favorites in 2023
Rating
Image
Product
Details

Best Overall

Bahco Laplander Folding Camp Saw

Balanced design for comfortable use
Locking mechanism for storage
Anti-corrosion coating
CHECK PRICE

Corona RazorTOOTH Folding Campsite Saw

Impulse-hardened teeth
Pull saw
Ergonomic handle
CHECK PRICE

Best Value

FLORA GUARD Camping Saw

Three-sided teeth
Ergonomic handle
Lightweight
CHECK PRICE

Gerber Freescape Camp Saw

Folds down flat
Uses standard 12" saw blade
Rubber grip
CHECK PRICE

Sportsman Pocket Camping Chain Saw

36-inch chain
Resharpenable
Lifetime guarantee
CHECK PRICE
The 8 Best Camping Saws
1.

Bahco Laplander Folding Camp Saw – Best Overall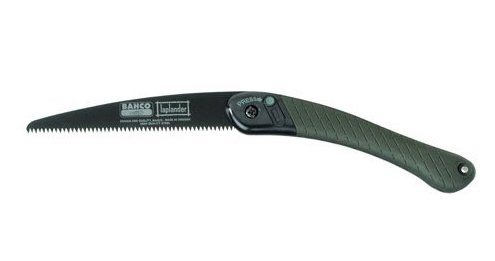 The Bahco 396-LAP Laplander Folding Saw is a convenient but powerful tool with an affordable price tag. It has a 7.5-inch blade and 7 teeth per inch (TPI), giving it one of the best cutting edges in its class. The higher the TPI, the better.
The plastic grip has been ergonomically designed so that you can easily cut through branches and logs without sacrificing your hand and the XT tooth pattern ensures that this camping saw can be used on green or dry wood. It will even cut through bone. There's a safety lock that prevents the blade from snapping closed during use and stops it from opening when being stored or moved. The blade has an anti-corrosive coating, so it won't rust.
The Bahco Laplander folding saw is convenient and portable, offers excellent sawing, and it will last for many camping trips thanks to the use of durable materials and the extra coating to protect against rusting. It is also a lightweight option, making it the best camping saw on our list.
Pros
7 TPI
Balanced design for comfortable use
Locking mechanism for storage
Anti-corrosion coating
Cons
Not the fastest cutting action
---
2.

Corona RazorTOOTH Folding Campsite Saw

The Corona RazorTOOTH Folding Pruning Saw puts a huge emphasis on its teeth, and it's a decision that pays off. This tool comes with three-sided teeth, so despite its relatively low TPI, it maintains the feel of a razor-sharp saw with more teeth. The teeth are impulse-hardened, which makes them far more durable, and means you'll accidentally chip them off far less often than you might with inferior saws. It also has an ergonomic handle, which is something that you may not value until you hold it yourself and realize how comfortable it is.
Available with 7, 9, and 10-inch blades, we prefer the 10-inch model. It is larger than the Bahco, which makes it easier to cut through thick logs, but it also reduces its portability. The curved blade makes it easier to cut into the wood and the handle is designed for comfortable use even on long and difficult cuts.
The Corona is a pull saw, which makes it easier to cut through green or dry wood. Its lack of a rustproof coating is what kept it from the top spot. Remember to store it away somewhere dry to help ensure that the Corona will last for several years and multiple camping trips.
Pros
Three-sided teeth
Ergonomic handle
Impulse-hardened teeth
Pull saw
---
3.

FLORA GUARD Camping Saw – Best Value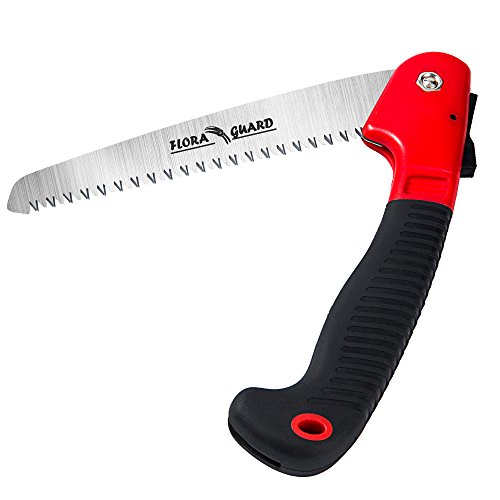 The FLORA GUARD Folding Pruning & Camping Saw costs around half of the top two choices on our list, despite the pull saw having three-sided teeth and being an extremely lightweight model. Unfortunately, it is limited in its use and is sold as a pruning saw because its thin blade will struggle to get through thicker branches, even though a thinner cut should mean less effort because you have to remove less wood to get through the material.
With a 7.7-inch blade made from SK5 high-grade carbon steel, the cutting edge should last years. It also has a soft handle that is designed for ease of use and comfort and the safety lock ensures that the saw remains open or closed, as required. You can also choose from a range of colors if that's important to you.
This camping saw represents excellent value despite having a thin blade. The blade would also be better if it were curved because this gives the initial cut extra purchase and makes it easier to cut into the wood material. However, if you're looking for a capable hand saw that is easy to store and makes short work of light cutting jobs, then this is the best camping saw for the money.
Pros
Three-sided teeth
Ergonomic handle
Lightweight
Great price
Cons
Thinner blade
Straight blade
Struggles with thick branches
---
4.

Gerber Freescape Camp Saw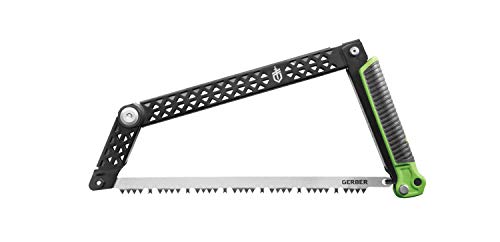 The Gerber Freescape Camp Saw has very different in design than many of the others on our list. Instead of having a curved blade that folds down into a handle, it more resembles a hacksaw. The good news is that it folds down flat, so you won't have any trouble fitting it into a backpack. This saw has a standard 12-inch saw blade, so you'll be able to use whatever kind of blade best suits the conditions in which you'll be working. The comfortable rubber grip means using it won't be hard on your hands.
It's good that it uses a standard saw blade, as it ships with a truly low-quality blade. It tends to flex and bind, and few users end up liking it. However, after replacing it with a better blade, most people end up liking the frame quite a lot. Unfortunately, it has a few weak points that can lead to it breaking. This is a good model to choose if you know you need a portable saw with a full-sized blade. Otherwise, you'll probably be happier with something else.
Pros
Folds down flat
Uses standard 12-inch saw blade
Rubber grip
Cons
Underwhelming included blade
Has a few weak points
---
5.

Sportsman Pocket Camping Chain Saw
The Sportsman Pocket Chainsaw is basically a 36-inch saw chain with two handles. It comes with its own carry pouch and the design of the chain means that it really is a highly portable and convenient option. The chain can cut in both directions, which is important for the pulley style cutting motion required. Sportsman claims that the teeth are self-cleaning, and you can also sharpen the teeth using a standard chainsaw sharpening tool, enabling you to keep the saw in prime cutting condition for years.
While the pocket chainsaw does have a lot going for it, being especially useful for survivalists that are highly restricted for saw space, cutting with this saw does take more work and it can struggle to get a good purchase on bark and dry wood. There will also be some situations where space around the cutting material restricts its use. If you're comfortable with the required method of sawing, however, this is a very convenient purchase.
Pros
36-inch chain
Resharpenable
Lifetime guarantee
Cons
Struggles with dry wood
Struggles with thick bark
---
6.

SVEN SAW 15″ Folding Cam Saw
We have included the 15" Sven folding saw on our list, but you can also get a 20-inch variety. We've included the 15-inch because it just about retains portability at this size while the blade length means that it can be used to cut down trees. It will handle thicker logs than most of the other models in this list. However, that functionality comes at a price, and the Sven is also one of the more expensive models we have reviewed.
This folding saw has an aluminum frame. While this does offer some strength, you shouldn't expect this saw to last too many years. It can be used in extremely cold weather, too, but the aluminum means that you will need to wear gloves for use in the heat or cold. It folds flat and its aluminum frame means that the Sven 15-inch saw is a lightweight and reasonably portable saw. However, even with the 15-inch blade, it will take up more room than most alternatives.
Cons
Not very sturdy
Heats and cools with weather
---
7.

Zippo Camping Saw Axe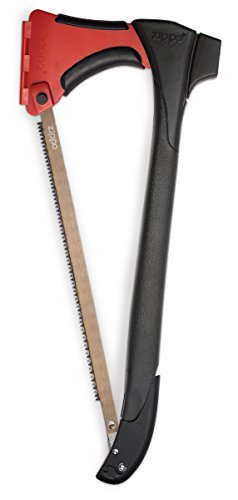 The Zippo AxeSaw is an extremely innovative tool that combines a hatchet and a saw into a single device. With the blade cover on and the blade in place, it functions as a hacksaw. Loosen the blade and store it in the handle, and remove the blade cover, and you can use it as an axe. That two-in-one functionality can be a huge boon. It comes with a 15-inch saw blade, which provides a superior cutting experience relative to smaller models. The handle can store two sawblades, so you can carry different types for different situations.
However, the idea is roughly as convoluted as it sounds. It can be awkward to use as a hacksaw, as holding the blade of an axe, albeit covered, isn't very comfortable as a handle. Worse, it weighs about 2.6 pounds. That's not terrible for an axe, but that's a lot of weight for a camping saw. Ultimately, this is only a good choice for users who need both kinds of tools and have serious weight restrictions. Otherwise, there are better saws and axes to buy.
Pros
Two-in-one axe and saw
15-inch saw blade
Can store two blades
---
8.

Lanier Folding Pruning & Camping Saw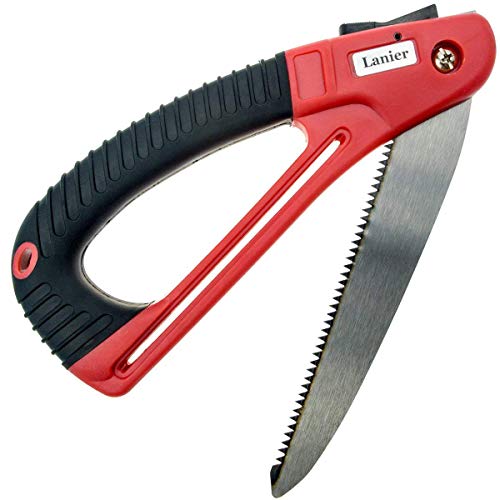 The Lanier Hand Folding Pruning Saw is rather forgettable. It comes with an ergonomic handle, which is not the most comfortable out there, but not the worst, either. The teeth on the blade are heat-treated, which means they shouldn't chip off easily during use, and they should be okay to use on bark and harder woods. The folding, seven-inch blade does save some space, but the design is overall very odd. The handle loops around the part that stores the blade, which means it takes up more space than your typical folding knife. That's not something you want if you're planning to go camping.
The handle is made from cheap plastic. As you might guess, that means it's prone to breaking when you need it most. The blade is also very flexible, even when working with tiny branches. That makes it hard to cut through just about anything and can pose a potential danger to those using the saw. Ultimately, this saw just doesn't do all that much well. While it is very inexpensive, most users will be more satisfied if they get a tool that can get the job done and will last.
Pros
Ergonomic handle
Heat-tempered teeth
Cons
Bulky
Weak plastic handle
Very flexible blade
---
Buyer's Guide – Finding the Best Camping Saw
The best saws for camping need to be portable and convenient so that they can be easily stored and transported. But they also need to be capable cutters. Generally, they need to be able to saw through green and dry wood, and, depending on your style of camping and your use for the saw, they may need to be able to cut through quite thick logs. There are a number of factors to consider when choosing the best camping saw.
3 Types of Camping Saws
Bow Saw
Bulky compared to folding and pocket saws, bow saws also offer some of the best cutting performance in this class of saws. Some have obviously been designed for portability so take up less room, and the blades are replaceable. Once you find a bow saw you're happy with, you can replace the blade, saving you money and the hassle of finding another model you like.

Folding Saw
As the name suggests, the folding saw folds away for easy storage and transport. It tends to offer improved cutting capabilities over a pocket saw and some models achieve almost as good a cut as with a bow saw. This is arguably the best style of camping saw for its convenience and cutting capability.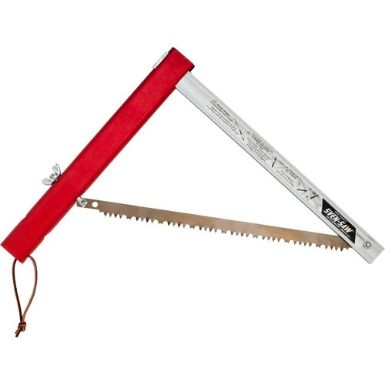 Pocket Chainsaw
The pocket chainsaw can look like a bit of a novelty, but when it has been well designed, it is actually a powerful and convenient addition to your belt. It is just a chainsaw chain and two handles. You will get a full-body workout if you need to cut anything thick, but the whole thing can stow away in a small pouch and some models can be sharpened using a chainsaw sharpening tool.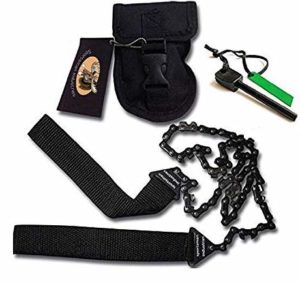 Construction Quality
There are two areas where construction quality really matters in any saw – the handle and the blade. With a camping saw, you also need to consider how easily the saw folds or packs away for storage because in some models it is the folding mechanism that suffers from poor quality.
Look for features like pressure-heated teeth, ergonomic handles, and three-sided teeth. These features should ensure that the saw is comfortable during use and that it will easily cut through any type of wood, whether it's dry or green.
Ease Of Use
Portability can come at the cost of ease of use, but no matter how portable a saw is, if it takes a lot of effort and work to use it, you're unlikely to pack it for your next camping trip. Check the layout of the handle, the folding mechanism, and also read reviews to determine whether a particular model of camping saw cuts quickly and efficiently.
Multipurpose devices like the Zippo Axe Saw are convenient but it takes more than a few seconds to fold it away, and the overall design of the model suffers because of incorporating multiple tools into one.
Portability
Whether you're a survivalist with minimal equipment and a lightweight backpack or planning a family camping trip, space comes at a premium when camping. There's limited room in the trunk of the car, and a lot of this room is going to be needed for toys and stuff to keep the kids entertained, but there will be even less room in your tent. Determine the overall size of the saw, both when in use and when stored away, to ensure that it is convenient, and don't overlook the weight of the device.
The pocket chainsaw is arguably the most portable option and even comes in its own storage pouch that will attach to your belt or bag.
---
Conclusion
During our testing and while writing reviews, we found the Bahco 396-LAP Laplander Folding Saw was the best camping saw with its combination of portability and functionality. The 7.5-inch blade is one of the shortest blades on our list, but it has a compact 7 teeth per inch and a thin blade which makes the cutting process much easier. The Corona RazorTOOTH Folding Pruning Saw comes in second with its three-sided teeth, ergonomic handle, and impulse-hardened teeth, though its vulnerability to rust hurts its value.
The Laplander is also a decent price for the quality of the saw, but if you're on a really tight budget, the FLORA GUARD Folding Pruning & Camping Saw is a strong pull saw with three-sided teeth that will last for years as a camping saw and is more than capable of use for pruning and trimming in the yard.
We truly hope that our guide helps you find the best camping saw for your adventures. Good luck with your search!