10 Best Backpacking Saws – Reviews, Top Picks & Guide 2023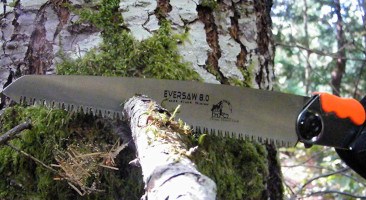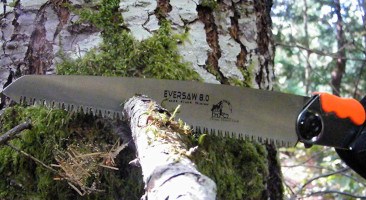 When it comes to backpacking, if you're any kind of gearhead, you've probably been tempted by the clever designs and promised utility of backpacking saws. We're just as skeptical of adding to our pack weight, however, as we are curious about the latest gadget to cross our path.
So, we asked a simple question: Can backpacking saws justify their size and weight in our packs?
After trail-testing a wide variety of saws over a month's worth of weekends, we're convinced of the value of a good backpacking saw. Once we got around to building perfect fires almost every evening with the small logs that a portable saw can provide, it also became evident that not every one of these saws can really cut it on an overnight trip.
That's why we've collected this list of reviews for the 10 best backpacking saw options out there today – to share our hard-won experience and lead you towards the best backpacking saw for your needs.
---
A Quick Comparison of Our Favorites in 2023
Rating
Image
Product
Details

Best Overall

Agawa Canyon Backpacking Saw

Convenient and space-saving
Special coating keeps blade protected from rust
Huge 21" sawing capacity
CHECK PRICE

Best Folding Backpacker Saw

Bahco Laplander

Lightweight
Rust-resistant blade and durable molded plastic handle
Compact 9″ size when folded
CHECK PRICE

Best Value

EverSaw Folding Backpacking Saw

Rugged eight-inch blade
Triple-cut razor hardened teeth
Ergonomic slip-resistant handle
CHECK PRICE

Premium Choice

Zippo Axe Backpacking Saw

Multi-purpose tool
Self-adjusting tension compensator
Safety sheath
CHECK PRICE

UST SaberCut Backpacker Chain Saw

Easy-grip webbing handles make for painless operation
Cuts quickly and efficiently
Easy to sharpen
CHECK PRICE
The 10 Best Backpacking Saws
1.

Agawa Canyon Backpacking Saw – Best Overall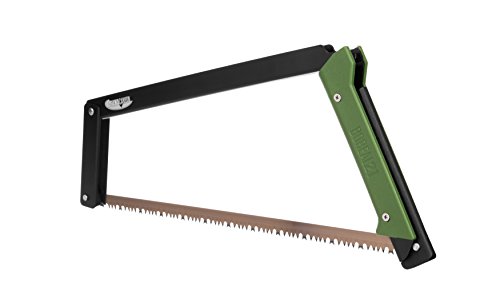 With its easy-open, easy-close, lightweight design, the Agawa Canyon BOREAL21 backpacking saw is an efficiency-minded hiker's dream come true. Made of anodized aluminum, it's just as durable as it is easy to transport – making it an easy choice as our top pick for backpacking saw.
The fold-out functionality of the BOREAL21 is complemented by a design that requires no blade tensioning. Just unfold it, snap two parts into position, and your 21" saw is ready to go. Should the coated, rust-protected blade ever go dull, it's simple and inexpensive to replace.
Put all of this into one 1.2-pound package, and there's just no competing with the sawing power and versatility of this backpacking saw from Agawa Canyon. We highly recommend considering it as your first choice for a backpacking saw.
Pros
Made of lightweight yet durable anodized aluminum
Fold-out design is convenient and space-saving
Special coating keeps blade protected from rust
Huge 21" sawing capacity
---
2.

Bahco Laplander – Best Folding Backpacker Saw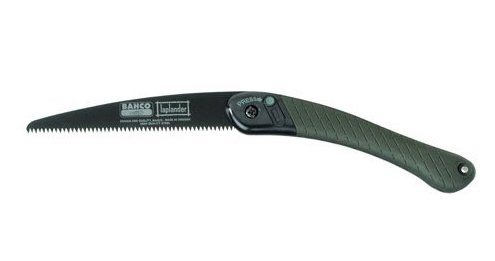 When simplicity and small pack size are your top priorities, an intuitive folding saw like the Bahco Laplander should be your first choice for the best backpacking saw for you. Featuring a 7.5-inch blade and ergonomically molded plastic grip, the Laplander is sawing minimalism at its finest.
This Bahco saw also includes a safety lock in both the open and closed positions, making it great for preventing potential sawing accidents. A low-friction, rust-resistant coating further enhances the functionality of the blade. Add all of that to its completely reasonable price, and this folding backpacker saw is deserving of your consideration.
Pros
Lightweight – just 7.1 oz
Compact 9″ size when folded
Locking mechanisms increase safety during use and when stored
Rust-resistant blade and durable molded plastic handle
Cons
Thin blade
The lock gives
---
3.

EverSaw Folding Backpacking Saw – Best Value
Our best backpacking saw for the money is EverSaw folding backpacking saw. Its carbon steel blade offers outstanding sharpness and durability, and the gear-style lock provides complete reliability and safety whether open or closed. Suitable for cutting wood up to 4 inches in diameter, the EverSaw's deep triple-cut razor teeth are easier to use and operate than many other saws we tested.
After testing the EverSaw, we were honestly surprised to see its surprisingly low price tag. At just a fraction of the cost of some of our top picks in each category, it's a fantastically high-performing workhorse of a tool that we'd be happy to take with us on any camping trip. Add in a lifetime warranty from a US-based company, and this saw becomes an attractive option for anyone looking to save a little cash on their saw purchase without compromising on quality.
Pros
Rugged eight-inch blade
Triple-cut razor hardened teeth
Ergonomic slip-resistant handle
Lifetime warranty
Cons
Poor quality locking mechanism
Heavy
---
4.

Zippo Axe Backpacking Saw – Premium Choice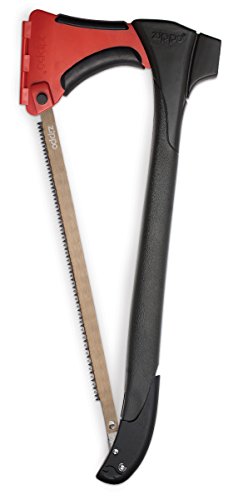 If you're the sort of backpacker that just can't seem to leave their Leatherman at home, you'll love the multi-purpose functionality of the Zippo Axe Saw. Combining an axe, bow saw, and tent stake mallet into one tool, it's far more than just a simple backpacking saw. For anyone that's okay with the added weight and bulk of the Zippo Axe Saw, it's a rugged and durable option that's great around the whole campsite.
No expense was spared in making this (admittedly pricey) tool. The 5-inch full-tang axe head, molded polymer handle, and hardened stainless-steel blades all attest to its strength and durability. We also appreciated its safety sheath, handle-loaded blade storage, and self-adjusting blade tensioner. In short, it's a comprehensively outfitted saw that justifies its rather impressive cost.
Pros
Multi-purpose tool
15-inch hardened steel saw blade
Five-inch stainless steel axe
Stake mallet
Self-adjusting tension compensator
Dual function handle
Safety sheath
Cons
Heavier than most other backpacking saws
Bulky and takes up a lot of pack space
Priced higher than most
---
5.

UST SaberCut Backpacker Chain Saw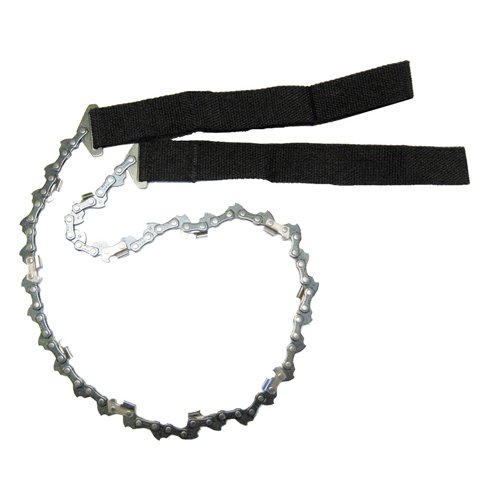 The very definition of a chain saw – just without the motor – the UST SaberCut is a unique saw with a steep learning curve but great potential. The 24-inch-long chain link saw weighs just 4.3 ounces, making it one of the lightest saws that you can carry in your pack. If you're not afraid of spending some time getting used to its side-to-side cutting motion, it can be a great space saver for overnight or multi-day trips.
Unlike many other backpacking saws, the SaberCut's multiple teeth can easily be sharpened with a standard ⅛-inch saw blade sharpener – but you're not likely to need to do this very often, as the stainless steel blades keep an edge for quite some time. Overall, we recommend this peculiar backpacking saw for anyone who's serious about cutting down on their pack weight without giving up the utility of a reliable campsite saw.
Pros
Easy-grip webbing handles make for painless operation
Cuts quickly and efficiently
Easy to sharpen
Small and lightweight
Cons
Tricky to figure out how to use
Requires frequent oiling
---
6.

Sportsman 36" Backpacking Pocket Chain Saw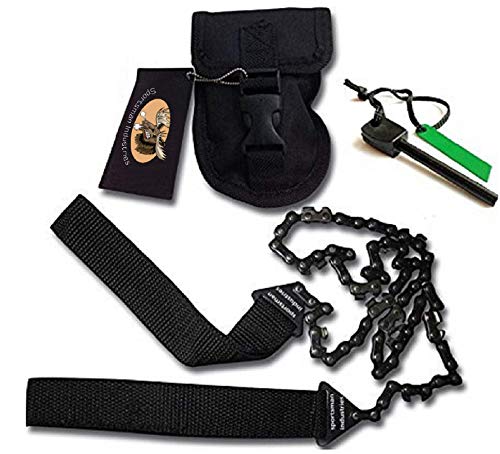 A second option for your pocket chainsaw consideration, the Sportsman 36-inch saw is bigger, sharper, and more expensive than the chainsaw featured above. If you like the idea of a manual powered chainsaw, or already have experience using one, the Sportsman is a fantastic upgrade that won't add much weight to your pack.
High carbon heat-treated blades are the secret to the Sportsman's incredibly sharp, efficient cutting. You'll need a specialized chainsaw file to sharpen them properly, but due to the hardness of the metal, you won't be doing this very frequently. Given the cost, we doubly appreciate the lifetime warranty that makes this saw feel like a safe investment.
Pros
Long-lasting impulse-hardened blade
Inexpensive
Lightweight and compact
Cons
Handle design is too thin to be comfortable
Prone to slipping during use
---
7.

Corona RazorTOOTH Folding Pruning Saw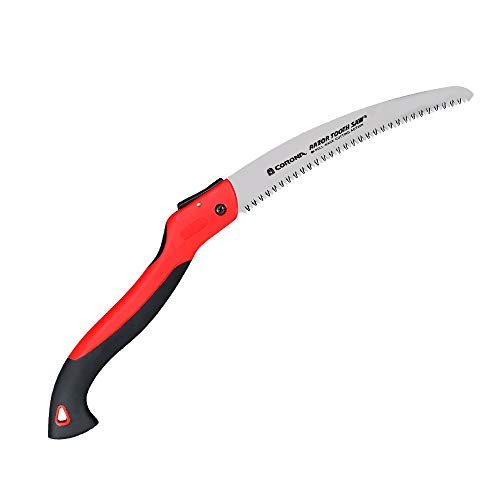 Originally intended for work around the home and yard, the Corona RazorTOOTH RS 7265D is a useful alternative to other folding backpacking saws on our list. Most notable for its impulse-hardened teeth, the blade on this saw from Corona is built to last significantly longer than those featured in other folding saws.
While we appreciate the reliable cutting power and reasonable price of this saw, that's where our positive impressions end. The handle is a bit too thin for comfortable use, and prone to slipping when used with even slightly sweaty hands. We can recommend it for backpackers that would prefer a folding saw and are looking for maximum blade longevity but prefer other folding saws in our list for their comfort and ease of use.
Pros
Long-lasting impulse-hardened blade
Inexpensive
Lightweight and compact
Cons
Handle design is too thin to be comfortable
Prone to slipping during use
---
8.

MACHEE Commando Backpacker's Wire Saw
A particularly niche pick, the
MACHEE Commando wire saw
 is an ultralight survivalist's tool of choice for emergencies and bug-out bags. Four braided strands of stainless-steel wire are studded with hundreds of teeth and capped with two small pull rings – making it function much like a chainsaw, but on a smaller scale.
Available at an almost unbelievably low price, the MACHEE is quite honestly worth buying just to try out and keep in your emergency kit. It's not perfect for everyday use, nor should you attempt to use it to replace a more robust saw. But in a situation where you're left with no other option, it does a fine job at cutting small limbs if you apply substantial effort.
Pros
Incredibly inexpensive
Durable stainless-steel construction
Lightest saw you can possibly find
Cons
Takes a lot of effort to use
Will not replace a larger saw for regular camping use
---
9.

Gerber Freescape Saw for Backpackers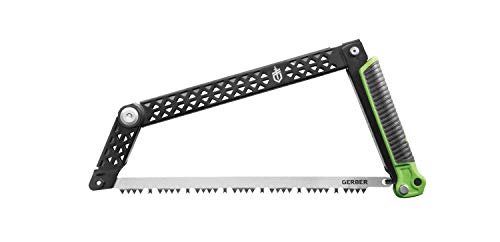 The Gerber Freescape Camp Saw is handy to carry with you because it folds down flat, making it convenient for almost any backpack. It uses standard 12-inch blades and has a rubber grip handle with a lock, though the locking mechanism isn't very dependable. The blade that comes on it is pretty dull. Be prepared to replace it quickly.
This saw isn't made of the best materials. The pin used to connect the blade and the handle is made of plastic, and the locking mechanism is a hook that fits into a hole in the blade. The problem is that the hook isn't perfectly perpendicular to the hole, so the blade gets twisted slightly. The blade is thin and doesn't take much to bend, so this little twist throws it out of alignment and causes the blade to get bound up in the wood.
Pros
Folds down flat to carry
Rubber grip
Uses standard 12-inch blades
Cons
Bad locking
Not very durable
Flimsy blade
Blade binds
---
10.

Silky PocketBoy Backpacker Saw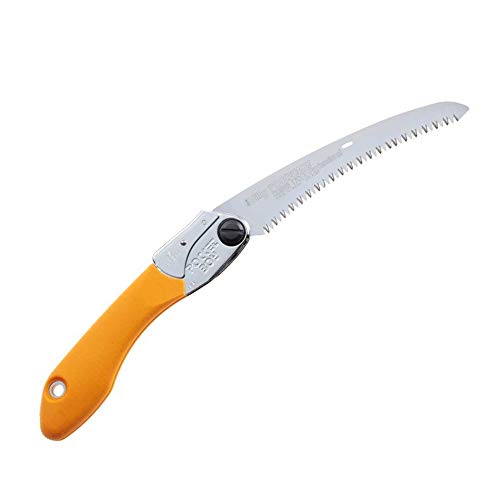 The Silky PocketBoy Folding Saw comes in several different lengths and TPI counts. They range from 5.1 inches in length with a 6.8 TPI to 6.7 inches with a 16.9 TPI. It also has a rust-resistant blade with a non-slip rubber handle for your comfort and convenience.
The blade on this saw is somewhat fragile and can break easily if you try to apply too much pressure or cut too fast. Part of the issue is that we naturally use more power when we push, and this saw cuts on the pull stroke. The key is to cut slowly with the emphasis on the pull stroke.
Pros
Variety of blade lengths available
Rust-resistant blade
Non-slip rubber handle
Cons
Fragile blade
Cut is on pull stroke
Have to cut slowly
---
Buyer's Guide – Finding the Best Backpacking Saw
Are you wondering how we test and choose the backpacking saws found in this review? Follow along with the sections of this buyer's guide to see exactly how we determine which saws are the best value for the money, as well as which are better in each specific category.
Do You Need a Backpacking Saw in Your Kit?
As with any piece of backpacking gear, whether you really need it in your pack is always the million-dollar question. Unless you're trying to shave ounces off of your ultralight pack weight, though, a backpacking saw is an incredibly useful option given how light and collapsible many of our top choices are.
Our number one use for backpacking saws during testing was in breaking down medium-sized branches for firewood. In this, it's almost impossible to beat a backpacking saw's speed and efficiency in preparing appropriately sized branches for long-lasting fires. For this reason alone, we're inclined to believe that a backpacking saw is an excellent addition to anyone's camping setup.
What to Look for In A Backpacking Saw
Our favorite backpacking saws share the following features:
Lightweight – You don't want to be lugging a full-sized home use saw into the woods every time you need to trim a few branches for a fire.
Compact – Pack space can be difficult to find for large, bulky items. The best backpacking saws are designed to fold down into more manageable spaces.
Robust safety features – Wilderness first aid is a valuable skill, but not one that you want to have to put to use because of a stray blade from the saw you brought along.
Durable blades – Serrated blades, like the ones featured in backpack saws, are notoriously difficult to sharpen. That's why we prefer saws that offer either long-lasting blades or the ability to swap out worn blades when you're ready for a new one.
Types of Backpacking Saws
Backpacking saws fall into three main categories:
Bow saws resemble a traditional hacksaw, with the best backpacking options also featuring a fold-down design for easy storage and transportation. They're often a bit heavier than other backpacking saws, but also offer the fastest cutting with minimal physical exertion.

Folding saws are also commonly used for landscaping jobs like pruning hedges or small trees, and often come with a belt-mounted holster. They offer a fine blend of lightweight and good cutting power.

Pocket Chainsaws – no, not the motor-powered kind – have a steep learning curve, but offer exceptional cutting ability in the smallest, most lightweight package of any backpacking saw. They're almost exclusively limited to cutting stationary tree limbs, though, and lack the versatility of other saw types.

How to Clean a Backpacking Saw
Cutting through brush can quickly gum up your backpacking saw's blade with sap and debris. Check out this video from Alberta Bushcrafter for an excellent guide to keeping your saw working like new, with five different cleaning solutions:
---
Conclusion:
For its sheer cutting power and nearly perfect folding design, the Agawa Canyon BOREAL21 Backpacking Saw receives our highest recommendation and our top choice as the best backpacking saw in our reviews. Anyone that's serious about building campfires or shelters quickly and efficiently will appreciate the Agawa Canyon's ease of use and versatility.
If you're on a tighter budget and don't mind a little bit of added pack weight, the EverSaw Folding Backpacking Saw is an inexpensive alternative to our top choice. It's convenient enough to throw in your pack at the last minute and easy enough to use that you'd feel just as comfortable pruning branches around your home with it.