10 Best Framing Nailers of 2023 – Top Picks, Reviews, & Comparisons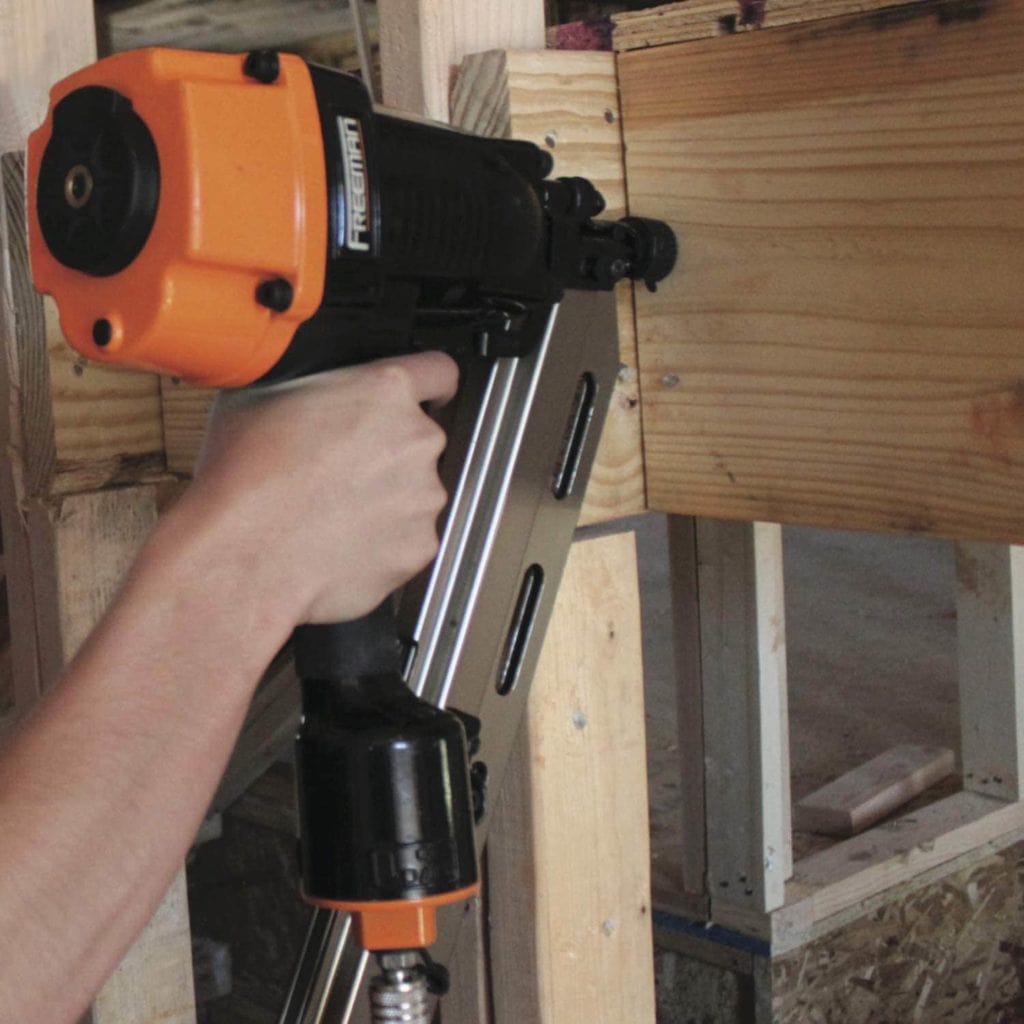 There might be a purity to framing a home with nothing more than a framing hammer, a bucket of galvanized nails, and a whole lot of willpower. However, nothing holds a candle to the outright efficiency of using a framing nailer when you want to put up a wall, and do it quickly. Once you have had a taste of that speed,  you will never want to swing a hammer again.
Framing nailers are, most of the time, a pneumatic piston that fires the nail using airpower with the speed and velocity of a 22 pistol. They have a long clip that inserts at the base and can hold enough collated framing nails to make a significant dent in your project.
They are industrial grade, which means the price tag is often a little high, but what they lose in sticker shock they more than make up for with the speed and efficiency they provide.
Take a look at our reviews of the best framing nailers and see if it helps you land on one that fits your needs best.
---
A Quick Glance at Our Favorites (2023):
Rating
Image
Product
Details

Best Overall

BOSTITCH F21PL Framing Nailer

High-quality design
Lightweight
Powerful
CHECK PRICE

Best Value

NuMax Pneumatic Round Head Framing Nailer

Lightweight
Durable
Interchangeable trigger
CHECK PRICE

Premium Choice

Paslode Pneumatic Framing Nailer Powermaster

Low recoil
Intelligent design
Compact
CHECK PRICE

Metabo HPT Coil Framing Nailer

Coil barrel clip
Open-nose design
Sturdy
CHECK PRICE

Freeman Pneumatic Round Head Framing Nailer

Ergonomic handle
Interchangeable trigger
2 firing settings
CHECK PRICE
The 10 Best Framing Nailers:
1.

BOSTITCH F21PL Framing Nailer – Best Overall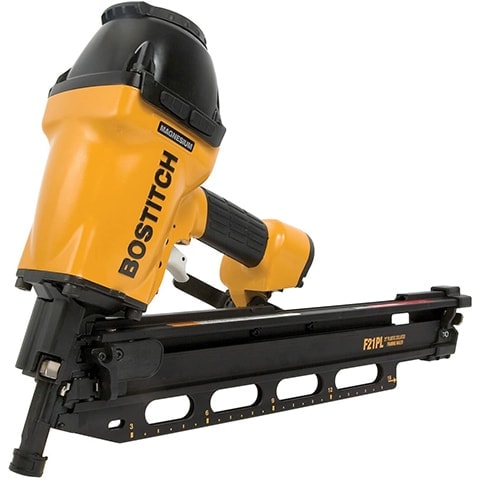 If you are looking for a sound investment for your contracting business, the BOSTITCH F21PL Framing Nailer is the one to choose. It has the rugged design and time-honored history of excellence that makes it the go-to framing nailer for any serious professional contractor.
This model is actually two nailers in one. It has the framing nose piece that is common with most nailers, but it also has the option of a metal connector, which is useful when versatility is what you crave. And it can handle 1 ½ to 3 ½-inch framing nails, driving them into your framing project at 1050 inch-pounds (in-lb) of driving power.
The one flaw of this model is in the metal connector application. The nails are very specific and difficult to find, and the instructions provided don't mention that. An oversight by Bostitch that can cause frustration, but once the right nails are located, you are in pretty good shape. Despite this, we think it is the best framing nailer on the market this year.
Pros
High-quality design
Lightweight
Powerful
2 quick change nose pieces
Rubber skid pads
Cons
Metal connector needs specific nails
---
2.

NuMax Pneumatic Round Head Framing Nailer – Best Value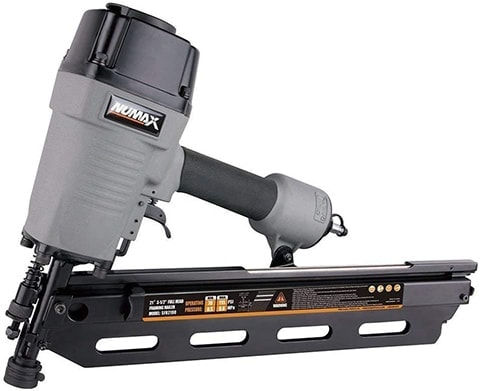 For those looking for a lightweight framing nailer that will give you more bang for your buck, this is exactly what you need. Not only is the NuMax SFR2190 Pneumatic 21-Degree 3 ½" Full Round Head Framing Nailer a value, it has all the bells and whistles of its more costly counterparts. It is definitely one of the best framing nailers for the money.
It features a versatile and powerful design and is a durable construction tool. It uses 21° framing nails, fired out of its round head that offers tool-less adjustment. With interchangeable quick fire or single shot, you can decide how efficient you want to be.
While its versatility is one of its charms, it is also one of its biggest false promises. It has the lightweight design, but it only offers the option to shoot nails into wood from straight on. Any deviation from 90° and the nailer jams. That, and the warranty is lousy.
Pros
Lightweight
Durable
Interchangeable trigger
2  firing settings
Powerful
---
3.

Paslode Pneumatic Framing Nailer Powermaster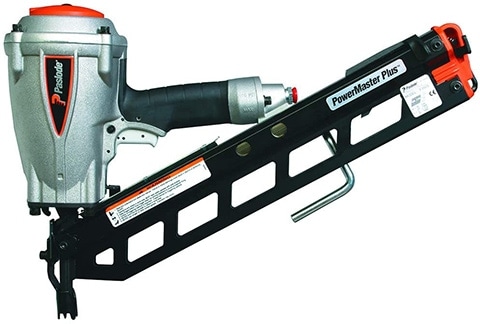 The Paslode Pneumatic Framing Nailer 501000 Powermaster is a beast, and one of the best pneumatic framing nailers. If you are looking for a framing nailer with a very-low recoil, this is definitely it. Its diminished recoil is due to its design, which has the center of gravity near the trigger for increased balance. This also provides less arm fatigue, a common issue with the constant use of framing nailers.
Its compact design allows you to fit between 16-inch stud frames, perfect for putting in those support joints. It is very powerful, with a heavy-duty design built for maximum efficiency, no matter what you are working on. One of its most forward-thinking features is the rafter hook at the base, giving you both hands-free to climb and adding to your overall safety.
As with most air-powered tools, if there is any moisture in the lines, it will become ineffective in cold weather. And sometimes the safety mechanism — which is supposed to only fire the nails when depressed onto the surface to be nailed — can stick in the ready position, allowing nails to be fired unsafely.
Pros
Low recoil
Intelligent design
Compact
Rafter hook
Versatile
Cons
Malfunctions in cold weather
Safety port jams
---
4.

Metabo HPT Coil Framing Nailer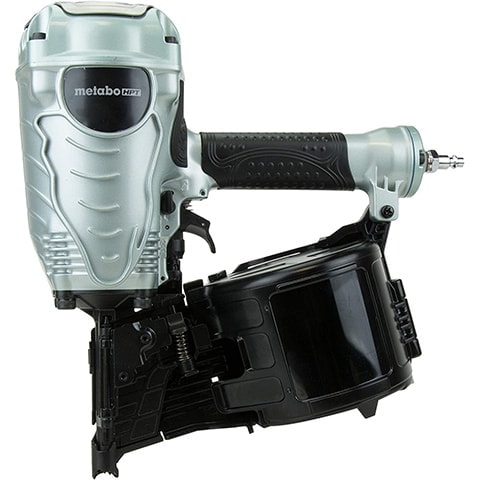 A tool by any other name is still amazing, as long as that name is Hitachi. Metabo is the rebranding of the Hitachi line of tools, and the Metabo HPT Coil Framing Nailer is a testament to that Hitachi quality you know and love. But the name isn't the only thing you will appreciate about this fantastic tool.
It features a selective actuation switch, easily allowing the user to quickly transition from contact nailing to sequential nailing. It has a coil barrel side load, tilt bottom magazine, and an open nose design that makes clearing jams easy and safe. And with the tool-less depth adjuster, it is safe to say that Hitachi has done it again with this product.
The biggest issue with this particular model is that, due to the number of nails in the coil barrel, it is very heavy. So much so that overhead work becomes a tremendous problem. It also has a tendency to dry fire, which can ruin the actuator over time.
Pros
Powerful
Tool less depth adjustment
Coil barrel clip
Open-nose design
Sturdy
---
5.

Freeman Pneumatic Round Head Framing Nailer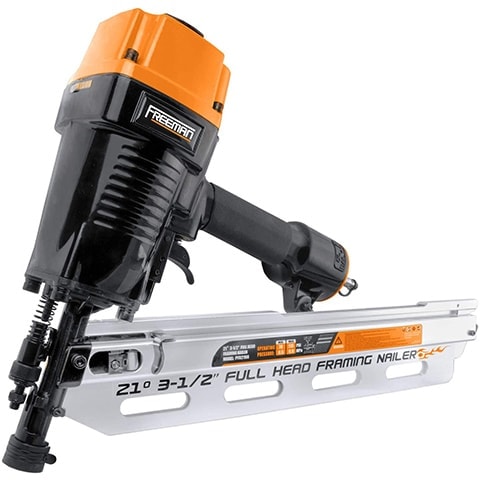 From the brand synonymous with high-quality framing nailers, we give you the Freeman PFR2190 Pneumatic 21-Degree 3 ½" Full Round Head Framing Nailer. With a durable magnesium body and ergonomic handle, this framing nailer came to work, and work hard. And its interchangeable trigger assembly will help both contractors and DIYers get those projects done quickly.
Freeman offers a tool-free finger depth adjustment option, and a no-mar tip, so you can be sure your nails will only go in as far as you choose, and the trigger can switch between quick-fire and single shot. All in all, it's a tough, dependable tool.
Sadly, this model has the flaw of being underpowered, even when cranked to 120 pounds per square inch (psi). With air-powered tools, any issue involving power is significant, and when projectiles are involved, the danger is ever-present.
Pros
Ergonomic handle
Interchangeable trigger
2 firing settings
Tool-free depth adjustments
Great warranty
Cons
Underpowered
Jams
Won't sink 3 ½" nails fully
---
6.

DEWALT 20V MAX Framing Nailer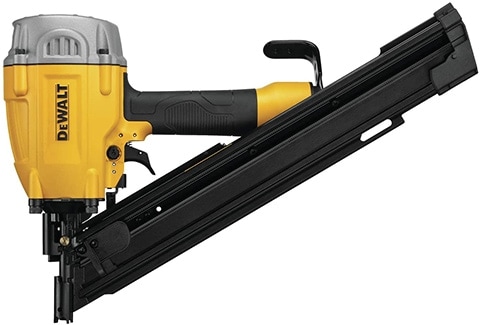 A trusted name in tools of all sorts, the DEWALT 20V MAX Framing Nailer carries the legacy of its name with pride and versatility. And in that spirit, DeWalt offers not only a very handy rafter hook on this nailer, but also a 20V battery, which allows the user freedom of movement without the encumbrance of air hoses.
It comes with plenty of tool-less features like a selectable trigger for bump or sequential firing and depth-of-drive adjustments. It is industrial grade, yet light and ergonomic, while also being very well balanced. And offers a recoil dampening engine, keeping the usually jarring recoil very low.
Its only real flaw is a manufacturing glitch. Sometimes, the trigger sequential selector doesn't work, so if you want to switch from rapid-fire to single fire, you might be stuck, or have to play with it a little. And since it is battery powered, recharging intermittently is necessary.
Pros
Battery-powered
Rafter hook
Lightweight
Tool less features
Cons
Intermittent recharging
Trigger glitch
Customer support ineffective
---
7.

Max "Superframer" 21-Degree Framing Nailer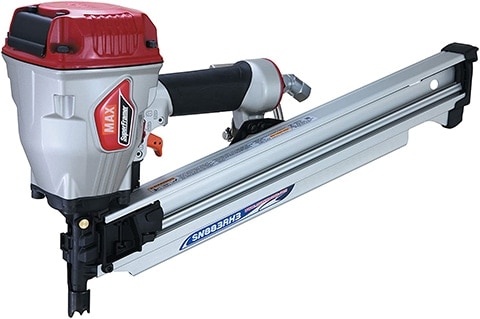 No false bravado here — this truly is a "superframer." And a light super framer at that, weighing in at just about 7 pounds. The Max SN883RH3 "Superframer" 21-Degree Framing Nailer has a simple yet practical design, but don't let its looks fool you. It has plenty of hidden features that allow it to run with the bigger, badder nailers.
It comes with features like a nose magnet, which holds the nails, and a maintenance-free cap filter. It has a swivel plug so you won't get tangled up and is designed with an aggressive feature on the nose for toenailing, which 90°      nailers cannot do. It also has dial adjustable depth control, so you won't shoot those nails through the boards.
It is slightly underpowered, but that could be a learning curve for this nailer. It might just need to be broken in. Until then though, it doesn't effectively fire nails in deep enough, and the clip is far too short for efficient use.
Pros
Very light
Low recoil
Nose magnet
Swivel plug
Cons
Underpowered
Nail clip too short
Needs break-in  period
Warranty not great
---
8.

PORTER-CABLE Framing Nailer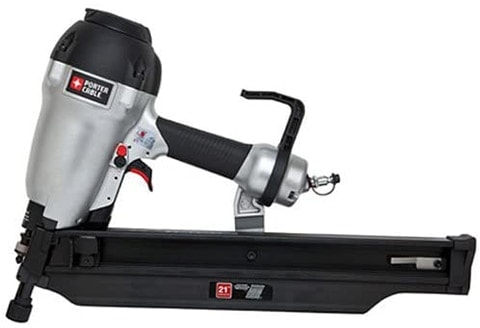 This lightweight beauty is the PORTER-CABLE Framing Nailer, a quality product from a quality brand. It features a lightweight design, perfect for those overhead jobs, and a low nail lockout feature that lets you know when your nail clip is almost empty.
It also has a fantastic trigger lockout feature with selectable action, which allows you to trade between restrictive and contact actuation modes. And with the tool-less adjustment options and the rafter hook for convenience, this is a solid all-around framer for whatever job you plan to undertake.
The biggest issue, though, is with the design. And not the exterior, but the interior design. There is a spring in the pusher assembly that must be replaced immediately before use. If it isn't, the gun will fire for a short time, then stop. On top of that, the safety mechanism is entirely too sensitive.
Pros
Lightweight
Trigger lockout
Low nail lockout
Cons
Push spring weak
Needs replacement parts quickly
Safety too sensitive
See: Different types of nail guns
---
9.

Valu-Air Full Round Head Framing Nailer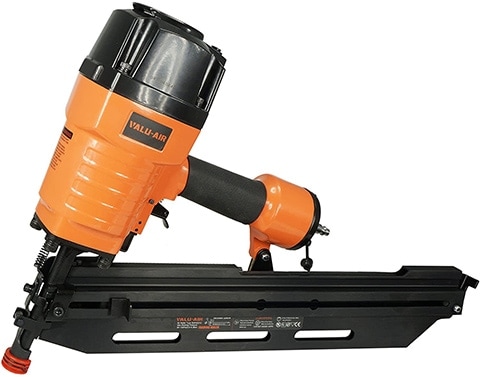 Amongst the lower-priced options, the Valu-Air 9021C 21-Degree Full Round Head Framing Nailer stands alone. It has features not listed on the cheaper nailers, and a quality that shows that the manufacturers cared to make a finer product for the value.
With a selective single or bump fire trigger, a solid rear-loading magazine that will provide a longer life for the nailer, and tool-less depth adjustment, this is a simple, handsome, utterly functional nailer. It's considered great for small jobs, but for long-term use, not so much.
The nail clip and the timing of the firing head aren't quite in tune, so it jams often. You have to reset the feed spring after a few nails, otherwise it is rendered a very economical paperweight. And reversing the jam is often difficult.
Pros
Inexpensive
Durable
Selective trigger
Cons
Short term use only
Jams
Nail feed spring weak
Poor performance
---
10.

3PLUS HFN90SP 3-in-1 Air Framing Nailer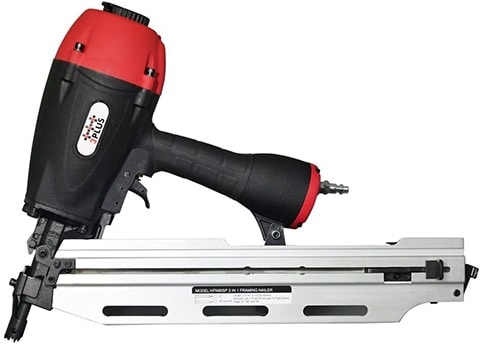 Of all the framing nail guns on this review, this one has something special, and that is the option to adjust the magazine to different angles for three nail options. The 3PLUS HFN90SP 3-in-1 Air Framing Nailer with an adjustable magazine for 21°, 28°, and 34° nails, takes the versatility of your average framing nailer and gives it wings.
It has an anti-dry fire mechanism, which extends the life of the piston assembly in the motor and prevents nails from firing wildly. It has a hardened claw tip that diminishes wear on the nose, minimizing slippage. And can be retrofitted with a no-mar tip for additional protection.
The one big hiccup with this model is not the product itself, but the manual that is provided. The mechanism to change the nail feed angle is not complicated, but the manual is poorly written and most of the time, buyers have to figure it out for themselves. Also, it is very heavy — a definite downside.
Pros
Hardened claw tip nose
Anti-dry fire
Cons
Difficult to adjust nail feed angle
Very heavy
Cumbersome
Constant jamming
Flawed nail feed design

Buyer's Guide – Choosing the Best Framing Nailer
Framing isn't about nuance, it's about efficiency. If you are a professional contractor you have a deadline to keep, quality of work to maintain, and you want your tools to not only reflect your abilities but also your standards. That is why the vast majority of contractors only buy the best framing nailers. They look for the nailers that last the longest, have great warranties, and have the versatility for a long day of work.
Picking Your Framing Nailer
Throughout this review, there have been several common threads that each framing nailer has in common. But it is the differences that make one of them the right choice for you over the others. While tool-less changing and dual-trigger switching is a fantastic thing to have, does that help you when you are in the rafters? No. A rafter hook helps.
Add-ons
Depending on the task you will perform the most, the nailer you choose should be not only efficient but tailored to the job. Here are some examples of add-ons that can assist in certain framing applications:
Claw tip: Great for toenailing  and keeping your gun from slipping
Rafter hook: Perfect if nailing trusses or working in rafters
Adjustable clip angle: The ability to use different angle nails can be useful for certain jobs, like supports between studs
Claw head: Holds the nail even before firing, aiming it true  and giving your nail the perfect bite into a stud from straight on
Magnetic head: A tremendous feature similar to the claw head, accept with magnets
Knowing the task at hand, or the many tasks in the future will help you pick the right nailer with the right accessory features, and possibly save you time and money.
Choosing A Power Source
Another aspect of the framing nailer you intend to invest in is what your power source will be. Most times, the job will define the power unit needed to run the nailer effectively.
Battery-Powered
A battery-powered unit is fine for small projects, but not for the long haul, anywhere too hot for too long, or anywhere without power to charge or change the battery. These are for home projects and DIY applications. They are not right for the worksite.
Pneumatic
Pneumatic nailers are powered by air pressure from a compressor that drives the piston forward through the motor housing at enough speed to send a nail through a stud and do it again 100 times without stopping. It requires an air compressor, and a gas-powered one is really the only good option. For the job site, this is definitely the way to go. However, if at home, this is too much tool for the job. The pressure can be turned down, but even still, it is a little heavy-handed for home projects.
How to Choose
Power source selection is about two things: convenience and pragmatism. The portability of a battery-powered unit is fantastic, but the batteries eventually die. And the battery-powered options don't have quite the punch of the air-powered options.
Be realistic, be smart about the choice, and think long term. A quality framing nailer will last you a decade or more if you keep it clean, oiled, and free from abuse. They are industrial grade, so they are designed to be tossed about, but that doesn't mean neglecting it or mishandling it.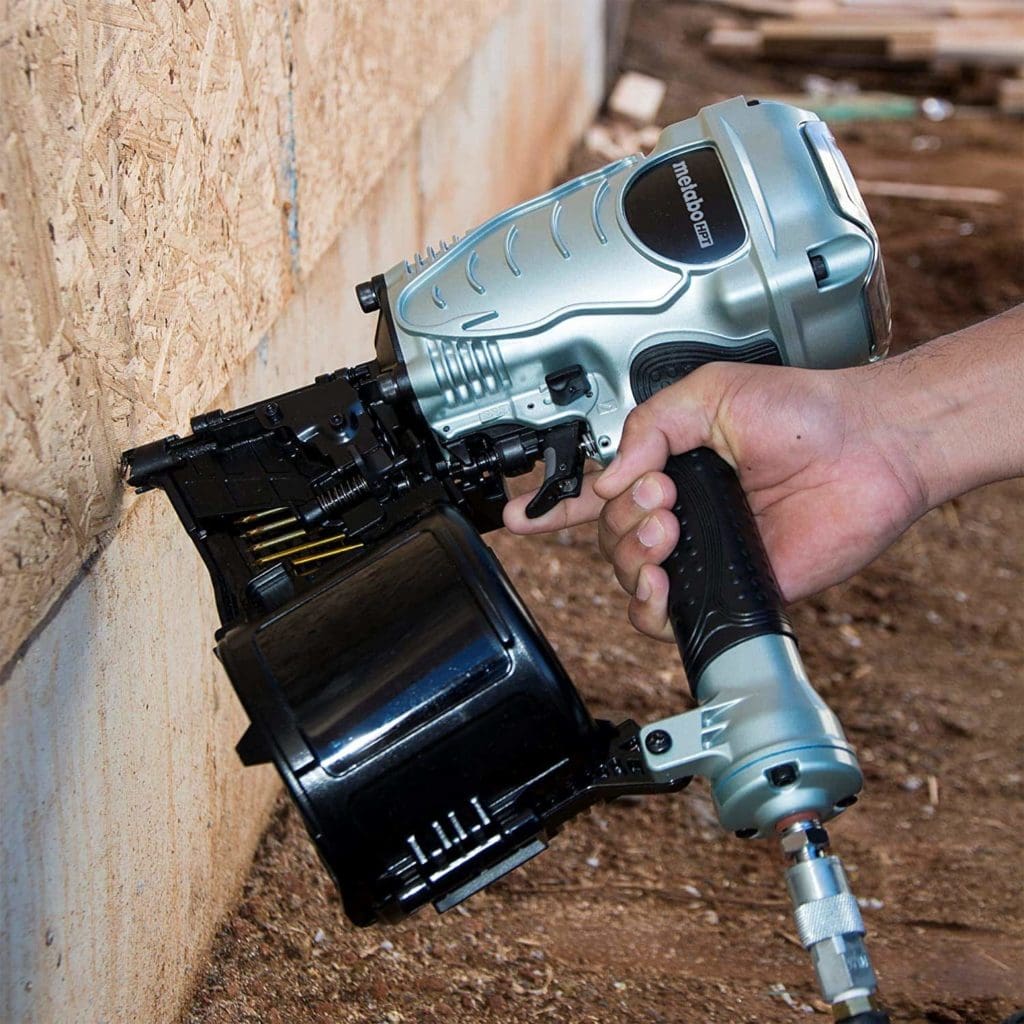 Understanding Pricing
If you have clicked on any of the links in the reviews, you probably noticed that the prices for those nailers and plenty of others are all over the place. A few variables go into the price, but don't be fooled into thinking that the most expensive is the best. There are a few things that give one nailer a higher markup over an almost identical nailer:
Brand name
Brand history of quality
Imported versus made in USA
Design
Features and accessories
Buying an off-brand nailer versus a Makita or DeWalt doesn't mean you are getting a bad product. They just have better PR firms and a legacy of excellence over many years in the industry. The thing to remember is that new products emerge all the time. Until they are tested, it can't be said one way or another if they are great or lemons.
Money is always a factor, but this isn't just a tool. It is a long-term investment. It will more than pay for itself in the quality, efficiency, and speed of your work.

Conclusion
Framing nailers are a wonderful tool. They can be a bit jarring at first, but once you get the hang of the noise, the recoil, and the power, they can actually be a fun way to put up a wall frame or attach supports between studs.
The reviews were tough with lots of great products to choose, but the best overall choice is definitely the BOSTITCH F21PL Framing Nailer. It had all of the features a true professional contractor would look for in their perfect framing nailer. There were many BOSTITCH products, but this was by far the best.
As far as the more economical, yet still high-quality choice, NuMax SFR2190 Pneumatic 21-Degree 3 ½" Full Round Head Framing Nailer sets the standard for price and style. You get a lot of bang for your buck with this one, and it more than competes with some of the pricier options. It will look right at home in a commercial setting.