10 Best Hacksaws of 2023 – Reviews & Top Picks
While the basic premise behind the hacksaw hasn't changed in a century, there are a lot of changes in recent models that increase the number of things that they can do and also improves their ability to do it. If you've never bought a hacksaw before, or if you're returning to the market after the death of a trusty old tool, you'd benefit from learning what kind of options are now available.
However, it's not always easy to shop online. Between the marketing fluff and the lack of hands-on experience with the tools, you can't always know if you're getting a good deal or not.
That's why we've assembled this list of reviews of some of the best hacksaws of the year. If that's not enough, we've assembled a short buyer's guide to help you understand what makes for a great-value hacksaw, and which you should avoid at all costs.
---
A Quick Look at Our Favorites in 2023:
Rating
Image
Product
Details

Best Overall

DEWALT 5-in-1 Hacksaw

Five saws in one
Durable
Sturdy
CHECK PRICE

LENOX High Tension HackSaw

High-tension hacksaw
Rubberized handles
Hacksaw blade storage
CHECK PRICE

Best Value

TEKTON 6823 Hacksaw

High-tension hacksaw
Rubber grips on both ends
Hacksaw blade storage
CHECK PRICE

Klein Tools 702-12 High Tension Hacksaw

Hacksaw blade storage
High-tension
CHECK PRICE

Starrett K145 HackSaw

High-tension
Comes with a good blade
CHECK PRICE
The 10 Best Hacksaws:
1.

DEWALT 5-in-1 Hacksaw – Best Overall
The amazing DEWALT DWHT20547L 5-in-1 features five configurations in a single frame: standard hacksaw, low-profile hacksaw, (drywall) jab saw, long-reach saw, and 45-degree saw. This reconfigurability saves you from having to buy five separate tools and means that the odds are good that you'll always have the tool you need on hand.
While those features alone would be enough to boost this model to the top of our list, it's also a comfortable tool to use, which is a nice bonus. It's also incredibly sturdy, which means it holds up well during difficult jobs, without any flexing or bowing that can be dangerous or ruin your cut. While it lacks clear instructions that detail how to change between the five different modes, once you learn how this saw works, it's easily one of the best hacksaws on the market.
Pros
Five saws in one
Durable
Comfortable to use
Sturdy
---
2.

LENOX High Tension HackSaw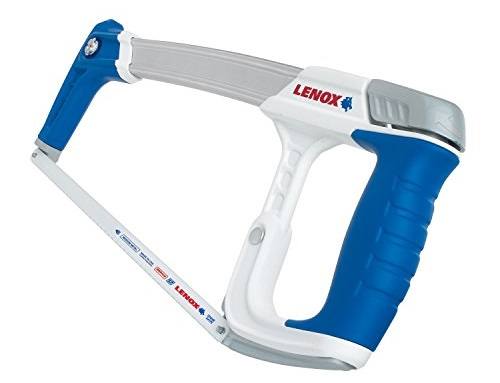 The LENOX 12132HT50 is an extreme high-tension hacksaw with up to 50,000 PSI on the blade. You can fine-tune the tension to get some of the straightest, most accurate cuts on the market. It also comes with rubberized grips, which makes it easier to hold, and reduces the chance of dropping it accidentally during or between jobs.
The blade storage in the I-beam across the top is a nice touch, as it allows you to keep sharp backup blades handy while you work. You can also attach a reciprocating blade to the front of this model to turn it into a jab saw. The one significant downside to this model is that it makes changing blades very hard. You may not be able to change it by hand, instead, having to use tools to get the job done, which offsets some of the value of the built-in blade storage.
Overall, this is one of the best high tension hacksaws, but the difficulty of changing blades keeps it out of the top spot.
Pros
High-tension hacksaw
Rubberized handles
Hacksaw blade storage
---
3.

TEKTON 6823 Hacksaw – Best Value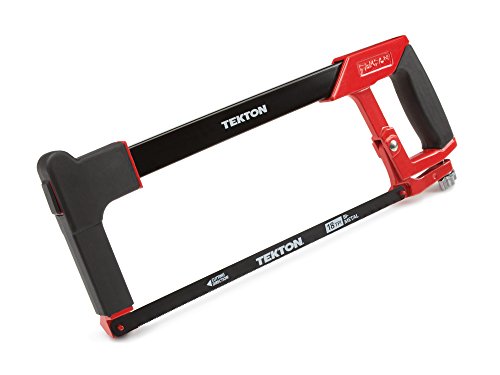 We think that the TEKTON 6823 is the best hacksaw for the money. It's a high-tension hacksaw, which helps keep the blade taut and improves the overall quality of the cut. Like other great, modern hacksaw models, this one comes with rubber grips on both ends, which means that you can easily use both hands when powering through tougher projects. It also comes with blade storage in the I-beam, which means that you can always have a new blade nearby when you need one.
This model does have one major flaw: Over-tensioning the blade can lead to the failure o the whole unit. Often, this is because the frame snaps at a weak point, rendering the whole unit useless. However, if you're careful and looking for a hacksaw that is a bit cheaper, this could be the model for you.
Pros
High-tension hacksaw
Rubber grips on both ends
Hacksaw blade storage
Cons
Over-tensioning leads to frame failure
---
4.

Klein Tools 702-12 High Tension Hacksaw
The Klein Tools 702-12 is a clear example of a high-tension saw that is modeled after other, better high-tensioned saws, but with much less quality control during production. It is capable of tensioning blades up to 30,000 psi, which improves the quality of your cuts compared to non-high-tension hacksaws. It also comes with blade storage in the I-beam, like with other models.
However, the blade storage is prone to opening while you work, which spills blades everywhere. There are other notable quality control issues, including the inclusion of rusty parts and overall short lives, measured in months instead of years. You could save yourself a lot of frustration and stress by spending your money on a different model.
Pros
High-tension
Hacksaw blade storage
Cons
Blade storage randomly opens
Quality control
---
5.

Starrett K145 HackSaw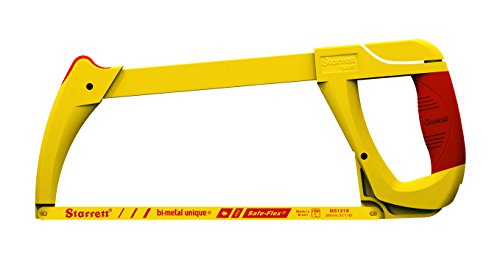 The Starrett K145 is much like the previous model on our list, but with even more severe problems. In theory, you can tighten the blade up to 28,000 psi, which isn't great for a "high-tension," hacksaw, but it's still more than you'd get on a standard model. It also comes with a quality blade included, which means you won't immediately be changing it out for an aftermarket replacement.
However, it's obvious that the manufacturer cut a lot of corners during production. The frame has an overall "cheap" feel to it, which is a warning sign with hacksaws.  This feeling is justified, as not only over-tightening but also normal use can lead to this model failing in several places. You can't expect this model to last very long and that you should probably spend your money elsewhere and get a model that won't be so frustrating to use.
Pros
High-tension
Comes with a good blade
Cons
Cheap frame
Subpar materials
Durability problems
---
6.

Stanley STHT20138 High Tension Hacksaw (2-pack)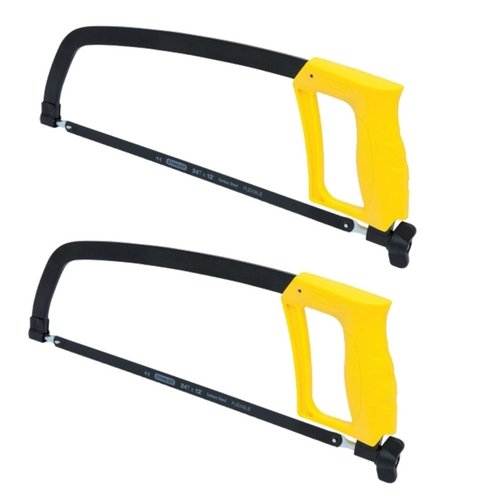 The Stanley STHT20138 features two saws with a 12-inch blade and a cutting depth of 4.375 inches. They've got the capacity for major jobs, and the strong blade tension needed to see them through.
Blade tension is easy to adjust with a handle-mounted knob and reaches up to 225 pounds. In our tests, we managed to saw through 1-inch piping in just a few minutes.
Stanley isn't really innovating on the form here since the blade angle is limited to 90 and 180 degrees, but you shouldn't be making bevel cuts with a hacksaw anyway. What matters is that it's strong, it works, and the handle is insanely comfortable. It grips like a pillow but hefts and cuts like a power saw.
Our main complaint is the core of the handle is plastic, which makes it less suited for heavier jobs. For amateur work, though, this is a good value buy. Unfortunately, this model only comes in a two-pack, so you have to decide if you really need two hacksaws.
Pros
High tension
Good cutting capacity
Clean cuts in all sorts of material
Comfortable grip
Cons
Cheap frame
Plastic core
Two-pack only
---
7.

GreatNeck 100 12 Inch Butcher-style Hacksaw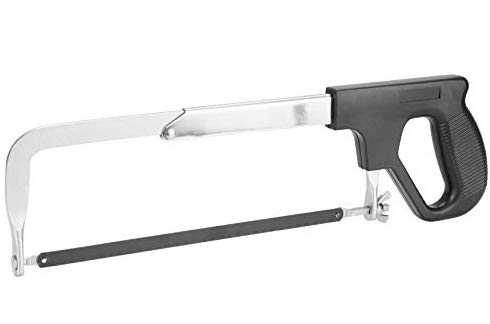 The GreatNeck 100 resembles a butcher's bonesaw but is useful for cutting many materials other than bone. Its biggest perk is the adjustable frame, which allows you to fit it with either 10-inch or 12-inch blades. If you have blades with a specific tooth count, depth, or width for special jobs, you can swap them out in the GreatNeck 100's frame.
The molded silicone grip provides a steady base for harder cutting, letting you apply a lot more power to tougher material in a short time. The whole design is aimed toward the twin goals of comfort and power.
The big problem that puts it down this far, although you can adjust the frame to fit multiple blade lengths, the actual process of swapping out the blade is demanding and unintuitive. The included blade is weak, as well, basically requiring you to go through a painful replacement process at least once.
Pros
Delivers cutting power
Excellent at metal and bone
Cons
Hard to replace blades
Lackluster pre-installed blades
Durability problems
---
8.

CRAFTSMAN Hand Saw, 12-Inch Hacksaw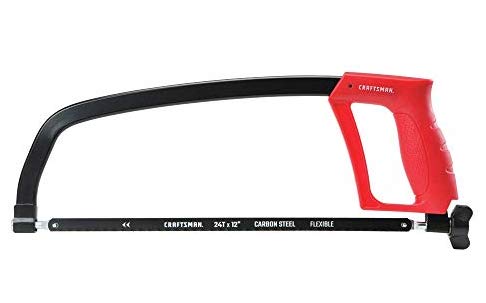 Craftsman's 12-inch hacksaw looks almost identical to the Stanley STHT20138 at number six, and like the GreatNeck 100, gives it a run for its money. With a similar 12-inch-long, 4.375-inch-deep cutting capacity, and the same 225-pound tension, it can tackle any cut the Stanley can.
It's ranked at number eight, though, because of its nasty habit of arriving at your house without certain critical pieces. Our test model arrived missing the tension nut, and we had to send it back. Once you actually get the whole thing, the blade doesn't last quite as long as that of the STHT20138.
Other than those gripes, it's a great hacksaw when considered on its own merits. It's light and grippable, bites well, and is more than able to cut metal. Just restrict it to small jobs, and remember to save the receipt.
Pros
Good cutting depth
Adjustable blade angle
Cons
Cheap frame
Subpar materials
Frequently arrives without critical parts
---
9.

AIRAJ 12-inch Hacksaw Frame
The Airaj 12 is a supremely versatile hacksaw that comes with seven interchangeable blades: two cutting wires, two toothed blades, and three toothless abrasion blades. They can be swapped out with the touch of a button — no tools required. When installed, you can adjust the blades to 45 or 90 degrees for flush or straight cuts.
The saw itself is made of thickened steel and fitted with an ergonomic handle. Tension is simple to adjust. Most importantly, this is a saw that will last you for a long time: it's both broadly and deeply useful.
As you might expect, you'll definitely pay extra for that broader flexibility. Also, while the body of the Airaj 12 is constructed well, none of the blades are very impressive. Be ready to replace them fairly often as they run out.
Pros
Seven interchangeable blades
Wide variety of applications
Cons
Expensive
Mediocre blades
Durability problems
---
10.

METAKOO Hacksaw Frame with Mini Hacksaw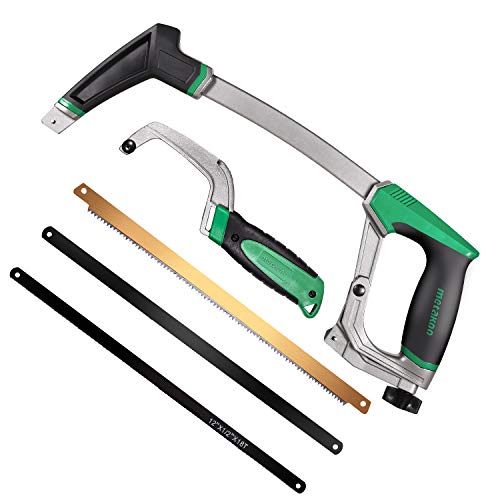 Our last pick, the Metakoo Hacksaw Frame, is a decent tool, but not one we'd recommend unless one through nine are out of stock everywhere. It comes with three interchangeable blades with different tooth counts and depths, making it suitable for cutting wood, metal, or plastic. It also includes a mini hacksaw that you can use one-handed and fit into smaller corners.
The body is a lightweight combination of steel and aluminum. It doesn't have the heft of higher quality saws, so it feels a bit cheap in your hand. We weren't fond of the handle design and tension, which makes you apply a lot of muscle. Like the Airaj 12, changing out the blades only takes one button. It even beats the Airaj in one respect — the surprisingly high quality of the included blades.
The drawback is the tensioning system. The knob doesn't feel like it's connected to the blade, which frequently falls off in the middle of a cut. The miniature hacksaw is also next to useless in practice since it's never clear exactly how the full-size blades are meant to fit in.
Pros
Easy to change blades
Good blades included
Cons
Cheap feel
Poor tensioning system
Mini hacksaw is worthless
---
Buyer's Guide – Factors to Consider When Choosing the Best Hacksaw:
When buying the best hacksaw, the number one thing you need to research is each model's expected durability. Some will last far longer than others, and that means that you can get a better deal by investing in a model that will last a long time.
You'll also want to look for models that have additional sawing functions. If the blade position is reconfigurable, then you can replace a lot of your saws with just one hacksaw, which means that you'll have a lighter toolbox and more cutting flexibility on the go.
You'll also want to look for hacksaws with quality grips. For one, it makes using the tool a more comfortable experience, but it also serves as a good sign that the manufacturer was willing to invest in quality parts in the rest of the tool, meaning that it will cut better and last longer.
Final Verdict:
We think that the DEWALT DWHT20547L 5-in-1 is the best hacksaw overall, due to how comfortable it is to use and 5-in-1 sawing modes. The LENOX 12132HT50 is one of the best high-tension hacksaws, kept out of first only because it makes it hard to change blades. The TEKTON 6823 is our choice as the best hacksaw for the money, as it is a high-tension hacksaw that comes with dual rubber grips and convenient blade storage that comes at a low price. The Klein Tools 702-12 has some quality control issues that keep it from rising higher than fourth on our list. The Starrett K145 is an inferior tool with little upside that is likely to break sooner than you'd like.
Hopefully, our reviews and buyer's guide have given you some idea of what makes for a good hacksaw. With that information, you should now be able to choose the hacksaw that is right for you.
See Also: