10 Brutalist Interior Design Ideas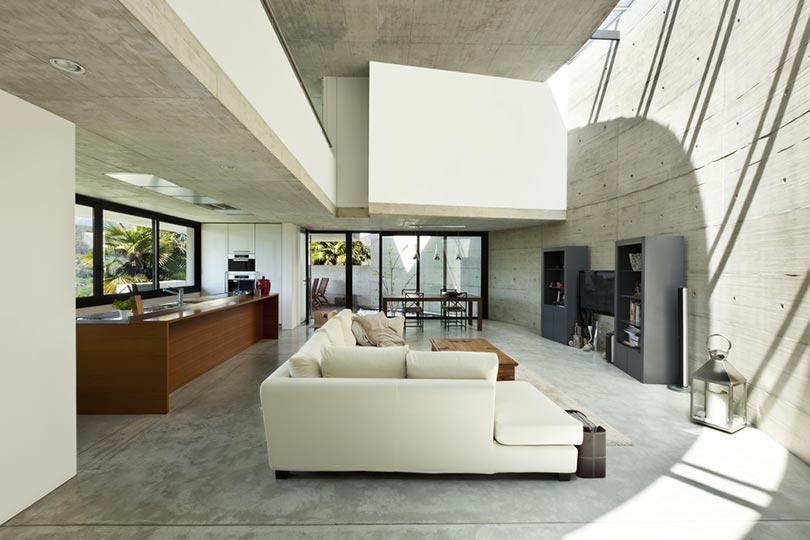 The brutalist design style had its beginning in the mid-1900s. Originally, it was more of an architectural style. However, it has become its own interior design as well. Geometric shapes, bulky materials, neutral tones, and unpolished and raw materials are all primary characteristics of the design.
This design style is not for everyone. It has a very industrial feel and can appear quite cold because of the lack of bright colors. But if you're looking for a mixture of contemporary and industrial, brutalist design choices may be right for you.
Here are a few examples of brutalist architecture used with interior design.

10 Brutalist Interior Design Ideas
Brutalist Interior
1.

Lots of Concrete
One of the main characteristics of brutalist architecture is the use of a lot of concrete. Not only is this bathroom constructed from concrete, but even the counter protruding from the wall is built from concrete.
The other cool thing about this bathroom is that the concrete is not polished. Most of it is unfinished, and the walls get their texture from the forms when the cement was poured, and some of it appears to be a brushed finish for the ridged effect.
---
2.

Pillars and Barebones Architecture
In addition to concrete, brutalist architecture also favors using pillars and other geometrical shapes. This picture gives us a good idea of a brutalist interior on a fairly grand scale. It combines concrete construction with pillars and a spiral staircase. Then to finish it all off, you have the floor-to-ceiling windows with steel frames.
---
3.

Rough Around the Edges
Talk about making use of the surroundings; this design idea uses what were likely natural rocks during construction. A brutalist design scheme doesn't only use geometrical shapes. It also favors rough textures like spikes, or in this case, natural rocks. This gives the space a very raw and natural feel.
---
4.

Textured Walls
In the same way that the natural rocks have an obvious and extreme texture to the walls, the trim on the paneling here also gives that textured effect. When it comes to brutalist architecture, texture is usually found everywhere. Whether in unpolished concrete, natural stones, or artificial texture created manually to bring a room to life.
---
Brutalist Furniture and Decor
We've looked at the architectural choices that create a brutalist style. Now let's look at a few decor pieces to complete the look.
5.

Zebra Room Divider
Not everyone uses a room divider, but if you do, this is the one you'll want for a brutalist interior. For starters, it's a beautiful stained glass divider with a steel frame; both are characteristic of the style. In addition, it's got a pleasing aesthetic to its sloping curves and the way the pieces are different heights.
---
6.

Moa Armchair
Everyone needs a place to sit down in their home. With these Moa armchairs, you can complete your brutalist interior with seating. A Moa chair gives you the perfect blend of modern contemporary with a brutalist flair. You get the soft creamy and bronze colors of a contemporary piece with the sharp angles of the chaotic brutalist design.
---
7.

Fuschia Dining Table
If you want the best chance of having the most unique dining room table in your neighborhood, there's a good chance you can succeed with this one. Everything about this Fuschia dining table is geometrically shaped, right down to the unique legs that are even different from one another. With this piece, you're getting a great mixture of contemporary and industrial—an excellent way of summing up brutalist interior design.
---
8.

Bonnie Armchair
If the Moa armchair wasn't your flavor, perhaps this Bonnie armchair will give you what you want. Again you're getting the nice contemporary colors and materials that will fit into many designs. But then you get these odd, metal geometric-shaped legs to give it that brutalist feel. The nice thing about the neutral colors is that they will fit in almost any room that is done with brutalist style choices.
---
9.

Textured Cushions
Walls and ceilings aren't the only things that get texture in a brutalist interior. Take these Madonna cushions, for example. Instead of simply being a black and white checker color, the pillows are made in a way that each checker adds to the texture. The colors are just a nice addition to really make the textures pop.
---
10.

Everest Mirror
This may not be the mirror you want in your bathroom that you use every day. However, it would make an excellent decor piece in an entryway hallway or maybe even in the living area. Color-wise it's borderline brutalist, maybe leaning a bit more to a modern contemporary. But the unique shapes and textures it has for the "mountain range" are what you're after when doing a brutalist interior.

What is Brutalist Design?
Brutalist architecture dates back to the 1950s and 1960s. It originated in England with Alison Margaret Smithson and Peter Denham Smithson. These two architects were responsible for unique buildings made from concrete with unusual lines.
The architectural critic Reyner Banham eventually used the term "brutalism" to describe the style. He drew inspiration from the term "beton brut" used by French painter Le Corbusier. The term meant "raw concrete" in French.
One of the most common materials used in brutalist architecture or interior design is concrete—usually unpolished. But it also includes lots of steel, glass, and natural stone. In addition to the materials, you'll find lots of odd geometrical shapes.

Conclusion
The brutalist style is worth your attention if you're looking for something big and bold for your next redesign. Because many themes cross over between modern contemporary, industrial, and brutalist, it's easy to blend the three together if you want to pull several different elements into a room.
---
Featured Image Credit: alexandre zveiger, Shutterstock