5 Best Handheld Paint Sprayers 2023 – Top Picks & Reviews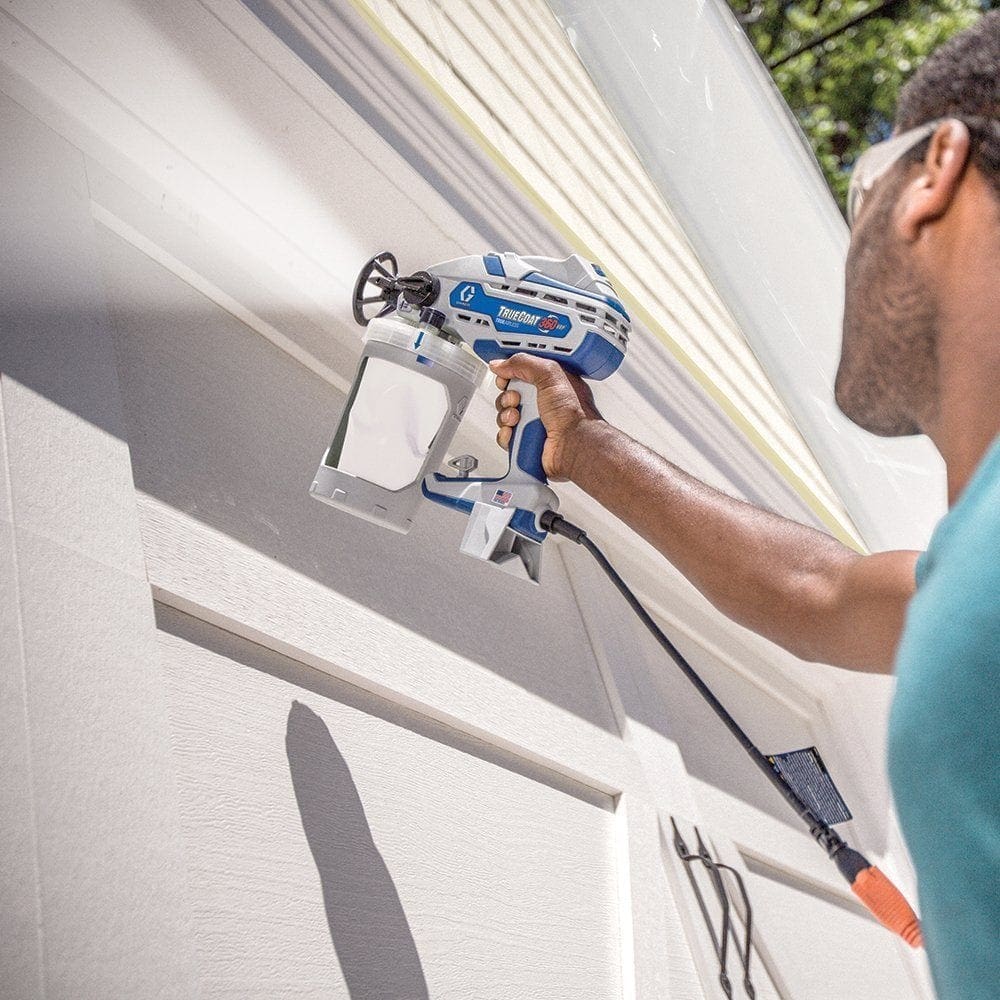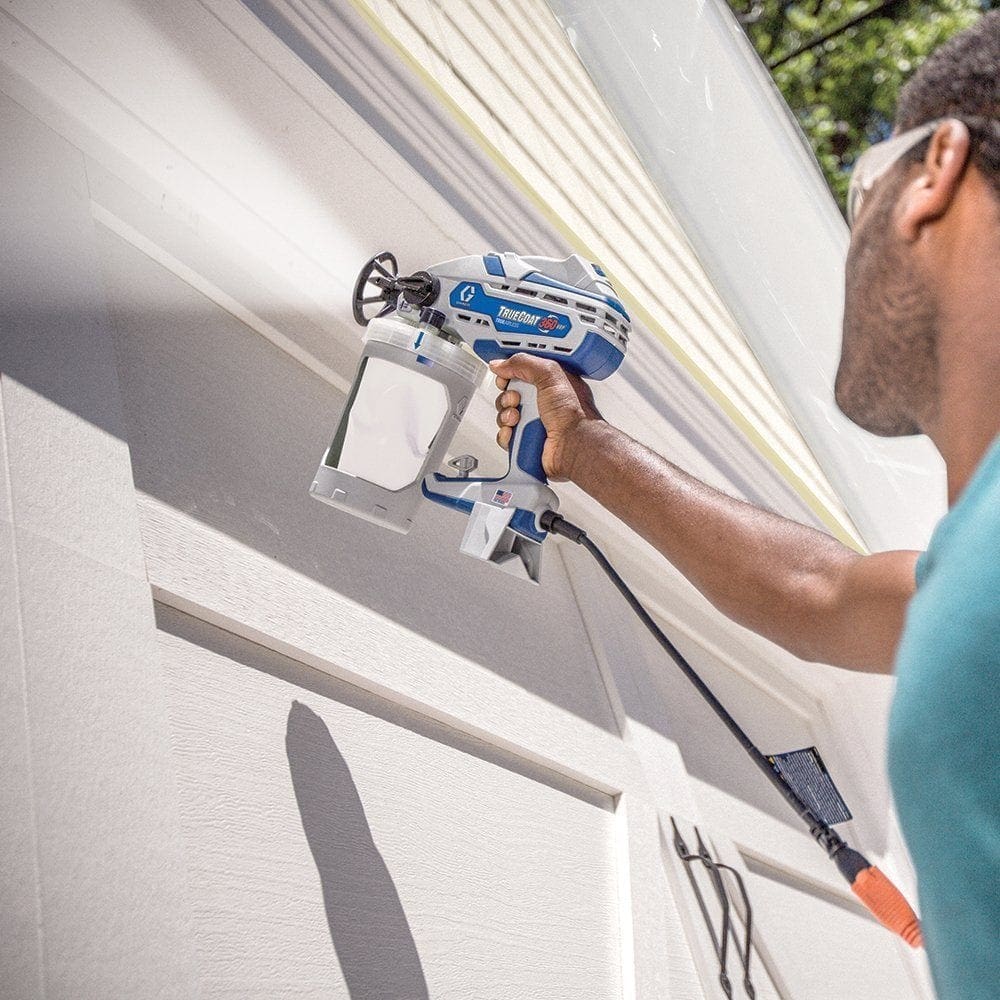 A paint sprayer can be a fantastic addition to any tool collection, and it can level the playing field for a DIY painter. When it comes time to choose a new model, finding something you feel comfortable using is a challenge. There are so many different models to choose from that it would be unrealistic to look at each one. Looking for reviews on the internet is little help and often a waste of time spent reading contradictory reviews.
We have already reviewed dozens of paint sprayers, and we can help narrow down your search by presenting you with five of the best models that we use. Each model has things we like and things we don't like, and we are going to go over it all with you to help you learn a little bit more about what you're looking for in a handheld paint sprayer.
Keep reading for our detailed reviews of each above handheld paint sprayer, where we compare spray patterns, PSI, nozzle tips, price, and more rate to help you make an educated purchase.
A Quick Rundown of our Favorites in 2023
Rating
Image
Product
Details

Best Overall

Graco TrueCoat

Reversible tip
Reusable liner bag
High-pressure unthinned paint spraying
CHECK PRICE

Wagner 518080

Two air filters
Two-stage turbine
Adjustable control
CHECK PRICE

Best Value

REXBETI REX006

Affordable
Fine finish
Nice body finishing
CHECK PRICE

HomeRight C800971.A

Lightweight
Easy to maintain
Less thinning of paint
CHECK PRICE

Hi-Spec Spray Gun

Cheap
Easy to use
CHECK PRICE
The 5 Best Handheld Paint Sprayers
1.

Graco TrueCoat Handheld Paint Sprayer – Best Overall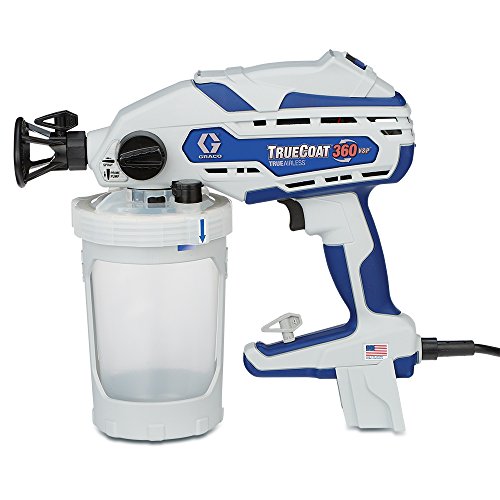 When you think of the Graco 17D889, what should come in your mind is the best handheld airless paint sprayer on this list. This handheld device is very suitable for both interior and exterior painting projects, making it our topic pick for the list. This model uses compressed air and spraying techniques to help carry out a neat and professional style of painting. With a firm design grip, this device has a sensitive trigger which changes spraying speed depending on the amount of pressure applied to it.
The spraying tools are easy to clean and can be reused as much as needed. With a pressure point of 1500 PSI, this device falls in the category of the recommended spraying condition so this makes the Graco 17D889 perfect for a smooth painting finish and it's almost mild application helps prevent over-spraying.
This paint sprayer is integrated with vacuum valve technology to help you paint in any direction or angle that you need to, preventing leakage. It has a stainless steel pump which allows you to use thicker paint substances at high velocity and can hold up to 42 Oz of paint. Overall this is the best handheld paint sprayer on the market today.
Pros
Easy to use
You can use it to paint in various angles and directions.
Tips can be reversed when clogging takes place
The liner bag included can be reused and recycled
It offers high-pressure unthinned paint spraying
Cons
Not suitable for low budget spending.
Recommended annual usage of 25 gallons
---
2.

Wagner 518080 Handheld Paint Spray Gun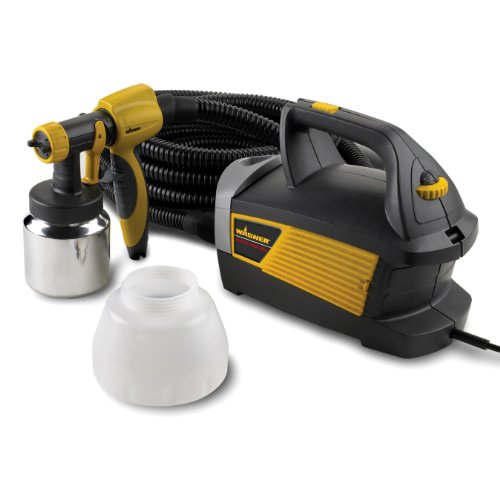 This model of handheld paint sprayer offers direct and precise control for spraying from ½ inches to 12 inches. This is a very huge advantage over when it comes to using spray cans and brushes because of the ability to give your masterpiece a fine finish. Weighing at about 11.2 pounds, this device inputs a voltage of about 110 and can be powered with both direct and alternating current.
The paint sprayer uses an HVLP technology that helps the pulverizing of plant substances to fine particles through the high air and at low PSI. This leads to a very fine finish, lack of overspray and a very professional work done.
Painting of surfaces with less thick and thinner substances like lacquers and latex paint can easily be carried out with this handheld sprayer. This device comes with a metal gun sprayer, powerful two-stage turbine engine, and air pressure control.
However, unlike the Graco 17D889 TrueCoat, the device is not easy to use. It does not come with an anti-clogging system and leaking may occur if used vigorously at different angles and directions. But this is a great handheld sprayer to buy if you can't afford the first device.
Pros
Available in three patterns of spray, depending on the substances
Two-stage turbine for spraying latex, stains and lacquers
Two air filters help to prevent your finished work to be destroyed by dust.
Adjustable control for air pressure.
Cons
It is not easy to use if you are an amateur.
It may cause spillage
It doesn't work perfectly with floetrol and latex
---
3.

REXBETI Hand-held Paint Sprayer – Best Value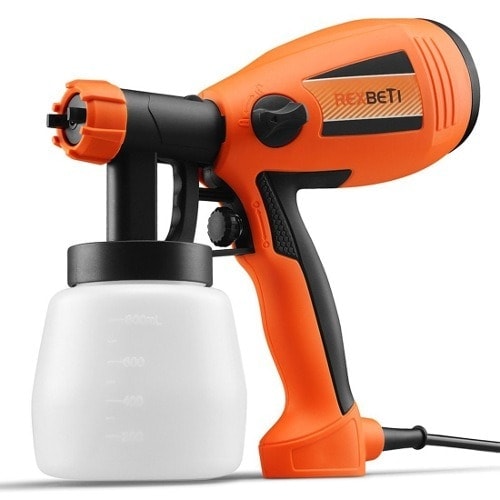 Best known to be financially friendly, the Rexbeti rex006 will help you complete your paint project by saving you a lot of time. Integrated with HVLP technology, this handheld sprayer also comes with a 3-way spray pattern settings and an advanced motor that ensures that your paint project has a roller-like finish.
The high volume low-pressure technology helps reduce overspray by giving an output of 750ml of paint each minute. This, however, makes it suitable for painting furniture, walls, bed liners, etc. it is also equipped with a 1.88MM brass nozzle to spray substances that are thinner, eg. Lacquers and stains. It has a very firm handle that provides a very trusted grip making you able to lift the container capacity of about 800ml easily while painting.
However, compared to the Wagner 518080, this device does not come with a battery option. Meaning that it cannot operate without any electric source. However, this slightly affects performance due to the presence of wires and the compulsory use of direct current. But this device is best if you don't want to spend much because it gives cool features without going hard on the pocket.
Pros
It is very affordable
It has a very fine finish
It has a nice body finishing with a brass nozzle.
Cons
It doesn't come with a battery option
It is very suitable for indoor use only
It is a little bit hard to use
It takes up a lot of power, about 500 watts and comes in orange
---
4.

HomeRight C800971 Handheld Paint-Sprayer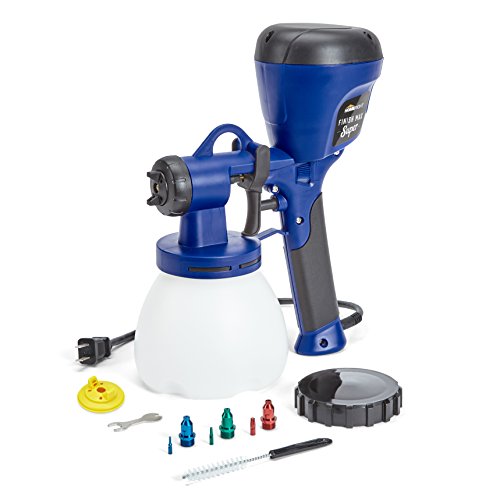 This is the newest type of handheld spray device in the HomeRight series, which is very suitable for painting furniture, cabinet, and walls. It is very lightweight, comes with the HVLP technology and a powerful motor turbine to power it up making you save time in thinning thicker paints before use. It comes with a total number of 6 tips spray sizes for the completion of your projects on various surfaces.
This unit is suitable for both oil and water-based substances, meaning you can use it to spray lacquers, stains, enamels and varnish etc. it is very easy to use and setup making it beginner friendly.
This handheld paint sprayer uses a precision brass spray tip with the superior performance of 400 watts of power, combined with adjustable air cap, it atomizes paint into smaller particles giving your project a necessary fine finish. Although this device has all the said features, it still has its downs like its short outlet and its unfit ability6 to expansive surfaces.
Pros
It is easy to use and maintain
It is lightweight
It saves time due to less thinning of paint
Cons
It may be a little expensive
It is not suitable to paint surfaces at obscure angles eg. The ceiling.
It doesn't come with a viscosity cup for atomizing paints
The plastic body may not be strong
It is only suitable for indoor usage
---
5.

Hi-Spec Paint Sprayer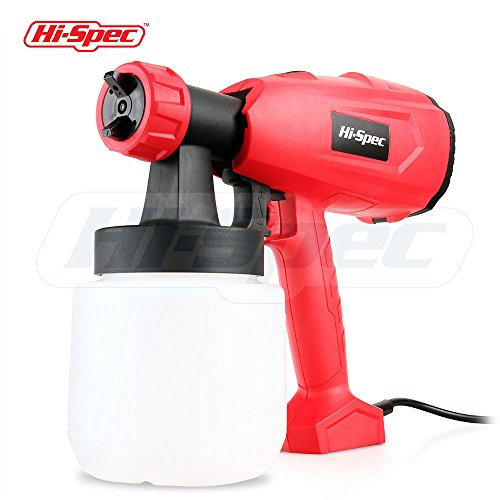 Equipped with 27 fluid ounces of canister, this 21st-century handheld paint sprayer is very useful for your job projects, including the application of stains varnish and lacquers etc. It is suitable for use for both indoor and outdoor furniture, windows, walls, cupboard fences and frames etc.
Although this handheld paint sprayer looks ideal for your project, it is nothing compared to the others on this list. The body of the Hi-Spec Spray Gun is entirely made up of plastic which won't probably be lasting long in your hands. The device sprays 24fl. Oz of paint per minute, which is less than any on the list so if you want a faster work done, this is not for the project.
Due to observations, this device is totally not immune to overspray, as there are test results which turned out to prove this right.
The device is very cheap compared to other devices, but it lacks other useful and perfect features most of the above sprayers have. If you like perfection and professionalism, you wouldn't even think about going for this.
Pros
It is very easy to use
It is very cheap compared to the others
Cons
Although it is cheap, it lacks so many features compared to the others
Due to the plastic covering, It may not last very well
Overspray has sometimes been inevitable.
It is not suitable for outdoors.
It does not use the High Volume Low-Pressure technology
It is not suitable for painting at obscure angles
---
Buyer's Guide – Choosing the Best Handheld Paint Sprayer
When picking a handheld paint sprayer, it is very important to choose the one that is right for your job. Technically, there are two common types of handheld sprayers:
Airless paint sprayer – these come with an electric motor that draws paint substances up its nozzle and forces it out with high pressure. They are mostly used on wide and broad exterior surfaces like fences, sheds, garage doors, walls etc. They are used more on water-based and oil-based paints.
High Volume Low-Pressure sprayers – these paint sprayers tend to atomize paint substances under very low pressure to create a very fine finish. They are perfect for medium professional spraying projects at home like furniture, windows, pipes, cabinet, etc. They have used more on oil-based substances than water-based paint substances.
Conclusion
After much consideration, we can say that the best handheld sprayer to purchase is the Graco 17D889 TrueCoat. It has all the exciting and amazing features that will make your project worth the price. We know that choosing that handheld spray paint for your project is definitely worth the hassle. In no time, you would be eager to finish that project (fence, cabinet, wardrobe, etc.) with the masterpiece that was made easy for beginners to get their hands on.
Also, if you can't really afford it and you are on a budget, you can actually consider going for the REXBETI REX006. This is the best handheld sprayer for the price and amazing features that can help you enjoy your hobby while being very soft in your pocket.
We hope that this article has helped you discover the best handheld paint sprayer for your projects. We helped you research through thousands of handheld sprayers out there just to satisfy your needs and make the workload easier for you. Whether you want to start your painting career or you want to take your hobby to the next level, there is no better place to start than to choose a good quality handheld paint sprayer.
More paint spraying guides & tips:
Top 5 Paint Sprayers overall: check it out here
A closer look at paint guns for trim & doors
Top 5 paint guns for your furniture