10 Best Heat Guns of 2023 – Reviews & Buyer's Guide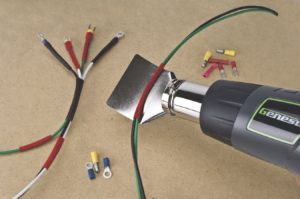 Traditionally used to remove paint, varnish, and wallpaper, modern heat guns are more advanced and can be used for everything from thawing pipes in winter to drying out wood or for shrink wrapping.
To enjoy this flexibility, you will need a good quality heat gun with variable temperature settings, lightweight and convenient design, and a good selection of nozzles and accessories. There is a range of motors and power settings, and you will find some guns that include carry cases.
With models from manufacturers including DeWalt and Black+Decker, there is a great range of heat guns to choose from. Below, we have written a list of reviews of 10 of the best heat guns so that you can find the one that best suits your needs.
---
A Quick Comparison of Our Favorites
Rating
Image
Product
Details

Best Overall

Wagner Spraytech 0503008 HT1000 Heat Gun

Effective for paint removal
Inexpensive
Two heat options
CHECK PRICE

Best Value

Genesis GHG1500A Heat Gun

Cheap
Two heat settings
Integrated stand
CHECK PRICE

Premium Choice

DEWALT D26960K Heat Gun

Lots of accessories
Hard carry case
3-year warranty
CHECK PRICE

BLACK+DECKER HG1300 Heat Gun

Cheap
Two temperature settings
Integrated kick stand
CHECK PRICE

CARTMAN CM-HG-12D Heat Gun

LCD screen
Temperature variable in 50°F increments
Includes four nozzles
CHECK PRICE
The 10 Best Heat Guns – Reviews 2023
1.

Wagner Spraytech 0503008 HT1000 Heat Gun – Best Overall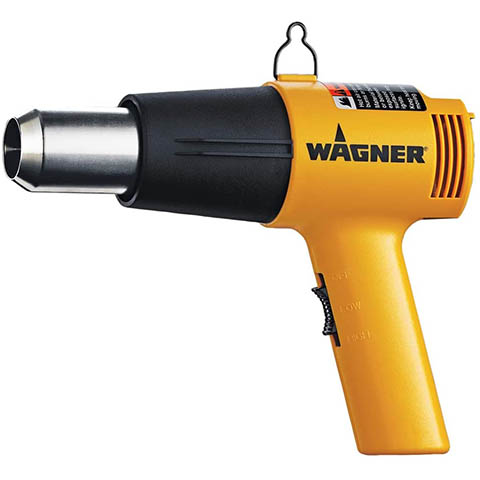 The Wagner Spraytech HT1000 Heat Gun is a 1,200-watt heat gun. It has two heat settings, 750°F and 1000°F, controlled via the temperature switch built into the lightweight handle. Two fan speeds ensure that the device is kept cool enough to prevent overheating, while ensuring relatively silent operation.
The hanging loop on top of the gun makes it easy to store, even while the gun cools to a safe temperature. It also has an integrated stand, which is another beneficial method of cooling the device down, and also facilitates hands-free use.
Although not the cheapest on our list, the Wagner is still reasonably priced, and it comes with a 2-year manufacturer's warranty to give you peace of mind.
The Wagner is best suited to traditional use in paint removal. It has a limited temperature range, which means that it will struggle with more precise applications. It also takes some time to cool down, although it does have the hanging hook and can be stood upright during the cooldown. Moreover, at 1,200-watts, it has one of the least powerful motors on the list.
Pros
Effective for paint removal
Inexpensive
Two heat options
Hanging hook and integrated stand
Cons
Limited temperature choice
Long cooldown period
---
2.

Genesis GHG1500A Heat Gun – Best Value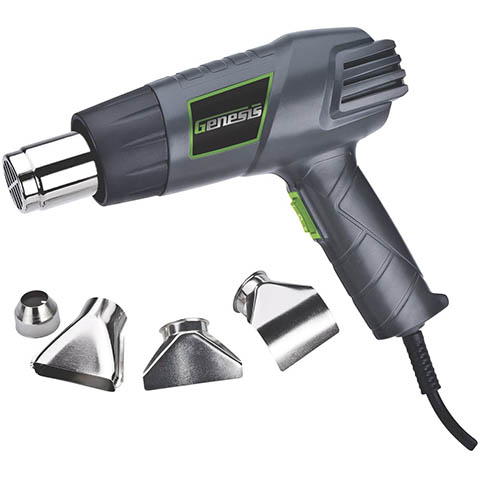 The Genesis GHG1500A Heat Gun is one of the cheapest on our list. Despite having such a low price tag, though, it does have a variable temperature setting, with the air temperature options being 572°F and 1000°F.
There is actually a greater range in temperature from this model than from the Wagner above, which means that it could be useful in more applications. Temperature is selected via the rocker switch and offers low, high, and off. It has an integrated stand on the back of the device, which makes for convenient cooling or for heating shrinking wire insulators.
The device also comes with a two-year manufacturer's warranty, but there are reports of the heat gun getting very hot and giving off an unpleasant smell during the gun's operation. The Genesis can be used for stripping paint and its price means that it is one of the best heat guns for the money but it will struggle with extensive use. We think this is the best heat gun for the money available this year.
Pros
Cheap
Two heat settings
Integrated stand
Cons
Gets very hot
Gives off a noxious smell
---
3.

DEWALT D26960K Heat Gun – Premium Choice
The DeWalt Heat Gun isn't cheap, but it has a fully adjustable temperature dial, includes a hard case and accessory kit, and it has an LCD display, as well as a host of other features that make it the preferred choice of professionals and regular users. DeWalt's 3-year warranty is also generous compared to a lot of other manufacturer warranties.
The DeWalt can be used at temperatures from 150°F to 1100°F, which can be altered in 50°F increments, and has overload protection so it will shut off to prevent overheating. It has a hanging hook and a kickstand, both of which can be used while the device is cooling down, and the latter can convert the gun into a static device. It is also a lightweight design and has an ergonomic handle.
In terms of accessories, the DeWalt comes with 12 common accessories. This includes a variety of nozzles, and you also receive the hard case, which prevents the gun from getting damaged when in storage or in transit.
The DeWalt offers greater functionality than most of its competitors, as evidenced by its greater variance in temperature settings and its collection of accessories. However, it is expensive, and this will prohibit its use for most people.
Pros
Variable temperature settings from 150°F to 1100°F
Lots of accessories
Hard carry case
3-year warranty
---
4.

BLACK+DECKER HG1300 Heat Gun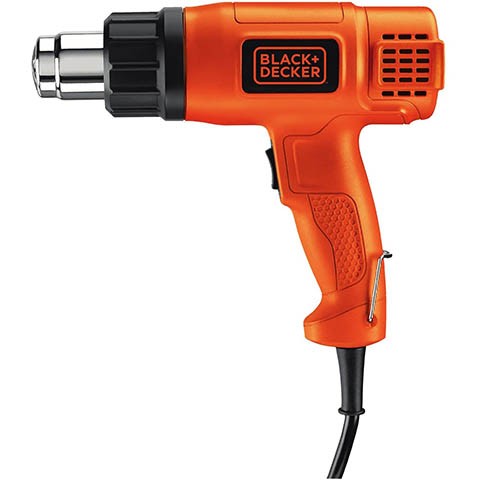 The Black+Decker HG1300 Heat Gun is cheap and comes from a well-respected brand. It offers a choice of two temperature settings, is powered by a 1,350-watt motor, and it has a built-in stand that makes it easier and convenient to leave standing and cooling. Weighing less than 2 pounds, it is also a lightweight and convenient heat gun.
The motor is fairly powerful – 1,350-watt is on the low end of mid-range – so the Black + Decker can be loud when under load. Some buyers have also reported that the heat gun can smoke when used on the high setting for long periods.
The Black+Decker HG1300 Heat Gun is an inexpensive heat gun with few accessories and limited settings or options. However, if you're after something simple, that won't break the bank, and that you won't have to use for extended periods on high settings, it is a decent option.
Pros
Cheap
Two temperature settings
Integrated kick stand
Cons
No accessories
Loud and smoky on high setting
---
5.

CARTMAN CM-HG-12D Heat Gun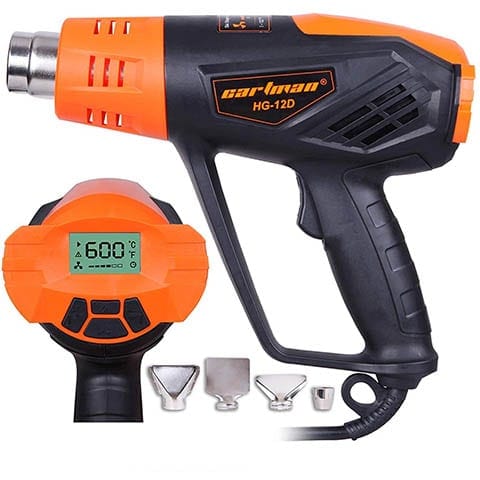 The Cartman CM0HG-12D Heat Gun is a modestly priced 1,500-watt heat gun. It has an LCD screen that allows you to easily track the temperature, which is beneficial considering it can be altered from 122°F to 932°F in 50°F increments. It also has a 6-speed fan, which means that you can determine the intensity of heat delivery, while controlling everything including the noise level.
The device includes four nozzles, which are ample for a variety of jobs from stripping paint to thawing plastic pipes and removing the screen and back from your mobile phone. However, the quality of these nozzles isn't that great, and some of the attachments feel like they are not firmly attached.
While the Cartman Heat Gun is a good entry level model, it isn't meant for heavy-duty use. It can be operated with two hands but may become uncomfortable following extended use. And, while it will withstand infrequent use by home users and DIYers, it is unlikely to survive regular and professional use.
Pros
LCD screen
Temperature variable in 50°F increments
Includes four nozzles
Cons
Not for heavy-duty use
Nozzles are a bit loose
---
6.

Tacklife HGP73AC Heat Gun
The Tacklife HGP73AC Heat Gun is a mid-priced heat gun. It offers seven temperature settings ranging from 112°F to 1112°F. It uses a 1,600-watt motor, which is among the most powerful models, and this helps reduce noise and load on the motor during use. It has overheating protection so it will cut off if the device starts to overheat. Tacklife claims that the heat gun can be used for 500 hours of continuous operation at the highest temperature setting.
Although the Tacklife is heavier than a lot of the devices on our list, weighing around 2.6 lbs, it does have a rubberized and ergonomic grip that make it more comfortable, even during long-term use.
The Tacklife includes four nozzles, including paint remover, pipe bender, PVC shrink wrapper, and barbecue lighter.
However, while the heat gun gets hot to use, it is not as effective at jobs like paint stripping as some of the alternatives. It is also on the higher end of the budget scale, although not as expensive as DeWalt's premium option. It is also quite heavy and can become uncomfortable after extensive use.
Pros
7 temperature settings
Overheating safety shutoff
Four nozzles
---
7.

PRULDE HG0080 Heat Gun
The Prulde HG0080 Heat Gun is a lightweight, inexpensive, heat gun. It has two temperature settings, four nozzles, and it has a kickstand that enables hands free usage. It has overheating protection and will automatically switch off if it gets too hot.
The device is cheap compared to others on this list, and it does include four different nozzles or attachments. Thanks to the choice of 752°F and 1,112°F temperature settings, this means that the gun can be used for projects including softening sink caulk, defrosting water and other pipes, and removing paint. However, while the options are there, the heat gun doesn't seem to heat up as well as other guns, and the fan is not well powered so it does not do a good job of delivering any heat. Considering the price and the lack of power, the Prulde is an inexpensive heat gun for home use but would not prove suitable for heavy-dutym intensive, or regular use.
Pros
Cheap
Two temperature settings
Lightweight
Four nozzles
Cons
Doesn't seem to get as hot as others
Poor fan
Not heavy-duty
---
8.

DEWALT DCE530B Cordless Heat Gun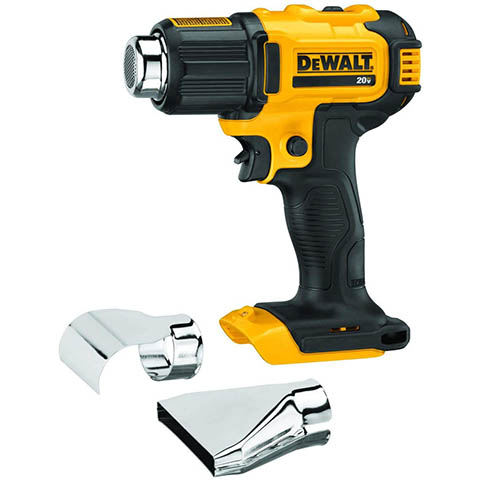 The DeWalt 20V Max Cordless Heat Gun is a cordless heat gun that offers up to 42 minutes of heating on low setting, or restricted use on high setting with a temperature of 990°F. The cordless design means that it is functional and practical. It can be taken virtually anywhere, and you won't need to have to keep slinging and moving the power cord around with you. It is also surprisingly lightweight and is ready for use after a few minutes of heating up.
The cordless DeWalt also has an integrated stand, which means that it can be used for a host of different purposes, and it uses a standard nozzle size attachment so that it is compatible with a number of different nozzles from different manufacturers.
However, the DeWalt is an expensive tool, and is even more expensive if you want anything other than just the heat gun. And, as you should expect from a cordless tool of this kind, the battery time is severely limited. You might get 40 minutes on low power but only a fraction of this on high power, especially allowing 5 minutes for it to get to temperature. What's more, it simply doesn't offer the same kind of power as a lot of the other devices on this list.
Pros
Cordless for convenience
Lightweight
Integrated stand
Cons
Expensive
Poor heating capability
Battery doesn't last
---
9.

EnerTwist HG-1500 Heat Gun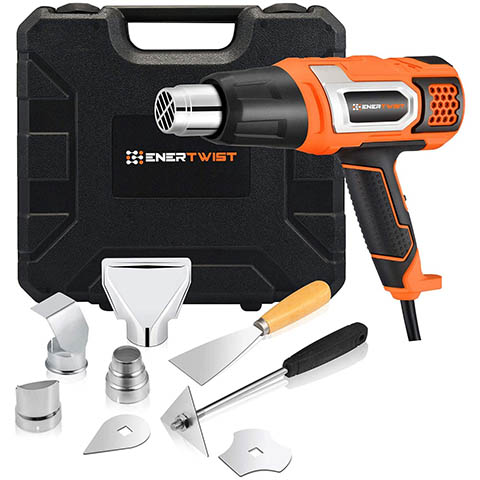 The EnerTwist HG-1500 Heat Gun is a 1,500-watt variable temperature control heat gun. It is cheap, comes with four nozzle deflectors and five scrapers, as well as a carry case. It can be used for shrink wrapping, defrosting pipes, and removing paint, thanks to its variable temperature settings from 140°F to 932°F.
It has been designed for comfortable and prolonged use, although it is a lot heavier than most devices on this list, weighing more than 4 pounds and being three times heavier than some of the guns on this list.
It does have an integrated stand, and you get a lot of kit and accessories for small investment. However, even its highest setting is lower than most competitor devices. It also tends to emit smoke, even at lower heat settings, and it does a bad job of pushing hot air out of the blower.
Pros
Cheap
Lots of accessories
Cons
Low power
Heavy
Doesn't fire hot air far
---
10.

Avid Power AHTG192 Heat Gun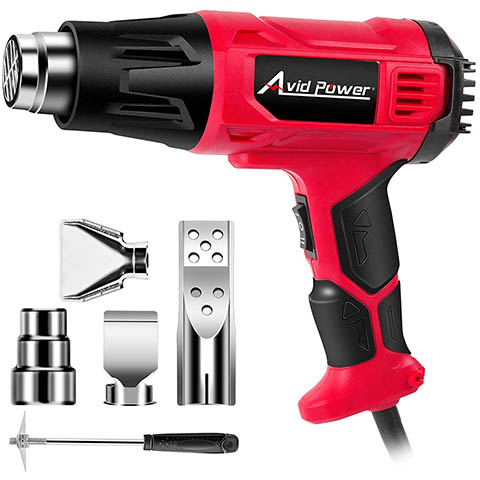 The Avid Power AHTG192 Heat Gun has an impressively powerful 1,800-watt motor and dual temperature settings. The kit includes four nozzles and a scraper, and it has an integrated stand. The stand is useful for use with both hands free or for letting the heat gun cool down to a safe storage temperature. The temperature can be altered from 716°F and 1205°F. It also has overheating protection so it will cut out if the heat gun detects that it is getting too hot.
However, the device is not known for its reliability, with multiple complaints of it breaking down after just a few uses.  It is also prone to giving off a lot of smoke, and it is not designed for everyday or heavy-duty use.
Pros
Cheap
1,800W Motor
Integrated stand
Cons
Not for heavy-duty use
Smokes
Reports of it breaking down
---
Buyer's Guide – How to Purchase the Best Heat Gun
The heat gun is most often used as a tool to help remove paint and other material from doors, walls, and other surfaces. They heat air and then use a fan to push this air out of the front of the gun. A typical gun has a nozzle that directs the hot air, and some include scrapers and additional accessories to make the paint removal even easier.
Uses for A Heat Gun
Thanks to the introduction of variable heat settings, and the inclusion of different nozzle heads, heat guns find use in a wider range of settings and applications. Some of the reasons you might want to use a heat gun include:
Stripping Paint – Rather than using harsh chemicals, a heat gun can be used to remove old paint from furniture and wood. Let the heat gun reach temperature, aim it at the surface, and scrape away the bubbling paint. It tends to be quicker than solvent-based stripping, and it won't usually require the application of multiple treatments.
Stripping Wallpaper – Similarly, a heat gun can heat and deactivate the glue or other adhesive that is used to bond wallpaper to walls. This can be especially useful in the seemingly unwinnable battle with textured wallpaper, but heating paper to a high temperature carries an obvious fire risk, so you should take care when using a het gun in this way.
Shrink Wrapping – Shrink wrap involves wrapping a polymer film around items and then warming or heating the wrap so that it tightly envelopes the objects it is covering. It is common to use a hairdryer for this purpose, but even the most powerful hairdryer takes a lot of time to get the film to the desired temperature. A heat gun, on the other hand, reaches a higher temperature and sooner. It will make short work of most shrink wrapping jobs.
Plastic Welding – Using a heat gun, a plastic welding nozzle, and plastic welding rods, you can weld virtually any plastic or PVC materials together. This makes it possible to connect tarpaulins or plastic sheeting.
Paint Drying – If you need to quickly dry paint, for example to prevent dust or other debris from getting in the drying material, use a heat gun on a low setting. This will dry the paint as though it has been left to dry naturally for a day or more.
Thawing Frozen Pipes – Frozen pipes can bring your home or business to a total standstill, and they are difficult to thaw. Using a heat gun, you should start at a low setting and work up to higher settings. This will enable you to slowly thaw the pipes, without cracking or other damage that can cause when you heat and defrost ice too quickly.
Heat Gun Features
When buying a heat gun, there are certain factors to look for and consider. The actual model you buy will depend on how you intend to use it, how often, and any desirable features and accessories that you want included.
Corded or Cordless
Most heat guns are corded. It takes a lot of power to heat up to 1,000°F while pushing the hot air outwards. As such, cordless models either have to incorporate huge batteries or they have minimal operating time and will need frequent recharging.
When buying a corded model, you may need to consider the length of the wire, if you need mobility. Tasks like stripping paint from wood take time, however, and you won't need that long a wire.
Variable Temperature
What you use a heat gun for will determine how hot you need the gun to operate. Paint stripping is best achieved at high heats, but temperatures of 1,000°F are not only unnecessary for thawing frozen water, they can cause irreparable damage to the pipes. Start with as low a temperature as possible and work up gradually until the pipes are freed.
If you intend to use your heat gun for multiple purposes, or for tasks that benefit from gradual heating to high temperatures, ensure that your chosen heat gun has variable settings. Most models do offer variable heat settings, with some offering two temperatures and others allowing you to increase and decrease temperature in 50°F increments.
LCD Screen
Although heat guns have limited settings, knowing what temperature you are operating at is important. An LCD screen will display your current temperature setting, and the kind of device that usually incorporates a display screen is usually one that offers more temperatures and may also give variable fan speed settings.
A backlit LCD screen is also useful if you work in dimly lit conditions, because it means that you can check the temperature even in dark environments.
Integrated Stand
Heat guns are usually light enough that they can be held in one hand, enabling you to direct the heat where it is required. This kind of operation is commonly used for paint and wallpaper stripping. However, for some applications, it can be beneficial to let go of the heat gun completely and, instead, pass the material over the heat. This allows you to hold the material with both hands and provides greater precision.
Heat guns with an integrated stand allow you to get the gun to the desired temperature and then stand them up for hands-free use. The stand can also be used to let the heat gun cool down safely and without you having to hold it.
Comfort
Even for short use, comfort is important with this kind of device. Check the weight of the heat gun, which can range from less than 2 pounds to more than 4 pounds. Although a lighter heat gun will be easier to hold and carry for a long period of time, you may prefer something with a bit more heft, especially if you will be using the gun at worksites.
Accessories
Finally, the heat gun is only as good as the nozzle that is included. Ideally, and especially if you intend to use the heat gun for multiple purposes, you will want a kit that includes several nozzles and scrapers. Such attachments can include paint stripping nozzles, as well as those designed for shrink wrapping. A barbecue lighter is a surprisingly common attachment for this type of device and can make the job of lighting the coals much easier.
Another accessory worthy of consideration is the carry case or storage case. This is usually a hard case with space for the gun, the wire or battery, any included nozzles, and any other accessories. It protects the heat gun and makes it easier to store when not in use.

Conclusion
While the heat gun was once used solely for stripping paint from furniture, doors, and other wooden surfaces, features like variable temperature settings and a greater range of attachments means that this relatively inexpensive device can be used for applications ranging from thawing frozen pipes to removing old wallpaper from walls. Look at the power of the motor, the variable speed settings, and the range of accessories and attachments that are included with the heat gun. Choose the model that best matches your requirements, your budget, and the job at hand, using our reviews.
We believe that the combination of low price with decent power, variable speed settings, and reliability of the Wagner Spraytech HT1000 heat gun make it the best choice overall, while the  Genesis GHG1500A Heat Gun delivers decent power and good results at a very low price.
Whichever model you choose, we hope that our reviews have helped you choose the best heat gun for your project.