7 Best Home Saunas in 2023 – Reviews & Top Picks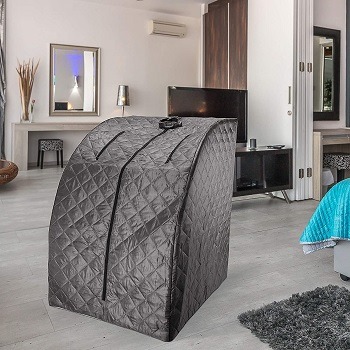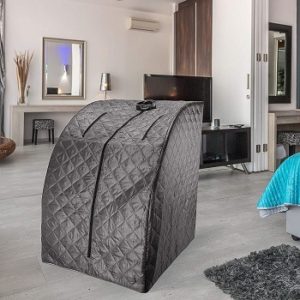 If you've ever tried to find a seat in the crowded sauna at your nearby gym, then you know how packed it tends to get at seemingly all hours. It's never exactly comfortable being shoulder to shoulder with strangers while sitting in the near-nude. Worse, it's a bacterial warzone packed with germs from the bodies of many other people with varying degrees of personal hygiene, sweating all over the benches you're sitting on.
Are you feeling disgusted yet? Well, don't worry. Thanks to our increasing technology, you can now purchase a private sauna to use in the comfort and solitude of your home. You could go the tried and true route by having a full-blown sauna installed, or you could get a smaller, portable unit that can be easily stored when not in use. We've written reviews on seven of our picks for the best saunas for home to help you decide which one will bring some health and relaxation.

A Quick Comparison of Our Favorites in 2023
Rating
Image
Product
Details

Best Overall

SereneLife Infrared

Includes sauna chair
Very easy to enter
Dry infrared heat
CHECK PRICE

Best Value

OppsDecor Steam

Includes folding chair
Hand holes
Easy to transport and store
CHECK PRICE

Premium Choice

Radiant 2-Person Hemlock

Protected by a 7-year warranty
Built-in sound system
Includes oxygen ionizer
CHECK PRICE

Audew Infrared

Uses dry infrared heat
Handheld temperature remote
Easily folds
CHECK PRICE

JNH Lifestyles MG201RB

Premium sound system with Bluetooth
Simple digital control panel
Easy to assemble
CHECK PRICE
The 7 Best Home Saunas
1.

SereneLife SLISAU10BK Portable Infrared Home Spa – Best Overall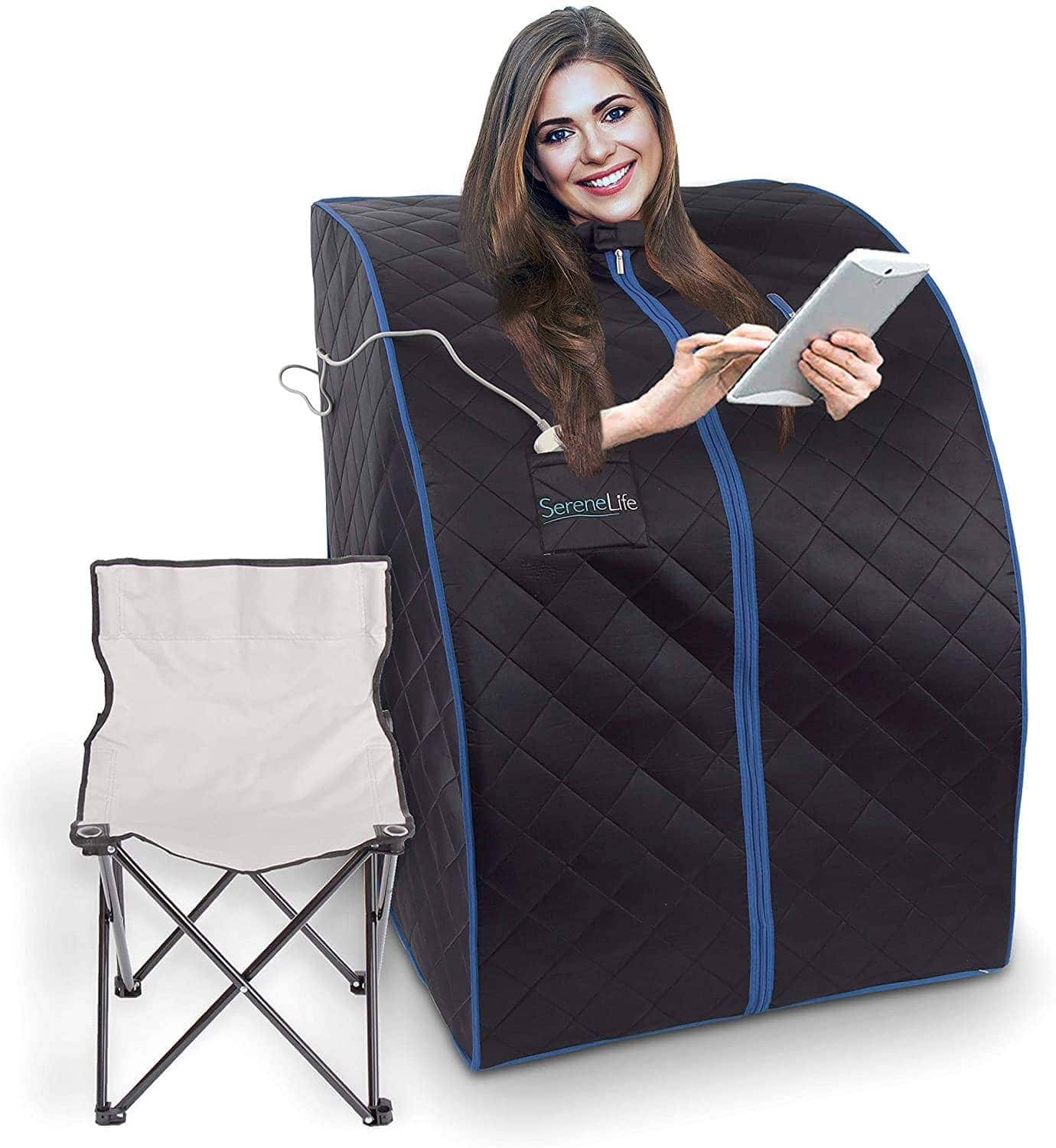 Out of all the home saunas we tested, the SereneLife SLISAU10BK portable infrared sauna was our pick for the best home sauna for many reasons. This is a single-person, foldable, portable sauna. It's basically a little popup tent that zips closed in the standing position. Inside, you'll place the included folding chair and infrared emitter. Then, you'll zip the sauna up around you with just your head exposed. As the heat increases, it's all trapped inside with you. To control the temperature, a remote is included, and a small pocket on the front ensures it's always within reach. Two small zippers also allow you to use your hands outside the sauna while you're sitting inside so you can read, use your phone, or whatever other activity will fill your time.
This was also one of the more well-built portable saunas we tested. The zippers are solid and the construction is high-quality overall. It's easy to enter since the entire front zips open. It's not the cheapest portable sauna, but that's partially because it uses infrared heat. This allows for dry and even heating inside the tent, which feels excellent on the skin, provides plenty of health benefits, but won't dry you out like traditional heat.
Pros
Well-built and looks nice
Includes sauna chair
Very easy to enter
Remote control with holding pocket on the front
Hand holes allow the use of your hands
Dry infrared heat feels great
---
2.

OppsDecor Home Steam Sauna – Best Value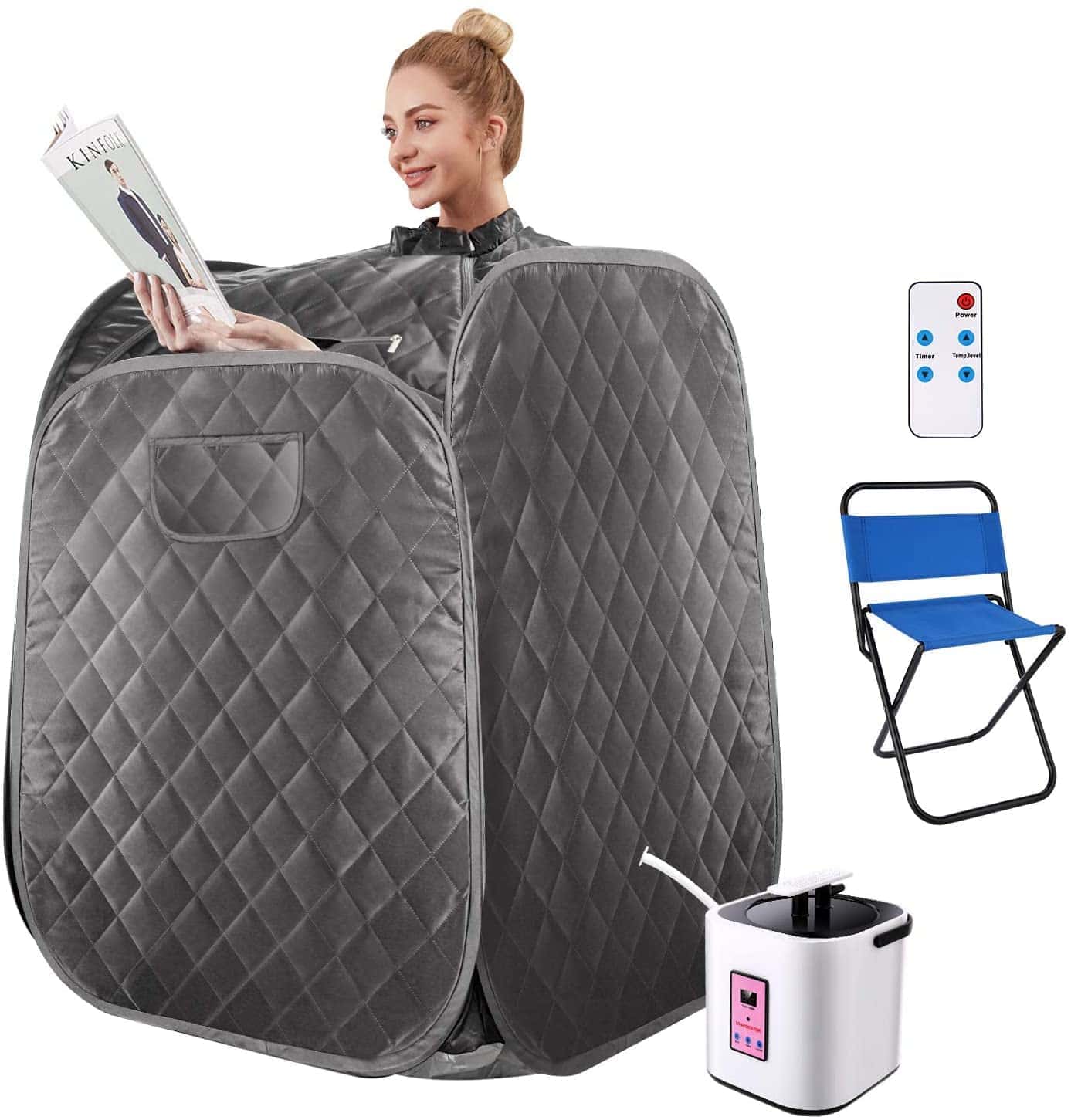 Sometimes, you just want the cheapest option that provides the best bang for your buck. The OppsDecor portable sauna is that product, and we think it's the best home sauna for the money. It's very affordably priced, but that doesn't mean it's lacking in important features. For instance, it includes a folding chair for you to sit on while relaxing inside your new sauna. It's also got space at the top to extend your hands so that you can use them while you're zipped inside. Like other portable saunas, this one can fold down to a very small package when you need to store or transport it.
Because of how the zipper is set up, this tent isn't quite as easy to get in and zip up as some of the others that we tested. Once inside, our biggest complaint is the steam heat generator. If you want steam heat, then look no further. But if you're hoping for a dry heat sauna experience, then you'll need to look at one of the infrared models such as the SereneLife sauna in our top position.
Pros
Very affordable
Includes folding chair
Hand holes allow you to use your hands
Easy to transport and store
Cons
No dry heat
Not as easy to get in as other models
---
3.

Radiant Saunas BSA2409 Hemlock Infrared Sauna – Premium Choice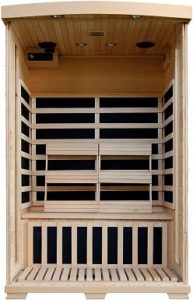 Portable saunas are nice, but they don't provide the same level of relaxation and full-body detoxification that a true sauna does. If you're willing to pay a bit more to get a full-size sauna in your home, then the Radiant Saunas BSA2409 is worth taking a look at. This sauna is spacious enough for two people, making it perfect for couples. An oxygen ionizer keeps fresh, clean air circulating. For those who like to listen to music or podcasts while using the sauna, a built-in sound system provides easy listening. You'll be paying a premium for all of this functionality, of course, but it's hard to beat this level of luxury in your home.
While the portable saunas were very compact and easy to store, this one will take up considerable space in your home. You can take apart to move it, but it's going to take some time and you won't want to move it often. But it's easy to assemble and only takes about an hour. Conveniently, it plugs into a standard 120V wall outlet. And to top it off, the Radiant Saunas BSA2409 is protected by a seven-year warranty.
Pros
Protected by a 7-year warranty
Built-in sound system
Includes oxygen ionizer for clean air
Runs on 120V electricity
Easy assembly in about an hour
Cons
More expensive than other options
Takes up a lot of space
---
4.

Audew Infrared Home Sauna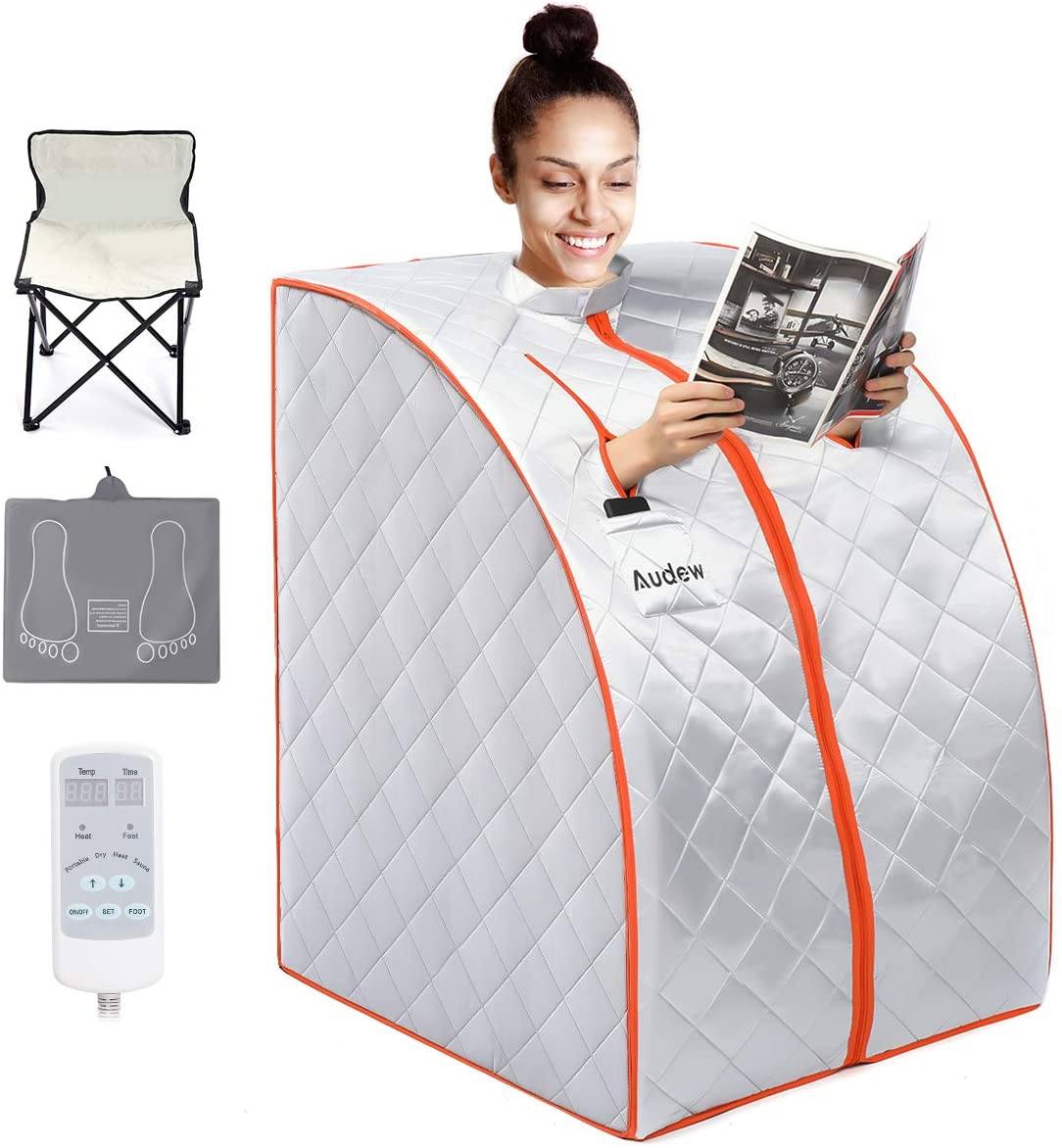 This well-insulated portable sauna traps dry infrared heat inside to create a high-quality sauna experience for a fraction of the cost. It's made from fire-control cotton so it's safe and effective for trapping the heat inside but still folds up into a compact package for storing or transport. It's large enough for a single person to sit in, but only if they're a smaller person. Large people six feet or taller or those with a very broad build may have trouble fitting inside. Once inside, the front zips up to contain you and the heat. Two zippers let you use your hands and provide access to the temperature control remote that's stored in the front pocket.
We prefer the dry infrared heat that the Audew sauna produces to the steam heat generated by cheaper models. You'll pay a little more, but we think it's definitely worth the extra cost. But this one takes a while to reach temperature. You'll need to give it about 30 minutes if you want it to be warm when you enter. While they all take some time to reach temperature, the SereneLife model in our top spot got hot much quicker.
Pros
Uses dry infrared heat
Handheld temperature remote
Easily folds for storing or transport
Zippers let you extend your hands for use
Cons
Won't fit larger individuals
Takes a while to reach temperature
---
5.

JNH Lifestyles MG201RB Freedom Infrared Sauna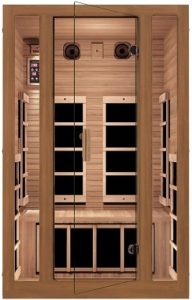 Large and luxurious, the MG201RB Freedom Infrared Sauna from JNH Lifestyles is a semi-permanent sauna with a large footprint and a high price tag. It's crafted entirely from Canadian red cedarwood, so it's durable and looks elegant. But this one only has a two-year warranty, not as impressive as the seven-year warranty that covers the Radiant Saunas BSA2409 sauna that earned our premium choice recommendation. This one is easy to assemble with limited tools and experience. Once assembled, it's difficult to take apart for moving, so you won't want to move it often.
Unlike the small portable saunas on this list, the JNH Lifestyles sauna has plenty of room for two adults. The simple digital control panel makes it easy to adjust the temperature and timer inside. Seven carbon fiber infrared heaters provide efficient and even heating to the entire interior, allowing this sauna to reach temperature very quickly. For your comfort, a premium sound system is installed inside that even includes Bluetooth connectivity for your wireless devices. Overall, we were very impressed with this sauna, but it was out-classed by the much more affordable model from Radiant Saunas in the third position on this list.
Pros
Premium sound system with Bluetooth
Simple digital control panel
Large enough for two people
Easy to assemble
Cons
Very expensive
Takes up a lot of space
The 2-year warranty isn't the best
---
6.

Smartmak Portable Home Steam Sauna
Available in gold, red, or silver, the Smartmak home sauna is a simple, portable device that folds up into a small carrying bag that's included. This is great when you need to store or transport the sauna. However, it's much easier to say than do. We found it to be a bit frustrating trying to get it properly folded into the small accompanying bag. That aside, this sauna works well overall. Once you sit inside, a steam generator will heat the space by filling it with hot steam. We prefer the dry heat of infrared, but by using a steam generator instead, Smartmak is able to sell this product for a very affordable price. Between the sticky wet heat from the steam generator and the frustration we experienced trying to fold this sauna into the included bag, we lost confidence in this device and it fell several spots down our list.
Pros
Very affordably priced
Folds into a small carrying bag
Cons
Steam heat only – no dry heat
Difficult to fold into the included bag
---
7.

Durasage SS03 Lightweight Home Steam Sauna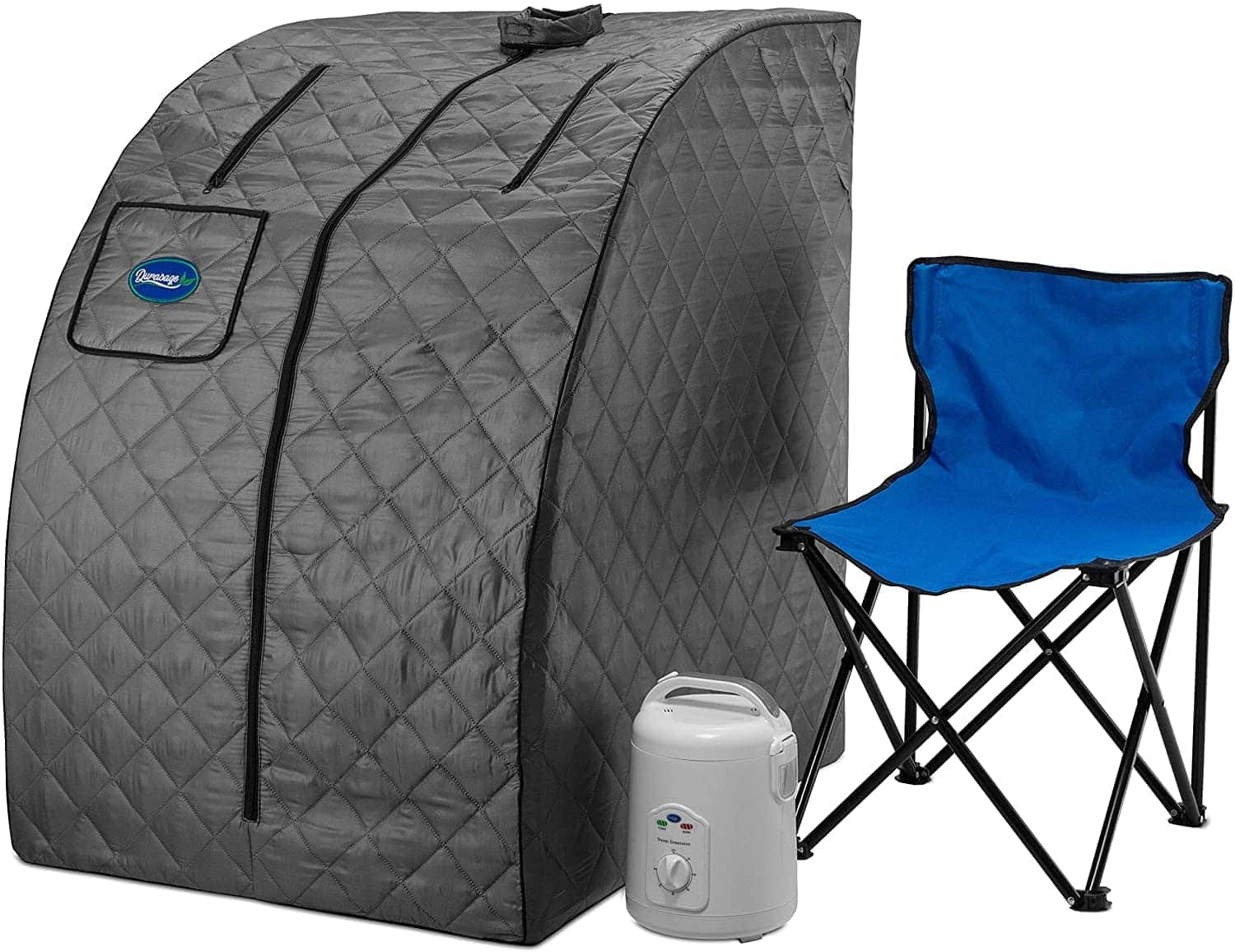 The Durasage SS03 home sauna was one of the less impressive models we tried out. It's pretty cheaply priced, but also cheaply built. Just looking at it you can tell it's not built to the same quality as some of the other saunas. It's still easy to fold up for storage, but it's missing some important features that are included on competitors' products. For instance, this one doesn't offer you any temperature control. You can adjust the timer, but you can't adjust the temperature. Considering that most of the other models included a remote for complete control of the temperature inside, this is a pretty major oversight.
The Durasage sauna uses steam heat only. Unfortunately, we ended up with water in the bottom of the tent after each use, and it wasn't all sweat. This made for much more cleanup each time. Worse, the included chair is very weak and not exactly comfortable. After a few weeks, one of the support pieces broke and we had to use one of the other folding chairs instead. This one's also not very spacious inside, the final flaw of our lowest-ranked home sauna.
Pros
Affordably priced
Easy and compact storage
Cons
Steam heat only
Water in the bottom of tent after use
The included chair is not very sturdy or comfortable
Not very spacious inside
No temperature control

Buyer's Guide – Picking the Best Home Sauna
Now you've seven of the best home saunas on the market. As you can tell, there are some pretty notable differences between models. Which one you should pick is a personal choice, but we're going to try to make the decision easier for you in this short buyer's guide by discussing the most important factors that you should be considering before making your purchase.
Portable vs. Semi-Permanent
Portable units are generally made from heat and water-resistant fabric that is held up by a collapsible frame. They fold up small for easy storage when not in use. They're not very large, even when fully set up, so your face will still be exposed and just your body will be inside the sauna. There's definitely not going to be room for a second person. However, they're also the much cheaper option and make it very easy to take when you move out.
On the other hand, semi-permanent saunas are incredibly luxurious. They're crafted from wood and have infrared emitters for producing heat. They only take about an hour to assemble, but taking it apart and trying to move it will be a difficult and time-consuming process. They have some incredible features though, such as built-in sound systems with Bluetooth connectivity. What's more, they're much more spacious and allow room for two or more, making them perfect for couples. Getting a semi-permanent home sauna is a much larger investment, and it's always going to be taking up space in your home, so consider these things before making a decision.
Steam Heat vs. Infrared Heat
Some of the lower-cost saunas utilize steam heat. They have a small steam generator that sits at the bottom. You fill it with water, and as the water gets heated, steam is produced, which fills the sauna. Alternatively, infrared units don't use steam or moisture. Instead, they use a dry infrared heat which doesn't dry you out but also doesn't increase humidity.
Studies show a lot of health benefits from dry heat, such as cardiovascular improvements, reduction in blood pressure, and even decreased rates of all-cause mortality. Unfortunately, steam doesn't provide the same health benefits, but it is great for your skin and muscles. We prefer the health benefits and feel of the infrared dry heat, but many people love the feel of a steam room sauna.

Conclusion
After reading our reviews and buyer's guide, you're probably itching to get inside your own sauna and start to sweat out the toxins. There are many options to choose from, but we wanted to find the best ones to recommend. Out of all the models we tried out, three of them stood out as far and away favorites. Our top pick and number one recommendation is the SereneLife SLISAU10BK Portable Infrared Home Spa. This well-built unit utilizes dry infrared heat, folds up for easy storage, has a remote for temperature control with an easy to reach storage pocket on the front, and includes a folding chair to sit in while you relax in your new sauna.
For the best home sauna for the money, we suggest trying the Home Steam Sauna from OppsDecor. It's very affordable, compact for transportation and storage, and has hand holes so you can use your phone or read while you unwind inside. But for a premium sauna experience at home, you can't beat the Radiant Saunas BSA2409. This hemlock sauna has a built-in sound system, an oxygen ionizer for clean air, has room for two inside, and is protected by an impressive seven-year warranty.
Check out some of our top trending posts: