8 Best Hot Tubs in 2023 – Reviews & Top Picks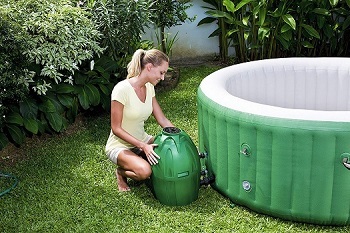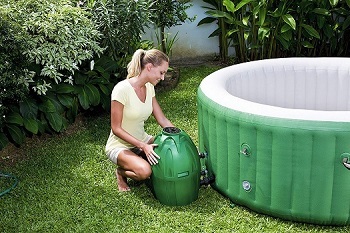 Hot tubs are all about relaxation. Enjoying time with friends and loved ones in the warm water with a cold beverage is a perfect way to spend a weekend evening. The problem is that choosing which hot tub is best for you is far from relaxing.
With the number of options available and conflicting reviews and information, the process can be both stressful and time-consuming. Luckily, we understand where you are coming from and have done the dirty work for you.
Our reviews of the best hot tubs are honest, realistic, and practical. Everything you need to help get this decision made and start enjoying yourself.

A Quick Comparison of Our Favorites in 2023
Rating
Image
Product
Details

Best Overall

Essential Hot Tubs 20-Jet Arbor Hot Tub

Seats 6 people
Plug and play easy setup
Made with high-quality materials
CHECK PRICE

Best Value

Intex PureSpa Portable Hot Tub

Portable
Easy to setup
Bubble jets
CHECK PRICE

Premium Choice

American Spas Hot Tub

Stainless steel massage therapy jets
Quiet motor
Mildew resistant
CHECK PRICE

Coleman SaluSpa Inflatable Hot Tub

Fits 4-6 smaller adults
Has everything included
Will heat to 104 degrees
CHECK PRICE

Home and Garden Spas Hudson Bay Hot Tub

Comes with cover
Can fit six people
Plug and play model
CHECK PRICE
The 8 Best Hot Tubs
1.

Essential Hot Tubs 20-Jet Arbor Hot Tub – Best Overall
Our hands-down winner for the best hot tub of the year overall is the Essential Hot Tubs 20-Jet Arbor Hot Tub. There is a long list of features that make this hot tub better than the rest.
For starters, this hot tub is a great size with room to fit six people. With twenty adjustable jets, this hot tub is sure to provide relief and relaxation. One of the best things about it is the simple plug and play setup.
This hot tub plugs into a standard 120V outlet and has an energy-efficient pump to help keep your electric bill down. If you live in a freezing climate and think that the hot tub will struggle to reach and sustain the correct temperatures, you can convert this to a 240V setup. If you do this conversion, it is recommended to have an electrician help with the initial setup.
The Essential Hot Tubs 20-Jet Arbor Hot Tub comes with an easy to use cover to keep the hot tub clean and ready to use. If you are looking for an all-around high-quality hot tub that you can be using a few hours after you get it, this is the one.
Pros
Seats 6 people
Plug and play easy setup
Made with high-quality materials
Has a cover
20 adjustable jets
Cons
May need 240V setup for frigid climates
---
2.

 Intex 28403E PureSpa Portable Hot Tub – Best Value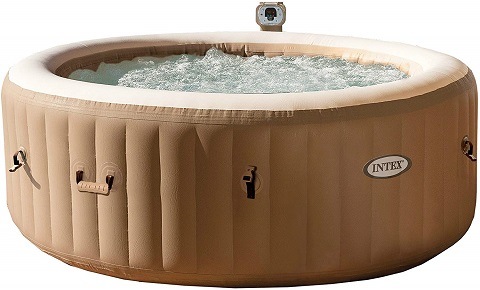 Coming in second is our Intex 28403E PureSpa Portable Hot Tub. This is one of the best hot tubs for the money that you will be able to find. The Intex fits four people comfortably, and the price makes it an excellent option for adding this luxury to your home.
Available in two options, this hot tub comes with or without an energy-efficient deluxe cover. This Intex Hot Tub has a built-in hard water softener that will leave your skin feeling great when exiting the tub. Capable of heating the water to 104 degrees and providing over 120 bubble jets, this portable option will allow you to set up camp anywhere. This hot tub is easy to set up and will raise the temperature about two degrees every hour. Technically, you can be up and running the day you get this hot tub, all for less than $500.
Pros
Best hot tub for the money
Portable
Easy to setup
Bubble jets
Built-in hard water softener
Cons
Only seats 4 people
Inflatable option not suitable for everyone
---
3.

American Spas AM-630LM Hot Tub – Premium Choice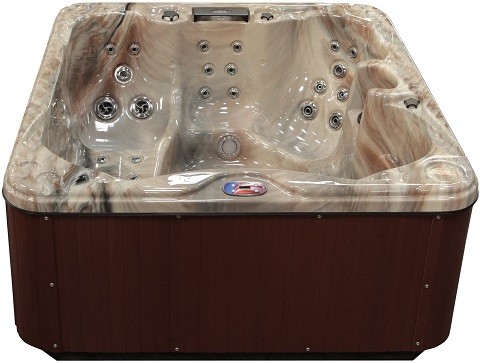 Are you the person that wants the best of the best hot tub, and you don't care what it costs? Well, we found an excellent option for you. This American Spas Hot Tub is a premium choice hot tub. It will cost you quite a bit more than our first two choices, but this machine has quite a bit to offer.
This hot tub will comfortably fit five people.
Unlike our budget-friendly pick that offers bubblers, this unit has stainless steel massage therapy jets that will allow you to target areas where you need the relief the most.
The American Spas Hot Tub comes with a heavy-duty motor that runs very quietly. The sound of this hot tub heating up will not bother you or your guests. With a premium mildew-resistant cover and an LED spa light, you will not be looking for a new hot tub for many years.
Pros
Premium materials
Stainless steel massage therapy jets
Quiet motor
Mildew resistant
Cons
High cost
Increase in energy bill with a powerful motor
---
4.

Coleman 54131E SaluSpa Inflatable Hot Tub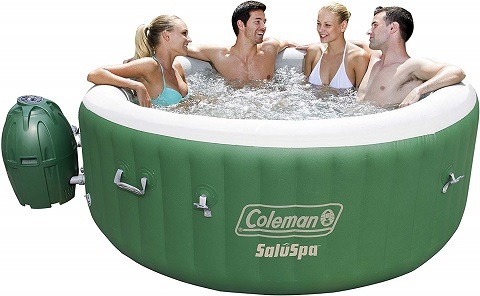 Another affordable portable option with this Coleman 54131E SaluSpa hot tub. This is inflatable, so if you aren't looking for something that you can take to the vacation house with you, then you may want to move onto the next choice. This hot tub says that it will fit 4-6 adults. If you were going to put 6 adults in, they would have to be smaller people.
The Coleman Inflatable Hot Tub comes with its own pump that will help inflate and deflate the tub in just a few minutes. The setup on this unit is effortless and comes with everything that is needed. The maximum temperature on the Coleman Inflatable is 104 degrees. Similar to other inflatable options out there, this unit only comes with the bubbler and no true jets. It can take quite a bit of time to get the hot tub to the right temperature.
Pros
Price low
Fits 4-6 smaller adults
Has everything included
Will heat to 104 degrees
Cons
Just a bubbler no true jets
Inflatable option can be prone to leaks
---
5.

Home and Garden Spas LPIC5000 Hudson Bay
In our review of the Coleman 54131E SaluSpa Inflatable Hot Tub we mentioned that if you were going to fit 4-6 people, they would have to be small. With the Home and Garden Spas LPIX5000 Hudson Bay fitting six people won't be a problem.
This model is made with a durable Acrylic and then reinforced with multiple layers of fiberglass. This is not the most expensive hot tub on the market, and it is not the cheapest. There are stainless steel jets that can be adjusted as well as switched on and off. Also, the standard with this model is a seven-color LED mood lighting option.
This is a unit that you can just plug in when you get it. It won't be hardwired in the jet power and warming speeds are generally a bit slower than the higher power models, but it is certainly efficient in getting this hot tub to a pleasant temperature. One of the negatives we came across with this hot tub was the ability to hold heat in a frigid climate. This is probably due to the size of the container and the fact that it is a 120V unit. If, however, you are in a moderate climate and not looking for something to warm you through an Arctic winter, this hot tub could be a winner.
Pros
Clean look to it with brown sides and white interior
Comes with cover
Can fit six people
Plug and play model
Cons
Might need to be careful if you live in cold climates
Simple model not as many features as higher priced units
---
6.

Essential Hot Tubs 50-Jet Polara Hot Tub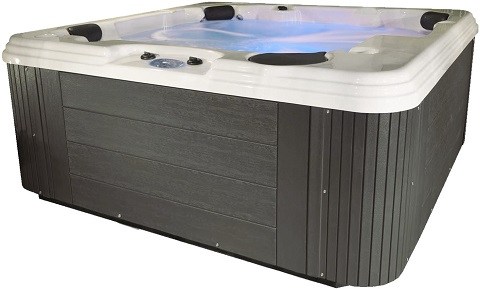 If you're looking for jets, you have found your perfect match. The Essential Hot Tubs 50-Jet Polara Hot Tub has all the jets you could ever want in a hot tub. With 34 adjustable stainless steel jets and 16 stationary stainless steel jets, this hot tub will give you the variety you need when looking for that perfect position to relieve your stress. More adjustable than other hot tub options that we reviewed, but that comes at a cost. The 50-Jet Polara Hot Tub is priced a bit higher than other models of the same size, but if you are specifically seeking a unit to help with hydrotherapy, this is a great option.
This is a 240V model, that will need electrical wiring done to get it up and running. Although it is not a plug-and-play, the jets would not work to the same level with the lower voltage electricity. This hot tub will comfortably seat six people. A very easy-to-use LED-lit display will allow you to adjust the settings on this model to precisely what you need.
Pros
High end build
Easy to use digital display
50 Jets
Fits six people
Cons
240V only will require an electrician to install
High initial costs
Higher operating costs
---
7.

Home and Garden Spas HG51T Hot Tub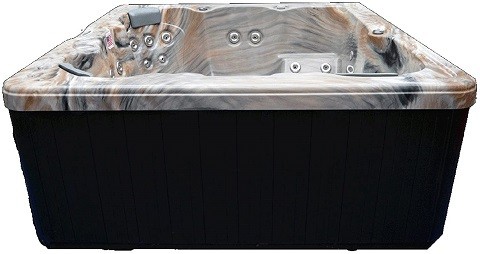 The Home and Garden Spas HG51T Hot Tub will give you all the features you are looking for in a new hot tub. With LED underwater lights, over 50 stainless steel jets, and water fountains, this is what we would call a "fancy" hot tub. Even the interior shell has a pattern to make this hot tub stand out. It is a 240V hookup, so you will need an electrician to install this unit. This Home and Garden Spas hot tub does come with a cover as well.
So why does it end up as number seven on our list? This hot tub is not cheap, and it does claim that it can fit six people. We just don't see how that is possible. This is no more than a five-person hot tub but more like a four. If that is all you need it to be, then this could be a great model for you.
There is no doubt that this hot tub was built to last, but if you are looking for a large tub to house a group of people, this may not be the best fit for you.
Pros
Lots of features
50 Stainless steel jets
Comes with a cover
Cons
Expensive
Not as large as it is stated to be
Has a pattern that may not match your decor
---
8.

Bestway 54190E Helsinki AirJet Hot Tub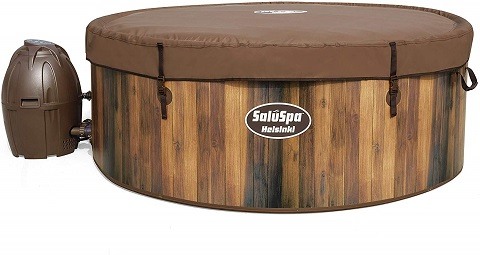 So, you stayed with us long enough to get to number eight. You may be thinking that since we are talking about the eighth-best hot tub option that it is not going to be good. That's just not true. Please remember how many models there are to choose from. Do we think this is the best? No, but we also believe it deserved a spot on our best hot tubs this year.
The Bestway 54190E Helsinki is an inflatable option that will get you up and running fairly quickly. This hot tub is one of the cost-effective options, so your upfront costs will be lower, but there are a few downsides to the long-term costs with this option. This hot tub is quite deep and will fit 5-7 people. Since it is a bit deeper and only has the 110V hookup, it takes quite a bit of electricity to keep this hot tub at the desired temperatures. Keep in mind that your monthly electricity costs for operating this particular unit could increase significantly depending on how much you use it.
The outside of the Bestway Helsinki AirJet Hot Tub has a wood panel design on it that does look very nice. Make sure you allow yourself plenty of time to get this hot tub heated as it is not known for being quick to heat. The sides on the hot tub do seem to be quite durable and are made to withstand being inflated and deflated. This is a good thing if you will use this as a portable hot tub.
Pros
Easy to setup
Fits 5-7 People
Cons
Not very efficient
High operating costs
Does not hold temperature well in cold climates
Bubbler only no true jets

Buyer's Guide – Finding the Best Hot Tub
Now that you have a good idea of what is out there as far as hot tubs are concerned, we will help you narrow down the options that make the most sense for you and your individual needs.
These items are things you will want to consider before purchasing so that you don't end up with buyer's remorse.
Portable or Stationary
If you are looking to fill a location on your patio or in your yard, then it likely does not matter if you choose a portable or stationary option. If, however, you are looking for something that can quickly be brought inside or out based on the activities of the day, then you may want to look for a portable option. Portable hot tubs are generally quite a bit less expensive than stationary because they are usually inflatable. With the fact that the inflatable tubs can be more fragile, you will save money during the upfront purchase, but you probably won't get the longevity that you will see with other materials.
Space/Location
Make sure you have a definite plan as to where your hot tub will go before purchasing. The last thing you want to find out is that the hot tub is too large for the space, and it won't work. Keep in mind that there will usually be a pump and a hot tub that you will need to account for as far as space requirements are concerned. You will also need electrical hookups, so having an outlet nearby is essential. Most hot tubs will have dimensions listed as part of their product listing. We recommend getting those dimensions and then clearly marking the area out as if the hot tub was there to see if it will be a good fit for your space. Make sure people can walk around it and get in from a few different angles if necessary.
When you do decide where you are placing the hot tub, make sure that you have decided on what you will use as a base. Some inflatable hot tubs will come with a mat to put down underneath; others will not. If you are playing the hot tub directly on pavers or patio, you may want to protect the bottom of your inflatable tub with a mat or rug.
Electrical Hookup
Pay close attention to the electrical hookup offered with the hot tub you are considering. Most will work with a regular 120V outlet, but some have an option or come standard with a 240V. If it is 240V, the unit will need to be hardwired into your home's electrical system, and this will require the help of an electrician. Be sure to include this in your overall costs when deciding on which model is best for you. Some hot tubs will offer the option for 120V or 240V, and this is a great feature in case your situation should change in the future.
Size
Hot tubs come in a variety of sizes. We recommend looking at the actual size of the unit and water capacity in addition to the seating. A hot tub that one company calls a seven-seater might be more like a five-seater with another company. When you narrow your list down, make sure to look at actual dimensions, amount of water held, and seating capacity.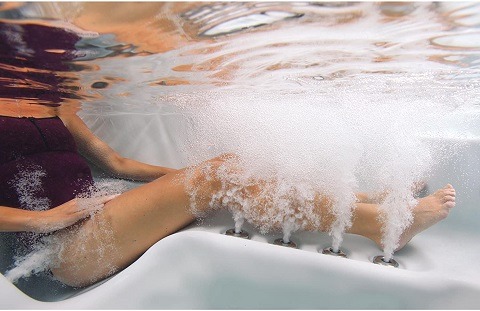 Price
A new hot tub can be either a minimal or a major investment. You have to be very realistic with your budget and expectations when determining what you need. You can find a small inflatable hot tub for less than three hundred dollars. If you are looking for a larger model with many features, you can easily go over five thousand dollars. When it comes to making your final decision about price, it can help to figure out how many times per year, you will use your hot tub. If this is going to be used daily and the unit costs you $4,000, it is a lot easier to justify than something that will be used for a few weeks a year.
Another thing to keep in mind when it comes to price is value. When you go for the more expensive unit, you will likely need to replace it a lot less often. If you are thinking of keeping a hot tub as part of your yard for years to come, this is important to consider.
Jets/Bubblers/None
Most inflatable options will be equipped with bubblers and not true jets. If you are looking for an exact hydrotherapy experience, pay attention to the number of jets and the position of the jets. Another thing to consider is if the jets are adjustable or if it is merely just an on and off setting.
Features
Want the built-in sound system? Interested in LED lights? Hydrotherapy? All of these things are features that individual hot tubs provide. Just like a new car, all features are going to come with an added cost. One feature that we seriously recommend investing in is a cover.
A hot tub cover will serve a few purposes for you. For starters, they are a lifesaver. Hot tubs pose a significant drowning risk for children. The cover should be on and securely fastened at all times. Just putting the lid on is not enough; if a child lifts the cover, they could easily fall in and drown.
Secondly, a hot tub cover helps to keep up some of the water temperature of the tub. It won't hold all the heat (if the heater is turned off), but it might give you a better starting point when you go to heat the water the next day. Choose a cover that is durable and mildew resistant as well.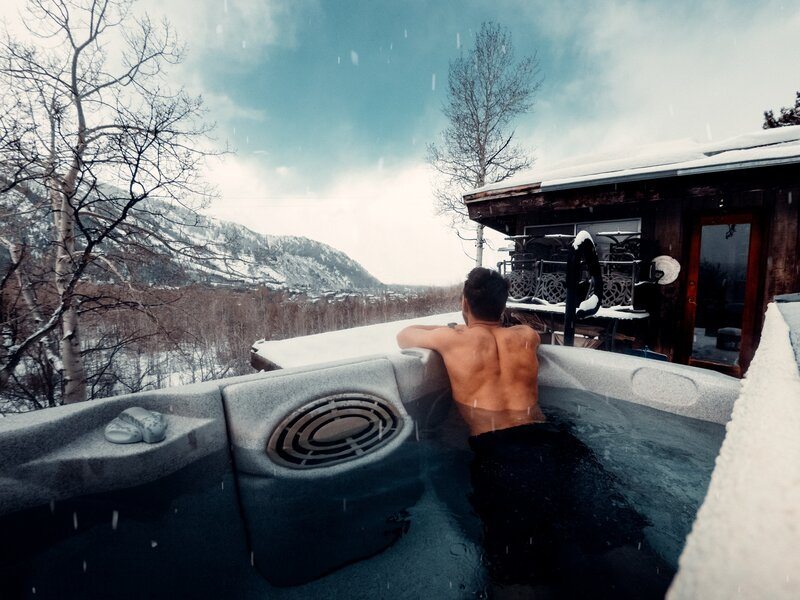 Delivery
Hopefully, you have seen from our reviews that purchasing a hot tub online will save you quite a bit of money as opposed to going to a local dealer. You lose some of the costs and markup and will probably pay quite a bit less, but there will be some extra work involved. If you are going to purchase a unit that is not inflatable or portable, pay very close attention to the delivery method and clarifications.
Some of these hot tubs will ship for free, which is impressive considering their weight, but then you will be left to put them into position. With the help of a few great neighbors or some local college kids, this is certainly a possibility. Just make sure that you are aware of this from the start and plan accordingly when your new hot tub arrives.
Warranty
Each manufacturer will have specific warranty specifications and guidelines. If a warranty is something important to you, make sure to check before purchasing. When installing your hot tub, be sure to do it according to the specific directions as sometimes you can do something that will void your warranty. As we mentioned earlier, if you are choosing a larger hot tub with the 240V hookup, you will need a professional to help you with installation.

Conclusion
When it comes to choosing the best hot tub for your home, there are plenty of factors to consider. The Essential Hot Tubs 20-Jet Arbor Hot Tub stands out as the best hot tub overall for a premium unit with plenty of room for six people. Although the price for the Jet Arbor Hot Tub is a bit higher than something inflatable, it should provide you enjoyment and relaxation for years to come.