10 Best Hand Saws for Woodworking in 2023 – Reviews & Buyer's Guide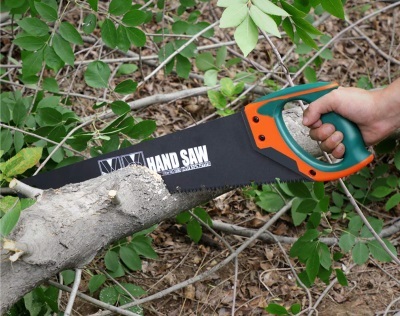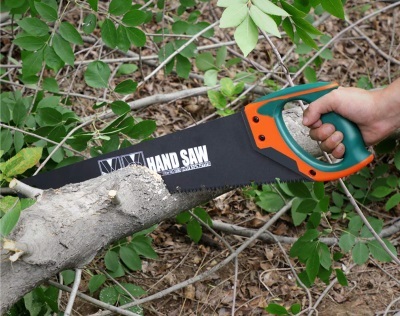 Power saws are fun, but sometimes they're just too cumbersome for the job at hand. A hand saw is the most efficient tool to use in its place.
There are many different kinds of hand saws on the market these days, including coping saws, hacksaws, crosscut saws, and dovetail saws. You need to know what kind of job you want to do with the saw in order to choose the right kind, and you also need to know how easy it is to use.
We've put together some reviews of the best hand saws on the market today. We'll walk you through the pros and cons of each model so that you get a good feel for each of them. We'll also include tips on what to look for in your saw and how to safely use it.
---
A Quick Comparison (updated in 2023)
Rating
Image
Product
Details

Best Overall

GreatNeck N2610 26-inch Hand Saw

Durable & lightweight
Easy to re-sharpen
High carbon steel blade
CHECK PRICE

Best Electric

BLACK+DECKER PHS550B Hand Saw

Durable
Quiet
Safety lock
CHECK PRICE

Best Value

Stanley 20-045 15″ Fat Max Hand Saw

Aggressive 3-sided tooth design
Comfortable handle
Limited lifetime warranty
CHECK PRICE

Best Folding

MOSSY MO-17009 Hand Saw

Multi-purpose
Sharp teeth
Durable carbon steel blade
CHECK PRICE

AIRAJ 18" Hand Saw

Detachment groove stops woodchips from blocking
Cuts fast from three cutting surfaces
CHECK PRICE
The 10 Best Hand Saws
1.

GreatNeck N2610 26-inch Hand Saw – Best Overall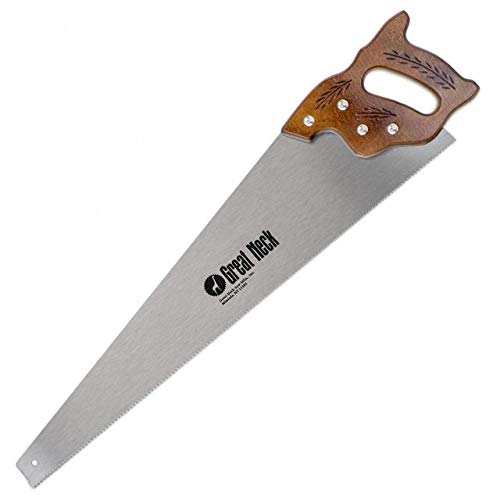 If you need a heavy-duty tool that will cut through anything, the GreatNeck N2610 is a lightweight yet durable 26-inch hand saw made from high carbon steel and weatherproof hardwood. At 12 TPI (teeth per inch), it's aggressive and sturdy enough to will tackle any job. The 10-point blade edge won't bow in use, and the teeth are easy to re-sharpen.
Besides blade durability and tooth count, you must consider the comfort of the handle. The N2610 has a carved handle that will fit multiple hand sizes, and the curved grip has a natural feel. At just 1.65 pounds, this saw won't start to drag on your arm after continuous use, either.
The set of the saw– the distance that the sawtooth is bent away from the saw blade – makes your cuts slightly wider than the blade itself, which is important to keep your saw from getting bound up while cutting. The set on the GreatNeck N2610 is a little aggressive, so your cuts will be a little wider than with other saws.
Best of all, the American-made GreatNeck N2610 comes with a lifetime warranty, which inspires confidence in the product.
All in all, we think that this is the best hand saw for wood working this year.
Pros
Made in USA
Durable & lightweight
High carbon steel blade
Easy to re-sharpen
Comfortable fit
---
2.

BLACK+DECKER PHS550B Hand Saw – Best Electric
Black+Decker's PHS550B electric hand saw is an ingenious little tool and a must-have for anyone who needs a helping hand with some light duty cutting work.
The PHS550B comes with two blades: one for cutting wood, one for cutting metal, and a carrying bag. The 6-foot cord will give you plenty of room to move around with this lightweight and surprisingly durable saw. Variable speed settings allow for different types of tasks and the safety lock prevents accidents.
Despite its appearance, this is not a "toy" tool. With a 3.4-amp, 4600 SPM motor, it packs a surprising punch for a power tool weighing less than 6 pounds.
We found a couple of drawbacks that keep the PHS550B out of the top spot. The blades are difficult to change and the instructions aren't super clear. Trial and error may be necessary to swap out the blades. Meanwhile, the limited two-year warranty is average for a power tool, at best. All in all, this is definitely the best electric hand saw we've ever tested.
Pros
Durable
Lightweight
Quiet
Variable speeds
Safety lock
Cons
No directions on how to easily Install the blade
Two-year limited warranty
---
3.

Stanley 20-045 15″ Fat Max Hand Saw – Best Value
When you need a good saw but just don't have the money for the top-of-the-line models, the Stanley 20-045 15-Inch Fat Max Hand Saw is for you. Stanley is known for having quality tools and this saw fits that bill perfectly.
This 15-inch saw has 9 TPI for quick and efficient cuts. It has an aggressive 3-sided tooth design that allows for it to cut up to 50% faster than other conventional hand saws. This saw doesn't stay sharp as long as you would like, but it can be re-sharpened. It also isn't as thick as some saw blades and will bend some during use.
The hardwood handle is designed to provide comfort and control, giving you the firm grip that you need for efficiently doing your work. Overall, the saw is small enough to fit the average toolbox. It also has a spot on the back of the saw that can be used to mark out 45° and 90° angles.
Overall, if you need a reliable saw that won't break the bank, this is the saw for you. It has a couple of flaws, but they're small enough that they shouldn't deter you from trying it out. The limited lifetime warranty is also what we like to see.
Pros
Aggressive 3-sided tooth design
9 points per inch
Comfortable handle
Limited lifetime warranty
Cons
Thinner blade
Needs sharpened more often
---
4.

MOSSY MO-17009 Hand Saw – Best Folding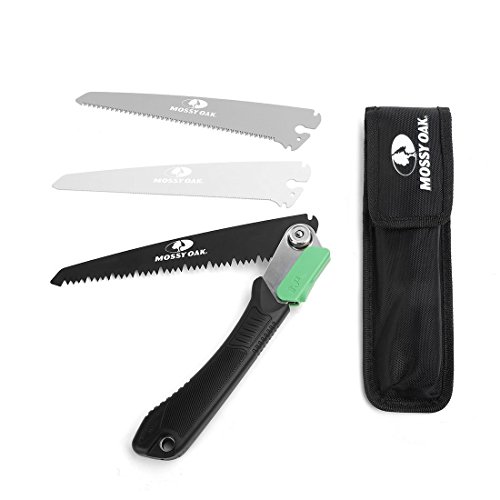 The Mossy Oak MO-17009 comes with three types of blades: a blade for wood, a blade for plastic, and a blade for metal. All three blades are 7.5 inches in length and are made out of durable carbon steel, making them rust-resistant. The strong steel also helps the blade to stay sharp longer. It has triple-cut, razor-sharp teeth that can also cut through bone, making it the perfect hand saw to carry with you when hunting.
This little 5-TPI saw has an ergonomically designed, rubber-coated handle, providing a non-slip grip. It also has a gear-style lock for the blade so that the blade won't collapse or snap shut while you are cutting. It also keeps the blade from flopping around when you aren't using it.
This saw kit comes with a convenient and safe carrying case that will fit either on the belt loop of your pants or on a Molle web. The sheath is made out of heavy cordura material and has spaces to hold the saw, as well as the two additional blades that come with the kit. Overall, it's the best folding saw available today.
Pros
Durable carbon steel blade
Three types of blades
Sharp teeth
Multi-purpose
Sturdy handle
Carrying case
Cons
Flimsy
Short blade
Metal blade not so quick
Teeth gum up quickly
---
5.

AIRAJ 18" Hand Saw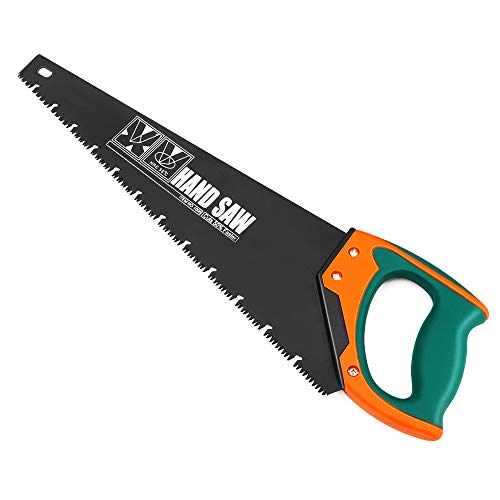 For a quick-cutting and comfortable saw, check out the AIRAJ hand saw. At 18 inches, it's plenty long enough for cutting through even large wood, such as thick trees. The anti-backing grooves expel wood chips so they don't get blocked, making cutting much smoother. With three cutting surfaces on the teeth, this blade is designed to cut 50 percent faster than traditional hand saws. A hole at the end of the blade allows you to hang it for storage, and a sawtooth cover protects the teeth from damage and you from accidental injury.
While it is equipped with an ergonomic handle, it wasn't as comfortable as some similar models that have ranked higher on this list. Although it did cut quickly, it took a bit more power to cut through, meaning you'll wear out sooner. Overall, a great choice, although there are better ones available.
Pros
Detachment groove stops woodchips from blocking
Cuts fast from three cutting surfaces
Cons
Took more strength than some competitors
Not as comfortable as other saws
---
6.

SUIZAN Japanese Pull & Hand Saws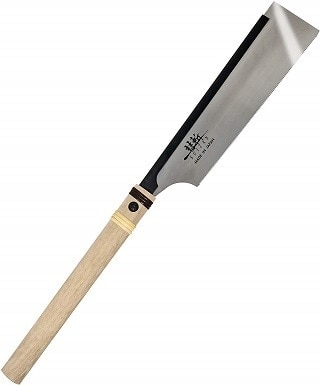 If you haven't been around woodworking for a long time, this may be your first introduction to the Japanese hand saw. These saws are pull saws, as opposed to traditional European hand saws that you're probably used to, which cut when they push instead. Pull saws are known for using much less strength and delivering very clean cuts. This SUIZAN lives up to that reputation. Excellent for cutting trim, miters, and fine woodworking, though it will make short work of regular lumber as well. That said, the 9.5-inch blade is more suited for finish work.
The only real drawback aside from the short blade is how difficult it is to store. There is no way to hang it, no hole or cord. Also, no blade protector is included, so the sharp teeth are always unprotected and exposed, increasing risk of damage or injury.
Pros
Takes very little strength
Clean and quick cuts
Cons
Short blade of 9.5 inches
No way to hang
No blade cover
---
7.

SUIZAN Japanese Folding Hand-Saw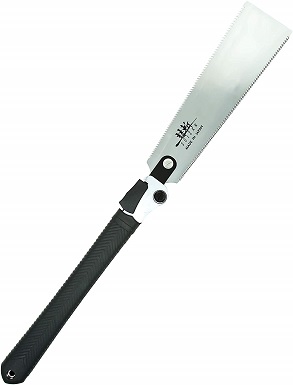 This folding saw has all of the benefits of a Japanese pull saw plus the convenience of a folding handle. Even better, it has a double-edged blade with one side for crosscuts, and the other side for rip cuts. It cuts very smoothly and requires very little pressure.
Unfortunately, the downfalls of this saw come from the folding handle itself. Although it adds convenience, it's not properly balanced, which makes the saw less comfortable to use. This is because the handle is so heavy. The folding mechanism is smooth and high quality, it just adds too much weight. The only other issue is that replacement blades are not currently available. Despite these flaws, it's a very capable saw that has earned its spot on this list.
Pros
Convenient folding handle
Double-edge blade
Cons
Handle is too heavy
Saw is unbalanced
No replacement blades
---
8.

Spear & Jackson 9515K 25″ Hand Saw

If you're looking for a more traditional skew back saw, you could do a lot worse than the Spear & Jackson 9515K. Its 25-inch length and 10-TPI are roughly on par with our best overall pick, the GreatNeck N2610, but the 9515K comes up a bit short in durability.
This saw has a lot going for it, starting with its high carbon blade and precision ground teeth that cut with and against the grain. The comfortable wood handle has a nice curve and the saw is light enough for all-day use. The skew back offers that traditional combination of balance and friction, which is why woodsmen love this style of saw. However, it excels at chopping 2x4s and ripping plywood – two tasks much easier with a circular saw. It begs the question: why bother with a hand saw?
Unfortunately, the blade started getting dull after only a few days of light use. It still cut; it just required more effort. Fortunately, the teeth can be sharpened. You get a three-year warranty on all Spear & Jackson tools, which is one of the reasons its been in business for over 250 years.
Pros
10 TPI
25″
Skew back for balance
Cons
Teeth go dull quickly
Doesn't do anything special
---
9.

WilFiks 16" Pro Hand Saw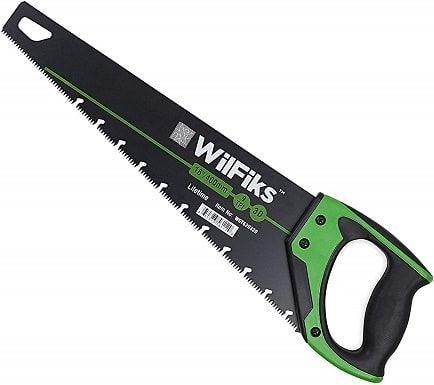 Able to cut through wood, plastic pipe, wallboard, plywood and more, this versatile saw from WilFiks is ready for any job. With a high-carbon blade of 9 TPI, it's meant to last a long time. The blade seemed a bit thin though, even bending slightly at one point. It bent straight again easily, but several teeth had also broken off after just a few weeks. It was still able to cut well, but it doesn't inspire much confidence in the longevity of the blade. The teeth also weren't razor-sharp, even when the blade was brand new. This meant it took a bit more pressure to cut than with some other saws. It was comfortable to use though, thanks to the ergonomic handle and cutting angle.
Cons
Not razor-sharp, even brand new
Blade is thin
Several teeth broke off
---
10.

Crown 190 24-Inch Rip Saw

Crown Hand Tools Ltd. is a respected toolmaker out of Sheffield, England, and users either love 'em or hate 'em. For some sawsmiths, having a Crown hand tool in your collection is a mark of prestige. For others, it's a waste of money. The Crown 190 24-Inch Rip Saw with 4.5 TPI has 4.5 TPI, which is good for ripping and not much else, as the name suggests.
Let's not mince any words, the Crown 190 costs twice as much as the GreatNeck, Stanley, or Spear & Jackson hand saws. To some, it's a ridiculously expensive saw that really only does one thing well. However, let's consider the reasons why it's so expensive. First, you get a nickel-chrome alloy blade with a tapered edge. The beechwood handle has the smoothest grip we've ever encountered on a hand saw. And the razor-sharp teeth have a reputation for durability that won't need frequent sharpening. Finally, all Crown tools are manufactured by craftsmen – they don't roll off an automated assembly line.
A hand saw at this price range comes down to budget, taste, and mindset. If you're happy to drop this kind of money on a rip saw, you know where to find it.
Pros
Teeth can be sharpened
Nickel-chrome alloy blade
Cons
Expensive
Only does rip cuts
---
Buyer's Guide – Choosing the Best Wood Cutting Hand Saw
Things to know before choosing:
Hand saws are a tool that every homeowner uses at some point in time. When looking to purchase one, there are several things that you should keep in mind to find the best hand saw for your needs:
Use the right tool for the job. Basic hand saws are generally good for crosscuts and ripping, while others have fine teeth for smoother cuts.
Keep the blade sharp. Dull blades are kryptonite to hand saw users.
Make sure the blade is thick enough that it won't flex too much during the cut.
Check that it's made with good, quality materials.
Hold it to make sure it's comfortable in your hand.

Determining if it's the right one for you:
If you are new to using hand saws, here are some tips to help you determine what kind of saw you will need.
What's the TPI and tooth size?
Bigger teeth are used for softer materials. Smaller teeth are used on harder materials.
When trying to rip softwoods with the grain, use a coarse blade saw with 2 – 8 TPI.
For cross-cutting or use on moderately hard materials, use a medium blade saw with 10 – 20 TPI
Fine blades with 20 – 30 TPI are best for hard surfaces and very detailed cuts.
Bigger teeth mean a faster cut but also a rougher cut.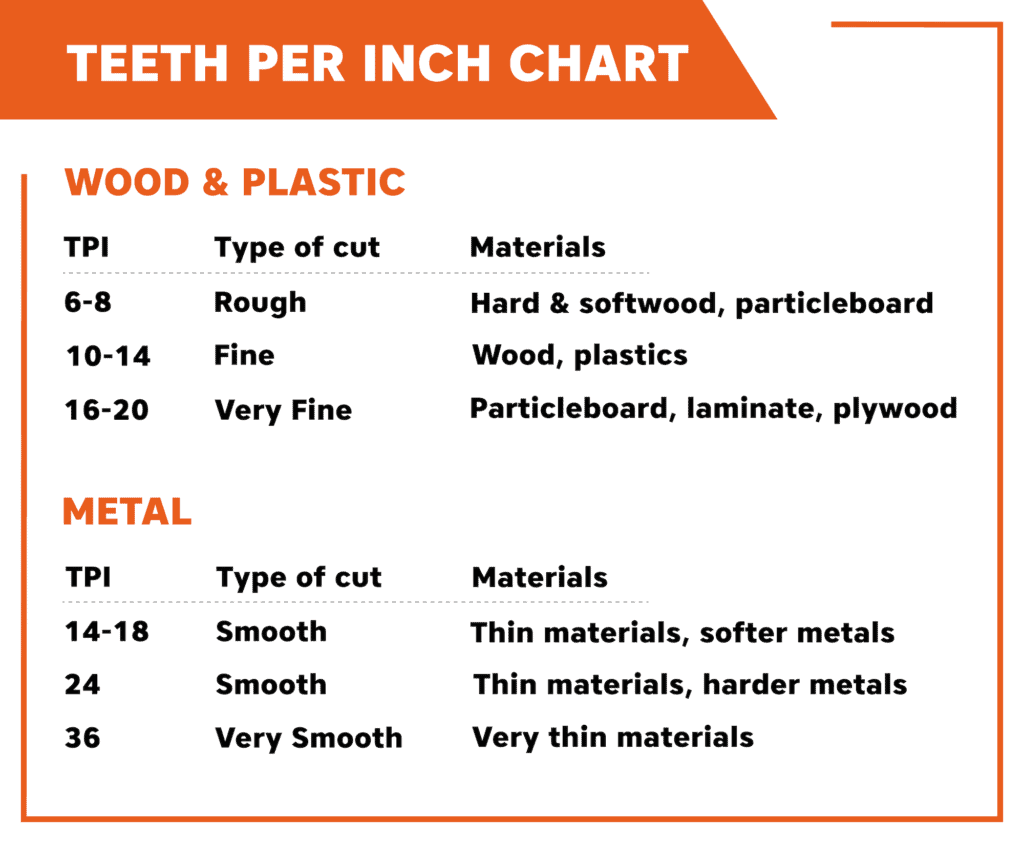 Check the set
Each saw has a "set." This is how far the teeth stick out from the center of the blade. The teeth alternate in opposite directions to make the cut a little wider than the actual blade. This helps to keep your saw from binding up in the cut.
Some pro tips for using a hand saw:
Use light pressure. Start slow and let the saw do the work for you.
Keep the blade perpendicular to what you're cutting. Don't let the blade twist.
Take as long of a stroke as you can. This will make your blade last longer, as well as make your cuts straighter and smoother.
Make sure that your work is well supported and secure before you start to saw.
Be sure to remove any nails or staples that may be in your wood before you begin to saw.
Pay more attention to where you want the saw to go more than where it is at any given time. This will also help make your cuts straighter.
Taking care of your handsaw:
Keep your blades dry.
Get some sort of sheath to put over the teeth to protect them. It can be something as cheap as the slide bars for binding report covers (found at your local office supply shop), or as sturdy as a piece of hose slit down one side.
Keep your saw clean and dry.
---
Our Final Verdict:
So now that you know what to look for, how to use, and how to properly take care of your hand saw, let's do a quick review of our best hand saw picks.
GreatNeck N2610 – Best Overall
BLACK+DECKER PHS550B– Best Electric Hand Saw
Stanley 20-045 15-Inch Fat Max Hand Saw – Best Value
MOSSY OAK MO-17009 – Best Folding Hand Saw
Hopefully, our reviews have helped you understand some of the different hand saws that are out there. It can be overwhelming to try to shop online because there are so many different choices—even more than walking into a store. You should now know what to look for in a hand saw, though, giving you more confidence in choosing the best hand saw for your needs. Good luck!