Intex Pure Spa Hot Tub Spa Review 2023 – Pros, Cons, & Verdict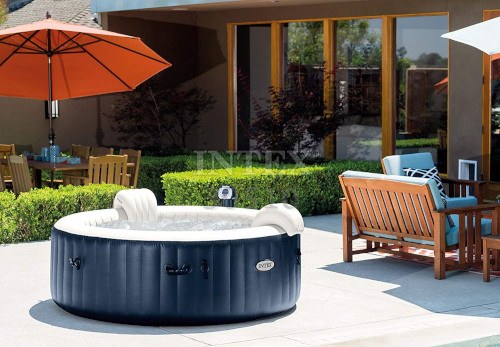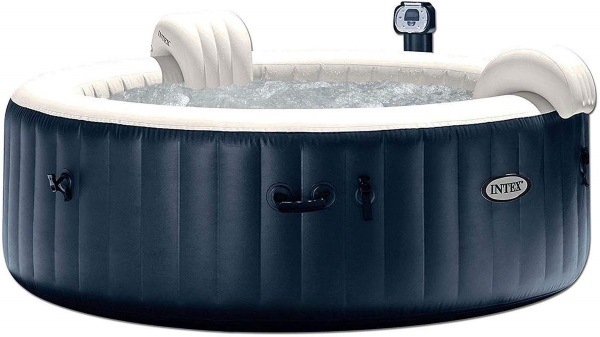 We give the Intex Pure Spa a rating of 4 out of 5 stars. 
Installation: 4.8/5
Pump: 3/5
Effciency: 4.2/5
Durability: 4.2/5
Price: 4.6/5
Warranty: 3/5
If you have ever had any back issues or any pain that is relieved by heat, you probably love hot tubs. The problem is that they are so expensive and not easily moved once you have one installed. Intex has a line of inflatable Pure Spas that have people talking. Are they worth the investment, though? Will they hold up in any weather? We decided to get one to try and see. We purchased the six-person Pure Spa and love it. Read below to see our findings in more detail.
Editor Rating: 4/5
We gave the Intex Pure Spa 4 stars out of five. It far exceeded our expectations. It was a cinch to set up and it's well built. It doesn't maintain the temperature as well as a permanent hot tub, but it still does a decent job. The reason we only gave it a 4 is that the warranty and return policy is not impressive at all. The pump will also need to run continuously, and the one provided isn't meant to handle that kind of use. We had to upgrade ours soon after we purchased it to get it to work correctly.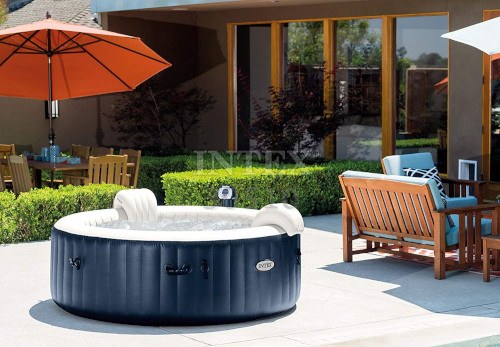 Installation: 4.8/5
The installation of the Intex Pure Spa couldn't be any easier. It only took one person about ten minutes to set up. It practically inflated itself. It takes about 45 minutes to fill, but then you have to wait 24 hours to let it reach the peak temperature of 104˚.
Pump: 3.0/5
The pump and heater are both in the same unit. Since it takes the spa about 24 hours to fill, you need to leave it running 24 hours a day, seven days a week to keep it at the optimal temperature, especially if you live in colder climates. The pump isn't made for constant running, though. Our filter clogged up quickly and started depositing black flecks into the spa. We upgraded to a better heater and pump combination and don't have any more problems.
Efficiency: 4.2/5
Since you have to leave the pump on 24/7 to maintain heat, your electric bill will go up. These pools also don't retain the heat as permanent hot tubs do, especially when it's cold outside. When you remove the cover, the pool will immediately drop a degree and continue dropping until it reaches about 98˚. We are in Michigan, and it kept the 98˚ consistently throughout the winter. Once you're done using it, put the cover back on, and it'll be back up to 104˚ by the next morning.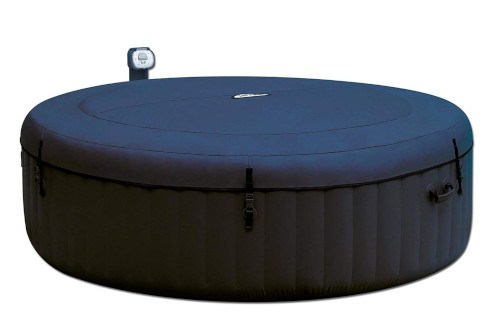 Durability: 4.2/5
Our Pure Spa gets used daily, and we haven't had any issues with it. It holds up well in summer and winter months. The cover does an excellent job at maintaining the heat and has tie-downs to keep it from blowing away when it's windy outside. The only trouble we had was little tears causing air leaks when we set our first one up. It was winter, and we didn't warm it up before blowing it up. The plastic was brittle and cracked, causing hair-line tears. We replaced it and waited until it was at least 60˚ out before setting the new one up. It did fine.
Price: 4.6/5
The Intex Pure Spas range in price from $350 to $900, depending on the size you choose. Though this can seem like a lot to some people, they're only a fraction of the cost of a permanent hot tub. They're well-built, so you should expect them to last about three years. That's $100 to $300 a year for daily therapy and soothing comfort. You can use it all year long too, so it's well worth the money if you can swing the initial payment.
Warranty and Returns: 3.0/5
Intex is not known for its warranty and customer service. First of all, if there is a defect in your product, you have to notify customer service within 15 days of receiving it. Then, they will tell you if it's covered or not. Do not send anything back until they ask you to. Intex must receive the item within 30 days of you receiving it, or it won't exchange or refund it at all.
Whenever you ship something back to Intex, it must be in the original packaging that's in a resellable condition. You also need to include a copy of the original receipt for proof of purchase.
Returning a product for any reason is the sole responsibility of the consumer. Intex will not refund any of the return cost. It also won't refund you if you don't fulfill all these requirements. When it does issue a refund, it credits the credit card used for the initial purchase.
A Quick Look
Pros
Multiple sizes
Quick and easy set-up
Insulated cover and lock
140 bubble jets (the six-person one)
Built-in hard water system
Simple to maintain
Bunch of Accessories (heating system, test strips, cartridges, chlorine dispenser, inflation hose, carry bag)
Cons
Cold climates have more air leakage
Has to run 24/7
Poor quality pump and heater combination
Takes 24 hours to heat
Mediocre customer service
Who will use the Pure Spa?
People who need to de-stress and relax
Many people come home from their jobs stressed out after a long, hard day at work. Muscles in the back and neck are stiff and sore, causing headaches, high blood pressure, and other issues.
The heat from the spa penetrates the tissues and allows them to relax. The combination of warm water and the bubbles increases your heart rate and will decrease your blood pressure. It's been proven that people who use a spa for 30 minutes a day will benefit from significantly lower blood sugar levels.
Relaxing in a hot tub or spa also helps to reduce stress and anxiety, bringing better sleep and a general sense of well-being.
Those with minor aches and pains
Hot tubs help to soothe sore joints and achy muscles. The water's buoyancy takes the pressure off the joints, allowing them to relax. Minor aches and pains are relieved by heat sinking deep into your muscles and allowing them to relax. They are excellent for people with chronic back issues or arthritis.
Individuals needing therapeutic massage
Well-placed jets pounding on specific muscles can have the same effect as getting a massage from a licensed therapist to relieve back pain, arthritis, and other issues.
FAQs
How long does it take for the spa to heat up?
That depends on the size of your spa. It generally heats about two degrees every hour and a half.
Yes. These spas can be used all year long, but the heater and pump combination will need to run 24 hours a day to maintain the optimal 104˚. If you live in colder climates, you can expect it to drop to about 98˚ during use. If you keep the cover on it when it isn't being used, it will return to 104˚ by the next day.
If you choose to take your Pure Spa down and store it for part of the year, it's quick and easy to do so. It will take about an hour for the water to drain out. You need to leave the spa inflated until it has dried completely before putting it in the storage bag. It does take up quite a bit of space, though.
Does it come with a pump?
Yes. All Pure Spas have a built-in air pump.
How difficult are they to get in and out of?
They aren't difficult at all. The tubs are about 28 inches tall, so you can step over them with ease.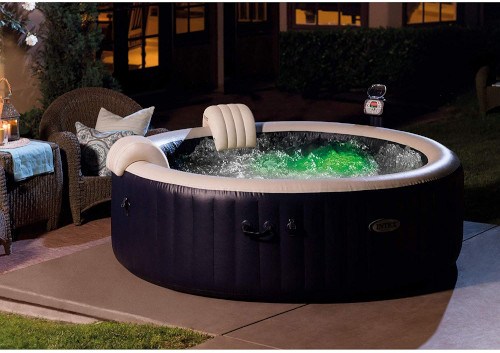 What do users have to say?
Everyone who has one of these Pure Spas raves over how easy they are to set up. One person can do it in ten to 15 minutes. It basically pumps itself up with the built-in air pump. The only downfall isn't even with set-up per se; it's that it takes about 24 hours to heat up.
For an inflatable spa, these maintain the temperature reasonably well. When it's cold outside, the temperature will drop a few degrees during use, but will be back to the optimal temperature by the next day. The only problem is that the heater and the pump are one unit. It must be run 24 hours a day to maintain the heat. Some people have reported that it costs them as much as $100 a month more in their electric bills.
Many users haven't been happy with the pump. It wasn't made to run continuously. You should plan on the cost of upgrading it when you are looking to purchase.
These spas are made of quality material that can stand up to your stepping over it to get in and out. It will also support your body weight when you're relaxing against it.
The only problem that we've seen reported is when people try to set one up in freezing weather. When the plastic is cold, it's brittle and can crack or get hair-line tears, allowing air to leak out of the walls. The solution is to either put it up when the weather is at least 60˚ outside or warm it up in the house beforehand.
Conclusion
There are so many health benefits to sitting in a hot tub that we believe everyone should have one. They're especially helpful if you suffer from back, knee, or hip pain, arthritis, or other inflammatory issues. Permanent hot tubs cost a small fortune and are meant to stay in one place.
The Intex Pure Spas offer many of the same benefits as the permanent ones, except that the jets aren't as powerful. On the plus side, they're available for a fraction of the cost, and you can easily take one down and take it with you if you move. Overall, the Intex Pure Spas are an excellent option for purchasing a hot tub on a reasonable budget.