10 Best Hydration Bladders of 2023 – Reviews & Top Picks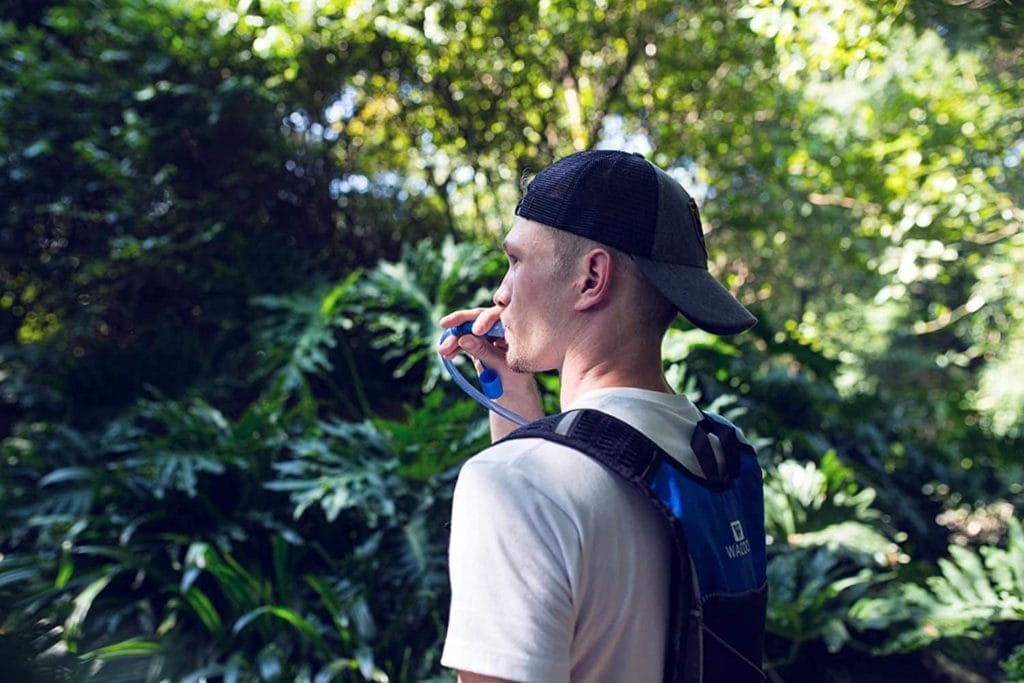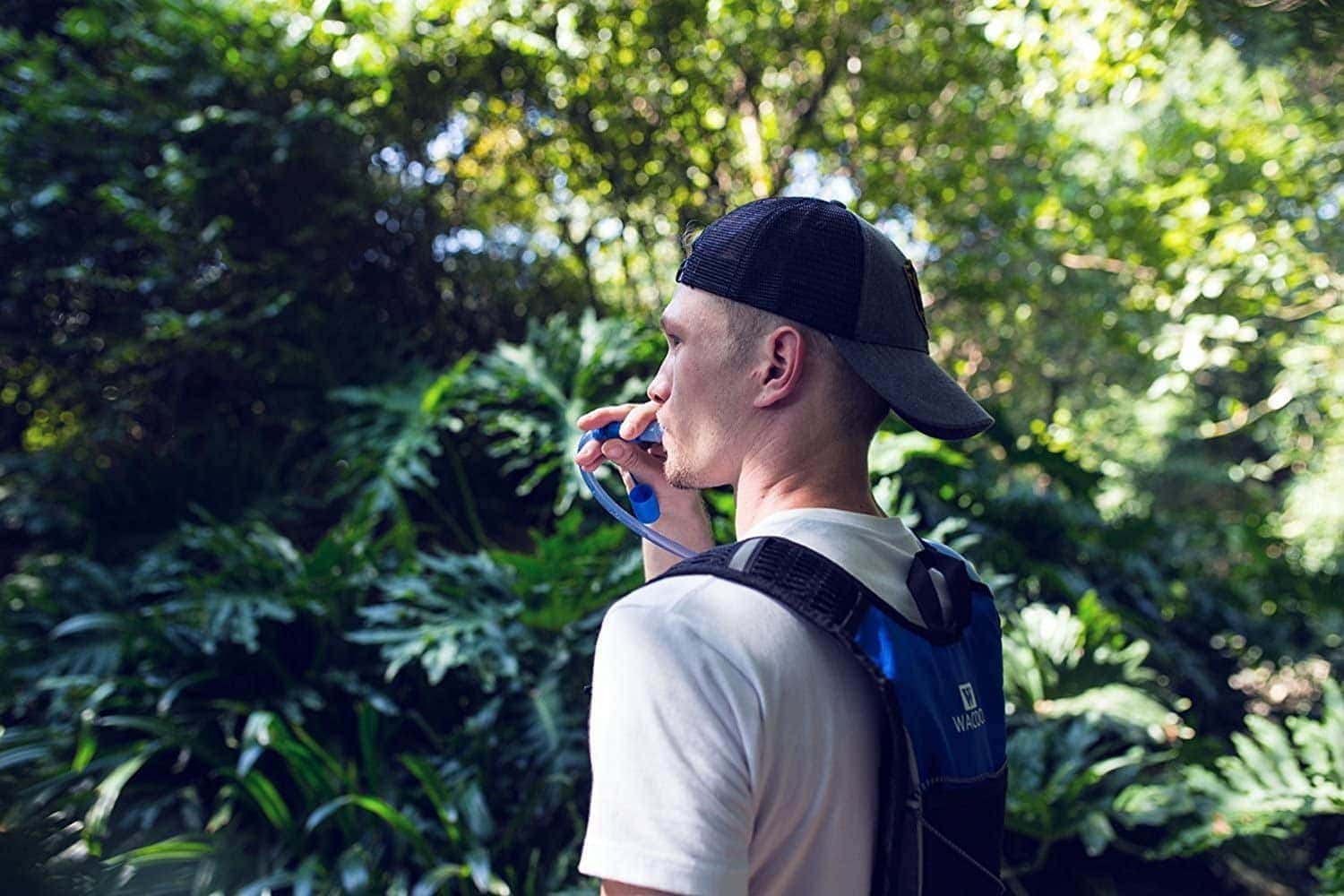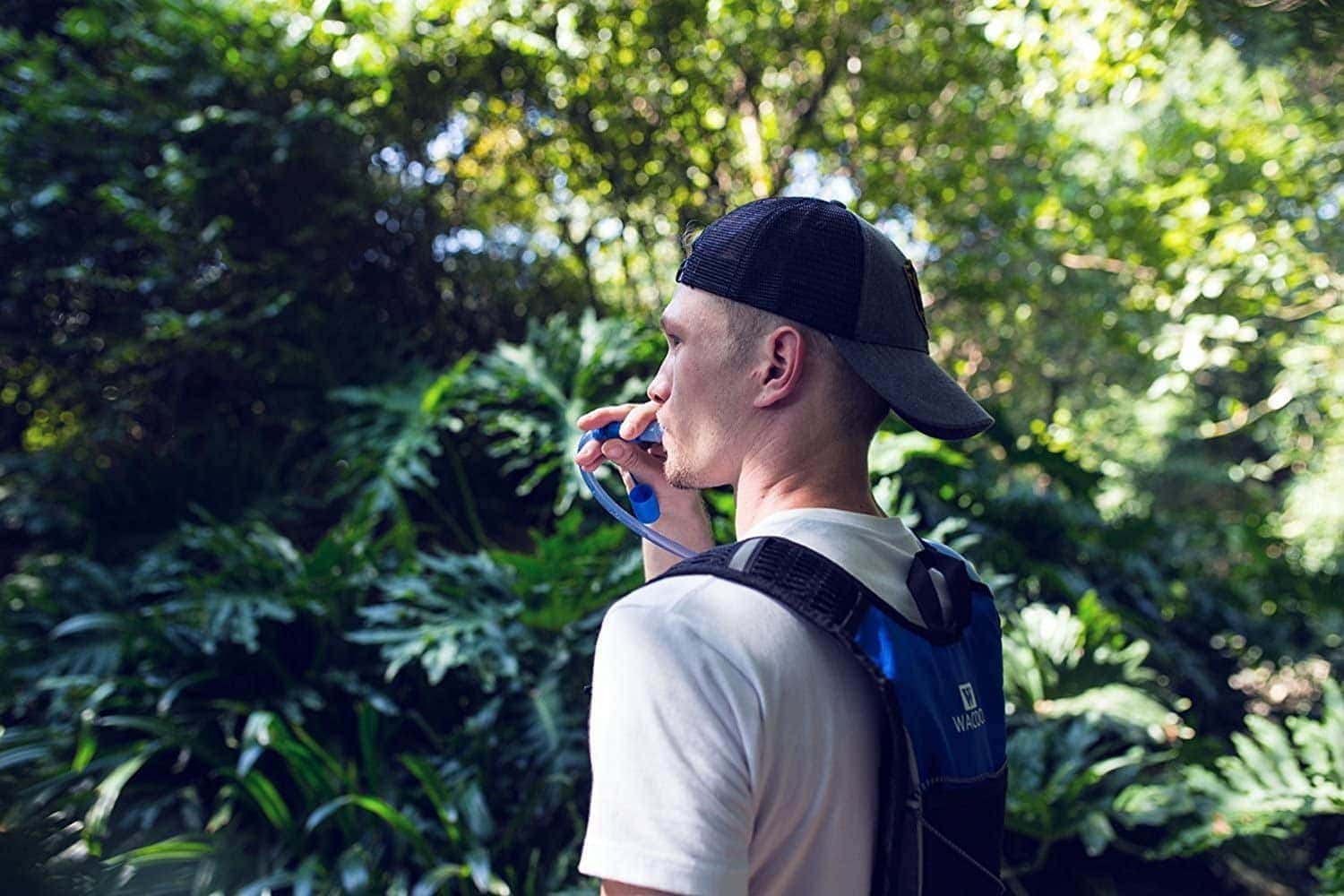 If you're under 25, you may not remember the days when you had to carry your water in bottles and hydration packs didn't exist. It was a hard time full of long time-consuming stops to remove your backpack, take the water out, drink, put it back in, zip up, and finally putting the backpack on before you can start moving again. Even reading all those steps was agonizing, wasn't it?
Today, we can luxuriously strap a hydration pack to our backs and set off without giving it another thought. But if you don't feel spoiled enough by our impressive water carrying technology, you may be looking to compare these vessels and determine is the best water bladder to carry your precious H20.
We're also guilty of never being satisfied, so we tried all the hydration reservoirs we could find to see which one makes the best use of our cutting-edge drinking technology. We've written up the following ten reviews to spare you the hassle of doing the same.
---
A Quick Look at the Winners in 2023:
Rating
Image
Product
Details

Best Overall

Platypus Big Zip Water Reservoir

Large 3-liter capacity
Leakproof shutoff valve w/ self-sealing bite valve
Limited lifetime warranty
CHECK PRICE

Best Value

Aquatic Way Hydration Bladder

Available up to three liters
BPA-free
Doesn't leak when the tube is detached
CHECK PRICE

Premium Choice

Osprey Hydraulics Reservoir

Magnetic clip-on bite valve
Made from BPA-free TPU
3-liter capacity
CHECK PRICE

Hydrapak Shape-Shift Reservoir

Quick-release hose
Zippable baffle allows for capacity adjustments
Made from thick TPU
CHECK PRICE

CamelBak Mil-Spec Antidote Reservoir

Military-grade durability
Insulated hose
Built to handle extreme weather conditions
CHECK PRICE
The 10 Best Hydration Bladders:
1.

Platypus Big Zip Water Reservoir – Best Overall
Platypus is known for making good equipment that hikers and backpackers trust and rely on in the backcountry. Their Big Zip water reservoir for hydration backpacks is a large-capacity bladder that's made very well. It looks thin, but it's durable and strong without being heavy. It will allow you to carry three liters of water without giving a thought to leaks or problems with your bladder. Well, at least not the bladder on your back.
A common complaint with hydration bladders is a taste of plastic, so we were pleased that this reservoir had no plastic taste, even during its first use. We also liked the fast flow valve that gives great water flow, a real blessing when you're gasping and out of breath but parched and in need of hydration.
The one thing we didn't like is the slide-lock top that's slow to close. But it does seal well and helps the bladder to stay light, so we won't complain. Despite all the great traits that make it our pick for the best water bladder, this reservoir is very affordably priced. Even more so when you consider the fact that it's covered by a lifetime warranty.
Pros
Large 3-liter capacity
Fast flow valve
Limited lifetime warranty
Leakproof shutoff valve w/ self-sealing bite valve
No plastic taste
Affordably priced
Cons
Slidelock top is slow to close
---
2.

Aquatic Way Hydration Bladder – Best Value
Sometimes, you just need a cheap hydration bladder that will hold water and not leak all over you. That's exactly what the Aquatic Way Hydration Bladder is; a cheap but perfectly functional water bladder for your hydration backpack. It's available in sizes up to three liters so you can carry enough water for all-day excursions.
This bladder is BPA-free with a large opening for easy cleaning and filling. It also has a leak-free detachable hose so that the bladder stays water-tight when you remove the hose. Speaking of the hose, its neoprene insulated to keep the water in your hose cool so you don't get hot hose water in your first gulps each time you drink.
We weren't thrilled with the bite-valve on this bladder. It was kind of finicky and had to be positioned just right to work properly. But the bladder was well put-together and durable, showing no signs of leaking. For us, its low price and solid performance make this the best hydration bladder for the money.
Pros
Affordably priced
Available up to three liters
BPA-free
Doesn't leak when the tube is detached
Neoprene insulated hose keeps water cold
---
3.

Osprey Hydraulics Reservoir – Premium Choice
Osprey makes a lot of high-quality outdoor gear and their Hydraulics Reservoir is no exception. It's like the Cadillac of hydration packs, loaded with luxury features that you never knew you needed until you had them. It may take the same form as all the other hydration packs, but it's not the same beast. But just like Cadillacs, you'll be paying a premium for the name and the quality.
Have you ever had trouble getting a full hydration bladder to fit inside your pack? It moves and squishes and doesn't stay firm enough to squeeze its way in. But with this bladder, you get the hydrostatic backer plate that gives the bladder some stability so you can easily shove it into a tight-fitting pack.
We also liked the built-in pour shield that extends the collar of the bag so you can still fill it mess-free when using a sink that's too low to for it to stand in. . Plus, the top doubles as a nice carrying handle. The magnetic bite valve is another nice touch that we liked, but it's only useful if your pack has a magnetic mount for it.
Pros
The backer plate keeps the bladder's shape when putting it in your pack
Magnetic clip-on bite valve
Made from BPA-free TPU
3-liter capacity
No plastic flavor
---
4.

Hydrapak A233 Shape-Shift Reservoir
We love large-capacity hydration bladders that let us carry enough water to keep us hydrated on all-day excursions. But not every trip lasts all day, so you don't always need that full capacity. Sometimes, it would be nice to have some more cargo space instead. If you've ever felt that way, then the Hydrapak Shape-Shift Reservoir was made for you.
This pack features a zippable baffle that lets you change its capacity. At full volume, it holds three liters, but you can shrink it down to much less if you zip up the baffles, allowing you to fit into a smaller pack or just fit more gear in the same pack. And in keeping with the times, the hose has a quick-release connection from the reservoir, allowing you to remove it without any leaks.
Made from thick TPU, this bladder is durable, and we trust it not to leak on us. But it can take a while to get rid of the plastic aftertaste, so if that's a big deal for you, then this may not be your pack.
Pros
Quick-release hose
Zippable baffle allows for capacity adjustments
Made from thick TPU
Cons
Can take some time to get rid of the plastic taste
---
5.

CamelBak Mil-Spec Antidote Reservoir
The new Mil-Spec line from CamelBak aims to bring military-grade toughness to the CamelBak hydration pack reservoirs. This one holds two liters, which isn't as much as a lot of our favorite bladders. But the CamelBak Antidote is built so tough that you could put straps on it and carry it without a pack to protect it and it would be just fine.
CamelBak is a premium brand, and this is one of their higher-end hydration packs, so expect to shell out  more for this bladder than on some of the cheaper ones we've reviewed. But for the price, you'll get a quick-connect drink tube, all-weather reliability, and an insulated hose that will keep your water cool in the summer and stop it from freezing in the cold.
By appearances only, it seems that the only difference between the Mil-Spec reservoir and the regular CamelBak bladder is the color. When you hold it, you can feel the difference right away. The materials used in the construction of this bladder are thick and high-quality, though that makes the bladder heavier as well.
Pros
Military-grade durability
Insulated hose
Built to handle extreme weather conditions
Cons
Limited two-liter capacity
Expensive
---
6.

SportsTrail Hydration Bladder
Buying name-brand merchandise can be very expensive, so we like to see smaller companies with high-quality products at more affordable prices. SportsTrail is a company we haven't seen much from, but their hydration bladder caught our attention. It's available in sizes up to three liters and you can even purchase your bladder with a cleaning kit to simplify things.
This bladder uses a slide-lock closing mechanism that's slower and more of a hassle to use but also allows you a lot of room for easy cleaning and filling. As soon as we opened it, we could smell the plastic. It took weeks for the taste of plastic to dissipate, which may be a deal-breaker for some people.
We liked the quick-release tube that detaches from the bladder easily and quickly. The shutoff prevents the bladder from leaking any water when you do, making it much easier to transport and store or stuff into a pack. But the cap on the drinking nozzle is very difficult to remove and was a bit of an annoyance.
Pros
Very cheap pricing
Up to three-liter capacity
Quick-release tube with shutoff
Cons
Strong plastic taste and smell
Slidelock opening is slow to use
Cap is difficult to remove and replace
---
7.

WACOOL 3L Hydration Pack Bladder
We're kind of torn between screw-open tops and slide-lock tops on our hydration packs, but with the WACOOL bladder, you can get the best of both worlds. We like the concept, but unfortunately, the execution isn't quite what we'd hope for. The screw-on lid is too small. Worse, it tends to leak. If weren't for that, this would have been a much higher ranked product.
For a very affordable price, this bladder gives you features like an insulated hose and a locking, quick-disconnect hose connection. For the price, this is a well-thought-out bladder, but the leaky cap holds it back.
Pros
Very cheap price
Easy-open screw cap and slide-lock opening
Cons
The screw-on cap is too small
Cap tends to leak
---
8.

Source Tactical WXP Hydration Reservoir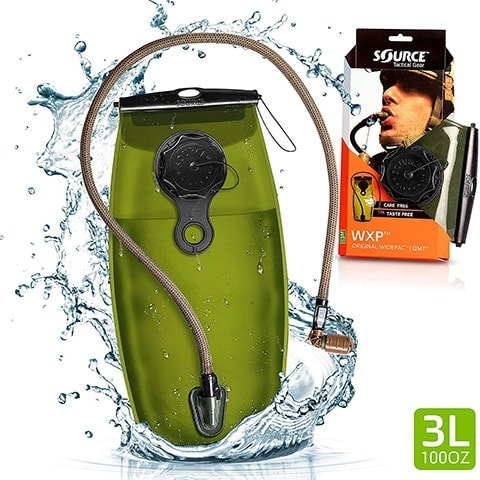 The Source Tactical WXP Hydration Reservoir lands right in the middle of the price spectrum, but it offers quality on-par with the cheapest reservoirs we tested. We like the large three-liter capacity, but we weren't impressed with the weak seams that started leaking after just a few months. This was a major disappointment, especially considering the price.
We did like the high-flow bite valve that delivered plenty of water with each sip. The hose also has a quick-connect attachment to the bladder, but it's not well-built and broke when we tried to insert the hose. This was after several weeks of regular use, but it does show that you shouldn't expect great longevity from the Source Tactical WXP Hydration Reservoir.
Pros
Quick-connect hose
High-flow bite valve
Cons
Weak connections are prone to breaking
More expensive than other options
Seams can leak
---
9.

TruMod Hydration Bladder
Available in two-liter and three-liter sizes, the TruMod hydration bladder is a reasonably priced alternative to expensive name-brand bladders. But along with the low price comes low quality, which we weren't excited about.
We first noticed that our hose connection was leaking. It's an auto-lock quick-connect fitting, but it doesn't work quite right and wouldn't seal up no matter what we tried. The strong plastic taste this bladder transferred to our water wasn't pleasing, and even after weeks of washing, we couldn't get rid of the taste and smell.
The first time we filled this reservoir, we realized that if filled to the fill line, it doesn't hold the advertised three liters. This is disappointing, but it's just one of several reasons we don't recommend the TruMod Hydration Bladder.
Pros
Very affordable
Large 3-liter capacity
Cons
Hose connection leaks
Gives water a strong plastic taste
Doesn't hold the full amount advertised
---
10.

TETON Sports Hydration Bladder
We always like low-cost products, and the TETON Sports Hydration Bladder is one of the most affordable reservoirs we tested so we wanted to see it do well. We were disappointed that its low cost is its best feature.
The first issue we noticed is poor quality control. Our first one leaked all over and wouldn't hold water. We got a replacement and luckily, it worked fine. But after a few trips out with the pack on, our backs started getting wet. We checked the hose connection and noticed it had loosened up and needed to be tightened. This wasn't the only time we'd experience this.
Moreover, the cheap bite valve was a frequent source of frustration. Even closed, it would leak on us, leaving a wet spot on our shirt. If it's cold out, that can really become uncomfortable. Plus, it's a waste of precious water! We think the last place on our list is a fair place for this poor-performing hydration bladder.
Cons
Poor quality control
Hose connection tends to loosen
Cheap bite valve leaks
---

Conclusion
If you're anything like us, you love the convenience and freedom that a hydration pack can offer, allowing complete use of your hands while multiplying your water carrying capacity. We wanted to find the best hydration bladders for our packs, and if you read our reviews, you already know that we think we have. For us, the Platypus Big Zip Water Reservoir is the best water bladder overall. There was a lot we liked about this bladder, such as the fast flow valve with leakproof shutoff, and the lifetime warranty. Plus, you get all of that for a very reasonable price.
If you want the most affordable way to get a quality hydration bladder, we suggest looking at the Aquatic Way Hydration Bladder. It's a three-liter, BPA-free bladder that's priced very affordably but still offers durable leak resilience.
Lastly, for a premium hydration reservoir with a matching price tag, we were most impressed by the Osprey Hydraulics Reservoir. It had no plastic taste, even when new, and it was packed with great features. We loved the backer plate that made it easier to shove in a tight pack, and the magnetic bite valve is a nice touch.