5 Best Juicers for Carrots in 2023 – Guide & Reviews
If you are trying to start, or maintain a healthy lifestyle, then investing in a juicer is a very good decision. Juicers distill the healthiest components of fruits and vegetables into an easy to consume beverage, making it simpler than ever before to get all of your daily nutrients.
Carrots, in particular, are one of the healthiest and most delicious juicing options out there.
But there is a problem. If you have followed the world of juicers and juicing, you may well know that some products are much more effective at making delicious and nutritious juices than others.
Naturally, you don't want to get stuck with a dud. We don't want that for you either.
That is why we have taken a comprehensive look at the juicer world and identified five of the best options for juicing carrots that are out there.
We have done our research, conducted tests (delicious tests), and assembled our findings in the guide before you now.
A Glance at Our Winners (Updated in 2023)
Rating
Image
Product
Details

Best Overall

Breville 800JEXL

Steel Housing
1 Quart Capacity
Two Speed Settings
CHECK PRICE

Omega J8006

Quiet Operation
Easy to Use
Easy to Clean
CHECK PRICE

Best Value

Hamilton Beach 67601A

Quick
Easy to assemble
Best for the Money
CHECK PRICE

Breville BJE200XL

Large Chute
Safety Locking Arm
Heavy-duty design
CHECK PRICE

NutriChef PKSJ40

Slow Juicer
Low temperature
Clog-free drainage design
CHECK PRICE
The 5 Best Carrot Juicers
1.

Breville 800JEXL Carrot Juicer – Best Overall
We start with the Breville 800JEXL. Buyers with a little bit of money to spend on this purchase may very well want to begin and end their search here.
To say that this juicer is impressive would be something of an understatement. The unit features two-speed settings (13,000 or 6500 RPM) for a wider range of juicing options, an impressive die-cast steel housing, for maximum durability, and a 1.1-quart capacity that will allow you to easily make juice for multiple people at once.
The unit also features an extra-large chute that will easily allow you to add full-sized, un-chopped fruits or vegetables, which will certainly serve to make the tool much more time-efficient.
In terms of cons, it is worth mentioning that this is one of the more expensive juicers that we will be looking at today (though there are certainly units out there that far surpass it in price).
We have also heard from users that have reported the housing rusted prematurely, though, without a keener understanding of their home set up, it is hard to say exactly why that might be.
These things aside, we still think that this is the best juicer for carrots this year.
Pros
Steel Housing
Two Speed Settings
1 Quart Capacity
Extra Large Chute
Cons
Pricey relative to other options on today's list
Some reports of unusual rusting.
---
2.

Omega J8006 Carrot Juicer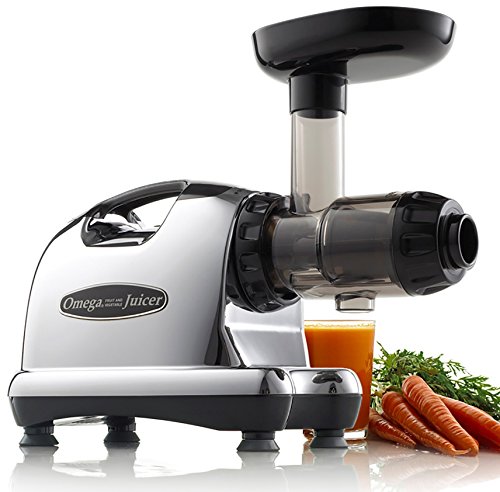 The Omega J8006 is an impressive, high end masticating juicer that has landed itself a spot in our second slot thanks to its impressive performance.
The Omega operates quietly, for a nice, peaceful atmosphere in the morning, and it is easy to clean, which will save you plenty of time after your juicing sessions.
It even happens to be fairly easy to use, which is often not the case when it comes to masticating juicers.
However, masticating juicers also come with cons that are unique to them. For example, unlike the last option that we looked at, the Omega J8006 is not going to be able to accept entire fruits and vegetables.
To extract juice with this unit, you are going to have to finely chop your ingredients, and then slowly feed them in through the chute.
Needless to say, this is going to be a little bit frustrating if you are trying to make a lot of juice on a busy morning.
These things aside, however, the Omega J8006 gives buyers that were not sold on the Breville a nice alternative option.
Pros
Quiet Operation
Easy to Use
Easy to Clean
Cons
Requires ingredients to be finely chopped, adding more time to juicing sessions
---
3.

Hamilton Beach 67601A Juicer – Best Value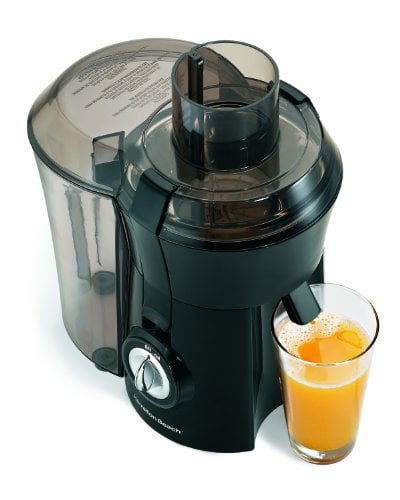 Sometimes budget has to be the dominant buying consideration. In situations like that, it is nice to know that there are products like our best for the money pick, the Hamilton Beach juicer, out there.
This option is a little bit simpler than the last couple that we looked at, but there is also plenty that it gets right.
The Hamilton Beach juicer is easy to clean, it features a large chute that will allow you to use entire fruits and vegetables at once, and the 800 watts of power that it has access to serves to make your juicing sessions nice and quick.
All of this said we did pick up on a couple of issues. For one thing, this juicer does struggle a little bit with high volume loads of vegetables. Given the price, this isn't exactly surprising, but it is also good to keep in mind.
The juicer also struggles with liquid-based fruits and vegetables. We noticed that when we used ingredients that were liquid-rich, the juices would be particularly pulpy.
This aside, it is a good beginner juicer at a price that would be very hard to beat.
Pros
Large Chute
Best for the Money
Quick
Cons
Struggles with volume
Struggles with liquid based ingredients.
---
4.

Breville BJE200XL Carrot Juicer
Another Breville juicer sits in our penultimate slot, but unfortunately, this option falls a far cry short of the last Breville unit that we looked at. Before we get into the issues though, let's go over what the appliance does right.
On the surface, this unit actually looks very similar to the first Breville that we looked at. It's easy to clean, it features a large chute, and a heavy-duty design that should ensure that it will stand the test of time.
The problem is that it does not perform nearly as well as our top pick. We found that larger fruits and vegetables seem to really hinder it, leaving behind very wet pulp with lots of potential juice still in it.
We also found that it struggles deeply with leafy greens, which seem to have no trouble at all slipping through the pulp bin.
While this may seem like an affordable alternative to the Breville 800 JEXL, the truth of the matter is that buyers on a budget can find higher quality options in products like our best for the money pick.
Pros
Easy to Clean
Large Chute
Cons
Struggles with leafy greens
Not very thorough
---
5.

NutriChef PKSJ40 Juicer
In last place, the Nutrichef. Unfortunately, this product really earns its spot on the list, with a performance that does not come close to matching that of some of the other juicers that we have seen today.
Of course, it isn't all bad. One thing that we really liked about this juicer is that it is easy to use, and also very easy to clean when the job is all said and done.
However, some unfortunate cons keep it from reaching the same performance heights that we see in the other options.
The unit itself is bulky, the juice that it produces is pulpy, and we have heard from a variety of users reporting that theirs lasted less than a year.
While there are some things that the NutriChef gets right, there are also some issues it needs to work out before it can compete more seriously with other top-tier juicers.
Pros
Easy to Clean
Easy to Use
Cons
Pulpy Juice
Hard to Store
Short Life Span
---
Buyer's Guide: Selecting the Best Juicer for Carrots
You've now read five reviews, but just because you know what is out there does not necessarily mean that you know what is right for you.
There are a lot of things to consider when buying a juicer, and that being the case, it can help to collect as much information as you can.
That in mind, here are some buying considerations that may help you make a more informed decision.
Remember: Juicers are Not Blenders
We know that you know this already, but just as a reminder, juicers are indeed different than blenders. This is probably one of the biggest points of confusion regarding juicers.
The results of these two kitchen appliances are actually pretty similar. It is the process that is different. Juicers extract the liquid of a fruit or vegetable from the pulp, while the blender mixes both together.
There is really no telling which option is better. The truth is that both options are very healthy and beneficial for your lifestyle.
However, for the purposes of today's guide, remember that we are not talking about blenders here.
Price
If you are new to juicing, you are probably going to encounter a little bit of sticker shock as you search the web looking for the perfect unit to add to your home. There are a lot of options out there that go for literally thousands of dollars.
Yeah. We said thousands of dollars. They have more bells and whistles than the hundred dollar options that are on the market, but the truth of the matter is that there is no logical reason to spend even close to that amount of money on a juicer.
In fact, there have been several scandals regarding products in that price range that did not work at all.
While fancy juice bars may need to go for high-end equipment to cater to their clientele, you and your family will be just fine shopping for something that comfortably fits your budget.
Our best for the money pick is the perfect example of a product that manages to be both affordable, and efficient.
Not all Juices Are Equal
Juicing is supposed to be a nutritionally rich way to enhance your diet. And indeed, with the right product, that is exactly what it will be. But only with the right product.
Some juicers are going to be better than others at preserving the nutritional value of the fruits and vegetables that you use.
Masticating juicers (juicers that slowly separate the pulp from the juice using a cold-press system) are generally thought to be the best at creating the most nutritionally rich beverages possible.
However, they are also usually more expensive than alternative options.
Centrifugal juicers are much more ubiquitous, more affordable, and easier to use than masticating juicers, but they can also be pretty hit and miss.
If you want to get a centrifugal juicer to take advantage of the easy to use interface, and the wallet-friendly price tag, then feel free to go for it.
However, before you do, you are going to want to read up on the product to make sure that it does what it is supposed to do.
There are plenty of high-quality centrifugal juicers out there, but separating the good from the bad sometimes requires a little bit of research.
What You Will Be Juicing
The purpose of today's article, is obviously, juicers that are good for dealing with carrots. However, you do need to think about the specific requirements of any food that you plan on juicing.
While most juicers are going to be able to handle a broad range of vegetables, many will be better than some than they are with others.
For example, centrifugal juicers tend to struggle a little bit with leafy greens, while masticating juicers tend to be very good with them.
Knowing what your juicer specializes in can save you a lot of frustration down the road.
You Are Going to Need to Buy A Lot of Vegetables
No matter what juicer you buy, you are going to need to start getting a lot of vegetables when you go to the store.
This may sound obvious, but many new juicers are surprised by how much their grocery bills go up once they start regularly using their juicers.
Unfortunately, this is something that you are going to encounter no matter what juicer you get. Since the nature of these products' function is to take large quantities of vegetables and turn them into relatively small quantities of juice, you are going to want to make sure that you factor in bigger grocery bills into your budget.
The Time Commitment
Last, but not least, think about the time commitment! Juicing has a reputation for taking a lot of time, but that really does not have to be the case. In fact, the standard, home model does not have to take longer than ten to fifteen minutes to make juice for two.
Centrifugal juicers are generally known to be quicker than the masticating alternative for the fact that they have larger shoots. Finding the right centrifugal juicer will allow you to save time and money on a highly efficient and affordable unit.
---
Conclusion
You have read the carrot juicer reviews. Now it is time to decide which of these machines is going to be giving you a healthier, happier, household.
Ultimately, you are going to have to weigh the needs of your household against the capabilities of each, individual juicer.
However, if you are still struggling to decide, there are a couple of options that we think will appeal to a broad range of buyers.
If your chief concern is simply to get the best juicer that you can, regardless of the price, we think you will probably appreciate the Breville 800JEXL.
Of course, sometimes you need to think about the budget in addition to thinking about quality. If that describes your situation, you can't go wrong with our best for the money pick, the Hamilton Beach (67601A).
Of course, now that you have familiarized yourself with the world of juicing, you should have no trouble finding the best carrot juicer for you and your family.
Some of our popular juicing posts: