8 Best Lightweight Weed Eaters of 2023 – Reviews & Buying Guide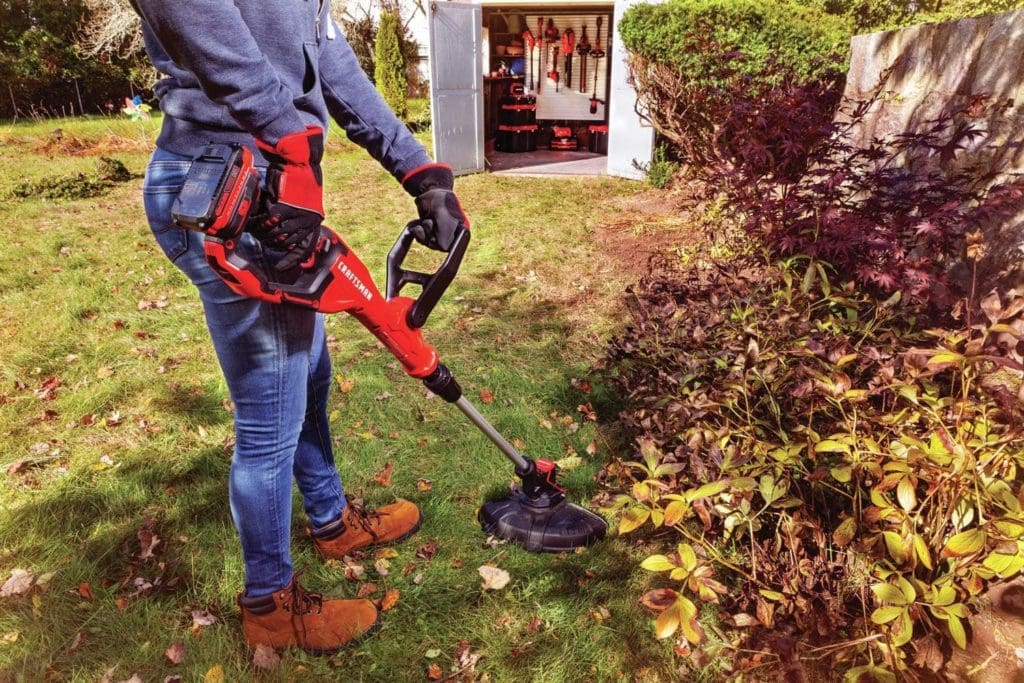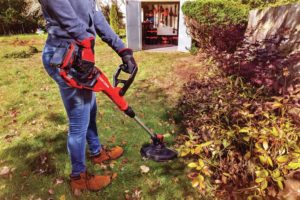 Clearing out weeds is an essential part of making any garden or yard look nice. But this job can often seem futile as the months drag on, especially if you only have your own two hands to combat the weeds.
Weed eaters are an efficient option. However, using one can be back-breaking labor. Luckily, lightweight weed eaters are available. These little machines aren't nearly as heavy as their larger cousins, making them useful for those who can't handle a massive machine.
Choosing the correct weed eater is vital to your success. Some lightweight options sacrifice so much power that they aren't useful for most jobs. Below, you'll find our reviews of some of the best lightweight weed eaters currently on the market.
---
A Quick Comparison of Our Favorites
Rating
Image
Product
Details

Best Overall

BLACK+DECKER LST300 Weed Whacker

Adjustable length
Lightweight
Long runtime
CHECK PRICE

Best Value

PowerSmart PS76110A Cordless String Trimmer

Automatic feed spool
Fast-charging battery
Weighs 7.5 pounds
CHECK PRICE

Premium Choice

Remington Curved Shaft Gas String Trimmer

More powerful
Curved shaft
16-inch cutting swath
CHECK PRICE

Makita Lithium-Ion Cordless String Trimmer

Lightweight at only 6.4 pounds
Compact
Telescoping shaft
CHECK PRICE

BLACK+DECKER GH900 String Trimmer

Automatic feeder system
Power drive transmission
Lightweight
CHECK PRICE
The 8 Best Lightweight Weed Eaters – Reviews 2023
1.

BLACK+DECKER LST300 Weed Whacker – Best Overall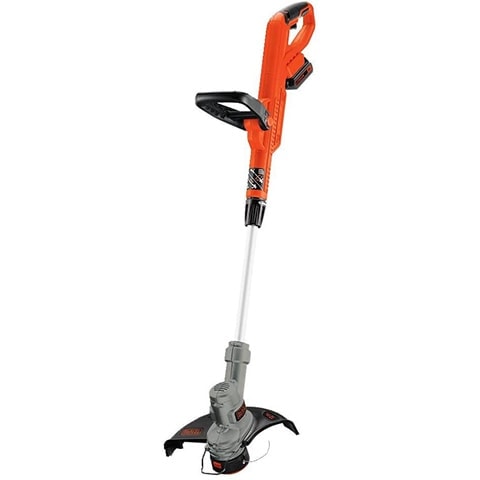 The BLACK+DECKER LST300 Weed Whacker is the best lightweight weed eater we found on the market. It isn't too expensive and comes with all the features you need to remove the weeds from your yard quickly and effectively. The lithium-ion battery features an extended runtime, so it should allow you to finish a moderately-sized yard on one charge. The power drive transmission pumps more power into the cutting string, allowing you to get your job done faster.
We particularly liked the automatic feed spool, which continuously adds more line as it is needed. You don't have to worry about bumping. You can also convert this tool into an edger in just a few moments. The cutting swath is 12 inches, which is about average for lightweight weed eaters and likely plenty for the average homeowner.
The length of the trimmer is completely adjustable, which is great if you're on the shorter side. It is one of the lightest weed eaters we've ever handled.
Pros
Adjustable length
Lightweight
Long runtime
Automatic feed spool
Cons
Not as powerful as other options
---
2.

PowerSmart Cordless String Trimmer – Best Value
For those on a budget, the PowerSmart PS76110A Cordless String Trimmer is the best lightweight weed wacker for the money. It easily converts to an edger within seconds when you need it to and comes with a completely adjustable handle. The design is quite ergonomic, so you shouldn't get fatigued very quickly while using it. The battery is decently long-lasting and only requires one hour to charge.
It has an automatic feed spool system, so you don't have to worry about bumping. The line just comes out automatically as necessary. The whole thing weighs only 7.5 pounds and has a 10-inch cutting diameter. This is a bit smaller than the other weed eaters we reviewed. However, you really can't complain when it only weighs 7.5 pounds.
Pros
Automatic feed spool
Fast-charging battery
Weighs 7.5 pounds
Ergonomic
---
3.

Remington Curved Shaft Gas String Trimmer – Premium Choice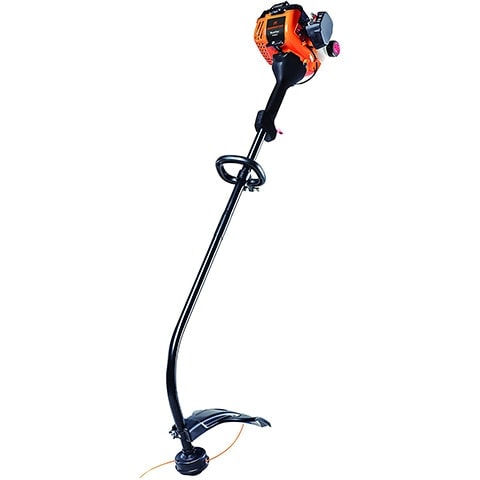 The Remington RM25C Curved Shaft Gas String Trimmer is expensive, we admit. But it comes with a lot of features that are hard to find. It runs on gas, which makes it quite a bit more powerful than the other options we've mentioned thus far. This may be a huge plus for some people, but others may not want to deal with mixing and buying gas. It is a matter of personal choice. You don't have to worry about this weed eater running out of power —­ that's for sure.
The shaft of this machine is curved. This makes the machine more balanced overall and prevents fatigue. With that said, some people don't like the curved design. It just depends on your personal preference. Those who have used straight weed eaters their whole life might not like switching to a curved design.
This machine also uses a thicker line for extra durability and it helps cut through those extra-thick patches of grass and weeds. We liked that this Remington weed eater has a 16-inch cutting swath, which is far more than most of the competition.
Pros
More powerful
Curved shaft
16-inch cutting swath
Thicker line
---
4.

Makita LXT Lithium-Ion Cordless String Trimmer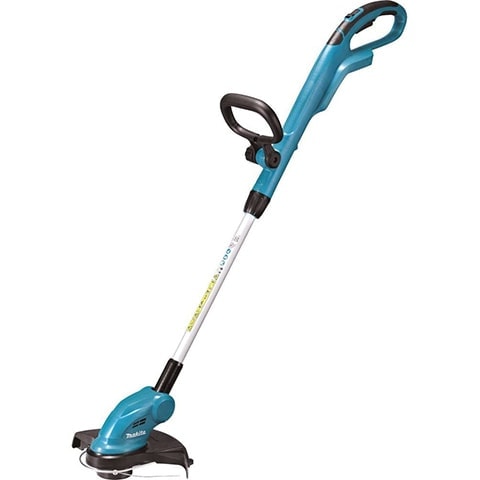 At first glance, the Makita XRU02Z LXT Lithium-Ion Cordless String Trimmer might not seem that expensive. However, it does not include the necessary battery. You need the battery to run this weed eater, which you'll have to purchase separately. This will drive the price up quite a bit. Large batteries can be quite expensive.
On the plus side, this weed eater is lightweight. It weighs only 6.4 pounds without the battery. The battery will drive the weight up a bit, but not too substantially. Overall, the design is very compact, making it suitable for small spaces. If you have a smaller home, this weed eater will likely store away easily.
The telescoping shaft is an excellent addition. It allows you to adjust the length of the tool to achieve the optimal cutting position.
For whatever reason, the string cutter on this weed eater does not come very sharp. You will need to sharpen it yourself to use this string cutter appropriately. The plastic cutter wire is also too far beyond the cutter skirt when you first receive it, so you'll need to trim that back yourself as well. For the price, these small modifications should have been done at the factory.
Pros
Lightweight at only 6.4 pounds
Compact
Telescoping shaft
Cons
Small, correctable design flaws
Somewhat expensive for what it is
---
5.

BLACK+DECKER GH900 String Trimmer
The BLACK+DECKER GH900 String Trimmer comes with an automatic feed system, which ensures that you can work efficiently without bumping. The motor is powerful, and the transmission ensures that quite a bit of power is transmitted to the string. The power drive transmission also prevents the machine from bogging down. We found this machine decently lightweight and appreciated with adjustable height and pivoting handle.
However, this machine is corded. It can only go a set length from an outlet, which may or may not be enough to cover your whole yard. It may be enough for some small, compact yards. If your yard is decently sized, though, you'll likely need an extension cord. This can get very annoying, very quickly. The corded problem is the main reason we rated this weed eater so low. It just isn't worth the frustration.
Pros
Automatic feeder system
Power drive transmission
Lightweight
Cons
Corded
Flings stuff everywhere
---
6.

Husqvarna 128LD Detachable Gas String Trimmer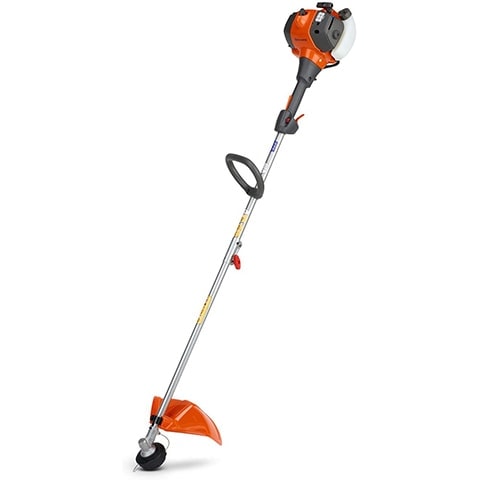 The Husqvarna 128LD Detachable Gas String Trimmer is very expensive. It runs off of gas, which is one of the reasons the price is higher. This also gives it more power and means you won't have to deal with cords or batteries. The cutting diameter is 17 inches, which is quite a bit larger than other options on the market.
Unlike other high-end weed eaters, this one does not have an automatic feeder system. Some people prefer the bump system as this trimmer has, but we find it to be a downgrade from the automatic system. For the expensive, we expected this trimmer to be automatic.
The translucent fuel tank allows you to monitor your fuel levels as you work visually, so you won't run out unexpectedly. We also liked that a 2-year limited warranty backs this trimmer, but this warranty is minimal.
Pros
17-inch cutting diameter
Translucent fuel tank
Cons
Warranty is very limited
No automatic feeder system
---
7.

Greenworks 21212 Electric Corded String Trimmer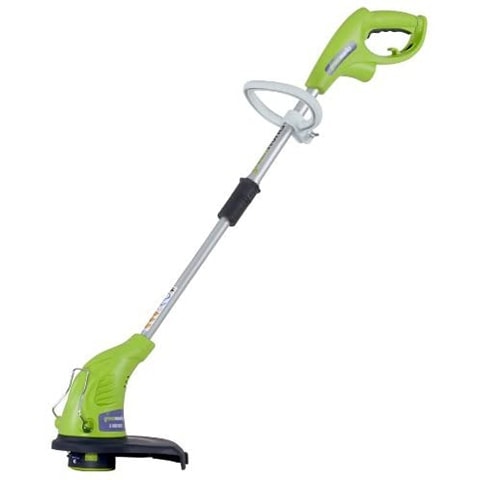 While the Greenworks 21212 Electric Corded String Trimmer is exceptionally inexpensive, there were many different things we didn't like about it. It is corded. This can be difficult for many users, especially those with large yards. While you won't have to worry about charging a battery or refueling it, you do have to deal with extension cords. If you have a very compact yard, this might not be too much of an issue. For those with even moderately sized yards, though, this can be a significant problem.
Overall, this weed eater only weighs 7 pounds, so it does fit squarely into the "lightweight" category. We also liked the telescoping pole, which makes it decently adjustable – perfect for shorter users. It also has an automatic feeding spool for ease of use.
However, the string guard is brutal to get in place. You have to remove two small screws and then put them back in to get it to settle in place. This is not explained in the directions. The handle and adjustments also do not stay in place, so you'll have to readjust every time you use this trimmer.
Cons
Adjustments jiggle out of place
Corded
---
8.

CRAFTSMAN CMCST900D1 WEEDWACKER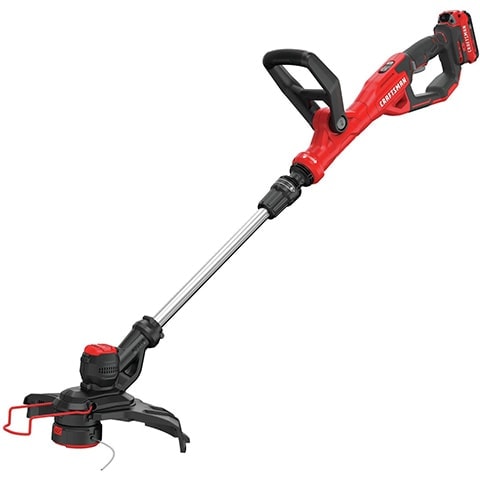 When we first looked at it, the CRAFTSMAN CMCST900D1 WEEDWACKER seemed like a good option. It has two-speed settings so you can choose more power or a longer runtime. It can turn into an edger in a few seconds, and the telescoping pole allows for extensive adjustments. The line automatically advances as you use it, and it comes with a 3-year warranty.
All of these features are great, but there were a few things we quickly grew to dislike about this trimmer. Firstly, the cutting diameter is only 13 inches. This isn't terrible, but it could be longer for this price point. Secondly, it has an integrated hook, but it can only be used with a unique wall organization system that you have to purchase separately.
The battery life is not good in the least. It only has one cutting line, which makes it horribly inefficient. It also isn't very powerful, making it useless for thicker weeds and grass.
Cons
Short battery life
Not very powerful
Small cutting diameter
---
Buyer's Guide – Choosing the Best Lightweight Weed Eater
If you want to make quick work of the weeds in your yard, choosing the best weed eater for your situation is essential. However, there are quite a few factors you need to keep in mind when choosing one of these machines. We'll dive into each of these factors below to help you choose the best weed eater for your circumstances.
Power Source
There are three main types of weed eaters:
Gas. This is the most powerful type. Gas weed eaters used to be the only type available. It wasn't until recently that battery technology advanced enough to make battery-power weed eaters possible. Today, gas weed eaters are going out of style for several reasons. They're loud, and many don't want to deal with mixing their fuel. However, it doesn't get more powerful than these weed eaters.
Battery-powered. These weed eaters are some of the most popular options today. They come in all different shapes and sizes. Some are great. Others? Not so much. Quality is essential when it comes to batteries if you want them to have a decent run time. While you do have to remember to charge the battery, many prefer this over mixing their fuel.
Corded. Corded weed eaters are quire unpopular. As you may imagine, you're constrained by the length of the cord. You'll likely need an extension cord. For some, your yard might be so large that a corded weed eater isn't practical in the least. These are only really suitable for those with tiny yards.
Run Time
This is going to be most important with battery-powered options. Batteries usually only run for about 30 minutes at a time, and 45 minutes is about the maximum you're going to be able to find. Some batteries run for even less time than that. This may or may not be long enough for you to get your yard done, depending on the size of your yard and how many weeds you need to get rid of.
Run time may also be something to consider when it comes to gas weed eaters. Some have tanks that are very small, which means you may need to stop and refill the tank. This can be troublesome and annoying. No one wants to have to stop halfway through to refill their weed eater.
Corded options continue to run as long as they're plugged in. You won't need to worry about run time with them. However, you will need to worry about the length of the cord, which can be a significant factor. You will almost always need an extension cord.
Price
You can find some weed eaters for around $45, while others can be around $300. Your budget is going to rely on your situation, but we recommend not going with the cheapest option around. Cheaper models are usually inexpensive for a reason and will likely breakdown after only a little use. This can be frustrating and cost you more money in the long run. You should plan on spending around $100 for a decent model.
You should also be careful when it comes to battery-powered models. Always check to ensure that the weed eater comes with the battery. If it doesn't, you'll need to factor the battery into your final expenses. Batteries can be expensive, especially when they're as large as weed eaters need. This can be a significant expense.
If you want a premium weed eater, you're likely going to spend about $200 and up. Most gas models fall into this range, as they are typically more expensive than electric models.
Power
Some electric models are not very powerful. They may have difficulty cutting through thicker grass and may stop themselves often when you hit them up against thicker weeds. In general, battery-powered machines are going to be less powerful than gas-powered options. Today, batteries just can't provide the same amount of power as a gas motor can. However, many high-quality batteries do provide enough power for most every day uses. If you're planning on going up against some serious weeds, though, you're probably going to want a gas-powered machine instead.
Batteries vary widely in power. Some provide plenty of power, while others just don't. Cost does play a role in this since batteries are usually quite expensive. You should be wary of very cheap batteries. If it looks too good to be true, it probably is.
Corded and gas models vary a bit in power as well. However, almost all of them are powerful enough for most homeowners.
Adjustability
If you're an average male, you probably don't have to worry about adjustability too much. However, everyone else needs to pay particular attention to this factor. If you're shorter or taller than the average man, you need a machine that can adjust to your height. Otherwise, you're going to have a hard time using the weed eater effectively and will get fatigued faster as well.
Most weed eaters have a telescoping pole, which allows you to adjust the length to suit you. While this is a standard feature among most models, we highly recommend double-checking any model before you purchase it. The last thing you want is to order a model that is way too long for you and un-adjustable.
Preferably, the weed eater should stay adjusted as well. You don't want to have to readjust it every time you get it out. While it preferably shouldn't take more than a few minutes to adjust it, this constant readjusting can get frustrating.
Versatility
Many weed eaters can also work as an edger. This removes the need to buy yet another tool to take care of your yard and also helps with storage. Usually, weed eaters' heads simply twist until they are perpendicular to the ground, which allows them to be an edger as well.
Not all weed eaters have this feature, though. If it is important to you, make sure you pick up a tool that has this function. Otherwise, you'll need to buy another complete tool and likely spend quite a bit more money.
Luckily, getting a weed eater that can also be an edger doesn't come with any added cost. Weed eaters at all price points come with this feature. You just have to stay on the lookout for it.
Warranty
No one wants their weed eater to breakdown after only one season – or one use. However, it is possible, and it has happened. In these cases, a warranty is your best form of insurance. Most weed eaters come with some warranty. However, this is not the case for every model out there, so be sure to double-check.
Not all warranties are created equal, either. Some are extremely limited and not very useful in a practical situation. They may just cover one part or a very small number of parts, which might not help you at all. Others may require you to take the machine to a service center, which may be located hundreds of miles away from you. Check before making your purchase.

Conclusion
We reviewed quite a few lightweight weed wackers for this article. Out of those we reviewed, the BLACK+DECKER LST300 Weed Whacker appears to be the best option for most users. This battery-powered machine has a decently long runtime and is very adjustable. We loved that it has an automatic feeder system.
If you need a cheaper option, you may want to consider the PowerSmart PS76110A Cordless String Trimmer instead. It is also battery-powered and comes with a very fast-charging battery. It features an automatic feeder system as well and weighs only 7.5 pounds.
Hopefully, this article gave you a good idea of what weed eaters are available on the market and helped you choose the best one for you.
Related Reads: