WORX GT2 WG160 Trimmer/Edger/Mower Review 2023 – Pros, Cons, & Verdict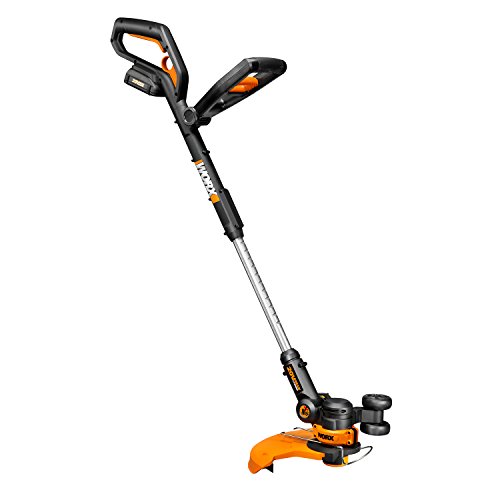 We give the WORX GT2 WG160 Trimmer/Edger/Mower a rating of 4.5 out of 5 stars. 
Build Quality: 4.2/5
Power: 4.2/5
Features: 4.9/5
Price: 4.7/5
Review Summary
The WORX GT2 Model 160 is a backyard trimmer, edger, and mower, all in one tool. It is designed for the homeowner with a small yard and modest trimming needs who is tired of dealing with the noise and mess of a gas trimmer. Its biggest fans appear to be senior citizens who actively garden and do their own yard maintenance.
This trimmer is perfect for smaller properties with mostly grass that needs to be kept in line. It's easy to use, light, and maneuverable, and the wheels make edging along your front walk quite easy. Its automatic line feed and "Free Spools for Life" program appeal to those who want as little hassle as possible from their tools.
This WORX will struggle in tougher conditions – it's just not designed for heavy-duty use and abuse. Anyone who expects the battery to last indefinitely while hacking through the outback will be disappointed. Pros might want to steer clear of this model, but regular folks who aren't trimming all manner of weeds for eight hours a day will be happy with this.

WORX GT2 Trimmer – A Quick Look
Pros
3-in-1 tool – trimmer, edger, and mini mower
Head tilts 90 degrees for vertical spinning for edging
Head wheels allow it to drive along an edge while trimming
Adjustable spacer guard keeps you from cutting your favorite plants
Easily converts from trimmer to edger without tools
12" cutting diameter
Height adjustable
Uses a WORX shareable battery
Adjustable front handle
Automatic line feeding (no bumping)
Free spools for life, as long as you own the machine (you pay S&H)
Cons
Can't opt to use a heavier gauge line
Battery life may be insufficient
Troubles with spool feeding properly
Wheels could work better
Specifications
Brand: WORX

Model: WG 160

Voltage: 20V

No-load speed: 7600/min

Cutting diameter: 12″

Line diameter: 0.065″

Cutting line length: 10′

Charging time: About 3 hours

Weight: 5.7 lbs. (with battery installed)

Dimensions: 46.5 x 14 x 8.3 inches

Warranty: 2 years/30-day money back guarantee/3rd year of warranty optional

Battery warranty: 1 year

Includes: Battery, charger, 3 spools
Ease of use
Reviewers generally applaud the WORX GT2 trimmer for its ease of use. Straightforward assembly out of the box, push-button start, and a lightweight design combine to make the arduous tasks of trimming and edging a breeze. It's easily adjustable, to accommodate users of different heights, and the head readily pivots from horizontal to vertical cutting without a tool. The front handle is also adjustable and the line feed is automatic.
Effective cutting
It's worth pointing out that this tool cuts well, whether you're aiming for a straight edge or muscling through tall or thick grass in your backyard. Despite being battery-driven, it's powerful enough to tackle anything around your house. In other words, you aren't sacrificing much efficiency when you switch to battery from gas.
Free spools for life
Although you can purchase additional spools at most hardware stores, WORX will happily enroll you in their "Free Spools for Life" program. You will have to pay shipping and handling, but once you register the tool with them, WORX will send you new spools whenever you ask, for as long as you own the tool.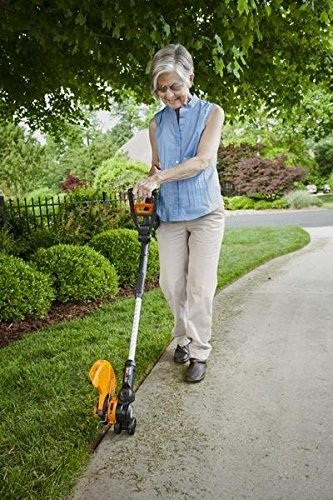 FAQ
Does it come assembled?
No, but assembly is easy and all you need is a Phillips head screwdriver and 10 minutes.

Does it come with a battery? Can I use my other WORX batteries with it?
Yes, it comes with both a battery and a charger. And yes, you can use other 20V WORX batteries in this.

I've got super-thick weeds to cut. Can I swap in a heavier gauge line?
No, that is not recommended. Use of heavier gauge line is likely to make the automatic line feeding mechanism jam.

How long does the battery last on one full charge?
The run time of any battery-powered power tool will vary drastically depending on a number of factors, including how long you have it on, how hard you ask it to work, and temperature. Some people use it multiple times over the course of days with one charge, while others need to recharge in less than an hour.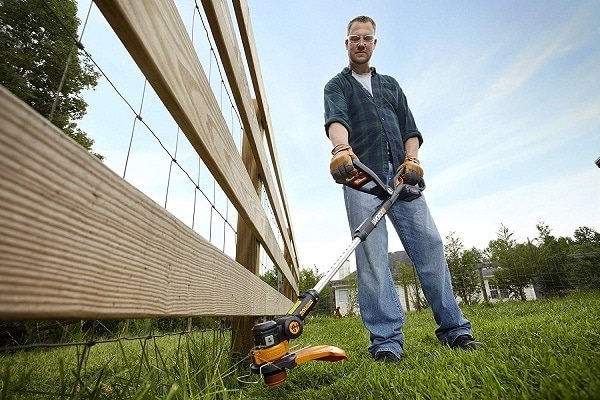 What the Users Say
Overall, most users are happy with this trimmer. It's lightweight, easy to use, and handles the trimming work you'd expect around a smaller suburban home. With moderate demands placed upon it, the battery lasts long enough to tend to most or all of your yard and the string lasts, too. Anyone puttering in their backyard is very relieved to have traded in their old gas trimmer for this handy battery-powered model. It's quiet and does a nice edge line.

It does struggle when more intense tasks are placed in its path. Some reviewers talk about the wheels feeling cheap, cracking, or falling off. More than a few are not happy with the string – it tends to stick to itself on the spool, resulting in jams in the automatic feed (although this may be more of a factor in hot weather).

And reviews are all over the place on the battery life, although that disparity itself is common to almost all battery-operated power tools. Some specifically mention it lasting forever over many uses and through thick grass and throughout long edge lines. Others say the battery dies within minutes of turning on. Those who have two batteries on hand – one to use, one to charge – seem to be happiest with the battery. Perhaps this masks the fact that the battery seems to take a long time to charge.
Conclusion
The WORX GT2 Model 160 is a great choice for the average homeowner trying to keep their property looking sharp. It's light and has wheels, resulting in high marks for maneuverability, plus it's easy to use almost right out of the box. Is this a good choice for professional landscapers? Probably not. But if it's just you, your grass, and your front walk, this is an excellent choice.