6 Best Loppers of 2023 — Reviews & Top Picks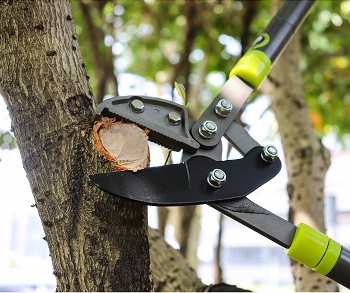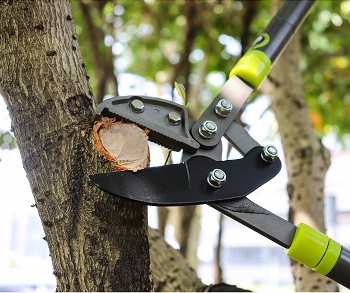 When you are faced with branches that are too large for a pruner but too small to warrant a saw, you will need to reach for a good pair of loppers. These will let you cut a branch with minimal exertion, making your job easier.
This article features reviews of the eight best loppers, giving you information about each one, as well as pros and cons, so you can decide which is the best lopper for your particular situation.
Our buyer's guide will go over features to look for in a lopper and considerations to keep in mind when making your final decision.

A Quick Comparison of Our Favorites in 2023
Rating
Image
Product
Details

Best Overall

TABOR TOOLS GG12

Professional grade
Sharp anvil blade
12-month warranty
CHECK PRICE

MLTOOLS L8230

Carbon-steel blade
Ratcheting system
100% satisfaction guarantee
CHECK PRICE

KSEIBI 252606

Extendable handles
Lightweight
100% satisfaction guarantee
CHECK PRICE

Spear & Jackson 8290RS

Heavy duty
Ratchet action
SK5 carbon steel
CHECK PRICE

Corona SL3264

Affordable
Ergonomic grips
Coated blades
CHECK PRICE
The 6 Best Loppers Reviewed
1.

TABOR TOOLS GG12 Anvil Lopper — Best Overall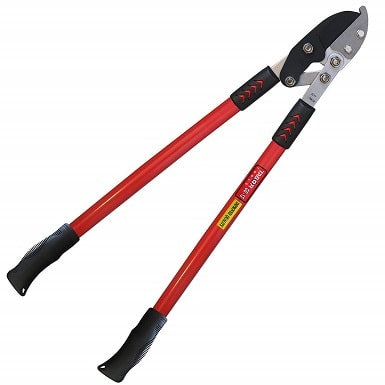 This Anvil lopper from Tabor Tools does a great job at cutting through branches that are 2 inches or smaller, and is our pick for the best lopper. It is designed for professional use, so you will notice a difference in how easy these are to use compared to others. You can prune green or dry woody growth, since the upper blade is narrower and sharper than the lower blade that cuts as it closes onto a flat edge.
Since these loppers are 30 inches in length, it provides plenty of leverage to make it easier to cut branches. The handles have comfort grips, and the compound action system at the blades offers multiple pivot points with moving parts that increase the force applied to the blades.
On the downside, these loppers are large and weigh 3.44 pounds, which can become heavy for some people when reaching to cut branches. There are replacement cutting blades available to purchase if needed, and the company offers a 12-month warranty for any damage incurred through normal use of the lopper.
Pros
Professional grade
Sharp anvil blade
Comfort grips on handles
Multiple pivot points
12-month warranty
---
2.

MLTOOLS L8230 Ratcheting Lopper
This lopper has a high-carbon-steel blade with a ratcheting system that helps you get a complete cut with minimal effort on your part. You can cut up to a 1¾-inch branch with the MLTOOLS lopper and adjust the usable handle length from 25½ to 37½ inches. Even though they may seem complicated at first, once you practice, they become easier to use.
The handles are made of aluminum, so the lopper weighs 3.6 pounds, which makes them easier to hold above your head to cut branches. The handle extender locks are easy to adjust, and you can make them different lengths to accommodate narrower angles caused by different sized branches. The company offers a 100% satisfaction guarantee and will return or replace the lopper if you are not happy with your purchase.
Pros
Carbon-steel blade
Ratcheting system
Adjustable handles
Lightweight
100% satisfaction guarantee
---
3.

KSEIBI 252606 Anvil Lopper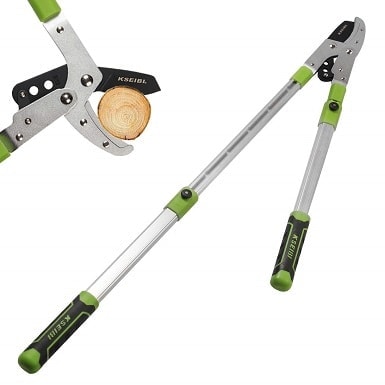 These loppers have a capacity to cut up to 2-inch branches, and the extendable handles will adjust from 28 to 40 inches, helping you safely cut away branches that are difficult to reach. The handles are made from aluminum, with comfortable grips on each end.
It is easy to adjust the handles with the push-button, and these loppers are lightweight at 3.5 pounds. The forged SK5 blade is made to be sharp and durable, and the lever drive system helps you cut branches effortlessly.
The company offers a 100% satisfaction guarantee with this product, so if you aren't happy with your purchase, you can contact them for a return or refund. On the downside, these loppers don't cut hardwood branches as effectively as other loppers, but they do well with soft branches and vines.
---
4.

Spear & Jackson 8290RS Ratchet Anvil Loppers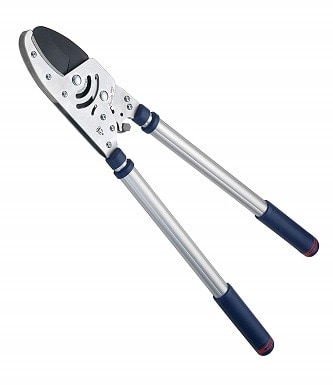 The Spear & Jackson are heavy-duty anvil loppers that use ratchet action to allow for easier cutting of thicker and harder branches. The blade is made of SK5 carbon steel for increased sharpness and PTFE coated to prevent rust from forming.
To keep them lightweight, the handles are made from aluminum and have non-slip grips on each end. You have to be careful not to extend too much pressure when the handles are fully extended or they may bend. The company offers a 10-year guarantee on this product against defects in manufacturing.
These are nice for larger branches, but it takes too long with the ratcheting mechanism to cut a smaller branch.
Pros
Heavy duty
Ratchet action
SK5 carbon steel
Lightweight
10-year guarantee
Cons
Best for large branches
Handles bend if fully extended
---
5.

Corona SL3264 Bypass Lopper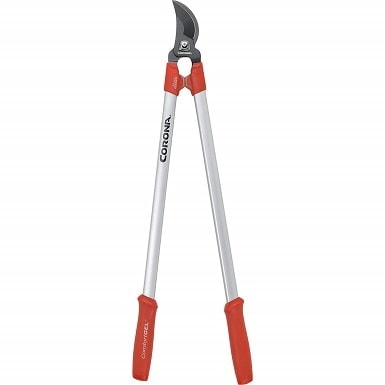 Another affordable option is the Corona Lopper. It has 30-inch trapezoidal steel handles with ergonomically shaped grips that are comfortable and help control the lopper while you cut a branch. The blades are coated to be non-stick and help maintain sharpness. They are able to cut a 1-inch-diameter branch with the dual-arc blade design.
At the end of its handles, near the blades, the Corona has integrated Shock-Guard bumpers that reduce strain and fatigue. These loppers weigh 3.3 pounds, which is a nice weight to prevent your arms from becoming tired. On the downside, the blade isn't as sharp as others on the list and works best if you don't have many large branches to cut at one time.
Pros
Affordable
Ergonomic grips
Coated blades
Shock-Guard bumpers
Lightweight
---
6.

Rainbow Craft Telescopic Anvil Lopper
The final product on our review's list is the Rainbow Craft Anvil lopper, which offers nice features at an affordable price. The blade is made from carbon steel and has a non-stick coating to help make cutting easier and to maintain sharpness.
The handles are made of steel and have ergonomic PVC grips that are comfortable and help control the lopper when cutting. You can adjust the length of the handles from 25 to 38 inches and cut a branch as large as 2.2 inches in diameter.
On the downside, they weigh 5 pounds, which may be too heavy for some people if they have to cut for a long time. You will also need extra strength to cut a large branch with these.
Pros
Affordable
Carbon-steel blade
Non-stick coating
Ergonomic grips
Adjustable handles
Can cut up to a 2.2-inch-diameter branch
Cons
Heavy
Difficult to cut large branches
---
Buyer's Guide – Choosing Between the Best Loppers
This section goes over things to consider when purchasing a lopper. Since there are many options on the market, it can be difficult to figure out which is the best lopper. Knowing what features are available will help you determine what you need.
As you know, loppers are used to clip and trim branches and come in a variety of sizes and shapes. But not all loppers are created equal, nor do they perform the same. Knowing what type of work you will be doing will help you find the appropriate lopper for the job.
Features
Blades
There are two types of lopper blades: bypass and anvil. Each one cuts in a different way, so knowing the difference will ensure that you are pruning correctly. Keep the cutting diameter less than 2 inches for any type of lopper you use.
Bypass loppers: These have two blades that work like a pair of scissors and are the most common type. They make a clean cut on live wood, but when cutting dead branches, they tend to bend easily. They are most suited for cutting smaller diameter branches but can cut close to existing branches without leaving a nub.
Anvil loppers: These blades are similar to the action of a knife and work well to cut larger diameter branches that are dead. It is more difficult to create a close cut to the surface, and if you cut live branches with these, they create a wound on the surface, which can lead to other concerns.
Most are made of steel, with the best option being hardened- or carbon-steel. If a blade is poor quality, it won't hold a sharp edge and is more likely to become damaged. A poor blade also makes cutting the branches harder. Some lopper blades will be covered with a non-stick coating to prevent sap or pitch from sticking to the blade. You want blades that pass close to each other when you open and close them; if there is any gap, they won't cut as well.
Mechanisms
There are loppers that have different mechanisms to increase your force so you can cut through a branch with less effort.
Ratcheting loppers: These work well to reduce the physical effort needed to cut a branch. As you squeeze the lopper handles together, the ratcheting mechanism makes the blade bite partway into the branch; repeat the process until you've cut all the way through. You have to perform the cut in steps, but you save yourself effort and reduce arm fatigue.
Compound action loppers: They have multiple moving parts and pivot points that exert extra pressure on the branch you are cutting. They are also known as lever-action loppers.
Geared loppers: These have a gear below the blades that helps increase the cutting power and leverage. You have to open the handles wide to use these correctly, so they require more space when using.
Handles
Loppers come with a wide range of handle lengths, from short to long and even a telescoping version. The longer handles provide increased leverage, which makes it easier to cut thicker branches, but they will be heavier and not as easy to work with in tight spaces.
Telescoping handles allow you to adjust the handle length for the situation. If you need to reach a branch farther away, you can lengthen the handles or even make one handle shorter than the other if you need extra room for the cutting movement. The downside to these types of handles is that they are not solid and can bend or warp when cutting thick wood.
Bumpers
Most anvil type loppers offer bumpers that prevent the handles from banging together when you make a cut. Bumpers will also absorb some of the shock and prevent your hands from hitting each other when you use the tool.
Weight
Depending on the type of material that is used for the lopper, you will notice a difference in weight. Aluminum and fiberglass will weigh the least, while steel and wooden handles will weigh more. But heavier-duty handles can cut a larger diameter branch. If the lopper is too heavy or uncomfortable to handle, then it will be difficult for you to use. You also have the potential of harming yourself, as well as damaging the branch/tree.
Considerations
Price
You can find a good pair of loppers for a decent price. If you have a large amount of trimming to do every year, you may want to invest in a high-quality and durable lopper that may cost more up front but will save you money in the long run because you won't have to go out and buy a new pair every year. A cheaper lopper may do a good enough job if you don't have many thick branches to trim, but you may become frustrated if you expect them to do more than what they can handle. Pruning can be difficult work, but having the correct loppers for the job will make it easier.
Warranty
Purchasing a lopper with a warranty will provide you with peace of mind because you know the tool is covered, and you can get your money refunded or exchange the lopper if you experience problems. Not all companies offer a warranty with their lopper, so if this is something you prefer, make sure you know what the warranty offers in case you need to use it.
Availability of Replacement Parts
It's good to know if the lopper you purchase can be dismantled for cleaning or replacing damaged parts. It's not uncommon that a blade will need sharpening or replacement, so it's good to have the option to do either or both of these. A proper pair of loppers will offer replacement parts that make it easy to keep your tool in tip-top shape and potentially last a lifetime.
Tips & Tricks
Keep your lopper blades sharp by sharpening them yourself or replacing the blades.
Keep them clean and rust free so they will last for many years.
Some people prefer to keep more than one lopper on hand so they can always pick the right lopper for the job.
Try not to use the loppers with your arms fully extended; this makes your arms tire faster and can cause you to make a weak cut.

Conclusion
A good pair of loppers can make pruning your branches easier while keeping your trees healthy. It can be confusing which is the best lopper to purchase, which is why we put together this reviews list for you.
Out top choice is the Tabor Tools lopper that has hardened carbon-steel blades that stay sharp for many uses. It's also easy to use and has a comfortable grip. The Fiskars lopper is an affordable option that has many great features to cut branches up to 2 inches in diameter with its patented PowerGear technology. If the price isn't a concern, the Black & Decker is a battery-powered lopper that can cut through 4-inch-diameter branches and has a long battery life.
It's important to maintain your yard in a safe manner that is also effective, so we hope that you can find the best loppers for the type of pruning you will be doing.