6 Best Ratchet Loppers of 2023 – Reviews & Top Picks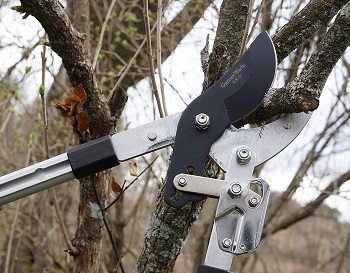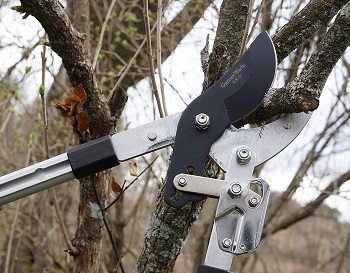 With the spring season on its way, it is time to dust off the trimming and pruning tools. Property maintenance is not only important to keep an aesthetically pleasing landscape, but it keeps wayward limbs from finding their way through your roof.
One difficult landscaping chore is removing overhead branches. The force it takes to clamp down and cut the limb is considerable. This is where ratchet loppers come in handy. It is not just lawn care, either. Cutting through other materials can be very difficult if you do not have something to keep the cut steady.
If you already know the merits of a ratchet lopper, you most likely have saved yourself a lot of strain; however, you may also have spent some time browsing the tool aisle. If we are being realistic, there are a lot of tools out there that are not worth the money.
We hope to change that with our reviews of the top seven ratchet loppers available. We will share material, durability, cut strength, and all the other info you need. We also provided a buyer's guide to make acquiring one of these tools that much easier.
---
A Quick Comparison of Our Favorites in 2023
Rating
Image
Product
Details

Best Overall

MLTOOLS L8230

No-slip grip
Extendable to 39½ inches
Cut capacity of 1¾-inch thick
CHECK PRICE

Best Value

Spear & Jackson 8290RS

Carbon steel blade
1¾-inch cut capacity
Locking catch for safety
CHECK PRICE

Premium Choice

Kings County Tools

Six pin lock
2½-inch cut capacity
Extendable to 40 inches
CHECK PRICE

Fiskars 76806980J

Steel blade
Stays sharp
2-inch cut capacity
CHECK PRICE

Zenport LRT10

Soft grips
Steel handles and blades
Extendable to 35.8 inches
CHECK PRICE
The 6 Best Ratchet Loppers
1.

MLTOOLS L8230 Ratcheting Lopper – Best Overall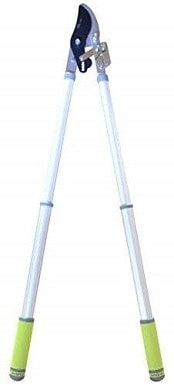 Our first choice is the MLTOOLS L8230 Ratcheting Looper. This is a bypass, extendable tool that you can use anywhere between 27 to 39.5-inch positions. As a 3.6-pound lightweight option, the durable handles are made of aluminum and are resistant to rust.
The MLTOOLS also feature a no-slip grip on the handles, so it will not cause strain on your palms. The blades are made of strong carbon steel and use a secure ratcheting force. You will have a cut capacity of up to 1.75-inch thick, as well.
This is a great option for cutting down any overhead branches, limbs, or other materials that need to be removed. The overall construction is durable and you can even sharpen the blades if necessary. Overall, this is our number one choice for a ratchet lopper.
Pros
Carbon steel blade
Extendable to 39½ inches
Cut capacity of 1¾-inch thick
Lightweight aluminum handle
No-slip grip
Rust resistant
---
2.

Spear & Jackson Telescopic Ratchet Loppers – Best Value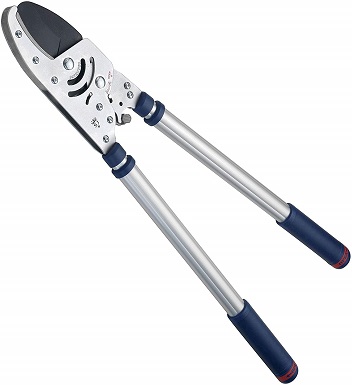 If you're on a budget, the Spear & Jackson 8290RS Telescopic Ratchet Anvil Loppers are a good option. This tool is made of lightweight, telescopic aluminum and extends to 31.5 inches long. Weighing in at 3.97 pounds, you also have soft-grip handles for comfort.
With a strong SK-5 carbon steel upper blade, it is coated with PTFE for rust resistance. You will easily be able to cut through 1.75-inch limbs, as well. What's more, you also have a locking catch for safe storage.
The ratcheting action of this option is durable and effective. The only drawback to this option is it does not have a long extension as our number one pick. Otherwise, the Spear & Jackson is the best ratcheting loppers for the money.
Pros
Lightweight aluminum handle
Soft grip
1¾-inch cut capacity
Locking catch for safety
Carbon steel blade
Rust resistant
Cons
Does not extend as far as other options
---
3.

Kings County Tools Ratcheting Bypass Lopper – Premium Choice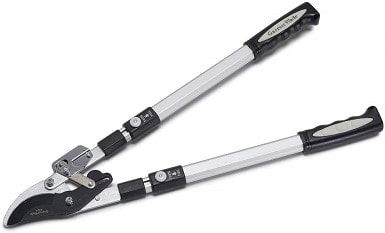 Our premium choice is the Kings County Tools Ratcheting Steel Bypass Lopper. Although this item is more expensive, it is a durable option that has a double ratcheting mechanism. You can extend the handles of this tool between 26 and 40 inches Long. It also has six pin lock positions to stop the extension from moving out of place.
Designed for cutting green or wet wood, you have a 2 to 2.5-inch cutting capacity along with rubber handgrips. Weighing in at 3.75 pounds, the Kings County comes with coated blades, so they will not rust over time. You can also sharpen them when needed.
In the long run, if you spend a little extra coin, these steel tools are a great addition to your work shed. They are oversized for ease-of-use and ready for the toughest work.
Pros
Steel blades
Extendable to 40 inches
Six pin lock
Rubber grips
2½-inch cut capacity
Rust resistant
---
4.

Fiskars 76806980J Ratchet Drive Anvil Lopper

The Friskars 76806980J Ratchet Drive Anvil Lopper is a great option for cutting through thick branches and limbs. It has a fully hardened steel ground blade that stays sharp and cuts with minimal effort. The low-friction bottom blade helps keep the material study, and both are coated for rust resistance.
The frame has a steel exoskeleton with Duraframe plastic handles. Unfortunately, the grips are not padded or soft and can become hard after long use. Beyond that, you will have a cutting capacity of 2 inches.
Weighing in at 3.4 pounds, this is a good option if you are cutting through wood within arm's reach. That being said, you should note that this option does not have extendable handles beyond the 27.4-standard inches. Other than that, this is a great option.
Pros
Steel blade
Rust resistant
2-inch cut capacity
Stays sharp
Cons
Does not have padded hand grips
The handles are not extendable
---
5.

Zenport Telescopic Ratchet Bypass Lopper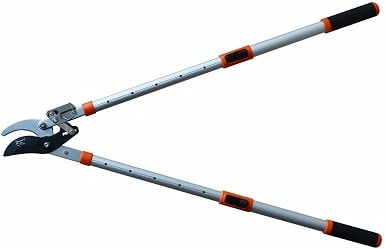 The Zenport LRT10 Telescopic Ratchet Bypass Lopper features a telescoping handle that extends between 23.5 and 35.8 inches. This is a tool that can cut through green branches up to 2 inches thick. Be advised, however, that this is not an option that should be used on wet wood.
The Zenport has a bypass cutting head, and it is lightweight weighing only 1 pound. It has soft foam handle grips, plus an overall durable frame. One downside to consider is that this tool does not have any rust resistance.
You should also know that the frame Itself is not as durable as some other options. On the other hand, the handles along with the blades are made of steel. In this case, you do want to be careful about how much torque you give the racketeering action, as you are more likely to bend the frame.
Pros
Steel handles and blades
Extendable to 35.8 inches
Soft grips
2-inch cut capacity
Cons
No rust resistance
Frame is not as durable
Cannot be used on wet wood
---
6.

EZ Kut Extending Pole G1 Ratcheting Lopper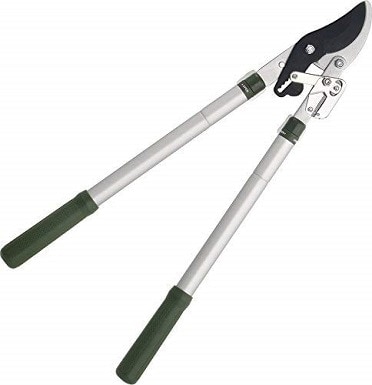 Our final pick is the EZ Kut 4008269 Extending Pole G1 Ratcheting Lopper. As is the standard, the blades on this model are made of SK-5 hardened carbon steel. The heat-treated steel is friction-free, rust-resistant, and has a non-stick finish.
The extension handles have a quick turn lock and extend from 18 to 42 inches. You should know, however, that the quick turn handle is more difficult to use and can get stuck into position. Beyond that, you also have four-stage ratcheting that helps you save your strength.
Unfortunately, another downside to this option is that the blades are not as effective as some others. Although they do have a two-inch cutting capacity, they typically will only cut through about an inch of dry wood. Also, the EZ Kut does not have padded handles for comfortability.
In the long run, although this is a durable option, the performance of the tool is not up to the standards of the other reviews above. Especially as the blades do not stay sharp for an extended period. Overall, we would recommend choosing another product that will give you better results.
Pros
Rust resistant
Carbon steel blades
Extendable to 42 inches
Cons
Twist lock handle gets stuck
1-inch cut capacity
Does not have padded handles
---
Buyer's Guide – Choosing the Best Rathet Loppers
Important Things to Consider Before Purchasing
If you have read the reviews above, you most likely understand what a ratchet lopper does, and the benefits of having them. On the other hand, if you are a new homeowner or just getting into the wild world of landscaping, you may not be as familiar with this tool. If that is the case, we will give you a quick rundown of the many perks to this tool.
The ratchet lopper is a type of shear that uses a ratcheting mechanism to cut down on the pressure needed to cut the wood. For example, when you are cutting down you only have to squeeze so far before the ratcheting action will take hold and keep the blade in place. This keeps you from using a lot of strength.
Depending on the type of branches or limbs you are cutting or the type of work you will be doing, it can make a difference in what type of ratchet lopper you need. Take a look at these factors you should consider before making a purchase.
Type of Wood: The type of wood or material that you will be trying to cut through can make a difference in what type of ratchet lopper you need. For example, hardwood or softwood, depending on what is on your property.
Extensions: The whole point of a ratchet lopper is to make your life easier. Therefore, if you need to reach higher areas, you are going to want to find a set that has the correct amount of extension for your needs.
Handheld: Handheld options are good for simple pruning use. If you have small shrubs or bushes, this little gadget can come in handy for removing branches around the sides and tops without causing any strain on your hands and arms.
Weight: This is also an important consideration, but it is particularly so in tools that extend. The longer the extension is, the more strain is going to be on your arms and back holding the lopper up. If you need a longer option, you want to find a light material such as aluminum that will also be durable.
Durability: Speaking of durability, this is also an important factor depending on the type of work you will be doing. If you are using the tool for residential or occasional use, you do not have to worry as much with the construction. On the other hand, if you will be using the loppers for commercial or frequent jobs, you want to make sure you are finding something that has a long life span and other features such as rust-resistance.
Shopping Tips
Next, let's take a look at some individual factors you should look at while you are picking out your ratchet lopper. These shopping tips will help you get the most bang for your buck.
Blades: The best and most common type of blade is carbon steel. This allows the lopper to not only be sharp, but also not to slip and possibly cause injury.
Handles: Depending on how much you plan to use the tool, padded handles are also important. They will give you extra comfort when using the lopper over an extended period.
Extension: Although we talked about the extension above, you also want to note that some brands offer ratchet loppers that have lock pins that will keep the extension in place.
Cut Capacity: Cut capacity is also important. You want to choose a model that has a slightly larger cut capacity than what you are looking to cut. For example, if you have 2-inch thick branches, you want to find an option that can cut through 2.5 inches to be safe.
Construction: In general, loppers are typically made of either aluminum or steel. Both of these are durable but have their pros and cons, as well. For example, aluminum is going to be more lightweight than steel. An aluminum tool also is more rust-resistant.

Conclusion
We hope you have enjoyed the reviews above. We aim to make your landscaping and yard work as easy as possible without straining your back, shoulders, and hands. These handy gadgets are great for cutting branches and limbs with as little strain to you as possible.
If you are looking for the best of the best, we recommend the MLTOOLS L8230 Ratcheting Lopper. This is an effective and durable tool that will provide effective cuts with little force on your part. If you need an affordable option, the Spear & Jackson 8290RS Telescopic Ratchet Anvil Loppers will give you the most ratcheting action for the money.
Related Reads: