6 Best Low-Flow Toilets for Saving Water in 2021 — Reviews & Top Picks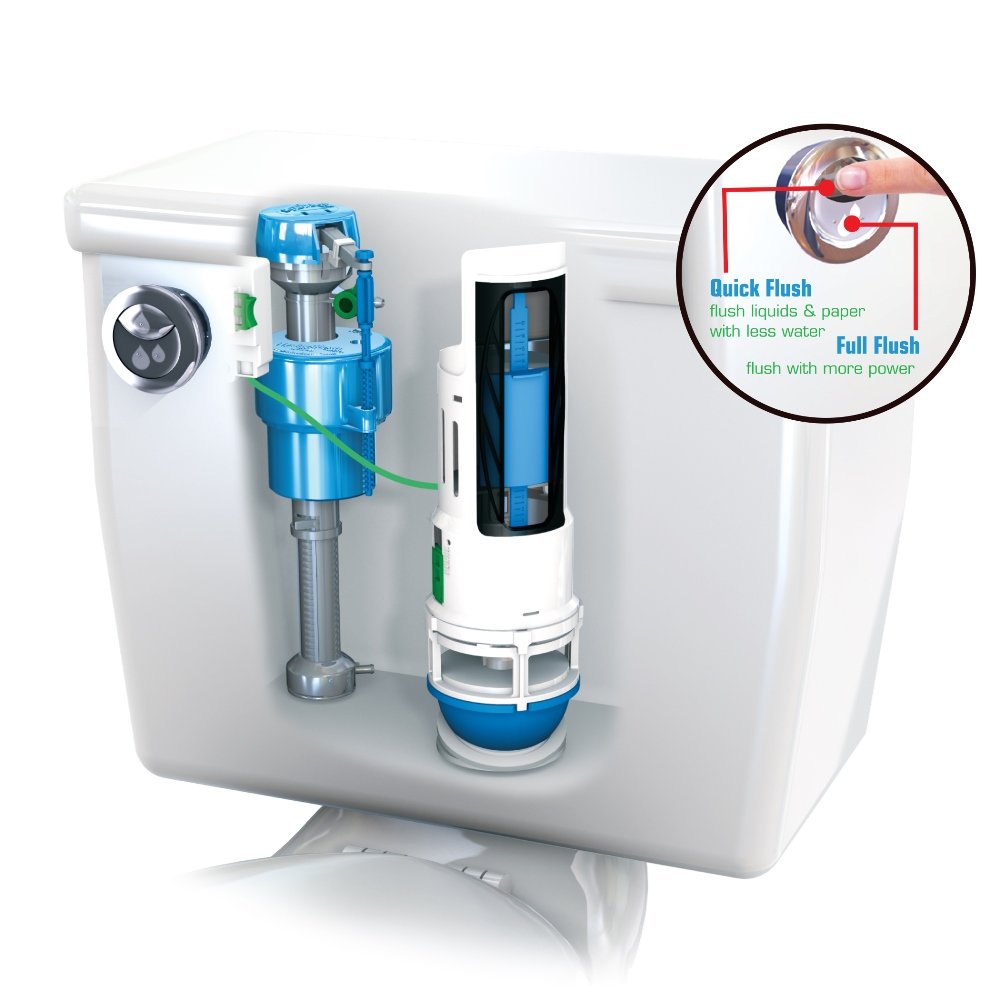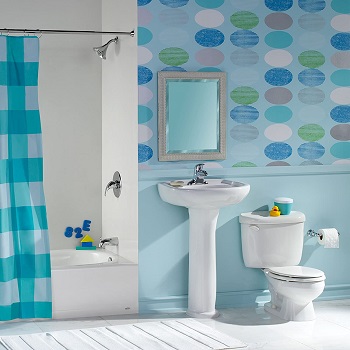 A new low-flow toilet could save you around 9,000 gallons of water in a year. Older toilets waste tons of water, using around 3.5 gallons per flush. The average low-flow toilet uses around 1.6 gallons, but there are toilets that go much below that! These new toilets are becoming more and more popular, and there are so many different models to choose from, which can be daunting.
To help pick the best one for your specific needs, we've created a list of the best low-flow toilets this year, specifically focusing on saving water. We've made reviews on each of them based on several factors including water usage, bowl profile, special functions, flushing power, and more. We've also included a detailed guide that will hopefully provide some insight into what should be considered when buying a low-flow toilet.
---
A Quick Comparison of Our Favorites
Rating
Image
Product
Details

Best Overall

TOTO Drake 2-Piece Ada

Flushing power
Commercial grade
Water efficient
CHECK PRICE

Best Value

American Standard Baby Devoro

Good for children or small people
Affordable Price
Water efficient
CHECK PRICE

Premium Choice

American Standard H2 Option

Outstanding Water efficiency
Excellent flushing power
Pressurized rim
CHECK PRICE

TOTO Drake

Excellent water efficiency
Commercial Grade
Flushing power
CHECK PRICE

Niagara Stealth

Efficient
Flushing power
CHECK PRICE
The 6 Best Low-Flow Toilet for Saving Water – Reviews 2021
1.

TOTO CST744SL#01 Drake Ada Toilet – Best Overall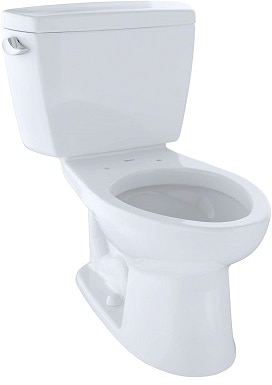 This ADA compliant toilet is as ergonomic and user-friendly as anything on the market. It's the most ideal to accommodate any age or capability, without requiring any modification. It's also easier to clean due to the simple and sleek design.
Despite it only using 1.6 gallons per flush, it still provides enough flushing power to use in a commercial setting. This toilet could go just about anywhere, from a small home to a public restroom in an airport. The additional power comes from a flush valve that is much wider than standard. It also features a GMAX siphon jet, which aids the gravity-based system in moving the water more forcefully.
The TOTO Drake Ada can be ordered in different colors, so you can match it perfectly to your bathroom. It's got a higher price, but it's still more affordable than some of the other toilets on this list.
Pros
Flushing power
Commercial grade
Water-efficient
Color options
ADA Compliant
---
2.

American Standard Baby Devoro Flowise Front Toilet – Best Value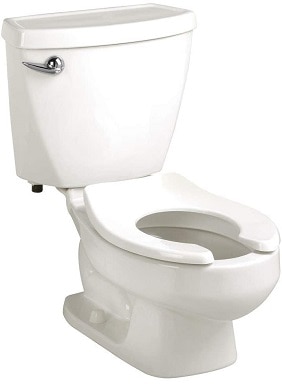 We found this toilet to be the best low-flow toilet for saving water for the money. It sits very low to the ground, specifically designed for children or small people. It has a very low water consumption of only 1.28 gallons per flush! The tank/bowl coupling system is easy to assemble. The low water consumption comes with drawbacks, however. This toilet does not have as much flushing power as other toilets on this list, which keeps us from putting it in the number 1 spot. Also, the Devoro Flowise is excellent for potty training or households with small people, but taller individuals will struggle to use it.
Pros
Good for children or small people
Affordable Price
Water efficient
Cons
Flushing power
Not good for taller people
---
3.

American Standard H2 Option Dual Flush Toilet – Premium Choice
If you're looking for a luxurious experience, this low-flow toilet has all the bells and whistles. Available in a few colors, this model conserves water without sacrificing flushing performance. It features a duel-flush system; one button flushes at 1.6 gallons for solids, and the other uses a mere 1 gallon to flush liquids only. This means you only use the water you absolutely need. The toilet also has a pressurized rim that helps clean the bowl.
Like our number 1 choice, the American Standard H2 also features a jet-powered siphon that aids in flushing power. Easy assembly and a five-year warranty make this low-flow toilet a worthy investment.
However, we've kept it out of the top two for a couple of reasons. First, it lacks the ADA certification held by our first choice. Second, all the great features on this toilet come with a heftier price tag, making this the most expensive toilet on the list.
Pros
Outstanding Water efficiency
Excellent flushing power
Pressurized rim
5-year warranty
---
4.

TOTO CST744E#01 Eco Drake Elongated Toilet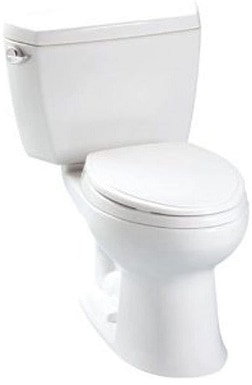 Another great design from TOTO, this toilet is specifically designed for the most water efficiency possible. Similar to our number one choice, this model features a wide flush valve and a siphon jet for optimum flush power, so you don't have to worry about performance being sacrificed. It's also available in several colors.
Where this model differs is in its water efficiency; it uses only 1.28 gallons per flush. It also lacks the ADA certification of its bigger brother. Despite its reduced water usage, the Echo Drake Elongated low-flow toilet is still adequate for both residential and commercial use. It has a reasonable price tag, making it a well-rounded choice for a new toilet for your home.
Pros
Excellent water efficiency
Commercial Grade
Flushing power
---
5.

Niagara 77001WHCO1 Stealth Toilet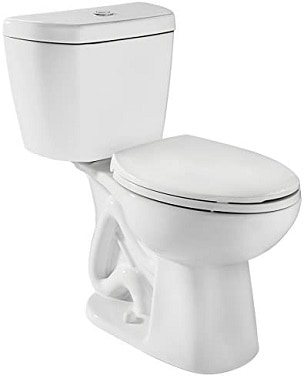 If you're looking for ultimate water consumption, this is the low-flow toilet for you. At an astonishingly low 0.8 gallons per flush, this model features exceptional efficiency with an extremely quiet flush. This is the most water conserving toilet on our list, which can come with the side effect of having slightly less power than other toilets. Considering its top of the line water performance and extra quiet flush, this toilet is priced quite reasonably. However, it is not ADA certified. Also, it would work well in a residential situation, but the decreased power would make it less than ideal for commercial settings.
Pros
Best efficiency
Quiet flush
---
6.

Kohler K-3999-0 Elongated Toilet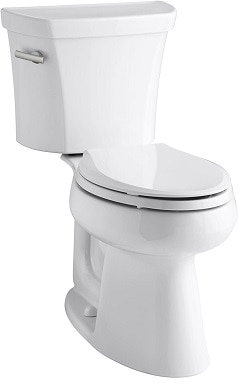 Our final choice, this low-flow toilet has all the basic features needed for efficient water usage as well as good flushing performance. It flushes at the standard low-flow rate of 1.6 gallons. It makes no sacrifices with regards to power, using a canister flush valve for the best flush with the amount of water it uses. It's not ADA compliant, but it does have a slightly taller profile than other toilets, designed to be around chair height. This makes it easier to sit on and stand up from. This is a great low-flow toilet if you're looking for quality and simplicity, although the price tag is close to the higher end of this list.
---
Buyer's Guide
There are a lot of things to consider when picking out a low-flow toilet. We've presented a few options, but you're also going to need to know what you want or need in a toilet. Hopefully this guide will help you pick out the toilet best suited to your needs.
Water Consumption
How much water do you want to save? In general, toilets will have a slight decrease in power when they use very little water. Going below 1.28 gallons per flush can result in a significant power decrease.
Toilets that use around 1.6 gallons per flush have great flushing performance while still qualifying as a low-flow toilet. If you are focused on saving water and your toilet doesn't get much heavy use, then going below 1.28 gallons per flush may be a good option for you.
If you intend to buy a toilet for commercial purposes, buying a toilet that has capabilities beyond 1.28 gallons is highly advisable, since you're going to want a decent amount of power.
Many newer toilets are being manufactured to have two buttons or levers that produce different amounts of water. These kinds of toilets provide the best of both worlds, giving you the ability to control your water usage. However, these toilets also tend to come with a heavier price tag.
Finding a Quality Toilet
Look for brands that have a solid reputation and good product reviews. Also, you want to find a toilet that has the best power/water ratio. In other words, the least amount of water for the most amount of power.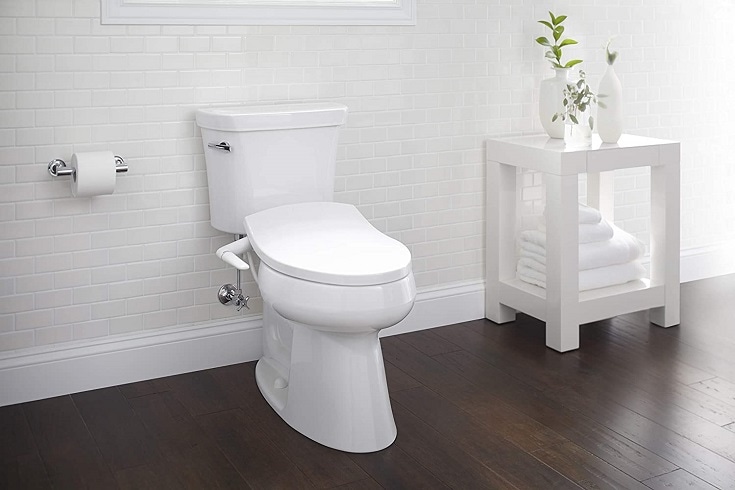 You can find these kinds of low-flow toilets by looking at how their flushing mechanisms are designed. Wider flush valves, jet-siphons and pressurized rims are features to look for to increase power. Also remember that more power sometimes requires more water, so if you emphasize flushing performance you may end up with a low-flow toilet on the higher end of water consumption, which is still a low 1.6 gallons.
---
Conclusion
As shown in the list, the TOTO CST744SL#01 Drake Ada Toilet wins our award for best overall low-flow toilet of the year due to its ADA compliance, overall excellent quality and water efficiency with no compensation in flushing power. For the money, our runner up is the American Standard Baby Devoro Flowise Front Toilet. This low-flow toilet conserves water without sacrificing power, all for an excellent price.
We hope our toilet reviews have given you a workable list to choose from, as well as some insight so you can purchase the right low-flow toilet for your needs.