10 Best Luxury Shower Heads of 2023 – Reviews & Top Picks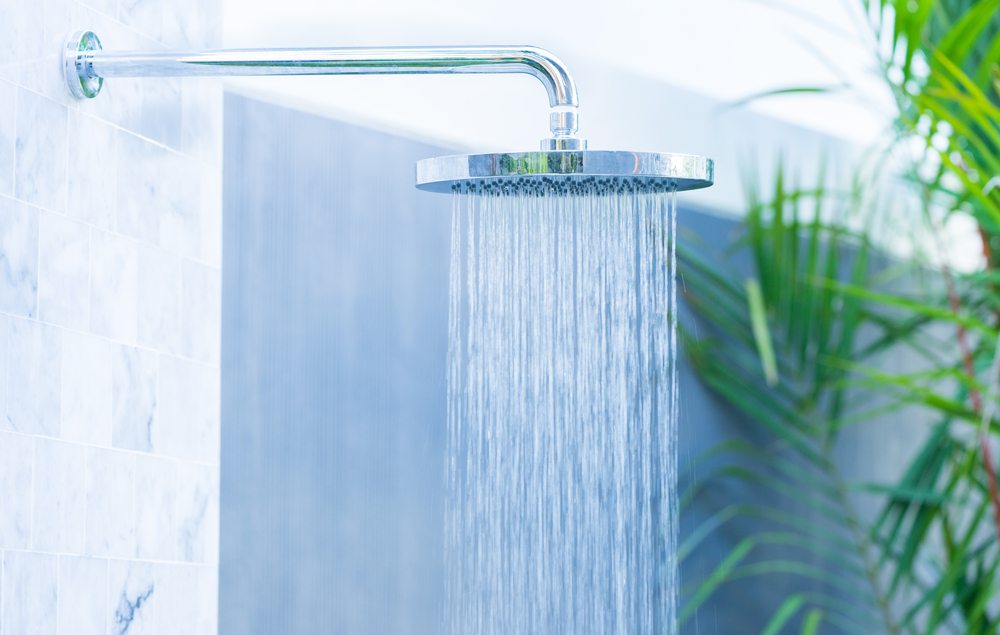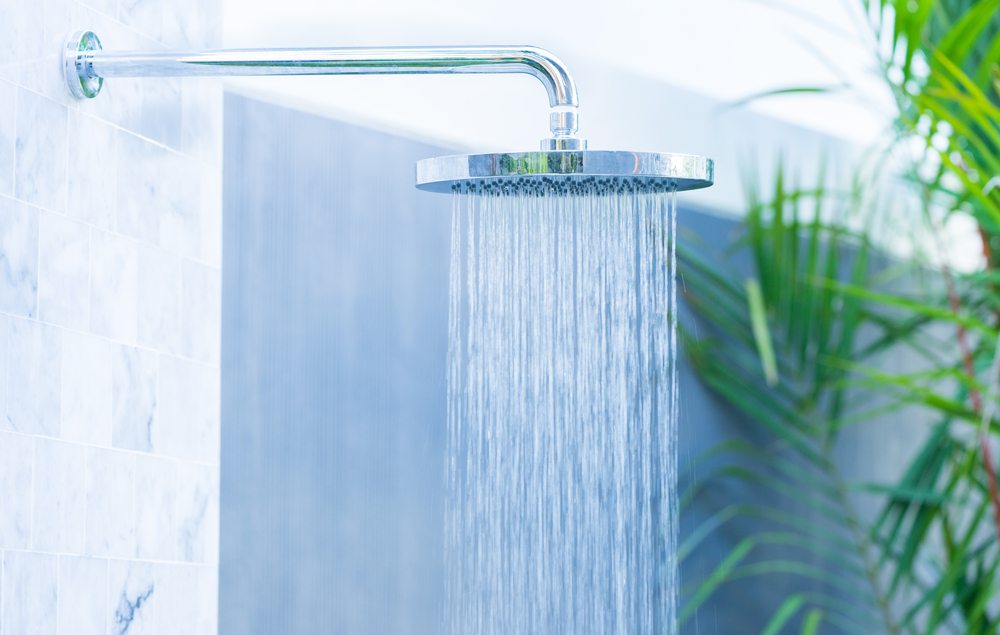 A good luxury shower head can completely enhance your daily routine. However, it can also be very difficult to distinguish products without using them. While the average user can't do that, we can. Indeed, we have.
You want something powerful, adaptable, and attractive. But how to find all of this in a market that is supersaturated with duds? In the reviews that follow we have compiled ten of the most satisfying shower heads on the market—all with the objective of connecting you with your dream product.
The best item for your needs can be found on this list of luxury shower head reviews. All that is left for you to do is to kick back, relax, and read on!
---
A Quick Glance at the Winners of 2023:
Rating
Image
Product
Details

Best Overall

SR SUN RISE

Rainwater style
Solid chrome fixtures
Lifetime warranty
CHECK PRICE

Best Value

SparkPod

Affordable
Sturdy build
Range of different flow patterns
CHECK PRICE

Premium Choice

Moen

Highly adjustable
Detachable
Powerful
CHECK PRICE

DreamSpa Ultra-Luxury

Affordable
Chrome fixtures
Detachable component
CHECK PRICE

Aqua Elegante

Very powerful
Prevents clogs
Resists corrosion
CHECK PRICE
The 10 Best Luxury Shower Heads:
1.

SR SUN RISE SRSH-D1203 Wall Mounted Shower Head – Best Overall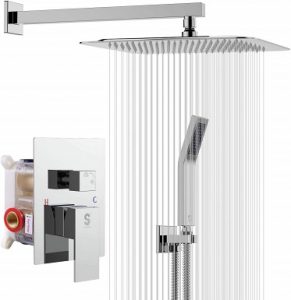 The Sun Rise is a rainfall style shower head that is meant to facilitate relaxation. It features 12 inches of surface area, all optimized for treating the user to a relaxing and enjoyable experience.
The fixtures are made of steel and brass with solid chrome plating, which is widely considered one of the best materials for use in a bathroom. Chrome is valued for the fact that it is extremely tough and well-suited to stand up against moisture.
Note that this is a combination package. It comes with a mounted shower head, as well as a detachable wand mounted via a flexible stainless steel hose. And no matter what nozzle the water is coming from, you can count on a consistent stream, thanks to the unit's "Air Energy" technology, which guarantees satisfactory pressure.
We were also impressed with the lifetime warranty, which virtually guarantees you will be covered if something unexpected happens. Given the build quality, this isn't likely, but it's always best to be covered for any eventuality.
The only issue is the price. This unit costs quite a bit more than most people are willing to pay for a shower head, which may be a problem for some people. This is particularly true when you factor for installation costs. As with most intricate shower heads, this unit can be challenging to install on your own. Consequently, you may need to factor professional assistance into your budget.
Pros
Rainwater style dispersal method
Solid chrome fixtures
Lifetime warranty
---
2.

SparkPod SH-3270 Shower Head – Best Value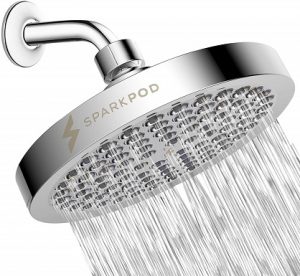 The SparkPod will serve as an enticing alternative to budget-minded buyers that still want a good product. This unit features an affordable price tag and a sturdy build. The waterfall-style dispersal method is similar to that of our top choice.
It is also versatile. The head can be easily adjusted to suit a range of different flow patterns and intensity levels. That being the case it will be a good fit for every member of your household. The versatility is partly facilitated by a detachable water restrictor, which limits pressure when installed. The restrictor can be removed when you are looking for a more "spa-like" experience.
The installation will also be a breeze. The process is tool-free, and in most cases, shouldn't take more than five minutes.
Unfortunately, this shower head can't go the distance the same way that our top choice will. It will get gunky and worn down, especially when exposed to hard water. It is still a good shower head, but there is a limit to how long it will stay in your bathroom. However, with that being said, this is still the best luxury shower head for the money you can buy.
Pros
Affordable
Sturdy build
Range of different flow patterns
Cons
Hard water may degrade the overall quality of the unit
---
3.

Moen 3669EPORB Handheld Shower head – Premium Choice

Luxury takes on a whole new meaning with the Moen. It is an extremely high-end, detachable unit that can serve as a traditional shower head or a handheld sprayer.
The Moen is also fully adjustable which will make it good for everyone in your household. The unit operates on a sliding bar. To adjust for height, simply press a button and move the head upward or downward at your discretion.
The Moen is plated with a high-end chrome finish that should complement most decorative styles, and durable enough to stand up against corrosion.
Finally, it also features a lifetime warranty.
The real issue is the price. It is considerably more expensive than even our top choice, which will make it difficult for many buyers to manage. It is also difficult to install. If you can't do it yourself, you should add an additional $100 to your budget.
Pros
Highly adjustable
Detachable
Powerful
Great warranty
Cons
Very expensive
Difficult to install
---
4.

DreamSpa 1684 Ultra-Luxury Rainfall Shower Head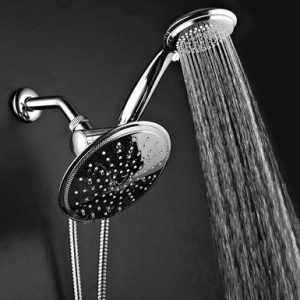 The DreamSpa is a moderately priced shower head that will provide plenty of luxury to the buyer on a budget. It features a rainfall dispersal pattern and a secondary detachable component for added convenience.
The head can be activated and adjusted with the single press of a button. The interface is specifically designed for quick and easy adjustments on the fly.
You may also be interested to know that this is an oversized showerhead. You get 9inches of surface area here, which means more of your body is being addressed at any given time.
All of the fixtures are chrome, which makes it good for standing up to the wear and tear typically found in the bathroom setting.
The only real issue is it just doesn't deliver the same level of oomph we typically expect from a luxury shower head. It is a little bit lacking in terms of power, which may be prohibitive for some buyers.
Pros
Affordable price tag
Chrome fixtures
Detachable component
Cons
Lacks the oomph we expect from higher-end units
---
5.

Aqua Elegante 092080 Adjustable Luxury Shower Head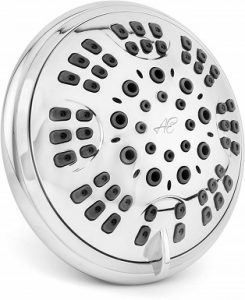 The Aqua Elegante is an adjustable luxury shower head that is able to provide 2.5 gallons per minute of flow. This makes it one of the more powerful shower heads on our list. The nozzles are also specially optimized to prevent clogs and also resist corrosion.
Because the spraying nozzles are made out of rubber, they are immune to hard water buildup. Calcium deposits are unable to bond to the material, which means any gunk that does develop can be wiped away quickly with a cloth.
It is a good product at a very competitive price but it does have its issues. The biggest one is it tends to leak. The only upside is that the manufacturer offers a five-year money-back guarantee.
Pros
Very powerful
Prevents clogs
Resists corrosion
---
6.

HotelSpa 1440 Luxury Shower Head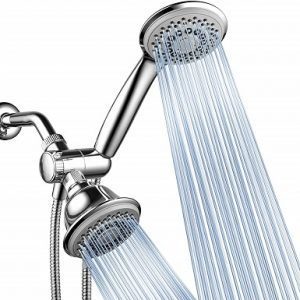 The HotelSpa is an affordable shower head that further increases its value by featuring a low flow pressure component. The shower head naturally limits how much water comes out to help prevent waste.
This also ensures that the shower head will comply with restrictive state laws. For example, California insists that shower heads use less than two gallons per minute.
Finally, the HotelSpa features six different settings that can be easily adjusted. Some of the settings are designed to produce little more than a mist, while others activate the full force of the shower head.
All of these features are great for the environment and your wallet, but some may find that they diminish the user experience somewhat.
It's not nearly as powerful as most luxury shower heads which eliminate it as an option for some people.
Pros
Affordable
Good for the environment
Complies with restrictive state laws
---
7.

ShowerMaxx 090614 Luxury Spa Hand Held Shower Head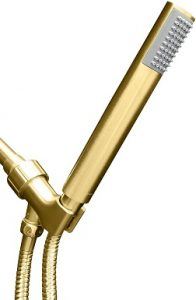 The ShowerMaxx features six different pressure settings. Settings range from a soft mist to a "rainfall mode" that uses the full force of the shower head. Additionally, a water-saving setting is perfect for the buyer who is trying to economize or simply do mother earth a favor.
It is also detachable, which will be great for people that like the stability of a mounted head and the utility of a detachable, all in a single convenient package.
It does tend to get clogged fairly easily. This means that the spray pattern may become janky often. It is still a good product but you will need to clean it often to stay on top of the problems.
Pros
6 different settings
Different pressure settings
Detachable
---
8.

Nano Rain 2221 Luxury Rainfall Shower Head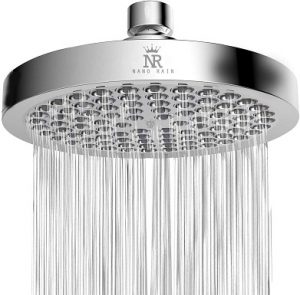 The Nano Rain is based on a rainfall-style design concept. It features an affordable price tag and an easy installation, making it great for people who need something easy and convenient without breaking the bank.
The power levels are carefully monitored at 2.5 gallons per minute. For many, this is an ideal range because it packs plenty of power without violating the water-saving ordinances of communities that have restrictive laws.
Unfortunately, though, the performance deteriorates when you put it up against harder waters. It will clog up and spray erratically, which some users won't want or expect from a luxury shower head.
It's not necessarily the end of the world, but it is something you will want to keep in mind, especially if you were hoping for something a little bit more luxurious.
Pros
Affordable
Rainfall design concept
Easy installation
---
9.

SUPREME Shower High-Pressure Handheld Shower Head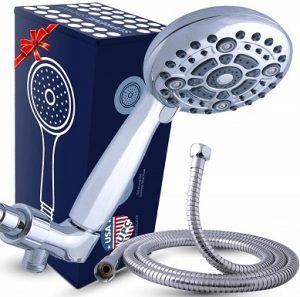 The Supreme is an affordable product that features an extremely high water pressure. This feature will be great for people that enjoy an intense showering experience. However, some may find that the pressure is actually excessive.
We have heard from some users that claim they found the Supreme to be painful to use. Fortunately, this issue can be mitigated by different settings. There are six of them, and like most shower heads, the lowest is quite mild. There is even a water-saving feature that keeps the flow at under 2.5 gallons per minute. Still, it can be challenging to find the sweet spot with this shower head.
It also tends to clog very easily, which will be annoying at best, and destructive for the shower head at worst. Though the rubber nozzles are designed to avoid grime and other build-up they tend to deteriorate over time producing chaotic spray patterns. It's not a bad shower head, but some may find that there are better ways to spend their money on this list.
Pros
Affordable
High water pressure
Cons
Clogs easily
May be too powerful
---
10.

Aquarius 8541794668 Handheld Shower Head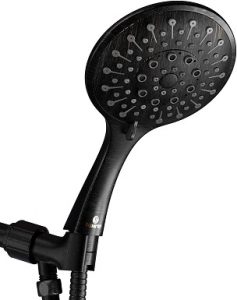 The Aquarius is a detachable unit with a high level of water pressure. Water flow hovers around 2.5 gallons per minute with 5 inches of surface area. It also features an attractive design that will make it a good fit for most luxury bathrooms. The charcoal black look is eye-catching and serves as a distinct contrast to the "mirror-like" metal appearance of most of the other units on our list.
Unfortunately, though there are a series of cons that put it at the bottom of our list. For one thing, it clogs very easily. It may also take to leaking or spraying sporadically. Finally, some users have reported that it was uncomfortably powerful. While this is subjective, it is also something to be on the lookout for.
Cons
Clogs easily
Leaks
May be painful

Conclusion
You've read our luxury showerhead reviews but have you finalized your decision? Maybe you want the best product you can get your hands on. If that is the case you will probably find a lot to love in our top choice the SR SUN RISE SRSH-D1203 Wall Mounted Shower Head.
Then again, you might also want to find something that is luxurious in a much more affordable kind of way. If that is your situation you will probably prefer the SparkPod SH-3270 Shower Head. Of course, they are all pretty great, so there is no going wrong.
---
Featured Image Credit: MIA Studio, Shutterstock