6 Best Magnetic Paints In 2023: Reviews & Top Picks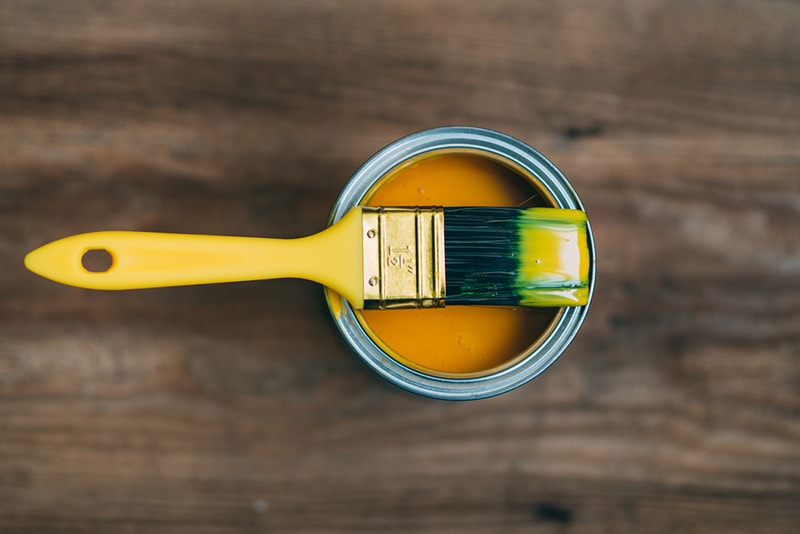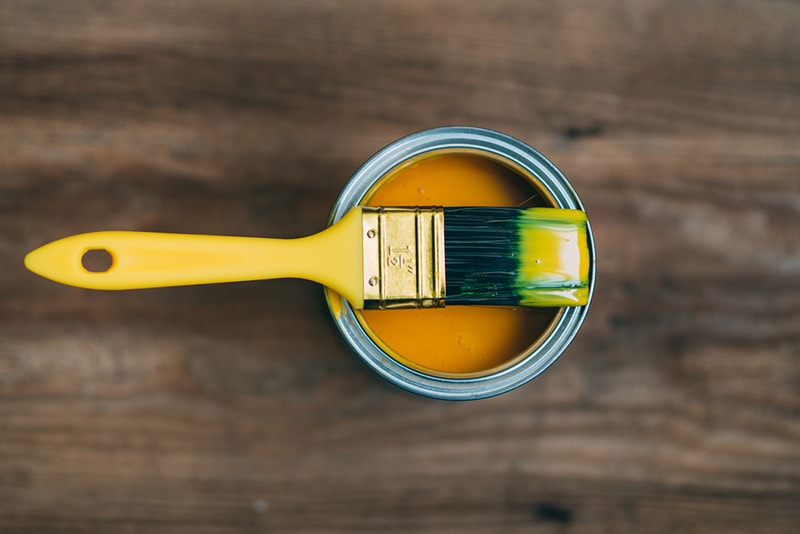 Paints are no longer only aesthetic choices to affect a room's palette, style, and mood. While it wouldn't seem like there would be much versatility outside of the color, paints can take on surprising traits to transform their use in the home. Chalkboard paints create artistic possibilities wherever they land, while magnetic paints give you infinite space for pictures, notes, and more when the fridge door fills up.
From the kitchen to the kid's room, magnetic paints offer wondrous creative possibilities, yet a glance at the options on the market will quickly make it clear that you'll need to use different criteria to pick the perfect product. When gray and black are your only options, the color becomes less of a concern, and performance takes center stage. Check out these reviews of the best magnetic paints this year to find which will give you the best application and results.

A Quick Look at Our Favorites in 2023
Rating
Image
Product
Details

Best Overall

Magnetize-It! Magnetic Paint & Primer Standard Yield

Relatively low price
Quality hold with 3–4 coats
CHECK PRICE

Best Value

Magic Wall Magnetic Paint

Includes tray, foam brush, and magnets
Relatively inexpensive
CHECK PRICE

Premium Choice

Magnetize-It! Premium Magnetic Paint & Primer

Higher yield than cheaper paints
Smoother application
CHECK PRICE

Flexible Magnets

Affordable price point
Non-toxic formula
CHECK PRICE

Magnet Me Up

Eco-friendly and non-toxic
Relatively inexpensive
Quality hold in 3–4 coats
CHECK PRICE
The 6 Best Magnetic Paints
1.

Magnetize-It! Magnetic Paint & Primer Standard Yield – Best Overall
| | |
| --- | --- |
| Color: | Gray |
| Finish: | Eggshell |
| Style: | Water-based |
The Magnetize-It! brand offers several levels of its magnetic paint and primer between standard and premium, and each tier provides a better application for improved results. Higher-end products are easier to use, but each offers a similar level of magnetic power. At the bottom of the totem pole is the Magnetize-It! Magnetic Paint & Primer standard yield. But while it may entail a tougher application, the combination of low cost and quality results earns it our pick for the best overall magnetic paint today.
The Magnetize-It! entry-level magnetic paint can provide adequate coverage of about three coats over a 20-square-foot area. Apply a few coats for sufficient magnetism, and pick your favorite topcoat color to go over it.
Be careful if you're buying the standard yield for color. Magnetize-It! is available in gray (standard), dark gray (high standard), and black (premium), but as many users have noted, the standard gray variety is much darker than anticipated, coming out almost black.
Pros
Relatively low price
Quality hold with 3–4 coats
Cons
Less coverage area than more expensive options
Difficult to apply
---
2.

Magic Wall Magnetic Paint – Best Value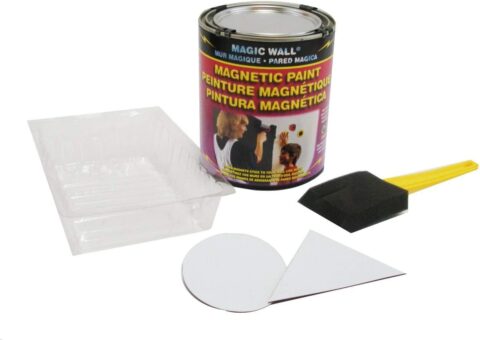 | | |
| --- | --- |
| Color: | Black |
| Finish: | Flat |
| Style: | Water-based |
Magnetic paint can take a toll on equipment, so it's best to use items you don't mind abusing to finish the job. That's why the Magic Wall Magnetic Paint Quart Kit is a convenient and practical option. Alongside the 32-ounce container of dark gray metallic paint, you receive a mixing tray, foam brush, and even a couple of magnets, an all-in-one solution to apply and test your new surfaces. The price is excellent for the quart of paint alone, making it arguably the best magnetic paint for the money.
The included foam brush is on the smaller side, so you may want to change to a foam roller for large coverage areas. While marketed as ideal for a 5×5 space, Magic Wall's paint does appear geared toward smaller projects, typically needing about 4–5 coats for decent magnetism.
Pros
Includes tray, foam brush, and magnets
Relatively inexpensive
Cons
Foam brush can be time-consuming to use
---
3.

Magnetize-It! Premium Magnetic Paint & Primer – Premium Choice
| | |
| --- | --- |
| Color: | Black |
| Finish: | Eggshell |
| Style: | Water-based |
With its tar-like and coarse consistency, magnetic paint can feel like spreading concrete with a toothbrush. It's an unfortunate and unavoidable issue that the magnetic iron particles create. Solids entail a chunky and challenging application, but an upgrade to Magnetize-It! Magnetic Paint & Primer premium yield will give you the smoothest possible experience.
The top-end option uses 25% magnetic nanoparticles (MNP),  which are smaller metal components that allow for a thinner, smoother consistency and a less frustrating application. Compared to the downgraded Magnetize-It! products (and many competing brands), the improved formula provides better coverage over the same area, meaning you may get an extra coat or two out of a 32-ounce can.
Pros
Higher yield than cheaper paints
Smoother application
---
4.

Flexible Magnets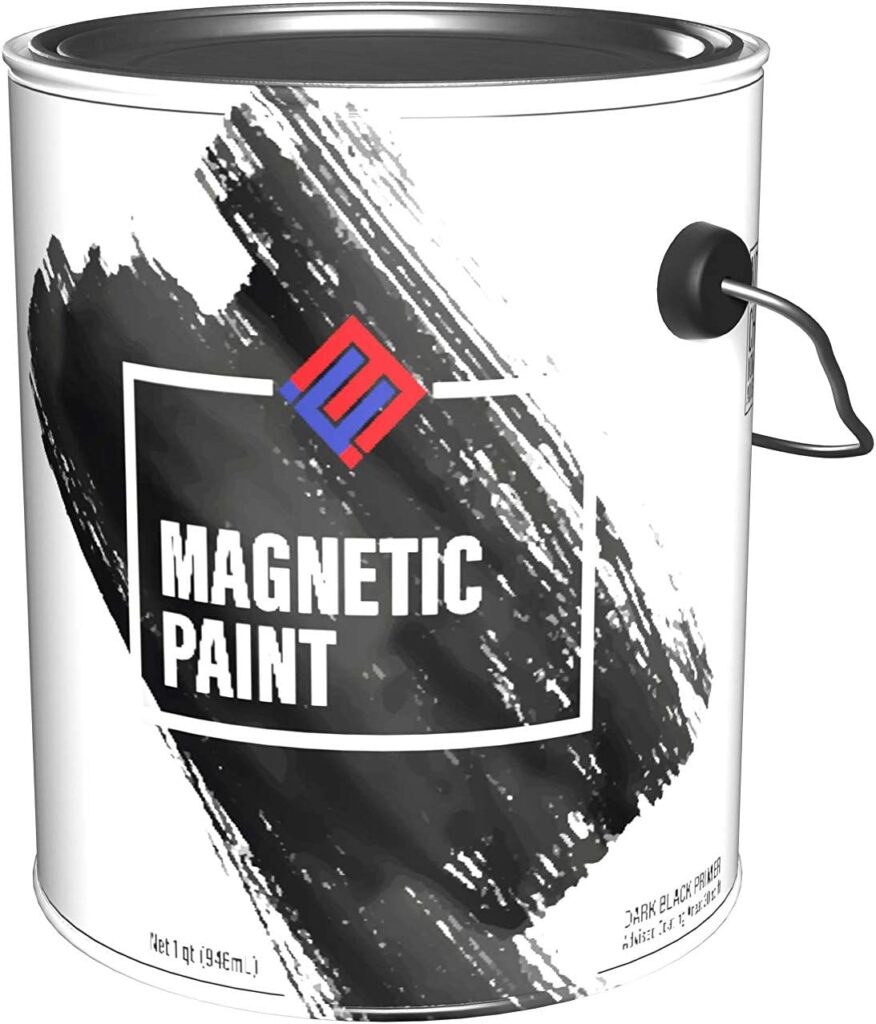 | | |
| --- | --- |
| Color: | Black |
| Finish: | Matte |
| Style: | Water-based |
Flexible Magnets Magnetic Receptive Wall Paint and Primer isn't the absolute cheapest option available, but its reasonably low cost and quality coverage make it one of the better deals among magnetic paints. The 32-ounce container is enough for a 20-square-foot wall. While the brand states two heavy coats should complete the job, six appears to be the magic number for many people, so double up on the cans if you have a larger area to paint. The non-toxic formula makes it a safe solution for adding a fun enhancement to bedrooms, playrooms, offices, and more.
Pros
Affordable price point
Non-toxic formula
Cons
May need up to six coats
Difficult to apply
---
5.

Magnet Me Up
| | |
| --- | --- |
| Color: | Charcoal |
| Finish: | Matte |
| Style: | Water-based |
As another excellent value, Magnet Me Up offers consumers the chance to magnetize walls, cabinets, and more with its eco-friendly, non-toxic magnetic paint primer. The manufacturer recommends at least two generous coats and a 24-hour dry time before painting over it for best results, but you only have to wait 30 minutes between each coat of primer. It's inexpensive and low-risk and is an excellent option if you want to experiment with magnetic surfaces around the house.
Pros
Eco-friendly and non-toxic
Relatively inexpensive
Quality hold in 3–4 coats
---
6.

Rust-Oleum Magnetic Primer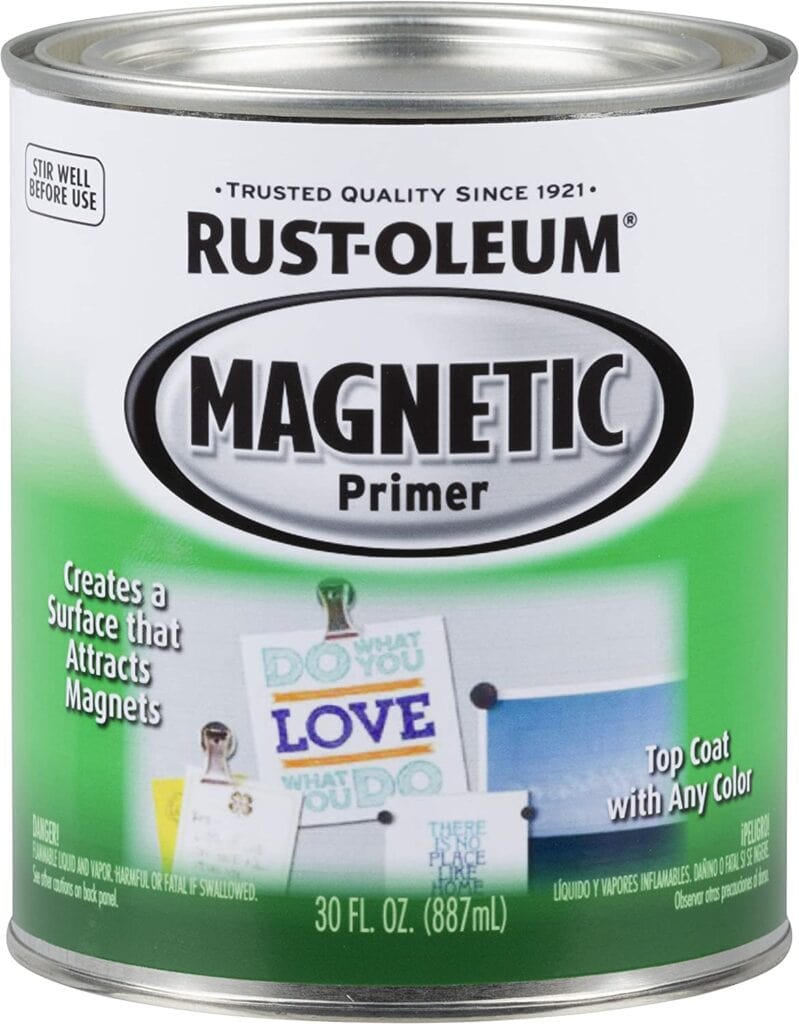 | | |
| --- | --- |
| Color: | Charcoal |
| Finish: | Matte |
| Style: | Oil-based |
Rust-Oleum's Magnetic Primer is a pricey option compared to many magnetic paints, but a few essential perks could also make it more effective than most. The primer dries to the touch in only 30 minutes. One quart covers up to 16 square feet after three coats, and you can be ready for a topcoat in as little as 4 hours.
Unlike the other brands in this review, Rust-Oleum uses an oil-based approach, adding a few unique positives and negatives in the context of magnetic paint. Oil-based paints help provide a smoother application and give you more time to work before setting, which is an enormous advantage with a substance prone to clumping and roughness. You get excellent coverage and a flatter surface, which should improve the magnetic attraction and the finished product's look.
The drawback to oil-based paint is the cleanup, which will be an issue with a splatter-prone product like magnetic paint. Cleaning oil-based paints from brushes, skin, clothes, and surfaces aren't possible with soap and water. You'll need to take extra precautions while painting, and the room should be well-ventilated to air out the oil-based fumes.
Pros
Good coverage in three coats
Smoother application than most
Cons
More expensive than similar options
Powerful smell
Challenging to clean up

Buyer's Guide: How To Find the Best Magnetic Paints
Choosing Magnetic Paint
Choosing magnetic paint without performing research will likely set you up for disappointment, and not simply because you picked the wrong product. Most magnetic paint products are surprisingly similar, lending the same performance and painting experience with minor nuances that you may or may not notice during the process. And that's what's so frustrating. Manufacturers try to market unique differences and benefits over competing products and often set expectations they can't meet.
Color is one essential letdown. Magnetic paint is black, or at least dark charcoal, regardless of what most cans will say. Buying a gray magnetic paint because you need a lighter color will have you changing your game plan the second you see the dark goop hiding under the lid.
After tempering your expectations for a diverse range of colors, you'll need to prepare for several coats of primer. Some paints will say they require two applications, while others say three, but most magnetic paints will need about 5–6 coats to be effective. In many cases, your painting technique will impact your results more than the paint quality.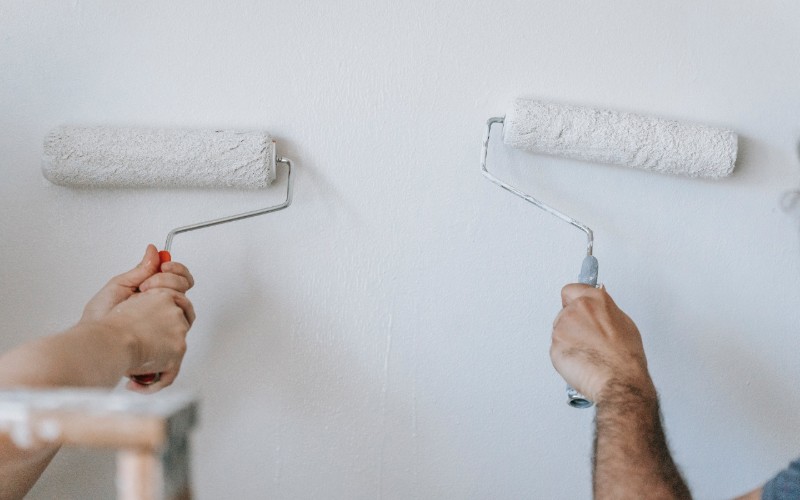 Using Magnetic Paint
Mix the Paint Well
The iron dust in magnetic paint works best when it's well-distributed across the liquid. Stir your magnetic primer thoroughly until it reaches the smoothest possible consistency, and use it immediately. Mix regularly during use to keep the particles from settling.
Hand-mixing the tar-like paint can be an excruciating and often futile task. One convenient workaround is to ask the pros at your local hardware store to put it in their paint mixer before using it. But shaking isn't as effective as stirring in distributing the metal particles, and the trip from the store will give it time to settle. Instead, use a drill with a mixing paddle attachment to efficiently whip up your paint before use.
Mix and pour only what you need for the size of your project, remembering that a typical quart of magnetic paint will cover a 4×4 wall with about three coats. Pour only as much as you need into a fresh tray liner for each coat to prevent dried paint from showing up in subsequent layers.
Prepare & Protect the Room
Magnetic paint tends to spatter even with the most careful approach. Save yourself the headache of an intensive cleanup by using drop cloths and taping off borders.
Make sure the wall is as smooth as possible and pre-primed. Magnetic paint works best on even surfaces like drywall but needs a coat of primer ahead of time to ensure a firm hold. Sand rough patches on the wall, and clean the entire surface with a slightly damp cloth before painting.
Use a Dense Foam Roller
Use foam rollers instead of nap rollers to apply the smoothest coating possible. Fibers in a nap roller will trap iron particles and absorb paint unevenly, and you need all the help you can get to create a flat surface. The liquid will want to clump and harden along the way, so keeping it well-mixed and applying it with an appropriate brush is vital. You can cover your foam roller with plastic wrap in between uses to keep it from drying.
Whether oil or water-based, using magnetic paint is not an ideal time to pull out your favorite painting tools. The thick paint washes away in small amounts but will be almost impossible to clean off your brushes and rollers.
More Coats = More Magnetism
Manufacturers typically only recommend 2–3 thin coats of their magnetic paint products, but most consumers find they only create enough force with at least 5–6 coats. More coats mean more iron on the wall and better magnetism. Let each coat dry for at least 30 minutes between uses, following the manufacturer's instructions for exact timing.
You can apply your colored paint topcoat after 24 hours. Only add 1–2 coats of your overlay paint, as a thicker paint barrier will reduce the effectiveness of the magnet paint underneath.
Use Strong Magnets
Several coats of magnetic paint still won't have the same magnetism as a steel sheet, and you may find that typical magnets will struggle to hold anything more than light bits of paper. Using more powerful magnets will account for the relative lack of magnetism in the paint, giving you more options for putting up posters, calendars, and other heavier wall hangings. Most manufacturers recommend rare earth magnets like neodymium, which boast at least twice the strength of an ordinary magnet.

Conclusion
Magnetize-It! has the solution for anyone trying to add entertainment to the kids' room or function to the office, featuring two exceptional products in their standard yield (our top pick) and their high-end premium yield products. High-value options from Magic Wall and Flexible Magnet round out our top four, offering plenty of possibilities for low-risk experimenting in this exciting decorating project. Take your pick from these reviews of the best magnetic paints, and follow our tips for getting optimal results in as few coats as possible.
---
Featured Image Credit: Sofia Iartseva, Shutterstock