10 Roofing Facts – Industry Statistics and Data in 2023
Note: This article's statistics come from third-party sources and do not represent the opinions of this website.
Are you considering changing your roof but don't know where to start! Don't worry. We've gathered some of the best information on roofing facts, industry statistics, and data to help guide you with your decision.
The roofing industry can be an interesting one to break into. It takes a bit of initiative, hard work, and know-how. There is also a lot of terminology and building codes involved. But overall, it's a fulfilling career for those with interest to venture into this industry.
Keep reading for deeper insight into roofing facts, including information on:
The 10 Critical Roofing Facts – Industry Statistics and Data
Roof Replacement Costs and Roofing Market Value
1.

The global roofing industry has a market size of $102.4 billion. It's expected to reach $156 billion by 2030.
(ALLIED MARKET RESEARCH)
The roofing industry globally is valued at over $100 billion, and it is expected to experience fast growth by 2030. The reason behind this growth is the increasing construction projects in developing and developed countries.
Out of the $102.4 billion, the United States accounts for the largest share in the global market. It's followed by China and Canada. Europe dominates the market with over 50% share of the global industry compared to North America.
---
2.

The cost of replacing a roof in the US is between $8,000 and $11,000.
(FORBES)
The total cost of roof replacement varies by region, building materials used, and whether the roof is flat or sloped. The cost may be as little as $5,000 or more than $11,000.
Replacing a flat roof can be more expensive than a sloped roof. It's because it requires additional materials to anchor it to the house.
Keeping your roof in excellent condition and replacing it when the time comes is crucial. Otherwise, the replacement cost may be more than you expected.
Find a roofing specialist in your area, and get free, no-commitment estimates for your project.


---
3.

The biggest roofing firm globally is the CentiMark Corp in the US. Its revenue is valued at $670,522,512.
(ROOFING CONTRACTOR)
CentiMark Corporation is the biggest roofing company worldwide. It has an estimated revenue of about $700 million.
CentiMark Corporation offers comprehensive roofing solutions to its clients. It provides roofing systems, including various components such as copper flashings, copper sheets, and copper bolts.
Also, it deals with screws for the repair and replacement of the existing roofing systems. CentiMark offers roofing systems for membrane roofs, built-up roofs, and conventional roofs. Its roofing products are used for residential and non-residential construction projects.

Number of Roofing Experts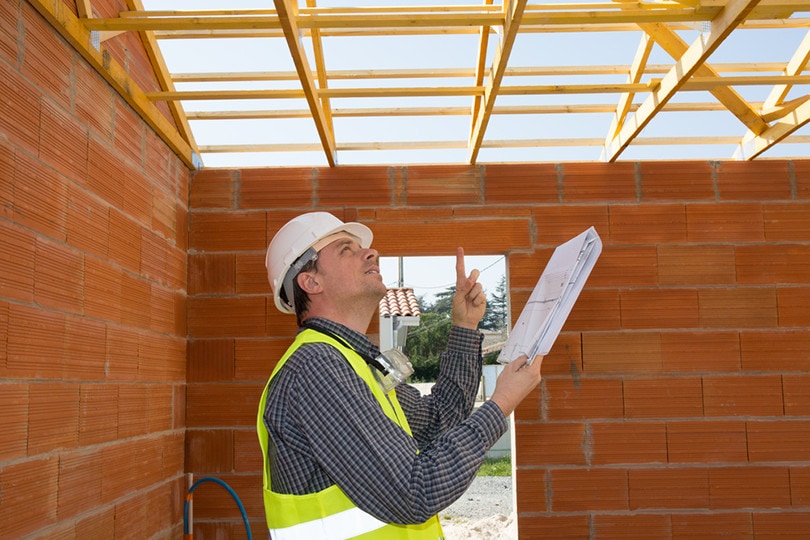 4.

90.6% of all roofers in the United States are men, while the rest are women.
(ZIPPIA)
There are some career options where men are the majority. Such include electrical work, construction, and auto repair to name a few.
When it comes to roofers, it's a similar case. Men make up the largest percentage of roofers. It is an incredibly demanding profession that requires physical strength and endurance. It also needs extreme mental toughness and willpower to deal with the most adverse weather conditions.
---
5.

The average salary of a roofer in the United Kingdom is £30,000. Entry-level roofers make £25,860 annually, while seasoned roofers make £39,000 a year.
(UK TALENT)
A roofer in the United Kingdom earns an average salary of about £30,000. This salary can vary depending on the location, education, experience, and size of the company.
Usually, entry-level roofers work for small companies do general home improvement. They are responsible for all forms of roofing, from maintenance to repairs to installations.
A seasoned roofer may have a degree in construction management or engineering. Experienced roofers earn more than their entry-level counterparts. It's because they have years of experience under their belts and have learned their trade through formal schooling and on-the-job training.
---
6.

There are approximately 108,069 roofing contractors' enterprises in the US. It has increased by 1.6%.
(BIKE HIKE)
The roofing contractor industry in the US has experienced massive growth recently. Besides, the number of roofing contractors in the country has increased by 1.6% from the previous year.
Roofing contractor businesses include establishments primarily engaged in installing or repairing roofs. They comprise residential, commercial, and industrial roofs.
The industry also includes establishments in installing skylights and roof ventilation systems. Roofing contractors earn a lump-sum price. It covers labor, equipment rental, and materials. It also covers overhead expenses such as supervisory and management personnel.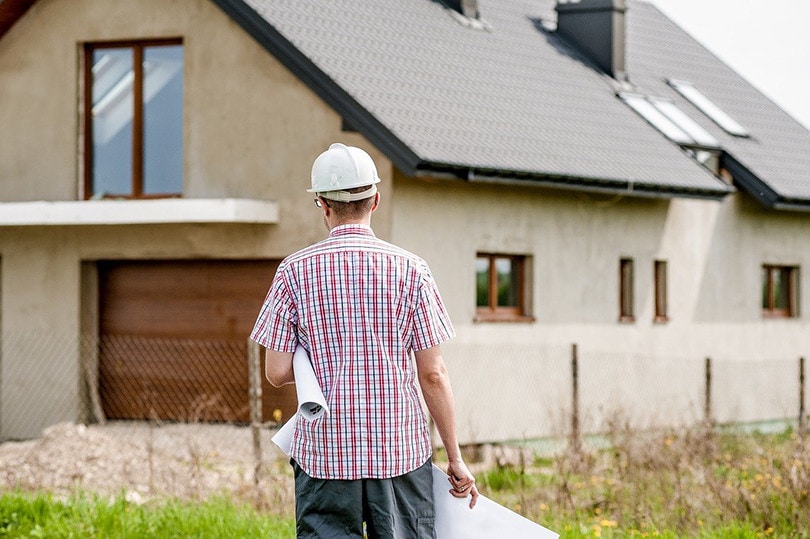 ---
7.

There's an increase in the number of people employed as roofers in the US. As of 2021, there are 153,700 roofers in the country. The employment rate is set to increase by 5% from 2020 to 2030
(US BUREAU of LABOR STATISTICS)
Many homeowners are now building new homes and seeking professional help to install their roofs. That means that roofers are in high demand in the US, and due to this, they have been increasing annually to meet the rising demand.
Primarily, their work is to install and repair roofs and siding on residential and commercial buildings. They also work on other structures such as patios or porches.
Roofers usually specialize by type of roof or specific area of construction. They may work alone or with a crew on large projects. They are likely to face long hours, extreme weather, and dangerous working conditions while on the job site.

Types of Roofing Materials
8.

More than 80% of re-roofing projects in the US use asphalt shingle roofs.
(HOME INNOVATION)
The roof is one of the most visible parts of a house. People judge the appearance of a house by the roof. Asphalt shingle roofs are the most popular, cost-effective, and easy to work with. That's why most construction projects in the US use this roof type.
The asphalt shingle is one of the most affordable roofing materials on the market and is easy to install. However, they do not offer a long warranty. But they are still considered a good value by many homeowners.
---
9.

Slate is the most costly roofing material in the global market. It's ten times more expensive than asphalt shingle.
(FORBES)
Slate is one of the oldest roofing materials globally, and it's the preferred choice of many homeowners, given its durability.
The high cost of slate is because it needs to be cut before installation. Also, it needs skilled labor because it's challenging to work with. Slate tiles are also not lightweight. It means they require more support under them than other types of roofing materials when they're installed on homes.
The high cost of slate also means that it's more expensive to repair when problems arise.
---
10.

Metal roofs are an excellent way of boosting home value. But it'll cost $38,600 and increase home value by 60.9%
(IKO)
Initially, the cost of replacing a metal roof is higher. But it has an added benefit. It will add value to your home by about 60% over a comparable asphalt shingle roof.
Metal roofs will pay for themselves over time because of their long life span and low maintenance cost. There are different types of metal available for roofs like copper and steel. They have different properties depending on your needs. For instance, roofs made of steel are more affordable than copper.

Frequently Asked Questions on Roofing
What roofing type is the best?
Asphalt roofing shingles are the most commonly used material for a roof. They come in rolls and are easy to install; the installation does not need any special skills. Asphalt roof shingles come in many colors, styles, and qualities. They are the most popular choice among homeowners because they're affordable, durable, and easy to install as already said.
The standard asphalt shingle is created using a combination of asphalt, mineral granules, and fiberglass. This makes them relatively inexpensive compared to other types of materials. This fact makes them a smart option for homes that need new roofs but don't want to break the bank.
If installed and maintained well, asphalt shingles can last up to 50 years or more. They are a smart choice for homeowners who plan on selling their homes within the next few decades.
(CONSUMER REPORTS)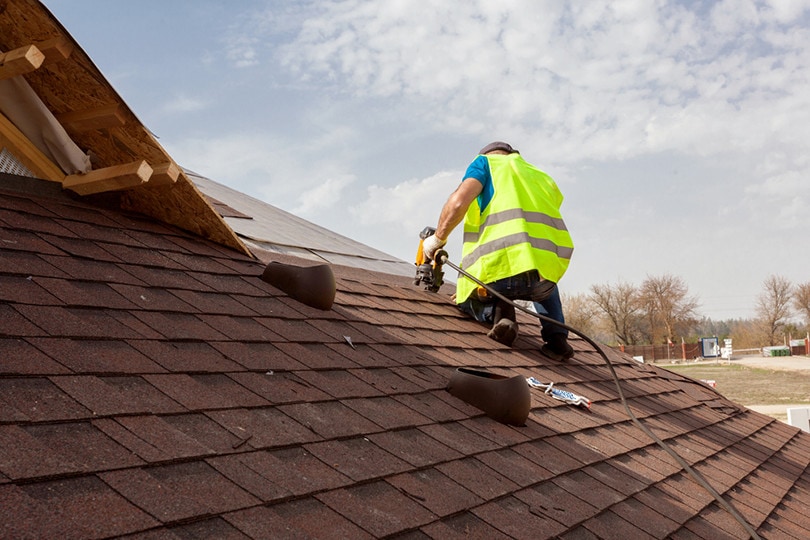 How do you tell if your roof needs to be replaced?
The first thing to look out for is water damage. If you see discolored ceiling tiles or rusting metal, then that's a sign the roof is leaking. Holes in the roofing material can also indicate problems.
Factor in the age of your roof. Roofs are made to last 20 years, and some last longer than that. But if your roof is older than 15 years, you may want to take a closer look at it. Look for discoloration in the shingles (indicating loose nails or other damage). Also, look for water stains on the wood under and missing or cracked shingles.
However, the only way to be sure is by having a professional inspect it and give you an estimate. If you're looking for a professional to do the work, make sure they have experience with the specific type of roofing material in your home.
Each type of roof has its own set of problems and potential solutions. Usually, a roof is replaced when it's no longer able to protect the interior of your home effectively.
(FINDLEY ROOFING)
How long are roofs supposed to last?
Usually, the lifespan of a roof is measured by its helpful life. It's also known as its service life. The service life of a roof is the predicted period during which it can be expected to perform as intended before needing replacement or major repairs.
The average life expectancy of a roof is 30 years. But it depends on the quality of the material. Some roofs even last more than 50 years.
Several factors can extend or shorten that time frame. For example, if the roof is not properly maintained, it will wear out much faster than expected.
(ROOFING CALCULATOR)
After how long should you need to replace your roof?
Replacing your roof can be a big expense. But it is also one you can plan for. Replacing depends on how old it is.
Most residential roofs last about 20 years. But it varies depending on the material. Rubber roofs might last up to 50 years or more while asphalt shingles need replacing after 15 to 30 years.
Not only do asphalt shingles fade the most in sunlight, but the granules that make asphalt shingles are susceptible to weathering from wind and rain. Metal roofs last between 50 and 75 years before they need replacing. Wood shingles should be replaced after 25 years.
Residential roofs are relatively inexpensive and easy to replace, so there's no reason not to replace a roof before it starts leaking.
(ROOF ADVISOR)
How do you know the roofing contractor you are hiring is legalized?
If you want to have your roof replaced by a professional, you need to hire a legitimate company or contractor.
You can start by researching the company online. It will give you some insight into what kind of work they have done in the past. Also, it will help you decide whether or not they will be a fit for your project.
Upfront costs and guarantees are also good indicators of a legitimate roofing contractor. A real roofer should give you an initial estimate that includes all costs and some sort of guarantee in writing. It can be a warranty or workmanship guarantee.
A popular sign that a roofing contractor might not be legitimate is if they ask for upfront payment before the work starts. Some scammers will even try to pretend to be from your local council. If someone asks you for upfront payment before starting any work, you should be wary!
(FINDLAY ROOFING)
What are the drawbacks of metal roofing?
The biggest drawback of metal roofs is that they're pricey. If you're looking for relatively inexpensive roofing material, metal is probably not your best bet.
Heat is another one of the drawbacks of metal roofs. In hot climates, metal can get really hot. It radiates heat into your home, making the attic and rooms below it uncomfortably warm.
In some cases, if your house is well-built and has good ventilation, this won't be a problem. But in others, it can make things uncomfortable or even unsafe for you and your family members during the summer months.
Metal roofs can also make your home more prone to lightning strikes because they attract electrical charges in thunderstorms. Additionally, when there's heavy rain or a hailstorm, metal roofs are noisy.
(STATE FARM)

Factors Impacting Your Roof's Durability
When it comes to the lifespan of your roof, many factors can have an impact on its life. Some factors will be out of your control. But there are things that you can do to help extend the lifespan of your roof.
The type of material used on your roof plays a crucial role in determining its longevity. Some materials last longer than others. So, they will require fewer replacements.
The age of your roof also matters. Just like any other piece of equipment, your roof will lose its effectiveness over time. The age of your roof can indicate that it is time for it to be replaced. But, a new roof does not mean you should abandon preventative maintenance altogether.
The weather conditions in your area also affect the lifespan of your roof. The temperature and precipitation play a role in roof longevity. If you don't maintain it regularly, there are chances that it will start leaking or get damaged by wind storms and other extreme weather conditions.
The way that a roof is installed also plays a role in its life expectancy. Some types of roofs can be installed relatively fast and easily. Others, such as tile roofs, require more time and effort.
See Also:

Conclusion
A roof is a crucial feature of a building since it is the only waterproofing layer that protects you from the elements. From its design to its material, every aspect of a roof is crucial. Make sure you have a strong and reliable roofing system that can withstand any natural disasters.
Statistics and data are powerful tools that you can use in any industry, including the roofing industry. If you want to improve your sales, you need to understand what your customers want and why they are buying from you.
Now that you have a better understanding of the roofing industry, you can venture into your next project. Make sure you have the best products available and remember to never compromise on quality.
---
Featured Image Credit: bluelightpictures, Pixabay