5 Best Manual Citrus Juicers in 2023 – Reviews & Top Picks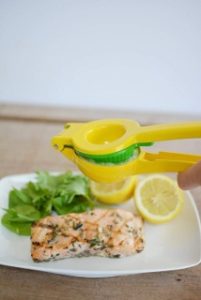 If you're looking to buy a new manual citrus juicer, you've come to the right place. Whether you're a juicing pro or are looking to make your first pitcher of homemade lemonade, we've got all the information you need to find the model that is just right for you. We've assembled a list of reviews of some of the best manual juicers of this year.
If that's not enough information for you, we've also included a buyer's guide which is packed full of good general information about manual citrus juicers. Reading the buyer's guide will also give you some insight into how we created our reviews and how one should go about comparing and shopping for different juicers. It's not always easy to shop online, but we hope that these reviews and this guide can help take the stress out of your shopping experience.

A Quick Glance at Our Winners in 2023
Rating
Image
Product
Details

Best Overall

Hamilton Beach 932

Fast
4-ounce drip cup
Commercial-grade
CHECK PRICE

New Star Foodservice 46878

Cast iron
Suction feet
Stainless steel
CHECK PRICE

Best Value

Zulay Kitchen Metal Squeezer

Inexpensive
Easy to use
Metal construction
CHECK PRICE

Gemco 12-Ounce 5078573

Commercial quality
Durable plastic top
Dishwasher safe
CHECK PRICE

OVOS OV-BXGNMJ-US

Stainless-steel
Cheap
CHECK PRICE
The 5 Best Manual Citrus Juicers
1.

Hamilton Beach 932 Manual Citrus Juicer – Best Overall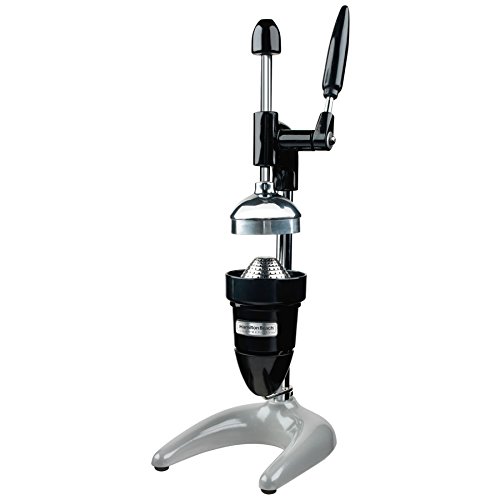 The Hamilton Beach 932 Citrus Juicer is our top pick for manual citrus juice extractors. This model is a commercial-grade machine, which means that if you have a lot of citrus fruit you need juiced, and you need it done fast, this is the machine for you. This juicer is capable of squeezing your citrus fruits with more than 2000 pounds of force, meaning that you get about as much juice as is physically possible out of your fruit.
It also looks great and could serve as a display piece in your kitchen. It comes with a 4-ounce drip cup that can be moved under the funnel when you're not collecting juice and prevents leftover juice from dripping on the counter between uses. The one downside to this model is that the squeezing surface is chrome-plated aluminum, which some people will like significantly less than stainless steel. Overall if you're looking for a manual juicer that is a workhorse, but can also serve as a display piece, this is the best manual citrus juicer for you.
Pros
4-ounce drip cup
Commercial-grade
Looks good
Fast
---
2.

New Star Manual Citrus Juicer Press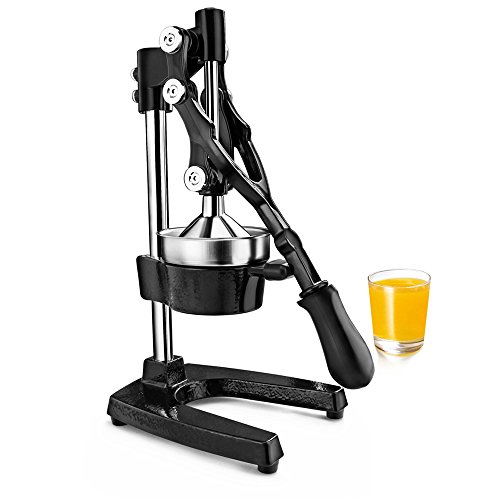 The New Star Foodservice 46878 is a durable, powerful manual juicer. It's made primarily from cast iron and stainless steel, which says great things about its durability and its ability to stand up to abuse. Furthermore, many people prefer cast iron or stainless steel for the surfaces that touch the food, as opposed to coated metal or aluminum. This model also comes with suction feet that make sure its tremendous squeezing power doesn't cause it to slide around, or off, the countertop.
Unlike a lot of juicers, the juicing parts are dishwasher safe, which makes cleanup easy and keeps the juice's flavor pure. The one downside to this model is that the manufacturer used cheap screws and connecting parts that aren't steel or iron, so this model does have some weak spots, and when it breaks, it tends to break at those spots. Overall, this poor quality control is what keeps this model from edging out the top one on our list.
Pros
Stainless steel and cast iron
Suction feet
Dishwasher safe
---
3.

Zulay Metal Manual Citrus Juicer Squeezer – Best Value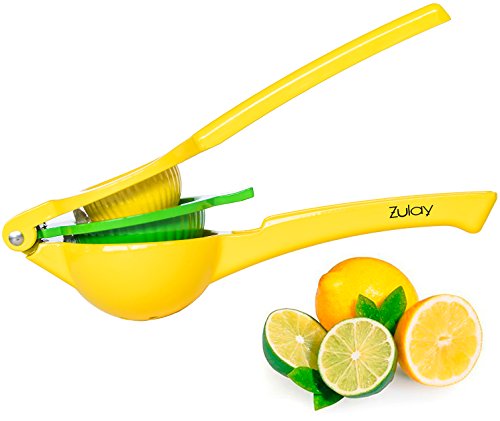 The Zulay Kitchen Metal Squeezer is our pick for best value. It's far less expensive than the two previous entries in our list, and that's due in large part that we're moving out of the low-end of commercial kitchen products, and into the home categories. The good news is that this juicer features a solid metal construction and is completely dishwasher-safe.
As a small manual juicer, this model is not going to be able to juice the largest oranges and grapefruits, instead, topping out with medium-sized citrus fruits. And, while this model comes in one of four bright colors, they have a habit of chipping or fading over time, leaving the squeezer far less attractive of a device over time. However, you can't beat the price, and if you need to juice some citrus fruits but not dozens at a time, this is the tool for you.
Pros
Inexpensive
Metal construction
Dishwasher safe
Cons
Small capacity
Paint fades
---
4.

Gemco 12-Ounce Manual Citrus Juicer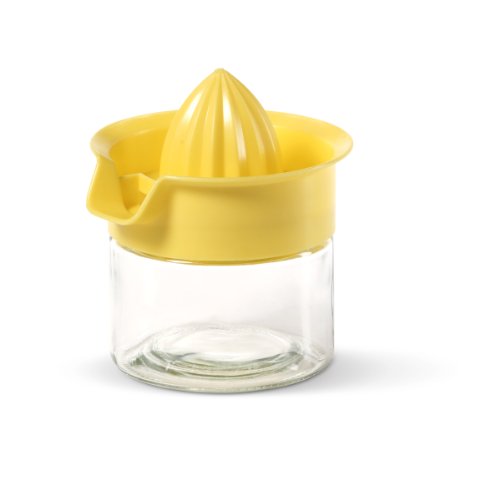 The Gemco 12-Ounce 5078573 is a juicer that is better in theory than in practice. The best thing about this model is that it is completely dishwasher safe, which means it's easy to clean up when you're done juicing. However, it's unclear how much you'll want to use this model as it doesn't make juicing easy or do a good job. You must manually push your fruits against the grinder, something that you won't have to do with the first three models on the list. You're going to have to use a lot more force to get the same results.
The juicer itself is plastic, though the jar is glass. The plastic parts don't appear sturdy, which suggests that you can't expect a long life out of this model. Even worse, the smallest seeds slip through and end up in your juice, which means you must fish them out later by hand, which is a pain in the butt. While this is a cheap model, you can get better value for about the same price on a different model.
Cons
Hard to use
Plastic juicer
Seeds get through
---
5.

OVOS Manual Citrus Juicer/Squeezer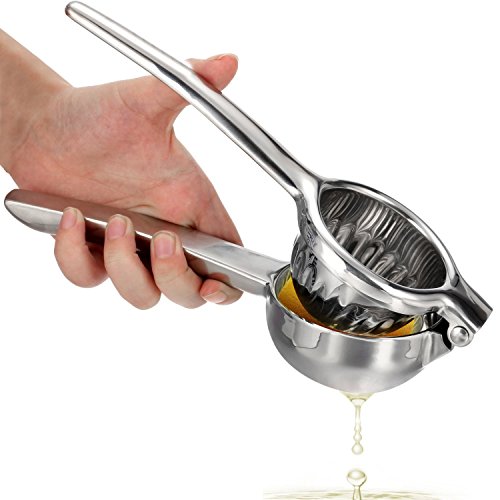 The OVOS OV-BXGNMJ-US claims to feature a stainless steel body. After use, that seems like it might be a dubious claim. If it is made from stainless steel, that's a good thing. Many people prefer that over other kinds of metal for their kitchen utensils. However, this model has many design flaws, the first of which is the fact that it has seams that juice can get inside. You're going to have to take special care to leave it out to dry between uses.
It also has massive problems with durability. The hinge, in particular, is a weak spot responsible for almost all breaks that happen with this tool. And, you can't expect it to last long at all. Sometimes it breaks on the very first try! Even if your hinge holds up, there still a chance that the entire juicer deforms under the stress of juicing, which is why one might suspect it's not stainless steel. Sure, this juicer is cheap, but you're going to want one that lasts for more than one or two juicing sessions.
Cons
Breaks easily
Deforms
Juice can get inside the tool

Buyer's Guide: How to Buy the Best Manual Citrus Juicer
We hope that our reviews have helped you gain some insight into different manual juicer models and has helped you gain a feel for what makes for a good juicer and what makes some models not-so-good. If you're looking to gain a deeper understanding of juicers, or still aren't sure which model is right for you, then check out this buyer's guide.
Speed
One of the most important things to consider when you're picking a manual citrus juicer is how many fruits you'll be looking to juice at once. The commercial-style juicers are designed to do a lot at once, so if you're looking to make a pitcher of fresh lemonade regularly, then you'll probably want one of those models. They can squeeze many more lemons in the same amount of time, and they get a higher percentage of the juice out, so you'll get to the amount you need much more quickly as well.
The commercial-style manual juicers are best for people who are going to be doing high-volume juicing frequently. If that's not you, then you're going to lose some value if you buy one, but don't use it all that often. While they can be nice and make things extra fast, they cost a lot compared to other models, and if you're not using them all that often, they're just going to take up counter space. They're also fairly large, so there's no guarantee that you'll be able to put them under the counter for long-term storage.
On the other hand, if you're only juicing occasionally, or juicing in low volumes, you may be better off with a non-commercial model. They're slower and less efficient, but easier to store between uses and significantly cheaper. If you're going to be occasionally juicing in small amounts, for instance, to create fresh lemon juice for cooking, then getting a commercial-grade juicer will be a waste of money.
Ease of use
The commercial-style juicers are going to be a tad more complex than those meant for use at home. Not by much, but they do have moving parts, and with moving parts comes a greater risk of something breaking, or coming loose, or getting stuck, and it may take a little attention from time-to-time on your part to get it working correctly again.
If you don't want to deal with that hassle at all, then you should check out one of the home models, which have few or no moving parts and are extremely straightforward.
However, if you have arthritis, other pains in your hands, or general hand weakness, you will probably be served better with a commercial model, as they don't require the same force to operate. The home models may be closer to what you need regarding juicing capabilities, but you're going to want a model that you can use easily and pain-free, and unfortunately, that's going to cost you a bit of a premium but provide the best overall experience.
You'll also want to look for dishwasher-safe parts. This feature is a good tiebreaker for use between two models. If one has dishwasher-safe parts, then it's better than the equivalent model without. You can save a ton of time and don't have to worry about immediately cleaning your manual juicer if you get one that can go in the dishwasher.
Which juicer is right for you?
It's not always clear which model is best for you, and that's okay. Another helpful way to think about buying a juicer is to start with your needs. How much fruit will you be juicing at once? Do you need to be able to wash the juicer in the dishwasher? Start with your needs instead of just trying to see what's available.
Once you've compiled a list of your needs, the job becomes a lot easier. Just find the model that best matches your list. That means that you've found the model that provides the best value. You'll get all or most of the features you want without wasting any money on features that you won't end up using.

Conclusion
The Hamilton Beach 932 Citrus Juicer is our top pick for manual juicers, as it comes with commercial-grade looks and commercial-grade quality and ease of use to match. The New Star Foodservice 46878 is durable and comes with suction feet but comes with quality control issues that could spell doom for your unit. The Zulay Kitchen Metal Squeezer is our pick for best value due to its low price and dishwasher-friendly construction. The Gemco 12-Ounce 5078573 doesn't bring the ease of use you get on other models, and it also lets seeds into the juice, which makes it even more of a pain to use. The OVOS OV-BXGNMJ-US suffers from serious quality control problems that make it poor value, even for its low price.
Note: we also have a list of our 5 favorite Hamilton Beach juicers that you could read.
Hopefully, our reviews have helped you see what makes a good manual juicer tick. Armed with this knowledge you should be able to find the model that will keep you happily juicing long into the future.
Related reads: