6 Best Metal Chop Saws – Top Picks & Reviews 2023
Metal chop saws – also known as abrasive saws – are powerful power tools for cutting through rebar, pipe, and other metals. They should offer a precise and accurate cut, be durable enough to last for years without having to replace them, and they should be as easy to use as possible. Although a metal chop saw is very similar to a miter saw, "choppers" need to be sharper, and they need to excel in the details like power, torque, and revolutions per minute (RPM) to ensure that you are getting the best tool for the job.
We have compiled a list of the best metal chop saws, having tested and reviewed dozens of available models. We've found the best, the worst, and those that offer the best value for money even if you're on a tight budget. Using our metal chop saw reviews, you should be able to find the best model for your metal sawing requirements.
---
A Quick Look at the Winners of 2023
| Rating | Image | Product | Details | |
| --- | --- | --- | --- | --- |
| Best Overall | | Makita LC1230 Metal Chop Saw | Powerful and professional chop saw ,Carbide tipped blade ,Cuts smoothly and accurately | CHECK PRICE |
| | | DeWalt DW872 Metal Chop Saw | Carbide-tipped blades ,Burr-free sawing ,Can be used for plastic and wood | CHECK PRICE |
| Best Value | | Evolution EVOSAW380 Metal Chop Saw | Powerful 15-amp motor ,Minimal sparks during cutting ,Precise and clean cuts | CHECK PRICE |
| | | MK Morse 9" Metal Cutting Circular Saw | Affordable ,Portable ,Good handle | CHECK PRICE |
| | | Evolution RAGE4 7¼" Metal Chop Saw | Cheap ,Portable and lightweight ,Can cut multiple materials | CHECK PRICE |
The 6 Best Metal Chop Saws
1.

Makita LC1230 Metal Chop Saw – Best Overall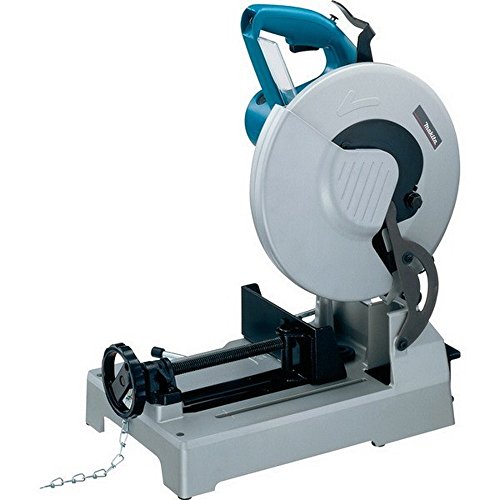 The Makita LC1230 has a 15-amp motor that produces 1,700 RPM, which is plenty of power for slicing through 2×2 box tubing with ¼-inch wall thickness. Whereas most abrasive saws can get hot in a hurry, the carbide-tip toothed blade reduces cutting time and sparks and stays cool. In fact, everything about this saw is designed to make your job as effortless as possible—and it succeeds brilliantly.
The marriage of high RPM and toothed blade reveals accurate, quick, and precise cuts, free of burrs. It comes with a D-shaped handle for easy gripping. There's a lock-off button to prevent accidental starting – a necessary safety feature. The toolless adjustments on the fence are well designed and implemented.
The only complaint is the chip collector tray only catches about 10% of the chips (metal shavings). The rest wind up on the table or floor. It's not a fatal flaw or anything, just annoying.
To conclude, we think that this is the best metal chop saw of the year.
Pros
Powerful and professional chop saw
Carbide tipped blade
Cuts smoothly and accurately
Security lock prevents accidents
---
2.

DeWalt DW872 Metal Chop Saw
The DeWalt DWS872 went head-to-head with our top pick for the first three quarters of the game, but like so many also-rans, it faded in the fourth quarter.
We expect a metal saw to make smooth, straight cuts with no burrs. Cutting should require minimal pressure on the handle, whether it's wood, plastic, heavy pipes or solid bars. The DWS872's 15-amp motor, 1,300 RPM, 14-inch carbide blade, and lack of a metal chip tray are neck-and-neck with the Makita LC1230. Likewise, it's a quasi-professional saw that's great for homeowners and craftsmen.
The fatal flaws don't appear until later in the game. The clamp fence doesn't have a strong grip and the angled mechanism doesn't have the Makita's range of beveled cuts. It's game over when you compare prices – this saw is more expensive with fewer features. The DW872 is still a great saw and people who write online reviews seem to love it, but they probably haven't had a chance to use the Makita.
Pros
Carbide-tipped blades
Burr-free sawing
Can be used for plastic and wood
Portable
Cons
Weak clamp on fence
Poor dust collection
---
3.

Evolution EVOSAW380 Metal Chop Saw – Best Value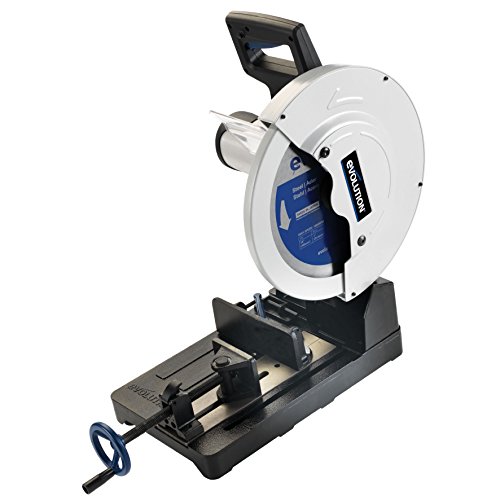 The Evolution EVOSAW380 has a 15-inch blade, 15-amp motor, and a high-torque gearbox. It cuts through metal pipe and more. It stays cool, produces very few sparks, and it does all of this without the need for coolant.
The Evolution has an aluminum base, which keeps the weight down, but it isn't as sturdy or strong as some of the other models on the list. It is another pick that includes a chip tray, but once again, it doesn't do an effective job. There isn't a quick-release on the fence clamp, either. Adjustments have to be made with a set of hex wrenches (included in the box), lengthening the change operation from a few seconds to several minutes of finicky effort.
The low cost and beneficial features of this metal cutting chop saw, as well as the power, of this model make it our pick as the best metal chop saw for the money. The aluminum base and oddly complex clamp mechanism prevents it from featuring higher in the list.
Pros
Powerful 15-amp motor
Minimal sparks during cutting
Precise and clean cuts
Cons
Aluminum base
Complex clamping system
Difficult adjustments
---
4.

MK Morse 9" Metal Cutting Circular Saw
The MK Morse CSM9NXTB portable 9-inch circular saw has an LED guide light to ensure straight lines, and its 11-amp motor produces a lot of cutting power for something that is surprisingly portable. It can also cut 0-45 degree bevels, which better than some of the other models on this list.
The cold cut saw produces minimal sparks, heat, or burrs, while reviews suggest that the chip tray of this particular saw performs better than some of the more expensive models in our list. Because this is a circular saw, the design of the handle is important, and the MK Morse doesn't disappoint with a comfortable, well designed handle that prevents user fatigue and ensures that you can keep cutting for longer.
Pros
Affordable (read: cheap)
Portable
Good handle
---
5.

Evolution RAGE4 7¼" Metal Chop Saw
The Evolution RAGE4 is a reasonable chop saw for those on a really tight budget. It has a 10-amp motor, which powers a small 7¼-inch blade. The RAGE4 is mort portable and a lot lighter than most other models, but it also limits its potential uses. Most buyers will be looking for something with a larger blade.
It is priced lower than virtually all other models and it is a good choice for those with extremely limited workspace. It can also cut through plastic, wood, aluminum, and other metals without having to change the blade out, and when cutting metal, it produces very few sparks so it's safe.
Pros
Cheap
Portable and lightweight
Can cut multiple materials
Cons
Small 7¼" blade
For light work
---
6.

Milwaukee 6177-20 Cut Off Saw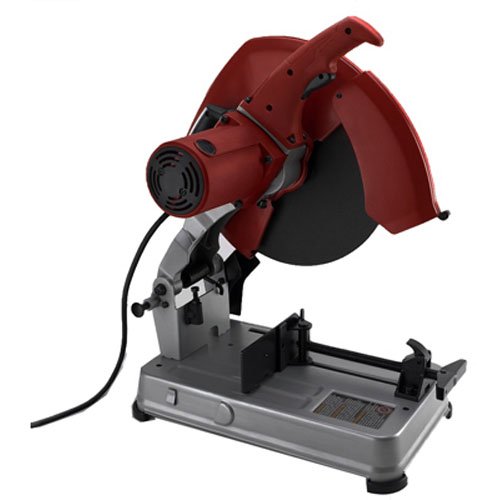 The Milwaukee 6177-20 is reasonably priced for a metal chop saw that boasts a powerful 15-amp motor and claims to cut up to 5-inch metal pipe. It has a lightweight and portable design which should make it easier to move from worksite to worksite.
While this particular saw might prove useful for hobbyists, it does not perform well as a professional cutting tool. It is poorly built with a flimsy and unstable base, there have been multiple reports of the saw burning out even after just a few uses, and it is virtually impossible to cut square. There have also been multiple reports of users finding it very difficult to adjust or lock the clamps and other mechanisms of the unit. There are far better options out there, even for the price.
Cons
Flimsy base
Jagged cuts
Motor overheats
Bad vibrations
Difficult adjustments
---
Buyer's Guide – Choosing the Best Metal Chop Saw
A metal chop saw is a very powerful saw that is used to saw through lengths of metal tubes and strips of metal. They are used in construction, home improvement, and DIY projects, and they can even be used to create metal sculptures.
Cold cut saws cut slowly and need a powerful motor to ensure that they retain the speed without cutting out or failing the cut. They also need to be robust, because they will vibrate and this can cause damage to the saw, the base, and even the table. Importantly, you should also consider the safety features of the saw to ensure you get the model that is right for your needs.
Size
The size of the chop saw blade determines its cutting depth and the length of cut it can produce. Sizes vary from less than 9 inches to 15 inches or more, and the size you need will be determined by how you use the saw. For home use, a 12-inch blade should be sufficient but commercial owners will want a 15-inch blade to make easy work of even the most challenging materials.
Speed
Fast cutting isn't that important when cutting metal. In fact, low but consistent speed will serve you better. Not only does this ensure a more accurate cut but it reduces the burrs and sparks that are created. Burrs can be difficult to clean up and can clog the saw machinery, and sparks can be terrifying when your face is close to the cutting disc. They also mean that you have to keep a clean and debris free workspace to prevent fire.
Power
Considering you want a lower cutting speed from a metal chop saw than you would from a wood saw, power is arguably more important. A low powered saw will slow down when it is cutting through challenging material. It might even cut out and the motor is likely to burn out with regular use. Look for machines with decent power that can maintain slower speeds regardless of what you're cutting.
Beveled Cuts
If you need to connect or join two or more pieces of metal pipe or tube, you will want to use beveled cuts. These enable you to create cross joints and they make the welding process easier while giving a stronger joint. Beveled cutting angles aren't possible with all metal chop saws, so if this is an important feature of your metalwork, ensure that your saw includes angled cutting features.
Features
Depending on how you use your metal saw, there is a range of additional features to be found in metal chop saws. Some help ensure clean and accurate cuts, while others provide additional safety during use. Such features include:
Laser guides – Laser guides or LED guide lights enable you to project a straight line onto the cutting material, enabling you to create an arrow straight cut. This can be especially useful for beveled cuts but is also useful for sawing perpendicular to the edges.
Guide arrows – Guide arrows are a more basic and manual method of ensuring straight cuts. The arrows do not project so still require a keen eye from the saw operator.
Trigger locks – Trigger locks prevent accidental activation of the saw. They ensure that you don't accidentally turn the saw on while guiding or measuring.
Chip trays – Chip trays can be found on quite a few of the models on our list. They are meant to collect any burrs and chips made while sawing. In our experience, very few of these trays actually perform well at gathering all of the debris, but they can make cleaning up a little easier.
Carbide tipped blades – These are considered much higher quality than standard metal blades. They offer precision and they ensure a clean cut even at slow speeds, which are preferred with this type of saw. They will also last much longer, negating the need to have to regularly buy replacement saw blades.
Portability
Portability is important to some owners. If you work on different sites and take your chop saw with you, you will want something that is reasonably easy to transport without sacrificing build quality. Conversely, if you do all your metal sawing in one place, you don't have to worry about portability.
Ventilation
Always ensure that you work in an area with reasonable ventilation when using this type of saw. As the saw grinds against the metal cutting surface, it heats up and produces noxious fumes. An open area should be enough to allow fumes to dissipate before you inhale them, but an active ventilation system is one that is designed for the specific purpose of exhausting these fumes away from the work area.
Saw Safety
Fire safety – All chop saws create heat. Even those that throw off minimal sparks are still creating a very hot surface around the cutting area. You should always have an extinguisher on hand, but by ensuring a clear work area with a space of about 6ft around the saw completely free of materials will help prevent fires in the first place.
Physical safety – It should go without saying that a metal chop saw can cause serious injuries, and it can also damage work areas and anything in the vicinity of the saw. As well as following safety measures and using any included safety features such as blade guards and trigger locks, you should also ensure that the base can be secured to a table or that it won't wobble around during use because this is a serious hazard that can cause damage and injury.
---
Conclusion
We think that the Makita LC1230 is the best metal chop saw we've reviewed. Everything about this saw is well designed, works the way it should, and saves you time and money—both when you're buying it and when you're using it. This saw will have a place of honor in your shop for years to come.
The Evolution EVOSAW380 earns the position of "best value" among the chop saws we reviewed. While it has a few issues with the base that kept it out of the top two, it cuts through metal of all kinds with good speed and accuracy. For the budget-conscious, this is the chop saw for your workshop.