10 Best Midi Wood Lathes of 2023 – Top Picks & Reviews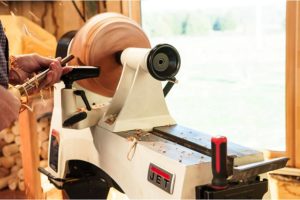 While a wood lathe is not a normal part of the average homeowner's workshop, they are necessary for many carpenters and hobbyists. Wood lathes used to be much rarer and were mostly just made by the same few manufacturers, but today there are many options on the market.
There are so many options, in fact, that it can be challenging to choose which option is best for your situation. Product descriptions often oversell and can be confusing. Luckily, we're here to help you find the best wood lathe for you.
With our reviews and buyer's guide, you'll be able to make the best decision for your workshop. One of these wood lathes can be a convenient addition, but choosing the right one is vital.
---
A Quick Comparison of Our Favorites
The 10 Best Midi Wood Lathes – Reviews 2023
1.

Delta Industrial 46-460 Variable-Speed Midi Lathe – Best Overall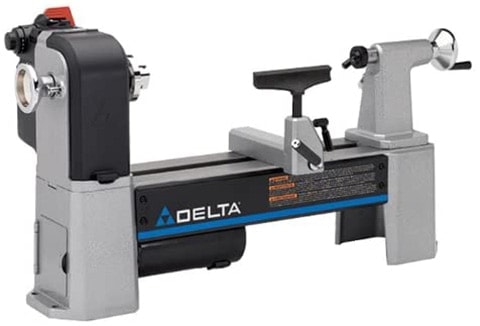 Out of all products, the Delta Industrial 46-460 Variable-Speed Midi Lathe is by far the best one we reviewed. It isn't expensive and comes with all the features the average carpenter needs. It has a 1 horsepower (HP) motor that can produce 1,725 RPM. This makes it more than powerful enough for most purposes. You don't need these machines to be extremely powerful, and this unit walks a fine line between offering enough power and affordability.
The large, 12½-inch swing capacity allows it to handle most projects. The electronic variable speed is conducive to completely controlling your workpiece while using it. This prevents fewer mistakes, which is precisely what you want. The forward and reverse functions allow you to fine-tune your cuts to get the best finish possible. Need to go over the same spot a few times? No problem.
The patented belt tensioning system makes it much easier to change speeds and sets the belt at the correct tension every time. This increases the maximum power transferred to the workpiece and elongates the life of the machine.
Pros
Large swing capacity
Powerful
Affordable
Variable speed
Forward and reverse function
Cons
Warranty doesn't work often
---
2.

WEN 3421 Mini Benchtop Wood Lathe – Best Value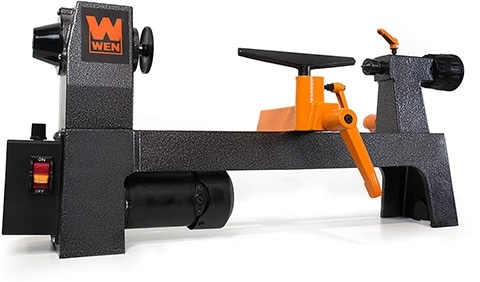 The WEN 3421 Mini Benchtop Wood Lathe is exceptionally inexpensive. It is much cheaper than most other options on the market, but it is also suitable for many hobbyists. The professional is likely to find it lacking, but at the same time, professionals likely have a higher budget for this must-have tool than your average homeowner.
This lathe can fit workpieces up to 12 inches long. This is about average as far as wood lathes go, if not a bit small. However, it is only minutely smaller than most other options on the market, so we doubt you'll notice the difference in practice. The variable speed option allows you to adjust the motor between 750 to 3,000 RPM. This allows you to have more control over your workpiece and prevents unnecessary mistakes from taking place.
The 3.2-amp motor is decently powerful and delivers about the same amount of power as even more expensive lathes. There isn't much lack of power in this wood lathe.
Our only issues with this lathe are minor and involve minor issues, like the tailstock knob being hard to tighten. It is still the best mini wood lathe for the money.
Pros
Inexpensive
12" long capacity
Variable speed
2-amp motor
---
3.

JET JWL-1221VS Variable Speed Wood Lathe – Premium Choice
While the JET JWL-1221VS Variable Speed Wood Lathe is quite expensive, you're getting what you pay for. It has an effortless speed control. This allows you to control the machine precisely like you need to, making this perfect for professionals. You can control the speed from 60 to 3,600 RPM. This is faster than most other options on the market, and the range is much more extensive. Most wood lathes do not allow you to move your workpiece so slowly.
You can easily change it from forward to reverse as well. The innovative ratchet style belt is handy and ensures the precisely right amount of force needed.
With so many features, it does take a few minutes to get up to speed. However, once you figure out how things work, it is straightforward to use. Professionals will surely get up to speed quite quickly. However, new users may have a bit of trouble. This wood lathe is designed for professionals.
Pros
Large variable speed option
Forward and reverse
Innovative style belt
Fast
---
4.

SHOP FOX W1704 Benchtop Lathe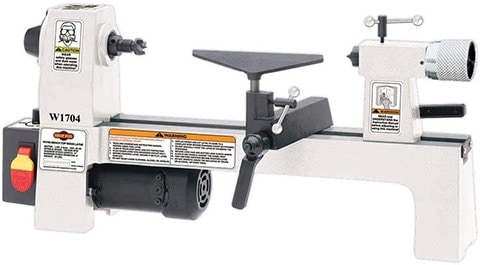 The SHOP FOX W1704 Benchtop Lathe is pretty inexpensive. However, it is not the most inexpensive option on the list. Furthermore, it doesn't give you much value for the money. For this reason, we rated it slightly lower than other options on the list. Perhaps the worst thing about this lathe is that it is mostly underpowered. They sacrificed quite a bit of power for the lower price.
The motor can only produce ⅓ HP and is only 2 amps. It has an 8-inch swing bed as well, which is somewhat smaller than most other options. The smaller capacity combined with the lower power is the main reason we rated this tool quite a bit lower than other options.
Besides these two points, though, this tool is quite useful. It has 2 tool rests and is made out of cast iron. It is quite durable and easy to figure out, which can not be said for all lathes we reviewed. It has infinitely variable speed control, allowing you to choose which speed is best for your current situation easily.
Pros
2 tool rests
Variable speed control
Made of cast iron
Cons
Underpowered
Small capacity
---
5.

NOVA 46300 Comet II Variable Speed Mini Lathe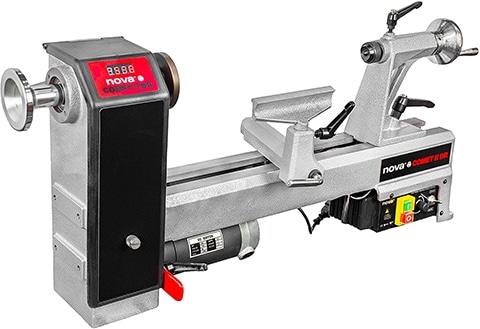 For professionals and hobbyists, the NOVA 46300 Comet II Variable Speed Mini Lathe may be a good option. However, it was not our favorite by any means. It is moderately priced and has a 12-inch swing over the bed. This allows it to hold most workpieces and makes it in line with most of the other mini lathes we reviewed. It has a variable speed from 250 to 4,000 RPM. This speed is much faster than most other options provide, and it also goes quite slowly as well.
The motor offers ¾ HP. This feature makes it a bit more potent than some options but not nearly as powerful as some of the higher-end options on this list. The digital readout allows you to quickly dial-in the correct speed for whatever job you are doing. This is perhaps the best feature of this mini lathe and is one of the broad reasons we rated it as high as we did.
The main problems with this lathe come from the fact that its quality control seems to be lacking. Most users experienced some slight problems with their lathe that were caused by it not being manufactured correctly. This is the foremost hurdle that prevents it from being a great lathe. The customer service isn't beneficial either, which only makes this a bigger problem.
Pros
Large variable speed range
Digital readout
Large capacity
Cons
Poor quality control
Poor customer service
---
6.

RIKON 70-100 Mini Lathe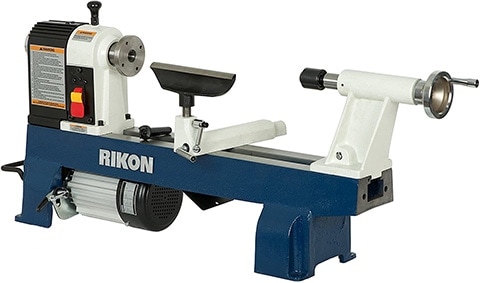 The RIKON 70-100 Mini Lathe is similarly priced to many of the lathes we included on this list. It isn't expensive, but it isn't precisely cheap enough to be considered a budget option. Instead, it falls quickly within the average range. It has a ½-HP motor, which is also about average. It has enough power to do most jobs, but some professionals may want to look further for a more powerful option. One of the best features is that you can add some extensions to it, which would increase its capacity. However, this will cost you extra money and take up more space in your workshop.
It does have variable speed. However, speed options are set. You can not put it on any speed you want. Instead, you have to settle for one of the available speed settings. This makes it a bit less versatile than other options, but some newbies may prefer this feature because it takes some decision making out of the process.
Many people seem to have problems with parts arriving broken and that sort of thing. This can be a significant problem. Some people seemed to have fast customer service, while others did not.
Pros
½-HP motor
Variable speed control
Cons
Defects are common
No variable speed dial
---
7.

Grizzly Industrial T25920 Benchtop Wood Lathe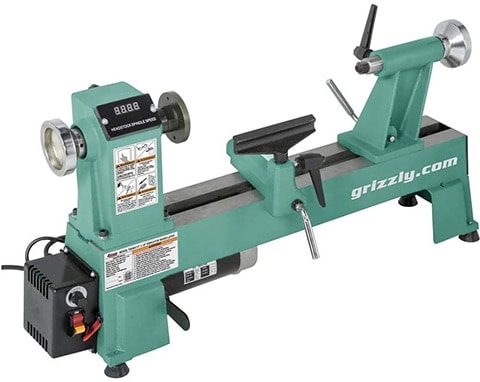 The Grizzly Industrial T25920 Benchtop Wood Lathe is an excellent example of how a few poor design choices can turn a great product into a sub-par product. This wood lathe has a variable speed from 650 to 3,800 RPM. This looks like a good range until you figure out that you can only select from 3 different speed ranges. This makes it a bit less versatile and may frustrate some professionals. It does include a digital speed indicator, which is an excellent addition. However, because it is difficult to pick exactly what speed you want, this feature is not particularly usable.
The swing over bed is 12 inches, which is about average. The large majority of options we reviewed had this capacity.
There is an extension that is available for this lathe. However, this costs extra money and must be purchased directly from the company, which can be more complicated than it needs to be. Some users also complained about a little plastic covering piece inside the housing that protects the wires. This is a safety hazard that needs to be removed before you start using the machine.
Pros
12 inches over bed
Large variable speed range
Cons
Potential safety hazards
Poorly designed variable speed
---
8.

Mophorn 10 x 18 Inch Wood Lathe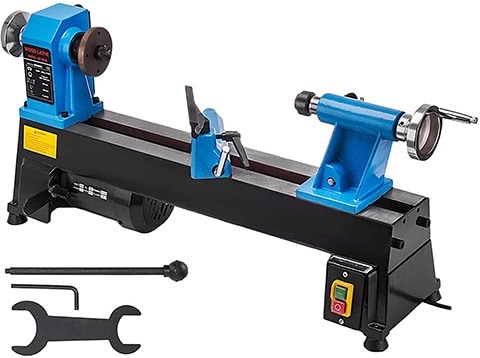 As a budget option, the Mophorn wood lathe looks like the right choice at a glance. It is much less expensive than many other options on this list, though it isn't necessarily the cheapest option available. However, you quickly realize that they sacrificed a lot to make it so inexpensive. In the end, this left a so-so tool that is only suitable for specific situations.
On the good side, this machine does have a variable speed knob that allows you to choose speeds between 500 to 3,800 RPM. This is decently fast, though it can't exactly go very slow.
The swing over bed is only 10 inches, which is very small. It does not have nearly as big of a capacity as other options out there. On the one hand, this means you can only use smaller workpieces with it. On the other hand, this machine will take up less space in your shop. It just depends on what feature is more important to you.
The whole thing is made out of cast iron, making it quite durable. It also comes with high-quality tool rests that are adjustable and removable – should you decide to replace them with something else.
This tool is widely underpowered. There is no way it will turn a sizable bowl, which may be why it has such a small capacity. It wouldn't be able to turn anything substantial!
Pros
Inexpensive
Variable speed dial
Cons
Small capacity
Underpowered
---
9.

Proxxon 37020 MICRO Woodturning Lathe

The Proxxon 37020 MICRO Woodturning Lathe is tiny. It is on the cheaper side of things, though it isn't necessarily as cheap as some other options on the market. It has a very low-profile design and is designed for those who do not have much room.
Because of its incredibly small size, it only has a 1¾-inch swing. This is incredibly small and makes it unusable for a variety of products. This lathe is so small we have a hard time figuring out what you could use it for. The motor is only ⅛ HP, which is the lowest power output of any machine we reviewed. Of course, with such a small capacity, it doesn't need much power anyway.
The best part about this lathe is that it is quite portable. You could pick it up and take it with you if you needed to. However, not many people need a portable wood lathe, and there isn't much this wood lathe could do when you got it to its destination.
Cons
Minimal capacity
Underpowered
---
10.

PSI Woodworking Mini Penmaking Lathe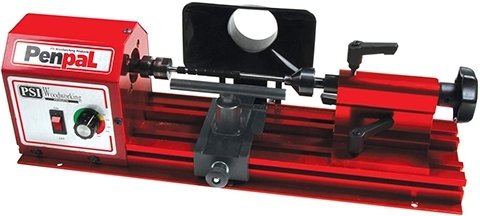 We took a look at many inexpensive wood lathes while writing our reviews. However, the PSI Woodworking Mini Penmaking Lathe is one of the cheapest. It doesn't take long to figure out why it is so cheap, however. This lathe has only one job – it is designed to make pens. If you want to make pens, then this lathe might be precisely what you're looking for. However, this is very specialized and is likely not going to work for most people. You're better off purchasing a lathe that can handle pens as well as other projects.
It is made with aluminum, instead of the cast iron often used. This makes it lightweight but also undercuts the durability. In all, this lathe is only 15 pounds, so you can quickly move it around as you need to. It has a variable speed dial, which is an excellent addition. However, there is no screen, so you can't precisely fine-tune your speed or anything of that sort.
This lathe does appear to be cheaply made, which is likely why it costs so low. It is not very durable because of the aluminum and just doesn't seem to be very well put together overall.
Cons
Not versatile
Not durable
Low value for your money
---
Buyer's Guide – Choosing the Best Midi Wood Lathe
When purchasing a mini wood lathe, there are several features you need to keep in mind. Some of these lathes are made very solid and can be used for a range of projects. Others were built to be as cheap as possible. Choosing the perfect lathe for you often means balancing the cost with the features. Below, we'll help you figure out precisely what you need so you can avoid overspending.
We'll take a look at some frequently asked questions that may factor into your decision-making proves, as well as some of the more essential features you need to look out for.
Frequently Asked Questions
What can you use a mini wood lathe for?
Before purchasing a wood lathe, you should ensure that you can use it for the project you have in mind. Wood lathes are most commonly used to turn pens. Their smaller size makes them perfect for this, and there are even some machines that are solely dedicated to these types of projects. However, they can also do many other projects, including bowls, plates, drawer pulls, chair spindles, and table legs.
You can get all this versatility for very cheap, which makes them an excellent option for hobbyists and those who don't have much room.
Are mini wood lathes suitable for beginners?
Many mini wood lathes are perfect for beginners. They are smaller than a full-sized lathe and usually quite a bit cheaper as well. This makes them perfect for beginners who want to dip their toe in the water and don't want to spend much money doing it. If you don't have much space, a smaller machine will be the best choice.
Furthermore, many of these wood lathes are perfect for smaller projects, which is likely what more beginners will be doing. For this reason, we can wholeheartedly recommend them to beginners.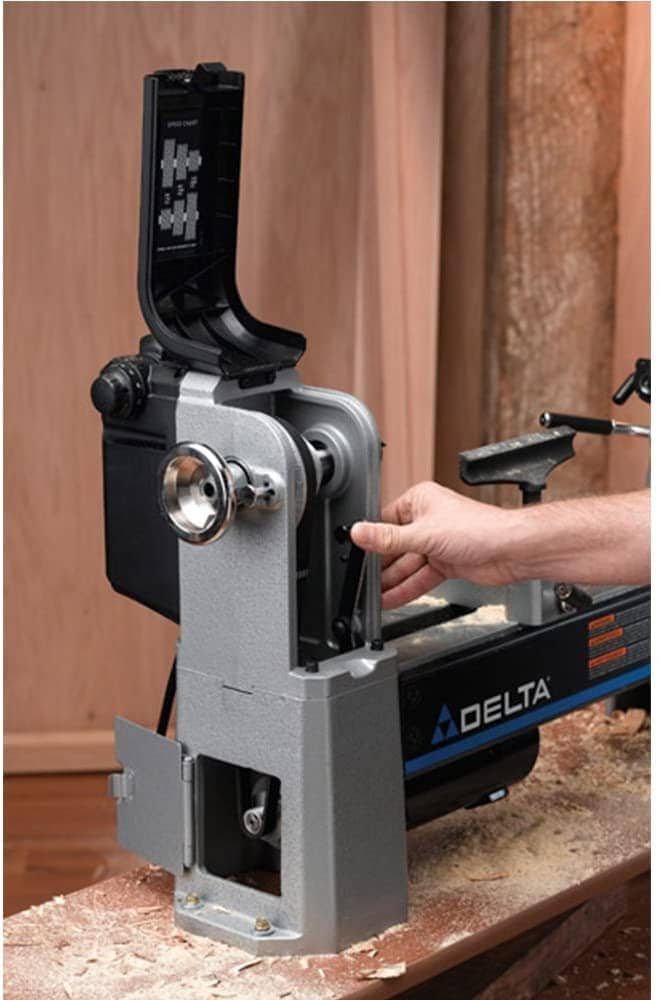 Size
Mini wood lathes are going to be very small. However, just how small they are depends on the model and the make. Some are incredibly tiny and only suitable for particular situations. For example, you can find wood lathes that are only useful for turning pens. If you make a lot of pens, this is great. But, if you're looking to make slightly larger objects, you're going to need a lathe that is a bit bigger.
Not all mini wood lathes are the same size. You need to find out what size your need for the projects you're considering and purchase a lathe that matches that size.
Power
The power of a mini wood lathe often matches its size. A smaller wood lathe will not need to be as powerful as a larger wood lathe, mainly because it can't turn more oversized objects anyway. They are simply too small.
For this reason, small wood lathes are not going to be as powerful as their larger cousins. They simply don't need the extra power. A ¾-HP motor is generally a good option for most projects that can be done on a lathe this size. However, if you're buying a lathe that can only do pens, it likely isn't going to be this powerful.
Variable Speed
One of the more essential features to consider is the variable speed control. Most mini wood lathes have variable speed control. You will need different speeds when completing your project, so this is a must-have feature by all considerations. However, some lathes have a wider range than others.
Some have set points that you can adjust to, while others have dials that give you far more control. In general, you want as much variability as possible. The more speed options you have, the more control you'll have over the lathe and your workpiece.

Conclusion
Out of all the mini wood lathes we reviewed, the Delta Industrial 46-460 Variable-Speed Midi Lathe is our favorite. It isn't too small and is decently powerful. The variable speed is easy to use as well and provides plenty of control over the workpiece.
It is quite expensive, though, so we recommend the WEN 3421 Mini Benchtop Wood Lathe for those on a budget. It is less expensive but still has a decently large capacity. It has variable speed controls as well.
Hopefully, our reviews, combined with our buyer's guide, helped you sort through the world of mini wood lathes and choose the best option for you.
More buying guides like this: